A Movement Is Born
Most wars are fought in the trenches … the place where the 'little guy' goes head to head with his adversary … with victory many times going to the combatant with the most heart, determination, and willpower. … Yes, the war for access must continually be fought at many levels, and it requires the dedication, knowledge, commitment, and perseverance of a great many advocates—both organizations and individuals.
—Dr. Roy E. Miller,
"Fighting for Access in the Trenches"
FEW INVENTIONS have had as much impact on everyday life as has the telephone. Surprisingly, Alexander Graham Bell's creation grew out of his interest in finding a way to improve communication by and with people with hearing loss. A teacher of deaf children and the son and husband of deaf women, Bell could never have anticipated that his experimentation with telegraphs would create isolation and hardship for the very people he was trying to assist. Bell filed his patent for the telephone in 1876; it would be almost ninety years before the invention of the TTY would begin to close the enormous chasm in communications that the telephone created for people who are deaf and severely hard of hearing.
Prior to the 1960s, Western Union, United Press International (UPI), American Telegraph and Telephone (AT&T) and other telecommunications companies and news services typically used machines called teletypewriters to exchange text communications. The devices relied on a technology called "5 level Baudot," a format for data transmissions that had existed since the invention of the telephone itself. Limited in its speed and characters, Baudot could not keep up with the computing needs of the 1960s that were being met through more modern computer equipment and data communications. In order to meet the sophisticated demands of an increasingly computer-literate society, companies decided to replace the obsolete teletypewriter machines with more advanced technologies that used a format known as "8 level ASCII."1 The latter format offered additional characters, faster speeds, and more complex features for an advancing telecommunications society.
At the same time that the shift to these more modern devices was taking place, a deaf engineer named Robert Weitbrecht was exploring ways to facilitate telephone communication by the deaf community. Weitbrecht obtained a discarded teletype machine from a deaf orthodontist named Dr. James Marsters and in 1964, designed an acoustic coupler (modem) that connected standard telephones to the outdated teletypewriters. The coupler changed the electrical signals coming from the teletype into tones and then back again into electrical signals, enabling text to be sent directly over the telephone network from one party to another. Weitbrecht and Marsters employed the financial backing and acumen of a third individual with hearing loss, Andrew Saks, to gather and recondition enough additional surplus teletypes to create a small network of teletypewriter, or TTY, users. In 1967, the three men formed Applied Communications Corporation (APCOM), the first company created specifically for the purpose of researching, developing and marketing telecommunications devices for deaf people.
Unfortunately, the deaf community showed an initial reluctance to acquire the new TTYs. The early machines cost several hundred dollars, a considerable amount of money for a population whose economic means generally fell below the national average. Additionally, the devices were noisy, unwieldy, and unattractive. Each teletype weighed anywhere from 75 to 200 pounds and measured nearly four feet high and two feet wide. Communication on these nascent machines was also painfully slow; keys often stuck together and users needed to press the return key after each and every line. Most deaf consumers questioned the utility of spending so much money for an inferior piece of equipment that provided only limited telephone access to an occasional friend or relative. Accustomed to doing without telephone access, many in the deaf community were also unsure that they needed or even wanted the changes that such access might bring.2
The initial lack of enthusiasm among most members of the deaf community did not dampen the excitement of the few who did decide to take the initial TTY plunge. These individuals understood that, despite its many drawbacks, the potential of the TTY to serve as a communication tool for the deaf community far surpassed any previous inventions. Many years after acquiring one of these devices, one deaf leader reminisced, "I can still remember how thrilled I was to get my 'TTY monster' in the mid-60s and how few people I could call then."3
By 1966, only eighteen TTYs were in operation in the entire United States. More than a year later, still fewer than fifty TTYs had been installed, as compared with 100 million telephones nationwide.4 A good number of these TTYs were located in St. Louis, Missouri, where, in 1966, Paul Taylor, a deaf engineer at the McDonnell-Douglas Aircraft Company, and his wife, Sally, set up a private telephone circuit with Sally's parents, also TTY owners. Although Sally's parents lived only two blocks away, the Taylors justified the expense because it meant "peace of mind" in the event of an emergency.5 Enamored with the ability to communicate by telephone, Taylor founded a local advocacy group called Telephone/Teletype Communicators of St. Louis. He then successfully convinced Western Union Telegraph to donate surplus teletype machines and teach the members of his advocacy group how to recondition and install the couplers. These early years commenced Taylor's lifelong efforts to improve telecommunications access by deaf people, efforts that—more than two decades later—helped to culminate in the successful passage of provisions in the Americans with Disabilities Act (ADA) boldly advancing that access.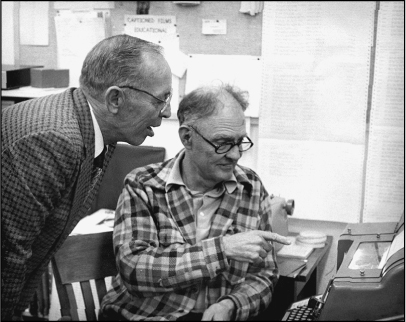 Robert Weitbrecht shows off his TTY modem to an admirer.
There were other reasons for the sluggish acceptance of TTYs. Although 1964 is celebrated as the year of the TTY modem's creation, during the first four years that the modem existed, AT&T was reluctant to release its obsolete teletypewriters to Weitbrecht and other deaf consumers. AT&T's hesitation had nothing to do with not wanting to help the deaf community. Rather, fearful of losing its monopolistic control over the telephone network, AT&T had a policy that prohibited anyone from connecting outside equipment to its network. More specifically, AT&T's tariff, a document filed with the federal government that defined the scope and provisions of the company's telephone services, stated that "no equipment, apparatus, circuit or device not furnished by the telephone company shall be attached to or connected with the facilities furnished by the telephone company, whether physically, by induction or otherwise."6 AT&T believed that its responsibility to operate and maintain the telephone system should give it "absolute control over the quality, installation, and maintenance of all parts of the system."7 The company was afraid that if it permitted independent equipment manufacturers to use its network, they would resist making changes that AT&T believed were needed to further develop its telephone system. Instead of establishing a TTY network, AT&T encouraged deaf customers to use its Bell system Data-Phone Service to conduct text phone conversations. This service, started in 1968, had been created to enable people in the business world to transmit data and facsimile to one another over computers. But deaf consumers did not consider this a realistic alternative, especially when AT&T refused to reduce its Data-Phone rates to make them economically feasible.
Members of the deaf community believed that AT&T's restrictive interconnection policy was imposing unreasonable constraints on the spread of TTYs. Fortunately, they were not the only ones who believed the company's tariff to be unfair. In the mid-1960s, Carter Electronics of Dallas, Texas, requested permission from AT&T to connect its private mobile radio device, the Carterfone, to AT&T's network. AT&T rejected this request in December of 1966, prompting Carter Electronics to file a formal complaint with the Federal Communications Commission (FCC). In June of 1968, the Commission struck down AT&T's policy for being both "unreasonable" and "unduly discriminatory."8 The Commission ruled that AT&T had no right to deny the connection of other equipment to its telephone network if the connection did not cause any harm to AT&T's operations or the use of the telephone system for other people. In fact, this was the second time that the FCC had reached this conclusion. In an earlier case involving a device called the Hush-a-phone, the FCC had already held that telephone companies could not prohibit foreign attachments to their networks if those attachments were beneficial to the user and not detrimental to others.9
After the Carterfone decision was released, AT&T had no more excuses not to donate its surplus machines to the deaf community, and began entering into agreements with the Alexander Graham Bell Association for the Deaf (AG Bell) to donate hundreds of surplus TTYs through its local Bell telephone affiliates.* Other telecommunications companies followed suit and over the next few years, the deaf community had at its disposal great quantities of surplus teletype machines that needed to be reconditioned and distributed to deaf individuals throughout the country.
To meet this need, two Indiana residents—H. Latham Breunig of AG Bell and Jess M. Smith of the National Association of the Deaf (NAD)—founded an intricate network of volunteers called the Teletypewriters for the Deaf Distribution Committee. With financing from philanthropists such as Richard Zellerbach, hundreds of these authorized agents from across the United States located, refurbished, serviced, and delivered surplus teletype parts from AT&T, Western Union, ITT World Communications, RCA Global Communications, Western Electric, UPI, and the Associated Press to thousands of people.
This was not an easy job. Not only were the salvaged TTYs massive; they typically arrived broken and dirty. Rewiring and restoring each one took patience, time, and resources. The committee's agents enjoyed the assistance of the Telephone Pioneers of America, an honor society of AT&T retirees who devoted themselves to "meeting the special needs of the communities in which they live[d]."10
In addition to refurbishing TTYs, these pioneers also transcribed books into Braille, volunteered their time in schools for children with disabilities, and produced mechanical devices for individuals with mobility and speech disabilities.
Shortly after its creation, the Teletypewriters for the Deaf Distribution Committee incorporated as Teletypewriters for the Deaf, Inc., or TDI. During its early years, TDI was largely a part-time operation, managed from Breunig's home in Indianapolis. The master bedroom served as the main office, a second bedroom was the shipping department, and the membership records were kept in Rolodex files on the dining room table.11 But TDI's membership grew quickly: from 474 members in 1970 to 810 a year later, and to 4,980 in 1975.12 Members paid $2 to join TDI, and the organization's newsletter, GA-SK, was, according to its publisher, released "every once in a while."†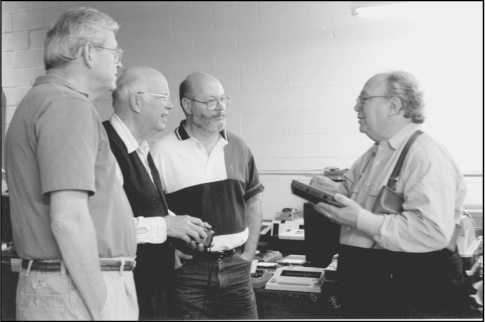 I. Lee Brody discusses a new piece of equipment with fellow telecommunications advocates. Left to right, Paul Taylor, James Marsters, Al Sonnenstrahl, and I. Lee Brody.
In 1976, TDI moved its headquarters from Indianapolis to Washington D.C., in space made available by a local chapter of the Telephone Pioneers of America. At around the same time, it began to publish the nation's first and only TTY directory, a 6-x-7-inch blue loose-leaf binder. In addition to enabling TTY users to contact one another, the directory—which to this day is known as "the Blue Book"—successfully publicized the growing TTY network, which in turn spurred the purchase of additional TTYs.13 TDI changed its name to Telecommunications for the Deaf, Inc., in 1979, and for the past several decades it has served as the nation's leading champion of telecommunications access for deaf and hard of hearing people, with chapters across America. Today, TDI's Blue Book has over 30,000 TTY residential, business, and governmental listings, and is available electronically.
In order to meet the growing demands of individuals waiting for teletypewriters on the eastern seaboard, in 1969, I. Lee Brody formed New York-New Jersey Phone TTY, an organization of experienced technicians and deaf colleagues eager to participate in TDI's refurbishing and distribution efforts. With personal funds, Brody would rent an eighteen-wheeler to make regular visits to lower Manhattan. There he would load up the vehicle with discarded teletype machines from AT&T. Back at home, the mammoth machines would fill up his basement, where he and his colleagues would pour hours into making the machines useable for the deaf community. As demand for these devices increased throughout the country, Brody found himself going beyond his eastern boundaries to ship the devices wherever they were needed.14
Brody's interest in telecommunications access had been triggered by a harrowing personal experience. While hunting in New York, he slipped on some rocks, and the resultant fall caused temporary paralysis of his legs. He was stranded for seven hours before eventually getting to safety. During his recovery he learned about another deaf man who had died because emergency assistance arrived too late. "The horror of being without communication for help" was not something that Brody was willing to tolerate.15
Brody became frustrated by the failure of the telephone industry to produce a telephone device for deaf consumers that was more portable and affordable than the existing TTY modems. In 1969, he took it upon himself to design a less expensive modem, and he began selling it in competition with Weitbrecht's device. Working with an engineer named Jim Steel, Brody turned his organization into Phone-TTY, a nonprofit organization that would play a leading role in the research and development of new products for the deaf and deaf-blind communities. One of their proudest accomplishments was the creation of a Braille TTY in 1974, which enabled deaf-blind individuals to receive telephone text through impressions on a Braille embosser.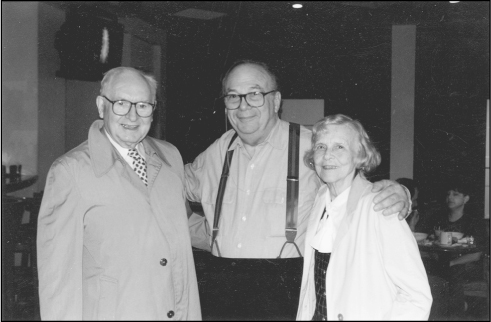 I. Lee Brody (middle) takes a break with Latham Breunig and his wife Nancy, two of the cofounders of Teletypewriters for the Deaf Distribution Committee.
By the early 1970s, others in the deaf community began to share stories that spoke of the value of having a TTY in the event of an emergency. One woman reported having had a heart attack while she was home alone. She was able to use her TTY to call an interpreter, who then called the woman's daughter. The daughter arrived in time for doctors to save her mother's life at a nearby hospital.16 Another woman described her ability to successfully summon help when strong winds suddenly blew in one of her window panes.17 A proud father related how he used his TTY to call his pregnant wife's parents, who in turn notified their daughter's physician that she was in labor.18
Over time, the expanding network of deaf people also began using the TTY to access information about weather and news.19 The Telephone/Teletype Communicators of St. Louis arranged for weather bureaus and wire services such as UPI to transmit regular news feeds directly through local TTY networks. Deaf consumers called the services via TTY, and the wired information was automatically transmitted to their TTYs. For many, these sources of information—typically updated every few hours, and often the very same information going to other news outlets—became the only way to keep informed about emergency weather forecasts and breaking news in an era without captioned television. Similarly, Phone-TTY developed a system by which TTY users could access "dial-a-news" bulletin boards that provided information on assorted issues posted by I. Lee Brody.
Telecommunications Advocacy Is Born
The year 1971 proved pivotal in the struggle for telecommunications access. In that year, the Internal Revenue Service finally approved a request (made by APCOM three years earlier) to allow the cost of TTYs, signalers, and related equipment to be deducted as medical expenses. The ruling covered all "specialized equipment that enable[d] a deaf taxpayer to communicate effectively over a regular telephone by means of converted teletype signals," and marked the first time that the federal government officially recognized the need to facilitate telecommunications access by deaf citizens.20
That same year TDI held the First National Conference of Agents of Teletypewriters for the Deaf, at Gallaudet College (the only liberal arts college for deaf and hard of hearing students).21 Representatives from both the private and public sectors came together to explore a variety of pressing issues, including the interface between TTYs and computers, emergency access via TTYs, TTY answering services, and the new TTY weather and news services.22 Most importantly, the 1971 gathering heralded the start of deaf consumer activism on the state and federal levels. Drawing on the IRS achievement as an example of successful advocacy, Andrew Saks and other presenters implored their fellow conferees to contact their legislators—both in writing and now on TTY—to achieve similar legislative victories for telecommunications access.23
By the end of 1972, the number of TTYs installed throughout the United States jumped to approximately 2,500.24 Youth counseling hotlines, rehabilitation centers, libraries, transportation authorities, and community centers were now acquiring the devices for outgoing as well as incoming calls. Additionally, many cities in California, Texas, Alabama, New York, and Maryland began installing TTYs in their police, fire, and emergency call centers. Despite this growth, the overwhelming majority of residential customers with severe hearing loss still lacked telephone access.
During the spring of 1973, AT&T signed an agreement with TDI to provide an additional 500 surplus TTYs and related equipment through its operating companies.25 The terms of this and other AT&T contracts tell a story about the bargaining position of the deaf community during this period. Not only did these contracts restrict TTY use "for personal communications only and not for any commercial purpose," the agreements also required users to relinquish all claims against AT&T and its affiliates for problems with the devices, even though the discarded TTYs sometimes arrived in deplorable condition.26 Even worse, recipients had to consent to possible inspections by the phone company or TDI to verify how the equipment was being used. Finally, because TTY transmissions to overseas locations were then considered data rather than voice transmissions, both the FCC and AT&T prohibited users from making overseas TTY calls.27
By this time, the cost for a working surplus TTY averaged between $200 and $250. Added to this were expenses for repair, maintenance and paper supplies. In sharp contrast, AT&T leased conventional voice telephones to hearing people for only a few dollars a month, at costs subsidized by other telephone services. AT&T also warranted its voice telephones to be in good condition and provided service and repair on those devices at no cost.
In addition, TTY users faced much higher telephone bills than voice telephone users. The best of the early Baudot-only TTYs transmitted conversation at a speed of only sixty words per minute. As a consequence, an average TTY-to-TTY call took three to four times longer than a conventional voice conversation, which was transmitted at an average rate of 165 words per minute.28 The dilapidated condition of the early TTYs also often forced users to pause to correct errors when keys stuck together or the return carriage malfunctioned. And many deaf individuals could not type close to the sixty-words-per-minute rate, especially if English was their second language. Many deaf people's primary language is American Sign Language (ASL), which has its own grammatical structure and syntax; for these individuals, converting thoughts into English added extra time to the length of a phone call. As a consequence, it was not uncommon for TTY users to pay several hundreds of dollars per month in longdistance telephone bills. For example, the first call made between Honolulu and the mainland in 1973 cost $15 for fifty lines of text!29
The disparity between the expenses associated with owning and operating a TTY and those associated with using voice telephones increasingly frustrated the deaf community. Fortunately, other events in the 1970s helped to galvanize the community into ridding itself of this second-class status. Specifically, in 1973, Congress enacted Section 504 of the Rehabilitation Act of 1973, a federal law prohibiting programs and activities receiving federal financial assistance from discriminating on the basis of disability.30 Although final rules implementing this law were not released until 1977, the law created new rights to telephone access both for employees who needed access to fulfill their job responsibilities and for beneficiaries and participants of federally funded programs.31 Under Section 504, individuals now had the right to request TTY access in Social Security offices, hospitals that received Medicare and Medicaid, and universities that provided federal financial aid. Additionally, the new legislation required the installation of TTYs by local law enforcement agencies that received federal money.32
In the mid- to late-1970s, equipment manufacturers also stepped up efforts to improve TTYs. Technological advancements resulted in the creation of quieter, compact, and more lightweight TTYs that used cathode ray tubes and electronic visual displays with light-emitting diodes to display text. Like the earlier TTYs, these newer devices used couplers to convert TTY impulses into acoustic tones for transmission over the telephone lines. But unlike the early devices, once the tones were converted back into TTY impulses, users could read the typed characters as they moved across the TTY's visual display. Over time, these machines were enhanced even further to include rechargeable batteries and signalers, as well as the ability to store incoming and outgoing messages, record announcements, and choose printing options. These newer TTYs also acquired a new name—TDDs, or telecommunications devices for the deaf. But while modern technology succeeded in shedding much of the weight from these machines, it could not cast away their high price tag. The first lightweight TDDs cost $600 to $1,000, even more than their clunky predecessors.33 For many deaf people with incomes below the norm, these costs remained prohibitive.
Another pivotal event in the creation of the deaf advocacy movement was the founding of the National Center for Law and the Deaf (NCLD) at Gallaudet College in 1975.34 The center got its start when three law students, Larry J. Goldberg, Irene Bowen, and Tom Herrmann, took a class on legal activism taught by John F. Banzhaf at the National Law Center of George Washington University (GWU).35 For a class assignment directed at alleviating a societal wrongdoing through legal advocacy, Goldberg, Bowen, and Herrmann investigated ways to make television accessible to deaf people. After spending months gathering background information from deaf community leaders, including Jess M. Smith, then president of the NAD, and Richard Israel of AG Bell, the threesome filed a petition with the FCC, requesting the Commission to mandate visual access to televised emergency information.36
During the course of their investigation into the problems associated with television access, the GWU students came face to face with other forms of discrimination that had been plaguing the deaf community, including those occurring in the workplace, the courts, and the telephone system. The three young students quickly realized that there were far more societal wrongs that needed to be corrected to make the deaf community whole, and that the creation of a national law office dedicated to combating these injustices was long overdue. In a move that changed the historical landscape of the advocacy movement for telecommunications access, they worked with Gallaudet College to secure a thirty-month grant of $240,000 from the U.S. Department of Health, Education, and Welfare (HEW) for the creation of a legal office specifically designed to address the legal needs of people who were deaf and hard of hearing. NCLD opened for business about a year later on the Gallaudet campus with a very broad mission. In addition to hosting educational workshops and running a legal services clinic, NCLD quickly got involved in legislative, regulatory, and judicial proceedings to fight for legal protections in the areas of employment, education, health care, and the judicial system. Aware of the scarcity of deaf lawyers, NCLD also recruited qualified deaf students and assisted them in applying, gaining admission to, and graduating from law school. I was privileged to join NCLD in 1984, where I remained until it closed in 1996. During its twenty-one-year existence, NCLD attorneys provided direct legal assistance to tens of thousands of people, litigated a plethora of cases on behalf of deaf people in the federal courts, and prepared many deaf students for legal careers.
One of NCLD's earliest priorities was to improve telecommunications access for people with hearing loss. By 1976, the deaf community's dissatisfaction with the telephone companies' inequitable practices had grown into social unrest. Protests against local Bell affiliates were staged in Pittsburgh, Denver, and other localities to challenge the higher rates charged for TTY equipment and service and the fact that TTY users were forced to pay for telephone services, including operator, directory, and business office assistance, that were not even TTY accessible.37 Without access to these services, TTY users remained without the means to complete many basic calls, such as those that involved person-to-person, collect, third party, and other operator-assisted connections. In addition, although hearing people did not have to pay an extra charge to have a ringer on their phones, AT&T assessed fees for flashing lights and amplifiers designed to announce incoming calls to deaf and hard of hearing users. Having to pay extra monthly charges for equipment that simply enabled TTY users to be on par with conventional telephone users just did not seem fair. Moreover, the high costs and poor service associated with owning TTYs were undoubtedly discouraging new members of the deaf community from acquiring these devices.*
The FCC did little to eliminate the unjust treatment; perhaps more disconcerting, and reflective of its lack of concern for these issues, was the agency's own failure to acquire a TTY. In the spring of 1976, NCLD's first executive director, Glenn Goldberg, expressed his disappointment to FCC Chairman Richard Wiley: "It is shocking that an agency dedicated to communication has not taken the necessary steps to communicate with deaf people."38
The criticism provoked the needed response. Before the year was over, Chairman Wiley announced the installation of a TTY in the Commission's Consumer Assistance Office at a ceremony attended by Goldberg, Edward Carney (assistant to the executive secretary of the NAD), Dr. George Fellendorf (executive director of AG Bell), and Latham Breunig (now the executive director of TDI). The event, held on December 15, 1976, included a call from John S. Schuchman, dean of liberal arts at Gallaudet, to Chairman Wiley over a device called a TV phone, which displayed the messages on a computer-like monitor. Wiley applauded the day's events as a sign of how "advances in communications technology can be used effectively to further enhance the availability of government processes to larger segments of our population."39 But it would take actions, not words to bring those advances into the hands of people with hearing loss, and unfortunately, action on the federal level was not yet forthcoming.
Local Advocacy
The first coordinated efforts to rectify the disparity in telecommunications services began locally, with petitions to state regulatory commissions seeking lower toll (longdistance) rates for TTY calls. NCLD joined this effort, jump starting a few of the state proceedings and providing expert testimony and other forms of legal assistance in others.40 To help consumers around the country achieve success on their own, NCLD put together a manual, Strategies for Obtaining Reduced Intrastate Rates for TDD Users, that carefully set out the arguments in favor of TTY rate reductions. Its message was straightforward: Look at the value of a telephone service, rather than its costs, in determining rates. Everyone agreed that all Americans were entitled to telephone service at fair and reasonable rates. NCLD lawyers pointed out that although it cost more to provide telephone service to rural or mountainous regions, telephone companies routinely charged residents in these remote areas the same amount for basic service as they charged city dwellers because the value of the telephone service was the same, no matter where those subscribers lived. Telephone companies then subsidized the costs of providing rural service with money collected from telephone subscribers living closer to their central offices. NCLD proposed that the rates for TTY service similarly should be based on the value of this telephone service, rather than its actual costs. If it took three times longer to complete TTY-to-TTY calls, then these calls needed to be discounted by one third.
Several of the local efforts to reduce TTY rates were successful. On July 6, 1977, the New York Public Service Commission authorized a 25 percent across-the-board reduction in the telephone bills of any person certified to be deaf by a doctor or state agency.41 A decision by the Connecticut Public Utilities Control Authority in December of that same year mandated a 75 percent reduction in toll charges for all TTY calls.42 Unfortunately, the basis for the Connecticut ruling was less than enlightened. Although the Connecticut authority seemed to understand the need to reduce rates in order to encourage TTY usage, it concluded that discounted rates would be affordable because TTY users were likely "to limit their usage to calls of necessity and [were] less likely to make calls of convenience." The result was what consumers wanted, but this rationale revealed a failure to comprehend the desire of the deaf community to be full and equal participants of the telephone network.
Three Avenues of Advocacy
As efforts to reduce TTY charges proliferated around the United States, so did the number of TTY owners. By February of 1977, 27,000 TTYs were in operation.43 Notwithstanding this growth and some of the local successes, deaf and hard of hearing consumers realized that they still needed to make more concerted efforts to achieve telecommunications parity nationwide. They laid out the options before them: They could seek legal mandates through federal legislation, convene negotiations to encourage AT&T to voluntarily improve services and equipment, or seek regulatory relief from the FCC. They decided to pursue all three.
The Legislative Arena
By 1977, few if any federal lawmakers had TTYs in their offices. Section 504 of the Rehabilitation Act only covered federally assisted private and state entities, not the federal agencies themselves nor any part of the U.S. Congress. To reach congressional members, deaf constituents typically had to call a single, centrally located TTY, which was neither toll free nor capable of connecting callers directly to their representatives. Senator Lowell Weicker (R-Conn.), one of the few legislators to install TTYs in his home offices of Bridgeport and Hartford, related the inadequacies of the existing system to his colleagues:
[It] would completely disrupt normal congressional operations. The deaf would have to dial a special number and leave a message for a congressional office to call back. A staff member would then have to walk to the communications center and place the phone call away from all his or her office resources. Return phone calls would often be necessary. If our deaf constituents call at the same rate as everyone else, staffers will be running to the communications center all day long. This clearly unacceptable burden might preclude a member from even offering the service to his constituency.44
To rectify this, Congresswoman Gladys Spellman (D-Md.) introduced H.R. 6711 in 1977, which required the installation of TTYs in all congressional offices and federal, state, and local government agencies. Senator Robert Dole (R-Kans.), Congressmen Edward Koch (D-N.Y.), and Paul Findley (R-Ill.) introduced similar bills to provide toll-free TTY access for direct communication with members of Congress.45 These early TTY-specific bills never became law, but a year later, Congress amended Section 504 of the Rehabilitation Act by extending its nondiscrimination provisions to federal executive agencies (though not to the U.S. Congress).46
NCLD worked with members of Congress in other ways. In February of 1977, the law center convinced Congressman Findley to send a letter to FCC Chairman Wiley requesting that the Commission grant reduced telephone rates for TTY users.47 The letter summarized an experiment conducted by NCLD's staff, in which two calls—one by TTY, one by voice—were made to the White House. Both calls sought identical information concerning the timing and sign language interpretation of a televised press conference. Findley's letter reported that the TTY call took three times as long as the voice call. He alluded to the inequities of this outcome, especially given that the average income of a deaf individual was only 62–76 percent of that of the average American.
NCLD also provided testimony before the House Interstate and Foreign Commerce Committee hearings on domestic common carriers in September 1977. Its statement detailed the nature of the telecommunications discrimination experienced by the deaf community: exorbitant prices for basic equipment, lack of TTY care and maintenance services, unreasonably high rates for telephone service, and insufficient numbers of hearing-aid compatible and amplified telephone handsets.48 NCLD pointed out that these deficiencies represented a failure to meet the "universal service" obligation of the Communications Act of 1934, an obligation that specifically directed the FCC to "make available, so far as possible to all the people of the United States … a rapid, efficient, Nation-wide, and world-wide wire and radio communication service with adequate facilities at reasonable charges."49 It then called upon the Commerce committee to hold hearings to address the telecommunications needs of the then estimated 13.4 million Americans living with hearing loss. NCLD's novel use of the universal service doctrine laid the framework for telecommunications advocacy to this day.
Negotiations with AT&T
AT&T was not a complete stranger to the needs of people with disabilities. During the first half of the twentieth century, the company's research and development division, Bell Laboratories, and its manufacturing arm, Western Electric, designed and produced various telephone products to assist people with disabilities. As early as the 1930s, Western Electric manufactured hearing aids self-contained in their own carrying cases, and in the following decades it produced headset amplifiers, a range of tone and light ring indicators, a watchcase receiver,* an electronic larynx, single button phones, and devices that converted sound coming over telephone lines into either vibrations or lights.50
Nevertheless, by the mid-1970s, the relationship that AT&T had had with the deaf and hard of hearing communities began to deteriorate as requests for AT&T to stop its inequitable telephone practices went largely ignored. Leaders of national consumer organizations representing deaf people became convinced that coordinated meetings with high level officials of AT&T were the only way to make the company truly understand their concerns. To this end, in 1977, Barry Strassler (TDI), George Fellendorf (AG Bell), Fred Schreiber (NAD), Reba and David Saks (Organization for Use of the Telephone [OUT]), and Sy DuBow (NCLD) put together the "Deaf Community Telecommunications Agenda." Their demands, which were no longer new, included
•the provision and servicing of TTYs at rates comparable to other AT&T phones;
•access to operator, information, business office assistance, and recorded "intercept" messages that notified customers about a change in telephone numbers;
•reductions in local and long-distance rates for TTY users;
•the elimination of extra charges for handset amplifiers and bell signal flashing lights;
•the provision of TTY-accessible payphones and payphones with amplification; and
•a policy for all AT&T phones to be hearing aid compatible.51
Over the course of the next year, AT&T and deaf advocates came together in a series of negotiations that proved to be partially successful. Instrumental to this effort was an AT&T hearing employee named Joseph B. Heil, Jr. Heil had grown up on the West Virginia Avenue periphery of Gallaudet College, and as a young boy, routinely climbed over the fence to help himself to an ear of corn from one of the college's gardens. As a teenager, Heil got a job painting Gallaudet's clock tower, by which time he felt at home with his deaf neighbors. In 1942, he began working for the Chesapeake and Potomac Telephone Company, the AT&T affiliate for the metropolitan D.C. area, where he remained for the next several decades. In the mid- to late-1970s, when AT&T began to downsize in response to the Department of Justice's antitrust charges against it, the company needed a new way to maintain its relationships with local communities. Recalling his childhood experiences on the Gallaudet campus, Heil offered to bring AT&T's messages over to the college. He soon became AT&T's ombudsman within the deaf community, convincing AT&T to let him display AT&T information in Gallaudet's cafeterias, acquire sign language training, and attend major deaf conventions. His name sign—a "J" for "Joe" with the shape of a telephone handset to the ear—was a sign of affection from the deaf community, which increasingly showed a willingness to share its concerns with him.52
The consumer-industry meetings that Heil helped to facilitate resulted in the creation of a high-level AT&T management committee, the Handicapped Services Working Committee.53 One of the committee's first projects was interviewing hundreds of individuals with hearing loss to assess the weaknesses in AT&T's TTY equipment, the need for new telephone features, and other telecommunications access needs of its deaf and hard of hearing subscribers. In December of 1977, AT&T also issued a policy statement announcing its intent to establish customer service centers "for the handicapped" in each of its twenty-two Bell companies by the end of 1978. Over the next year, AT&T's Handicap Assistance Bureaus sprang up across the country. For example, California's AT&T's affiliate, Pacific Telephone and Telegraph, began a "Special Assistance Program for the Handicapped" to offer business office and directory assistance via a toll-free TTY number in the Los Angeles area. Similar assistance centers were soon created to provide operator, directory, and business office assistance in the Philadelphia and Washington, D.C., regions, the latter set up by Heil himself. Unfortunately, these bureaus were only open during regular working hours (i.e., weekdays from 9:00 a.m. to 5:00 p.m.). Because most deaf consumers kept their TTYs at home, not at work, they needed access to operator and directory information services precisely when the centers were closed.
Other attempts to share concerns with AT&T resulted in the creation of an informal committee spearheaded by Reba and David Saks, called the Telecommunications for the Hearing Impaired Consumer (THIC) Forum. As a true pioneer for access, Saks was tenacious in his efforts to open up lines of communication with telephone companies where none had existed. Meetings of the forum—typically held semi-annually on the Gallaudet campus—provided the very first opportunity for consumer representatives to have a face-to-face, amicable dialogue on telecommunications access issues with both the telephone industry and the hearing aid industry. Its members included TDI, NCLD, the NAD, AT&T, the Electronic Industries Association, the North American Telecommunications Association, and the non-Bell companies—represented by the United States Independent Telephone Association (USITA). Until its demise in the early 1990s, the THIC Forum tackled a plethora of access issues that included the leasing of TTYs at reasonable rates, installation of telephone volume controls, hearing aid compatibility, and ways in which new technologies could better serve the deaf and hard of hearing communities.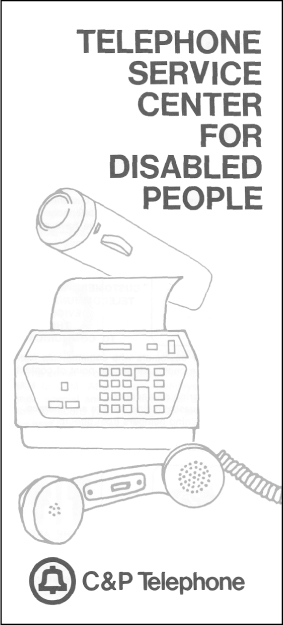 Brochure for one of the early customer service centers specifically for people with disabilities. Because the centers were open only from 9:00 a.m. to 5:00 p.m. on weekdays, the majority of individuals who kept their TTYs at home had no way of getting operator or directory assistance during the evening hours when they needed it most.
At the same time that consumers were engaging in concerted efforts to convince telephone companies to improve access on a voluntary basis, they began meeting informally with officials at the FCC. One such meeting took place on September 12, 1977, between Dr. Jeffrey Krauss of the FCC's Office of Plans and Policy, Glenn Goldberg, and other NCLD staff. Krauss questioned whether the TTY—given its slow transmission rate—was in fact the best way to provide telephone service for the deaf community. He recommended exploring instead packet-switched transmission technology and message-switching capabilities so that the deaf community could take advantage of text editing and store and forward options.54 No one today can question the prophetic nature of Krauss's recommendations. But while reliance on e-mail and other Internet technologies would eventually validate many of his concerns, at the time, it was clear to NCLD's attorneys that deployment of these technologies was not at all imminent.*
The Regulatory Arena—"The Petition"
Efforts to improve telecommunications access through federal legislation, negotiations with AT&T, and preliminary talks with the FCC were only somewhat successful. NCLD and the NAD concluded that more aggressive action was needed to reverse years of neglect by the telephone industry. And so, on December 21, 1977, NCLD filed a groundbreaking petition on behalf of the entire deaf community to force the FCC to finally eliminate the barriers that were preventing access to the telephone.55 The petition stressed that telecommunications access would open up employment opportunities, strengthen English language skills, enable people with hearing loss to communicate with friends and relatives, provide access to governmental and other institutional services, expand business markets, and generally contribute to the economic integration of deaf individuals.
NCLD's petition specifically alleged that the prohibitively high charges for TTY equipment and services, coupled with AT&T's practice of charging for, but failing to provide access to, operator and other customer assistance services, constituted discrimination against deaf and hard of hearing citizens. The law center estimated that at least half of all potential TTY users could not afford these costs. Even the tax deduction for the purchase of TTYs provided little financial relief because only a minority of deaf individuals itemized their expenses.
For the most part, the demands made in the petition mirrored those that had been made during the negotiations with AT&T. High on the list of desired outcomes were monthly leases for TTYs, reduced and uniform TTY rates, access to operator and other business services, hearing aid compatibility, and payphone accessibility. In order to avoid vandalism and weather damage, NCLD suggested that TTYs be placed in sheltered, supervised areas, such as public libraries, government buildings, train stations, and police and fire stations. NCLD also requested the FCC to pursue research and development of a computerized data communications network that would facilitate access by deaf and hard of hearing individuals.
The underlying premise of NCLD's petition was the FCC's obligation under the Communication Act to ensure the availability of universal telephone service for all Americans, including Americans with disabilities. NCLD also directed the FCC's attention to Sections 201 and 202 of the Communications Act. Section 201 required "every common carrier engaged in interstate or foreign communications by wire or radio to furnish such communication service upon reasonable request."56 NCLD argued that the services requested in the petition were "communication services" because they were an "integral part of a customer's service." And because the provision of these services was technologically feasible, the community's demands constituted "reasonable requests."
Section 202(a) of the Communications Act made it unlawful for carriers to "make any unjust or unreasonable discrimination in charges, practices, classifications, regulations, facilities, or services for or in connection with like communication service."57 NCLD asserted that Section 202(a)'s prohibition against these telephone charges made it illegal to charge TTY users higher rates just because their calls took longer to complete. Although this provision originally was intended to ensure that telephone companies based their charges on actual costs (so that different customers receiving the same services did not get charged different amounts), NCLD argued that charging TTY users the same rates as voice telephone users would make telephone service prohibitively expensive for the deaf community. In order to further the goal of achieving universal telephone service, NCLD urged the Commission to interpret "unjust and unreasonable" in a way that would bring down the rates for TTY service through cross-subsidization. The law center reminded the FCC that rate adjustments had already been made in rural and remote locations such as Alaska and Hawaii in order to make telephone service affordable in those communities. If adjustments could be based on geographic considerations, NCLD argued, they could also be based on TTY use.
NCLD's petition attracted the attention of Capitol Hill. At least one legislator—Congressman Toby Moffett (D-Conn.), whose home state had been one of the first to reduce TTY rates—sent a letter to the FCC on January 4, 1978, asking permission to become a co-petitioner of the proceeding. Only a month later, the FCC opened its very first proceeding on telecommunications access issues affecting the deaf and hard of hearing community.58
At first, the FCC seemed genuinely interested in both reviewing problems associated with TTY services and hearing from deaf consumers on these issues. It even set up two TTY lines, the first an unattended terminal for individuals to "call in" their text comments, and the second a dedicated line for procedural questions and general inquiries. This marked the first time that any federal agency had made such a significant accommodation for the receipt of public input from the deaf community. Hundreds of comments from consumers, social service professionals, and others connected to the deaf and hard of hearing communities poured in as a testament to the need for federal action to alleviate telecommunications barriers. All were encouraged by the speed with which the Commission had opened the new inquiry, as well as by statements that the agency had already made suggesting that preferential TTY rates could provide a "method of alleviating any unreasonable economic inequities."59
Not all of the comments sent in, however, were favorable. USITA questioned the need for the proceeding at all, contending that communication by deaf people with the hearing world was "severely limited for reasons having little if anything to do with the capabilities of the telephone network."60 Comments like this revealed the attitudinal discrimination that permeated much of the telephone industry. Many simply did not understand that telecommunications access was a right, not a mere concession, to which the deaf community was entitled.
In addition to agreeing to investigate ways to improve access to conventional telephone services, the FCC also expressed an interest in exploring ways in which modern technologies could better meet the needs of people with hearing loss. As before, some officials at the FCC raised concerns about reliance on TTY Baudot technology, which was both slow and incompatible with standard computer equipment. The Commission asked whether the federal government should fund research and development into the use of more modern computer technologies that could provide electronic message services. Attention, it said, should be given to whether this more "sophisticated computer technology" could "yield more flexible communications services for the deaf and hard of hearing."61 While many participants of the proceeding supported funding for this purpose, Weitbrecht submitted lengthy comments to the FCC defending the use of his faithful Baudot technology.62
The FCC was not alone in its desire to explore the benefits of an electronic messaging network for the deaf and hard of hearing community. In the late 1970s, the U.S. Department of Education and the National Telecommunications Information Administration of the U.S. Department of Commerce began exploring computer-based text communications in the nation's first attempts to develop an electronic mail network for people with hearing loss. The Deaf Community Center in Framingham, Massachusetts, received a federal grant to try out one such network for its deaf community.63 Terminals consisting of keyboards and printers were placed in homes and public places, including schools, a hospital, a radio station, agencies for the deaf, and even a travel agency.64 The "Deafnet" program allowed for the exchange of messages at electronic speeds between and among deaf individuals through bulletin board postings and private communications. TDI's monthly newsletter, GA-SK, extolled the benefits of being able to send a personal message to any one person or to multiple people on this forerunner of our present e-mail and Internet system.65 Deafnet was later enlarged to include Gallaudet University and Stanford University, running a three-way connection with the Deaf Community Center. Eventually, GTE put the network on its Telemail system, where it grew to 1,000 deaf users nationwide in a nonprofit business called "Deaftek," under the direction of Brenda Monene.
In 1979, AT&T sponsored another trial of electronic messaging systems, the Video Enhanced Telephone Service (VETS), with forty-two deaf consumers in New York City.66 For three months, deaf subscribers could use either their own TVs or a special video monitor that held up to sixteen lines of conversation to edit, send, or leave messages for others. A second phase of the VETS trial allowed participants to dial into a computer to obtain visual information about weather, sports, and other news information.
During the months after the FCC first opened docket 78-50 for public comment, the U.S. General Accounting Office (GAO) began working on a telecommunications access report of its own, at the request of Senator Charles H. Percy (R-Ill.). Its purpose was to evaluate legislative proposals that would have given HEW responsibility for implementing, administering, and funding the installation of TTYs in HEW, the IRS, the U.S. Department of Labor, and two additional federal agencies with the greatest need for communication with deaf individuals. The proposals also would have directed HEW to help fund and install TTYs in at least 100 state and local government agencies across the nation. Finally, the bill would have allowed any member of Congress to obtain a TTY upon written request.67
GAO's analysis revealed that TTY terminals were still serving less than one percent of the American deaf population. But the agency concluded that before a TTY program could be expanded nationwide, a pilot study was needed to assess the advantages of both Baudot and ASCII technologies, explore barriers to the telephone network by the deaf community, conduct traffic analyses on the number and length of TTY calls, and evaluate the need for equitable TTY rates.
Although the legislative proposals considered in the GAO report never became law, other actions taken by the federal government held promise for improving telecommunications access by people with disabilities. On March 26, 1978, President Jimmy Carter issued Executive Order 12046, transferring to the U.S. Office of Management and Budget (OMB) lead responsibility for providing advice on the procurement and management of the federal government's telecommunications systems. In order to implement this directive, OMB asked the public for input on what it believed should be the top telecommunications priorities.68 NCLD seized the opportunity to urge OMB to give high consideration to access by deaf and hard of hearing persons. It was unfair, NCLD said, for people with hearing disabilities to have to correspond by mail or make personal visits in order to communicate with government agencies. Several laws, including Sections 501 and 502 of the Rehabilitation Act and the Architectural Barriers Act of 1968, already required buildings and facilities owned, leased, or financed by the U.S. government to be accessible to and usable by people with disabilities. NCLD argued that the failure to provide telephone access through TTYs, amplifiers, and hearing aid compatible phones constituted discrimination under these laws.
Approaching AT&T … Again
By the end of the 1970s, pressure on AT&T to respond to the needs of people with disabilities finally had begun to produce some tangible results. By then, all of AT&T's local Bell operating companies had successfully opened customer assistance bureaus throughout the country, as promised during the company's early negotiations with consumers. The centers provided much needed counseling, information, and assistance on the provision of TTY and other specialized equipment. In 1978, AT&T also transferred Joe Heil to its New Jersey offices where he was given formal responsibility as an AT&T district manager to identify and address the needs of AT&T's customers with disabilities. For years, Heil had made a practice of advocating internally for the needs of the deaf community. Now this role was made official, and, as Heil described, his "avocation became his vocation."69 It was around this time that Heil also joined the board of Phone-TTY, Lee Brody's organization for telecommunications access. Heil believed that although the state-by-state efforts to reduce TTY rates were gradually making progress, a national focus was needed if true change was to come about. To this end, he took on the task of disseminating information about disability access to all of AT&T's affiliates.
Perhaps the most significant of AT&T's changes came in 1980 when the company announced its intent to create a single nationwide toll-free operator services telephone number for TTY users. Heil had identified the need for such services and had worked with his team of five to come up with a technical solution to meet that need. He brought the idea to AT&T's Consumer Affairs Committee, where it was swiftly approved.
AT&T began providing Operator Services for the Deaf (OSD) on June 30, 1980. TTY calls made through the toll-free number were routed to one of several regional centers located around the country.70 Services were available around the clock, seven days a week, to provide assistance for virtually all types of telephone service: billing arrangements, operator-assisted calls, directory assistance, business office assistance, and telephone repair services. Although the company planned to continue operating its customer assistance bureaus, the nationwide number would fill the gaps created by the limited hours of operation. By December 1981, the volume of OSD calls doubled over AT&T's initial figures; by 1982, they increased by an additional 43 percent.71 To this day, OSD and parallel operator-assisted services offered by competitors continue to fulfill a critical telecommunications need for deaf and hard of hearing individuals.*
While AT&T effectively responded to many of the deaf community's demands for accessible operator and business services, the company remained reluctant to grant TTY users preferential pricing for TTY equipment or service. AT&T insisted that telephone network services needed to be priced on the same basis for all customers. It questioned "the propriety of using telephone rates to fund what is in effect a social assistance program" and argued that "any special considerations for deaf TTY users should take the form of a governmental subsidy directly to those users."72 Instead of reducing rates, AT&T endorsed several federal bills that proposed giving tax credits and deductions to TTY owners.
By March of 1980, however, nine states had implemented TTY rate reductions.73 Aware that the FCC might follow suit with a discount pricing structure of its own, in May of 1980, AT&T decided to submit its own pricing recommendations to the FCC. At the time, AT&T's voice telephone users received a 35 percent discount off daytime rates for calls made during the evening and 60 percent off those rates for calls made at night and on weekends. AT&T said that if it had to provide discounted rates, it could follow this pattern by reducing its daytime charges for TTY calls by 35 percent and its evening calls by 60 percent.74 But the company made clear that if the FCC did mandate these reductions, the company wanted a way to recover financial losses that might be associated with these discounts, and a customer certification process to identify subscribers who would be eligible for the reductions.
By the time AT&T sent its detailed recommendations to the FCC, more than two years had passed since the FCC had first opened docket 78-50. When yet another year passed without any FCC action, consumer advocates began to get discouraged. Although the FCC had gotten off to a swift start on its telecommunications access inquiry, the regulatory process appeared to have come to a grinding halt. However, on August 21, 1981, AT&T announced that in honor of the United Nation's designation of 1981 as the "International Year of Disabled Persons," it would file a tariff with the FCC, formally proposing to reduce interstate long-distance rates for calls requiring a "visual means of communication."75 NCLD's Legal Director Sy DuBow and NCLD attorneys Sarah Geer and Sheila Conlon Mentkowski sent out immediate alerts requesting deaf consumers to submit letters of support to the Commission.76 By this time, telephone companies in thirty-six states also offered reduced intrastate TTY rates.
Consumers were elated with AT&T's new policy, until they realized there was a problem with the revised tariff. AT&T's proposed discounts applied only to "certified" customers who used TTYs. In order to qualify, AT&T's customers needed to obtain a letter from an authorized source proving that they had a disability requiring the use of a TTY. Many customers objected to this requirement not because they were opposed to obtaining certification, but because they had already obtained certification from their doctors, audiologists, and speech pathologists to qualify for their own state TTY discount programs. Since most people paid their local and long-distance charges on one phone bill, these consumers were both displeased and confused about why they had to re-establish their eligibility for interstate calls through the same company that discounted their intrastate calls.
When NCLD complained about the new requirement, Heil responded that it was not AT&T's intention to recertify deaf TTY users who already qualified for rate reductions.77 He explained that the problem was that some states had been offering discounts to both deaf TTY users and hearing persons who used TTYs to communicate with deaf friends and family members. But federal law permitted AT&T to provide interstate rate reductions only to people with hearing or speech disabilities. Therefore, local telephone companies now had to distinguish between those customers eligible for intrastate discounts and those eligible for AT&Ts interstate discounts. Heil worked with the deaf community on a mutually agreeable solution that allowed deaf and hard of hearing TTY users who had already qualified for intrastate reductions not to have to obtain recertification. And, in states that did not yet have discount programs or allowed certification by both hearing and nonhearing users, AT&T would make every effort to identify those TTY users who qualified for the reduced interstate rates.* AT&T's decision to provide reduced rates prompted telephone companies in all but three of the remaining states to offer discounted TTY programs within the next few years.78
And Back to the States
Between 1978 and 1981, approximately twenty-five TTY clubs sprang up throughout the nation to administer to the telecommunications needs of local communities.79 NCLD helped many of these organizations prepare local regulatory petitions to reduce TTY rates, eliminate charges for flashing lights and amplifiers, and convince local telephone companies to offer TTY equipment at affordable monthly charges.80
Some of these grassroots efforts were successful. In 1979, both California and South Dakota became among the first states to distribute TTYs free of charge to certified deaf and hard of hearing individuals.† Early on, the California program charted new territories by requiring the California Public Utilities Commission (PUC) to collect a surcharge of up to fifteen cents per subscriber per month for a Deaf Equipment Acquisition Fund Trust.81 During its very first year of operation, the fund collected twenty million dollars, eleven of which was used to purchase and distribute 12,092 TTYs and 10,993 signaling devices to the state's residents. In subsequent years, under the leadership of Shelley Bergum, California's equipment distribution program expanded to include equipment and services used by individuals with all kinds of communication, mobility, and cognitive disabilities.82 By the early part of the twenty-first century, the Deaf and Disabled Telecommunications Program/California Telephone Access Program (DDTP/CTAP) had distributed almost one-half million pieces of equipment. Throughout this program's existence, deaf and hard of hearing consumers have played a prominent role on the many advisory committees that oversee the program's operation and maintenance.83
The Decade Draws to a Close
By the end of the first full decade to achieve telecommunications equality, deaf and hard of hearing consumers and advocacy groups could be proud of a number of successes. In addition to winning widespread TTY rate discounts, advocates had convinced many state and federal government offices to install TTYs. Washington State now required all counties and cities with populations over 10,000 to provide TTY access to police, fire, and emergency services.84 In the nation's capital, the Department of Labor, the Department of Housing and Urban Development, and the White House joined the growing list of government locations that could now communicate directly with the deaf public. Local telecommunications companies, such as Pacific Telephone and Telegraph, joined AT&T's customer assistance bureaus in providing TTYs and other specialized equipment for people with disabilities. Even more encouraging was the fact that AT&T's local affiliates had begun to subsidize the costs of developing and distributing these specialized devices with revenues collected from local telephone services. And while docket 78-50 still had no resolution, it was clear that negotiations with AT&T and submissions to the FCC had begun to make the telephone needs of people with hearing loss part of the national telecommunications policy agenda.
Notwithstanding the progress made, it was very clear that much more needed to be done to achieve telecommunications equality. Deaf and hard of hearing people in most states still could not purchase TTYs at reasonable rates, and those who had acquired these devices could not communicate by telephone with hearing people and businesses who did not have TTYs. Changes in telephone technologies endangered the existence of telephone handsets that were compatible with hearing aids, and pay-phones remained inaccessible to most deaf and hard of hearing persons. Advocates would continue to struggle for these improvements in the coming years, but the nature of their battles would be dramatically transformed. Regulatory changes that would forever alter the landscape of America's telecommunications policies were sweeping the nation. And many of these changes threatened to undo much that the activists had accomplished thus far.
Notes
1. In 1968, President Lyndon B. Johnson directed that the United States adopt the American Standard Code for Information Interchange (ASCII) as the federal standard for computer transmissions. This was designed to be "a major step toward minimizing costly incompatibility among our vast Federal computer and telecommunications data systems." White House Memorandum (March 11, 1968).
2. In his extraordinary portrayal of the development of the TTY, Harry Lang captures the mood of these early years: "Changing attitudes of deaf people, accustomed to years without direct phone access, and hearing people, accustomed to decades of ignoring deaf people's telecommunication needs, was a huge challenge." Harry G. Lang, A Phone of Our Own: The Deaf Insurrection Against Ma Bell (Washington D.C.: Gallaudet University Press, 2000), 138.
3. Roslyn Rosen, former Dean of the College for Continuing Education, Gallaudet College, "The Future Is in Your Hands … But How Will You Handle It," GA-SK 16 (Spring 1985): 1.
4. Lang, Phone of Our Own, 75.
5. Ibid., 67.
6. AT&T Tariff F.C.C. No. 132, superceded by AT&T Tariff F.C.C. No. 263, Section 26.1.
7. Use of the Carterfone Device in Message Toll Telephone Service; Thomas F. Carter and Carter Electronics Corp. v. American Telephone and Telegraph Co., Associated Bell System Companies, Southwestern Bell Telephone Co. and General Telephone Co. of the Southwest, Decision, Dkts. 16942, 17073, FCC 68-661, 13 FCC 2d 420, 424 (June 26, 1968). Hereinafter cited as Carterfone.
8. Ibid.
9. Hush-A-Phone Corporation v. United States, 99 U.S. App D.C. 190, 193, 238 F 2d 266, 269 (D.C. Cir. 1956). The Hush-A-Phone device attached to the mouthpiece of the telephone handset, while the Carterfone created both an acoustic and inductive connection with the handset.
10. H. M. Boettinger, The Telephone Book, (Riverwood 1977; rev. ed. New York: Stearn 1983), 49.
11. H. Latham Breunig, "Who Runs TDI?" GA-SK 4 (April 1973): 2.
12. H. Latham Breunig, "Our Membership Grows," GA-SK 1 (August 1970): 2; H. Latham Breunig, GA-SK 6 (February 1975): 1.
13. William F. Spalton, "NY-NJ Phone TTY, Inc. Celebrates 15 Years of Service to the Deaf Community," GA-SK 16 (Spring 1985): 8.
14. Interviews with Anna M. Terrazzino, president, Phone TTY, June 2004.
15. "Profile … Lee Brody," GA-SK 23 (Winter 1992): 33, reprinted from The Voice (December/January 1992); see also Lang, Phone of Our Own, 101.
16. H. Latham Breunig, "TTY Saves Another Life!!" GA-SK 3 (July 1972): 1.
17. H. Latham Breunig, "TTYs to the Rescue," GA-SK 4 (April 1973): 3.
18. "TTYs Assist the Stork," GA-SK, 1 (December 1970): 2.
19. Lang, Phone of Our Own, 91.
20. IRS Rev. Bulletin 71-48 (February 1, 1971), amending Section 213 of the Internal Revenue Code of 1954, 26 C.F.R. §1.213-1, reported in GA-SK 2 (February 1971): 1.
21. In 1986, pursuant to the Education of the Deaf Act, Gallaudet transitioned into a university. P.L. 99-371 (1986).
22. K. D. Seelman, "TDD Milestones," Gallaudet Research Institute (January 1985).
23. Lang, Phone of Our Own, 121–22.
24. Ibid., 127.
25. H. Latham Breunig, "A New Contract with AT&T," GA-SK 4 (April 1973): 1.
26. Z. C. White, engineering director, inventory management, AT&T, letter to Dr. H. Latham Breunig, March 11, 1974, Exhibit B: "Individual Agreement for Non-Commercial Use of Teletypewriter Equipment." For example, one such agreement read: "All machines and related equipment have been used, are unrepaired, and are transferred without any warranty. No machines or related equipment are subject to exchange or return … [AT&T] assume[s] no responsibility for the condition of the equipment or for repair, maintenance, parts provisioning, instructional material or related information or services." See also "A Word About the Documents," GA-SK 1 (August 1970): 3; Lang, Phone of Our Own, 106.
27. H. Latham Breunig, "Overseas TTYing Is Against Regulations," GA-SK 2 (November 1971): 4.
28. Elaine Gardner, NCLD, Testimony on Accessibility to the Telecommunication System for Hearing-Impaired Consumers at Reasonable Rates, In re: Investigation of New England Telephone Company's Rate Design before the Rhode Island Division of Public Utilities and Carriers (May 6, 1980), 3.
29. H. Latham Breunig, GA-SK 4 (July 1973): 2; TDI, The Blue Book (Silver Spring, Md.: TDI, 2004), 18.
30. Section 504 provides that "no otherwise qualified handicapped individual in the United States … shall, solely by reason of his handicap, be excluded from the participation in, be denied the benefits of, or be subjected to discrimination under any program or activity receiving Federal financial assistance." P.L. 93-112, codified at 29 U.S.C. §794.
31. See 42 Fed. Reg. 22676 (May 4, 1977), codified at 45 C.F.R. Part 84. The delay in promulgating these HEW regulations had prompted major consumer protests and spurred considerable federal litigation. See Cherry V. Matthews, 419 F. Supp. 922 (D.D.C. 1976).
32. See 28 C.F.R. §42.520 (later promulgated to apply Section 504 to entities receiving federal financial assistance from the Department of Justice).
33. A Short History of Telecommunication Devices for the Deaf (Rockville, Md.: Potomac Telecom, 1985): 4.
34. In 1990, NCLD changed its name from the National Center for Law and the Deaf to the National Center for Law and Deafness.
35. Banzhaf, described as a "fellow with a pickax, digging away at social ills and wrongheaded industries," is most famous for his successful efforts to remove cigarette advertising from television programming. Libby Copeland, "Snack Attack," Washington Post, November 3, 2002, F1, 4.
36. Laura-Jean Gilbert, "DEAFWATCH," Gallaudet Today (Spring 1975): 10–13; Larry J. Goldberg, "Law and the Deaf Clinic A New Partnership Begins," The Advocate (GWU Law Center student newspaper), November 11, 1975, 2.
37. See Lang, Phone of Our Own, 158–59.
38. "FCC Considers Installing TTY," NCLD Newsletter 1 (Spring 1976): 6.
39. Chairman Wiley Announces Installation of TTY Phone In Consumer Assistance Office, FCC News Release (December 15, 1976).
40. Gardner, Testimony on Accessibility. For example, NCLD filed testimony supporting an August 10, 1978 petition submitted by twenty-one individuals, seeking an 80 percent TTY discount in the state of Maine.
41. New York Public Service Commission Order 27205 (July 6, 1977).
42. Connecticut Public Utilities Control Authority, Decision in Dkts. 77-0526, Application of Southern New England Telephone Company and No. 77-0520, Petition of the Connecticut Office of Consumer Counsel Regarding Tariffs of the Southern New England Telephone Company Concerning Usage of Teletypewriter Units (December 16, 1977).
43. Lang, Phone of Our Own, 160.
44. 123 Cong. Rec. 31826 (September 30, 1977).
45. S. 1310; H.R. 6327. To encourage interest in the proposed legislation and increase their colleagues' familiarity with TTYs, sponsors of these bills held a demonstration of TTYs on Capitol Hill in June of 1977.
46. Section 119 of the Rehabilitation Comprehensive Services and Developmental Disabilities Amendments of 1978 added "any program or activity conducted by any Executive agency or by the United States Postal Service," P.L. 95-602, codified at 29 U.S.C. §794.
47. Congressman Paul Findley, letter to FCC Chairman Richard Wiley, February 18, 1977.
48. NCLD, Statement to the House Interstate and Foreign Commerce Committee for Hearing Record on Domestic Common Carriers (September 26, 1977).
49. 47 U.S.C. §151.
50. AT&T, Services for Special Needs (April 1977). The artificial larynx, developed in the 1950s, was showcased at the 1964–65 World's Fair in New York City.
51. "A Report to the Deaf Community," GA-SK 8 (May 1978): 2–3; "Law Center Works with AT&T," NCLD Newsletter (January 1978): 8. Chapters 12 and 13 describe the extraordinary struggle for hearing aid compatible telephones.
52. Interview with Joe Heil, May 8, 2003.
53. H. Latham Breunig, "Relief from Long Distance Toll Costs," GA-SK 8 (January 1978): 2.
54. Dr. Jeffrey Krauss, letter to Stanley Fleishman (September 2, 1977). A half year later, Krauss would again emphasize the importance of developing an electronic mail service via computers capable of storing messages, correcting spelling and grammar, and possibly even containing an electronic bulletin board with information about job opportunities. Jeffrey Krauss, FCC Office of Plans and Policy, "The FCC and the Hearing Impaired" (remarks, meeting of the Hearing Industries Association, Hilton Head, S.C., April 14, 1978).
55. NCLD, Telecommunications Service and Charges for Deaf and Hearing-Impaired Citizens, Petition for Rulemaking, (December 21, 1977).
56. 47 U.S.C. §201(a) (emphasis added).
57. 47 U.S.C. §202(a) (emphasis added).
58. Telecommunication Services for the Deaf and Hearing Impaired, Notice of Inquiry, CC Dkt. 78-50, FCC 78-82, 67 FCC 2d 1602 (February 13, 1978). Hereinafter cited as FCC Dkt. 78-50; Inquiry Begun on Communications Needs of the Deaf, FCC News Release, Report No. 13742, FCC 78-82 (February 8, 1978).
59. FCC Dkt. 78-50, ¶8.
60. NCLD Reply Comments in Dkt. 78-50 (July 31, 1978), 2, quoting USITA.
61. FCC Dkt. 78-50, ¶5.
62. Lang, Phone of Our Own, 164.
63. "Specification of Commercial Deafnet Services," Contract NT-81-SAC-00070 with the Deaf Community Center, Framingham, Mass.
64. Interview and exchange of e-mail messages with Brenda Monene of Deaftek, June 16–25, 2004.
65. "Computer Message System," GA-SK 8 (May 1978): 2.
66. AT&T Supplemental Comments, Telecommunications Services for the Deaf and Hearing Impaired, CC Dkt. 78-50 (May 5, 1980): 4–6. Hereinafter cited as AT&T Supplemental Comments.
67. U.S. Comptroller General, Contemplated Legislation to Provide Telecommunications for the Deaf (Washington, D.C.: U.S. Comptroller General, August 14, 1978).
68. 43 Fed. Reg. 22468 (May 25, 1978).
69. Interview with Joe Heil, May 8, 2003.
70. OSD was primarily administered from four regional centers—Philadelphia, Boston, Omaha, and Oakland. In January of 1982, these were consolidated into two locations—provided through New England Telephone in Philadelphia and Northwestern Bell in Oakland. AT&T Memoranda (December 1, 1981; December 3, 1982).
71. By October 1995, AT&T would estimate handling 2.16 million calls annually. Many years later, the FCC would reject a petition by Southwestern Bell Telephone to allow the costs of OSD to be reimbursed through the Interstate Relay Fund, a fund created to implement the ADA's mandates for relay services. Establishment of a Funding Mechanism for Interstate Operator Services for the Deaf, Memorandum Opinion and Order, RM 8585, DA 96-211 (February 21, 1996).
72. AT&T Supplemental Comments, 14.
73. "The Issue Is Communication—TDD Toll Rates," NCLD Newsletter (March 1980): 3–4. These states were Connecticut, Delaware, Idaho, New York, Maryland, North Carolina, Pennsylvania, Tennessee, and Utah.
74. AT&T Supplemental Comments, 14–17.
75. W. E. Albert, AT&T Administrator of Rates and Tariffs, letter to Secretary of the FCC, Transmittal 13822, August 21, 1981, referencing Tariff 263. Although AT&T's tariff initially restricted discounts to calls dialed directly, during the spring of 1988, the tariff was revised to extend the discounts to TTY calls made with calling cards and operator assistance.
76. NCLD, open letter to consumers, September 17, 1981.
77. Joe Heil, letters to Sy DuBow, October 7, 1981; November 5, 1981.
78. Karen Peltz Strauss, "Television, Telephones, and TDDs … Access Is the Issue!" Gallaudet Today (Spring 1985): 17–21, 20. In some states, such as Arizona and Maine, state regulatory commissions mandated TTY toll discounts. In other states, such as Illinois and Massachusetts, telephone companies offered reduced rates voluntarily.
79. "Future of TDI—Should TDI Evolve from an Organization of Members to an Organization of TTY Chapters?" INSIDE TDI (August 15, 1979): 1.
80. "Telecommunications—State Actions," NCLD Newsletter (February 1979): 3.
81. Senate Bill 597, enacted as Chapter 1142, Statutes of 1979 and incorporated into California Pub. Util. Code § 2881. See also Investigation on the Commission's own motion to provide for a program for the furnishing of tele-communications devices to the deaf and severely hearing impaired to be implemented by each California telephone utility, Decision 92603, OII 70 (filed May 6, 1980, opinion January 21, 1981). The amount collected from ratepayers was reduced to three cents after an initial collection of monies produced a statewide surplus. See also Comments of Greater Los Angeles Council on Deafness in FCC Dkt. 83-427 (1983).
82. This was added by Senate Bill 60, enacted as Chapter 585, Statutes of 1985, and eventually incorporated into Calif. Pub. Util. Code § 2881(c). See also California Public Utility Commission, Evaluation and Compliance Division, Report on Funding Problems Involving Deaf and Disabled Telecommunications Services (November 13, 1987), 22.
83. Shelley Bergum, e-mail to the author (February 5, 2003); http://www.ddtp.org/DDTP/committees (retrieved September 9, 2005).
84. NCLD, "The Issue Is Communications—TDDs in Public Agencies," NCLD Newsletter (March 1980): 4.
Epigraph. Roy E. Miller, "Fighting for Access in the Trenches," GA-SK 35 (January/March 2004): 4.
* Approximately 600 surplus teletypewriters also had been donated by AT&T to AG Bell in February of 1968, a few months prior to the Carterfone decision, perhaps in anticipation of its release.
† GA-SK got its name from abbreviations generally used during TTY conversations. "GA," or "go ahead" is used when one party has finished speaking and is ready for the other to respond. "SK" or "stop keying" is used at the end of a conversation as a means of signing off. According to Kenneth Rothschild, quoted in a 1973 edition of GA-SK, however, "SK" had originally been used in railroad telegraphy and meant "send kill" to indicate the completion of a message.
* A letter from Edward C. Carney, Assistant Director of the NAD, to NCLD on December 13, 1977, noted that the costs of purchasing and installing a TTY still ranged from $200 to $700, making it too expensive for many deaf citizens.
* A watchcase receiver allowed a third person to listen to a telephone conversation taking place between a hearing person and a person with hearing loss. The third person, seated in the same room as the individual with the hearing loss, listened to the distant party and "relayed" the information through sign language or by re-mouthing the words in person to the deaf or hard of hearing person seated across from him. That individual responded by voice on his own.
* In fact, some believe that, more than twenty-five years later, reliance by the deaf community on communications via the Internet still has not fully taken the place of the real-time instantaneous communication that TTYs can provide, especially with respect to emergency access.
* MCI began offering its own form of operator services for the deaf, called "Teletext Operator Service," in 1993. Sprint, too, now offers these toll-free services.
* After Heil retired, he became one of the first hearing people on the NAD's board of directors. Just prior to that time, he hired Sue Decker as a customer care representative in AT&T's National Special Needs Center. In subsequent years, Decker would become one of the first deaf women to attain management status in the telephone industry, a position that enabled her to promote the introduction of specialized services into the telecommunications mainstream.
† The California TTY legislation, S.B. 597, had as its original proponent Specialized Systems, Inc., a TTY manufacturer that was interested in generating demand for its new product, the PortaTel TTY. The legislation quickly garnered the support of deaf advocates, including Florian A. Caliguri, Bill White, Bertt Lependorf, and John Galvan. After the bill was enacted, Judy Viera, program manager for the California Department of Rehabilitation, helped to convince the California PUC to require all distributed TTYs to have both the Baudot and ASCII formats. This had the unintended consequence of preventing the PortaTel, which lacked ASCII, from even becoming eligible for distribution in California!