The Focus Shifts: The Pursuit of Specialized Customer Premises Equipment
New developments promise even more opportunities to use telecommunications to increase the security of older or handicapped Americans. … The divestiture process must not be allowed to neglect the needs of the disabled nor the benefits that follow access to telecommunications at affordable rates.
—Senator Charles Mathias
DESPITE THE invention of the TTY in the late 1960s and the efforts of advocacy groups to improve telephone accessibility throughout the 1970s, an appallingly low number of deaf Americans owned TTYs in the early 1980s. The majority of deaf and hard of hearing individuals had little, if any, knowledge that equipment that could meet their telephone needs even existed. And those who had heard of TTYs, amplifiers, or other adaptive equipment did not know where or how to purchase these devices, let alone have the income to afford their high price tags. Surplus teletypewriters were now hard to find, so deaf consumers who wanted telecommunications access had no choice but to spend hundreds of dollars for new, portable TTYs. To make matters worse, the small victories that advocates had attained in convincing some AT&T companies to provide TTYs and other specialized equipment along with mainstream telephone services were now at risk, as new regulatory and judicial roadblocks and a changing telecommunications infrastructure began creating new threats to disability access.
AT&T Divestiture and Computer II
In 1974, the U.S. Department of Justice (DOJ) brought an antitrust suit against AT&T for its alleged attempt to monopolize the nation's telecommunications services and equipment markets. The suit resulted in a settlement agreement between DOJ and AT&T in August 1982, which was approved by Judge Harold Greene of the U.S. District Court for the District of Columbia.1 Known as the Modified Final Judgment (MFJ), the agreement required AT&T to develop a reorganization plan to divest itself of its twenty-two local Bell affiliates as of January 1, 1984.2 Under the plan, the United States was divided into geographic areas called Local Access Transport Areas (LATAs), which were largely determined by area code. The plan allowed AT&T to provide long-distance telephone service between—but not within—LATAs. The MFJ also divided the nation's telephone system into seven regions, each controlled by separate, smaller companies called the "Baby Bells." These companies—Ameritech, Bell Atlantic, BellSouth, NYNEX, Pacific Telesis, Southwestern Bell, and U.S. West—were prohibited from manufacturing equipment, providing information services, and providing telephone services between the LATAs (interLATA services).
Prior to the breakup of AT&T, most hearing Americans found it easy to obtain telephone service. AT&T and its affiliates had little competition from other telephone companies, and, as a result, nearly all consumers leased their telephone equipment and purchased both local and long-distance service from AT&T. Simplicity was at the heart of this system; consumers enjoyed the service they were given and had only one phone bill to pay. In the late 1970s and early 1980s, AT&T's affiliates and a few independent telephone companies finally began offering TTYs, light signalers, telephone amplifiers, and other specialized customer premises equipment (SCPE) along with their conventional voice telephone equipment. In keeping with the overall national philosophy of a single telephone system for all Americans, telephone companies offered these devices to consumers at prices far below their actual production costs by subsidizing their higher costs with revenues received from other regulated telephone services. In this manner, TTYs and other specialized equipment became an ordinary and regular cost of providing a community's telephone services. All general ratepayers, not just those with disabilities, contributed to the research, development, and distribution of these specialized devices.
However, nearly as soon as people with hearing loss began acquiring SCPE for their homes and offices, the telephone industry began to change. Telephone companies started to become more interested in manufacturing and selling, rather than renting, telephone equipment. As this occurred, regulators began to fear that AT&T's affiliates and other major carriers would have an unfair advantage over competitors because they could subsidize the research and development of new telephone products with revenues from their local telephone services. This cross-subsidization would enable these companies to easily undercut the prices of their competitors. To prevent this from happening, the FCC issued a ruling in 1980—the Computer II ruling—that prohibited AT&T and later on, GTE, from providing any new telephone equipment, whether conventional or specially designed for people with disabilities, through their regulated services.3 These services were governed by tariffs that were filed with state and federal regulatory commissions. By deregulating, or "detariffing," telephone equipment, and requiring companies to separate the manufacture and provision of these products from their services, the Commission hoped to increase competition in the sale of this equipment. However, deaf and hard of hearing consumers realized that the loss of cross-subsidized funding would result in much higher costs for the specialized equipment they needed.
The Telecommunications Act for the Disabled of 1982
During the 1970s, AT&T and other major telephone companies began using lighter, more tamper-resistant materials to make telephone handsets. An unexpected result of this change was that hearing aid users had more difficulty hearing over the new phones. The Organization for Use of the Telephone (OUT) and other advocacy groups galvanized their members to convince Congress to restore the hearing aid compatibility of these devices. Their successful efforts ultimately resulted in the passage of the Telecommunications for the Disabled Act (TDA) of 1982.*
Other advocacy groups saw the TDA as a means to counter the potentially harmful effects of the FCC's Computer II ruling. Just prior to the legislation's enactment, they had convinced Congressman Timothy E. Wirth (D-Colo.), chairman of the Telecommunications, Consumer Protection, and Finance Subcommittee of the House Committee on Energy and Commerce, to add a provision to the bill giving state regulatory commissions authority to allow their local telephone companies to continue subsidizing the costs of providing TTYs and other specialized equipment with payments received for their general telephone services.4 When the TDA passed (with this provision intact), it proved to be a watershed event in the nation's efforts to expand telecommunications access for people with hearing disabilities.5 The law elevated the importance of such access in a way that had never been done before. The House legislative report explained its significance:
Persons with normal hearing may be unable fully to appreciate the pervasiveness of the telephone both in commercial transactions and personal contacts. The inability to use this instrument, except through an interpreter, is not only a practical disability but a constant source of dependency and personal frustration. Conversely, the ability independently to use the telephone may enable persons with other severe handicaps … to lead self-sufficient lives in regular contact with society. The Committee believes that making the benefits of the technological revolution in telecommunications available to all Americans, including those with disabilities, should be a priority of our national telecommunications policy.6
Equally important, in the legislative history of this act Congress articulated the problems of relying on market forces as a means of ensuring telephone access by people with disabilities. Although collectively, people with disabilities constitute a significant portion of the American marketplace, each disability cluster is often not large enough to influence market trends. In addition, because individuals with disabilities often have lower incomes than those of the general public, they have fewer spending dollars at their disposal to guide competitive market forces. Congress explained that the FCC's plans to rely on competition to maintain the costs of telephone equipment simply would not work for people with disabilities: "For most ratepayers, deregulation may indeed ensure a competitive market in telephone sets and eliminate subsidies for such sets from local rates. For the disabled, however, the ban on cross-subsidization could mean unregulated price increases on the costly devices that are necessary for them to have access to the telephone network."7 If this equipment became unaffordable for people with disabilities and they lost telecommunications access, Congress concluded, the costs to society would be much greater than the costs of continuing to subsidize specialized products and services.8
By recognizing the limitations of the competitive market as a means for driving disability access, the TDA laid the groundwork for future deaf and disability rights advocates to push for legislative and regulatory telecommunications access mandates in an increasingly deregulatory environment. Similarly, the legislators' reliance on the Communication Act's universal service obligation as the basis for allowing the continued subsidization of specialized equipment would provide the foundation for many future legislative efforts:
Disabled persons who are unable to afford the full costs of [specialized] equipment will lose access to telephone service. This would disserve the statutory goal of universal service [and] deprive many individuals of the opportunity to have gainful employment. … The costs of such lost access, including impairment of the quality of life for disabled Americans, far exceed the costs of maintaining service that the current system allows telephone companies to include in their general revenue requirements.9
The Efforts to Keep SCPE Locally Based
Congress's attempts to salvage affordable SCPE through an exemption to the FCC's Computer II ruling was not set to become effective until January 1984, a year after that ruling was to go into effect. To close this gap, on October 22, 1982, AT&T filed a petition with the FCC for a temporary waiver of the Computer II ruling to allow its Bell operating companies to continue subsidizing new specialized equipment without forming separate subsidiaries. By this time, AT&T coordinated the provision of SCPE through sixteen telecommunications centers for disabled customers located around the country. AT&T told the FCC that it wanted to make sure its specially trained personnel could continue serving the unique telecommunications needs of consumers with disabilities while the parent company divested itself of these local entities. It claimed that its specialized centers had helped to make innovative products and solutions available to "a market segment that might otherwise be ignored because of its small numbers and high costs to serve."10 On November 5, 1982, OUT filed a similar petition, citing the lack of competition in the market for specialized equipment.
At first glance, the petitions filed by AT&T and OUT appeared to seek a similar end, but a closer look revealed their very different goals. OUT wanted the local telephone companies to offer new SCPE under state regulation on a permanent basis. AT&T, however, was seeking only a temporary waiver, until all of its operating companies could completely transfer this responsibility to its separate subsidiary, American Bell. Indeed, in the same breath that AT&T was requesting permission to keep its local centers open for business, it was announcing plans to provide all SCPE through a single nationwide disability center after divestiture. AT&T's petition also made clear that a waiver was only being sought until the company could secure detariffing—or deregulation—of all SCPE throughout the fifty states.
Consumers with disabilities feared what might occur if AT&T proceeded with its plans. Local regulatory safeguards had kept down TTY prices, and consumers did not wish to lose these safeguards or the regional disability centers that had served them well. Although advocates had been successful in convincing Congress to permit the continued regulation of specialized equipment for people with disabilities by state governments, AT&T now seemed primed for a battle to eliminate any such regulation.
On December 22, 1982, just a few days before the effective date of the Computer II Order, the FCC granted both OUT's and AT&T's petitions.11 As had Congress, the FCC ruled that telephone companies were permitted, though not required, to continue offering new SCPE under tariff, without forming separate subsidiaries. But while consumers were hopeful that the TDA and the new FCC "Disabled Waiver Order" would apply pressure on state regulatory authorities to continue requiring their telephone companies to subsidize the costs of specialized equipment until and beyond the TDA's January 1, 1984, effective date, AT&T had some very different plans for the future of SCPE.
FCC Implementation of the TDA
By the time that Congress passed the TDA, more than four years had passed since the FCC had opened its very first proceeding on telecommunications access, docket 78-50. Unfortunately, since that time, the FCC had done very little to resolve the issues raised in this proceeding. Congress did not mask its annoyance with the Commission for its failure to address the needs of people with disabilities in a timely fashion: "For years, the special needs of these groups have not received adequate attention at the Commission. The Commission has taken no action to resolve issues raised in Docket 78-50, opened four years ago in order to consider standards for hearing aid compatibility and to resolve problems facing the deaf. There is no evidence that the Commission gave any consideration to the needs of the handicapped in the context of the Second Computer Inquiry."12 The FCC's foot-dragging prompted Congress to give the FCC only a year to issue regulations under the TDA to ensure "reasonable access" to telephone service by persons with hearing disabilities.13
The Commission complied with this directive by opening a new disabilities proceeding, docket 83-427, on April 27, 1983.14 But to the shock and dismay of consumers, it announced the very same day that it was closing docket 78-50 without issuing any final rules to address the issues raised in the 1977 consumer petition that had led to that proceeding. The FCC also rejected outright the need for mandated reductions in long-distance TTY rates, concluding that AT&T already offered these discounts and that new competition in the long-distance service market would independently bring down long-distance costs. Consumers found flaws in both of these rationales. Although it was true that AT&T had voluntarily agreed to discount its rates, unless AT&T's competitors were subject to the same rates, TTY users would not have long-distance choices. Moreover, the existence of competition among long-distance service providers for conventional voice services would not rectify the disparity in toll-call expenses for TTY users. An across-the-board decline in long-distance rates would still result in TTY users paying more for calls than other subscribers because of the extra time it took to complete those calls.
In this same opinion, the FCC also denied consumer requests for TTY-equipped payphones, claiming that portable TTYs were now available for use with public phones. Advocates knew, however, that consumers were not apt to carry these lighter, but still bulky TTYs around with them. And even those consumers who did use portable TTYs could not use them with payphones because the FCC had not mandated the outlets and shelving needed to accommodate these devices.
The Commission's new proceeding did carry forward a few of the issues contained in the now extinct 1978 proceeding. Affirming Congress's "determination that a competitive environment may not always be the most effective means for assuring the availability of specialized equipment for the disabled," the Commission now asked whether disability access to the services provided through AT&T's centers should be expanded, and whether these should include incidental telephone services such as operator and directory assistance.15 While the FCC also asked about measures to ensure the reasonable availability of SCPE, it made very clear that it was not about to mandate the provision of this equipment at the federal level. Quoting the legislative history of the TDA, it concluded that decisions about regulating specialized equipment had to be left to carriers and state commissions.16 At most, the agency seemed inclined to issue a rule that would require carriers to merely inform consumers about where to obtain these specialized devices.
The Battle for Regulated SCPE
Comments submitted in response to the FCC's new disability proceeding were strikingly similar to those submitted in the 1978 proceeding, despite the passage of five years. The NAD, OUT, NCLD, AG Bell, the American Speech Hearing and Language Association (ASHA), and Self Help for Hard of Hearing People (SHHH) again called for telephone companies to be responsible for supplying accessible devices and services, including TTYs, hearing aid-compatible telephones, amplifiers, hands-free phones, TTY-accessible operators, and directory assistance and business office services. Although AT&T's toll-free number for operator services was useful, they said it was not very helpful when local problems, for example, billing errors, occurred. Also, after all of these years, TTY users still had virtually no access to public telephones (especially at airports and other transportation centers), no access to recorded messages, and very little access to 911 and other emergency telephone numbers.
This time around, the FCC also heard from state public utility commissions, who opposed federal disruption to the local programs they had created to provide SCPE and discounted TTY rates. Still other parties pushed for the FCC to explore technologies that could improve upon TTY access, including electronic mail and the use of modems and portable keyboards that would directly attach to standard telephones.17
In sharp contrast to these consumer demands for increased federal involvement, AT&T, GTE, USITA, and others in the telephone industry insisted that the FCC continue to pursue marketplace solutions to address the needs of people with disabilities. Each directed the Commission to the accessible technologies and services their companies already had developed to argue against pervasive governmental regulation.
At the time, governmental regulation divided telephone equipment used by residential customers into two categories: new and embedded. New equipment was defined as all equipment not currently in inventory that would be offered to customers after January 1, 1983. Conversely, embedded equipment included devices that had been leased to a customer or were still in the telephone company's inventory as of that date. The FCC's Computer II rule had only prohibited the cross-subsidization of newly manufactured equipment as of January 1, 1983. But in his divestiture order, Judge Greene had also directed the transfer of embedded equipment from the local Bell operating companies to AT&T. In response, AT&T had set up Embedded Base Organizations (EBOs) for the purpose of managing this equipment. In its comments on the FCC's new proceeding, AT&T now announced its decision to transfer TTYs and all of its other specialized equipment for people with disabilities from its local operating companies to these EBOs and then to seek detariffing of that equipment. AT&T maintained that it would be contrary to Judge Greene's approved reorganization plan to allow the local companies to retain any embedded equipment—specialized or not—after its divestiture.18 In place of state regulation of that equipment, AT&T announced its intention to submit to the Commission, within sixty days, a "price predictability plan" to propose pricing limits for this SCPE.19
AT&T's strategy was motivated by an agenda that went far beyond disability access issues. Ever since Judge Greene had instructed the company's local affiliates to separate their telephone equipment operations, AT&T's telephone service units had wanted to close all of their equipment divisions. Service was service and equipment was equipment. This division was so absolute that employees in some AT&T buildings drew yellow lines down the middle of their corridors to separate the two types of operations!20
Advocates cared less about AT&T's motives than they did about the consequences of the company's proposed actions. Although AT&T alleged that the costs and availability of SCPE would remain stable, consumers believed that AT&T's proposed arrangement would thwart the very purpose of the TDA. That act enabled the states to provide financial and regulatory support for specialized equipment to keep its prices down and its availability abundant. But AT&T's plan effectively removed TTYs and other specialized equipment from any state regulatory control, thus ending the cross-subsidization of SCPE costs with revenues from local telephone services. Deaf and hard of hearing consumers reminded the Commission that only a few months before, AT&T itself had touted the benefits of allowing local telephone companies to provide SCPE; back then, the company had noted that it would "clearly benefit" customers with disabilities to have a "single point of contact" within the Bell operating companies to meet their special needs "promptly and effectively."21 AT&T now appeared to have taken a 180-degree turn in its new quest to dismantle control over these local services. Consumers argued that once existing inventories of specialized equipment were transferred to AT&T, state commissions would be unlikely to require local companies to incur the huge expenses associated with restocking those inventories and training new personnel.
Community advocates took action. Scott J. Rafferty submitted a letter to the U.S. District Court presiding over the AT&T divestiture, urging the court to disapprove the section of AT&T's reorganization plan that allowed the company to transfer its specialized equipment.* The transfer, he wrote, could "ultimately result in unregulated price increases … [and] lead to an unnecessary and confusing duplication of responsibility between AT&T and the operating companies."22 This letter was followed by identical requests from Al Pimentel, executive director of the NAD (on behalf of the NAD, TDI, and the American Deafness and Rehabilitation Association) on July 28, 1983 and from NCLD on August 4, 1983. On August 3, 1983, Senator Charles Mathias (R-Md.) joined the chorus of protesters in a floor statement that urged the divestiture process not to neglect the needs of people with disabilities.23 Each of these advocates urged Judge Greene not to rule on AT&T's plan of reorganization until AT&T submitted a specific proposal revealing its future plans for the provision of SCPE. In the event that the court did agree to allow the transfer of SCPE to AT&T's separate, unregulated subsidiaries, consumers asked that this be contingent upon AT&T's willingness to subsidize this equipment with revenues collected from its long-distance services.
The fate of SCPE was a minor consideration in the epic decisions that Judge Greene had to make with respect to the nation's telecommunications system. But when, on August 5, 1983, Judge Greene approved AT&T's reorganization plan, he nevertheless made clear that he would not let the decree frustrate the purposes of the TDA. Specifically, Greene cautioned that AT&T's plan would be subject "to whatever equitable arrangements may be made among AT&T, the operating companies, and the representatives of the disabled regarding continued subsidization of such equipment."24
Notwithstanding Judge Greene's promises, with only months remaining before AT&T's divestiture, the deaf community remained concerned about AT&T's future plans for SCPE. Still interested in receiving federal guidance on this matter, eleven national organizations filed a joint petition with the FCC on August 23, 1983, requesting the agency to expedite its ruling on the handling and management of this equipment.25 The petitioners maintained that with the lone exception of AT&T, virtually all parties to the FCC's proceeding—even organized labor and the competitive telephone industry—had come forward in support of a ruling that would allow the states to regulate SCPE.
As consumer advocates worked tirelessly to save what little state regulation over TTYs and other SCPE was left, AT&T forged ahead with its deregulatory agenda. On September 14, 1983, the company filed its proposed Price Predictability and Sale Plan for Specialized Terminal Equipment with the FCC, detailing the maximum monthly lease and sales prices that it proposed to charge for specialized equipment over a three-year period.26 Although AT&T acknowledged that the plan might result in some changes to consumer equipment costs—some for the better, some for the worse—the company urged the FCC to allow the SCPE market an opportunity to operate on its own.
Consumer criticism of AT&T's proposals was harsh.27 Various organizations, including the NAD and NCLD, charged that AT&T had engaged in delaying tactics designed to prejudice consumers in their efforts to prevent AT&T from stripping the operating companies of facilities and assets that had been funded by ratepayers to meet the needs of people with disabilities. They insisted that any additional delay would continue to confuse the regulatory status of SCPE even after AT&T's divestiture, to the detriment of consumers with disabilities. Advocates steadfastly disagreed with AT&T's claims that a deregulated market could accomplish the purposes of the TDA. Without numerical strength, consumers with disabilities would never have the market clout to influence competitive pricing for SCPE.28 Even the National Association of Regulatory Utility Commissioners (NARUC) opposed AT&T's plan, charging that AT&T's request violated the will of Congress, as embodied in the TDA, to allow states to continue regulating SCPE.*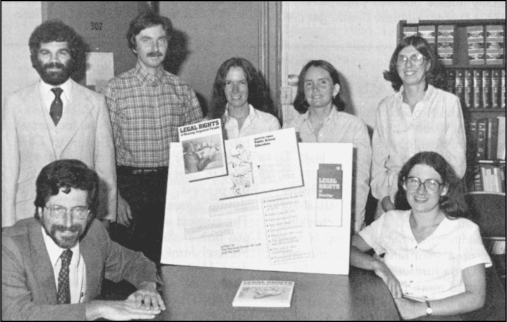 NCLD legal staff in 1982. Left to right, Sy DuBow (seated), Larry J. Goldberg, Marc Charmatz, Elaine Gardner, Shelia Conlon Mentkowski, Mary-Jean Sweeney, and Sarah Geer. The author joined the center two years later.
Consumers also had concerns about AT&T's price predictability plan. While the TDA clearly intended for new technologies to be widely available to people with disabilities, NCLD charged that AT&T's plan showed "an astoundingly bold effort to limit the disabled to a small range of low-technology equipment, the affordability of which is guaranteed for only three years."29 In fact, AT&T's plan listed only fourteen equipment items, with few or no devices available for people who were deaf-blind, had memory impairments, or were mobility disabled. In addition, many of AT&T's proposed rates exceeded the prices determined by state commissions to be just and reasonable. Even worse, AT&T made no commitment to maintaining sufficient supplies of SCPE to meet consumer demand, no provision for the procurement of new equipment, and no provision for warranties or service contracts.
In conjunction with the rate proposal, AT&T also formally announced its intention to close all sixteen of its telecommunications centers for the disabled and replace them with a new AT&T National Special Needs Center (NSNC) that would centralize all SCPE in a single location in New Jersey. AT&T claimed that consolidation of its SCPE and associated services would result in greater expertise among its staff and better prices for consumers, and that the new center would have no problem handling the approximately 300,000 customer contacts that had been coming into its local centers each year. Moreover, because approximately 90 percent of those local customer contacts had been received by telephone, AT&T said that most of its customers would not even be affected by the move.
The deaf community again reacted negatively. Many complained that service from one centralized location was not an adequate substitute for local, personalized service. Consumers in many parts of the country had grown accustomed to visiting local sites for their specialized equipment; others did not want to give up in-home visits by skilled telephone company personnel who had assisted subscribers in their selection and installation of specialized equipment.30
Once again, consumers turned to Judge Greene. On November 10, 1983, NCLD and the NAD sent a letter to the District Court, alleging that the establishment of AT&T's NSNC was "fundamentally inconsistent with the basic principles of the consent decree and the plan of reorganization."31 They asked the court to either block the proposed equipment transfer or to require AT&T to indemnify the operating companies for the costs of reconstructing operations that would be needed to serve people with disabilities. Around the same time, to further demonstrate the support of Congress, Senator Mathias introduced legislation, S. 1828, which would give Judge Greene additional time to consider whether the transfer of SCPE to a centralized location was truly in the public interest. The senator also orchestrated meetings among consumers and industry representatives to achieve a mutually agreeable solution on the handling of SCPE.
On November 25, 1983, the FCC responded to NCLD's urgent request to resolve the detariffing issue.32 Consumers finally secured a small victory when, in this order, the Commission rejected AT&T's attempts to win a federal ruling that would detariff all SCPE nationwide. In a strongly worded opinion, the FCC confirmed that Congress intended for the states to be allowed to continue their oversight of specialized equipment:
The detariffing of terminal equipment will cause competition to drive prices to costs and will effectively prevent the State commissions from regulating the price and other terms under which the consumer obtains terminal equipment. … [A]s applied to disabled persons, such a policy could lead to substantial price increases and reductions in the access to the nationwide network which persons with disabilities currently enjoy.33
But while the FCC would not disrupt the states' plans to provide SCPE, it concluded that the TDA's permissive language allowed the states to decide whether and how to regulate this equipment. This was exactly what AT&T had needed; all that remained was to secure approval from each of the fifty states to deregulate specialized equipment and to replace prior tariffs with pricing predictability plans or similar alternatives.
In December 1983, the FCC officially modified its Computer II rule to allow the states to continue subsidizing the costs of SCPE with revenues from regulated services after the AT&T divestiture.34 At the same time, the FCC tackled the definition of SCPE. Telephone companies had been concerned that too broad a definition might lead to the anticompetitive abuses that the FCC's Computer II ruling had been designed to prevent. Accordingly, they sought to include only equipment that was designed specifically for people with disabilities, allowing equipment for more generalized uses to remain subject to market competition.35
Consumer advocates, on the other hand, wanted a broad application of the term to allow subsidies for all types of equipment needed to facilitate communications access. OUT urged that the definition include any device—regardless of its typical or potential use—needed by, or to communicate with, a person with a disability. Similarly, Scott Rafferty urged a flexible standard that encompassed devices, such as the artificial larynx, which could be used for telephone communication or other purposes, as well as equipment (e.g., speakerphones and automatic dialers) that was useful to both people who had and did not have disabilities.36 In a June 14, 1983, letter to Al Pimentel, Rafferty commented that he thought the FCC wanted to restrict the scope of SCPE, and he strongly urged the disability community to unite in pushing the Commission to give "full force to the intent of the statute."37
The FCC heeded these pleas, and broadly defined SCPE to encompass any customer premises equipment that "a person with a particular disability needs to access the network without assistance, or a non-disabled person needs to communicate with a disabled person."38 Where a device (e.g., an amplified handset) was needed by a person with a disability to use the telephone, the device would qualify as SCPE, even if the same device did not fall within this definition when used by a hearing person. As an example, the FCC explained that speakerphones could be SCPE because such "equipment may be needed by the disabled regardless of whether it was designed with them in mind."39 Overall, the definition was designed to cover expensive equipment produced on a small scale (e.g., TTYs, artificial larynxes, and bone conductor receivers), with prices that could escalate in a deregulated environment.40
While pleased with the FCC's expansive interpretation of SCPE, consumer advocates were very disappointed with many other parts of the FCC's December order. Aside from its rules on hearing aid compatible phones, the FCC had done little else to ensure reasonable access to telephone service by people with hearing disabilities. Specifically, having left the matter of tariffing to the states, the Commission's order offered no guarantees that TTYs and other specialized telephone devices would be either available or affordable. Rather, it merely directed carriers to provide customers with information about the availability and costs of these devices.
The Commission also concluded that because AT&T, and to a lesser extent, GTE, were already offering TTY-accessible operator and directory services, the government did not need to require access to these services. Instead, it merely required companies to give the FCC and state regulatory authorities six months notice prior to any intent to terminate these services, at which time those authorities could determine whether such termination was in the public interest. The Commission also rejected, yet again, requests to require TTY long-distance toll discounts, finding that the TDA did not mandate such discounts.
It became apparent to deaf and hard of hearing consumers that the FCC did not comprehend the need to require accessible services and features by all new carriers entering the post-divestiture telecommunications market. Nor did the FCC see as a step backward its ruling to let the states decide whether to discontinue providing TTY-accessible services. To make matters worse, the Commission refused to require access to what it termed "more sophisticated or costly" services, including call waiting, call forwarding, and relay services.41 The Commission summarily dismissed the need to mandate these services, even though it made no effort to consider the social and economic costs of depriving such access or, conversely, the societal benefits of mandating their provision.
Equally disheartening was the FCC's outright refusal to require that public telephones be TTY-accessible. The FCC claimed that the TDA's directives for reasonable telephone access were "limited by its terms to telephones, not [TTYs]." Additionally, the agency asserted, no section of the TDA had affirmatively required placement of either a telephone or a TTY in any public location.42 Even if these devices were covered, the Commission said it was unwilling to adopt a payphone accessibility rule because such a rule would impose "substantial costs" on the public, governmental, and private entities that controlled public phones.43
The last issue tackled in the FCC's December order concerned compatibility issues between the Baudot code used in TTYs, and the ASCII format used in computers. The Baudot format, which had been used for data transmissions until the 1960s, had considerable drawbacks: In addition to being very slow, it used the half-duplex mode, requiring users to take turns when sending messages. Some in the deaf community wanted ASCII adopted as a national TTY standard; they were concerned that the lack of compatibility between this obsolete technology and the more modern ASCII format would keep TTY users from benefiting from more advanced technological innovations.* The FCC considered but rejected this standard, and decided that additional government time and resources should not be devoted to this issue because the costs of phasing out Baudot-only TTYs were not justified.
In later years, consumers, too, would become conflicted about relinquishing the Baudot format. Despite its inadequacies, Baudot remained user-friendly: It merely required placement of the telephone handset on the TTY cradle to type a message. Moreover, unlike ASCII, Baudot permitted communication to be initiated, broken, and then reestablished, a feature that was especially important for emergency communications. The ease and reliability of these devices kept this technology the prevalent TTY format throughout the last two decades of the twentieth century.
Around the same time that the FCC came out with its December order, it directed AT&T to deregulate all of its existing (embedded) telephone equipment as of January 1, 1984, the effective date of AT&T's divestiture.44 AT&T would have to transfer these devices to its new subsidiary, AT&T Information Systems (AT&T-IS), and would be prohibited from allocating any of the expenses incurred by this new entity to its regulated telephone services.† This policy would prevent individuals who purchased AT&T's telephone service from having to pay for the company's equipment venture costs. Convinced that this would cause the embedded SCPE to become more difficult to find and more expensive, NCLD made an eleventh-hour appeal to Judge Greene. In a December 20, 1983, letter to the court, NCLD urged the judge to forbid the transfer of any SCPE assets to AT&T or its subsidiaries. Without the ability to average the costs of SCPE into their general revenue requirements, NCLD argued, the local companies could later claim they did not have the economic resources to offer specialized equipment.
Consumers feared that time was running out. By now, an estimated eleven states had already granted AT&T's request to detariff its specialized equipment. At the same time that the FCC was neglecting to ensure the availability and affordability of SCPE at the federal level, AT&T's plan to deregulate SCPE on the state level was succeeding masterfully.
The FCC further dashed consumers' hopes on December 29, 1983, when it granted a waiver of its Computer II rules to allow AT&T to use its AT&T-IS subsidiary to handle billing and other office services associated with the distribution of all embedded specialized equipment from its National Special Needs Center.45 The waiver was only temporary—it was to last until June 30, 1984, during which time AT&T was to submit supplementary information detailing the ways in which it intended to meet the needs of people with disabilities through that Center. But this FCC order triggered yet another flood of pleadings and counter-pleadings from AT&T and the deaf community.
AT&T began the cascade of submissions on January 30, 1984, in a filing that vigorously defended its decision to centralize its specialized equipment operations.46 It told the FCC that its NSNC, which was in its third month of operation, was already able to reach consumers living in geographical areas previously not covered by its local centers. The center had thirty-five full-time and fourteen part-time employees who provided advice and processed orders on specialized and standard equipment in response to an average of 1,800 to 2,000 calls per day.
AT&T also claimed that its thirty-million-dollar investment in SCPE would reap the greatest benefit if it provided this equipment through a single, national location. By centralizing its operation, AT&T said it could increase production, reduce marketing costs, and lower maintenance expenses, thus allowing the company to reduce costs to consumers. In the same filing, AT&T reported its significant outreach efforts to alert consumers about its new center and announced the creation of a new consumer advisory group made up of disability leaders who would regularly examine the impact of AT&T's internal policies on telecommunications access.*
While on the surface, AT&T's promises appeared responsive to the disability community, advocates remained uneasy. On February 13, 1984, the NAD and the American Council of the Blind (ACB) filed a joint petition for reconsideration of the FCC's December order, complaining that the FCC had neglected to fulfill its obligation under the TDA to ensure the availability and maintenance of TTYs and other specialized equipment, TTY operator assistance, and appropriate transmission rates and repair services. In addition, the consumer groups charged that the Commission had failed to provide "economic access," specifically, financial parity with general ratepayers. They explained that in compliance with its universal service obligation, the Commission already had other programs—Lifeline and Link-up Assistance programs—that provided economic subsidies for telephone hookup and service charges for low-income subscribers. No similar mechanism had been designed to subsidize service and equipment for people with disabilities.
Calling for federal guidelines to ensure full telecommunications access, the NAD and ACB roundly condemned AT&T's past actions. They pointed out that Congress (through the TDA), the FCC (through its recent report and order), and Judge Greene (through his oversight of the AT&T settlement) had expressed a preference for embedded SCPE to remain with the local operating companies. In blatant disregard for these rulings, AT&T was not only unilaterally transferring SCPE to itself, but taking active measures to have this equipment completely deregulated nationwide: "AT&T has indicated its disinclination to serve the handicapped on a regulated basis and its action may well have impaired the ability of the divested operating companies to do so."47 They urged the FCC to prohibit AT&T from transferring its SCPE to a centralized location and to mandate the full staffing of each of its embedded base organizations to ensure local distribution and oversight of that equipment. In a second filing on February 24, 1984, the NAD again opposed AT&T's January 30th petition to permanently distribute its SCPE from its NSNC.48 This time the NAD also recommended that, should the petition be granted, the FCC retain traditional regulatory controls over the rates and availability of SCPE to prevent people with disabilities from being disadvantaged by AT&T's actions.
Only a few weeks later, AT&T submitted two more sets of comments.49 In these, AT&T insisted it had not made a unilateral decision to transfer the SCPE; rather it claimed the reorganization plan required it to segregate its embedded equipment from its local telephone services. Because nothing in the TDA required federal tariffing of specialized equipment, AT&T urged the Commission to uphold its November 1983 decision to allow the state commissions to decide whether or not to regulate these devices.
In its second filing, AT&T also argued that if it divided its SCPE investment among the remaining twenty-two companies, the consequence would be inefficient staffing and inferior service for people with disabilities. In contrast, were AT&T-IS permitted to retain responsibility for SCPE, it would be able to provide quality service at a fraction of the cost, through a fully equipped NSNC that had the expertise needed to address disability needs. This provoked another round of replies from the NAD and ACB on March 22, 1984, in which the organizations argued, yet again, that AT&T's decision to centralize SCPE production and sales would inflict harm on the disability community.
The barrage of submissions finally came to a halt on August 13, 1984, when the FCC permanently granted AT&T's request to allow its national center to provide services associated with SCPE on behalf of the embedded base organizations.50 Holding steadfast to its opinion that the states could decide for themselves whether to regulate specialized equipment, the Commission flatly rejected the NAD's requests to impose any regulation or subsidies for SCPE at the federal level. Perhaps not surprisingly, the Commission once again also denied requests to mandate TTY operator assistance, discounted TTY rates, and TTY repair services. Although the Commission promised to reconsider the need for regulatory action if individuals with disabilities were not receiving reasonable telephone access by June 30, 1985, the order essentially dashed any hopes of federal action on these various issues.
The Divestiture Takes Hold
In the midst of AT&T's breakup, small, specialized manufacturers began to make significant improvements in TTY technologies. The new devices came in various sizes and with multiple options, including battery packs, light signalers, built-in printers, answering devices, and, as of 1985, ASCII transmissions. Additionally, around 1984, Ultratec invented "direct connect" TTYs that allowed users to plug their TTYs directly into telephone jacks without first hooking up to a conventional telephone. The new design eliminated tone transmission problems that occurred when newer, trimmer handset models did not easily fit into TTY couplers. It also eliminated extraneous noise that caused TTY couplers to transmit unrelated numbers or symbols.
With the increase in TTY choices, many states (thirty by 1985) abandoned SCPE regulation. In many of these jurisdictions, consumers received little or no notice of the changes taking place. When they did, (e.g., in Colorado, Minnesota, Maryland, and Maine), they fought vigorous but unsuccessful battles to oppose these changes.* The outcome of this mass deregulatory effort confirmed the worst predictions of telecommunications access advocates. The prices, availability, distribution, and maintenance of TTYs and other types of specialized equipment started to vary widely across the United States. Many products previously available under leasing agreements with local Bell affiliates were now only available for purchase at prices far beyond the reach of consumers with disabilities. For example, before divestiture, a consumer could lease an amplifier handset from the local Bell company for only $.65 a month; after divestiture the same handset had to be purchased from AT&T's national center for $34.95.51 Worse, consumers no longer could rent portable TTYs for $13 per month; instead, they had to buy them for the full purchase price of $419.96! Other products that served only small segments of the disability community seemed to disappear altogether. According to OUT,
This confusing situation has created a great deal of frustration among disabled telephone customers; many do not know where to turn to obtain needed equipment, prices vary from state to state, availability is uncertain, slow deliveries create hardship, and repair service is difficult to find. The pre-1984 smooth supply of SCPE, under state commission-approved tariff rates, with assured local availability of devices and repair services, now has become a costly source of irritation and deprivation.52
As a consequence, the vast majority of Americans with severe hearing loss still remained without telephone access. In 1984, a report by the Architectural Transportation and Compliance Board estimated the number of TTY users nationwide to be around 100,000.53 Even this estimate was considered to be high by TDI, which, during that year, placed the number closer to 40,000. While the actual count probably fell somewhere between these two numbers, no one could dispute that the nationwide trend toward state deregulation of SCPE was stunting the growth of telecommunications access. Moreover, a survey conducted by NARUC revealed that only a fraction of the states actually required their telephone companies to provide TTY access to telephone business offices, operator services, and directory assistance.54 While some local companies offered these services on a voluntary basis, virtually no companies had yet implemented the technology needed for TTY access to disconnected telephone number recordings or enhanced telephone services such as call forwarding or call waiting.
The lack of consistency among the states, coupled with the FCC's failure to actively safeguard the needs of people who used specialized equipment, prompted consumers to again turn to Congress in 1985. Their efforts resulted in the introduction of two bills—S. 402, which would have required local telephone companies to provide specialized equipment at affordable rates and to recover their costs from regulated services through their state commissions; and H.R. 1432, the Handicapped Independence Assistance Act of 1985, which would have allowed federal health insurance programs to cover communication aids designed to reduce barriers to employment and education.55 Neither of these bills passed.
In February 1986, Dr. Katherine Seelman of the Massachusetts Commission for the Deaf and Hard of Hearing and Dr. Judith Harkins of Gallaudet University convened a forum of distinguished telecommunications experts in Washington, D.C., to discuss how best to meet the telecommunications needs of people with disabilities.56 Many of the participants agreed that consumers stood in jeopardy of losing telecommunications access because of the telephone industry's inadequate policies. With few legal protections, many feared that the business incentives needed to develop innovative equipment and services for people with disabilities simply did not exist.
However, not all the participants shared this view. Joe Heil, the forty-one-year veteran of AT&T and longtime friend to the deaf community, understood the community's frustrations at not being able to lease SCPE, their confusion with conflicting state policies, and their concerns with delays in obtaining equipment from AT&T's NSNC. But Heil insisted these shortcomings were due less to a lack of commitment by AT&T to help the disability community than to "initial logistical problems" related to the company's divestiture.57 As an example, Heil pointed to AT&T's new ability to provide customers located across the country with all types of devices previously unavailable from their local telephone companies.
Heil was not the only AT&T employee to take a deep and personal interest in disabilities issues. Longtime AT&T employees Ron Hatley and Elaine Hatcher similarly plunged knee deep into these matters. As marketing manager at AT&T's national center, and later manager of AT&T's Consumer Advisory Group, Hatley recognized the value of regularly soliciting feedback from the disability community on AT&T's practices.* In order to meet the community's needs, he used his position—and his passion for disability rights—to wage internal battles for improved telephone amplification, captioning of AT&T's television commercials, and other forms of access. Before assuming the job of AT&T's district manager for consumer tariffs in 1984, Hatcher had served as the company's manager of FCC complaints and inquiries, where she fielded questions from deaf and hard of hearing customers about AT&T's services. As time went on, Hatcher became increasingly immersed in matters of concern to the disability community, and a source of expertise on these issues for individuals inside and out of AT&T.†
Notwithstanding the assistance of these internal advocates, consumers continued to grow disgruntled with state inconsistencies and the FCC's failure to revisit the issues dismissed in its prior disability orders. When the agency's inertia prompted consumers, once again, to secure regulatory action, the FCC responded by holding a public forum on telecommunications access issues on December 5, 1986.58 But even the FCC's handling of this event made advocates wonder about the agency's sensitivity to these issues. First, the notice about the forum did not provide a TTY number, so prospective attendees who were deaf or hard of hearing could not access information about the event. Second, the FCC refused to provide a sign language interpreter for the forum. Only after Sheila Conlon Mentkowski, a deaf attorney and telecommunications access activist who was one of the forum presenters, made several calls to the Commission reminding it of its obligation to provide reasonable accommodations under Section 504 of the Rehabilitation Act did the agency agree to what should have been a routine request.*
On the day of the event, participants arrived to find only one interpreter present. When the interpreter needed a break midway through the morning, Robert James, the forum coordinator, appropriately stopped the presentations. However, as soon as the interpreter left the stage, James returned to the lectern and began explaining to the audience that he wished to get some minor business "out of the way" while the interpreter was resting. No sooner did he begin talking without an interpreter than I and other audience members jumped to our feet to prevent him from continuing. It was a most frustrating situation. Here we were trying to convince the FCC of the need to extend telecommunications access to all Americans with disabilities, yet we could not even get the agency to provide appropriate communications access at its own meeting. An exasperated Mentkowski returned to NCLD's offices to report the numerous Section 504 violations to FCC Chairman Mark Fowler, and to request assurances that the FCC would improve communication at future events.59
Notwithstanding the dismal accommodations provided for the December 1986 forum, the meeting itself proved to be somewhat of a success. Only five months later, the FCC released a new notice of inquiry to solicit public comment on the telecommunications access issues raised during the forum. The notice also revived many of the topics dismissed in the Commission's earlier disability proceedings, including reduced TTY rates, the physical accessibility of public phone booths, and the availability of specialized equipment at reasonable costs.60
The Office of People's Counsel of the State of Maryland, an independent state agency that represents consumers in utility matters, filed comments in response to the new inquiry on behalf of seven consumer and local government offices.61 They called upon the FCC to fulfill its longstanding obligation to provide universal telephone service, putting on record the problems that consumers were now facing: "Many do not know where to turn to obtain needed equipment, prices vary from state to state, availability is uncertain, slow deliveries create hardship and required service is difficult to find."62 Although AT&T had its national center, the coalition complained that the company's competitors had done little, if anything, to serve people with disabilities. The advocates explained that people with disabilities no longer wanted to be treated as a segregated minority with only limited rights to telecommunications access; they urged the FCC to establish a national program for the distribution of SCPE and to require the installation of TTY-accessible public phones. Gallaudet's Research Institute (GRI) echoed the need for federal action to expand telecommunications access.63 It joined numerous consumer groups and even companies in urging the FCC to create a federal advisory committee on disability issues to keep the Commission informed about technological developments and provide advice for regulatory change. The members could include telephone industry representatives, consumers, state regulatory commissioners, manufacturers of SCPE, audiologists, and rehabilitation engineers.
On September 28, 1987, the THIC Forum invited Robert James to share the FCC's progress on access issues. James offered only that the FCC might issue a notice of proposed rulemaking or it might do nothing at all. In anticipation of just such a response, THIC members had also invited John Windhausen, counsel to the Communications Subcommittee of the U.S. Senate Commerce Committee, to the same meeting. But Windhausen informed the attendees that Congress was unlikely to act before the FCC decided the outcome of its current disability proceeding.*
A full decade had passed since the FCC had opened its first docket on disability matters, and still these issues remained unresolved. When the agency did finally respond six months later (in March 1988), it did so in the form of yet another formal inquiry that merely repeated many of the same questions posed in its earlier proceedings.64 This time, the Commission also refused to create a formal disability advisory committee, claiming such a group not to be "essential."65 It proposed instead that outside groups, such as the THIC Forum, coordinate consensus among consumers and industry to facilitate the Commission's consideration of disability issues. Advocates remained convinced, however, that without FCC oversight, THIC's recommendations would not carry much weight in the agency's deliberations.66
The FCC's new proceeding did focus on two very specific disabilities issues—the provision of hearing aid compatible telephones and telecommunications relay services—which had begun to dominate the agency's and the consumers' telecommunications access agenda. As these new issues took center stage, the distribution and affordability of specialized equipment, matters that had dominated so much of the federal telecommunications access agenda during the 1970s and early 1980s, receded into the background of federal policy. In July 1989, these matters were summarily put to rest when the FCC determined that it did not have sufficient information to determine whether the benefits of regulating the SCPE issue outweighed the costs.67 Another issue that remained unresolved, the provision of TTY-accessible public telephones, would later be addressed by the ADA's mandates for the placement of these phones in places of public accommodation and local governments.68
In the early 1990s, AT&T would dissolve its NSNC. With deregulation complete—for both conventional and specialized telephone equipment—the company would conclude that it was more cost-effective to have the same AT&T centers handle both SCPE and CPE. Ironically, this would cause AT&T to redistribute its specialized equipment back to its regional centers located around the country, an outcome that consumers had sought a decade earlier. By now, virtually all consumers would purchase rather than lease telephone equipment, and other companies, such as Verizon, would similarly open regional disability centers to reach local markets of persons with disabilities.
Consumers Return to the States
The FCC did not return to matters concerning the regulated provision of specialized equipment for people with disabilities during the next two decades. But the failed attempts to achieve federal guarantees of affordable SCPE were balanced in part by the successes of local community groups who, during the 1980s, battled for reasonably priced equipment before state legislatures, regulatory commissions, and local telephone companies. Their efforts resulted in the establishment of an array of state-sponsored programs that distributed TTYs, amplifiers and volume-control telephones, light signalers, breath-activated telephones, artificial larynxes, and other types of adaptive devices.69 Some of these state programs were operated voluntarily by local telephone companies; others were created by legislative or regulatory fiat.70 Most were funded through state surcharges on telephone subscriber bills, state appropriations, or contributions from telephone companies.71
The nature and scope of these programs, which by the end of the 1980s existed in approximately half the states, varied widely. While a few provided equipment regardless of financial eligibility, most gave priority to individuals with low incomes.72 Some allowed residents to take possession of the equipment through cost-free leases; in these states, the leased equipment legally remained the property of the state, returnable upon termination of residency in the state.73 A few states asked consumers to share costs for the equipment, especially where income eligibility requirements were not met.74 Still others offered low-interest loans, credit arrangements, or vouchers for consumers to purchase their own equipment.75 Many deaf consumers preferred the latter, as this gave them the freedom to choose equipment that best fit their needs. Voucher programs also eliminated problems when bulk purchases of specialized equipment were ordered directly from manufacturers. Enabling consumers to make their purchases directly from local equipment vendors, many of whom were disabled themselves, allowed these vendors to effectively compete in the SCPE market.76
State equipment distribution programs have continued to be successful in distributing specialized terminal equipment to hundreds of thousands of individuals with disabilities across America, and in partially filling the gap left by the deregulation of specialized telephone equipment. Many feel, however, that these programs are now falling short of meeting the communications needs of people with disabilities. First, only an estimated thirty-seven states have one of these programs.77 In addition, the majority have strict income and disability eligibility requirements, as well as funding restrictions that prevent them from fulfilling their residents' demands. Most states also have a limited selection of devices, some of which are growing obsolete in a rapidly changing communications environment. Few have followed the example of Missouri, which in the year 2000, became the first state to distribute adaptive computer equipment for access to the Internet and electronic mail.78 Ways to improve these programs so that they can more fully meet the needs of consumers with disabilities is a subject now actively debated by the Telecommunications Equipment Distribution Program Association (TEDPA), a body created in November 1997 for state equipment distribution administrators to exchange information with one another.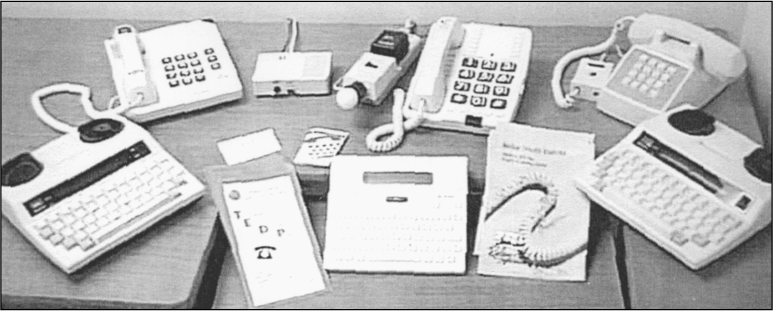 State equipment distribution programs gave people who are deaf and hard of hearing various specialized equipment options.
The Quest for Accessible SCPE Continues
Although consumer efforts to obtain federal mandates requiring affordable telecommunications equipment were temporarily laid to rest in the late 1980s, in 1996, Congress passed amendments to the Communications Act of 1934, establishing new funding mechanisms to ensure universal telecommunications service for all Americans. At that time, I and other advocates went back to the FCC to see if a portion of this new "Universal Service Fund" could be used to set up a nationwide specialized equipment distribution program for people with disabilities.79 Though our request was denied, as this book goes to print in 2006—thirty years after the quest for affordable equipment first began—we are again asking Congress to amend the Communications Act so that universal service funding may be used to help subsidize the high costs of specialized equipment and services needed for telecommunications access.
Notes
1. United States v. American Telephone & Telephone Company, 552 F. Supp. 131 (D.C.C. 1982), aff'd sub nom. Maryland v. United States, 460 U.S. 1001 (1983).
2. AT&T Plan of Reorganization, U.S. v. AT&T (filed December 16, 1982), approved in U.S. v. Western Electric Co., 569 F. Supp. 990 (D.D.C.), aff'd sub nom. California v. U.S., 104 S. Ct. 542 (1983).
3. Second Computer Inquiry, 77 FCC 2d 384 (May 2, 1980), reconsideration, 84 FCC 2d 50 (December 30, 1980), further reconsideration, 88 FCC 2d 512 (1981), aff'd sub nom. Computer and Communications Industry Assn v. FCC, 693 F. 2d 198 (D.C. Cir. 1982), cert. denied, 461 U.S. 938 (1983), aff'd on second further reconsideration, FCC 84-190 (May 4, 1984), codified at 47 C.F.R. 64.702.
4. This provision was eventually codified at 47 U.S.C. § 610(g).
5. P.L. 97-410, 94 Stat. 2043 (1982), codified as amended at 47 U.S.C. §610 (1988).
6. H. Rep. No. 888, 97th Cong., 2d Sess. 4–5 (1982). Hereinafter cited as TDA 1982 House Report.
7. Ibid., 3.
8. Congress explained that it needed to balance the costs of the legislation with the benefits of providing telephone access, including "reduced institutionalization, increased mobility, and enhanced productivity by disabled persons." TDA 1982 House Report, 12.
9. Ibid., 3–4.
10. 10. AT&T, Petition for Waiver of the Provisions of Section 64.702 of the Commission's Rules and Regulations with respect to Customer Premises Equipment Required to Meet the Special Needs of Disabled Persons (October 22, 1982), 5. Hereinafter cited as AT&T 1982 Petition for Waiver.
11. American Telephone and Telegraph Co., Organization for the Use of the Telephone, Petitions for Waiver of Section 64.702 of the Commission's Rules so that the Bell Operating Companies and Other Local Telephone Companies May Provide Under Tariff New CPE to Meet the Needs of Disabled Persons, Memorandum Opinion and Order, FCC 82-580, 92 FCC 2d 1208 (January 25, 1983). Hereinafter cited as Disabled Waiver Order. See also BOCS and Independent Phone Companies May Provide Tariffed CPE for the Disabled, FCC News Report 2985 (December 23, 1982).
12. TDA 1982 House Report, 4.
13. 47 U.S.C. 610(a).
14. Telecommunications Services for the Deaf and Hearing Impaired, Order, CC Dkt. 78-50, FCC 83-177 (April 27, 1983); See Inquiry on Telecommunications Services for Deaf Terminated; Separate Rulemaking Initiated, FCC News Report 17464 (April 28, 1983); 48 Fed. Reg. 21351 (May 12, 1983); Access to Telecommunications Equipment by the Hearing Impaired and Other Disabled Persons, Notice of Proposed Rulemaking, CC Dkt. 83-427, FCC 83-176, 93 FCC 2d 1311 (May 4, 1983), 48 Fed. Reg. 20771 (May 9, 1983). Hereinafter cited as NPRM Dkt. 83-427.
15. Ibid., ¶4.
16. Ibid., ¶33, citing 128 Cong. Rec. H9484 (daily ed. December 13, 1982) (remarks of Rep. Wirth). Wirth had stated that "the Commission cannot interfere with the State's decision to tariff such equipment and to allow the recovery of reasonable and prudent costs not charged directly to the user in tariffs for regulated services."
17. See, for example, Comments of the Institute for Cognitive Science; Comments of Scott J. Rafferty, former counsel to the House Telecommunications Subcommittee (undated).
18. Reply Comments of AT&T in Dkt. 83-427 (July 15, 1983).
19. Ibid., 6–7.
20. Interviews with Elaine Hatcher and Ron Hatley, former AT&T employees, May 2003.
21. AT&T 1982 Petition for Waiver, 11.
22. Scott J. Rafferty, letter to the Honorable Harold Greene, United States v. AT&T, Civ. A. 82-0025, July 22, 1983.
23. Statement of Senator Charles Mathias Jr., 129 Cong. Rec. 22451 (daily ed. August 3, 1983).
24. U.S. v. Western Electric, 569 F. Supp. 1057, 1131 (D.D.C. 1983), citing to the TDA.
25. Access to Telecommunications Equipment by the Hearing Impaired and Other Disabled Persons, Motion for Expedited Consideration on Behalf of NCLD, NAD, SHHH, AG Bell, ASHA, Paralyzed Veterans of America, American Council of the Blind, Disability Rights Center, the National Rehabilitation Association, American Deafness and Rehabilitation Association, Conference of Educational Administrators Serving the Deaf, and Convention of American Instructors of the Deaf in CC Dkt. 83-427 (August 23, 1983).
26. Access to Telecommunications Equipment by the Hearing Impaired and Other Disabled Persons, AT&T Supplementary Comments, CC Dkt. 83-427 (September 14, 1983).
27. Access to Telecommunications Equipment by the Hearing Impaired and Other Disabled Persons, NCLD Response to AT&T's Supplementary Comments, CC Dkt. 83-427 (undated). Hereinafter cited as NCLD Response.
28. The Communication Workers of America (CWA) agreed that the small market size of the disability community and the large variety of specialized products warranted spreading at least some of the costs of providing those products across all general ratepayers. Comments of OUT on AT&T's Proposed Price Predictability and Sale Plan for Specialized Terminal Equipment for Disabled Customers, CC Dkt. 83-427 (October 4, 1983), 4, citing Comments of CWA, 2.
29. NCLD Response in CC Dkt. 83-427, 2.
30. Children's Hospital at Stanford objected to the closure of Pacific Telephone's Handicapped Service Program for this very reason. Access to Telecommunications Equipment by the Hearing Impaired and Other Disabled Persons, Report and Order, CC Dkt. 83-427, FCC 83-565 (December 23, 1983), A-2. Hereinafter cited as Report and Order 1983. Some customers also maintained that certain SCPE, such as voice-activated telephones and emergency alarms, could not even be initiated without the assistance of a skilled local telephone operator.
31. Larry J. Goldberg, NCLD, and Sarah S. Geer, NAD Legal Defense Fund, letter to the Honorable Harold Greene, November 10, 1983.
32. Access to Telecommunications Equipment by the Hearing Impaired and Other Disabled Persons, Memorandum Opinion and Order, CC Dkt. 83-427, FCC 83-517, 95 FCC 2d 1421 (November 25, 1983). Hereinafter cited as Memorandum Opinion and Order 1983.
33. Memorandum Opinion and Order 1983, ¶8, citing H. Rep. No. 888, 97th Cong., 2d Sess. 13 (1982). See also Memorandum Opinion and Order 1983, ¶9.
34. Report and Order 1983. The new rule was codified at 47 C.F.R. §64.606(a): "Any communications common carrier may provide, under tariff, customer premises equipment (other than hearing aid compatible telephones) … needed by persons with hearing, speech, vision or mobility disabilities. Such equipment may be provided to persons with those disabilities or to associates or institutions who require such equipment regularly to communicate with people with disabilities."
35. See, for example, Comments of the North American Telephone Association and the U.S. Independent Telephone Association in CC Dkt. 83-427.
36. Comments of Scott J. Rafferty in CC Dkt. 83-427, 19–24, referencing the TDA legislative history at 128 Cong. Rec. H9484.
37. Scott J. Rafferty, letter to Al Pimentel, June 14, 1983.
38. Report and Order 1983, ¶46, C-22. This was not the first time that the Commission had addressed the scope of SCPE. In its Disabled Waiver Order of December 1982, the FCC preliminarily determined SCPE to include equipment "which has at least one of its important purposes specialized application [sic] enabling disabled persons to communicate." Disabled Waiver Order 1982, ¶15.
39. Report and Order 1983, ¶48. Hearing aid compatible telephones were exempt from the definition of SCPE entirely because their widespread distribution and affordability made subsidies unnecessary.
40. Report and Order 1983, ¶46.
41. Ibid., ¶22.
42. Ibid., ¶37.
43. Ibid.
44. Procedures for Implementing the Detariffing of Customer Premises Equipment and Enhanced Services, CC Dkt. 81-893, FCC 83-551, 95 FCC 2d 1276 (December 15, 1983), modified in part on reconsideration, 50 FR 9016 (1985), reconsideration denied in part, FCC 85-220 (May 15, 1985).
45. FCC Letter Ref. No. 61210 (December 29, 1983).
46. Petition for Waiver of Computer Inquiry II Rules, 47 C.F.R. 64.702, to Enable American Telephone and Telegraph Company to Contract with AT&T Information Systems Inc. for Accounting Services, Customer Business Office Assistance and Billing for Regulated Embedded Customer Premises Equipment, Supplementary Petition (January 30, 1984).
47. The NAD and ACB, Petition for Reconsideration in CC Dkt. 83-427, 13 (February 13, 1984).
48. Comments of the NAD on AT&T Supplementary Petition (February 24, 1984).
49. AT&T Reply to NAD Comments on AT&T Petition for Waiver (March 9, 1984); AT&T Opposition to Petition for Reconsideration (March 12, 1984). On March 12, 1984, GTE also filed an opposition to the Petition for Reconsideration, arguing that the TDA allowed, but did not require, the states to mandate subsidies for SCPE.
50. Petition for Reconsideration of an Order in Access to Telecommunications Equipment by the Hearing Impaired and Other Disabled Persons, American Telephone and Telegraph Company, Petition for Waiver of Section 64.702 of the Commission's Rules to Allow American Telephone and Telegraph Company to Contract with American Telephone and Telegraph Company Information Systems, Inc. for Provision of Certain Services for Regulated Specialized CPE, Memorandum Opinion and Order, CC Dkt. 83-427, FCC 84-382 (August 13, 1984). Hereinafter cited as Memorandum Opinion and Order 1984.
51. David Saks and Lee Richardson, "Consumerism and the Disabled Consumer in the Communications Marketplace" in Papers Presented at the Annenberg School of Communications and Gallaudet Research Institute Joint Forum on Marketplace Problems in Communications Technology for Disabled People, February 20–21, ed. Katherine D. Seelman and Judith E. Harkins (Washington, D.C.: Annenberg Washington Program, 1986), 7.
52. Statement by OUT, quoted in "Telephone Services and Equipment for Disabled People," REHAB BRIEF 10 (3): 2.
53. Architectural and Transportation Barriers Compliance Board, Telecommunications Access With and Within the Federal Government: A Consideration of Issues and Applications for Telecommunications Devices for Deaf Persons (Washington, D.C.: ATBCB, 1984).
54. Genevieve Morelli, "State Telecommunications Policy and Disabled Persons, A Report by the National Association of Regulatory Utility Commissioners" in Seelman and Harkins, Joint Forum on Marketplace Problems.
55. S. 402, 99th Cong., 1st Sess. (February 6, 1985); H. R. 1432, 99th Cong., 1st Sess. (March 6, 1985).
56. Seelman and Harkins, Joint Forum on Marketplace Problems. See also Katherine D. Seelman, "Current Status of Specialized Telephone Services and Equipment for Disabled People," Hearing Rehabilitation Quarterly 11 (1986): 14–16.
57. Joseph B. Heil, Jr., "Disabled People Can Be an Important Market Segment, A Large Business Perspective" in Seelman and Harkins, Joint Forum on Marketplace Problems, 5.
58. Common Carrier Bureau Calls Meeting on Telecommunications Needs of the Hearing Impaired and Disabled, FCC Public Notice (November 13, 1986).
59. Sheila Conlon Mentkowski, letter to FCC Chairman Mark S. Fowler, December 17, 1986.
60. The FCC found authority for this notice in the TDA. Access to Telecommunications Equipment and Services by the Hearing Impaired and other Disabled Persons, Notice of Inquiry, CC Dkt. 87-124, FCC 87-150, 2 FCC Rcd 2836 (May 15, 1987).
61. In addition to the Maryland People's Counsel, the organizations and offices represented in the comments were the Hearing and Speech Agency of Metropolitan Baltimore, Inc., the Maryland Department of Health and Mental Hygiene, the Maryland Governor's Commission on Hearing Impairments, the Maryland Governor's Office for Handicapped Individuals, NCLD, OUT, and the Telecommunications Exchange for the Deaf, Inc. (comments filed on June 29, 1987). Hereinafter cited as Joint Comments 1987.
62. Ibid., 16.
63. Comments of Judith Harkins, Cynthia Compton, and Carl Jensema in CC Dkt. 87-124 (June 29, 1987).
64. Access to Telecommunications Equipment and Services by the Hearing Impaired and Other Disabled Persons, Notice of Proposed Rulemaking and Further Notice of Inquiry, CC Dkt. 87-124, FCC 88-123 (March 29, 1988).
65. Ibid., ¶70.
66. THIC Forum minutes (August 25, 1987).
67. Access to Telecommunications Equipment and Services by the Hearing Impaired and Other Disabled Persons, Order Completing Inquiry and Providing Further Notice of Proposed Rulemaking, CC Dkt. 87-124, FCC 89-242 (July 27, 1989).
68. The Architectural and Transportation Barriers Compliance Board has detailed guidelines for the placement of such public phones. 36 C.F.R. §1191, Appendix A §§4.1.3(17); 4.31.9.
69. NCLD, "Summary of State TDD Distribution Programs and/or Dual Party Relay Programs," (March 1987, January 1988 editions); John De Witt and Steven Mendelsohn, Market Study of State Distribution Programs for Specialized Telecommunications Equipment, report prepared for the AT&T National Special Needs Center (December 31, 1989, revised, January 29, 1990).
70. Hawaii, Michigan, and Missouri had voluntarily operated programs, while state distribution programs were mandated by law in California, Illinois, and Nevada.
71. Arizona, California, Illinois, Nevada, Oklahoma, Rhode Island, Oregon, Utah, and Washington used surcharges to fund their programs. State appropriations were used to fund programs in Florida, Massachusetts, New Hampshire, and Wisconsin. Hawaii funded its program with money collected by the state's telephone company.
72. Rhode Island, South Dakota, Florida, Arizona, Nevada, and California were among the states that did not establish financial criteria for participation in their equipment distribution programs. However, Oklahoma, Connecticut, Wisconsin, Massachusetts, Minnesota, New Hampshire, and Hawaii imposed eligibility requirements on the basis of financial need.
73. Arizona, California, Illinois, Oregon, South Dakota, and Tennessee were among the states that used these no-cost leases.
74. Maine, Oklahoma, Montana, and Virginia used these cost-sharing measures.
75. New York and Minnesota were two states that used these low-fee financing arrangements. Wisconsin provided consumers with vouchers worth several hundreds of dollars, with which consumers were permitted to select and purchase their own equipment.
76. Dr. Robert Harris, "TDD Distribution or Vouchers?" GA-SK 21 (Spring 1990): 16.
77. Lauren Hruska, Telephone Equipment Distribution Program, e-mail to the author, February 7, 2003.
78. Gay Jones, Southwestern Bell, e-mail to the author, April 21, 2003.
79. Comments of the NAD (December 19, 1996); Reply Comments of the NAD and the Consumer Action Network (May 7, 1996), in Federal-State Joint Board on Universal Service, CC Dkt. 96-45.
Epigraph. Senator Charles Mathias, 129 Cong. Rec. 22451 (August 3, 1983).
* A detailed account of the hearing aid compatibility provisions of the TDA is contained in chapter 12.
* Rafferty, now with a private law firm, had been counsel to the House Subcommittee on Telecommunications, Consumer Protection, and Finance during the committee's consideration of the TDA.
* NARUC is a national association of state utility commissioners from all fifty states, the District of Columbia, and certain U.S. territories.
* Carl Jensema headed a TDI/ASCII committee to explore this issue in the 1980s. Ultimately, both TDI and the NAD passed resolutions to gradually phase out Baudot-reliant TTYs.
† This ruling on embedded equipment complemented the Commission's prior Computer II order, which had required AT&T to separate all of its new equipment from its regulated services as of January 1, 1983.
* AT&T had mailed informational brochures to sixty million customers.
* For example, on January 14, 1983, David Saks of OUT unsuccessfully petitioned the Maryland Public Service Commission to require the local telephone company, C&P, to provide SCPE to subscribers with disabilities under tariff.
* Indeed, Hatley was largely responsible for saving AT&T's Consumer Advisory Group from extinction.
† By the 1990s, Hatcher's talent at swiftly resolving problems would cause disability advocates as well to regularly seek her guidance and counsel on accessibility matters pertaining to AT&T.
* Because there was no direct TTY number and few relay services at the time, Mentkowski was forced to make these calls through hearing employees at NCLD, where she was then working.
* Many years later, Windhausen would be most helpful to the deaf community in helping to expand the nation's telecommunications accessibility and captioning requirements in the 1996 amendments to the Communications Act. See chapter 15 for a detailed history of these amendments.