In Case of an Emergency
Calling for an emergency service may happen only once or twice in your lifetime—or maybe never, but if it does happen—it must happen right.
—Brenda Battat, associate executive director,
Self Help for Hard of Hearing People
ON JULY 17, 1986, Jay Shufeldt, a deaf resident of San Diego, noticed that his wife was having trouble breathing. Shufeldt tried to summon 911 assistance using his TTY, but the dispatcher hung up, believing the call to be a prank. Two more tries yielded the same results. Help finally arrived approximately two hours later, after Shufeldt's hearing daughter called a voice emergency number. By then, Mrs. Shufeldt had died.1
The Shufeldt incident both shocked and angered the deaf community. Shufeldt filed a lawsuit against both the state of California and his telephone company, Pacific Bell. Prior to Shufeldt's call, Pacific Bell had sent out notices announcing the city's new TTY access to its 911 emergency services, allegedly—before all the necessary modifications had been made to ensure such access. Although Shufeldt's case was ultimately dismissed, the events that caused it prompted sweeping changes of San Diego's 911 system in August 1989.
The Battle for a 911 TTY Mandate
The federal government's interest in promoting access to emergency services through 911 dates back to the late 1960s. But as late as the 1980s, there were few, if any, jurisdictions that responded to TTY calls made directly to 911. Indeed, San Diego was not the only city grappling with a failed 911 system. In 1986, Paul Singleton, working with Gallaudet University's National Academy, conducted a nationwide survey of sixty-one cities, and found that 57 percent of their emergency call centers did not even own a TTY.2 The cities that did have these devices typically shoved them into forgotten corners and failed to train their employees on their use.
The District of Columbia was a case in point. Although, in the 1970s, Louis Schwarz, president of Deaf Telecommunicators of Greater Washington, had been successful in getting the D.C. police to install TTYs, well into the 1980s, deaf D.C. residents were forced to use a seven-digit number to access emergency services. On March 24, 1988, D.C. police finally unveiled new equipment that would provide direct TTY access via 911 to the city's public safety answering points (PSAPs)—i.e., the city's operation centers that handled police, fire, and other emergency services.3 Unfortunately, when the D.C. police department held a press conference to demonstrate its new system, it became apparent that the D.C. government had failed to consult anyone in the deaf community prior to its development of that system. As D.C.'s Chief of Police Maurice T. Turner Jr. boasted that the new equipment put the District ahead of other regions in the nation, John Lopez, a deaf consumer advocate attending the program on behalf of TDI, watched each demonstration go awry with repeated and unnecessary errors.4
Lopez began testing other 911 systems in D.C.'s suburbs. He discovered that almost none of the systems afforded effective access to TTY users and that there had been little, if any, coordination with the deaf community when those systems were first set up. For example, efforts to reach a 911 dispatcher in Fairfax County, Virginia, took two-and-a-half hours because of a jammed TTY printer. Prior consultation with the deaf community would have indicated the need for a back up TTY support system to prevent this kind of mishap.
Ignited by the San Diego tragedy, the D.C. fiasco, and the overall failure of the nation's 911 systems to be TTY accessible, TDI created the Emergency 911 Access Project, with John Lopez as its chair, in the fall of 1988. Lopez spent that winter soliciting input from both the deaf community and the telecommunications industry on 911 TTY-related incidents.5 His comprehensive efforts revealed that deaf consumers across the nation were paying for telephone emergency services that they simply were not receiving.
TDI concluded that federal legislation was needed to rectify this appalling lack of access. Although the organization considered tacking a 911-access mandate onto the newly introduced ADA bill, the prognosis for this legislation remained uncertain, especially given the breadth of its provisions. Instead, Lopez approached Congressman Robert Garcia (D-N.Y.), who was more than willing to help. On April 5, 1989, he and thirty-seven of his colleagues introduced H.R. 1690, the Emergency Phone System Equal Access Act, which would amend the Communications Act to require local public safety emergency service providers to install technologies that were readily accessible by people who were deaf, hard of hearing, and speech disabled.6
At around the same time, TDI committed to working on its own emergency access solutions. The organization began by designing a multitiered prototype that used several levels of PSAP managers and technicians to effectively respond to TTY calls. It next hosted an Emergency 911 Access Forum at its national convention, held in Washington, D.C., on July 12, 1989. The standing room only crowd walked away with a new sense of urgency to pressure Congress to support Garcia's new 911 proposal.7 When TDI released its emergency access prototype shortly after the conference, it was inundated with requests for seminars, videoconferences, and informational materials by consumers and governmental agencies now seemingly bent on achieving 911 access. Clearly, TDI's efforts to focus national attention on the 911 issue were beginning to work.
Despite this newly kindled interest, H.R. 1690 made little headway in Congress. Months after its introduction, the bill still was not slated for hearings by the House Telecommunications and Finance Subcommittee to which it had been assigned. Advocates speculated several reasons for this. Some legislators seemed to believe that the federal government had no business meddling in local 911 operations. Others appeared concerned about the bill's implementation costs, and still others erroneously assumed that existing federal laws, such as the Rehabilitation Act, were sufficient to ensure 911 access. This reasoning was flawed. Although the Rehabilitation Act did prohibit discrimination on the basis of disability in municipal programs that received federal financial assistance, proving that individual 911 programs actually received federal aid was quite difficult, and sometimes impossible. Moreover, even 911 systems that were clearly covered by the Rehabilitation Act were apparently disregarding their obligations under that law.
Frustration among deaf leaders mounted. To bolster their case for a federal mandate, Lopez and disability advocate Frank Bowe surveyed 200 of TDI's members about their emergency access needs. Not surprisingly, respondents reported considerable anxiety at not being able to summon police, fire, and other 911 services.8 On March 23, 1990, Lopez made a plea to TDI's board of directors to organize grass roots lobbying for the bill.9 In response, the board arranged for at least ten registered voters in each congressional district to visit their representatives during the legislative spring recess in April 1990. But even this did little to push the 911 bill along.
When H.R. 1690 continued to sit idle a year after it had been introduced, TDI Executive Director Al Sonnenstrahl and Bowe began to reconsider the deaf community's initial decision not to add its mandates to the ADA. By now, the landmark disability legislation appeared to be only weeks away from passage. With little action on H.R. 1690 predicted in the foreseeable future, deaf leaders trekked up to Capitol Hill to see if the bill's 911 mandates could still be incorporated into Title II of the ADA, which required all state and local governmental programs and services to be accessible to people with disabilities.10 But the advocates quickly learned that their appeals to amend Title II were coming very late in the ADA's congressional journey. With hearings on the omnibus legislation completed, staff members were already writing legislative reports that solidified compromises made over the past several months. The last thing that they wanted was the introduction of new provisions that could upset the apple cart of these negotiated agreements.
Fortunately, with the assistance of Senate legislative staff, advocates came up with a way to require emergency access in the ADA without changing even a word of its provisions.11 Since Title II prohibited all local governmental programs from discriminating on the basis of disability, and 911 systems were operated by local governmental entities, technically, Title II would already require local emergency systems to provide access to deaf and hard of hearing callers. The only piece that was missing was a mandate for municipalities to fulfill this obligation by providing direct TTY access. Congress could achieve this by simply adding language to the legislative report accompanying Title II, and the statute itself could remain untouched.
But even this solution posed some challenges. By the time that advocates figured out what they needed to do, it was already mid-May, and the House Education and Labor Committee was putting the final touches on its report, in preparation for the ADA to go to the full House for a vote. I quickly drafted some language and ran it by Lopez and other deaf leaders. With virtually no time to spare, the legislators threw our language into the House report verbatim, and on May 22, 1990, overwhelmingly voted to approve the ADA with the new TTY requirement intact.12 Just under the gun, but after thirteen exhausting months, Lopez and his colleagues had finally succeeded in obtaining a federal mandate requiring direct TTY access to 911 emergency services.
Battles for Effective Implementation
Responsibility for ensuring compliance with the ADA's Title II provisions was handed to DOJ. Tragically, before DOJ could even release its final regulations, there were yet more deaths caused by deficient 911 operations in California. During the fall of 1990, a man from Contra Costa County died after 911 dispatchers took more than one hour to respond to his TTY calls. And in March 1991, the death of a deaf woman whose husband had been unable to summon help from a Northridge facility sent waves of despair through that community.13 In the latter case, although an operator answered the TTY call, she hung up before the elderly man could slowly type out his message. When the caller finally finished typing, he waited endlessly for a reply, erroneously believing that paramedics were being dispatched. By the time he realized his call had been disconnected and contacted the fire department via a seven digit number, efforts to save his wife were too late. After this incident, PSAPs in the region were directed to automatically return calls to disconnected TTY numbers, and where unable to reestablish communication, send a patrol car to the caller's address.14
TDI realized that to prevent additional tragedies, it needed to educate not only DOJ, but the local governmental agencies charged with fulfilling DOJ's future 911 mandates on TTY access.15 To this end, Sonnenstrahl decided to conduct a series of national forums on emergency access.* The first of these occurred only a few weeks after DOJ released its Title II notice of proposed rulemaking.16 The event offered the perfect opportunity for disability advocates, government officials, telecommunications companies, state PSAP providers, and emergency service equipment vendors to craft 911 recommendations before the agency finalized its rules.17 In-depth discussions on TTY policies, emergency access technologies, and appropriate protocols revealed the importance of training dispatchers to slow down their speech, talk directly into the handset, and rephrase questions for people with hearing loss. The stress associated with emergencies compounded the need to have operators open to unique language differences; yet most of these safeguards had been ignored by emergency technicians around the country. After the conference, a newly formed Coalition for Emergency Service Access, comprised of thirteen organizations, called upon DOJ to require proper TTY call handling, equal access to new 911 enhancements (including automatic number and location identification), and extensive outreach capable of alerting a largely uninformed TTY community about the existence and use of 911 services.18
The ADA had directed DOJ to issue its Title II regulations within one year after the act's passage. But even their imminent release did not prevent yet another TTY death from occurring. Only weeks before the new rules were released, the Washington Times reported that a man living in a D.C. suburb had died of a heart attack after dispatchers ignored his deaf wife's TTY call.19 After trying to get through on three separate occasions, the wife finally used a relay service to establish 911 contact. By the time the ambulance arrived—nearly forty minutes after her first call—her husband had passed away. The emergency communication center claimed the woman had failed to use the TTY properly because she had not pressed the space bar five times after the operator answered. Center personnel insisted that the high-pitched TTY tones of the space bar were necessary to alert dispatchers that a TTY call was coming in.
On July 26, 1991, DOJ released its Title II rules requiring all public safety agencies—including police, fire, ambulances, and even emergency poison control centers—to make their telephone emergency services directly accessible to TTY and computer modem users.20 This access would have to be provided through 911 where available; where emergency services were only available via a seven-digit number or other dialing arrangement, only those numbers would have to be TTY-accessible.*
Although PSAPs also would be required to handle emergency calls channeled through relay centers, enabling a TTY user to summon emergency assistance directly reduced the risks of misinterpretation and shortened the time needed to exchange information. A few misspelled letters in an address or even the few extra seconds needed to convey a message via relay could mean the difference between life and death. An even greater problem was that many emergency call centers used software that automatically blocked incoming calls originating outside their service areas. Because relay calls were often routed through centers located in other parts of the state, local PSAPs often rejected them.
In August 1991, only a month after the draft rules were released, more incidents occurred that raised serious doubts about the extent to which call centers were ready to comply with the new mandates. On August 24, Sonnenstrahl tried to call 911 after his eighty-one-year-old father fell down his front steps in a suburb of Washington, D.C.21 Three attempts to get through with a TTY yielded no response. The 911 program administrators later alleged that Sonnenstrahl had not hit the space bar needed to alert its operators to the presence of a TTY call. Sonnenstrahl denied this charge, discovering only later that the space bar of his TTY did not emit sounds unless another key was pressed first. Only a few weeks later, when Jack Gannon, special assistant to Gallaudet's president, had a diabetic attack in another part of Maryland, his wife's attempts to call 911 via TTY also failed. According to the PSAP, when Gannon's wife made her call, the county's single TTY-dedicated 911 line was busy. Both Sonnenstrahl and Gannon ultimately received the medical care they needed after calling a seven-digit emergency number, but these incidents revealed how woefully unprepared the nation's PSAPs still were to meet their TTY obligations.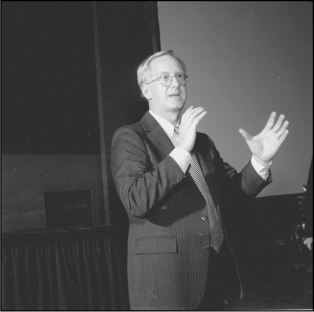 DOJ attorney Robert Mather explains the government's role in enforcing the ADA requirement for direct TTY access to 911 centers. Mather participated in a number of DOJ proceedings against centers that failed to meet this ADA obligation.
Sonnenstrahl thought that a second national conference, this one devoted to providing emergency call centers with hands-on guidance to meet DOJ's deadline, could provide a wake-up call. The second National Emergency Access Conference, held on November 21, 1991, hosting more than 100 service providers, manufacturers, consumers, and regulators, was kicked off by its honorary chairman, Senator Inouye (D-Hawaii).22
The conference tackled several tough issues. DOJ's rules had left many of the fine points of handling TTY emergency calls unspecified in an attempt to provide maximum flexibility for public agencies. Unfortunately, this meant that local emergency authorities were still free to adopt practices that could hinder rather than facilitate access. For example, some emergency call centers were considering TTY registration requirements to prevent call-takers from hanging up on TTY users. But because hearing people did not have to register for emergency services, many deaf consumers felt that this approach was discriminatory.* Also, if dispatchers relied exclusively on a registered list, they might fail to respond to TTY calls originating from other locations.
Conference participants also grappled with the all-too-common PSAP policy requiring TTY callers to tap their TTYs in order to get a dispatcher's attention. Though some emergency experts insisted that this was the best way to identify incoming TTY calls, many consumer advocates, including one of the country's leading experts on emergency access, Toni Dunne, maintained that requiring a deaf person to press the space bar was equivalent to requiring a hearing person to say hello five times before receiving an acknowledgment.† The best way to prevent operators from hanging up on silent calls, they insisted, was through extensive and ongoing operator training. DOJ later agreed that there were several problems with a "tapping" requirement. Not only was this practice unfamiliar to most TTY users, but often callers did not have enough time or opportunity to depress keys in an emergency. In addition, not every TTY was equipped to emit noises when its space bar was pressed.
The extent to which PSAPs would have to accept incoming TTY calls using the ASCII format was perhaps the most contentious issue of the conference. Because ASCII had been designed for the transmission of computer data, calls made over ASCII required the receiving modem to return an answer tone to establish a computer "handshake." If the modem making the call did not receive that handshake within a specified amount of time, the call would automatically disconnect.
Under the FCC's rules, relay centers were required to accept both ASCII and Baudot calls. These centers were able to answer an ASCII call immediately and send back the necessary handshake in more than enough time for the call to proceed. Likewise, DOJ's Title II rules contained a requirement for 911 centers to accept both types of TTY calls. The problem was that an ASCII call to 911 emergency services might have to go through several steps before reaching its final destination; any of these steps could take more time than was allotted for the ASCII handshake and result in disconnection of the call. For example, because ASCII tones are silent, the receiving dispatcher might first need time to verify that the incoming call was not a silent voice call. Once determined to be coming from a TTY, the call might have to be relocated to a TTY operator. After that, the call might still need to be transferred to fire, medical or other specialized emergency services. The National Emergency Numbering Association (NENA), an association dedicated to promoting universal 911 access, joined a growing chorus of conference participants who opposed including ASCII coverage in DOJ's new 911 access mandates. Consumers, however, were initially uncertain about letting any access go, and at the close of the conference, the issue remained unresolved.
NENA, fearing life-threatening consequences if ASCII calls were required, brought its objections to Congress. In a letter to Congressman Steny Hoyer (D-Md.), NENA claimed that DOJ's rules contained a "flaw" that had "set in motion a situation that could be fatal to a hearing and speech impaired person."23 No technology, the association insisted, could "guarantee" that an incoming ASCII call would be connected to an ASCII modem in sufficient time to respond to an emergency situation. Similar letters went to Hoyer's congressional colleagues, until, on February 3, 1992, at least one representative—Congressman Curt Weldon (R-Penn.)—passed along NENA's concerns directly to DOJ. The ADA, Weldon said, was intended to "improve conditions for people with disabilities, not to jeopardize their well being."24 NENA's efforts were ultimately successful in convincing DOJ—and even consumers—that, for the time being, direct TTY access to emergency call centers needed to be limited to Baudot transmissions. This and other information gathered at TDI's conference proved helpful to the development of a comprehensive DOJ manual containing detailed procedures for making 911 systems TTY-accessible; the guide eliminated many of the ambiguities left by the agency's original 911 rules.25 Most importantly, the manual directed each and every call-taking station to have either its own TTY, or TTY compatible equipment, so that TTY and voice response times would be equal to one another. The agency concluded that sharing TTYs among operators or transferring calls from non-TTY equipped stations could result in delay, disconnection, or the loss of advanced features that identified the caller's telephone number and address. The new guidelines also directed emergency call takers to develop basic familiarity with TTY abbreviations, ASL syntax and structure, and other communication methods used by deaf and hard of hearing callers. Finally, DOJ's manual prohibited policies that required callers to tap their TTY keys; instead, all personnel would also be expected to test for incoming TTY calls as part of their silent call procedures.
DOJ's rules went into effect on January 26, 1992. A single day later, Michael A. Chatoff, a deaf attorney, brought a class action suit against New York City's 911 system on behalf its 200,000 deaf and hard of hearing and speech disabled residents.26 Having witnessed New York's blatant disregard of its 911 access obligations during the nineteen years since passage of the Rehabilitation Act, Chatoff anticipated the city's continued noncompliance after the ADA rules became law. Chatoff asked for $300 million in punitive damages, asserting that New York's failure to allocate either the necessary funding or technological manpower to provide effective emergency access was so extreme that it implied a "criminal indifference to civil obligations."27
On the day of Chatoff's hearing, Sonnenstrahl appeared as a witness to testify about the dire consequences of not having 911 access. Only a few minutes into Sonnenstrahl's testimony, however, the presiding judge stopped the proceedings, directed all parties into his chambers, and admonished the city that if it did not make its 911 system directly accessible to TTY users within weeks, it would be slapped with billions of dollars in punitive damages.28 Within the year, New York installed TTYs in every one of its seventy-six emergency work stations and conducted extensive training for 911 personnel on deaf culture and language, TTY use, and communication methods.*
Although Chatoff likely trusted that the outcome of his case would deter the need for similar lawsuits in other jurisdictions, the difficulties inherent in eradicating decades of discrimination resulted in many more years of noncompliance and litigation against local 911 authorities. Just a few months after the New York judge handed down his order, a thirty-five-year-old deaf woman in Dallas died when paramedics did not respond to her 911 call for half an hour.29 And only a half year after that, a suit for $15,000 was brought against the city of Tavares, Florida, the Lake County Sheriff's office, and United Telephone of Florida, when that city's 911 system failed to respond to a TTY call from a deaf man experiencing chest pains.30 Although a hearing neighbor eventually got through on a conventional voice line, the man died while being driven to the hospital by paramedics.
In the mid-1990s, DOJ—in large part through the efforts of one of its deaf attorneys, Robert Mather—stepped up its nationwide efforts to enforce the ADA's 911 mandates. In addition to disseminating its own information through workshops, technical assistance telephone lines, and mass mailings, the agency contracted with TDI to prepare and distribute educational materials to 2000 emergency centers across the country. The Emergency Access Self Evaluation ("EASE") kits that TDI produced contained both manuals for PSAPs to conduct TTY training and self-help guide books for those receiving calls. Sonnenstrahl and Dunne followed up this effort by trying to convince NENA and the Association of Public-Safety Communications Officials (APCO), a group dedicated to training and certifying 911 dispatchers, to incorporate TTY access into their various activities.31 In April of 1995, TDI went even further to arrange for the directors of local deaf programs across the nation to conduct assessments of their local emergency systems.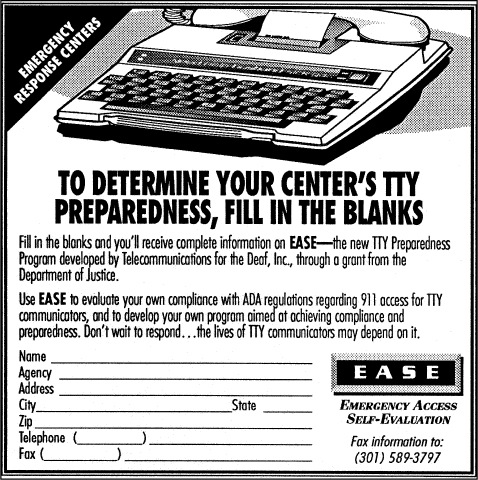 TDI's Emergency Access Self-Evaluation Program was designed to help 911 centers improve their access to TTY users.
DOJ also began taking a more aggressive stance in cracking down on infractions by entering into settlement agreements that commanded cities to undergo significant overhauls of their 911 programs. One such agreement, with the city of Los Angeles, resolved a complaint brought by a deaf woman who had been unsuccessful in summoning 911 help when her toddler fell off his bed and injured his head. Her first three TTY attempts were rejected, and she had to wait ninety minutes before her son received medical assistance. The agreement, which required the installation and maintenance of TTY equipment, call-taker training, emergency back-up and consumer education, was so extensive that it was highlighted in the Washington Post and used by Assistant Attorney General for Civil Rights Deval Patrick to educate the mayors of hundreds of the largest cities about their access obligations.32
In the fall of 1996, DOJ began using local U.S. attorney offices to help it conduct compliance reviews of 911 centers. The new effort was preceded by a call to the NAD, requesting the association to get in touch with the NAD's state presidents, to prepare them in case they received calls from local press.* Not surprisingly, the investigations revealed even more municipal procedures in defiance of the agency's 911 rules. Cleveland, Ohio, 911 centers had a single TTY for eighty call takers. Hempstead, New York, failed to train its staff on the use of TTYs. Baltimore, Maryland, still required callers to press TTY keys. More DOJ settlement agreements were signed, but now, tiring of the ongoing infringements, DOJ also began intervening in lawsuits brought by others against noncompliant jurisdictions.33
One such lawsuit was brought in 1996 in Phoenix, Arizona, to protest the city's ongoing TTY-key tapping policy. Although Phoenix was among the cities that had received TDI's EASE materials setting forth DOJ's clear prohibitions against that practice, the lawsuit recounted numerous instances in which Phoenix's 911 emergency dispatchers had failed to respond to silent TTY calls. The court, noting that not all TTYs emitted an audible tone even when the space bar was pressed, agreed with consumers that DOJ's "no space bar" requirement was "consistent with Congress' stated desire to end discrimination against individuals like the plaintiffs" under the ADA.34 Unfortunately, the court denied compensatory damages, claiming that these were not available under ADA's Title II or the Rehabilitation Act absent a showing that the local government had engaged in intentional discrimination. Although the plaintiffs appealed, a higher court found that the city's "bureaucratic inertia," as well as its failure to know or understand the guidelines contained in DOJ's manual were not enough to constitute the level of deliberate indifference or discriminatory intent needed to impose damages.
During the summer of 1996, Elaine Gardner, formerly an attorney with NCLD, learned that despite efforts of the Washington, D.C., police department back in the 1980s, D.C.'s 911 system also remained inaccessible to deaf callers. In one instance, a deaf woman who was attacked and robbed while waiting for a bus, failed to get through to a TTY accessible 911 operator for more than thirty minutes. In another, a person working in a group home for deaf people with mental illness couldn't make contact with 911 dispatchers when one of the home's residents became unconscious. As the circumstances surrounding these events began to unfold, they revealed longstanding problems with the District's emergency centers. Not only had the District's computer-enhanced 911 system (installed in 1994) never been properly designed to accommodate TTYs, it actually caused operators to hang up on TTY callers! After Gallaudet University tested the D.C. system and unearthed additional deficiencies, including a general failure to train 911 operators on TTY use, Gardner brought suit in federal district court. A favorable judgment came swiftly.35 The presiding judge was so exasperated with the state of D.C.'s affairs that he threatened to strip the city entirely of its control over 911 operations and place the program in receivership, unless it made immediate improvements.*
Through the remainder of the 1990s, NENA and APCO continued their efforts to improve TTY access to PSAPs. As chair of the NENA Accessibility Committee and for a time, chair of APCO's ADA Committee, Toni Dunne worked with these organizations, hounding them into compliance where possible, and offering expert advice on standards used to train 911 personnel on interacting with TTYs. Even today, DOJ continues its compliance reviews of local 911 systems as part of a greater endeavor called Project Civic Access, which is designed to evaluate overall compliance with the ADA's Title II mandates.36 These efforts have produced roughly 100 agreements to improve access to emergency services with towns and cities across the nation.
In addition to efforts taken by DOJ to ensure direct TTY access to 911, in March 2000, the FCC revamped its regulations for TTY users wishing to summon emergency assistance through relay services. The FCC's new mandate required relay providers, upon receiving an emergency call, to immediately and automatically forward that call to an appropriate PSAP.37 This measure, which required the creation of databases to direct incoming calls to 911 centers best suited to handle those calls, was intended to alleviate prior difficulties that occurred when PSAPs rejected relay calls from outside their calling areas. But even this was not enough to guarantee emergency access to relay users when the World Trade Center in New York was attacked on September 11, 2001.
On that day, when the governors of Maryland and New York ordered their state buildings closed, their state relay centers were shut down as well, without any procedures to redirect calls. Deaf and hard of hearing consumers received no warning before losing their telephone lifeline. Dismayed over the ensuing lack of communication, Brenda Kelly-Frey and Pam Stewart of the Maryland Relay Service brought the matter to the attention of the FCC, appealing for a way to prevent its reoccurrence. The FCC responded by alerting relay centers about a voluntary federal program called the Telecommunications Service Priority (TSP) System, which granted certain types of facilities priority to have their telephone lines restored more quickly than others in the event of an emergency.38 In June 2004, the FCC agreed to sponsor any relay facility that applied for TSP priority status, in the hope of keeping disruptions to relay communications to a minimum in future disasters.39 A year later, a new Emergency Communications Subcommittee of the U.S. Department of Homeland Security announced its goal of achieving 100 percent relay provider participation in the TSP program by 2005–06.40
Deaf Watch Petition: Televised Emergency Programming
In 1970, large sections of California between Los Angeles and San Francisco were devastated by widespread fires. Local officials succeeded in evacuating most of the residents through announcements over radio, television, and loudspeakers. But tragedy struck as deaf people who could not hear the warnings in time lost their property and in some cases, their lives. Unfortunately, this was not uncommon. Deaf people received little or no information about hundreds of other natural disasters that occurred in the 1970s. Without any legal obligation to make their emergency broadcasts accessible, television stations routinely failed to provide lifesaving information in a visually accessible format for hurricanes, earthquakes, tornadoes, civil disorders and other crises. Older television viewers likely remember that, in an emergency, these stations routinely displayed the words "Emergency Bulletin" in lieu of regularly scheduled programming. Unfortunately, the details about these emergencies were always provided by an off-screen announcer.
On April 23, 1970, Nancy Lipschultz, acting on behalf of the Illinois Association of the Deaf TV Committee, decided to do something about the sorry state of affairs. In a formal petition to the FCC, she requested that television stations be required to transmit emergency weather and news bulletins visually as well as aurally.41 Her petition also requested visual access to "special programming," including movies, educational programs, and other forms of television entertainment.
The FCC responded to Lipschultz's petition on December 17, 1970, with a public notice that acknowledged both the importance of meeting the access needs of the millions of deaf Americans and the benefits that visual emergency alerts would provide for all viewers.42 But rather than create a new requirement, the notice merely suggested to television stations that they provide visual information and position their newscasters' faces into cameras to permit lipreading of emergency information:
The video segment of telecasts are ideally suited to alert, assist and entertain persons with impaired hearing. Therefore, the capability of television to present visual material should be used to its fullest extent. … We suggest to TV broadcasters that they make use of visual announcements along with oral announcements when presenting bulletins of an emergency nature, such as approaching tornadoes, windstorms, hazardous driving conditions, escaped convicts, industrial accidents, health hazards and other community dangers.43
Recognition of the need for visually accessible programming was a step forward, but without the authority of an enforceable regulation, the Commission's gentle requests to air accessible broadcasts were not likely to have much impact on the television industry. Each television licensee was left to decide how and even whether to meet the access needs of its viewers. The FCC merely promised to monitor the industry's actions, and to consider adopting access requirements in the event that the broadcasters failed to act on their own.
In 1971, an earthquake hit the San Fernando Valley. Without accessible television broadcasts, deaf and hard of hearing students at California State University at Northridge were reported "wandering around in the streets seeking news."44 It became increasingly apparent to advocates that the television industry needed more than "suggestions" to add visual information to its emergency programming. Consumers now turned to the White House and in December 1971, were successful in convincing the director of its Office of Telecommunications Policy, Clay T. Whitehead, to send a letter to FCC Chairman Dean Burch. Whitehead urged Burch to get the broadcast industry interested "in offering telecasts that provide a means whereby warnings and emergency bulletins and other services could be made available to viewers with impaired hearing."45
Unfortunately, even the White House communication did little to propel the FCC into action, and yet another year passed with little or no improvement to viewer access. Having failed to secure reform through the federal government, the Council of Organizations Serving the Deaf (COSD) appealed directly to the television industry. On August 3, 1972, COSD wrote to the National Association of Broadcasters (NAB) urging improved emergency notifications, and attaching "Understanding Deafness" packets in the hope of familiarizing NAB's member stations with the needs of the deaf community.46
Students from Gallaudet's Model Secondary School for the Deaf also got involved in the emergency access struggle by sending a petition to President Nixon that urged his support for access to television programming, including televised reports of emergencies. The FCC's response, sent on September 22, 1972, was less than satisfactory. Although the Commission noted its "continuing interest" in the problems raised in the petition, the FCC made no mention of any plans to take additional regulatory action. Rather, claiming that its 1970 notice already had prompted the NAB to study the feasibility of providing captioned television programs with special decoders, it shifted the burden of securing change right back to the students: "To help implement the 1970 Public Notice of the Commission, groups of deaf and hard of hearing persons might wish to consider dealing directly with television stations in their communities concerning their needs for emergency information and their desires to benefit from public affairs, special events, and other programming."47
On January 16, 1973, nearly three years after she had sent in her first petition, Lipschultz again wrote to the FCC to complain of minimal compliance with its 1970 notice.48 Again the FCC's response was disappointing. In reference to the limited provision of open captions, the FCC explained that undoubtedly, broadcasters were concerned about "the burden involved in preparing and inserting captions on an extensive basis, and [had] doubts as to the acceptability to the general broadcast audience of captioned program material."49 As for closed captioning, the FCC discussed new testing being conducted by the Public Broadcasting System, and made very clear that it did not want to mandate these technologies "until all of the technical and practical aspects of the system have been explored."
In March 1973, tornadoes and severe weather warnings swept the Atlanta area. None of the Atlanta stations accompanied their alerts with visual information about the storms' paths.50 Around this same time, a manhunt for an escaped and dangerous convict in the Atlanta area cautioned hearing viewers to stay tuned for fast-breaking developments. Often hearing children bore the heavy burden of keeping the deaf members of their families informed as critical details about these and other emergencies unfolded on their television screens.
A letter from Edward Carney, executive director of COSD, to one deaf viewer expressed the overwhelming frustrations of deaf and hard of hearing people at the time. Twenty-five years, he wrote, had been a long time to wait for the television industry to respond to the needs of their community. Lack of emergency access had already been brought to the attention of the U.S. president, the FCC, and the NAB, but each of their responses had shifted the responsibility for achieving access back to consumers, who were unsuccessful in convincing their local television stations to respond to their needs. Commenting on the oddity of having to request "visible bulletins on a communication medium that calls itself television," he nevertheless urged the deaf correspondent not to give up: "We can only hope that one day a letter such as yours will convince these people that your husband and other hearing impaired Americans have a right to teleVISION."51
The year 1973 saw enough hurricanes, tornadoes, heavy snows, fires, flash floods, and earthquakes to result in forty-six presidential declarations of natural disasters in thirty-one states.52 Notwithstanding hundreds of deaths and over one billion dollars in property loss across America, the FCC did not revisit the issue of visual announcements until the middle of that year. On August 1, 1973, a letter from FCC Chairman Burch to the White House finally offered some hope that the FCC had been giving additional thought to an open captioning mandate for emergencies: "It seems apparent that captions providing such [emergency] information should be available to all persons of impaired hearing—not just to those whose receivers are especially equipped to display encoded captions."53 But consumers knew that until the agency actually moved to adopt a rule, even this rhetoric would be insufficient to motivate the television industry.
In the fall of 1974, Larry J. Goldberg, L. Irene Bowman, and Thomas Herrmann, the three law students who later founded NCLD, began exploring legal avenues to address television access by deaf and hard of hearing people.* Their research revealed that four years after issuance of the FCC's meager notice on accessible televised emergency warnings, little or nothing had been done to improve what had become an intolerable situation.
Determined to spur the FCC into action, the group first set about ascertaining the method of emergency notification that would be most preferable to viewers with hearing loss. In the 1970s, a few television stations had begun experimenting with the use of sign language interpreters for their news and other local programming. But the students quickly learned that this communication method had several drawbacks. Not only might interpreters not always be available during an emergency, but many senior citizens who had lost their hearing later in life had never even learned to sign. An examination of lipreading revealed problems that were equally, if not more troublesome. Only 25 percent of spoken English could be understood by reading lips. By contrast, a study conducted by the New York University Deafness and Research Training Center suggested that printed messages was most preferred by deaf and hard of hearing television viewers. Additional consultation with consumers and deaf leaders confirmed that an FCC rule requiring this type of visual communication made the most sense.
On January 20, 1975, under the name Deafwatch—Demanding Equal Access to Facts and Warnings Aired on Television for Citizens who are Hearing Impaired—Goldberg, Bowman, and Herrmann filed a petition with the FCC demanding broadcast emergency notifications to be available in visual as well as aural forms.54 Joined by Jess M. Smith and Frederick Schreiber of the NAD, Mary Eileen Paul of Deafpride, and Richard H. Israel of the AG Bell, the group spoke of the "shocking failure of television to perform its duty to the hearing impaired"55 and the "blatant disregard" of the FCC's 1970 notice.56 This, they asserted, had produced "profoundly devastating results" that left people with hearing disabilities "physically and psychologically vulnerable to disasters."57 The petition concluded that the effectiveness of television as a source of communication and the FCC's responsibility to promote the safety of life and property through the use of wire and radio communication compelled mandates for visual emergency warnings.58
The petition sought two rule changes, one that would require television broadcasters to transmit emergency information in a visual form whenever they issued these warnings in an aural form, and a second that would require stations to include visual information each time they utilized the Emergency Broadcast System (EBS). EBS was a system reserved for the U.S. president to transmit information, through local television stations, to the American public in the event of a national emergency. Local stations could also use EBS at their discretion, to transmit information about weather disasters and other emergencies creating a threat to life or property.
The Deafwatch petition presented a number of options for communicating emergencies visually. In addition to captioning, which was still in its infancy, the petition proposed scrolls of paper with typed words, typewritten messages on index cards, charts containing data, blackboard, and chalk, white writing on black vinyl backing, and even a felt marker on oak tag. It went on to boast that some of these methods could be had for as little as thirty-nine cents! The advocates also proposed that all emergency notifications include the following aural and visual "tag notice," to alert people who might not be watching television at the time: "If you have a hearing impaired or blind friend or neighbor, please pass this information on to him or her."
Despite its foot-dragging for the prior five years, the FCC wasted no time in releasing the Deafwatch petition for public comment, doing so only four days after the petition was filed. This was almost too soon for the GWU students who needed time to secure congressional and other types of support. The students received the legislative backing they were looking for when, in February 1975, Senator Percy (R.-Ill.) sent a letter of support to the FCC and urged his colleagues on the Senate floor to do the same.59 Percy refuted claims by broadcasters that people with hearing loss did not watch television by pointing to recent surveys that revealed 71 percent of these individuals to be television viewers; in fact, 65 percent of this group watched television six or more hours during weekends.*
This time, it took less than a year for the FCC to issue proposals for a rule requiring the visual transmission of emergency notifications.60 The new notice, released on December 22, 1975, finally acknowledged only limited compliance with the FCC's 1970 recommendations, and concluded that mandatory requirements for the television broadcast of visual emergency alerts were needed to "serve the public interest, convenience and necessity."61 Noting the power of the television medium to disseminate information about emergencies to the deaf community, the proposed rule even recommended concluding each emergency transmission with the suggested tag notice to alert friends and neighbors with disabilities who were not watching TV.
NCLD had just come into existence when the proposed rules were released. The law center's very first newsletter implored the deaf and hard of hearing communities to come forward with their personal accounts of the need for televised emergency access.62 Perhaps it was the letters that came pouring in from around the nation, or the years spent appealing to the FCC to act on this issue, or a combination of both, but on September 15, 1976, the FCC finally released a rule mandating visual notifications of televised emergencies.63 The new requirement, scheduled to take effect on February 1, 1977, would be triggered whenever a station broadcasted emergency programming aurally or utilized the EBS system. Television stations could use any method that would result in "a legible message conveying the essential information," including, but not limited to captioning, slides, mechanical printing processes, and manual methods, such as hand printing. NCLD followed up with letters to broadcasters and consumers that explained the new mandates and suggested methods for their enforcement.
Although the FCC's new rules carried the force of law, over the next decade and a half, repeated violations of their provisions disappointed consumers. Floods and tornadoes in the Midwest, blackouts in New York, earthquakes in California, and other major weather disasters routinely produced a barrage of consumer complaints about the lack of visual alerts. Unfortunately, the federal government made little effort to induce compliance. Not until December 1989, did the Federal Emergency Management Authority (FEMA) issue a fact sheet instructing stations to comply with the 1977 law, directing them to Gallaudet, the National Institute for the Deaf, and various captioning agencies for assistance in meeting their obligations. A year later, the FCC released a similar reminder.64 On April 25, 1990, FEMA also sponsored a nationally broadcast live teleconference, Emergency Communication with Hearing or Speech Impaired Persons, which facilitated discussions by deaf and hard of hearing experts on many emergency access issues, including television notifications.65
But without any real threat of penalties for noncompliance, these negligible efforts did little to promote improved broadcaster compliance. And so when Hurricane Andrew devastated much of Florida in 1992, causing the evacuation of nearly 250,000 people, twenty-three deaths, and over $25 billion in damage, the deaf community was again forgotten. Television coverage of the disaster, then billed as the most destructive hurricane on record, failed to provide the visual information that was sorely needed by this community to respond to the storm's perilous path. Rather than fine any of the stations, however, the FCC issued yet another a public notice reminding broadcasters of their emergency access obligations—even though prior notices always had proven inadequate.66 It was somewhat startling, but fifteen years after NCLD had secured a federal mandate requiring televised emergency access, this access had scarcely improved.
Emergency Alert System
In the early 1990s, two major changes prompted the federal government to reevaluate its system of alerting viewers about national emergencies: the growth of cable programming (previously not covered by EBS) and the development of new digital technologies that permitted greater efficiency, precision, and timeliness in the distribution of emergency information. The FCC initiated several new proceedings to bring EBS in line with these evolving technologies, renaming EBS the "Emergency Alert System" (EAS), to reflect the capabilities of cable, broadcast, and other transmission systems to work together to provide seamless emergency communications.67 In the meantime, Congress passed the Cable Television Consumer Protection and Competition Act of 1992, to extend the provisions of the nation's alerting system to cable programming.68 As had been true for EBS, EAS was primarily intended to allow the U.S. president to reach the general viewing public during national emergencies, but also could be activated voluntarily by local broadcasters and cable stations to disseminate information about hometown emergencies.69
In the spring of 1993, the FCC began to hold field trials to assess the extent to which new innovations could effectively convey emergency information to the general public.70 When the FCC was ready to test out some of these new technologies on people who were deaf and hard of hearing in the fall, Judy Harkins of Gallaudet University's Technology Assessment Program (TAP) assembled several deaf and hard of hearing leaders to try out the new prototypes. Unfortunately, the September testing, held in Pikesville, Maryland, proved to be a considerable disappointment. Only one vendor in attendance at the trials had a technology that included visual alerts and displays, and even that technology failed, preventing any real evaluation of its accessibility features.
A month after the field tests were completed, the FCC released both a notice soliciting comments on its formal field tests, and proposed rules seeking input on how best to enhance the new emergency system.71 When Harvey Goodstein passed along this request to the deaf and hard of hearing community on November 19, 1993 via his Telephone for All e-mail list, testimonies about the inadequacies of the current emergency broadcasting system, coupled with suggestions for its improvement, came streaming in.
Two weeks later, various deaf advocacy groups submitted comments on the new EAS proposals, sharing the community's considerable disappointment with the autumn trials and the television industry's deplorable track record on emergency access.72 The comments urged the FCC to develop mandates on the distribution of emergency information that were consistent with the ADA's nondiscrimination goals.
As the FCC went about finalizing its EAS proposals, consumers turned their attention to yet another matter concerning televised emergencies. Even television stations that did provide emergency information in a visual form regularly failed to make sure that this information—typically produced in crawls along the bottom of the television screen—did not overlap with closed captions. Television for All (TVFA), a consumer advocacy group consisting of more than twenty organizations from D.C., Virginia, and Maryland, decided to do something about this. Under the leadership of Toby Silver, the group approached one of the local broadcasters, WRC-TV Channel 4, and with the assistance of Fred Cooke of Bell Atlantic and others on the station's disability advisory board, succeeded in convincing the station to adopt a new method of conveying emergency information that would not interfere with captions. In March of 1994, the station launched the new TOBI system—the Television Online Bi-screen Information System—named after Silver herself. The innovative technology squeezed the television picture into a box to provide room for an emergency crawl at the top of the screen, while simultaneously displaying captions at the bottom.
To the delight of advocates, WRC made its TOBI method available to other stations around the nation free of charge. But concerned that other broadcasters might not follow WRC's forward-thinking example, in May 1994, TVFA also petitioned the FCC to prohibit the overlap of emergency slides and captions in a manner that could impede a viewer's ability to understand either set of text.73
On December 9, 1994, the FCC released its new EAS rules.74 At first glance, the Commission's order appeared to respond to the community's requests for full accessibility. Citing to our very own comments, the FCC explained: "It is fully consistent with the Congressional mandate of the Americans with Disabilities Act to make all facets of our society fully accessible to individuals with disabilities … any oral emergency messages that are broadcast through broadcast radio, television, or other media should be made available in text form."75 The rules promised that the new alert system would protect viewers regardless of their language needs or individual disabilities, and, in apparent response to TVFA's petition, even required video messages to appear on the TV screen where they would not interfere with closed captions.76
A closer look at the new requirements, however, revealed potential programs. The FCC's order explained that when the EAS system was activated, cable providers could provide the emergency message in both video and audio formats on all of their channels or they could simply interrupt programming on their channels with an audio alert message and some type of flashing video interruption. If they did the latter, the audio alert would direct viewers to a single cable channel that was carrying the full emergency message, and that message would have to be accessible to both blind and deaf viewers.
But the order did not require the "video interrupt" to direct deaf and hard of hearing viewers to the channel supplying the full EAS message; nor did it even specify the frequency or duration of these blinking signals. Instead, cable providers using the video interrupt would be required to provide the emergency information being displayed on the designated EAS channel to deaf and hard of hearing people through an in-home alerting device, such as a set top box that might also be used to activate other alerting mechanisms or lights.
Consumers complained to the FCC that the separate alerting device solution had been conceived in isolation, and had neither been tested, nor even made available for public comment.77 Moreover, the reliability and effectiveness of the proposed devices had never been established—no such devices currently existed, and the technology trials designed to demonstrate their features had failed. Nor was it clear who would set standards for their performance or ensure their efficacy. And because the devices were neither portable nor required in every location where televisions were used, they would leave individuals without access to emergency messages in many locations. Several other questions remained unresolved: What would the devices cost and who would pay for them? How would consumer eligibility be determined? Who would distribute and repair them?
Rejecting the set top boxes as a viable solution, consumers urged the FCC to require the transmission of emergency messages in both audio and video formats on every cable channel. Not only would this alternative eliminate uncertainties, it would be consistent with principles of universal design that were beginning to infuse the consumer movement for telecommunications access. These principles dictated that products and services should be designed to benefit the greatest number of individuals possible, regardless of their functional abilities. Requiring separate devices only for people who could not hear flew in the face of this doctrine.
When the FCC failed to respond to the community's feedback during the spring of 1995, advocates began to grow concerned that their strong opposition to the set top boxes was not being taken seriously. At the time, however, FCC Chairman Reed Hundt was planning other major changes to the Commission's approach to disabilities issues. By then, the ever-changing landscape of products and services now affecting people with disabilities was making the need for coordination and expertise on disability issues within the FCC indispensable.* The prior year, Sonnenstrahl had proposed the creation of an internal FCC body to respond to these changes and to serve as a liaison to the disability community.78 Chairman Hundt, who himself had taken an interest in these issues, liked the idea, and had pursued it throughout the fall of 1994 in a series of letters and meetings with TDI.
On March 17 1995, Hundt announced the creation of the FCC's first ever Disabilities Issues Task Force (DITF).79 Consisting of employees from each of the FCC's bureaus and offices, the group's mission was to "serve as a monitor and educator, ensuring that Commission and industry actions are in the best interests of the disability community and that they understand the needs and interests of … people with disabilities."80 Linda Dubroof, one of the FCC employees who had been chiefly responsible for drafting the FCC's relay mandates, became the group's first chair, and soon turned her attention to addressing the community's concerns with the EAS rules.81
After several brief encounters with Hundt's staff on the EAS rules during early summer 1995, the matter finally came to a head at a two-hour session between the cable industry and advocacy groups, held at the FCC on August 30, 1995.82 It had been rumored that the FCC was considering a requirement for consumers to acquire certification before becoming eligible to receive a set top box. At the August meeting, consumers protested that requiring proof of a hearing loss would exclude senior citizens and other individuals who were unlikely to get hearing tests just to obtain one of these devices. A certification requirement also might limit the number of locations capable of providing EAS messages, as hearing friends and family, vacation properties, and offices might not be considered eligible for one of the boxes.
At the August 1995 meeting, advocates also complained that the EAS order contained few directives for video providers to educate deaf and hard of hearing viewers about the purpose of the proposed "video interrupt." Advocates feared that millions of viewers might think that something had gone wrong with their televisions if they did not have prior information about why their screen was flashing. They said the least the FCC could have done was to have conducted trial testing of the video interrupt to judge viewer response before making this part of its EAS rule.
Put on the defensive, the FCC's immediate reaction to these concerns was harsh. Commission staff seemed to acknowledge that a major factor—if not the main criterion—in determining the EAS access mandates had been costs to cable providers. Staff said they had no intention of conducting further tests, and advised community representatives instead to travel to trade shows to view accessibility features demonstrated by manufacturers. They also urged the deaf community to conduct studies on its own to assess the effectiveness of various solutions. Exasperated consumers left the meeting discouraged by the agency's response.
Disillusionment with the FCC's ongoing failure to revise its approach continued until mid-October, when consumers suddenly learned that the FCC was considering doing away with the "video interrupt" rule and replacing it with a rule that would require nearly all cable channels to carry both audio and visual emergency messages. The new mandate would be phased in gradually, depending on the size of the audience receiving the provider's programming: the larger the subscribership, the sooner the mandates would kick in. Only cable providers with fewer than 5,000 subscribers (serving only 12 percent of the cable viewing audience) would remain exempt indefinitely.
While reluctant to grant any exemptions under the EAS rules, consumers ultimately agreed that the financial hardships that would be imposed on smaller cable owners merited their differential treatment. But we wondered why in only two months, both the cable industry and the FCC unexpectedly reversed their positions and now seemed so interested in agreeing to our demands. We learned only later that although the cable providers had originally thought video and audio messaging on all channels to be cost prohibitive, they had since determined that it would be even more expensive to provide specialized set top devices to all deaf and hard of hearing customers. Once they decided that all-channel messaging was the more economical approach, all they remained concerned about was obtaining sufficient time to implement the needed changes. When consumers consented to a phase-in of these obligations, industry's resistance to the consumer demands dissipated.
Over the next year and a half, consumer advocates negotiated the remaining fine points of the EAS compromise with the cable industry.83 The result was a joint consumer-industry agreement presented to the FCC on March 13, 1997, and adopted by the Commission in September 1997.84 The new rules would eventually require all cable providers serving 5,000 or more subscribers to provide EAS messages in both audio and visual formats on all channels.* The FCC's original requirement for an audio EAS message and video interrupt on all channels—and an EAS message on one programmed channel—would apply to cable systems serving fewer than 5,000 customers, unless those systems chose to provide an EAS audio and visual message on all of their channels. Smaller cable providers that did use flashing video alerts had to make sure that these flashed the television screen simultaneously with, and for the same duration as, the full length EAS message. They also had to disseminate information about which channel would contain the full audio and video message through billing statements and other public service announcements.
Cable systems serving under 5,000 households that chose not to air audio and video messages on all their channels were directed to work with consumers to develop "best practice" alternatives that could better meet the needs of these individuals. To this end, Sonnenstrahl, Silver, and Norman Williams, representing CAN, the NAD and Gallaudet, attended a meeting of the EAS Subcommittee of the Society of Cable Television Engineers Conference in June of 1997. Unfortunately, the three came back discouraged upon learning that smaller cable systems still had reservations about the costs associated with producing visual messages. Over the next three years, the National Cable Television Association coordinated annual meetings between consumers and the cable industry to continue the search for alternatives for small cable systems.85 However, the groups were never able to agree on an economically feasible alternative to the flashing video alert for these providers.86
Although the FCC's transition from EBS to EAS had intended to modernize the nation's alerting system, in a few more years, this system's continued reliance on analog television and radio platforms again caused it to become outdated. In November 2005, the FCC released yet another EAS order, extending these obligations to digital television and radio, satellite television and radio, and digital cable programmers.87 The revised mandates were accompanied by a call for public comment on ways to make a digitally-based warning system fully accessible to people with disabilities, so that they could have "equal access to public warnings and [be] considered in emergency preparedness planning."88 Among other things, the FCC asked how wireless systems, telephone relay services, and other platforms could be used to deliver emergency alerts. This proceeding remains pending as this book goes to print.
The Emergency Televised Programming Rule
By 1997, several FCC rules required some visual access to televised emergency programming. But a careful look at these rules revealed glaring gaps. The rule secured by the Deafwatch activists back in 1976 required all broadcasters to make emergency information accessible, but did not cover cable, satellite, or other television programming distributors. The EAS rules did cover cable stations, but these rules were discretionary for local emergencies, and often were not utilized for severe weather warnings and other local disasters. Finally, new captioning mandates were put into place by the Telecommunications Act of 1996, but video programming providers had eight years to phase these in, and during this period, they could decide for themselves the kinds of programs they wanted captioned.* Not only were such providers not explicitly required to caption emergencies, but even if they did caption news shows that contained emergency information, they were permitted to use "electronic newsroom captioning technique," a method that created captions from text inserted into their teleprompter computers. Because this text was customarily prepared prior to the airing of news programs, it did not cover late breaking and unscripted news typically characteristic of emergency situations. Beyond this, certain smaller television programming providers were exempt entirely from the Commission's closed captioning mandates.
During the 1990s, a rising number of complaints about the failure of local stations to make their emergency programming visually accessible revealed the inadequacies of the FCC's existing rules. Discussions with deaf and hard of hearing leaders confirmed that the FCC's piecemeal approach needed to be replaced with a comprehensive rule requiring real-time captioning coverage of all televised emergencies, without exception.
During the summer of 1997, the NAD arranged meetings with FCC commissioners to discuss the emergency access issue. The FCC had already released an initial set of general captioning rules, and was in the process of revising those rules in response to a petition for reconsideration submitted by the NAD. Our goal was to convince the commissioners to add a specific mandate for real-time closed captioning of all televised emergencies. Unfortunately, because the FCC had neither raised nor gathered public comment on this type of mandate in its original captioning proposals, it said it was now powerless to grant our request. Instead, Commissioner Susan Ness promised that the agency would open a separate proceeding devoted to making televised emergencies accessible after the FCC's captioning order on reconsideration came out. True to her word, Ness was instrumental in getting the FCC to open a new televised emergency access proceeding on January 14, 1998.89
In an attempt to again build a strong record for the new proposals, NAD's Executive Director Nancy Bloch issued an electronic action alert urging her association's members to come forward with their personal emergency access stories.90 As might have been expected, the anecdotes poured in. One woman wrote of her fears living less than twenty miles from a nuclear power plant, not knowing when a disaster might strike and not being able to receive critical information to respond.91 Another told the heart-wrenching tale of having to shove her three young children into her basement every time a tornado icon appeared on her TV screen. Because newscasters failed to visually report the direction of the tornadoes, her children panicked each time they were sent downstairs. A Massachusetts man told the story of a drunk driver who hit a trailer truck carrying fuel and uranium while headed for a nuclear electric power facility. The truck caught on fire, but could not be doused with water because firefighters feared contaminating the adjoining river. Officials ultimately decided to let the fire burn itself out for twenty-four hours, having determined that the levels of radiation could be contained. The writer (a deaf man) worked only four blocks away from the scene, but had remained the entire time without knowledge about the situation's gravity. Local news had only shown a burning truck without any text to explain what was happening.92
By the time that the FCC's record on its emergency proceeding closed, it was replete with testimonies that pointed to the urgent need for a rule mandating full and equal access to emergency programming.93 Individuals had come forward to report the repeated failure of stations to provide accessible emergency information about blizzards, chlorine spills, water contaminations, train derailments, fires, earthquakes, shipments of nuclear hazards, and even the bombing of the federal building in Oklahoma City. Two decades after a requirement had been put into place requiring broadcasters to make their emergency programming accessible, the number of compliant stations remained intolerably low, and generally even these were located only in large metropolitan areas. All too often, small town broadcasters on tight budgets simply ignored the FCC's rules. For example, the NorCal Center on Deafness reported that television coverage of a tornado alarm in the San Joaquin Valley and a bomb scare in the Roseville area was actually preceded by the statement that "this portion of the news will not be closed-captioned!"94 Similarly, in southwestern Pennsylvania, a plane crash that attracted every emergency vehicle located in the region and five helicopters to provide live coverage for three local channels, failed to be reported with captions on even one those stations.95
Despite their abysmal track record, the nation's broadcasters and cable companies staunchly opposed replacing the twenty-year-old emergency notification rules with what they perceived as a rigid and burdensome real-time captioning mandate.96 These companies liked the fact that the FCC's rules still allowed them to choose from a selection of visual methods, including crawls, diagrams and graphics to achieve accessibility, even though, in reality, few had bothered to use any these methods to ever convey emergency information visually. Particularly disturbing were comments submitted by the Radio-Television News Directors Association, which alleged that the costs associated with a real-time captioning mandate would "significantly divert resources from the provision of local news programming for all viewers," and in fact "cripple" a station's ability to convey news about emergencies to the rest of the public in a timely fashion.97 Although the association agreed on the importance of providing emergency information to the largest number of viewers, it claimed that a captioning mandate would have a "debilitating impact" on news operations!*
The television industry also charged that a shortage of real-time captioning personnel would make compliance with a real-time captioning requirement impossible. But this was not the first time that an industry had attempted to skirt a disability mandate by claiming a scarcity of personnel. The same argument had been attempted to avoid mandates for relay services and closed captioning of general programming. However, once the mandates for these services were put in place, the supply of personnel needed to fill the new demands for these services grew dramatically. This claim also ignored the existence of new technologies, including personal computers, wireless phones, pagers and call forwarding that made real-time captioning from remote locations highly effective. Just months before, television stations located in Los Angeles, San Francisco, and Sacramento had used live remote captioning to simultaneously cover heavy rains over an extensive geographic region. The ability to tap the resources of captioners from all over the country for emergencies in centralized regions negated industry's concerns. Indeed, the captioning agency that had provided the California services—Caption Colorado—reported that it had a waiting list of qualified real-time captioners, ready and willing to provide captioning from remote sites.98
By November 1999, nearly two years after the FCC had released its emergency access proposals, concerns about the national supply of real-time captioners and the costs that this form of captioning could impose on smaller stations were still keeping the FCC from adopting a real-time captioning mandate for emergency programming. I had just accepted a job with the FCC, and having witnessed decades of neglect on this issue, decided to make emergency access one of my top priorities.99 With Pam Gregory, chief of the new Disability Rights Office (DRO), I met with FCC Chairman William Kennard to explain how gaps in the FCC's various rules had been keeping deaf and hard of hearing people from receiving complete access to televised emergency information. Surprised to learn that neither the captioning rules nor the new EAS rules had succeeded in closing these gaps, Kennard agreed that immediate action was warranted. New mandates would be in keeping with one of the chairman's top priorities to ensure that new technologies benefited Americans with disabilities. After Kennard gave this swift approval, DRO Attorney Meryl Icove and others at the FCC took on the task of weaving together a series of emergency access requirements that were all-inclusive with respect to the type of programming covered, but flexible enough to continue allowing industry to choose visual methods that were both feasible and affordable.
The new rules would define emergency information broadly, to include, but not be limited to, alerts about tornadoes, hurricanes, floods, earthquakes, heavy snows, and fires, and civil disorders such as toxic gas leaks, power failures, industrial explosions, and school closings, as well as any information intended to further the protection of life, health, safety, or property. In addition to details about the emergencies themselves, the new regulations would require access to critical details for responding to those events, including information about evacuations, emergency routes, road closures, shelters, and ways to secure personal property and obtain food, medical and other relief assistance. All video programming distributors, including broadcasters, cable operators, and satellite television services, would have to comply without exception, but they would be able to retain some leeway in how they provided access: in addition to open or closed captions, they could use crawls, scrolls or other visual methods. Finally, the new rules would apply to all types of emergency information, whether exhibited during a regularly scheduled newscast, continuing coverage of an incident, or an unscheduled programming break. As was true of the agency's EAS rules, the new mandates would explicitly prohibit emergency information and closed captions from blocking one other.
At the April 2000 Commission meeting that was to decide the fate of the FCC's emergency access regulations, Kennard shared with his colleagues the compelling story of a deaf woman who had been watching television the night that Hurricane Floyd came thundering toward her hometown of Greenville, North Carolina. Because Greenville's local news stations failed to caption its live broadcasts, she had gone to bed unaware of the storm's impending arrival. Awakened when her house began to flood, the woman sought safety by climbing on top of her stove. When the water kept rising, she swam to a nearby trailer and climbed onto its roof, where she remained, cold and wet for hours, praying for rescue. Trees blocking her from view prevented helicopters from finding her until a day later.100 After listening patiently, all five FCC commissioners unanimously voted to approve the new regulations mandating television emergency access.101 Shortly thereafter, the FCC began receiving letters of heartfelt appreciation from individuals throughout the deaf and hard of hearing communities.*
By the time the FCC issued its new emergency access rules, approximately three decades had passed since Nancy Lipschultz and the Deafwatch team had first brought the emergency programming issue to the Commission's attention. Everyone wanted to believe that these rules would finally end decades of neglect by the nation's television programmers. But within a year and a half of their issuance, complaints about the failure of local programmers to make their emergency telecasts visually accessible had made their way to the Commission from deaf and hard of hearing viewers in as many as fourteen states.† It was apparent that efforts to convince broadcasters and cable stations to fulfill their obligations were still meeting with obstinance and indifference.
Ongoing delinquencies finally prompted the FCC to release, on August 13, 2001, a new public notice clarifying its visual alert obligations.102 On September 11, 2001, less than a month later, the FCC was somewhat relieved to learn that captioners were pulled from all corners of America to provide round-the-clock coverage of the shocking events that aired on nationally televised programs.* Unfortunately, local television stations, not realizing that the FCC's emergency access rules applied to national emergencies that had local impact along with events occurring in their own jurisdictions, were not as compliant.
Over the next few years, compliance with the FCC's emergency access mandates improved somewhat, but as a whole, lax enforcement still resulted in far too many violations by recalcitrant television programming providers. In 2003 alone, the FCC received over 200 complaints against television programmers who had failed to provide visual access during disasters.103 A new series of FCC notices reminding stations of these mandates did little to inspire compliance.104
Some of the complaints were the result of events occurring in the fall of 2002, when the Washington, D.C., area became prey to a series of sniper attacks that paralyzed the city. At the time, residents remained glued to their television sets, watching for breaking developments that could provide information about road blocks and the snipers' potential whereabouts. When a few Washington, D.C., area television stations failed to provide some of the sniper news alerts in a visual format, consumers became angry. With the assistance of Cheryl Heppner of the Northern Virginia Resource Center for Deaf and Hard of Hearing Persons, they brought these programming deficiencies to the FCC's attention, sure that this time the agency would take the appropriate disciplinary action. But the complainants were in for an unpleasant surprise.
Nearly a year and a half passed before the FCC responded to the complaints, in February 2004. But rather than find the stations in violation, the FCC dismissed the charges without any investigation into their veracity. Most surprising was the FCC's conclusion that the sniper attacks were not the type of "emergency" contemplated by the FCC's emergency access rules.† Ironically, right around this time, the FCC also conducted a public summit to identify communication access barriers to and develop strategies for assisting people with disabilities in responding to national emergencies and terrorist attacks.105 Advocates took advantage of this public forum to ask the FCC how, on the one hand it could hold an event like this, and on the other conclude that deaf and hard of hearing people had no right to visual information about the sniper attacks. The failure to hold these stations accountable, they insisted, not only violated the FCC's own rules; it flew in the face of logic.
During the weeks that followed, disgruntled advocates protested the FCC's interpretation of the law, as well as the agency's ongoing failure to enforce its own television emergency access obligations. This time the agency listened. The Commission not only reversed its sniper attack decision—concluding that the attacks and other terrorism-related incidents were in fact covered by its emergency alert mandates*—but also promised to step up efforts to secure programmer compliance.† Holding true to its word, the FCC proceeded to investigate a number of other emergency access complaints that had been filed, and on February 23, 2005, for the first time in its history, the Commission notified three stations in California that they would be assessed forfeitures, two for $20,000 and one for $25,000 for "willfully or repeatedly" failing to make emergency information about wildfires in the San Diego area accessible to persons with hearing disabilities.106 Three months later, the FCC issued similar fines—this time against three stations in the Washington, D.C., area—for failing to provide visual access to programming on a thunderstorm and tornado watch in May 2004.107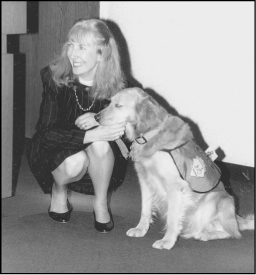 Cheryl Heppner's advocacy was instrumental in finally getting the FCC to fine television stations that failed to provide emergency notifications in a visual format (shown here with her service dog Dana in 1995).
The Future
Increased threats of terrorism, along with the rash of natural disasters that have occurred around the world, underscore the need to ensure that all emergency services are fully accessible to all Americans, including those who cannot hear. In 2004, an extensive analysis of our nation's emergency notification systems, completed by Heppner's northern Virginia group and DHHCAN, revealed significant gaps and a general lack of coordination in our nation's ability to respond adequately to the needs of people with hearing loss in emergency situations.108 Just as one example, no federal law requires small TVs that operate on batteries to decode and display captions; nor are there any federal mandates requiring captioning of information displayed over the Internet.
Heightened awareness of the need to improve emergency response programs for people with disabilities has resulted in enhanced federal efforts. These began in earnest in July 2004, with the creation of the Interagency Coordinating Council on Emergency Preparedness and Individuals with Disabilities (ICC) at the U.S. Department of Homeland Security.109 The new group, consisting of representatives from the FCC, DOJ, the Department of Education, and twenty other federal agencies, is dedicated to analyzing how best to ensure the security and safety of people with disabilities in emergencies and natural disasters. Among other things, the ICC has triggered new federally funded research efforts, the development of a web-based Disability Resource Center, the preparation of workplace emergency preparedness guidelines and the dissemination of letters to state governors, all geared to promoting greater understanding and awareness of, as well as solutions for, improved emergency planning for people with disabilities.110 The ICC's Subcommittee on Emergency Communications, chaired by the FCC, has paid particular attention to federal policies designed to improve communications before, during and after an emergency. Among other things, the group has encouraged more stringent enforcement of FCC rules governing access to televised emergency information.
On September 29, 2004, DHS also announced a $1.5 million grant to a consortium of organizations serving people who are deaf, hard of hearing and deaf-blind. Administered by TDI, these funds have been used to develop the Community Emergency Preparedness Information Network (CEPIN), a network that has produced and disseminated comprehensive materials on emergency access, including resources on how best to respond to weather emergencies, and ways to retrieve text emergency alerts via pagers, cell phones, e-mail, and fax machines.
Global changes in our world's communications infrastructure are providing new ways to alert people who are deaf and hard of hearing about disasters.111 For example, early warning systems now enable municipalities to pinpoint trouble spots and send alerts to smaller geographical areas than previously possible. Information can be sent digitally, converted into text, and distributed to designated receivers, including small electronic devices. Weather radios operated by NOAA—the U.S. Department of Commerce's National Oceanic and Atmospheric Administration—already are available with text display screens, strobe lights, and vibrating attachments that can receive real-time alerts from the National Weather Service.112 Even captioned radio, now available in Japan, may one day provide a viable means of using text to alert deaf and hard of hearing people about emergencies while in their cars.
But more can and needs to be done to improve emergency access for deaf and hard of hearing communities in the immediate future. Many deaf people have begun abandoning their TTYs, in favor of pagers and Internet-based devices, neither of which can be used for calling 911 services at the present time.* As reliance on new technologies continue to alter our methods of communication, coordinated efforts must be taken to ensure the development and implementation of emergency access solutions that are fully responsive to people who cannot hear.
1. "9-1-1: Equal Access Now," Deaf Life, April 1990: 8–16.
2. Mary Johnstone, "The Line Is Busy," Gallaudet Today (Summer 1989): 30–32. The survey results were instrumental in producing training materials to educate operators and TTY users on 911 issues.
3. Ed Bruske and John Burgess, "Deaf, Hearing-Impaired Gaining New Access to D.C.'s 9-1-1 Line," Washington Post March 25, 1988, C3.
4. "911: Equal Access Now! Part 2," Deaf Life, (May 1990): 24–29.
5. See, for example, John Lopez, "Emergency 911 Access Committee," GA-SK 20 (Winter 1989): 6.
6. H. R. 1690, 101st Cong., 1st Sess. (April 5, 1989).
7. For a summary of this forum, see John Lopez, "Summary of Emergency 9-1-1 Access Forum," GA-SK 20 (Summer 1989): 8.
8. John Lopez, "Update on 9-1-1 Legislation," GA SK 21 (Winter 1990): 8.
9. John Lopez, memorandum to TDI Board of Directors on "The Emergency Phone System Equal Access Act Lobbying Campaign," March 23, 1990.
10. At the request of the deaf community, I also contacted various legislative aides in the House and the Senate. See, for example, Karen Peltz Strauss, fascimile to Melissa Shulman, legislative assistant to Congressman Hoyer, April 26, 1990.
11. Bobby Silverstein and Katy Beh were particularly helpful to this effort.
12. H. Rep. No. 485, Part 2, 101st Cong., 2d Sess. 84–85 (May 15, 1990). The new language stated: "As part of its prohibition against discrimination in local and state programs and services, Title II will require local governments to ensure that these telephone emergency number systems are equipped with technology that will give hearing impaired and speech impaired individuals a direct line to these emergency services. While initially this will mean installation of a TDD or compatible ASCII or Baudot computer modems by programs operating these services, future technological advances—such a speech to text services—may offer other means of affording direct and equally effective access for these individuals. Similar language was later incorporated in the report prepared by the ADA Conference Committee. Conf. Rep. No. 596, 101st Cong., 2d Sess. 67–68 (July 12, 1990).
13. Pauline Annarino, "Deaf Man's Wife Dies After 9-1-1 Incident," GLAD News (Spring 1991): 12.
14. Philipp Gollner and Michael Connelly, "Deaf Man's Wife Dies After 911 Incident," Los Angeles Times, April 3, 1991, reprinted in Silent News, May 1991; "New L.A. Policy on Deaf Who Report Emergencies," Los Angles Daily News, April 4, 1991.
15. See generally, John Lopez, "9-1-1 Access Incorporated into ADA," GA-SK 21 (Summer 1990): 7.
16. This NPRM was published at 56 Fed. Reg. 8538 (February 28, 1991).
17. Access to Emergency Services Forum, Senate Russell Office Building, Washington, D.C. (March 22, 1991). GTE and NYNEX joined USTA in co-sponsoring this event. Central to the forum's success was the work of its planning committee. In addition to Mauk and Sonnenstrahl, Pam Ransom, formerly of the Chicago Mayor's Office for People with Disabilities, Mary Boyd of the Texas Advisory Commission in State Emergency Services, Theodore Weintraub of police communications in Rockville, Maryland, and Ramon Rodriguez, the new coordinator of TDI's Emergency Access Project, brought panels of experts together to tackle a plethora of issues concerning 911 access. Representatives from the federal government, including Mark Buse of Senator McCain's (R-Ariz.) office and Bob Mather, who was largely responsible for the drafting and implementation of the 911 rules at DOJ, assisted attendees in designing regulatory proposals for the new mandate. In addition, Norman Williams, Hubert Anderson, Charles Estes, Ken Glickman, Louis Schwarz, Brenda Battat, Cheryl Heppner, Kevin Colwell, David Baquis, and Anne Edwards were among the many advocates that offered invaluable insight into policy solutions and technologies to meet the needs of the deaf community. Representatives from the FCC, the Access Board, and NENA also made valuable contributions.
18. This feedback was provided in comments to DOJ (submitted on April 29, 1991) prepared by Pam Ransom and the author on behalf of NCLD, TDI, AG Bell, ASHA, ALDA, NAD, SHHH, the Chicago Hearing Society, Chicago Mayor's Office of Persons with Disabilities, Jewish Family and Community Service of Chicago, Gallaudet, National Fraternal Society of the Deaf, and the Northern California Center for Law and the Deaf.
19. Patrick Boyle, "Deaf Blame 911 for Man's Deaf," Washington Times, July 10, 1991, reprinted in Silent News, August 1991.
20. 56 Fed. Reg. 35694, 35712–13, (July 26, 1991), codified at 28 C.F.R. §35.162.
21. "County Responds to 911 TDD Failure," On the Green, September 23, 1991.
22. General information about the forum can be found in: Anne Edwards, "Access to Emergency Communication Services—An Ongoing Dialogue," GA-SK 23 (Winter 1992): 3. Tom Sanew, Rob Yaeger, Louis Schwarz, Linda DuBroof, Paul Taylor, Brenda Battat, John Lopez, Pam Ransom, Bruce Sofinski, David Rosenthal, David Freet, Jack Gannon, Jennifer Kirk, Susan Karchmer, Joel Ziev, Nancy Abbott, Kevin Colwell, Ed Bosson, Toni Dunne, and Dan Bart were among the many in attendance.
23. William R. Johnson, Sr., president of the Maryland Emergency Number Association, letter to Congressman Steny Hoyer, January 3, 1992.
24. Congressman Curt Weldon, letter to the Honorable William P. Barr, attorney general, February 3, 1992.
25. DOJ, "The Americans with Disabilities Act: Title II Technical Assistance Manual," ADA Home Page, November 1993, http://www.usdoj.gov/crt/ada/taman2.htm; DOJ, "The Americans with Disabilities Act: Title II Technical Assistance Manual 1994 Supplement," ADA Home Page, http://www.usdoj.gov/crt/ada/taman2up.html.
26. Chatoff et al. v. City of New York, Verified Complaint, 92 Civ. 0604 (S. Dist. N.Y., January 26, 1992).
27. Ibid., 8. See also Michael Chatoff, "You CAN Fight (NYC) City Hall!" GA-SK 23 (Spring 1992): 3.
28. Chatoff et al. v. City of New York, Stipulation of Settlement, 92 Civ. 0604 (S. Dist. N.Y, March 4, 1993); Michael Chatoff, "Emergency Services in New York City," GA-SK 24 (Spring 1993): 13; See also Denise Hummel, "Emergency 9-1-1 Access in New York City," GA-SK 23 (Summer 1992): 1, 3.
29. "Advocates Angered by Death Will Help Dallas Improve Services," Dallas Morning News, reprinted in GA-SK 23 (Fall/Winter 1992): 16.
30. Jill Jorden Spitz, "Family Sues over 9-1-1 Related Death," Orlando Sentinel, April 17, 1993, reprinted in Silent News, June 1993, 1.
31. David Rosenthal and Toni Dunne, "TDI Emergency Access Committee Represented at the National Emergency Number Association Conference," GA-SK 24 (Fall 1993): 20, 22.
32. Pierre Thomas, "Los Angeles Gives Deaf 911 Access," Washington Post, July 13, 1994, A12. DOJ, "Enforcing the ADA: A Status Report Update from the Department of Justice (July–September 1994), 4–5," ADA Home Page, http://www.usdoj.gov/crt/ada/pubs/septup.txt. The woman who had summoned assistance was Sheri Farinha, one the nation's leading deaf advocates for the civil rights of people with hearing loss.
33. Bob Mather was one of several DOJ attorneys who helped to prepare amicus curiae or "friend of the court" briefs in these cases.
34. Ferguson v. City of Phoenix, 931 F. Supp. 688 (1996); 157 F. 3d 668 (9th Cir. 1998).
35. Miller and Sean Owens v. District of Columbia, 983 F. Supp 205 (D.D.C. 1997). See also, Bill Miller, "D.C. Told to Improve 911 System, Complaints from Deaf Spur Takeover Threat," Washington Post, July 18, 1997, C1.
36. DOJ, "Project Civic Access," ADA Home Page, http://www.usdoj.gov/crt/ada/civicac.htm.
37. Telecommunications Services and Speech-to-Speech Services for Individuals with Disabilities, Report and Order and Further Notice of Proposed Rulemaking, CC Dkt. 98-67, FCC 00-56, 15 FCC Rcd 5140 (March 6, 2000), ¶100. The rule was further clarified in June of 2003. Telecommunications Relay Services and Speech-to-Speech Services for Individuals with Hearing and Speech Disabilities, Order, CC Dkt. 98-67, DA 03-2111, 18 FCC Rcd 12823 (June 30, 2003), ¶¶37–46. An appropriate PSAP is one "that the caller would have reached if he had dialed 911 directly, or a PSAP that is capable of enabling the dispatch of emergency services to the caller in an expeditious manner." 47 C.F.R. §64.604(a)(4).
38. ¶47 C.F.R. §64, Appendix A, 6.b.(2). Telecommunications Service Priority (TSP) System for National Security Emergency Preparedness. Requests for priority TSP status go to the Office of Priority Telecommunications of the Department of Homeland Security's National Communications System.
39. Telecommunications Relay Services and Speech to Speech Services for Individuals with Hearing and Speech Disabilities, Report and Order, Order on Reconsideration, and Further Notice of Proposed Rulemaking, CC Dkts. 90-571, 98-67; CG Dkt. 03-123, FCC 04-137, 19 FCC Rcd 12475 (June 30, 2004), ¶47. In November 2004, the FCC issued an additional public notice strongly encouraging TRS centers to enroll in the TSP program and promising to help educate TRS facilities about the program. New FCC Initiative Encourages TRS Facilities' Participation in the Telecommunications Service Priority Program, FCC News Release, November 1, 2004.
40. U.S. Department of Homeland Security, Individuals with Disabilities in Emergency Preparedness" (Washington, D.C.: July 2005), 17. The report can be found at http://www.dhs.gov/disabilitypreparednessicc.
41. Nancy Lipschultz, Petition for Rulemaking, RM-1600 (April 23, 1970).
42. The Use of Telecasts to Inform and Alert Viewers with Impaired Hearing, FCC Public Notice, FCC 70-1328, 26 FCC 2d 917 (December 17, 1970). Hereinafter cited as Use of Telecasts.
43. Ibid., 917–18.
44. Comments of Thomas Mayes in MM Dkt. 95-176 (February 19, 1998).
45. Clay T. Whitehead, letter to FCC Chairman Dean Burch, December 2, 1971.
46. Mary Jane Rhodes, COSD, letter to Charles Stone, coordinator of station services, NAB, August 2, 1972.
47. FCC Chairman Dean Burch, letter to students of the Model Secondary School for the Deaf, September 14, 1972.
48. Nancy Lipschultz, letter to John H. Torbet, FCC executive director, January 16, 1973.
49. John H. Torbet, letter to Nancy Lipschultz, February 7, 1973.
50. Gail Meacham, letter to COSD, April 5, 1973.
51. Edward C. Carney, letter to Gail Meacham, April 27, 1973 (emphasis in original).
52. "Adoption of Standards for the Presentation of Visual Emergency Notifications on Television," Petition for Rulemaking (January 20, 1975), 9, citing NAB, "A Broadcaster's Guide to Planning for a Natural Disaster" (1974): 1. Hereinafter cited as NCLD Petition 1975.
53. FCC Chairman Dean Burch, letter to Clay T. Whitehead, August 1, 1973.
54. NCLD Petition 1975.
55. Ibid., 31.
56. Ibid., 29.
57. Ibid., 31.
58. The petition was referring to the FCC's universal service obligation at 47 U.S.C. §151.
59. Charles Percy, "Help in Emergencies for the Hearing Impaired," 121 Cong. Rec. 2310 (February 20, 1975).
60. Amendment of Part 73 of the Commission's Rules to Establish Requirements for Captioning of Emergency Messages on Television, Notice of Proposed Rulemaking, Dkt. 20659, RM-2502, FCC 75-1377 (December 22, 1975). The rules sought to amend 47 C.F.R. §§73.675 and 73.933. The FCC made clear that to the extent that its proceeding responded to the need for the visual transmission of emergency information, it also was to be a response to the original 1970 petition filed by Lipschultz.
61. Ibid., ¶10.
62. "Captioned Emergency Messages on TV Can Become a Reality with Your Help!" NCLD Newsletter 1 (January 1976): 5.
63. Amendment of Part 73 of the Rules to Establish Requirements for Captioning of Emergency Messages on Television, Report and Order, Dkt. 20659, RM-2502, FCC 76-852, 61 FCC 2d 18 (September 15, 1976), reconsideration granted in part, 62 FCC 2d 565 (January 28, 1977), 43 Fed. Reg. 45847 (October 14, 1978). The FCC made clear that sign language could be used to supplement, but not take the place of other visual methods that would be understood by a greater number of people with hearing loss. The order created a new rule at 47 C.F.R. §73.675(b), later moved to 47 C.F.R. §73.1250(h).
64. Commission Reminds Licensees about Obligations Contained in Section 73.1250(h) of the Commission's Rules Regarding the Broadcasting of Emergency Information, FCC Public Notice, FCC 90-302, 5 FCC Rcd 6260 (1990).
65. Gallaudet's I. King Jordan, SHHH's Rocky Stone, and TDI's Al Sonnenstrahl were among the presenters at this event. The event also explored issues concerning visual smoke detectors, fire alarms, and TTYs.
66. Television Stations are Reminded of Their Obligations Regarding the Broadcasting of Emergency Information in a Manner Accessible to the Hearing Impaired, FCC Public Notice (September 4, 1992).
67. See, for example, Amendment of Part 73, Subpart G, of the Commission's Rules Regarding the Emergency Broadcast System, Notice of Inquiry, FO Dkt. 91-171, 6 FCC Rcd 4264 (June 13, 1991); Notice of Inquiry/Notice of Proposed Rulemaking (NPRM), FO Dkt. 91-301, 6 FCC Rcd 6739 (1991).
68. Cable Television Consumer Protection and Competition Act of 1992, P.L. 102-385§16(b), 106 Stat. 1460, 1490 (1992), adding subsection (g) to Section 624 of the Communications Act of 1934, 47 U.S.C. §544(g).
69. 47 C.F.R. §11.55(a). EAS is jointly administered by the FCC, FEMA, and the National Oceanic and Atmospheric Administration's National Weather Service.
70. The first of these trials took place in Denver from June 27 to June 30, 1993.
71. Comments Solicited Regarding Emergency Alerting Systems Test Results in FO Dkts. 91-301191-171, FCC Public Notice, DA 93-1211 (October 6, 1993); Amendment of Part 73, Subpart G, of the Commission's Rules Regarding the Emergency Broadcast System, Notice of Proposed Rulemaking/Further Notice of Proposed Rulemaking, FO Dkts. 91-301/91-171, 7 Rcd 6903 (October 8, 1992).
72. Joint Comments of Maryland Association of the Deaf, NAD, NCLD, TDI, and Television for All (November 26, 1993).
73. TVFA, "In the Matter of the Relocation of Emergency Slides (Crawls) for Caption Viewers," Petition for Rulemaking (May 1, 1994). The petition was prepared by a young deaf lawyer named Alan Amann.
74. Amendment of Part 73, Subpart G of the Commission's Rules Regarding the Emergency Broadcast System, Report and Order and Further Notice of Proposed Rulemaking, FO Dkt. 91-171/91-301, FCC 94-288, 10 FCC Rcd 1786 (December 9, 1994), reconsideration granted in part, denied in part, 10 FCC Rcd 11,494 (1995).
75. Ibid., ¶61, citing NCLD Comments, 3–5.
76. Ibid., ¶¶173, 60, codified at 47 C.F.R. §11.51(d) (requires placement of EAS message at the top of the screen).
77. Joint Comments of NAD, TVFA, TDI, and NCLD (February 20, 1995); Comments of SHHH (February 21, 1995).
78. Al Sonnestrahl, "FCC Accessibility Program," (October 28, 1994). In addition, on June 10, 1994, on behalf of CAN, Sonnenstrahl delivered congressional testimony (on S. 1822) that called for the establishment of an FCC unit that would regularly review regulations concerning people with disabilities and work with businesses in promoting across-the-board universal design principles.
79. FCC Announces Establishment of Disabilities Issues Task Force, FCC News Release (March 17, 1995).
80. Ibid.
81. Karen Peltz Strauss, e-mail to Linda Dubroof, August 1, 1995.
82. Toby Silver, Al Sonnenstrahl, Judy Harkins, Andy Firth, Norman Williams, and the author represented consumers at this meeting. The National Cable Television Association (NCTA) and Time/Warner Cable represented the cable industry. Prior contacts with Hundt's staff had included a July 19, 1995, letter from Judy Harkins to John Nakahata, urging an opportunity for consumers to be heard on the EAS issue, and an August 10, 1995, meeting among Harkins, Goodstein, Nakahata, and the author.
83. Deliberations culminated at a meeting held among representatives of NCTA, the NAD, the Cable Telecommunications Association (CATA), and Gallaudet University's Technology Assessment Program on February 7, 1997.
84. Decker Angstrom, NCTA president and CEO, Toby Silver and Al Sonnenstrahl, NAD, and Steve Effros, CATA president, letter to Chairman Reed E. Hundt, March 13, 1997. The agreement contained in this letter was incorporated in Amendment of Part 73, Subpart G, of the Commission's Rules Regarding the Emergency Broadcast System, Second Report and Order, FO Dkt. 91-301, FO Dkt. 91-171, FCC 97-338, 12 FCC Rcd 15503 (September 29, 1997), ¶5, n. 13; ¶¶7–22. The new rules were codified at 47 C.F.R. §11.51(g), (h).
85. Sonnenstrahl, Harkins, Silver, Williams, and Claude Stout, TDI's new executive director, were the consumer representatives of this group. The cable industry was represented by Lisa Schoenthaler.
86. The group did reach a minor agreement that allowed cable systems with audiences under 5,000 viewers to install a certified EAS decoder in place of both a decoder and encoder. This simply meant that although these systems would have to continue to pass through messages, they could obtain those messages from other cable operators, rather than originate them on their own. Amendment of Part 11 of the Commission's Rules Regarding the Emergency Alert System, EB Dkt. 01-66, 17 FCC Rcd 4055, 4082 (February 26, 2002).
87. Review of the Emergency Alert System, First Report and Order and Further Notice of Proposed Rulemaking, EB Dkt. 04-296, FCC 05-191 (November 10, 2005). The FCC made clear that emergency messages would have to be carried on all program streams transmitted by these various platforms.
88. Ibid., ¶¶74–80. This would be the second time that the Commission gathered public comment on modernizing EAS for people with disabilities. See Review of the Emergency Alert System, Notice of Proposed Rulemaking, EB Dkt. 04-296, FCC 04-189, 19 FCC Rcd 15775 (August 12, 2004). At that time, consumers wrote in of the need to make EAS a more interactive system that utilized the Internet and provided information in text, video, and voice. See Comments of the Rehabilitation Engineering and Research Center on Telecommunications Access (RERC-TA) (October 29, 2004); Joint Comments of TDI, ALDA, NAD, DHHCAN, and SHHH (October 29, 2004).
89. Closed Captioning and Video Description of Video Programming, Implementation of Section 305 of the Telecommunications Act of 1996, Video Programming Accessibility, Further Notice of Proposed Rulemaking, MM Dkt. 95-176, FCC 97-279, 13 FCC Rcd 5627 (January 14, 1998). Hereinafter cited as Emergency Access FPRM 1998.
90. Nancy J. Bloch, "Action Alert! Emergency Captioning Access," February 15, 1998.
91. Comments of Arva Priola in MM Dkt. 95-176 (February 23, 1998).
92. Comments of Lee Nettles in MM Dkt. 95-176 (February 25, 1998).
93. In addition to the many individuals who wrote in, the NAD, SHHH, TDI, NorCal, and the American Academy of Audiology were among the many consumer organizations that requested a real-time captioning mandate for all emergency programming.
94. Emergency Access FNPRM 1998, ¶6.
95. Comments of SHHH in MM Dkt. 95-176 (February 23, 1998), 3–4.
96. See Comments of NAB, CBS, and NCTA in MM Dkt. 95-176 (all filed on February 25, 1998).
97. Comments of Radio-Television News Directors Association in MM Dkt. 95-176 (February 25, 1998), 6.
98. Comments of Caption Colorado in MM Dkt. 95-176 (February 25, 1998), 2–3.
99. By then, 81 percent of the respondents in a survey of deaf and hard of hearing people conducted in Oklahoma and Minneapolis reported fear of being unprepared in the event of severe weather in their area. Jim House, "Disasters: Are You Prepared?" GA-SK 32 (Fall 2001): 6–8. The survey was conducted by Vincent Wood, a deaf research meteorologist at the National Severe Storms Laboratory in Norman, Oklahoma, and Robert Weisman, father of a deaf girl. In response to his findings, Wood developed Oklahoma's Hazardous Weather Pager Program to alert deaf people about tornadoes and other severe weather warnings.
100. "Closed Captions a Safety Concern," Wilson Daily Times (Wilson, N.C.), March 20, 2000, distributed to recipients of USA-L News mailing list, April 11, 2000.
101. Closed Captioning and Video Description of Video Programming, Implementation of Section 305 of the Telecommunications Act of 1996, Accessibility of Emergency Programming, Second Report and Order, MM Dkt. 95-176, FCC 00-136, 15 FCC Rcd 6615 (April 14, 2000), codified at 47 C.F.R. §79.2. Release of the new rules received considerable press coverage. See, for example, "Emergency Broadcasts to Get Captions for Deaf," New York Times, April 19, 2000, A16.
102. Reminder to Video Programming Distributors of Obligation to Make Emergency Information Accessible to People with Hearing Disabilities, FCC Public Notice, DA 01-1930 (August 13, 2001).
103. Peter J. Brown, "Closed Captioning During Emergencies," TV Technology (May 14, 2003), http://www.tvtechnology.com/features/news/n_closed_caption_during.shtml (accessed July 8, 2004).
104. Reminder to Video Programming Distributors of Obligation to Make Emergency Information Accessible to Persons with Hearing or Vision Disabilities, FCC Public Notices, DA 02-1852 (July 31, 2002); DA 03-2361 (July 18, 2003); DA 04-1595 (May 28, 2004); DA 05-688 (March 2005); DA 05-2438 (September 9, 2005). The last of these notices was specifically to remind stations to provide accessible information on Hurricane Katrina evacuation and relief efforts.
105. Emergency Communications and Homeland Security: Working with the Disability Community Summit, (March 25, 2004).
106. Notices of Apparent Liability were brought on February 23, 2005 against channel 51 of San Diego, Inc, No. EB-04-TC-067, DA 05-456, 2005 WL425310; KGTV of McGraw-Hill Broadcasting Company, EB-04-TC-068, DA 05-457, 2005 WL 425311; and KFMB-TV of Midwest Television, EB-04-TC-061, DA 05-455, 2005 WL 425312.
107. Notices of Apparent Liability were brought on May 25, 2005 against Fox Television Stations, Licensee of WTTG-TV, No. EB-04-TC-104, DA 05-1513, 2005 WL 1249054; ACC Licensee Inc., Licensee of WJLA-TV, EB-04-TC-100, DA 05-1511, 2005 WL 1249052, and NBC Telemundo, Licensee of WRC-TV, EB-04-TC-101, DA 05-1512, 2005 WL 1249053. This time, two of the forfeitures were for $16,000, and one was for $8,000. Additional notices of apparent liability have since been sent to other stations.
108. Cheryl Heppner, Claude Stout, and Kelby Brick, Emergency Preparedness and Emergency Communications Access: Lessons Learned Since 9/11 and Recommendations (2004). Unpublished report.
109. Executive Order 11347, Individuals with Disabilities in Emergency Preparedness (July 22, 2004). Claudia Gordon, a deaf attorney who was previously with the NAD, works with Donald Sutherland of the Department of Homeland Security on this council.
110. Department of Homeland Security, "Individuals with Disabilities in Emergency Preparedness," Annual Report, July 2005; see Department of Homeland Security, "Emergencies and Disasters," Homeland Security, http://www.dhs.gov/disabilitypreparedness. See also National Council on Disability, "Saving Lives: Including People with Disabilities in Emergency Planning," National Council on Disability (May 2005), http://www.ncd.gov/newsroom/publications/2005/saving_lives.htm.
111. Various technologies designed to alert people with disabilities about emergencies were showcased and explored at the Accessible Emergency Notification and Communication: State of the Science Conference, hosted by the RERC-TA on the campus of Gallaudet University on November 2–3, 2005.
112. See National Severe Storms Laboratory, "Special Needs NOAA Weather Radio for Deaf and Hard-of-Hearing Individuals," NOAA, http://www.nssl.noaa.gov/NWR/.
Epigraph. Brenda Battat, quoted in Anne Edwards, "Access to Emergency Communication Services," GA-SK 22 (Spring 1991): 12.
* These conferences, held on Capitol Hill to elevate their significance, were jointly produced by the Annenberg Washington Program, and facilitated with the assistance of Alan Mauk of USTA.
* So long as a PSAP made its 911 number directly accessible to TTY users, it could also provide a separate dialing arrangement for the exclusive use of TTY callers. A few years later, New York did exactly this, when it created a direct emergency line for its TTY callers through 311. Eventually the FCC directed the state to relinquish that numbering arrangement, but for the brief period that it existed, New York's deaf citizens had the added comfort of knowing their calls would be handled by professionals experienced in taking such calls.
* Since that time, the FCC has mandated registration by individuals wishing to access 911 services through voice over Internet protocol (VOIP) telephone systems. Unlike calls made over the PSTN, Internet-based calls are not yet identifiable by their caller's point of origination. Registration allows VOIP providers to have the location of their subscribers, so that their emergency calls can be directed to appropriate PSAPs. As this book goes to print, the FCC is considering a similar registration requirement for individuals who use Internet-based relay systems.
† At the time, Dunne was both the 911 TDD coordinator for the Advisory Commission on State Emergency Communications in Texas and the new chairperson of TDI's 911 Emergency Access Committee.
* The New York Society for the Deaf and the New York League for the Hard of Hearing (LHH) were designated to serve as watchdogs over the modified New York City system.
* Suzy Rosen, a deaf attorney working at the NAD, took on this responsibility.
* Among other things, the city was directed to immediately train and test its operators with TDI's EASE materials, and to work with consumer groups on comprehensive outreach efforts on 911 access.
* Chapter 1 describes in detail the successful efforts of these advocates, who got their start on deaf access issues as part of a law school class project, to launch NCLD for the purpose of defending the rights of people with hearing loss nationwide.
* Percy also entered the entire Deafwatch petition into the Congressional Record, the official record of legislative proceedings conducted by Congress.
* For example, the FCC had already had to address matters concerning hearing aid compatibility, relay services and closed captioning.
* The visual EAS message must include what is called "EAS header code" information. This is defined as the originator, event, time period and location of the EAS message, but does not necessarily include all of the content provided in the aural version of the EAS message.
* See chapters 9–11 for the evolution and scope of these captioning mandates.
* Over seven years later, in response to a consumer petition to improve FCC enforcement of the captioning rules, the same association threatened that the "Draconian application" of the FCC's visual emergency access requirements would force stations to show Three Stooges reruns instead of pursuing timely news coverage, simply to escape FCC penalties. Comments of the Radio-Television Directors Association in CG Dkt. 05-231 (November 10, 2005), 13.
* Pam Holmes of Wisconsin wrote of a kind neighbor who, for years, had been running across the street dressed in robe, curlers and pink fur slippers to warn her and her family of impending tornadoes. She knew that not everyone had such caring neighbors and appreciated the FCC's new mandates. Andrew Lange of South Dakota wrote that he would sleep better with the knowledge that his elderly deaf parents in Florida would be informed of impending hurricanes in St. Augustine, Florida.
† Individuals from California, Colorado, Florida, Indiana, Louisiana, Maryland, Michigan, Minnesota, Missouri, New York, North Carolina, Ohio, Oklahoma, and Texas reported noncompliance.
* Captioning agencies worked cooperatively with one another to provide continued network coverage of the terrorist attacks for up to 100 hours. Realizing their potential to coordinate on other captioning matters, twenty captioning agencies later formed the Accessible Media Industry Coalition (with Jeff Hutchins as its chair), to promote accessible communication media by people with disabilities. See www.amicoalition.org.
† Specifically, on February 17, 2004, the FCC's Enforcement Bureau sent letters to Washington area stations WJLA, WRC, WUSA and WTTG, stating, "the sniper attacks do not appear to be the type of weather-related or other emergency events contemplated by section 79.2. … Consequently, it appears that the obligation to close caption or provide other visual information under section 79.2 was not triggered."
* A pivotal meeting that led to this result was held between consumers (Cheryl Heppner, Claude Stout, Kelby Brick, and the author) and the FCC on April 13, 2004. Only nine days later, the FCC's Enforcement Bureau sent out letters to area TV stations reversing its original position. However, because too much time had passed between the time that the complaints had been filed and the time that the FCC decided that the sniper attacks did constitute an emergency, the agency was no longer permitted by law to continue its investigation or pursue any monetary fines for these violations.
† Among other things, on July 14, 2004, the Enforcement Bureau hosted a meeting with deaf and hard of hearing advocates to discuss ways for the Enforcement Bureau to improve enforcement against non-compliant television stations.
* One exception is the Sacramento Police Department in California, which in 2003, became the first in the nation to set up a two-way pager system that now allows deaf people to use their pagers to link directly to police. See Tara Schupner, "Savings Lives with Pager 911," NADmag 4 (August/September 2004): 20–21.