David versus Goliath: The Story of 711
If you want to fully experience powerlessness, there's no feeling quite like being stuck in a strange airport far from home. More than once I've stood in front of an entire row of pay telephones at an airport, searching frantically for a TTY, and then finding one only to realize there is no telephone book and no posted telecommunications relay number.
—Cheryl Heppner,
Northern Virginia Resource Center for Deaf
and Hard of Hearing Persons
WHEN HIS father died in December 1991, Al Sonnenstrahl used the Maryland Relay Service to call family and friends, as well as to make arrangements for the funeral in New York City. After the funeral, Sonnenstrahl returned to Maryland to "sit shivah," a Jewish custom in which friends and relatives visit and comfort the immediate family of the deceased. As a friend, I wanted to express my sympathies through one of these visits, but to do so, I needed to call Sonnenstrahl to get his home address. I had left my TTY at the office, but I figured this was no problem—Maryland's brand new relay service could help me make my call. Without a second thought, I dialed 411 to get the service's telephone number. I was excited about getting to enjoy firsthand the fruits of many years of relay advocacy.
When the directory assistance operator answered, I told her that I needed the number for the Maryland Relay Service. The operator had no idea what I was talking about and said she could not help me. I remained calm and decided to hang up and call back, hoping I would find another operator who was a bit more enlightened. I was wrong. The second operator gave me the same response. As my frustration grew, I called back yet a third time and asked to speak to a supervisor. While polite, she was equally unaware of the state's new relay program. I realized there was no way for me to contact Sonnenstrahl. Once over my annoyance with the operators, I became angry that a significant barrier to functionally equivalent telephone access apparently still existed. ADA advocates had been hopeful that relay services would facilitate telephone communication for millions of deaf and hard of hearing people. How could this goal be achieved if accessing the relay system itself was so difficult?
The problem stemmed from the fact that every state had its own relay access number, and some had separate and multiple numbers for voice callers and TTY users. Also, the names of the relay systems varied across the United States. Often one needed to know the catchphrase for a particular state's relay service to get the correct number from directory assistance, a task that was at best difficult and at worst insurmountable.* Even getting help from a 411 operator presented a virtual catch-22 for TTY users—one needed directory assistance to get the local relay number, but needed the local relay to call 411, which was only accessible by voice! The only other way to find relay numbers in the early 1990s was to hunt for them in the depths of telephone books.
A New Cause
One day in June 1992, I got a call from Pam Ransom, an advocate who had worked closely with the deaf community on the implementation of the ADA's relay mandates. Ransom was now working for Issues Dynamics, Inc., a Washington, D.C., telecommunications consulting firm, and in that capacity, had learned that newspapers and other information service providers were looking for easy ways to use telephone services to disseminate information to the public. These companies regularly bought telephone exchanges through which they distributed weather, news, sports, and a menu of other services to consumers for a small fee. The market for these pay-per-call services had become quite lucrative, bringing in approximately $1.1 billion in revenues per year and providing newspapers with an efficient way to supplement their incomes.1 Despite their success, the companies were not satisfied with their current arrangements, which largely relied on the use of 900 exchanges.† Interested in reducing their costs and expanding their markets, the information service providers began to explore the use of three-digit, or "N11" numbers, as a solution to their business needs.
Ransom was not only well acquainted with the need to facilitate relay access, she herself was frustrated with having to find a new relay number every time she traveled to another state. After hearing about the information service providers' desire for N11 numbers, she came up with the idea of using one of the remaining N11 codes for nationwide relay services. She called to see what I thought of her idea.
It did not take much for Ransom to convince me. Certainly I could not be alone in finding the present state of affairs intolerable. If someone who was intimately familiar with relay was having a hard time finding access numbers, I could only imagine the difficulties of others who were new to the service. Ransom and I decided to move ahead, entirely unaware of the challenges that lay before us.
The year before, Cox Enterprises, Inc., a colossal media conglomerate, had asked BellSouth for permission to use an N11 number to disseminate information services in Georgia and Florida. Uncertain about its own legal authority to allocate three-digit numbers to Cox or any other information service provider, in March 1992, Bell-South had contacted the FCC for permission to do so. Two months later, the FCC's general counsel sent a letter to BellSouth, giving the company permission to assign these codes, so long as it did so in a nondiscriminatory manner (e.g., on a first-come, first-serve basis).2 In addition to directly responding to BellSouth's inquiry, the FCC opened a new rulemaking proceeding in which it proposed to allow any local telephone company to allocate N11 numbers for information services if those numbers had not yet been assigned for other uses by the North American Numbering Plan Administrator (NANPA).3 Bellcore, the research arm of AT&T, served as the administrator of NANPA and was responsible for overseeing numbering resources throughout World Zone 1, an area made up of the United States, Canada, and the Caribbean nations. Among other things, Bellcore had the job of distributing area codes, 800 and 900 numbers, and three-digit N11 service codes throughout this region.
The FCC's N11 proceeding came at a time of increasing telephone number scarcity. Americans had so expanded their telephone usage that the phone companies had used all but two of the country's designated area codes. Bellcore had been holding onto all N00 and N11 numbers in case these needed to be used as area codes before new numbers were released in 1995. The FCC now made very clear that companies interested in a N11 assignment would have to do so at their own risk; the Commission reserved the right to retrieve these codes for other purposes on short notice.
Even though one part of the Commission's notice paved the way for commercial information service providers to seize some of the remaining N11 codes, other parts focused on the need to find proper uses for the "extremely limited number" of these codes, as well as the need to assign these numbers in ways that promoted "innovative" uses of the telephone company's network.4 Surely, Ransom and I thought, providing easy access to the nation's relay services would be a far better way to meet these public interest objectives than providing access to commercially owned information services.
Although the odds of prevailing over media giants such as Cox were slim, we decided to ask leaders within the deaf community whether NCLD should proceed with asking the FCC for use of a three-digit code for nationwide relay access. The response was swift and unanimous. The thought of enabling anyone, anywhere, to be able to access relay services through three easy numbers was far too enticing for anyone to pass up.
Ransom and I realized that before moving any further with our N11 plan, we would first have to choose the most suitable N11 code for relay access. Since directory assistance had 411, emergency telephone services utilized 911, and several local telephone companies were using 611 and 811 for telephone repair and business services, this left only four numbers—211, 311, 511, and 711. We tried to pick a number that had some "relay" significance, but failed until we looked at the telephone dialing keypad. It was then we realized that the number "7" corresponded to the letters "P Q R S" on the keypad. … "relay" began with an "r." Relay-1-1 … 7-1-1 … that was it! We would ask the FCC to allocate 711 for nationwide, toll-free relay access by TTY users. For voice users, we would ask for 5-1-1 because "5" was the closest available N11 number to the 7 on the keypad.
Deciding which numbers to use was simple compared with the tasks that lay ahead. We first had to scramble to submit comments in the FCC's pending N11 proceeding. But we were encouraged by others, who had already voiced their opposition to the FCC's proposal. AT&T complained that using the same N11 codes for different purposes in different states would confuse consumers and "seriously erode the public interest value of the existing nationwide, community service type applications that currently use N11 codes."5 The Ad Hoc Telecommunications Users Committee added that consumers risked incurring unexpected telephone charges if they called an N11 code in one area where access was free but then traveled to an adjacent state where that same code accessed pay-per-call services.6 Other companies objected to the use of N11 exclusively for local uses. MCI urged that "nationally ubiquitous uses be given priority over regional or purely local applications."7 Bell Atlantic concurred, and recommended creating "nationwide gateways" to permit as many consumers as possible to benefit from these codes.* Likewise, GTE urged the Commission to "affirm the traditional use of N11 numbers … to facilitate public access to the underlying network."8
Several of the regional Bell companies argued that the "unique and limited nature" of these codes warranted their application for purposes "that serve the greater public interest," such as fire or medical emergency services. After all, the other N11 numbers—411, 611, 811, and 911—were being used for services of general benefit to the public.9 Pacific Bell and Nevada Bell, among others, urged the FCC not to act prematurely in allowing assignment of these rare codes because once assigned, they would be "be extremely difficult, if not impossible" to recall.10
Ransom and I realized that NCLD's request would not be the first to recommend reserving N11 numbers for something disability-related. In fact, Bellcore itself listed "handicapped access" as a possible "as-yet-unidentified noncommercial 'public service' use" for these abbreviated dialing codes.11 Similarly, the Canadian Steering Committee on Numbering (CSCN) had the foresight to suggest that N11 codes be reserved for purposes that had a universal social value, such as "improving network access for the physically challenged."12 CSCN was particularly interested in establishing uniform uses for N11 codes throughout all of World Zone 1, and was afraid that it would be difficult to force a commercial entity to discontinue using a particular N11 code after it had invested substantial financial resources in it.
Before we submitted our N11 relay proposals to the FCC, we gathered together a coalition of national and local organizations to strengthen our impact. But while Ransom and I set about our respective tasks of garnering organizational support and drafting comments, Cox submitted a formal petition to the Georgia PSC for the assignment of 511. The petition claimed that Georgia's consumers would benefit from more convenient access to information services and that the use of 511 would enhance competition in the information service market.13
Shortly thereafter (mid-July 1992), NCLD and TDI submitted its request to the FCC for two N11 codes for nationwide access to relay services: as planned, 711 for TTY users and 511 for voice users.14 The request was filed on behalf of twelve national organizations and twenty-six state and local consumer groups, telephone relay centers, and government offices. We pointed out that nearly all parties to the FCC's proceeding had already urged the use of these scarce numbering codes for the public at large, rather than a few private commercial interests; if N11 numbers were used for relay services, we insisted, they would benefit all Americans. We added that many of the proposed commercial service providers planned to use interactive voice prompts and pay-per-call access to their information services, both of which were not accessible to either TTY or relay users. Allowing these providers to capture the remaining N11 market for uses that excluded deaf, hard of hearing, and speech disabled populations would create a highly inequitable situation, especially when our proposal would facilitate access to basic network functions for these very same groups.
Advocates urged the Commission to consider the ultimate goal of the ADA—to fully integrate people with communication disabilities into the mainstream of the telephone network. This would only succeed if access to relay services were easy, convenient, and uncomplicated for both TTY and voice telephone users. We also argued that true functional equivalency demanded that the speed of entry into the public switched network be comparable with the speed of entry for conventional telephone users. Relay consumers had to dial seven to ten digits to call a relay service even before the relay operator could dial the number of the destination party. N11 codes would do a far better job of mirroring direct dialing.
We reminded the Commission that this was not the first time consumers had requested a uniform national relay number. Back in 1990, when the FCC first considered how best to implement the ADA's relay mandates, seventy organizations had asked for a single 800 nationwide relay number. Although the Commission rejected this request because 800 numbers were assigned to particular carriers, it had acknowledged the benefits of universal dialing: "We encourage state systems and all other relay providers to use numbers that are easy for consumers to remember and would further the goal of nationwide access to [TRS]."15 Now that many states had their statewide systems up and running, the need for swift, unencumbered access to relay services was even greater.
A few months later, Ransom and I learned that NANPA did not need an FCC directive to assign N11 numbers; it had sufficient authority to take this action on its own.16 Knowing that the FCC rarely moved quickly without a legislative fiat, we decided not to waste any more time. On August 17, 1992, I sent a letter requesting assignment of the TRS codes to NANPA's administrator, Bellcore, with copies to each of the FCC commissioners.17
The response received on August 31, 1992, from Alfred Gaechter, Jr. said that it had long been the position of NANPA that "the limited, and therefore valuable, N11 resources should be available for applications 'in the public interest' as opposed to commercial applications."18 He went on to explain that our request for an N11 code "appear[ed] to satisfy that position," but that the many requests for N11 codes and the FCC's proceeding required NANPA to be cautious in assigning the limited resources in its control. Gaechter's letter then posed an extensive—and seemingly endless—series of complicated technical questions regarding the way that existing telephone network architecture could be used to activate and route a nationwide relay three-digit code. Several months passed before we were able, with the assistance of Bell Atlantic, to gather all of the information needed to respond.19
The Challenges Grow
We knew it would only be a matter of time before Cox Enterprises learned of our efforts. In September, we finally received a letter from the company's attorneys, claiming that Cox was "quite interested" in NCLD's proposal to assign N11 codes for relay access.20 In a clear attempt to remove what was undoubtedly perceived as an obstacle to the conglomerate's efforts to capture the country's information services market, the letter did everything it could to convince us to back away from our N11 efforts.
Cox alleged that the costs for implementing N11 throughout the country would be prohibitive. It also claimed that modifying many of the nation's old telephone switches for N11 would result in delays that would lead to confusion and frustration for relay users and prevent nationwide access in the foreseeable future. The company proposed instead that we pursue relay access through a 555-XXXX or 950-XXXX number, as these were readily available, could be reached from older switches, and would use far less time and money. Cox even pledged its own support for the immediate assignment of these more "suitable" numbers.
Not long after receiving this letter, we suffered our first real defeat, when on October 20, 1992, the Florida PSC approved Cox's request for N11 dialing. Over a two-year period, Cox's subsidiary, the Palm Beach Post, could now operate a telephone database of information services, including stock quotes, political speeches, movie listings, classifieds, and sports scores. Consumers in West Palm Beach would be able to access these services by dialing 511 at $.25 to $.50 per call. The Washington Post declared the ruling a victory by media companies and other information-services providers over telephone companies, which had been exerting control over the emerging markets for information services.21
Rather than deter us, however, Cox's letter and the events unfolding in Florida and Georgia both inspired and challenged us. We realized that we were David, fighting for a vital civil right, against Cox's Goliath. NCLD responded to the Florida decision in early December by asking the Florida PSC to overturn its 511 ruling and to refrain from allocating any additional numbers in response to other petitions—including those already submitted by the Sun-Sentinel and Florida Today—until the FCC completed its own N11 proceeding.22 Both NCLD and Cox knew that local victories for either side would reduce the availability of N11 numbers and potentially diminish the others' chances of prevailing at the national level.
The knowledge that we were now in a full-fledged numbers war with some of the largest corporations in the nation motivated us even further to move ahead with our plans. NCLD and TDI quickly followed up our Florida challenge by filing comments in stiff opposition to Cox's formal request for N11 dialing in Georgia.23 Soon after, two events occurred that propelled our struggle against the media giants to a whole new level. One took place in Canada, the other in Hawaii.
Canada Beats Us to the Punch … and Hawaii Follows Close Behind
In the summer of 1992, Henry Vlug, a member of the Canadian Association of the Deaf (CAD), attended a conference in the United States, where he heard a presentation on the benefits of 711 dialing. When Vlug went to his own CAD conference in Vancouver only a few weeks later, he shared news of our 711/511 movement and successfully secured a CAD resolution to follow our example.
On October 9, 1992, James Roots, executive director of the CAD, filed a petition with the Canadian Radio-television and Telecommunications Commission requesting assignment of 711 and 511 for relay access throughout Canada. What happened next was both shocking and amazing. In sharp contrast to the snail-like speed of our FCC, the Canadian commission—with nearly universal telephone company support—issued a favorable response only a few months later, on January 26, 1993.* The commission's order directed Canada's nine telephone companies to explore the use of N11 for relay access and to come up with both a plan and timetables for N11 implementation within the next six months. The companies were directed to work with the Canadian deaf community and the CSCN (which had already supported the use of N11 numbers for people with disabilities in the FCC's numbering proceeding). In response to this directive, Canadian representatives from industry, the deaf community, NANPA, and other interested parties formed the Message Relay Service Access Workshop (MRS Workshop) to study and recommend the final numbering preparations.
As the MRS Workshop started its work toward establishing N11 access in Canada, we experienced our first real victory in the United States. On April 22, 1993, the GTE Telephone Company announced its plans to use 511 for voice and 711 for text access to relay services throughout Hawaii. The new codes would go into effect on July 26, 1993, the very day that the relay mandates of the ADA were to become effective. Advocates were thrilled to learn that GTE's decision to adopt the two codes was motivated by the company's interest in "setting the stage for its future system wide roll-out" of these numbers across the country.24
Events on the Mainland
In the hope that the actions of both Canada and Hawaii would influence the FCC to act on our nationwide N11 petition, Ransom and I made some visits to the FCC during the spring of 1993.25 But rather than bolster our spirits, these meetings confirmed our worst fears. According to the FCC, small telephone companies in the United States simply did not have the programmable switches needed to implement N11, and rebuilding the equipment could take up to forty years! Though disheartened by the prospect of real technical barriers to universal 711 access in the continental United States, the victories that we had just witnessed gave us hope that the FCC's assessment was not entirely accurate.
Unfortunately our concerns that Florida's grant of abbreviated dialing would open up the N11 floodgates to commercial interests were validated in the months to come. Once Cox initiated its N11 service in March of 1993, it began receiving about 20,000 calls per month. The enormity of this success triggered so many additional industry requests for Florida N11 dialing throughout the winter and spring of 1993 that the Florida PSC decided to hold hearings in order to allocate these numbers fairly. At this point, NCLD recognized that it would be difficult, if not impossible, to win this N11 battle from our offices in Washington, D.C. We needed local help, and we needed it fast.
On May 3, 1993, I jotted a letter to Peggy Schmidt of the Florida Council for the Hearing Impaired, describing our 711 efforts and warning that if Florida and other states began allocating N11 numbers on a state-by-state basis to commercial interests, our efforts to secure a nationwide number for relay services would be in serious jeopardy. I pleaded for the council's help to prevent this from happening.
Schmidt readily understood the urgency of the situation and, joined by Andrew Meyers, an attorney with the Florida Department of Labor and Employment Security, she attended and testified at the PSC hearings, where she was able to convince several telephone companies in attendance to back our position. In her testimony, Schmidt reported the findings of a recent PSC survey concerning Florida's year-old relay service.26 At least four of Florida's local telephone companies had not even published the state's eleven-digit relay access numbers in their directories. In addition, few companies were able to provide these numbers through directory assistance even when the caller knew the name of the relay service. Schmidt advocated for 511 and 711 as a universal means of accessing relay services, reminding the PSC officials that all telephone service customers, hearing and deaf, were potential users of these services. As a result of Schmidt's efforts, the United Telephone Company of Florida, the Central Telephone Company of Florida, and GTE Florida agreed that the scarcity of N11 codes made them suited for purposes that served the public interest, like relay services. As expected, however, Southern Bell, newspaper companies, and other information service providers raised opposing concerns about the technical and financial limitations of using N11 for relay, including the high costs of converting central offices.
Cox achieved yet another success on May 18, 1993, when the Georgia PSC awarded the company a one-year trial period to use an N11 number in Atlanta. Compounded with the events in Florida, this triggered what journalists described as a "feverous desire for abbreviated dialing … raging through the information services industry."27 Believing that all that stood between universal acceptance of telephone information services and consumers was the lack of easy-to-remember access numbers, newspaper publishers and other information providers began "knocking down doors of state public service commissions" for N11 codes.28
Before we knew it, information service providers seemed to be everywhere, in an unrelenting march across the United States in pursuit of the remaining abbreviated dialing codes. By the summer of 1993, applications for the commercial use of N11 were pending in nearly every state. When the Dallas Morning News called these dialing arrangements "the latest entrant in the billion-dollar pay-per-call industry," we began to question whether we could realistically compete with the mammoth companies that made up this industry.29 Did we have any real chance of success against their financial resources? We wondered whether we were already reaching the end of our 711 rope, and considered cutting our losses by ending what seemed to be a quest beyond our reach.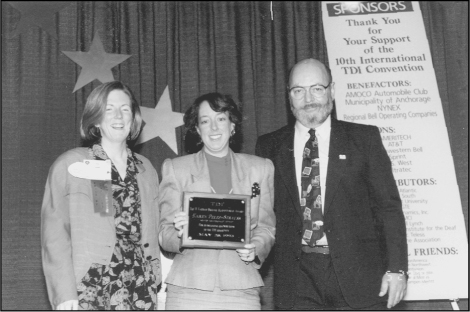 Pamela Ransom (far left), the author, and TDI Executive Director Al Sonnestrahl take a break from advocating for 711 at TDI's May 1993 International Convention in Anchorage, Alaska.
But this was the era of disability empowerment. The Deaf President Now movement, the passage of the ADA, and new mandates for comprehensive relay services all proved that the deaf community had prevailed against difficult odds many times before. Although we continued to contemplate the wisdom of going forward with our potentially futile struggle, we also questioned whether we should give in to defeat on the N11 issue so early in the game. We decided to push ahead, and, over the course of the next year, opposed the commercial N11 applications wherever they were filed. From state to state, we pointed out the inequities confronting millions of relay users who were forced to overcome numbering obstacles just to obtain basic telephone access. Unlike commercial interests, we stressed, these individuals had a powerful congressional mandate for swift and uncomplicated dialing.*
On June 22, 1993, we again got some good news from Canada. The Canadian MRS Workshop had recommended 711 for TTY relay access and a national 800 number for voice access.30 An additional N11 number, possibly 511, was reserved for voice relay access, but its final approval would depend on the outcome of this numbering issue throughout North America. The Canadian telephone companies wanted to first see what the American telephone companies used for their voice relay number.
However, even this victory in Canada was not without its challenges. Some member countries of World Zone 1 had wanted Canada to hold its assignment of 711 until all nineteen countries within that zone could agree on the use of the four remaining N11 codes.31 Although these concerns for uniformity across North America were not enough to deter the MRS Workshop from recommending 711, we were concerned that they could still have an adverse effect on the deliberations of Canada's numbering committee and the full Canadian commission. Reminding us that the successes attained in each of our countries would be mutually beneficial, James Roots asked the NCLD for help, and we readily sent a letter of support. Even though we had come up with the idea of 711 first, ironically we found ourselves expressing our hope that the United States would follow the Canadian example!32
It took only a few more months for the Canadian Radio-television and Telecommunications Commission to formally approve 711 relay access.33 On August 16, 1993, Bell Canada, the country's largest telecommunications company, announced that 90 percent of its local exchanges would implement the access numbers over the next six months. The remaining exchanges would provide relay access as each was upgraded to digital transmissions over the following year. Right on schedule, on February 14, 1994, Canada's deaf and hard of hearing citizens began using the new relay access number. Roots graciously sent his good wishes for our success: "Hope this helps you in the fight with the FCC. You've inspired us, now our success should inspire you!"34
Canada's swift 711 victory may have been due in part to the existence of only one relay provider and just a few local telephone companies throughout its country. By contrast, the United States had hundreds of local telephone companies and multiple relay providers across the fifty states. Our efforts also were hampered by the fact that President Clinton still had not appointed all of his FCC commissioners. The commissioners who were in office seemed reluctant to conclude the N11 proceeding until these new officials were in place.
During the late spring 1993, a new industry group, the Industry Carrier Compatibility Forum (ICCF), entered the relay numbering fray in the United States, intent on taking the matter out of NANPA's hands.* ICCF was a voluntary industry forum created under the Alliance for Telecommunications Industry Solutions (ATIS), a group charged with facilitating industry discussion and resolution of technical standards for communication technologies. ICCF's general responsibilities, to help resolve matters concerning the use of World Zone 1 numbering resources, seemed neutral enough, but NCLD worried whether the introduction of yet another arbiter would delay even further a resolution of the N11-for-relay proposal.
ICCF scheduled a meeting that would address the 711 issue in Toronto on July 15, 1993, but NCLD had neither the resources nor the staff to attend the event. As an alternative, we swiftly drafted and sent letters to both Alfred Gaechter and Madeline Bogdan, the ICCF moderator, describing various developments that warranted a prompt resolution of the N11 relay access issue. We explained that the effective date for the ADA's relay mandates—July 26, 1993—was nearly upon us. This would both focus national attention on relay services and undoubtedly increase relay call volume. We argued that, for the sake of uniformity, this was the time to reserve a single relay number throughout World Zone 1, before states and their relay providers became accustomed to different dialing arrangements.
A few weeks later, NANPA reported the results of an inquiry it had recently conducted within the industry on relay numbering access.35 We were relieved to learn that almost all the respondents agreed on the importance of a uniform national relay number, although many still questioned whether that number should be 711. GTE was our biggest champion; it not only supported 711 access regardless of the costs but reported that it was "actively pursuing" this access on a national basis. Ameritech and AT&T also contributed 711 endorsements (AT&T had even paid a visit to the FCC on this issue). Of course, Cox and the Washington Post, renewed their opposition to 711 access, churning out a list of its alleged disadvantages, including its high costs, lack of availability throughout the United States, and lack of compatibility with payphones.
NANPA's survey also revealed some industry concerns about the need to upgrade telephone switching software to properly translate and route 711 calls. For example, Southwestern Bell argued that it would be much faster and cheaper to use a national 800 number for relay access because existing databases already had the capability to route such calls to the designated relay service provider in each state. If this was true, then the FCC could have easily granted consumers' original request for a single nationwide 800 relay access number back in 1991. Although such action likely would have eliminated the need to pursue 711, at this late date, we were not about to settle for an 800 number alternative.
NANPA's survey also raised two new and difficult questions that we needed to address. One concerned whether a single dialing code for relay would be sufficient to replace the two numbers—one for TTY access and one for voice access—that many of the states presently used. A single relay access number might increase the amount of time it took for relay centers to respond to incoming calls. The second issue concerned the extent to which an N11 number would support competition, or "multivendoring," among relay providers. Each state generally used a competitive bidding process to choose a single relay provider to serve all of its residents, awarding such contracts for a period of three to five years. Many consumers disliked this model because they believed that relay providers would be far more responsive if they knew that consumers could change providers based on the quality of their services.36 If N11 automatically routed all relay calls to the state-contracted provider, consumers would be locked even further into a single company.
By the end of the summer of 1993, we began to experience a few more successes. Not only had our issue begun to attract media interest and publicity, but as many as ten states and the District of Columbia had now rejected information provider petitions for N11 codes.37 We could only speculate that, confident in the knowledge that the FCC had been on their side, information service providers were astonished to learn of the impact that we and others were having on these state proceedings.
One state that we successfully held at bay—against incredibly steep odds—was Virginia. After receiving several requests in 1992 for N11 codes, the Virginia State Corporation Commission had opened a docket to investigate the feasibility of and public interest in requiring abbreviated dialing. By then, the petitioner to that proceeding, the Washington Post's dial-up information service, Post-Haste, was already receiving sixteen million calls per year. When we filed our opposition to this use of N11, the Virginia commission was less than receptive. It even questioned whether using N11 codes for relay services would truly maximize potential benefits for the greatest number of customers since "there are many more people without hearing impairments than there are people with hearing impairments."38 Of course, this reasoning failed to recognize that a hearing person was a party to every relayed conversation.
Nevertheless, on August 31, 1993, the Virginia Commission's staff recommended allowing information service providers to use three-digit dialing for two years, but disallowing use of either 511 or 711. After reviewing our comments and learning of GTE's use of these numbers, the staff had decided that it would be prudent to reserve these codes in case either the FCC or NANPA later allocated them for relay services.39 Over the next few years, this victory repeatedly came under challenge in multiple Virginia commission rulings that found commercial applications for N11 codes to be in the public interest.* Many more consumer filings would be necessary to convince Virginia not to relinquish our requested numbers.40
An Emergency Petition Is Filed
By the fall of 1993, the efforts of commercial interests to secure abbreviated dialing in the states showed no signs of fatigue. A little more than a year had passed since we had asked the FCC for 711 access, but the FCC had done little, if anything, to bring the numbering proceeding to a close. We knew that once granted within the individual states, reclaiming these codes would be difficult, if not impossible, and decided it was time to take a more aggressive stance for these numbers on the federal level.
On October 1, 1993, NCLD and TDI filed an emergency petition for rulemaking, requesting the immediate allocation of 711 for nationwide relay access by text telephone users and a second N11 number for voice telephone users.† If the FCC was not ready to grant our petition, we asked that it at least direct NANPA to reserve both 711 and a second number, pending the outcome of our request. Much had changed since our first appeal to the agency for 711. Nearly every state now had a relay system, each with its own set of relay numbers and each meeting colossal demands for relay services. The N11 successes in Hawaii and Canada had also enhanced our numbering claims.
Just two weeks later, the FCC opened a proceeding devoted specifically to our N11 petition, giving it the national prominence it sorely needed.41 Right around this time, Tennessee also became the first state on the mainland to reserve 711 for statewide relay use for a one-year trial period.42 Staff of the Tennessee PSC proclaimed their "commitment and success with TRS [as] one of [their] proudest recent regulatory accomplishments."43
Unfortunately, events occurring in other states were far less favorable to our national efforts. In September, Cox had started offering N11 information services in Atlanta. A few weeks after our petition was filed, Cox and BellSouth also announced a new partnership—Info Ventures of Atlanta—through which 511 callers could reach "The Answer Machine" and hear "the latest in sports, stocks, weather, entertainment, soap opera updates and a variety of other topics, 24 hours a day."44 A "Personal Portfolio" feature allowed callers to preselect their topics so they could immediately access information on those topics, while classified services enabled callers to search and locate businesses in the Atlanta area. Nearly as soon as Cox's new 511 enterprise began operations, consumers richly rewarded the company for its endeavors. By November 1993, the Atlanta 511 exchange received up to 2,550 calls a day, more than twelve times the number of 900 calls Cox received outside the Atlanta region!45
The quest for uniform N11 relay access suffered yet another defeat when the Florida PSC upheld the use of N11 dialing for commercial information services in November 1993. Although the PSC rejected petitions for statewide assignment of N11 codes, it permitted the use of these codes in local calling areas because it believed the significant call volume and few complaints received during Cox's trial period proved these services to be in the public interest. To make matters worse, the Florida PSC explicitly rejected the allocation of 511 and 711 for relay services citing "the uncertainties involved in provisioning TRS via N11 codes."46
Still undaunted by the overwhelming odds against us, we put all our energies into gathering support for our national 711 petition. During the first two weeks of November 1993, Sonnenstrahl, Ransom, and I sent out urgent requests for help from relay users, advocates, and consumer organizations across the country to capitalize on the momentum from our state and Canadian victories. In addition to mailings, faxes, and phone calls, a good part of our outreach efforts took place over one of the earliest e-mail distribution lists devoted to telecommunications access issues—Telephone for All, or TFA. Two Gallaudet professors, Harvey Goodstein and Bob Weinstock, administered the list to keep deaf people informed about important national telecommunications developments; this now provided the perfect vehicle to reach relay consumers across the country.
Our efforts paid off. Twelve national consumer organizations and fifty-four local organizations, several local and long-distance telephone companies, and various state agencies from around the country sent comments to the FCC endorsing 711 relay access. All agreed that N11 codes should be reserved for vital public purposes, rather than private commercial interests. Prompt FCC action was needed, they cautioned, lest these codes be distributed haphazardly throughout the country.47
Of course, not every party favored the petition, and as expected, Cox again came forward to poke holes in the consumer position. Cox argued that N11 dialing was unsuitable for relay access because it was not available throughout the country; many communities did not even have 411 or 911. We responded that significant changes to the telecommunications infrastructure were under way to make these dialing arrangements possible.48 Also we queried why Cox and the other information service providers were so intent on pursuing these N11 codes if wide segments of the population could not access them. When confronted with the argument that other dialing arrangements could be achieved within a shorter period of time, we simply responded that we were willing to wait: "Rather than accepting the quickest, but perhaps a shortsighted numbering alternative, TDI et al. has made every effort to consider what would be in the best interests of relay consumers in the distant, as well as the imminent future. With this in mind, N11, without question, offers the best solution for uniform relay access."49
While we waited for the FCC to rule on our petition, information service conglomerates continued their efforts to snatch up the remaining N11 numbers.* But relay advocates were rewarded for being equally assertive. In February 1994, the North Carolina Utilities Commission rejected the use of N11 for commercial uses in favor of public service use; in March 1995, the Nevada Public Service Commission came to a similar conclusion.50 Unfortunately, these state victories were not matched at the federal level, where all movement toward resolving the 711 issue now came to a complete halt.
ICCF Takes Over and Everything Stalls
ICCF's efforts to take over the relay numbering issue came to fruition in December 1993 when the group established a TRS workshop within its Industry Numbering Committee. The workshop members included information service providers, consumers, representatives of the FCC, and local and long-distance telephone companies. Its mission was to investigate the technical feasibility of various relay numbering alternatives such as N11 codes, seven-digit numbers, numbers beginning with 950, 555, or 800 dialing prefixes (e.g., dialing a variation of 10XXX prior to the phone number), and vertical service codes (dialing symbol keys, such as "*"), and then recommend numbers that were easy to remember, uniform, and allowed relay competition.51
Despite these noble objectives, the TRS workshop meetings proved to be long, frustrating, and mostly useless. Nearly from the start, it became apparent that many of the group's industry participants were intent on promoting any dialing solution for relay access except 711. The real futility of the group's efforts was best exemplified by its attempts to prepare a relay user survey. The goal was to have survey participants prioritize how important certain factors were to their choice of a relay access number, including the ability to choose their relay provider, the number of digits they would have to dial, and how quickly they could secure abbreviated dialing access. The workshop members planned to distribute the survey to hundreds of deaf and hard of hearing consumers at eight national conventions scheduled between June and October 1994.
The trouble began almost immediately. During interminable conference calls held between February and May 1994, the workshop's members drafted the survey questions, refined them, and then picked them apart again and again in an effort to craft the perfectly designed questionnaire. The process was painstaking, but the efforts seemed to pay off at the end of May, when the draft appeared nearly ready for release. The finishing touches were to be added at an all-day meeting of the workshop on June 9, 1994, at the Hyatt Regency in Arlington, Virginia. On that day, from nine in the morning until late in the afternoon, the workshop members again reviewed, probed, and dissected all of the survey questions to ensure they would elicit the desired information. During the final hour of the conference, however, one of the industry participants suggested that consumers might not truly understand the complex technical issues raised by the questions.* Concern among the group's industry representatives spread like wildfire, and before long, participants from the telephone and information service industries voted to scrap the survey in its entirety. With consumers strongly dissenting, the majority decided that obtaining consumer input was, in fact, not at all essential to the purposes of the workshop. Four months of intensive effort vanished in a single hour.
Although the survey had lost the workshop's official sanction, TDI and NCLD still saw value in obtaining information about the specific needs of the user community. To this end, they distributed their own questionnaire to participants attending the upcoming conventions.52 As expected, respondents overwhelmingly preferred a short, easy-to-remember number like 711, even if that number took a little longer to acquire.
Over the ensuing months, the workshop participants continued to spar over the benefits and disadvantages of each of the proposed numbering arrangements, during which time Cox submitted lengthy and detailed materials in opposition to the use of N11. In October 1994, the workshop voted to eliminate six of the numbering alternatives, including N11.† Given the prior leanings of this industry group, this decision was hardly surprising. The workshop also decided to abandon attempts to find a universal number that could promote relay competition, having concluded that this was a network architecture issue that was better suited to a different ICCF committee.
Still additional months passed without much progress until finally, in early spring 1995, the workshop recommended the establishment of three universal 800-855 relay access numbers for World Zone 1: 800-855-0511 for voice, 800-855-0611 for TTY-ASCII, and 800-855-0711 for TTY-Baudot.53 For the most part, two criteria had guided this recommendation: (1) these dialing arrangements would not require telephone companies to make significant modifications to their switches, and (2) there were eight million potential 800 numbers, and fewer than three million of these were in use. The workshop members chose 800-855 numbers because NANPA had already set aside all 800-855-XXXX numbers—approximately 10,000 numbers—for TTY use throughout the United States, Canada, Bermuda, and the Caribbean.‡
Over the next several months, additional ICCF subcommittees considered the workshop recommendations, and final approval came on July 26, 1995, the fifth anniversary of the passage of the ADA.54 The next step called for each of the state relay providers to assume responsibility for working out the technical details to implement these numbers in their regions. At last, we had achieved one of our goals—ubiquitous access. However, two years had passed since the ADA's relay mandates had gone into effect, and four to five years had passed since most state relay systems had begun using their own 800 exchanges to access relay services. At this late date, we wondered whether states or their residents would still want to replace their existing relay dialing arrangements with these 800 numbers.
Others Discover N11 Applications
Soon after the ICCF chose the 800 numbers for nationwide relay, I received a call from NANPA, asking me whether consumers would now be willing to withdraw their FCC petition for N11 access. Though tempted to agree (convinced that our chances of prevailing on 711 had now gone from slim to none), when I called officials at the FCC, I learned that our petition was still very much alive. Despite the allocation of the 800 numbers, this was not the time to pull out.
In June of 1994, the FCC had released another inquiry on several new N11 petitions, providing the public an opportunity to supplement prior comments on the most appropriate use of N11 codes.55 The notice had been in response to N11 requests from the National Association of State Telecommunications Directors for access to state government services and information, and the U.S. General Services Administration for a menu of federal governmental services.56 It had the consequence—perhaps unintended—of unleashing even more requests for N11 dialing from various other federal agencies, each of which touted how it would use these codes. The Office of Personnel Management staked an N11 claim to disseminate information on federal health and insurance programs, the Transportation Department wanted to share emergency information on air, rail, water, and highway transportation, the Consumer Product Safety Commission wished to distribute materials on safe consumer products, and so it went.57
Deaf and hard of hearing consumers were immediately skeptical of the new requests.58 Many of the proposed N11 services intended to use interactive prompts and recordings, which would cause them to be inaccessible to both TTYs and relay services. NCLD again argued to the FCC that only the use of 711 for relay access achieved basic access to the telecommunications network. If the FCC was still inclined to grant one or more of these new N11 uses, we urged that it not do so without assurances that they be made fully accessible to people who were deaf and hard of hearing.*
The National Emergency Number Association (NENA) also raised concerns about the new N11 proposals. Fearful that the public might become confused about the differences between 911 emergency services and other N11 services, NENA pleaded for the FCC to resolve the N11 issue on a national basis, rather than let states distribute these numbers to commercial interests one at a time. NENA was concerned that some people, believing they might be charged for 911 calls, might hesitate before using these emergency services.59
By now, various media giants, including Cox, Advance Publications, Gannett, the Hearst Corporation, and the Washington Post, had banded together in a united coalition for commercial N11 dialing. These companies urged the FCC to break the regulatory "logjam" that was blocking further uses of these codes by information service providers. They argued that N11 was the only "practical way" for many newspapers to enter the electronic information services market and that "putting this powerful tool in the hands of the government instead of in the hands of the free press institutions, like community newspapers, would eliminate altogether … newspapers' role in watching over the flow of public information to the people."60
A Battle Won, a War on Reserve
Despite the considerable interest that the FCC's 1994 N11 notice engendered, the FCC did not address any of the N11 dialing issues for another three years. To make matters worse, just as we had predicted, individual states that had grown accustomed to their own relay dialing arrangements were now reluctant to use the 800-855 numbers that ICCF had approved. Although we had won the battle for ubiquitous numbering access, it seemed that we had lost the war to get people to actually use these numbers.
Unbeknownst to us, however, the FCC had carefully been watching the unfolding of a general public consensus to reserve valuable N11 codes for public interest purposes. After the passage of the accessibility provisions of the Telecommunications Act of 1996, the Commission had gradually come to the conclusion that the use of N11 dialing arrangements for relay services was far more compelling than those of our competitors. And so, to the great joy—and considerable astonishment—of relay advocates, the FCC finally agreed to reserve 711 for nationwide access to relay services on February 19, 1997.61 At the same time, the FCC reversed its original proposals to allow the local use of N11 codes for commercial information services, reaffirmed the continued use of 411 for directory assistance and 911 for emergency services, and reserved 311 for nonemergency police services.*
Unfortunately, this was not quite the end of our 711 journey. The FCC requested additional comment on a number of issues, including the technical feasibility of providing a gateway to multiple TRS providers and the feasibility of providing both voice and text through a single number. More significantly, the FCC's assignment of 711 did not actually mandate its rollout across the states. Rather, as had been true for the 800-855 numbers, local jurisdictions could choose for themselves whether or not they wanted to implement 711 dialing. Nevertheless, the Commission did propose mandating 711 nationwide relay access within three years, if the remaining logistical problems could be resolved by that time.
The telecommunications industry's reaction to the FCC's 711 ruling was quite positive. Though some remained concerned about the technical and operational details of 711 implementation, virtually all telephone companies appeared to support the FCC's decision. Most local companies also believed that three years would provide ample time to carry out the mandate with relative ease and minimal cost, and without the need to deploy new network arrangements.62 Again, GTE proved to be particularly helpful. In responding to the FCC's inquiries, it alluded to its own experiences with 711, confirming that the costs of 711 implementation were reasonable and its benefits great.63 The lone dissenting voice was AT&T, which suggested that the FCC take the same "successful" approach it had taken for handling coin sent-paid relay calls, an approach that would require monitoring technical developments before mandating 711 technology. But seven years had already passed without a technical solution for coin sent-paid relay calls; no one else wished to repeat that ordeal.
In fact, consumers did not see a need for the FCC to wait even three years for 711 implementation. By now, there were at least 115 relay numbers throughout the United States, and the need for abbreviated and nationwide access had taken on a new urgency. Most companies could easily program their central office switches to translate 711 to either a seven-digit or 800 number that would, in turn, route calls to the designated state relay provider. This was a task that could be accomplished within months, not years.
When another year passed without a final FCC ruling on the mandated rollout of 711, consumers again began to grow leery. During this time, not a single state had taken the FCC up on its offer of 711 relay dialing. But before we had time to get too discouraged, another significant breakthrough occurred, one that had actually been in the making for a number of years.
Victory Is in the Air
In April of 1996, Steven Gregory, a hard of hearing member of the New Jersey Relay Advisory Board, had approached his telephone company, Bell Atlantic, about moving ahead with 711 implementation in that state. Although interested in 711, Bell Atlantic rejected Gregory's request because the FCC had not yet made its final decision on this and other abbreviated dialing codes. Specifically, the company was concerned that any premature state implementation of 711 might conflict with later FCC N11 rulings. When in 1997, the FCC issued its 711 order, Gregory and the New Jersey Relay Advisory Board renewed their request. Still, Bell Atlantic wanted the FCC's regulatory process to run its course.
In January of 1998, Gil Becker, the Maryland Relay Service's director, also approached Bell Atlantic for 711 access. At around this same time, New Jersey's regulatory commission, following up on Gregory's request, decided to ask competitive relay providers to include the costs of providing 711 access in their bids to provide relay service in New Jersey. This turned out to be enough to motivate Bell Atlantic to get a jump on the implementation of 711 along the eastern seaboard. Not long before, the company had released new universal design principles for making products and services accessible to people with disabilities. It decided that a rollout of 711 in Bell Atlantic territories would be consistent with this new company policy.
After an internal white paper on 711 received the unanimous approval of Bell Atlantic-New Jersey's Public Policy Committee, progress within Bell Atlantic began moving at lightning speed, largely through the efforts of the company's community relations manager, Sal Schifano. In July 1998, Bell Atlantic proudly announced that it would become the first local telephone company in the United States to provide 711 service throughout its thirteen states and the District of Columbia!64
Only seven months later, Maryland became the first of the continental United States to offer 711 relay dialing. This service kicked off on February 8, 1999, with an extraordinary public relations campaign that included advertisements in newspapers and television commercials broadcast throughout Maryland and the D.C. metropolitan area. Within two months, Becker reported that 711 was "an overwhelming success," far surpassing anyone's expectations.65 After several years of being stagnant, Maryland's call volumes increased by more than 12 percent during the first full month of 711 operations. After two months, over 41 percent of all of Maryland's relay calls came through 711, and Maryland saw a 23 percent increase in calls initiated by voice callers. While advocates for three-digit dialing had primarily focused on its ability to facilitate access for TTY users, Maryland proved that its use by hearing people was equally or more important. Now more than ever before, hearing people were finally returning relay calls.66
Around this time, a number of other events continued to propel forward the deployment of 711. First, Jenifer Nordheimer, a consultant with Issues Dynamics, arranged for me to give a presentation on local 711 implementation to NARUC's Communications Committee at the end of February 1999. Two months after the committee received this "best practices" proposal (based on Bell Atlantic's 711 activities), NARUC released a report that included a recommendation to adopt 711 nationwide.67 While this was being circulated, Bell Atlantic's Schifano continued his own 711 crusade, feverishly rushing around each of the Bell Atlantic states to muster support from company executives, network operators, long-distance carriers, and other key people. Simultaneously, Rich Ellis, Bell Atlantic's director of strategic alliances, actively monitored the pulse of the relay user community so that 711 implementation could fully meet the community's needs. It was clear that we were on a roll.
By the fall of 1999, Bell Atlantic predicted that 711 would be available throughout all of its states by July 2000. When the company was praised at a September 1999 FCC forum on 711 for its extraordinary efforts in front of relay consumers, state administrators, and the telecommunications industry, it seemed to receive an added shot of adrenalin.68 Unfortunately, the rest of the country's telephone companies did not take their cues from Bell Atlantic's actions. The vast majority of these companies still had no plans for 711 relay access.
Triumph at Last
In November 1999, at the request of Chairman William Kennard, I joined the FCC as the deputy bureau chief of the Consumer Information Bureau (CIB).* Early in my tenure, I realized that support for 711—by both telephone companies and consumers alike—was now universal, but that the FCC was standing between the desire for 711 and its complete nationwide deployment.
In the states that had already begun using 711, sentiment was unanimous: Relay users were rejoicing at the ease with which they could not only make relay calls, but the simplicity with which they could leave messages for hearing people, knowing their calls would now be returned.69 By March, Massachusetts was added to the ranks of 711 states, followed by Nevada, Pennsylvania, New Hampshire, New Jersey, the District of Columbia, Delaware, Rhode Island, Virginia, and West Virginia. Bell Atlantic confirmed that it generally took only six months to implement 711 in each state, with expenses that were so small that they were typically "within the range of other routine network upgrades and changes."70 In fact, the greatest expense appeared not to be from setting up 711; rather, it was from misdialed N11 calls!
Many businesses found that 711 also had the unexpected benefit of allowing them to access millions of potential new customers. At least one state, Nevada, used the new dialing arrangement to attract vacationers. In a press release announcing its 711 rollout, Nevada proclaimed that it was one major tourist destination where TTY users would never have to look up the state's relay number!71 Even companies that had been lukewarm about using 711 now seemed to come around. For example, AT&T's web site revealed the company's new attitude:
Could we get to the point a little faster? Sure. … Just dial 711 to access AT&T Relay Service! … Pack your friend's telephone numbers in your overnight bag and dial … dial … dial! 711 is going national. So, whether you're away on vacation, on the road, or away on business, chances are the 711 network is right there with you.72
Notwithstanding all of this triumphant 711 activity, it remained clear that without an actual FCC mandate for 711 relay access, full acceptance across the nation would never happen. A number of local telephone companies, payphone providers, cellular systems, and PBX systems appeared unwilling to implement access to 711 unless mandated to do so.73 Yet, absent any further opposition from industry, the states, or consumers, there seemed to be little reason for the FCC not to move ahead with a 711 mandate. When Pam Gregory, director of the FCC's Disability Rights Office, and I pitched this idea to Chairman Kennard during the winter of 2000, he readily gave his approval.74 Only a few months later, Kennard announced the agency's plans to require nationwide 711 relay access to a jubilant audience of 300 at the biennial NAD conference in Norfolk, Virginia. The order itself, directing all telecommunications carriers nationwide to implement 711 dialing in a little over a year, was adopted on July 21, 2000.75 It's "fast, functional and free" became the Commission's new 711 slogan.76
The FCC viewed the implementation of 711 as a good way to heighten public awareness about relay services in general, and to that end directed telephone companies, relay providers, and the states to conduct comprehensive education and outreach programs on the new dialing code so that they reached "the largest number of consumers possible."77 Indeed, the rollout of 711 provided a unique opportunity to reach commercial establishments, business offices, senior citizens, and other segments of the American public still unfamiliar with relay services. The Commission recognized Maryland's outreach program as having pushed public awareness to an all-time high, and recommended that other states follow its fine example.78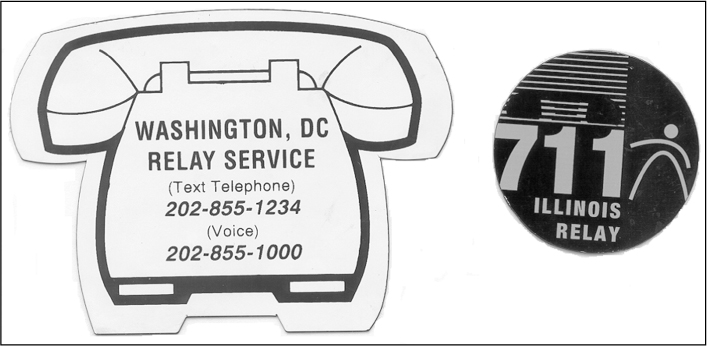 Before 711 most states had multiple relay numbers. These magnets illustrate the convenience of three-digit relay dialing.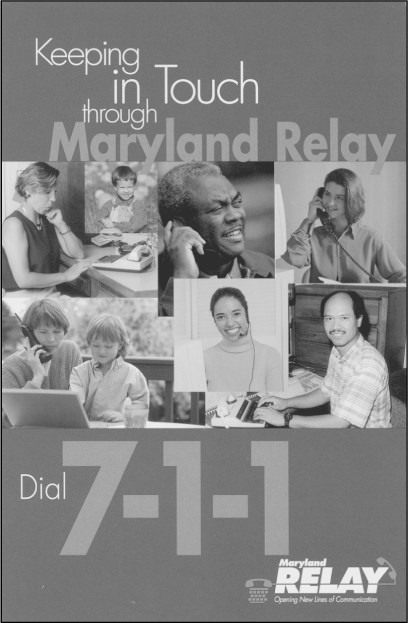 Maryland Relay Service promoted the use of 711 through an extensive and very successful outreach campaign that included brochures such as this one.
As to the issue of 711's compatibility with competitive relay markets, the FCC concluded that the greater demand for relay services spurred by 711 would encourage new relay providers to enter the market and, through that avenue, increase innovation, lower prices, and enhance its quality.79 Several years later, California became the first state to use multiple-state relay vendors. California relay users can now pre-select their relay provider, and their 711 calls are automatically routed to that provider.80
Chart 7.1
711 Timeline
A Decade of Advocacy to Achieve Easy TRS Numbering Access
•1991 — Cox Enterprises requests BellSouth for N11 numbers for information services
•May 1992 — FCC opens national N11 proceeding; grants telephone companies permission to assign N11 numbers to information service providers
•July 1992 — NCLD/TDI request 711 for TTY relay access and 511 for voice relay access in reply comments on new FCC proceeding
•August 1992 — NCLD/TDI request NANPA for N11 relay access
•October 1992 — Florida approves Cox's request for 511 for 2 year trial period
•December 1992 — NCLD/TDI file request for reconsideration of Florida N11 decision and opposition to Cox's use of 511 in Georgia
•January 1993 — Canada gives provisional approval for 711 relay access
•April 1993 — GTE adopts 711 for TTY relay access and 511 for voice relay access in Hawaii
•May 1993 — Georgia approves Cox's request for 511 for 1 year
•October 1993 — NCLD/TDI submit emergency FCC petition for 711 relay access; Tennessee reserves 711 for relay access.
•1992–1995 — Information service providers pursue local N11 numbers around the country; NCLD/TDI oppose these petitions in 26 states
•December 1993 — ICCF (industry) establishes TRS Workshop to explore TRS numbering options
•February 1994 — Canada begins using 711 for TTY relay access; 800 number for voice relay access
•March 1995 — ICCF chooses 800 numbers for nationwide TTY and voice relay access in America
•February 1997 — FCC directs Bellcore to reserve 711 for nationwide relay access
•July 1998 — Bell Atlantic announces commitment to roll out 711 in its states
•February 1999 — Maryland becomes first state to offer 711 relay dialing
•July 2000 — FCC mandates 711 relay access nationwide
•October 2001 — Roll-out of 711 completed on schedule
Although the FCC's order gave carriers until October 1, 2001, to implement 711 access, Bell Atlantic completed its entire 711 rollout by September 2000. BellSouth, too, sought to beat the FCC deadline by having all of its states provide 711 access by January of 2001. By mid-May 2001, twenty-four states and D.C. reported satisfaction with the new numbering arrangement, and by June 2001, the wireless industry pledged to work out still unresolved routing and billing issues to meet the FCC's deadline.
The eight-year battle against powerful and affluent media conglomerates was finally over. The deaf community had persevered and emerged victorious against spectacular odds and extraordinary resources. NCLD and other groups had spent nearly a decade advocating for ubiquitous relay access, and we owed a debt of gratitude to Canada, GTE of Hawaii, and Bell Atlantic, whose technical, fiscal, and regulatory 711 achievements paved the way for its ultimate success.81 Chairman Kennard left the FCC in early 2001, but when the final 711 deadline arrived on October 1, 2001, a new champion for disability rights emerged from the Commission. Commissioner Michael J. Copps applauded the nation's full compliance with the 711 mandate, as he urged his fellow commissioners to make sure that advanced telecommunications continued to open doors of opportunity for all people with disabilities.82
Notes
1. Sam Loewenberg, "Phone Companies Face Turf Battle Over 3-Digit Codes," Dallas Morning News, August 14, 1993, F1.
2. Robert L. Pettit, FCC general counsel, letter to David J. Markey, vice president, BellSouth, May 4, 1992.
3. Use of N11 Codes and Other Abbreviated Dialing Arrangements, Notice of Proposed Rulemaking, CC Dkt. 92-105, FCC 92-203 (May 6, 1992).
4. Ibid, ¶¶15, 16.
5. Comments of AT&T in Dkt. 92-105 (June 5, 1992), 4, n*.
6. Ad Hoc comments in Dkt. 92-105 (June 5, 1992), 3–4.
7. Comments of MCI in Dkt. 92-105 (June 5, 1992), 3.
8. Comments of GTE in Dkt. 92-105 (June 5, 1992), 2.
9. Comments of NYNEX in Dkt. 92-105 (June 5, 1992), 2, 4; See also comments of U.S. West in Dkt. 92-105 (June 5, 1992), 6.
10. Comments of Pac Bell and Nevada Bell in Dkt. 92-105 (June 4, 1992), iii.
11. Comments of Bellcore in Dkt. 92-105 (June 5, 1992), 2, 7.
12. Comments of CSCN in Dkt. 92-105 (June 5, 1992), 1.
13. In re: Southern Bell Telephone and Telegraph Company, General Subscriber Service Tariff Provisions Regarding N11 Service, Petition of Cox Enterprises, Inc. for Assignment of N11 Code (June 6, 1992).
14. TDI, NCLD, NAD, SHHH, ASHA, the National Easter Seals Society, National Fraternal Society of the Deaf, United Cerebral Palsy Association (UCPA), United Church of Christ Office on Communication, the World Institute on Disability (WID), Canadian Association of the Deaf, and Gallaudet University joined in the submission with local deaf and hard of hearing consumer groups and governmental organizations from Arizona, Illinois, Iowa, Kentucky, Florida, Oregon, Maryland, Minnesota, California, New Jersey, Virginia, New Mexico, and Wisconsin. The reply comments were filed on July 13, 1992.
15. Telecommunications Services for Individuals with Hearing and Speech Disabilities, and the Americans with Disabilities Act of 1990, Report and Order and Request for Comments, CC Dkt. 90-571, FCC 91-213, 6 FCC Rcd 4657 (July 26, 1991) ¶42.
16. Meeting between Pam Ransom and the author and members of the FCC's Common Carrier Bureau, August 13, 1992.
17. Karen Peltz Strauss, NCLD, letter to George Via, vice president, operations technology, Bellcore, August 17, 1992. At the time the FCC commissioners were Chairman Alfred Sikes, Commissioner James Quello, Commissioner Sherrie Marshall, Commissioner Andrew Barrett, and Commissioner Ervin Duggan.
18. Alfred Gaechter, Jr., NANPA, letter to the author, NCLD, August 31, 1992.
19. Karen Peltz Strauss, NCLD, letter to Alfred Gaechter, Jr., NANPA, May 13, 1993. Fred Cooke, Bell Atlantic's executive director of external relations, was particularly helpful in promoting the use of N11 relay access. Early on, he announced the company's "desire for improved access to telecommunications relay services." NCLD, "Disability Coalition Petitions FCC for National Three Digit Access Numbers," news release, August 3, 1992, 3.
20. Werner K. Hartenberger, Dow, Lohnes & Albertson, letter to the author, NCLD, September 16, 1992.
21. Cindy Skrzycki, "Newspaper Wins Use of '511,'" Washington Post, October 28, 1992, G1.
22. Karen Peltz Strauss, NCLD, letter to Thomas Beard, chairman, Florida PSC, December 2, 1992.
23. Comments of NCLD and TDI in Southern Bell N11 Service Tariff, Dkt. 42-32-U (December 23, 1992); NCLD Motion to Intervene (December 28, 1992).
24. GTE, "GTE First to Announce Standard Three-Digit Codes for Access to Its Telecommunications Relay Service (TRS)," news release, May 21, 1993. On certain islands, Molokai and Lanai, customers needed to dial "1" before the three digits.
25. The meetings were held on February 3, 1993, and May 1, 1993.
26. The Florida Telecommunications Access System Act of 1991 had required the establishment of Florida's relay service prior to the ADA's deadline.
27. Thomas Crowe and Michael Jones, "N11 Codes—It's Not Too Late," Phone +, (October 1993): 15.
28. "N11" Service in Works for Tennesseans," Knoxville News-Sentinel, October 10, 1993.
29. Loewenberg, "Turf Battle Over 3-Digit Codes," F1.
30. James Roots, CAD, letter to Nancy Bloch, executive director of the NAD and Yerker Andersson, president of the World Federation of the Deaf, June 22, 1993.
31. See, for example, Fred Gaechter, Bellcore, letter to members of World Zone 1 and approximately 2,000 others on the NANPA mailing list, April 19, 1983.
32. Karen Peltz Strauss, letter to James Roots, July 14, 1993.
33. Allan J. Darling, Canadian Radio-television Commission, letter to Al Lewis, chairman of CSCN, August 4, 1993, approving the plan to assign 711 for TTY access and a 1-800 number for voice access, and to hold a second N11 number in reserve.
34. Roots, facsimile to the author, February 2, 1994.
35. NANPA had distributed the inquiry on April 19, 1993, and announced its findings on July 30, 1993.
36. MCI was especially concerned that a single N11 access number would route all relay calls within each state to a single provider. They felt this would eliminate any recourse for dissatisfied customers who wanted to switch their providers. Gerry Nelson, MCI, "The Argument for N11 with Competition," e-posting on Telephone for All, November 15, 1993.
37. "Local Competition Outlook," State Telephone Regulation Report (August 12, 1993): 2. Colorado, Delaware, New Hampshire, and Washington, D.C. had each decided they would not rule on any N11 applications until the FCC ruled on the numbering issue. Other states to reject commercial applications were Iowa, Indiana, Michigan, Idaho, Maryland, New York, and Wisconsin.
38. In the Matter of Investigating N11 Access to Information Service Providers, Report of Division of Communications, Virginia State Corporation Commission, Case No. PUC930019, (August 31, 1993), 16.
39. Ibid., 19.
40. In March 2000, the Virginia State Corporation Commission finally approved 711 dialing for relay services, but this was only after the FCC set aside this code for this purpose. Investigation to Implement 711 Abbreviated Dialing Access to the Telecommunications Relay Services in Virginia, Case No. PUC000045, Initiating Order (March 28, 2000); Final Order (June 1, 2000).
41. Commission Clarifies Pleading Cycle for Comments, FCC Public Notice, IAD File 93-02 (October 28, 1993), opening "Assignment of N11 Codes to Facilitate Access to Telecommunications Relay Services."
42. Investigation of N11 Allocations, Interim Order, Tennessee Public Service Commission, Dkt. 92-13892 (October 20, 1993). While we had succeeded in temporarily getting Virginia to hold off on allocating 511 and 711 for commercial purposes, Tennessee was actually the first contiguous state to specifically reserve this number for relay use.
43. Jeanne Moran, assistant general counsel, memorandum on Staff Comments and Recommendation to the Tennessee PSC, Dkt. 92-13892 (October 13, 1993), 8. Tennessee had also implemented its relay system three years before the ADA deadline.
44. "BellSouth, Cox Finalize Agreement; Announce Initial Plans," Bellsouth News Release, October 25, 1993.
45. Peter C. Canfield, Dow, Lohnes & Albertson, letter to Mac Barber, chairman, Georgia PSC, December 20, 1993.
46. Order Regarding N11 Abbreviated Dialing, Florida PSC Order No. PSC-93-1620-FOF-TL (November 4, 1993), 12.
47. See Telecommunications Reports, November 29, 1993, noting that although several media companies had fought to guard three digit numbering for commercial applications, nearly all commenters supported the petition's objective to broaden telephone access by people with hearing and speech disabilities.
48. Reply Comments of NCLD, TDI, AG Bell, ALDA, Chicago Hearing Society, Illinois Alliance for the Hearing Impaired, NAD, National Fraternal Society of the Deaf, and SHHH in IAD File No. 93-02 (December 8, 1993).
49. Ibid., 4.
50. Assignment of N11 Dialing Codes, North Carolina Utilities Commission Order Denying N11 Assignment, Dkt. P-100, Sub 119 (February 18, 1994); Investigation of the Issues Surrounding the Assignment of N11 Codes, Nevada PSC Order, Dkt. 93-2012 (March 13, 1995).
51. Ameritech, AT&T, Bell Atlantic, BellSouth, GTE, Hamilton Telephone, McCaw Cellular, MCI, NYNEX, Pacific Bell, Southwestern Bell, Sprint, U.S. West, TDI, Cable and Wireless, SBC, Stentor, Time/Warner, USTA, Cox Enterprises, Bellcore, NECA, and the FCC were among the participants. Al Sonnenstrahl and the author represented relay consumers.
52. Surveys were distributed at conventions held by the NAD, AG Bell, SHHH, ALDA, American Society for Deaf Children (ASDC), National Black Deaf Advocates, and the National Association of the Deaf Senior Citizens.
53. The TRS workshop formally recommended these numbers to ICCF on March 3, 1995, and ICCF accepted them on April 7, 1995.
54. For example, a committee called the Service Management System Numbering Administration Committee or SNAC was given the task of assigning the "RESPORG," the entity that would manage and administer changes in the 800 database and ultimately ensure that calls would be routed in a given geographic area to the certified relay provider of that area. SNAC was only one of six committees under an umbrella group called the Order Billing Forum, through which the numbering solution still had to pass.
55. Commission Seeks Comment on Requests of Federal Agencies and Others for the Assignment of N11 Codes, IAD File 94-101, DA 94-644 (June 16, 1994).
56. National Association of State Telecommunications Directors, Ex Parte Presentation to FCC, CC Dkt. 92-105 (September 22, 1993). GSA Petition for Declaratory Ruling to the FCC (March 11, 1994).
57. Other agencies that came forward supporting GSA's request included the Department of Agriculture (food stamps and emergency preparedness), Department of Veterans Affairs (VA benefits), and the Department of Justice (civil rights).
58. Comments of NCLD, NAD, SHHH, and TDI in Dkt. 92-105 (August 19, 2004).
59. Comments of NENA in Dkt. 92-105 (September 23, 1994).
60. "FCC Receives Diverse Opinions on Suitability of 'N11' Numbers for Public-Sector Use," Telecommunications Reports, August 29, 1994, 33. See also "FCC Gets Disparate Views on How N11 Numbers Should be Assigned," Communications Daily, August 25, 1994,1.
61. The Use of N11 Codes and Other Abbreviated Dialing Arrangements, First Report and Order and Further Notice of Proposed Rulemaking, CC Dkt. 92-105, FCC 97-51, 12 FCC Rcd 5572, (February 19, 1997). Concerns that 711 would hamper relay competition were somewhat assuaged by the existence of new competition for interstate relay calls by AT&T, MCI, and Sprint.
62. See separately filed Comments of BellSouth, Southwestern Bell Telephone Company, Ameritech, Bell Atlantic, GTE, MCI, USTA, U.S. West, and Sprint in Dkt. 92-105 (all filed on or around March 31, 1997).
63. Although consumers had also asked the FCC to consider adopting presubscription or a gateway service—so that relay users could pre-subscribe to their chosen relay provider through 711—industry members agreed that providing this type of service would be far more complicated and therefore, take far longer to implement. Separately filed Comments of USTA, GTE, SWBT in Dkt. 92-105 (all filed on or around March 31, 1997).
64. "Bell Atlantic to Make Calling Easier for Customers Who Are Deaf, Hard of Hearing—First Company Committed to Deployment of 711 Service," Bell Atlantic News Release, July 8, 1998.
65. Gil Becker, letter to Steven Gregory, April 18, 1999.
66. "7-1-1 Takes Off," MDAD News 39 (Spring/Summer 1999): 17, reporting that in March 1999, the Maryland Relay Service handled 232,842 calls, up from call volumes that had hovered around 205,000/month for the prior two years.
67. A Compilation of 'Best Practices' to Implement the Telecommunications Act of 1996 (Columbus, Ohio: National Regulatory Research Institute, April 1999), 48. Available at http://www.nrri.ohio-state.edu/dspace/bitstream/2068/286/1/99-07.pdf.
68. Revised Public Notice on FCC Convenes a Public Forum on 711 Access to Telecommunications Relay Services, FCC Public Notice, DA 99-1170 (June 16, 1999). Consumer groups represented at the forum included SHHH (Brenda Battat), TDI (Claude Stout), and the NAD (the author). Industry representatives included Bell Atlantic (Rich Ellis), Sprint (Paul Ludwick), MCI (William McClelland), AT&T (Burt Bossi), and Hamilton Relay (Dixie Zigler). Also in attendance were NENA (Toni Dunne) and the Maryland Relay Service (Gil Becker).
69. See Rita Beier, VISTA Information Technologies, letter to the author, CIB, May 31, 2000.
70. See generally, Richard Ellis, Bell Atlantic, ex parte letter to FCC, June 5, 2000.
71. Nevada Governor's Office "Nevada Leads the Way in Telephone Services for the Disabled," press release, April 14, 2000.
72. AT&T, "What's New," http://www.att.com/relay/whatsnew.html (accessed May 16, 2000; page now discontinued).
73. Meeting between Maryland State Relay officials and FCC, March 20, 2000.
74. This cleared the way for Thomas Wyatt of CIB to draft the 711 order.
75. The Use of N11 Codes and Other Abbreviated Dialing Arrangements, Second Report and Order, CC Dkt. 92-105, FCC 00-257 (August 9, 2000), codified at 47 C.F.R. §§64.601(1); 64.603. Hereinafter cited as 711 Order 2000. The order also reserved, but did not mandate, 511 for traffic and travel information and 211 for local community information and referral services.
76. October 1 Begins New Era of Telephone Access, FCC News Release (September 25, 2001).
77. 711 Order 2000, ¶61, codified at 47 C.F.R. 64.604 (c)(3). Among other things, the Commission encouraged carriers, states, and relay providers to publicize 711 in mainstream media, including newspaper, radio, and TV.
78. The Maryland program was orchestrated by Gil Becker, Brenda Kelly-Frey, and Pam Stewart.
79. 711 Order 2000, ¶4.
80. Comments of the People of the State of California and the California PUC, submitted in response to the FCC's Further Notice of Proposed Rulemaking on Internet and Video Relay Service, CG Dkt. 03-123 (October 18, 2004).
81. In addition to Sal Schifano, who led the rallying cry for 711 throughout Bell Atlantic's region, a number of individuals at Bell Atlantic, which later was merged with GTE to form Verizon Communications, were to be credited with making 711 a reality. These included Vice President of External Affairs Colleen McCloskey, who with Schifano first fielded requests for 711 from the New Jersey Relay Advisory Board, Shelly Harms, who helped prepare the company's very first white paper, Margaret Malagon who helped to put together the advanced intelligent network solution that later became a template for the deployment of 711 in other states, Maureen Aeckerle who became a part of the very first team to roll out 711 in Maryland, and Bill Darcy in New York and Marilyn Benoit in Massachusetts, both of whom provided 711 technical assistance in their respective states.
82. Commissioner Copps Applauds Nationwide 711 for Telecommunications Relay Services, FCC News Release (October 1, 2001).
Epigraph. Cheryl Heppner, executive director, Northern Virginia Resource Center for Deaf and Hard of Hearing Persons, e-mail to the author, July 17, 2000.
* For example, in Arizona, the relay service was called "TES, Inc." In South Dakota, it was the name of its provider, CSD, and in Minnesota, it was called D.E.A.F., Inc.
† Companies had to pay hefty long distance charges for 900 customer access. In addition, technical limitations that restricted the reach of these codes and negative association with "900" pornographic services discouraged their use.
* Bell Atlantic's comments also spoke of using a new technology called advanced intelligent network (AIN) that would allow a call to an N11 number to connect the caller with a particular information provider. Nearly ten years later, this was the very same technology used by Bell Atlantic to provide 711 access to relay services.
* Of all the telephone companies in Canada, only one—Unitel, now Rogers Cantel—opposed the petition.
* During the first weeks of October, 1993 alone, we submitted oppositions to abbreviated commercial dialing in Alabama, Kentucky, Louisiana, Minnesota, Nebraska, Nevada, North Carolina, South Carolina, and Oregon. We later added to this list Alaska, California, Connecticut, Illinois, Kansas, Massachusetts, Missouri, Montana, New Jersey, New Mexico, Pennsylvania, Tennessee, Texas, Virginia, and Washington. This was in addition to our original oppositions in Florida and Georgia.
* ICCF questioned Bellcore's role as the NANPA administrator because of its affiliation with AT&T. Bellcore had already opposed Cox's request for an N11 code in Florida and ICCF felt that Bellcore had too much at stake to be making decisions about number allocations.
* For example, in November 1994, the Virginia commission's senior hearing examiner recommended assigning all N11 codes on a first come, first serve basis to information service providers, failing to even mention our request for relay access in his findings. His sole focus was on the ability of N11 dialing to make information services more "convenient" and generate additional revenues for local companies. Glenn P. Richardson, Virginia State Corporation Commission, In the Matter of Investigating N11 Access to Information Service Providers, Report, Case PUC930019 (November 1, 1994).
† In July 1992, we had made this request through the back door, in reply comments submitted in an FCC proceeding that broadly addressed various numbering issues. The emergency petition that we now submitted was a much more direct way of getting the FCC's attention on the relay issue.
* For example, in the winter of 1993, the National Newspaper Association actively encouraged its members, mostly small community newspapers and information service providers, to vigorously pursue N11 codes from local telephone companies. The association even offered to help by writing state applications and, if necessary, challenging any denials. "Trade group representing small community newspapers," Communications Daily, December 8, 1993, 3.
* Some consumers speculated that this objection arose from industry concerns that the survey respondents would come out in favor of 711 access.
† I learned that these options had been eliminated while out on maternity leave.
‡ A few state relays, including New York and Washington, D.C., were already using other 800-855 numbers for their statewide relay services. Originally, NANPA had reserved the 800-855 exchanges to make it easy for TTY callers across the nation to remember only the last four digits of these TTY-accessible numbers. Unfortunately, to this day, the failure to publicize these exchanges has continued to keep most businesses, governmental offices, and consumers in the dark about their availability.
* To support this, we cited to mandates for federal agencies to be program accessible under Section 504 of the Rehabilitation Act. 29 U.S.C. §794. We were not yet armed with the full force and effect of Section 508 of that act, under which all federal agencies would specifically be required to ensure the accessibility of their telecommunications systems.
* The allocation of 311 for nonemergency use did not come as good news to deaf TTY users living in New York. The New York Public Service Commission had been allowing the use of 311 for direct access to emergency services by TTY users. To continue ensuring adequate emergency access to people with hearing loss, the FCC gave New York a six month grace period before having to turn over this numbering code.
* CIB has since been renamed the Consumer and Governmental Affairs Bureau.