A Wireless World
The key here is to move quickly to find the solutions before we go any further in the communications revolution. We're here because we want to move as fast as possible to address the impacts of new wireless communications technologies on the hearing aid community.
—FCC Chairman Reed Hundt
IN THE LATE 1980s, Americans began to break free of the restrictions imposed by a wired telecommunications network. No longer tethered to their homes and offices, hearing people were finding that they could use wireless telecommunications services to make and receive calls anywhere, at any time. But disability advocates feared that deaf and hard of hearing consumers would not be able to do the same. If history was any indication, these innovations would be designed and deployed without consideration for their ability to work in conjunction with TTYs, hearing aids, and cochlear implants.*
Fortunately, the earliest wireless technologies in the United States did not create major accessibility problems. These technologies used analog transmissions which, like their wireline counterparts, were typically TTY or hearing aid compatible. However, a new generation of digital wireless technologies, also called personal communication services (PCS), presented a different story. Although these advanced innovations promised wider availability, improved spectrum efficiency, enhanced sound quality, better pricing plans, and more versatile features, including voice mail, caller ID, and web access, they did not necessarily promise access by people with hearing loss.
When Congress passed the Hearing Aid Compatibility Act of 1988 requiring all wireline phones to be usable with hearing aids after August 1989, it temporarily exempted wireless handsets because these telephones were then considered complementary, not essential, to telephone communication.1 Aware that this situation might change, Congress directed the FCC to revoke or modify the wireless exemption, if four criteria were met:
•removal or limitation of the exemption was in the public interest;
•providing HAC wireless phones was technologically feasible;
•continuation of the exemption would adversely affect people with hearing loss; and
•adding compatibility to phones would not make them so costly that they could not be marketed successfully.2
In May of 1989, the FCC made a commitment to review this exemption at least once every five years.3
In 1992, I was contacted by Dan Bart, an industry veteran of the twenty-year-old battles to make wireline telephones hearing aid compatible. Bart was calling to alert consumers about industry's imminent plans to deploy digital wireless services in the United States, and of the consequences that this could have for hearing aid users. If the HAC rules were not swiftly revised to include wireless services (i.e., by eliminating their exemption), he suggested that the window of opportunity to incorporate access might be closed. Once digital wireless services were fully designed and put into circulation across America, retrofitting these technologies for compatibility might be difficult, if not impossible.
In the wireline context, making phones compatible typically had required providing an internal means for the telephone to inductively couple with the hearing aid user's telecoil, so that the user could hear speech without ambient noise and feedback otherwise heard through the hearing aid's microphone. But "hearing aid compatibility" in the context of digital wireless devices, in addition to requiring inductive coupling for telecoil users, raised some very different issues.
Digital wireless technologies convert communications into ones and zeros of a computer code, which are sent over wireless networks in a series of rapid electronic pulses. When the circuitry contained in hearing aids picks up these pulsing signals, individuals wearing the aids can hear extraneous buzzing, clicking, or high-pitched noises, which can make communication difficult, if not impossible. The extent to which a user can experience this electromagnetic interference depends on a number of factors, including the operating power of the telephone, the telephone's antenna design and placement, the type of hearing aid, the user's level and type of hearing loss, and the specific type of digital technology being used.
In the early 1990s, reports began trickling in from Europe that hearing aid users were experiencing significant electromagnetic interference from a certain type of digital wireless technology called "GSM" or Global System for Mobile Communications. In addition to "user" interference, which occurred when hearing aid users held GSM phones to their ears, some Europeans were reporting bystander interference, which occurred when a hearing aid wearer was not using a phone, but was merely standing near a GSM phone user.
Around this same time, the FCC was beginning to define procedures for allocating digital spectrum for wireless communications in the United States.4 Fearing that the needs of hearing aid users would get lost in the Commission's rush to deploy these services, HAC advocates urged the FCC not to grant licenses to companies interested in providing digital services, without first ascertaining how those companies would meet the needs of people with disabilities.5 But the FCC rejected this suggestion, opting instead for a minimal regulatory approach that was, indeed, designed to expedite the digital roll-out.6 The agency concluded that in a highly competitive wireless market, providers would be sufficiently self-motivated to offer consumers high-quality service and appealing prices without heavy regulatory constraints.
During the summer of 1994, the FCC went ahead and set up what it called "the largest auction of public assets in American history" to receive bids for over 2000 digital wireless licenses.7 Giddy with the billions of dollars that would be retrieved as payment for these new permits, the Commission boasted of a glorious future of lightweight, multifunctional telephonic devices that would facilitate America's entrance into a technology-driven twenty-first century. The new generation of mobile services promised to perform a host of services that would create thousands of new jobs, "fuel our nation's economic growth and revolutionize the way in which Americans communicate."8
However, SHHH's executive and associate directors, Donna Sorkin and Brenda Battat, were not prepared to share the FCC's enthusiasm for the new technologies. The two were growing increasingly alarmed that the expedited licensing process would have devastating effects for people with hearing loss. The problems that hearing aid users were having in Europe prompted these advocates to initiate national education and advocacy efforts to raise awareness among consumers, the wireless industry, and the FCC about the problems that could be caused by the new digital technologies here in America.9
Unfortunately, it was not long before Sorkin, Battat, and other HAC advocates became frustrated in their attempts to get digital wireless manufacturers to take their concerns seriously. Although the wireless industry did agree to provide seed money for independent studies that would evaluate the interactions between digital wireless devices and electronic equipment, the results of this research, to be performed at the newly developed University of Oklahoma Center for the Study of Wireless Electromagnetic Compatibility, would not be released until late 1996, after the scheduled roll-out of digital wireless technologies in the United States.
An FCC Petition for Wireless Hearing Aid Compatibility
SHHH was presented with a novel opportunity to make itself heard on the wireless HAC issue during the winter of 1995, when a group calling itself the Wireless Communications Council approached it and other advocacy groups about petitioning the FCC to lift the wireless HAC exemption.10 The council's interests in this issue stemmed from its investments in North American Wireless, Inc., a company that planned to build digital wireless networks in America using CDMA or Code Division Multiple Access technology—a competitor to GSM. The council was aware of the problems that GSM had been causing European hearing aid users, and was equally aware that these problems did not occur as much with CDMA. In an attempt to capitalize on their mutual objection to GSM, the council approached the hard of hearing community about working together to prevent its national deployment in the United States. Both SHHH and AG Bell were aware that the council was using the hearing aid interference issue to its own business advantage, and rejected its initial suggestion that consumers support one digital technology over another. Fortunately, the groups were eventually able to agree on a strategy to ask the FCC to make all "PSC" or digital technologies hearing aid compatible, and working under the collective name, Helping Equalize Access Rights in Telecommunications Now, or the HEAR-IT NOW Coalition, they jointly filed an FCC petition to achieve that result on June 5, 1995.11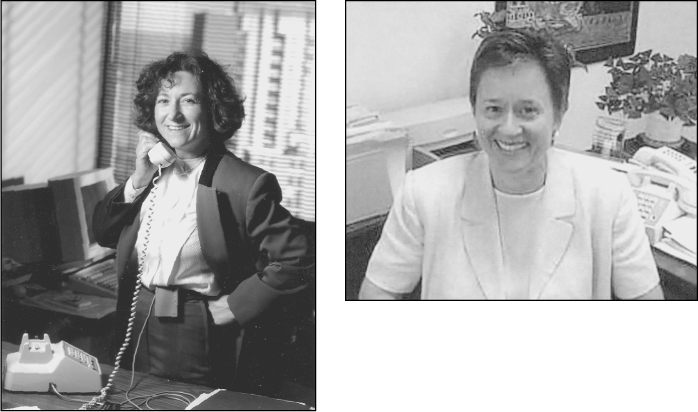 SHHH's former Executive Director Donna Sorkin (left) and current Associate Executive Director Brenda Battat (right) organized nationwide efforts to convince the wireless industry to make wireless telephones internally compatible with hearing aids and cochlear implants.
As soon as it was filed, the wireless HAC petition became the target of attacks by others in the wireless industry. The Cellular Telecommunications Industry Association (CTIA), an international trade association serving as one of the leading spokesmen for this industry,* dismissed the coalition's action as a veiled, anti-competitive attempt to discredit GSM in the "fierce battle" over which technology would be selected to provide the next generation of wireless devices.12 Others feared that the petition would stop digital technologies "dead in their tracks," thereby threatening the billions of dollars already invested in digital technologies, and causing substantial harm to the economic growth of our nation.13 Many companies also claimed that a proceeding on the wireless HAC issue was premature because the University of Oklahoma research efforts had just begun.14
Beyond these declarations, however, was a general refusal by the wireless industry to even acknowledge the existence of a problem with digital interference. Companies argued that interactions between hearing aids and GSM technology in Europe were irrelevant because the power levels used for these services would be much lower in America.15 In addition, they alleged that the petition's claims were "speculative," and the petitioners, unnecessarily "alarmist," because few hearing aid users living abroad had actually filed complaints about wireless interference.16
"It is astounding that the wireless communications community would prefer to face the unknown risks of future regulation rather than address a known problem at the earliest possible stage," declared the HEAR-IT NOW Coalition in replies to the industry's comments.17 The coalition and other advocates rejected industry's alleged solutions to the HAC problem, including the recommendation that hearing aid users continue to rely on analog wireless services.18 Advocates complained this would relegate hearing aid users to a telecommunications underclass that would be denied the more attractive pricing packages and broad array of enhanced features available to digital wireless users. Hearing aid users found a second suggestion—that they simply use digital handsets on the ear without a hearing aid—both erroneous and insensitive to their needs.19 Not only did this fail to take into account that considerable sensorineural loss (hearing loss in both ears) was the most common type of hearing loss, it failed to consider that many individuals with more severe hearing loss specifically relied on telecoil coupling to communicate by phone.20
Consumer opposition to a third alternative proposed by the industry—the use of external devices—dated back to the earliest battles for HAC access in the 1970s.* Then, as now, consumers considered add-on equipment to be costly, ineffective, inconvenient, and unwieldy. Congress had already expressed its preference for internal compatibility for wireline telephones in both the 1982 and 1988 HAC statutes. Consumers had the same needs with respect to wireless phones; they did not want to have to purchase or carry around extra accessories.
Another age-old dispute between industry and consumers that resurfaced in the new battles for wireless accessibility concerned the extent to which the hearing aid industry needed to share in the responsibility of making telephones usable by hearing aid wearers. Wireless companies insisted that hearing aid manufacturers had a responsibility to better shield hearing aids with a metallic electrostatic coating that would create greater immunity to interference from digital transmissions. They pointed out that in Australia, the government had directed the nation's hearing aid manufacturers to take measures to mitigate interference, instead of ordering telephone manufacturers to redesign their phones.
Consumers did not dispute that increased hearing aid shielding was needed to help block interference from digital phones along with a plethora of other electronic devices, including pacemakers, fluorescent lights, microwave ovens, and even TVs. Indeed, there was little question that the hearing aid industry had its own motivation to improve immunity to these widely popular pieces of equipment. But hearing aids often cost thousands of dollars, and were typically not reimbursable through health care plans. If consumers had to purchase new aids, or have their existing aids retrofitted with additional shielding, it was unclear who would be expected to bear that expense.† Moreover, it was not at all clear that the situation in Australia was analogous to what was happening in America. In Australia, the government had directed increased hearing aid immunity to reduce bystander, not user, interference. The latter presented greater difficulties because the energy radiating from the phone was harder to shield against when the phone was held in close proximity to the hearing aid. Additionally, in Australia, the digital infrastructure had already been in place when consumers first realized that the new GSM phones were inaccessible; at that late stage, there was little choice but for the government to look to the hearing aid industry for a solution. In America, where digital technologies were still being developed, it made far more sense to require the telephone industry to design these technologies to be compatible with hearing aids from the outset.
FCC Chairman Reed Hundt was frequently praised for his ongoing efforts to expand telecommunications access. However, early on in the battle for wireless HAC access, it became apparent that Hundt's allegiance was torn. The chairman was clearly taken with the size of the wireless industry's investments and the impact that its new services were expected to have on the American economy. This became most evident when, in an August 25, 1995, luncheon address to business executives, Hundt called the new wireless technologies "the biggest single investment boom ever made in a single technology" in the same breath that he noted the need to make these technologies accessible.21 Hundt's announcement, that a single eight-billion-dollar check raised by the first digital wireless auction for the U.S. Treasury had made the Guinness Book of Records, sent a strong message that the FCC was unlikely to take any action that might hold up wireless deployment.
Notwithstanding his enthusiasm for the new innovations, on October 2, 1995, the FCC chairman issued a stern warning to wireless industry leaders gathered in his office. After listening to FCC staff demonstrations of buzzing caused by the interaction between wireless handsets and hearing aids, Hundt instructed the companies to work cooperatively with consumers, the hearing aid industry, and hearing health professionals to find mutually agreeable solutions to the compatibility problem, or else be subject to FCC regulation. A memo subsequently prepared by CTIA President Thomas Wheeler described the chairman's edict: "It was a clear message—the first responsibility for finding a solution lies with the industry, but if the industry fails to move with dispatch to develop a solution which the FCC and the hearing impaired community find acceptable, a solution will be imposed."22
Shortly thereafter, advocates also secured congressional support from Senators Daniel Inouye (D-Hawaii), Tom Daschle (D-S.D.) and Ernest Hollings (D-S.C.). On November 2, 1995, the three legislators alerted Hundt about a Senate colloquy between Daschle and Hollings that had highlighted the problems that digital technologies were creating in Europe. They urged an expeditious investigation into the impact that these technologies were having on hearing aids and other equipment.23
The HAC Summit … and a California Story
The wireless industry responded swiftly to the FCC's warning with promises of continued research, improved consumer outreach, and a wireless HAC conference that would provide a catalyst for addressing wireless accessibility.24 Holding true to its word, over the next few months, wireless companies worked with other HAC stakeholders to put on the Hearing Aid Compatibility and Accessibility to Digital Wireless Telecommunications Summit, an international conference held in Washington, D.C., on January 3–4, 1996, which attracted more than 150 consumers, hearing health care professionals, hearing aid manufacturers, and wireless providers and manufacturers from around the world.25
However, though outwardly appearing collaborative, a pre-summit media relations proposal prepared for one of the industry's associations, the PCS Group, may have revealed the industry's true state of mind. For $100,000, the firm of Hill and Knowlton proposed to "manage the information flow" at the wireless summit in an apparent attempt to control any negative publicity.26 The proposal urged wireless companies to have enough industry representation to "counterbalance" the commentary of consumer advocates, but to do so "without fueling the advocates." Industry was to focus its efforts on reaching the "large numbers of hearing impaired who are coping with interference and who have no axe to grind," as well as those who had "patience to wait for the technology to catch up with the demand." At the same time, wireless interests were cautioned to be ready to be on alert for pickets, floor demonstrations, and other summit disruptions!*
There were no protests at the summit. Consumers had not come to engage in angry confrontations; they were there because they wanted the same level of independence, public safety, job security, and social integration that wireless services were promising to other Americans. But while Chairman Hundt's opening address extolled this "spirit of cooperation," he again peppered his speech with references to the astounding success of the wireless auctions, noting that the FCC had now earned the title of "Federal Cash Cow," with receipts that had climbed to ten billion dollars.† By expediting the licensing process, Hundt bragged that the Commission had mobilized remarkable technological innovations and jump-started huge investments in this competitive industry. Though outwardly applauding the wireless industry's efforts to begin its journey for accessibility solutions, everything in Hundt's speech still told of an FCC that had no plans to derail the digital revolution from its lightning-speed course.
The willingness of consumers to collaborate on mutually agreeable solutions was perhaps best illustrated by events that next took place in California. At the time, Pacific Bell Mobile Services (Pac Bell) was finalizing preparations to initiate GSM digital wireless service in the San Diego area so that these services would be available at the upcoming Republican convention. But the company's efforts were halted when a group known as the California Communications Council, together with a local chapter of SHHH, demanded that an environmental impact statement on hearing aid interference be prepared before the company erected twelve communications towers for these services. The group was successful in elevating their concerns: Not only did the San Diego City Council convene hearings on the issue, but San Diego's Mayor Susan Golding even wrote to Chairman Hundt to see if her city had sufficient authority to delay the towers' construction; in that letter she also asked for explicit feedback on the FCC's plans to address the HAC issue.27
On March 15, 1996, Hundt replied that local governments were prohibited from regulating the placement or construction of wireless facilities based on alleged radio frequency (RF) interference or any other environmental effects, so long as those facilities complied with FCC-designated emissions levels.28 The chairman then reiterated the FCC's commitment to mandate wireless HAC access if joint efforts by industry and consumers were unsuccessful. But after again referencing the "multi-billion dollar investment" that digital technologies had brought to the American economy, he confirmed that the FCC would "not delay deployment of PCS services while [working] to solve the interference and compatibility issues."29
SHHH had not waited for the chairman's response to begin negotiations with PacBell. By the time Hundt's letter arrived, SHHH had been successful in securing a joint commitment from PacBell and Swedish GSM phone manufacturer Ericsson to work with the consumer group on interim HAC solutions that were expected for completion around January 1997.30 SHHH relied on these promises to withdraw its opposition to the towers' construction and allow the permits to go through.* But the organization would later face disappointment when the companies' promises failed to bring about the needed access.
Aftermath of the HAC Summit
The HAC summit succeeded in establishing various working groups that spent the next several years conducting research and analyses of short- and long-term solutions to reduce interference and achieve inductive and acoustic coupling between hearing aids and digital phones.† Virtually all of the studies performed during this period put to rest any industry doubts that hearing aid wearers experienced user interference when they used digital wireless technologies.‡ It was during this time as well that extensive efforts began on the development of a new industry standard intended to allow hearing aid users to assess the usability of wireless communication devices with certain hearing aids. Research was beginning to reveal that the ability of hearing aid users to understand speech over wireless phones varied considerably with the type of aid worn and the digital technology used. The proposed standard, known as ANSI C63.19, would assign all types of hearing aids—behind the ear, in the ear, or in the canal—ratings for their immunity in both the telecoil and microphone modes.31 It would also give all wireless telephones ratings for their magnetic signal strength (to achieve inductive telecoil coupling), their magnetic field emissions, and their radio frequency emissions. Hearing aid wearers would then add up the ratings for each phone and hearing aid to predict the ability of these devices to provide access when used together.
Throughout 1996, while these standards-setting processes and studies were being conducted by engineers and researchers, a steering committee composed of consumer, wireless industry, and hearing aid industry interests took on the corresponding task of deciding various policy matters, including appropriate deadlines by which telephone compatibility and increased hearing aid immunity would be required, the extent to which accessibility had to be internal to wireless handsets, and the need for consumer outreach.32 With so much at stake, Hundt jokingly dubbed this group's attempts at consensus "the Great Compromise of 1996."33 But acrimony and discord seeped into the committee's negotiations from the outset, preventing this compromise from ever being realized.
The primary reason for the friction was that, as had been the case for wireline phones, consumers wanted industry to commit to achieving internal "universal design" solutions that ultimately would make all wireless digital phones accessible. They believed this necessary to provide hearing aid users with the full selection of phone size, type, and features that were available to the general public. Various solutions—including telecoil connectivity, acoustic coupling, plug-in capability for TTYs and other assistive listening devices, volume control, and vibratory phone alerts—would need to be incorporated into each phone to achieve this result. Consumers felt that universal access was especially important in the employment setting, where employees often did not have the option of selecting their own wireless phones or technologies.
From the start and throughout the discussions, wireless companies refused to make the requested long-term commitment. They insisted that they would never be in a position to guarantee that every single digital wireless phone made by every single manufacturer would contain built-in features to ensure both telecoil compatibility and minimal digital interference. And although HAC standards for telecoil coupling now existed for wireline phones, companies maintained that technical constraints would prevent the transfer of these standards to wireless technologies. Instead, these companies desired a policy that would allow for a range of solutions, including the use of external HAC devices, to address various kinds of hearing loss. They also wanted FCC mandates for telephone accessibility to be accompanied by Food and Drug Administration (FDA) rules for increased hearing aid immunity.
Consumers acknowledged both the need for an interim period when only a cross section of wireless phones would be accessible,* and the need to augment hearing aid immunity. But they maintained that the wireless industry, not hearing aid manufacturers, bore primary responsibility for resolving compatibility problems with digital wireless phones.† In addition, Sorkin, Battat, and other advocates consistently rejected the use of external devices as a means of achieving accessibility, insisting—like the wireline HAC crusaders before them—that reliance on these devices constituted a denial of equal access. Special products for a select group of people cut against Congress's goals of achieving universal access.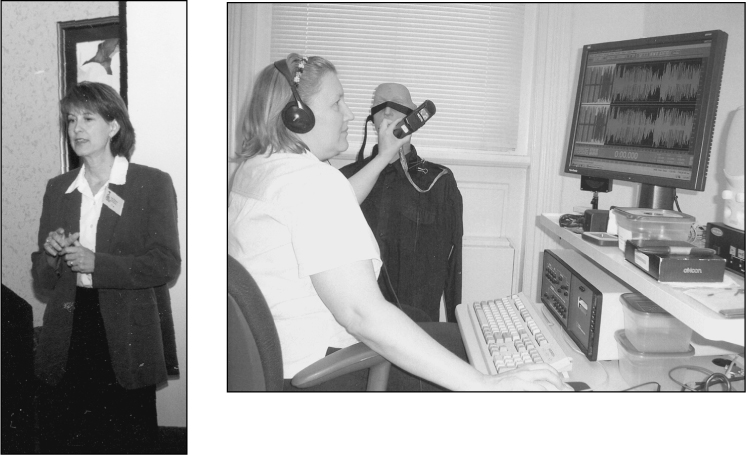 As founding director of Gallaudet University's Technology Access Program and the principal investigator on two Rehabilitation Engineering Research Centers, Judy Harkins, left, has been a lifelong advocate for telecommunications access by people with hearing loss, and in particular hearing aid compatibility for wireless telephones. After the HAC summit, Linda Kozma-Spytek, right, was one of several researchers at Gallaudet to conduct testing on the interaction between hearing aids and digital wireless phones.
In May of 1996, negotiations within the steering committee broke down when consumers would not retreat from, and industry would not commit to, a future date by which all new digital phones would have to be fully accessible.* Each side then returned to the FCC with their own HAC proposals. Once again, advocates urged the FCC to swiftly promulgate mandates for wireless HAC access, because the "longer formal action is postponed … the more difficult it will become to reverse the consequences of failing to address the accessibility and interference issues."34 The FCC, however, rejected both this and the industry's counterproposals, and directed everyone to return to the negotiating table and work harder at achieving a consensus.
Unfortunately, over the next several months, renewed efforts to reach an agreement again failed, and in November 1996, the wireless industry withdrew completely from the discussions. In a November 15, 1996, letter to the FCC, the industry opined that it would be more productive to focus future efforts on research and development of the ANSI standard—which were proving to be more complicated and time-consuming than originally expected—than to "wordsmith" proposals on deadlines for certain actions.35 Although consumers made a final attempt to renew negotiations in March 1997, the wireless industry rejected their invitation, affirming only its commitment to pursue research efforts, and to meet periodically with consumers and hearing aid manufacturers to review progress on accessibility solutions.36
The breakdown in negotiations, together with the ongoing refusal of the FCC to take regulatory action, left consumers with little recourse but to wait until the research and standards processes were complete. In the meantime, however, other advocacy efforts had not stood still. A year earlier, disability advocates had succeeded in getting Congress to pass Section 255 of the Communications Act, requiring telecommunications equipment and service providers to make all of their products and services accessible, where "readily achievable."37 But while the new law might have played a role in compelling wireless telephone access, the FCC's final rules implementing its provisions were not scheduled to go into effect until the early part of 2000. As a consequence, by the turn of the century, hearing aid and cochlear implant users still found themselves without the ability to use the vast majority of digital phones. By then there was little question that the FCC's reliance on marketplace pressures and stakeholder collaboration had failed to achieve its goals.
The Wireless HAC Petition: Take II
As predicted, during the intervening years, the growth of digital wireless services had been explosive: at the close of 1996, 92 percent of the U.S. population still used analog services, but by the end of 2000, more than 40 percent, or approximately 106 million people, had switched to digital telephone technologies, with growth now occurring at a sustained rate of at least 20 percent each year.38 No longer a luxury service for high-end users, Americans now depended on digital technologies for their daily communications needs—in the workplace, as a lifeline to emergency assistance, and as a replacement for wireline service. But while the expanding importance that digital technologies were taking on in American society made the need for access to these digital cell phones all the more compelling, the FCC still did nothing to review or modify the wireless HAC exemption, despite the promise that it made over a decade earlier to do so at least once every five years. In September 2000, I received a call (in my new capacity as deputy bureau chief of the FCC's Consumer Information Bureau) from disability rights advocate Jackie Brand to do something about this.
At a meeting with Brand and other members of the California Wireless Access Task Force, I was informed of industry's dismal progress on the HAC wireless issue in their home state. As it turned out, pursuant to the agreement with SHHH, PacBell had made efforts to acquire accessible phones for customers to use with its wireless services. But the company had been unable to fulfill this promise when wireless phone manufacturers failed to provide the needed options.39 The advocates expressed fears of now being left with obsolete analog technologies that offered fewer enhanced features, often suffered from poorer network connections and battery life, and cost more money to use. Even worse, the gradual phase-out of these technologies meant that these consumers might soon be left with no wireless access at all.
Shortly after the meeting, the task force put out a call for action, which prompted a torrent of letters and e-mails to the FCC from angry consumers frustrated with the agency's failure to require digital wireless accessibility.40 Soon thereafter, the California group teamed with national consumer groups and hearing assistance professionals in a new "Wireless Access Coalition" to request the FCC to re-open the 1995 petition to lift the wireless HAC exemption. Unlike the first time around, this request, submitted on October 7, 2000, had not been spearheaded by any segment of the wireless industry.41
Over the next year, the FCC considered its options. By now, under the leadership of Steve Berger of Siemens and Tom Victorian of Starkey Laboratories, well over 100 engineers, researchers, and consumers, representing more than sixty wireless, hearing aid, and consumer organizations, had spent hundreds of hours over a four-year period perfecting the ANSI matrix that would allow consumers to select wireless devices that would be usable with their hearing aids.42 Some insisted that reliance on this standard alone negated the need for an FCC wireless HAC mandate, especially given recent reports of improved hearing aid immunity and reduced mobile phone emissions (accomplished through the collaborative efforts of the ANSI standards-setting process). Consumers disagreed.
Although the ANSI standard measured the extent to which certain phones would work with certain hearing aids; it did not mandate specific levels of access. Without an explicit requirement for wireless manufacturers to adopt technical solutions that would resolve the compatibility and interference problems, consumers feared they would not be able to find many matches between the two devices. Moreover, members of both the wireless and the hearing aid industries had begun to raise concerns about the reliability of the ANSI matrix.43 Testing had revealed that identical hearing aids responded differently to identical digital phones, depending on who was wearing the hearing aid. With such unreliable results, the hearing aid industry began to fear that the proposed matrix could mislead consumers into purchasing hearing aid devices that were supposed to, but did not, work with certain mobile phones.* This triggered the wireless industry's own concerns about the standard's validity, which led to that industry's subsequent refusal to test wireless phones for their placement on the matrix. Specifically, companies were unwilling to make the expenditures for such testing absent a corresponding commitment that the standard would be used by the hearing aid industry.44
Yet a third problem with the pairing scheme was that it could only succeed if consumers were sufficiently educated about its use. This would require consumers to not only learn the ratings for their hearing devices and for the telephones they wished to purchase, but also to become familiar with how to use the matrix when making purchasing decisions. Advocates doubted that telephone retail personnel would have sufficient information to provide purchasers with this type of assistance.45
At a July 2001 meeting of consumers and the wireless and hearing aid industries, consumers revealed their frustrations. They claimed that wireless manufacturers had been less than forthcoming in disclosing the specific steps that they were taking to make technical changes to the internal workings of their phones.46 According to these advocates, no manufacturer or wireless carrier had been willing to provide consumers with even minimal guidance on which of their handsets might work best with hearing aids. Moreover, advocates were irritated with industry's unrelenting attempts to convince consumers to settle for neck-loops and other external devices. In 1998, Nokia had developed a neck-loop that successfully eliminated interference by physically removing the location of the phone from the hearing aid. Although this and other adaptors were useful for some individuals, their small parts often made them difficult to use for senior citizens and others with limitations in manual dexterity, and their wires were often misplaced. In addition, the neck-loops were only beneficial to hearing aid wearers who used telecoils, not necessarily others with hearing loss.
Finally … a Wireless HAC Proceeding
On November 14, 2001, six-and-a-half years after the first wireless HAC petition was filed and thirteen years after passage of the 1988 HAC Act, the FCC finally released proposals tentatively concluding that it would be in the public interest to partially lift the wireless HAC exemption. Rejecting claims by the wireless industry that a rulemaking was still premature, the FCC noted that mobile phones had now become "indispensable communications tools for many Americans," and that the continued denial of digital access would have an adverse effect on people with hearing loss in their quest to live independently and find gainful employment.47
Although virtually all of the wireless industry remained steadfast in its opposition to regulatory action, its responses to this petition were now clearly tempered by the events that had taken place since the 1995 petition had first been filed. For example, companies could no longer argue that lifting the wireless exemption would postpone the deployment of digital technologies; these technologies were now ubiquitous. Nor, as before, could the wireless industry deny the existence of an electromagnetic interference problem for hearing aid users; research had proven otherwise.* And while companies had pushed continued consumer reliance on analog technologies in 1995, recent FCC proposals to phase out analog services had eliminated this as a viable option.48
Perhaps most significantly, many companies now seemed more willing to acknowledge the need for wireless access than ever before—likely because of the greater attention brought to telecommunications access issues by Section 255. For example, in FCC comments responding to the new petition, Matsushita, the corporate parent of Panasonic, boasted of its efforts to adhere to universal design principles to enable all of its customers, regardless of their abilities, to use its consumer electronic products.49 Similarly, TIA stated that it was "in the public interest for all consumers to have access to cellular phones." The association made a point of noting the businesses value of being able to add people with hearing loss to their networks, and of making wireless products easier to use for people temporarily unable to see, hear, or touch their telephones—for example, in noisy places or where hands were needed for other tasks.50 TIA also listed a host of accessibility features that the wireless industry had already developed to facilitate cell phone use: "vibrating alerts, neck loops, earpieces, headphones, speakerphones, phones that coupled with telecoil hearing aids, increased font size on displays, volume control, use of standardized icons, text messaging, voice recognition capabilities, one-button dialing, and auto-dialing."51 While access was incidental to the design purpose of some of these features, others had come about directly as a result of attempts to achieve compliance with Section 255.
Despite these concessions, and even an acknowledgment on the part of some companies of the appropriateness of regulatory action at some point in the future, most of the wireless industry still questioned the technical feasibility of producing a digital wireless telephone that sufficiently reduced interference to hearing aids.52 Companies explained that wireless devices were required to emit radio frequency signals that operated within certain FCC authorized frequencies, in accordance with specific air interface technical standards. They insisted that significant variation from these prescribed boundaries that might be necessary to reduce interference would adversely affect a phone's operations.53
During the three decades during which hearing aid advocates had tried to secure HAC access to wireline and wireless telephones, consumers consistently had been caught in the middle of a feud between the telephone and hearing aid industries. This proceeding proved to be no exception. In the same breath that wireless companies denied responsibility for finding a HAC solution, they continued to insist that the FCC work with the FDA to secure greater cooperation by the hearing aid industry to improve its immunity levels. The hearing aid industry responded that it had done more than its part to shield hearing aid devices during the intervening years, and insisted the wireless industry had failed to meet its commitment to develop handset solutions.54 Consumers, long since tired of this industry sparring, simply wanted the FCC to step in—once and for all—and direct the wireless industry to make its phones accessible.55 Other than the creation of the ANSI measurement standard—which had not yet been fully implemented by either industry, the past six years had shown little visible progress toward voluntarily designed access solutions, with only isolated instances of phones that could be used by hearing aid wearers.56
Notwithstanding their differences, there were a few matters on which consumers and industry were finally able to agree. First, both sides concurred that the Commission's previous HAC definitions, focusing only on telecoil compatibility, were far too restrictive in the digital environment. A "practical and contemporary" HAC definition that considered the extent to which digital phones were "usable" by people with hearing aids and cochlear implants, and which addressed various alternatives for reducing interference and achieving inductive and acoustic coupling, was now appropriate.57
The legislative history of federal HAC legislation supported this flexible approach. Even though inductive coupling had been the only effective HAC solution for wireline phones in 1982, the Telecommunications for the Disabled Act had established Congress's desire not to "entrench this technology, but rather to promote new, compatible technologies that [could] provide improved service to all persons. …"58 Again in 1988, Congress affirmed that the HAC Act's requirement for telephones to be compatible did not "mandate any particular type of technology."59 All parties to the FCC's proceeding agreed that a multifaceted approach, or combination of solutions, would best accommodate variations in hearing loss and wireless technologies, and respond to rapidly occurring technological advances.60
Consumers and industry also agreed on the need for education and outreach to audiologists, industry call centers, and hearing aid users.61 Unfortunately, even those manufacturers whose phones had recently achieved a modicum of access seemed reluctant to publicize the existence of those devices, perhaps fearing that once the FCC realized their technical feasibility, they would be bound to continue manufacturing those models. But consumers sorely needed information on the ways that each digital technology—GSM, CDMA, TDMA, and now iDEN*—interacted with hearing aids, in order to select the phones that were right for them.
Another Long Wait for FCC Action
When more than a year passed without FCC action finalizing its wireless HAC proposals, consumers tried, unsuccessfully, to get the FCC to establish a wireless HAC negotiated rulemaking—a collaborative process like the one that had already been used by the government to reach consensus between consumers and industry on HAC rules for wireline phones. During the spring of 2002, advocates also tried to re-open wireless HAC negotiations directly with the affected industries. But while companies had emphasized the importance of continued collaboration among the various stakeholders in their comments to the FCC, these last-ditch attempts at reconciliation were unsuccessful.62 The idea of new discussions sparked little interest within either the wireless industry or the hearing aid industry, especially with each now believing it had unilaterally done more than its share to improve the usability of hearing aids with wireless devices during the intervening years.63
Out with the Analog … In with the Digital
Nearly two years after the request to reopen the wireless HAC petition had been filed, an FCC resolution of this issue still seemed in the distant and unforeseeable future when, during the summer of 2002, the FCC issued a ruling that would forever change the landscape of wireless communications in America, and finally force the HAC issue to the forefront of the regulators' agenda. In the early 1980s, the Commission had adopted a rule requiring all mobile service carriers to provide service in accordance with analog cellular standards, to promote competition and achieve a seamless nationwide wireless service. By the year 2000, however, the swift deployment of digital wireless services had caused the FCC to reconsider whether this "analog rule" was still needed to ensure the widespread availability of wireless communications. After much deliberation, on August 8, 2002, the FCC concluded that the existence of ubiquitous wireless access no longer justified its analog mandate.64 Rather than fostering competition and innovation, the Commission explained that the rule was now unnecessarily forcing wireless carriers to incur the expense of operating both analog and digital services, thereby impeding the efficient use of spectrum and delaying innovation.
But at the same time that the FCC wished to free the wireless industry of its analog burden, it feared that the immediate termination of these services would be "extremely disruptive" to hearing aid users and "emergency-only" callers who still relied on analog transmissions for their wireless communications.65 In order to balance these competing considerations, the FCC decided to phase out analog services gradually, over five years (by February 18, 2008). During this time, the wireless industry would have to submit periodic progress reports on the availability of digital HAC phones, and if compatible wireless devices were not available at the end of this period, the FCC would extend the analog requirement beyond that deadline. The FCC explained that the failure of market forces to respond to accessibility needs had caused it to reach this decision: "the same economic incentives do not exist that would ensure that persons with hearing disabilities have adequate access to digital wireless service because they account for only a small percentage of mobile telephony users."66
Consumers knew that the threat of having the analog rule extended past the FCC's deadline would put pressure on the wireless industry to expedite efforts to find HAC solutions for digital handsets. However, they remained concerned that without an actual mandate requiring digital access by a certain date, there was no guarantee that the needed access would be in place before analog services completely disappeared. Accordingly, advocates again stepped up their lobbying efforts to convince the FCC to lift the wireless HAC exemption, this time threatening to bring their case to Congress or the courts if the agency continued to refuse to take action.67
Responding to these concerns, at long last, the FCC spent the next year working to complete rules that would finally lift part of the HAC exemption for wireless handsets. On July 10, 2003, thirty years after David Saks first began the quest for full hearing aid compatibility, and more than a decade after consumers first brought problems with digital mobile phones to the FCC's attention—a unanimous Commission approved a schedule of deadlines for certain digital wireless phones to be hearing aid compatible, starting in September, 2005.68 By the time the FCC issued its rules, 125 million Americans, or 88 percent of all wireless customers had become subscribers of digital wireless communications.
The FCC's wireless rules broadened the HAC definition beyond inductive coupling, to include acoustic coupling and mandates for lower levels of interference; indeed, the goal was to reach all six million people in America who used hearing aids, rather than only those who used telecoil-equipped devices. Because the rules applied to only some digital phones, the FCC also encouraged companies to incorporate access in at least one lower-priced phone and one phone with higher end features, as a way of providing consumers with "a variety of technology and feature choices."69 In addition, as was true for telecoil compatibility, compliance could only be achieved with solutions integral to the phone handsets, rather than external adapters.
The FCC's wireless HAC order directed digital telephone manufacturers to use the ANSI standard as a guide for producing phones that would be usable with hearing aids that had certain levels of immunity. In addition, companies were directed to label their phones to aid consumers in their phone selections. Though not within the FCC's jurisdiction, hearing aid manufacturers were also encouraged to provide labeling on the immunity levels of their devices, and to provide written material about the expected performance of those aids when used with digital phones.
Wireless companies are now required to engage in their best efforts to provide compatible phones within forty-eight hours after orders are placed for those phones.* In addition, they are strongly encouraged to conduct outreach on the availability of HAC phones by posting information on Internet sites, training retail staff, and distributing written materials to consumer groups, audiologists, and hearing aid dispensers. Since issuance of the FCC's order, the Commission itself has conducted significant outreach through thousands of media outlets, including publications that are targeted to consumers who are deaf and hard of hearing, wireless companies and hearing aid manufacturers.70
An Incomplete Conclusion
Unfortunately, refusing to retreat from its eight-year push for a market-driven HAC wireless solution, CTIA petitioned the FCC on October 20, 2003, to reconsider the new wireless HAC mandates.71 Even after all this time, the association's president, Thomas Wheeler, charged that the rules would "constrain innovative solutions" and "unnecessarily complicate" cooperative efforts with the hearing aid industry to achieve compatibility."72 Despite this and other industry petitions, a forum of wireless providers and manufacturers, hearing aid companies, audiologists, the FCC's Office of Engineering and Technology, and consumers began meeting regularly under the auspices of the Alliance for Telecommunications Industry Solutions (ATIS)† to achieve compliance with the FCC's initial wireless HAC deadlines shortly after the order's release.
On June 9, 2005, the FCC rejected CTIA's attempts to overturn its new mandates, in a unanimous vote that preserved most of its original order and modified only slightly the number of phones that would need to be compatible.73 Around the same time, negotiations between SHHH and CTIA also produced a commitment by CTIA first, to ensure that both low- and high-end phones would be made compatible and second, to provide consumer information about HAC phones on product displays in wireless phone retail stores. At long last, it appeared that hearing aid users would see accessible digital wireless handsets.
However, the road to wireless HAC implementation has proven to be just as turbulent as the path to the FCC's wireless HAC ruling. During the summer of 2005, industry asked the FCC to relax its requirements for wireless phones that operated in a certain frequency, after research showed that the immunity of microphones in hearing aids had improved over the previous ten years. The industry's effort to change this requirement, which primarily affected users of hearing aids in the microphone mode (those with more moderate degrees of hearing loss), may have diverted its attention from researching compatibility in the telecoil mode, which is key to accessibility for people with more significant degrees of hearing loss.74 As a consequence, by the winter of 2006, although the wireless industry was able to report that more than sixty wireless phones met FCC requirements for acoustic coupling with hearing aids in the microphone mode, it proposed changes to the way that telecoil (inductive) coupling should be assessed under the ANSI C63.19 standard.75 Consumers feared that industry's proposals were simply designed to maximize the number of handsets that would pass the FCC's thresholds for compliance, and that if adopted by the FCC, they could potentially weaken the new hearing aid compatibility mandates for telecoil users. As this book goes to print, new research is being conducted under severe time pressure, to investigate whether industry's proposals, submitted only months before the telecoil mandates are set to go into effect, are merited. In addition, recent concerns about hearing aid interference created by a new generation of cordless wireline phones (operating at 5.8 GHz) has prompted new testing by the industry and researchers at Gallaudet University. As a consequence, the battle for hearing aid compatibility—one of the longest, and perhaps most intense battles for telecommunications access fought in this country—remains without final resolution.
Chart 14.1
Hearing Aid Compatibility Rules for Wireless Telephones
47 C.F.R. §20.19
All access to be integral to the digital wireless handsets (years determined from effective date of rules):
•2 years (by September 16, 2005): Each digital phone manufacturer and carrier must make available 2 handset models with reduced RF emissions for each air interface (CDMA, TDMA, GSM, iDEN): to achieve acoustic coupling without interference
•2 years (by September 16, 2005): Each of the 5 largest digital wireless carriers (Verizon, T-Mobile, Cingular, Sprint, Nextel) must make available, per air interface, either 4 handset models with reduced RF emissions or 25% of the total number of its handset models
•3 years (by September 16, 2006): Each of the 5 largest digital wireless carriers must make available, per air interface, either 5 handset models with reduced RF emissions or 25% of the total number of its handset models
•3 years (by September 16, 2006): Each digital manufacturer and carrier must provide 2 handset models with telecoil coupling for each air interface: to achieve inductive coupling.
•5 years (by February 18, 2008): 50% of all digital phones must have reduced RF emissions for acoustic coupling.
•After 2008, the FCC may require 100% acoustic coupling, depending on information received through industry reports over the years.
De Minimis Exemptions
•Digital manufacturers, carriers or service providers that offer 2 or fewer digital wireless handset models (applicable on a per air interface basis) are exempt. (As this book goes to print, the FCC is considering narrowing this exemption to only 1 digital wireless handset model per air interface.)
•Digital manufacturers or carriers that offer 3 digital wireless handset models must make 1 compliant model within 2 years.
Labeling:
•Conspicuous labeling of interference rating must appear on outside of phone box.
•Detailed information on ASNI rating system must be put in a product manual.
•The FCC encourages hearing aid labeling on immunity levels by hearing aid manufacturers.
In-Store Testing: All retail stores owned or operated by wireless service providers or carriers must allow live, in-store consumer testing of their wireless phones. (The FCC is considering whether to extend this requirement to retail outlets not owned or operated by wireless service providers or carriers.)
Reporting requirements: Wireless industry must regularly report on testing, outreach activities, availability of compliant models, standards setting activities, and the feasibility of reaching 100% compatibility after 5 years.
Notes
1. 47 U.S.C. §610(b)(2)(A), implemented at 47 C.F.R. §68.4(a); H. Rep. No. 674, 100th Cong., 2d Sess. 9 (1988).
2. 47 U.S.C. §610(b)(2)(C); 47 C.F.R. §68.4(a)(4).
3. Access to Telecommunications Equipment and Services by the Hearing Impaired and Other Disabled Persons, First Report and Order, CC Dkt. 87-124, FCC 89-137, 4 FCC Rcd 4596, 4600 (May 11, 1989), 27. The Commission had denied a request by NCLD to review these exemptions every two years, insisting there would be no purpose in conducting such reviews unless they were warranted by changes in technology.
4. See Amendment of the Commission's Rules to Establish New Personal Communications Services, Notice of Proposed Rulemaking and Tentative Decision, GEN Dkt. 90-314, ET Dkt. 92-100, FCC 92-333 (August 14, 1992). Hereinafter cited as PSC Tentative Decision.
5. Joint Reply Comments of NCLD, TDI, WID, SHHH, and ASHA in GEN Dkt. 90-314, ET Dkt. 92-100 (January 8, 1993), 6.
6. PCS Tentative Decision, ¶164. The Commission said, "to facilitate the development and implementation of these services as quickly as possible, we are proposing a flexible regulatory approach with as few restrictions as possible." It feared that the comparative hearings requested by mainstream and disability consumer groups would be slower than competitive bidding for licenses.
7. Implementation of Section 309(j) of the Communications Act—Competitive Bidding, Fifth Report and Order, PP Dkt. 93-253, FCC 94-178, 9 FCC Rcd 5532 (July 15, 1994), 59 Fed. Reg. 37566 (July 22, 1994), amending 47 C.F.R. Part 24. Hereinafter cited as PCS Fifth Report and Order. The previous August, Congress enacted a law to expressly grant the FCC authority to auction digital licenses. 47 U.S.C 309(j)); See also Amendment of the Commission's Rules to Establish New Personal Communications Services, Memorandum Opinion and Order, GEN Dkt. 90-314, 9 FCC Rcd 4957 (1994).
8. PCS Fifth Report and Order, ¶1.
9. See Donna Sorkin, letter to FCC Chairman Reed Hundt urging the FCC to ensure the compatibility of digital wireless services before their American deployment, February 13, 1995.
10. See, for example, Michael Ruger, Baker & Hostetler (law firm representing this council), letter to the author, NCLD, January 24, 1995; see also "Group Fears Hearing Aid 'Buzz' from GSM Phones," Telecommunications Reports Daily, June 2, 1995.
11. HEAR-IT NOW Coalition, Section 68.4 of the Commission's Rules, Hearing Aid-Compatible Telephones, Petition for Rulemaking, RM 8658 (June 5, 1995).
12. Thomas Wheeler, president of CTIA, mass mailing to reporters, July 10, 1995; see also Comments of Ericsson Corporation in RM 8658 (July 17, 1995), 2; Comments of Personal Communications Industry Association (PCIA) in RM 8658 (July 17, 1995) (charging that the petition was filed in a "counterproductive, transparently anticompetitive and divisive manner"), 2.
13. Comments of American Personal Communications (APC), 2. See also Comments of CTIA, 27; See generally Comments of BellSouth, 4; Comments of PCIA, 2–3 (all filed on July 17, 1995 in RM 8658).
14. Comments of TIA, 2; Comments of USTA, 2; Comments of Nokia Mobile Phones, Inc., 2, which stated that "unprecedented cooperative efforts" were being undertaken to resolve the problem, (all filed on July 17, 1995 in RM 8658.)
15. Comments of CTIA in RM 8658 (July 17, 1995), 23; Comments of APC in RM 8658 (July 17, 1995), 3–4. (PCS 1900 operates at one-eighth the power level and at a different frequency band than the GSM technology studied in Europe.)
16. Comments of PCIA, 2, 3; Comments of Siemens Stromberg-Carlson, 1; Comments of APC, 7; Comments of GSM MoU Association, 5 (all filed on July 17, 1995 in RM 8658).
17. Reply Comments of HEAR-IT NOW Coalition in RM 8658 (August 1, 1995), 11.
18. See Comments of BellSouth, 8; Comments of CTIA, 16 (both filed on July 17, 1995 in RM 8658).
19. See Comments of CTIA in RM 8658 (July 17, 1995), 16, which contained this suggestion.
20. Brenda Battat, SHHH, letter to Thomas E. Wheeler, July 13, 1995.
21. Chairman Reed E. Hundt, remarks at a VIP luncheon of Phillips Business Information, Inc., (August 25, 1995), 1.
22. Thomas Wheeler, memorandum to CTIA's Board of Directors, Joint Review Committee, and PCS Licensees, October 2, 1995.
23. Senators Daniel Inouye, Tom Daschle, and Ernest Hollings, letter to FCC Chairman Reed Hundt, November 2, 1995. See also "Democratic Sens. Daschle (S.D.), Hollings," Communications Daily, November 8, 1995, 5.
24. AT&T, CTIA, Northern Telecom, PCS 1900 Group, PCIA, Omnipoint Communications, letter to Richard M. Smith, chief, FCC Office of Engineering and Technology, October 16, 1995.
25. The steering committee that facilitated the conference included Donna Sorkin of SHHH, Susan Coffman of AG Bell, David Woodbury of HIA, Carol Flexer of the American Academy of Audiology, Mark Golden of PCIA, Charles Spann and Gary Jones of the PCS 1900 Group, Elizabeth Maxfield of CTIA, and Pam Ransom of Issues Dynamics.
26. Hill and Knowlton, "Public Relations Program on Hearing Aid Compatibility," submitted to PCS 1900 Group (December 19, 1995).
27. San Diego Mayor Susan Golding, letter to FCC Chairman Hundt, February 28, 1996.
28. FCC Chairman Reed Hundt, letter to the Honorable Susan Golding, March 15, 1996, citing Section 704 of the Communications Act, codified at 47 U.S.C. §332(c)(7)(B).
29. Ibid., 7.
30. Pacific Bell, "Pacific Bell and Ericsson Announce Prototype Solutions Enabling Hearing Aid Wearers to Use Digital Phones," press release, February 21, 1996; Pacific Bell, "Pacific Bell Details Plan for Resolving Interference from Wireless Digital Phones," press release, March 15, 1996. Pac-Bell outlined prototypes developed by Ericsson to modify their wireless phones, including having antennas direct the source of interference away from the ear and incorporating special circuitry into the handset. These were to be tested at the upcoming Republican convention. See also, Erik Millstone, "SHHH Attendees Nonplused by Digital—Hearing-Impaired Try Out Pacific Bell, Ericsson Phone," Wireless Week (July 1, 1996). Elizabeth Douglas, "Phone Interference Issue is Back," San Diego Union-Tribune, March 19, 1996, business section, 2.
31. ANSI C63.19, "American National Standard for Methods of Measurement of Compatibility Between Wireless Communication Devices and Hearing Aids." The American National Standards Institute (ANSI) committee overseeing its approval was the Standards Committee 63 on Electromagnetic Compatibility.
32. Individuals comprising this policy group at various points in time included Donna Sorkin and Brenda Battat of SHHH, Susan Coffman of AG Bell, Betsy Bayha of the World Institute on Disability, Carol Flexer and Alfonso Fuller of the American Academy of Audiology, David Woodbury and Carol Rogin of HIA, Mark Golden and Robert Hoggarth of PCIA, Gary Jones, Chris Wallace, and Charles Spann of PCS 1900, Andrea Williams, Elizabeth Maxfield, Mike Altschul, and JoAnne Basile of CTIA. I joined these negotiations in March of 1996 on behalf of the NAD. Teresa Baer, an attorney with Latham and Watkins, represented the industry interests, and Pam Ransom of Issues Dynamics mediated our discussions. Liaisons at the FCC included Elizabeth Lyle and Stan Wiggins of the Wireless Bureau and Meryl Icove of the Disabilities Issues Task Force.
33. Hundt cautioned that if this compromise was not reached, the FCC "may decide to impose our own solutions … I don't have all the time in the world." Albert R. Karr and Gautam Naik, "Digital Phones Cause Problems in Hearing Aids," Wall Street Journal, March 12, 1996, B1, B6.
34. Pamela J. Ransom, summit facilitator, Report of the Steering Committee of the Hearing Aid Compatibility and Accessibility to Digital Wireless Telecommunications Summit Meeting, to FCC Chairman Reed Hundt, May 16, 1996.
35. CTIA, PCIA, and PCS 1900 Group, "Digital Wireless Industry Action Plan on Hearing Aid Interference and Accessibility" (November 15, 1996).
36. JoAnne Basile, Mark Golden, and Gary Jones, on behalf of CTIA, PCIA, and the PCS 1900 Group, respectively, letter to Susan Coffman and Brenda Battat, April 22, 1997.
37. P.L. 104-104, 110 Stat. 56, codified at 47 U.S.C. § 255 (1996).
38. Comments of SHHH on Request to Reopen the Petition for Rulemaking, 5 (undated). See n. 41 infra.
39. This information was conveyed to the author during a meeting held with the advocates in Washington, D.C., on September 22, 2000. Consumer participants at the meeting included Jackie Brand, John Darby, Patricia Yeager, Larry Eng, and Dale Young.
40. Pat Yaeger, e-mail, "Action before October 7: Hearing Aids and Digital Telephones Importance: High," to suppressed recipient list, September 26, 2000.
41. Wireless Access Coalition, Request to Reopen the Petition for Rulemaking, RM 8658 (October 7, 2000). The request was prepared by Brenda Battat, and submitted on behalf of SHHH, the Alliance for Technology Access, AG Bell, the Hearing Society of the Bay Area, the California Foundation for Independent Living Centers, Golden Gate Hearing Services, and Hearing Impaired Professionals.
42. Comments of ANSI Accredited Standards Committee 63 in Dkt. WT 01-309, RM 8658 (December 18, 2000), 3. These efforts were mostly focused on designing measurement methods and estimating usability levels for the matrix.
43. Andrea Williams, CTIA, summary, Hearing Aid and Digital Wireless Phones Compatibility meeting, Washington, D.C., July 2, 2001.
44. Jeffrey Silva, "Wireless Distances Itself from Hearing-Aid Compatibility Standard," RCR Wireless (April 7, 2003), 12.
45. Comments of Cochlear Americas (January 10, 2002), 5.
46. Attendees of the "Hearing Aid and Digital Wireless Phones Compatibility" meeting were Donna Sorkin and John Flanders of AG Bell, Beth Wilson and Tim Creagan of SHHH, Linda Kozma-Spytek of Gallaudet University, Ron Barnes and Andrea Williams of CTIA, Steve Berger of ANSI C63.19 Working Group, David Woodbury of HIA, and Pam Ransom of Common Ground Solutions.
47. Section 68.4(a) of the Commission's Rules Governing Hearing Aid-Compatible Telephones, Notice of Proposed Rulemaking, WT Dkt. 01-309, RM 8658, FCC 01-320, 16 FCC Rcd 20558 (November 14, 2001), ¶15, citing Implementation of Section 6002(b) of the Omnibus Budget Reconciliation Act of 1993; Annual Report and Analysis of Competitive Market Conditions with Respect to Commercial Mobile Services, Sixth Report, FCC 01-192, 16 FCC Rcd 13350 (2001).
48. Year 2000 Biennial Regulatory Review—Amendment of Part 22 of the Commission's Rules to Modify or Eliminate Outdated Rules Affecting the Cellular Radiotelephone Service and other Commercial Mobile Radio Services, Notice of Proposed Rulemaking, WT Dkt. 01-108, FCC 01-153, 16 FCC Rcd 11169 (May 17, 2001). This proceeding was conducted as part of the Commission's obligation to periodically conduct a review of all of its telecommunications rules to see whether they were still in the public interest.
49. Comments of Matsushita in WT Dkt. 01-309, RM 8658 (January 11, 2002), 2–3; See also Comments of CTIA in WT Dkt. 01-309, RM 8658 (January 11, 2002), 1.
50. Comments of TIA in WT Dkt. 01-309, RM 8658 (January 11, 2002), 2.
51. Ibid., 3.
52. See Comments of Cingular Wireless in WT Dkt. 01-309, RM 8658 (January 11, 2002).
53. Comments of Sprint PCS, 1, 8, 11; Comments of CTIA, 2, 10–13; Comments of AT&T Wireless, 3–4 (all filed on January 11, 2002 in Dkt. WT 01-309, RM 8658).
54. Comments of HIA in Dkt. WT 01-309, RM 8658 (January 11, 2002), 1.
55. See separately filed Comments of TDI, SHHH, Rehabilitation Engineering Research Center on Telecommunications Access (RERC-TA), Cochlear Americas, CAN, AG Bell, NAD, COR (all filed on or around January 11, 2002, in Dkt. WT 01-309, RM 8658).
56. The RERC-TA noted that some measure of accessibility in these phones may have been due to their use of flip-up covers. These covers helped block the antenna (emanating RF emissions), and distanced the antenna and handset circuitry from the hearing aid. Comments of RERC-TA in Dkt. WT 01-309, RM 8658 (January 11, 2002), 17–18.
57. See separately filed Comments of CTIA, 14; Sprint PCS, 3; RERC-TA, 23, AG Bell, 13–14; Association of Access Engineering Specialists (AAES), 19 (all filed on January 11, 2002 in Dkt. WT 01-309, RM 8658).
58. H. Rep. No. 888, 97th Cong, 2d Sess. 6 (1982). Elsewhere, the House committee explained that it chose not to specify a specific telephone design such as inductive coupling and that the Commission could "expeditiously accept any new design which is compatible with existing technologies that provides results which are equivalent or superior to these." H. Rep. No. 888, 11.
59. H. Rep. No. 674, 100th Cong., 2d Sess. 8 (1988).
60. For example, several commenters suggested that a new generation of "Bluetooth" technologies could use wireless connections to link hearing aids to digital handsets. See Comments of TIA in Dkt. WT 01-309, RM 8658 (January 11, 2002), 22–23.
61. See Comments of CTIA, 24; AG Bell, 14; RERC-TA, 30; Cingular, 10; AAES, 15 (all filed January 11, 2002, in WT Dkt. 01-309, RM 8658). Noting its own lack of expertise with hearing loss, Sprint stated, "other than trial and error and word of mouth, there is no readily available information that hearing aid users can consult in order to determine which handsets might work best for them." Comments of Sprint PCS (January 11, 2002), 14, 19.
62. Several commenters had proposed a consumer-industry forum for this purpose. See Comments of Matsushita, 9–10; RERC-TA, 28; Sprint PCS, 21 (all filed January 11, 2002, in WT Dkt. 01-309, RM 8658). Pointing to the work of the Australian Communications Authority, Sprint also insisted that the global nature of the compatibility issue and the progress made in other nations demanded coordination with regulators in other nations.
63. Between 1997 and 2002, the hearing aid industry did, in fact, improve its product "immunity to interference" by over 30 dB, according to Tom Victorian of Starkey Laboratories. Tom Victorian, "Hearing Aid Compatibility: Technical Update," AudiologyOnline(December 6, 2004), http://www.audiologyonline.com/articles/arc_disp.asp?id=1263.
64. Year 2000 Biennial Regulatory Review—Amendment of Part 22 of the Commission's Rules to Modify or Eliminate Outdated Rules Affecting the Cellular Radiotelephone Service and other Commercial Mobile Radio Services, Report and Order, Dkt. 01-108, 17 FCC Rcd 18401 (September 24, 2002). Order on Reconsideration, FCC 04-22 (February 12, 2004) (five-year sunset period for analog rule affirmed), codified at 47 C.F.R. §68.4.
65. Ibid., ¶8. In addition, many rural communities still depended on analog wireless services.
66. Ibid., ¶28, citing Reply Comments of the NAD.
67. Jeffrey Silva, "Hearing Impaired Community Seeks Stronger Stance on Compatibility Issue," RCR Wireless, October 21, 2002, 4: "The FCC, which has resisted imposing the hearing-aid compatibility requirement on wireless carriers and has waited for an elusive market solution in the seven years since the issue jumped on the agency's radar screen, is under heavy pressure from disability organizations to take the next step." See also Jeffrey Silva, "Disabilities Groups to Push Industry on Access Problems," RCR Wireless, March 24, 2003, 3.
68. Section 68.4 (a) of the Commission's Rules Governing Hearing Aid-Compatible Telephones, Report and Order, WT Dkt. 01-309, FCC 03-168, 18 FCC Rcd 16753, (August 14, 2003), erratum, 18 FCC Rcd 18047 (2003), codified at 47 C.F.R. §20.19. FCC employees assisting on this issue included Mindy Littell, Pat Forster, Jerry Stanshine, Pam Gregory, Blaise Scinto, Kris Monteith, Janet Sievert, Michele Farqhuar, Karen Brinkman, Ruth Milkman, Elizabeth Lyle, Greg Guice, Julie Knapp, Martin Perrine, and Joel Taubenblatt.
69. Ibid., ¶70.
70. See FCC Acts to Promote Accessibility of Digital Wireless Phones to Individuals with Hearing Disabilities, FCC News Release (July 10, 2003); Kathleen Q. Abernathy, "How the FCC Helps You Find a Wireless Phone that Works with Your Hearing Aid," Hearing Loss (SHHH publication) (November/December 2003): 12–14.
71. CTIA Petition for Reconsideration and Clarification (October 16, 2003). Although other petitions for partial reconsideration were filed by various parties, including a coalition of TDMA Carriers and the Rural Telecommunications Group, Verizon Wireless, and Research in Motion, these were on more narrow issues.
72. Yuki Noguchi, "Hearing Aids Require New Cell Phones," Washington Post, July 11, 2003, E5. See also Jeffrey Silva, "FCC Requires 50% of Phones be Hearing-Aid Compatible," RCR Wireless, July 14, 2003, 1. CTIA's petition claimed that industry should not be expected to rely on the ANSI standard to measure reduced emissions required by the rules because the standard needed additional testing. As so many times before, CTIA complained that, unlike the European and Australian governments, the FCC had failed to give sufficient consideration to requiring increased hearing aid immunity as an alternative to phone regulation.
73. Section 68.4(a) of the Commission's Rules Governing Hearing Aid-Compatible Telephones, Order on Reconsideration and Further Notice of Proposed Rulemaking, WT Dkt. 01-309, FCC 05-122, 18 FCC Rcd 11208 (June 21, 2005). The FCC's original mandate had required each Tier 1 carrier to reduce emissions on at least two handset models or 25 percent of its total number of handsets, whichever was greater. The reconsideration order now gave these carriers the option of providing reduced emissions on a fixed number of phones (four by September 16, 2005 and five by September 16, 2006) or 25 percent of their phones, so that these providers would have more certainty, and not be required to modify their number of accessible phones every time they added new products. In addition, the Commission gave carriers who are replacing TDMA networks with a different technology until September 18, 2006, to complete those transitions, and indicated these carriers would be in compliance so long as they provided HAC phones that were capable of receiving service from the new interface replacing their TDMA network.
74. Industry's problem was with achieving compatibility in the 850 MHz band, in dual-band GSM wireless handsets that could operate in either the 850 or 1900 MHz band. On September 8, 2005, the FCC issued a ruling allowing companies that offered handsets capable of operating in both the 850 and 1900 MHz bands to meet the HAC compliance rating for 1900 MHz operation until August 1, 2006. Section 68.4 (a) of the Commission's Rules Governing Hearing Aid-Compatible Telephones; Cingular Wireless LLC Petition for Waiver of Section 20.19 (c)(3)(i)(A) of the Commission's Rules, Memorandum Opinion and Order, WT Dkt. 01-309, FCC 05-166 (September 8, 2005).
75. ATIS, "ATIS Files Hearing Aid Compatibility Status Report on Behalf of Industry," news release, November 21, 2005 (reporting on the many handsets capable of working with hearing aids in the microphone mode).
Epigraph. FCC Chairman Reed Hundt, Hearing Aid Compatibility and Accessibility to Digital Wireless Telecommunications Summit Meeting (Opening Remarks, Washington, D.C., January 3, 1996).
* An increasing number of children and adults now receiving cochlear implants needed access to the latest telecommunications technologies.
* CTIA has since changed its name to the Cellular Telecommunications and Internet Association.
* Two external devices for wireless use were the Hearing Aid Telephone Interconnect System (HATIS), which fit behind the ear, and when plugged into the headphone jack of wireless phones provided inductive coupling with a telecoil-equipped hearing aid, and JABRA, which used an ear mold fitted into the ear canal and plugged into the headphone jack to amplify the phone volume. The former was intended for moderate to severe hearing loss, the latter for mild to moderate loss.
† Though hearing aids then had an average life expectancy of five years, consumers often held on to their aids for much longer. In addition, new advances in sophisticated digital hearing aid technologies were enabling more hearing aid users to have their devices adjusted, rather than replaced, as their hearing needs changed over time.
* Although there is no confirmation that the public relations proposal was ever accepted by the wireless industry, all press releases regarding the summit did need to be approved by the joint industry-consumer steering committee, so that the group could present a unified voice to the public.
† Hundt also noted that he had personally delivered the eight-billion check referenced in his earlier speech to a very grateful president and vice president of the United States.
* During the summer of 1996, to encourage collaboration, SHHH even presented an award to PacBell and Ericsson for their work on attempting to make GSM phones accessible to people who were hard of hearing.
† One working group was devoted to achieving telecoil coupling with wireless devices, the second to short-term solutions for user and bystander interference, and the third to long-term solutions for user and bystander interference. In addition to the studies being conducted by the University of Oklahoma, Mead C. Killion of Etymotic Research, and Harry Levitt and Judy Harkins of the RERC on Telecommunications Access at Gallaudet University conducted extensive testing on the interference caused by wireless devices.
‡ The studies revealed fewer problems with bystander interference. At this time, two of the three wireless technologies were ready for deployment in the United States: GSM and TDMA (Time Division Multiple Access).
* Even during such an interim period, however, consumers wanted industry to ensure that a full range of phones were accessible, so that they would not be limited to only the most costly, feature-rich phones, or the most basic, low-end handsets.
† Because consumers did not want hearing aid users to be saddled with the heavy costs of having to replace their hearing aids, they also recommended the establishment of a wireless industry fund to replace and retrofit these aids. This idea was promptly rejected by the wireless industry.
* Consumers and industry could not even agree on the extent to which various phone components—for example, the earphone, microphone, and transceiver—comprised the internal workings of a handset for the purposes of defining a rule that required accessibility to be built into, and not external to, wireless handsets.
* The flip side of this was that even if a telephone match with a particular hearing aid could be found, the hearing aid in question still might not be the one best suited for that individual. Hearing aid selection hinged on multiple factors, not only wireless digital phone use.
* Wireless companies also could no longer blame efforts to secure HAC access on anti-competitive motives because there were no industry interests supporting the Wireless Access Coalition's request.
* iDEN is a type of TDMA network technology that is proprietary to Motorola.
* Although hearing aid manufacturers do not fall within the rules' jurisdiction, they have voluntarily committed to allowing a thirty-day trial period for hearing aids and to provide a full refund if the aids do not meet the user's telecommunications needs.
† ATIS's mission is to assist in coordinating standards, guidelines, and operating procedures for telecommunications products and services.