Full and Equal Television Access
Obviously, deaf people can still dream of what is yet to come. Tomorrow, if and when the problems … are overcome to the point where speech can accurately and conveniently be converted to print, captioned television will be a complete reality. … It will happen; and when it does, the doors of communication will be opened wider than ever, bringing a new dimension to the lives of hearing impaired people.
—Malcolm J. Norwood,
"Captioning for Deaf People: An Historic Overview"
CAPTIONING WAS in full swing by the time that the Decoder Circuitry Act of 1990 became effective in July 1993. Nearly 100 percent of all prime-time, national news, and children's programming on ABC, NBC, CBS, and PBS, and most prime-time programming on Fox contained captions, as did more than 900 hours of major sporting events each year, 400 music videos, and thousands of commercials and home video movies.1 The U.S. House of Representatives had seen its first captioned congressional proceeding, and the Senate had approved a one million dollar appropriation to fund captioning of its own televised floor proceedings.2 Even candidates for the presidency and vice presidency of the United States were now required to caption their television advertisements in order to receive money from the Presidential Election Campaign Fund.3 In addition, the Cable Television Consumer Protection and Competition Act of 1992 had become law, requiring all cable operators to pass through, intact, all line 21 closed captioning data coming from local broadcast programs.4
But despite all of these successes, the percentage of basic cable television shows with captions remained abysmally low, still hovering around 5 to 10 percent. It was becoming increasingly clear that the Decoder Act's promises of larger audiences had not succeeded in motivating cable programmers to caption their programs, and that if consumers wanted full television access, they would have to get it in a different way. Fortunately, right around this time, Congress began contemplating an overhaul of the nation's telecommunications policies to encourage greater competition in the telecommunications, information, and cable service industries. The new telecommunications reform proposals were intended to facilitate and guide the entry of each of these businesses into one another's fields.5 We grabbed the opportunity to make captioning part of the legislative equation: if the telephone companies wanted the right to compete with cable companies, advocates wanted Congress to condition that right on fulfilling certain captioning obligations.
A New Legislative Endeavor
Deaf and hard of hearing community advocates spent much of 1993 drafting the new captioning proposals.* Although very early drafts focused on creating an accessibility fund to support both captioning and research to make sure that technological advancements did not hinder the delivery of captions, over time, consumers vetoed the establishment of a separate pot of money for this purpose.† Advocates had once before rejected a separate corporation for interstate relay telephone services to prevent those services from being treated differently from telephone services available to the general public. Similarly, consumers now wanted captioning to become a routine part of television production processes. Imposing captioning obligations directly on the television industry would be consistent with the civil rights model of telecommunications access that we had come to adopt: like telephone access, the provision of captioning was a right, not merely a privilege that could be funded by "special," charitable sources, and revoked when that funding fell short.
It was these same principles of equal access that, a few months into our drafting, prompted us to propose extending the captioning mandates to the entire cable industry, rather than only those telephone companies trying to enter that industry. Our early drafts also included requirements for "video description," a technology that inserts narrative verbal descriptions into the natural pauses of television programs to enhance television accessibility for blind and visually impaired persons.6
On November 22, 1993, Congressmen Edward Markey (D-Mass.) and Jack Fields (R-Tex.) introduced H.R. 3636, the National Communications Competition and Information Infrastructure Act, proposing to repeal various prohibitions left over from the break up of AT&T, which were still preventing the regional bell telephone companies from entering certain businesses. The telephone companies had already approached the disability community about incorporating statutory provisions requiring the accessibility of their products and services into this bill, in exchange for the community's support to lift these decade-old restrictions.7 We wondered whether we could also convince the companies to lend their support to our captioning proposals.
During the weeks that followed, we made our pitch to the companies, showering them with materials that portrayed captioning as a service and a business that could reach nearly 100 million Americans.8 We showed how Zenith had just recently had a banner year in the sale of their decoder-ready sets, and how captioning had already proven itself to be an economically feasible service. At the time, television captioning costs—approximately three million dollars per network—were shared, one-third by the networks, and the remainder by the Department of Education, advertisers, foundations, and producers. If our captioning mandates were enacted, the increase in captioning competition—already there were approximately fifty-seven providers—would undoubtedly bring these costs down further.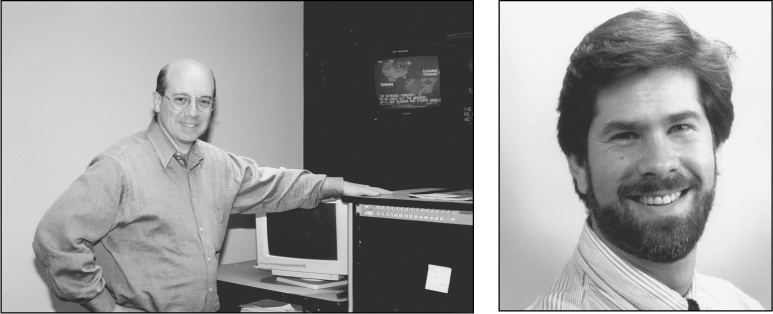 Jeff Hutchins, formerly of CaptionAmerica (VITAC) (left) and Larry R. Goldberg of The Caption Center (right) were early pioneers in the efforts to secure legislation to expand closed caption programming.
While supportive, the telephone companies felt that it was inequitable to impose captioning obligations on cable providers only. They sought "regulatory parity," legislative treatment that would apply consistently to all television providers, including broadcasters. Consumers were in full support of extending the captioning mandates to as many kinds of providers as possible, and quickly modified the language to win the full backing of the telephone companies.
On January 11, 1994, advocates Sy DuBow, Harvey Goodstein, Mark Goldfarb and I headed up to the House Telecommunications and Finance Subcommittee to present the case for the new mandates.9 Almost as soon as legislative aide Colin Crowell brought us to the meeting room, we noticed the captions scrolling across the House proceedings being broadcast on a television set perched in a corner of the ceiling. When, midway through the meeting, Congressman Markey—chairman of the subcommittee and a long-time champion of telecommunications access—poked his head in to say hello, we brought this to his attention. We needed for the congressman to see for himself how real-time captions were allowing his staff to go about their daily affairs while keeping abreast of the House floor debates. As Markey redirected his gaze to the screen, we noticed a look of understanding come across his eyes. On the spot, he pledged his support for our cause, and directed his aides to work out a captioning amendment for his telecommunications bill. His oral commitment on that day proved to be a critical turning point in our consumer efforts to make television fully accessible.
The House subcommittee held its hearings on H.R. 3636 a month later (on February 8, 1994). When Paul Schroeder of the American Council of the Blind, testifying generally for the bill's accessibility provisions, included a formal request for our captioning proposals to be added to the telecommunications bill, it appeared to advocates that his request was well received.10 Unfortunately, after the hearings, the proposals began to meet with resistance by conservative legislators who feared the cable industry's reaction. We doubled our efforts to convince Markey's aides to quickly incorporate our language.
During the second week of February, we were successful in securing an oral commitment from House legislative aides Gerry Waldron and Mike Regan to amend the bill to include captioning provisions before the House subcommittee completed its mark-up on February 23, 1994. But exactly what form this amendment would take remained unclear. In the days ahead, we tried, but failed, to find out just how much of our captioning draft would make its way into the House proposals. When our letters and calls to the subcommittee spilled into the next week without answer, we grew increasingly alarmed that our proposals might never see the light of day. Even a joint appeal to the subcommittee from all of the state association presidents of the NAD did little good.11 When we learned from Philip Bravin and Kim Dorgan of the National Captioning Institute (NCI) that some of the legislators had become intractable in their opposition to the bill, we began to fear that we would have the formidable, and potentially impossible task of getting the captioning changes made through a floor amendment.
By February 20, 1994, we still had not received confirmation that our specific captioning language would be incorporated in the House bill. To ignite a community response, deaf advocate Harvey Goodstein posted an alert on his Telephone for All electronic mailing list:
IT IS URGENT, URGENT, URGENT THAT ALL OF YOU FROM ALL OVER THE COUNTRY FAX OR CALL THE FOLLOWING CONGRESSMAN OR STAFF REGARDING TWO INFORMATION SUPERHIGHWAY BILLS … THE COMMITTEES WILL VOTE ON THESE TWO BILLS AS EARLY AS THIS WEDNESDAY, FEBRUARY 23. OUR STRONG INTEREST IN THESE BILLS IS IN REGARD TO ACCESS TO TELEPHONE AND CABLE TV SERVICES FOR INDIVIDUALS WITH DISABILITIES. … PLEASE SHARE WITH OTHER INDIVIDUALS AND ORGANIZATIONS AND HAVE THEM FAX OR CALL TOO!
Few could have predicted the impact that Goodstein's message would have or the response that it would engender. Within hours, deaf consumers from all over the nation bombarded House subcommittee staff with urgent pleas for the captioning amendments, causing fax machines to run out of paper, and phones to ring off the hook. To reinforce these efforts, on February 21, 1994, with only two days remaining before the markup, Dorgan and I sent final pleas to the legislative aides.12 As a contingency plan, we proposed that Markey at least make a statement at the subcommittee's mark-up that publicly renewed his commitment to captioning mandates, to give us more time to work with both the House and Senate chambers on mutually acceptable language.13
It was not clear whether it was the hundreds of faxes, letters, and calls that poured in as a result of Goodstein's action alert, or whether it was the dogged persistence of those of us pursuing more than an oral commitment from the legislative aides, but on the afternoon of February 21, 1994, I finally received a call from House aides, informing us that they were ready to add captioning language to H.R. 3636. There was only one hitch: they first wanted us to quickly "streamline" the language so that it could be shared with the cable industry.
I immediately began re-drafting the amendment that we had spent nearly nine months refining, working late into the night with subcommittee staff to slash three pages of single-spaced text into a statutory clause that filled less than a page. Although the subcommittee agreed to extend the captioning mandates to all television program distributors—including cable providers, broadcasters, and satellite companies—it resisted legislating specific deadlines for the captioning obligations. Rather, House staff insisted on shifting this responsibility to the FCC, a request that left us feeling uncomfortable. As a fall-back, we convinced the legislative aides to leave in language directing the Commission to ensure "fully accessible" programming. The new draft also more clearly defined the limited circumstances under which video programming providers could be relieved of their captioning obligations. Specifically, these companies would be able to petition the FCC for relief only if they could prove that the mandates would impose an undue burden on their businesses.14
On February 22, 1994, I faxed the new language to consumer leaders, telephone companies and the cable industry, and called an emergency meeting of disability advocates to go over the new provisions before the mark-up, still scheduled for the next day. A last minute delay postponed the mark-up for another week, and to our surprise and delight, a day before the mark-up was to take place, the subcommittee agreed to incorporate our revised captioning language—nearly verbatim—into the Markey/Fields bill, without even waiting to hear back from the cable or telephone companies.
Our exhilaration at these recent events was tempered a few days later when we met for the first time with the National Cable Television Association (NCTA), the motion picture industry, and independent television networks.* It was then that we learned of the industry's interest in exempting all local programming as well as programming published before the issuance of the FCC's rules. The latter was based on concerns about having to caption huge inventories of re-runs and old movies. Our meeting ended without resolution, but with an industry promise to deliver a counterproposal.
On March 14, while waiting for the industry's response, we received a most unusual document, delivered by fax to NCLD's offices. Originally sent to Frank Bowe by one of his industry connections, this turned out to be an unfinished draft of the cable industry's alternative proposal for captioning mandates. As excited as were to get this inside information, we were deeply distressed by its contents. In addition to the exemptions proposed by industry during our initial meeting, the draft contained exclusions for all new networks, programming shown by small broadcasters and cable operators that received a relatively small audience share, and any programming considered "unreasonable, unnecessary or unsuitable" for captioning. The latter was broadly defined to include locally produced programming, programming produced or distributed by nonprofit entities, video games, music videos, commercials, promotional and other nonprogram-related materials, programming on public, educational, government, or leased access channels, and programming distributed in languages other than English. We knew that if adopted by Congress, this counterproposal would crush our efforts to achieve full television access. The official counteroffer that we received later that afternoon looked much the same.*
Matters worsened later that day, when legislative aides informed us that the industry's counteroffer would be introduced as an amendment by one of the ranking Republican members of the committee, Congressman Carlos Moorhead (R-Calif.). Moorhead's involvement had been prompted by the Media Institute, a conservative group working with the motion picture industry that was dedicated to promoting corporate speech.15 The Institute claimed that the captioning mandates would force networks to provide a particular type of "speech" in violation of the Constitution's First Amendment freedoms. Their opposition to our draft also explained an unusual letter that we received around the same time from another member of the House committee, Congressman Bill Richardson (D-N.M.), requesting our input on these same constitutional issues.16 We could only surmise that Richardson was searching for ways to head off Moorhead's attacks.
The First Amendment protects both an individual's right to speak freely and the right not to speak at all. The Media Institute claimed that while video program providers could create and include captions on their own, it was against the Constitution to order them to do so by governmental fiat. Both Moorhead and the Institute were particularly concerned that requirements to caption immense libraries of older programming would "chill" speech for smaller video providers who, unable to afford captions for all of their programs, would have to keep certain shows off the air. At the same time, the Media Institute opposed a provision in the captioning mandates that allowed the FCC to exempt programs upon a television distributor's showing that captioning would cause an undue burden to its business. Specifically, the Institute charged that allowing the Commission to relieve stations of their captioning obligations based on their ability to pay would result in content-based unconstitutional discrimination against certain video providers. It predicted that, left with the freedom to choose which programs were covered by the rules, the FCC could simply exempt programming that it favored and impose huge captioning expenses on programs that it disliked!
On March 15, 1994, consumers wrote back to Congressman Moorhead, explaining that nothing in the captioning bill prohibited speakers from choosing how they could express themselves.17 We explained that captions were simply written words mirroring a show's audio content; if anything, the captioning mandates would broaden the audience receiving the intended message. Unfortunately, we had scarcely finished posting our letter when we got hit with a blow from another, very unlikely, adversary.
In a shocking turn of events, on the very same day that we sent our letter to Moorhead, Robert Peck of the American Civil Liberties Union (ACLU) sent a letter of his own questioning the constitutionality of both the captioning and video description mandates, and, like the Institute, challenging the FCC's discretion to exempt certain providers based on their ability to pay.18 Peck insisted that Congress hold off on adopting captioning mandates until after it had explored less burdensome approaches, such as tax incentives and reliance on the marketplace.
The ACLU's public opposition to the captioning mandates infuriated the deaf community. Advocates had not been surprised that the television and motion picture industries had been resistant to our proposals. But just a few years before, the ACLU had been one of the ADA's chief proponents. Deaf advocates could not comprehend how an organization premised on protecting civil rights could oppose the right of deaf and blind Americans to receive access to the most powerful information and entertainment medium in the world.
By the time these First Amendment battles took center stage, only a day remained before Moorhead was to introduce his amendment at the House mark-up. Markey had been urging us to narrow our differences with the industry before that amendment was introduced, and so captioning advocates spent the rest of March 15 hectically exchanging drafts and participating in a flurry of telephone conferences with industry representatives to negotiate mutually agreeable mandates.
From the start, disability advocates remained firm on a number of issues. Exemptions for all local programming, and in particular, local news, community affairs, and public, educational, and governmental proceedings were out of the question: the information provided by this type of programming gave Americans the tools that were essential to effective citizenry. Similarly, we contested exclusions for music videos and commercials; captioning providers were already providing captions on these at little cost and at great benefit to deaf and hard of hearing audiences.
Advocates also opposed the industry suggestion to use a program's popularity or audience size as a factor to determine whether a program needed to be captioned. In many cases, audience share would not even be known until after a program aired, at which time it would be too late to add captions.19 Moreover, under the ADA and other disability laws, a retail establishment's popularity had never been used to determine its required level of compliance. Rather, the test of whether a business had to provide an accommodation was whether it could afford to do so—and not whether the cost of providing that accommodation was reasonable vis-à-vis the cost of the service involved or the payment received for that service. For example, a lawyer earning $300,000 a year might have to provide an interpreter to a deaf client for an office visit, even if the cost for the interpreter was greater than the client's fee for that appointment. Similarly, advocates wanted television providers with significant financial resources to caption shows when they could afford to do so, whether or not the shows themselves had large budgets or attracted sizable audiences.20
When the negotiations for exemptions on captioning turned to older programming, including movie classics and re-runs from the 1970s and '80s, we argued that refusing access was tantamount to denying deaf adults their only chance to view these early portrayals of American culture. However, because the motion picture industry was adamant about not having to caption all of its archives, consumers ultimately compromised by agreeing to draw a distinction between all new programming, which had to be "fully" accessible, and older programming, whose access would have to be "maximized."
Cable providers were also very concerned about television networks with very small budgets. Specifically, they feared that if these networks had to petition the FCC every time they wanted an undue burden exemption, the long delays in receiving FCC approval would prevent them from being able to air their programs, in violation of their First Amendment free speech rights. This concern was resolved by the inclusion of new language by House legislators, against the consumers' better judgment—allowing the FCC to exempt, on its own and not by provider petition, "programs, classes of programs, and services determined to be economically burdensome to the provider."*
Despite some minor setbacks, we felt victorious at the close of our March 15 negotiations. The final draft retained full captioning accessibility for all new programming and significant mandates for captioning older programming. Blanket exemptions for entire categories of programming had been defeated, as had been the exclusion of programs based on audience share. Moorhead introduced the newly agreed-upon language at the House mark-up on March 16, 1994, and during the third week of March, the bill was marked up and approved.21
Moving Over to the Senate
With the House captioning amendments firmly in place, at the end of April 1994, we turned our attention to getting the same language inserted in the Senate's companion bill, S. 1822, The Telecommunications Equipment Research and Manufacturing Competition Act of 1994.22 A number of things were already working in our favor. Preliminary discussions with John Windhausen, chief of staff of communications on the Senate Commerce Committee and Senator John McCain's staff, Gina Keeney and Mary McManus, had gone well. In addition, Senator John Kerry (D-Mass.) had promised to help convince the Democratic leadership to introduce the amendments, and, if that was unsuccessful, to introduce them himself when the bill arrived on the Senate floor.23
Unfortunately, as had occurred in the House, verbal assurances to incorporate captioning language into S. 1822 were not accompanied by the inclusion of any captioning text in the bill itself long after its introduction. The problem was that our issue was just one of a plethora of issues competing for space in the mammoth telecommunications reform bill. Some of the committee members were so bombarded with requests for amendments that they were uniformly turning everyone away.24
When the Senate Committee on Commerce, Science and Transportation held hearings on S. 1822 on May 24, 1994, Mark Goldfarb, director of Gallaudet University's International Center, tried to rectify this situation. Goldfarb testified passionately about the benefits that captioning was bringing to the deaf community. But he went on to stress that captioning access to cable programming remained woefully inadequate. Even recent televised conferences addressing telecommunications reform had not been captioned, making it difficult for Goldfarb to stay informed about this vital debate, though he lived in the very city in which it was taking place.25
Unfortunately, the hearings also provided ACLU's Robert Peck a public opportunity to unleash his constitutional attacks on the video description and captioning mandates. This time, however, Peck's charges were not unforeseen, and consumer advocates were ready and waiting with persuasive rebuttals.26 It helped as well that the captioning amendments were now garnering support from new sources outside of the disability community.27 Moreover, several Senators were clearly disturbed with Peck's flawed allegations. For example, in a heated dialogue, Senator Danforth (R-Mo.) charged that it could not possibly be unconstitutional to require access to an existing artistic product so long as the author was not required to make any changes to the original work.
But the most persuasive rebuttal to ACLU's charges came after the Senate hearings. On June 8, 1994, Georgetown University's IPR, which had assisted the deaf community on a number of prior telecommunications access issues, produced an analysis that unequivocally affirmed the constitutionality of the captioning mandates.28 IPR pointed out that the Media Institute and the ACLU had been inappropriately relying on cases in which courts had disallowed mandates compelling speakers to make statements with which they disagreed.* By contrast, the captioning proposals would merely require video programmers to convert the speech that they freely chose to utter to be accessible to people with limited hearing. Moreover, IPR explained that the captioning requirement hardly gave unbridled discretion to the FCC to grant captioning exemptions. The language contained very explicit criteria that did not by any "stretch of the imagination" allow the Commission to grant waivers depending on its view of the content of particular programming. The bottom line, IPR concluded, was that that the captioning mandates furthered a substantial governmental purpose that easily passed constitutional muster.
On June 10, 1994, only two days after IPR sent its analysis to Senator Hollings, chief sponsor of the telecommunications reform bill, the captioning mandates were appended to S.1822. A little more than two weeks later, on June 28, 1994, H.R. 3636 sailed through the House by a vote of 423 to 4. Although it appeared that the Senate bill might swiftly follow, this was not to be the case. By the summer of 1994, the legislative battles among the long distance companies, regional Bell companies, and other telecommunications stakeholders had so intensified on matters unrelated to captioning, that progress on S. 1822 came to grinding halt. As the congressional session drew to a close in the fall of 1994, the Senate leadership abandoned all attempts to resolve these differences, causing the bill to die upon adjournment.
A few weeks later, a federal election changed the balance of power in Congress. The Democratic leadership with whom we had worked so closely would now take a back seat to Republican legislators who eagerly awaited their opportunity to be in charge of telecommunications reform. For us, the arrival of these new political bosses potentially thrust the captioning mandates back to the starting gate.
A New Congress Steps In
When S. 652, the next version of the Senate telecommunications reform bill, surfaced in the winter of 1995, we were relieved to learn that our captioning mandates had survived various cuts made by new Congress. But the new draft was a serious setback compared to the version agreed upon by prior legislators. To begin with, although the prior version relieved providers of their captioning obligations only if they could prove that meeting those obligations would impose an undue burden, the new draft only required captioning if it was "readily achievable" for video programmers to provide this service. This standard, which meant "easily accomplishable without much difficulty or expense," had first been used in the ADA as a means of relieving building owners from requirements that could otherwise force them to expend huge sums of money to eliminate structural barriers.29 It was considered far less stringent than the "undue burden" defense, the latter having already been applied to ADA obligations to provide captioning on educational and employment videos. To make matters worse, the new Senate version also omitted the mandate for new television programming to be "fully" accessible, and created a blanket exemption for all locally produced programs.
Advocates moved quickly to inform Senator Dole and his staff, who were now leading efforts to shepherd the telecommunications bill through the Senate, that the captioning language finalized by the prior Congress had been the culmination of extensive negotiations among the cable industry, the motion picture industry, small networks, and consumers. We needed for this new Senate leadership to understand that consumers had already made significant concessions affording television providers various types of relief. Weakening the language even further would put the most basic objectives of the captioning mandates into serious jeopardy.30
We were successful in convincing Dole's staff to restore most of the pre-negotiated captioning mandates, but their consent did not come until after the Senate Commerce Committee finished marking up a version of S. 652 that contained the watered-down captioning provisions. Although we were given verbal assurances that our changes would be made through amendments on the Senate floor or during a House-Senate conference, we found ourselves in an extremely precarious position. With the House and Senate versions now incompatible with one another, a push for a more provider-friendly version could easily sway conservative legislators to adopt the more lenient Senate proposals when the bill went to a Conference Committee for final resolution. To prevent this from happening, on May 2, 1995, I sent letters to House legislative aides, summarizing the history of the Moorhead compromise and the willingness of Dole's staff to restore that language.31 Only a few days later, on May 5, 1994, I received an urgent request to produce a witness for yet more House hearings (on H.R. 1555, the new House companion bill to S. 652), to be held in just six days. By the time Al Sonnesntrahl testified before the House Subcommittee on Telecommunications and Finance on May 11, 1995, nearly two years had passed since the Decoder Circuitry Act had gone into effect and still, he reported, few, if any, inroads had been made in convincing basic cable programmers to caption their shows.*
During the weeks that followed, advocates finally had a spate of successes. These began on May 26, 1995, when the House committee completed its mark up of H.R. 1555 with the Moorhead compromise still intact. In addition, at the end of June, a resolution passed by ACLU's biennial convention put to rest its objections to closed captioning. Introduced by Paul Siegel, professor of communications arts at Gallaudet University and an ACLU member, the resolution distinguished captioning from First Amendment freedoms that gave speakers the right not to speak when they were being forced to disseminate a message against their will. Siegel was successful in getting the delegates to understand that captioning merely called upon speakers to provide access to messages that they were already sending through television's audio channels.32 In the end, the ACLU delegates agreed that captioning provided information needed for one's effective participation in the political process.
Unfortunately, the progress that we had made in the House was countered by a temporary setback in the Senate. On June 15, 1995, after a week-long floor debate, the Senate passed S.652 by a vote of 81 to 18, without any of our requested changes to the captioning section: as passed, the captioning mandates still hinged on the readily achievable standard, there was no mention of "fully" accessible television programming, and the gaping exemption for all local programming remained. A few weeks after this, on August 4, 1995, the House passed its version of the legislation containing the much more favorable Moorhead version.33 Although we were relieved to see that the House had honored its promise to enact the stronger language, a new amendment to the captioning text of the House bill infuriated consumers. At the industry's request, the final bill intentionally removed an individual's right to go to court to enforce the captioning mandates. Without this "private right of action," consumers would have to rely on policing compliance through complaints filed at the FCC.
The considerable differences between the House and Senate telecommunications reform bills—which included, but went far beyond, our captioning section—now sent the bills to a Conference Committee. There, legislative aides spent the next several months engaged in painstaking negotiations aimed at eliminating the conflicts between the two versions. Fortunately, when the committee produced its final version of the bill at the end of December 1995, captioning advocates could not have been happier. Although we were unsuccessful in removing the last minute private right of action restriction, we had succeeded in convincing the Conference Committee to adopt the House (Moorhead) compromise, rather than the Senate's more restrictive language. Miraculously, we were about to get legislation that would, for the first time in our nation's history, require all broadcasters, cable operators, satellite operators, and other television programming distributors to make the vast majority of their programming accessible to deaf and hard of hearing people through closed captions. The Telecommunications Act of 1996 Act passed the House by a vote of 414 to 16 and the Senate by 91 to 5, and was signed by President Clinton at a ceremony held at the Library of Congress on February 8, 1996.34
To the nation's telecommunications companies, our captioning section was an insignificant part of a much grander law that promised to revolutionize the provision of telecommunications, information and cable services. But for deaf and hard of hearing people, the few paragraphs setting forth the captioning obligations would become one of the most important legislative advancements in their lifetimes.
The FCC Gets Involved
In a somewhat unprecedented move, the FCC had decided not to wait for Congress to finalize the Telecommunications Act of 1996 before initiating its own inquiry into television programming accessibility.35 Concerned that closed captioning might not survive a very new and highly competitive telecommunications marketplace, in December 1995, FCC Chairman Reed Hundt and his fellow commissioners had decided to take the first steps to guarantee television access, just in case the pending telecommunications bill did not become law.36 To this end, the Commission conducted a comprehensive inquiry that produced detailed information on the benefits, availability, costs of, and enormous need for closed captioning.37 After the new captioning mandates became law, the FCC summarized these materials in a detailed report submitted to Congress in July 1996.38 Just half a year later, the Commission proposed rules to implement the requirements contained in the new 1996 statute.39
During the months that followed the release of these proposals, the battle lines between television program providers and captioning consumers were bitterly drawn. Disputes over how quickly captioning should be required, the extent to which realtime captioning should be required on live programming, and the extent to which the FCC should exempt older programming, local sporting events, commercials, and late night TV pushed themselves to the front of these debates.40
To consumers, it seemed like every network was seeking some type of an exemption. Cable providers wanted exemptions for public access programming, instructional programming, and foreign language programming, insisting that the small audience sizes and production budgets of these shows made their captioning particularly burdensome. New networks wanted to be exempt during their start-up years to develop their financial viability. Advertising agencies complained that it would be too time-consuming to caption commercials. Home shopping channels insisted that the graphic content of their programming was sufficiently visual for deaf viewers, without captions.*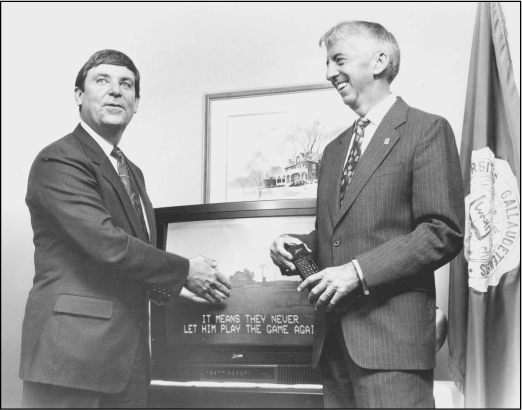 Gallaudet University President I. King Jordan (right) is given a demonstration of a Zenith TV equipped with internal decoder circuitry.
But the music industry provided what were undoubtedly the strangest justifications in support of their requests to be exempt from the captioning rules. The Recording Industry Association of America (RIAA), in pursuit of a blanket exemption for music videos, claimed that lyrics were often "subordinate to the actual music."41 Even worse, another commenter had the tenacity to suggest that lyrics, although unintelligible when spoken, could be "patently offensive or potentially obscene" if they appeared in text!42
Advocates vigorously opposed these and other exemptions, and reminded the Commission of the need for high standards of captioning quality, including the use of real-time captioning for live newscasts.43 All too often, captions were scrambled or stripped as a result of engineering errors, the failure to readjust settings after commercial breaks, or the use of digital video effects. Captions replete with these and other mistakes in spelling, timing, and placement were of limited value to viewers.
We also urged the FCC to create a tight schedule for the transition to full captioning. Congress was now contemplating amendments to the Individuals with Disabilities Education Act (IDEA) that would disallow captioning funding beginning October 2001 for television shows that were not "educational, news or informational."* This change stemmed largely from the discovery by a few legislators that Department of Education funds were being used to caption Baywatch, a program they deemed unsuitable for the receipt of federal money. Because the Commission's captioning rules were needed to ensure access to programs whose funding might be cut by these new guidelines, we asked the FCC to require full captioning within four years.44 This was countered by broadcaster requests for eight years and cable industry requests for ten.
On August 7, 1997, the FCC finally adopted the long-awaited captioning rules.45 But instead of heralding the day as the beginning a new era of accessible television, many deaf and hard of hearing consumers were sorely disappointed. Huge gaps in the rules seemed to go well beyond the exemptions permitted by the legislation. Programming providers were directed to begin providing captions on approximately 25 percent of their new programming within two years, and to increase this amount by an additional 25 percent every two years, until 95 percent of their new programming was captioned at the end of eight long years.† The providers would then have complete discretion to choose what shows fell into this remaining 5 percent exempt category, with no oversight from the FCC. Additionally, the rules entirely excluded all commercials under five minutes, all overnight programming between the hours of 2:00 and 6:00 a.m., programming on all new networks (for their first four years), and all foreign language programming. When added together, the FCC's new mandates allowed daily exemptions of more than 20.5 percent of all new programming.
The Commission's decision to exempt television commercials under five minutes—based on the justification that that advertising was "ancillary" or secondary to main programming content—was particularly confusing, given that other federal laws treated advertisements and other programming alike.46 And the fact that this exemption applied to political advertising was quite troubling; the FCC had previously acknowledged the injustices of denying access to information provided by political candidates.47 Moreover, it made little sense to allow this exemption: the cost of captioning commercials was insignificant—a mere $100 to $200 per thirty-second slot, compared to the thousands, and sometimes millions of dollars paid to air national advertisements on popular television shows.‡ Indeed, national advertisers had been among the first to use captions to broaden their markets back in the early 1980s; it was ironic that they were now coming forward in an aggressive campaign to win this exemption.
The rules also gave television providers a full ten years to caption 75 percent of older, or "pre-rule" programming, with no requirements to phase in captioning for these shows over this period. This meant that all re-runs, old movies, and classic sporting events could remain without captions for up to ten more years! Even Chairman Hundt, who had been compelled to agree to these compromises to get the captioning mandates approved by other commissioners, expressed dismay over this time schedule: "I would have preferred to have these rules be more aggressive in providing swifter accessibility to much more TV programming for our nation's 20 million persons with hearing disabilities," he said in a separate statement when the commissioners' votes were cast.*
Perhaps most disconcerting was the Commission's decision not to adopt minimum standards of captioning quality and to permit indefinitely the use of the "electronic newsroom captioning technique" (ENCT) for local news programming. In order to save costs, local newscasts around the country had begun using ENCT to automatically convert their news scripts into live captions. The problem with this approach was that it only provided viewers with information that had been entered into the teleprompter script; this typically excluded late-breaking stories, live field interviews, and sports and weather updates. Local and national advocacy groups around the country had, for some time, been trying to convince stations to replace ENCT with real-time captioning.† Even the FCC had previously questioned the ability of this technique to provide functionally equivalent news information.48
Concerned that the rules would not achieve full television access, in October 1997, the NAD, CAN, and SHHH filed petitions for reconsideration requesting removal of many of the exemptions, a shortened compliance schedule, Spanish language captioning, and recordkeeping requirements to assist in monitoring captioning compliance.49 The television industry opposed all of our requests and filed their own petitions requesting even broader exemptions for, among other things, political debates, programming before 1970, interactive game shows, and even instructional and children's educational programming.50 But one thing would potentially work in our favor: with the exception of Commissioner Ness, all of the FCC commissioners who had agreed upon the FCC's final captioning rules were about to be replaced by a new slate of officials. This would begin with the departure of Chairman Hundt in the fall of 1997.
As the very first FCC chairman to elevate disabilities issues to the forefront of the FCC's agenda, Hundt had paved the way for people with disabilities to have a say in the nation's telecommunications policies. Early in his tenure, Hundt (who dubbed himself "The Disability Commissioner") had worked with FCC employee Linda Dubroof to develop a top ten list of ways to ensure disability access to "the information highway." Throughout Hundt's tenure, many of these had been accomplished: the creation of the FCC Disabilities Issues Task Force, improved mandates for volume control and hearing aid compatibility, and new Commission policies to make publications available in alternative formats and public meetings accessible through captioning. However, by the time Hundt was readying to leave the agency, the FCC was down to four commissioners (two Democrat and two Republican) from its usual five, and the political gridlock that resulted from the split along party lines had significantly weakened the chairman's ability to make progress on disability issues. We could only hope that Hundt's replacement, FCC General Counsel William E. Kennard, would take on our disability issues with the same enthusiasm as his predecessor.
Shortly after Kennard assumed the FCC's chairmanship in November of 1997, we learned that the racial prejudice that he had witnessed as a child significantly aided his understanding of disability discrimination. Kennard would often tell how his grandfather, an African American, had to settle for work as a Pullman porter on the railroads, despite his high intellect. He analogized his grandfather's triumphs against discrimination to the struggles of the disability community for equal access. Almost from day one, Kennard pledged that as long as he was chairman, he would do everything in his ability to continue breaking down barriers to telecommunications access by people with disabilities. A true champion of disability rights, he more than carried out that promise with the creation of the FCC's first Disability Rights Office and the Commission's first federal advisory committee on disability and consumer issues, as well as the issuance of a near-endless string of rules expanding telecommunications access. These included long-awaited rules to bring relay services into the twenty-first century, new requirements for visual access to televised emergencies, and captioning on digital television programming.*
The fall of 1997 also brought the departure of Commissioners Rachelle Chong and James Quello, and the arrival of FCC Commissioners Harold Furchtgott-Roth, Michael Powell, and Gloria Tristani—a transition that restored the Democratic majority within the Commission's leadership. Over the next several months, I joined other captioning advocates, including Nancy Bloch, Harvey Goodstein, Toby Silver, and Brenda Battat, in trying to convince the newcomers that the captioning rules approved by their predecessors violated the 1996 act's promises of full accessibility. During this same period, FCC staff waded through the hundreds of comments submitted in response to the various reconsideration petitions, trying to strike a balance among the competing interests. After an extended period, the Commission finally designated September 17, 1998, for a vote on revisions to its captioning rules. As the target date approached, we became aware that the cable industry was doing everything it could to erode support for our proposed improvements. We stepped up our lobbying efforts, not realizing that we had an advocate fighting for greater television access right within the cable industry. As the head of operations at the Silent Network (a national cable network dedicated to deaf programming that already provided 100 percent captioning without federal mandates or federal grants), David Pierce was the only deaf television executive in the United States.† In 1997, Pierce had joined NCTA's Closed Captioning Task Force, where he was now advocating internally for elimination of some the very same exemptions that had become the target of our advocacy efforts.
Fearing that the industry was beginning to prevail on some of the outstanding issues, especially their requested exemption for national advertisements, on September 10, 1998—the last day on which it would be permissible to confer with FCC staff on the pending reconsideration order—I ran to the Commission to plead our case with as many officials I could find.* Although an eleventh hour attempt to save captioning access to national advertising was defeated, overall, the Commission's Order on Reconsideration proved to be a vast improvement over its initial rules.† The revised captioning order expanded the definition of full television access for all new programming from 95 percent to 100 percent, created new requirements for real-time captioning of newscasts on stations in larger communities, removed the exemption for Spanish language programming, and added a 30 percent captioning benchmark for older programming midway through its ten year transition.51 Our year-long effort to expand programming access had been a major success.
Digital Television
Former Vice President Al Gore once described the shift from analog to digital television, or "DTV," as "the greatest transformation in television's history. … It's like the difference between a one-man band and a symphony."52 DTV offers sharper, more vivid pictures and CD-quality audio, allows the simultaneous transmission of multiple television streams over a single channel, and promises to offer supplementary television services, including the rapid delivery of huge amounts of data, interactive educational services, and even the distribution of computer software. The accuracy, versatility, and flexibility of this new technology has been equated with the change from black-and-white to color TV, and is predicted to forever change the way we use TV.
In 1996, Congress granted broadcasters free DTV licenses in exchange for both their old analog licenses and a promise to serve the "public interest, convenience, and necessity."53 In order to further define this obligation, on March 11, 1997, President Clinton appointed members to a new Advisory Committee on Public Interest Obligations of Digital Television Broadcasters.54 Along with twenty-one other consumers and leaders in the broadcast, film and computer industries, I was privileged to serve on this committee from the fall of 1997 through the following winter. Dubbed the "Gore Commission," our task was to advise the vice president on how best television licensees could fulfill their role as public trustees of the airwaves in the digital age. Unfortunately, from the start, many of the industry members on the new commission made clear their intent to defeat any new public interest obligations, including free air-time for political candidates and expanded public affairs programming. But despite the discord that characterized much of our negotiations, most of the members consistently remained open to expanding television access for people with disabilities.55
FCC Final Captioning Rules
47 C.F.R. §79.1
Schedule of Captioning Deadlines (captioning required per channel per quarter)
•New, non-exempt English language programming (450 hours by 2000; 900 hours by 2002, 1350 hours by 2004): 100% by 2006
•Pre-rule, non-exempt English language programming (30% by 2003): 75% by 2008
•New, non-exempt Spanish language programming (450 hours by 2001; 900 hours by 2004): 1350 hours by 2007; 100% by 2010
•Pre-rule, non-exempt Spanish language programming (30% by 2005): 75% by 2012.
Specific Exemptions    Advertisements under 5 minutes, public service announcements under 10 minutes (unless federally funded or produced), programs shown between 2 a.m. and 6 a.m., instructional programming that is locally produced and locally distributed to individual educational institutions, locally produced and distributed programs with limited repeat value (for example, parades and local school sports), non-vocal music; programs in languages other than English or Spanish
General Exemptions    Programming on new networks during first 4 years of operations; programming providers with annual gross revenues under $3 million per year; classes of programs where captioning would be economically burdensome to providers or owners of programming
Individual Exemptions    Permitted for individual shows upon request if adding captions would create undue burden for provider or owner of programming
Spending Ceiling    Programming providers may limit spending on captioning to 2% of annual gross revenues.
Repeats of Already-Captioned Programs    Must be shown with captions intact unless shows have been edited
Monitoring    Program distributors expected to monitor captions from their point of origination to end users (viewers) to make sure they arrive intact.
Special Rules for Newscasts    The following to use real-time captioning for newscasts: (1) 4 major national broadcast networks (CBS, ABC, NBC and Fox); (2) TV stations affiliated with these 4 major networks in the top 25 television markets; (3) national nonbroadcast networks (for example, cable) serving at least 50% of all households subscribing to television services.
On December 18, 1998, the Gore Commission released its final report, Charting the Digital Broadcasting Future.56 The report acknowledged the ability of digital television services to create new opportunities for individuals with disabilities in employment, education, and recreation, and called upon broadcasters to "take full advantage of the new digital closed captioning technologies to provide maximum choice and quality for caption viewers, and to work to make captioning in the digital age functionally equivalent to audio transmissions."57 In an attempt to fill a gap left by the FCC's captioning rules, the report even contained a specific recommendation to expand captioning on public service announcements, public affairs programming, and political programming, where doing so would not impose an undue burden.
Standards for Digital Captioning
Nearly a year after the Gore Commission report was released, Vice President Gore confirmed the need for the FCC to ensure access to digital programming by people with disabilities:
The Administration believes that all Americans, including those with hearing and vision disabilities, should have access to digital programming and all the innovative services that broadcasters may offer in the future. … We urge the Commission [FCC] both as part of its public interest inquiry and as a follow-up to its mandate under Section 305 of the Telecommunications Act to explore the Committee's recommendations and to solicit other workable proposals.58
Indeed, back in 1990, when Congress passed the Television Decoder Circuitry Act, it had made very clear that it expected television captioning to remain viable even after new video technologies, such as digital TV, were developed. To this end, in 1993, various captioning agencies, PBS, electronics manufacturers and the Electronic Industries Alliance (EIA) began working on technical standards to provide digital television captioning.* Unlike analog television, there is no vertical blanking interval in the digital environment. This meant that instead of inserting closed captions into line 21, these engineers had to find a way for captioning transmissions to become part of the digital bitstream. It took five years for these guidelines to finally be released in November 1998, but the delay was not all the fault of these contributors.59 Rather, discord within the television industry as to the appropriate standard for all digital television programming had generally delayed the roll out of this technology for the American public.
The new EIA standard, EIA-708, promised great improvements that would enable viewers to control the font, color, size, and placement of captions. For example, caption users could potentially choose from among eight fonts and up to sixty-four foreground and background colors! The standard also allowed for simultaneous captions in multiple languages or different language levels by permitting as many as six captioning streams.
On November 18, 1998, the National Center for Accessible Media, in partnership with Lucent Digital video and the ULTECH Corporation, announced the first working on-air captioning solution for DTV. It was not surprising that WCVB in Boston became the first to try out the new technology on a live broadcast. When its General Manager, Paul La Camera, served on the Gore Commission, he had been among the strongest supporters of full access. His station had also been one of the first in America to provide real-time captioning of local news.
Unfortunately, as industry efforts to further develop solutions for the delivery of digital captioning transmissions continued, a number of technical glitches along the way made disability advocates conclude that FCC mandates would be needed to compel the television industry to ensure a smooth transition for caption viewers to digital programming. For example, during the spring of 1999, it was discovered that some digital video set top boxes removed the entire vertical blanking interval and laid captions back over the picture. This process made viewing the captions the first time around possible, but impossible to see if recorded and played back at a later time. The problem was that EIA's digital captioning standard was merely voluntary; manufacturers were under no obligation to adopt it. Without an FCC directive, there would be no guarantees that their digital systems would ever be fully accessible to people who relied on captions. With 2006 as the year designated by Congress for the complete conversion to digital programming,* FCC mandates would be needed rather quickly to prevent an increasing amount of new digital programming from becoming inaccessible to caption viewers.60
After much prodding from advocates, the FCC proposed technical standards for the display of closed captions on digital television receivers on July 15, 1999.61 But rather than recommend the full range of accessible digital features contained in the EIA standard at a time when incorporating these features into DTV equipment would have resulted in little cost or disruption to the industry, the Commission proposed a far less rigorous standard that did little to bring the improvements and versatility of DTV to deaf and hard of hearing viewers. For example, the FCC's draft proposed requiring only the most basic of features—one size, one font, and one background color, rather than the full range of options made possible by EIA-708. Indeed, the FCC's proposals did little more than maintain the status quo and, in one regard, even took a step backward: the rules actually proposed to reduce the number of required caption streams from the FCC's existing analog standard of two, to a single stream for DTV.
Consumers were furious. On repeated occasions, the Commission had promised to make the wonderfully diverse benefits of digital television available to all Americans. It also had boasted of DTV's ability to achieve "substantial improvements over current captioning mandates"62 In every sense of the word, the Commission was now ignoring its own advice. Rather than take advantage of these substantial improvements, its proposals seemed to be responding to threats by television manufacturers to delay the transition to digital television if saddled with too many equipment changes.63 The NAB, for example, opposed requiring any of the advanced captioning display features until the conversion to DTV was complete, a shortsighted approach that ignored the heavy costs that would come with having to retrofit digital equipment once the equipment had already been designed and developed for the general public.64
Both consumers and captioning agencies strongly opposed the proposed rules. Once Chairman Kennard learned of the consequences of going forward with the original proposals, he approved revisions to strengthen the regulations, and on July 21, 2000, the FCC released considerably stronger DTV standards that enabled viewers to choose among various caption sizes, fonts, foreground and background colors, characteristics, and up to six captioning services.65 While the greater mandates would add nominal costs to the production of digital television sets, the FCC acknowledged that these would easily be offset by the ability of caption viewers to more effectively enjoy the benefits of DTV programming.66 In addition, the new rules would enable DTV to reach new audiences, most notably senior citizens and other people with low vision, and children learning to read, all of whom had been unable to utilize the "one size fits all" approach to captions.67
To adjust for the different shape of DTVs, which are wider and more rectangular than screens used for analog programming, the FCC applied its new rules to digital sets with screens that measured 7.8 inches vertically, roughly the equivalent of a 13-inch diagonal analog screen. In addition, the agency granted consumer requests to apply the new mandates to all stand-alone DTV tuners and set top boxes, whether or not they were marketed or sold with display screens over a certain size. The Commission reasoned that even if consumers purchased digital tuners and screens separately, more than likely those screens would measure at least 7.8 vertical inches. Moreover, because consumers would be able to manipulate the size, font, and color of captions, even smaller screens would be able to display readable captions.68 In July 2002, Zenith, in conjunction with WGBH, became the first to demonstrate its decoder-equipped HDTV at the NAD and Deaf Way II conferences held in Washington, D.C.69 Zenith's eagerness to be a leader in providing accessible digital television equipment was reminiscent of its efforts a decade earlier to be the first manufacturer to install decoder chips in its analog television sets.
Captioning Funding Threatened
The successes achieved through the various FCC captioning proceedings during the 1990s were accompanied by increasingly discouraging events at the Department of Education. The problems started back in 1997 when, in response to complaints about Baywatch, Congress amended IDEA to limit federal captioning support to educational, news, and informational programs.70 Matters worsened when, during the winter of 1998, similar complaints were made about The Jerry Springer Show.71
When magazine headlines that read "Stripper Wars" and "I Have a Bizarre Sex Life" incited readers about governmental appropriations being given to the Springer show, Senators Lieberman (D-Conn.) and Dan Coats (R-Ind.) wrote a scathing letter to Secretary of Education Richard W. Riley urging termination of Springer's, captioning funding. According to the legislators, "the mission of the Department's program [was] not to expose the hearing impaired to every form of cultural depravity under the sun," and the Department's "decision to promote the lurid antics of Jerry Springer," meant that something was "extremely out of whack with the administration of this [captioning] program."72 Calling the Springer show the "closest thing to pornography on broadcast television," the senators demanded that the Department use future captioning funds for programs that contributed to the " 'general educational and cultural experiences' of hearing-impaired viewers."73
Chart 11.2
Digital Captioning Decoder Rules
47 C.F.R. §15.122
•Size—standard, large, and small size captions
•Fonts—8 fonts
•Colors—8 background and foreground colors of choice (white, black, red, green, blue, yellow, magenta and cyan)
•Background Opacity—transparent, translucent, solid, and flashing
•Character Edges—none, raised, depressed, uniform, or drop shadowed
•Services—up to 6 standard services, to be displayed one at a time
•Default Option—caption display options saved when receiver is turned off
•Record and Play-Back Equipment: VCRs, DVD players, and personal video recorders need not have decoding capability, but must pass through closed captions intact to the digital television decoder attached to these devices
Perceiving this to be censorship, NAD attorney Kelby Brick responded quickly with electronic alerts that produced a slew of complaints to Lieberman and Coats's offices.74 Secretary Riley agreed with the consumers, and with the encouragement of Joann McCann and Ernie Hairston, long-time captioning advocates within his agency, rejected the senators' request to terminate Springer's funding.75 Riley said that although the show might offer "tasteless entertainment," granting the senators' request would force the Department to "supersede the individual judgment of millions of deaf Americans who have worked long and hard to make sure that they have full standing as citizens in this society." Emphasizing his faith in the "common sense and good judgment of deaf Americans" to make their own decisions about which programs to watch, he explained that it was not the role of his agency to deny access to any programs that are watched by America's hearing communities.*
Although the uproar over the Springer show quieted down when the Department of Education refused to pull its captioning grant, the issue again reared its ugly head in December of 1999, when the Department asked the public to help it define programming that was "educational, news, and informational." Its goal was to establish new funding eligibility for captioned shows in order to implement the 1997 IDEA amendment by its October 2001 deadline. Over 3000 consumers responded, with comments that uniformly urged a broad interpretation of the new provision.
The Department of Education did little to change its captioning rules over the next two years. But not knowing this, deaf and hard of hearing television viewers who relied on captioning began to panic that they would lose television access as the 2001 deadline approached. Confusion about the roles of the Department of Education and the FCC caused nearly 1,000 of these individuals to inundate the Commission with pleas not to cut off captioning in the fall of 2001. After clarifying that it had no role in administering the federal captioning grant program, the Commission assured these consumers that its own transition schedule to require captioning remained on track.76
The next two years again passed without revisions to the Department of Education's funding guidelines, but in 2003, without any formal public input or public explanation, the Bush administration convened a secret five-member panel that created a list of television shows ineligible to receive captioning grants. The list disallowed funding for many children's movies and cartoons (because of excessive violence), virtually all national sports programming, documentaries on entertainment personalities, sports figures, and criminals, and several primetime shows. Incensed, Cheryl Heppner, Nancy Bloch, and other deaf leaders reminded the Department of Education why it had created a captioning program in the first place, more than forty years earlier.77 One of the purposes of the very first captioning law had been to provide enriched educational and cultural experiences through which deaf persons could be brought into "better touch with the realities of their environment"78 Noting the many ways in which captioning had succeeded in ending isolation and educating the deaf public, Heppner wrote: "How many of us have increased our understanding of police work by watching captions on NYPD Blue, the legal process with L.A. Law, The Practice, and Law & Order, and medicine through E.R.? … How many teens watching Lizzie McGuire or kids watching Power Rangers have been better able to understand conversations when their hearing friends talk about these shows?" Several members of Congress and the chairman of the National Council on Disability joined the chorus of opposition in letters sent to Roderick Paige, the Department of Education's secretary.79 Although it remains unclear whether the "no-funding" list was put into use for a brief period of time, the passionate response that it engendered may have prevented it from becoming a permanent fixture in the Department's grant eligibility guidelines.
A Success Story that Is Far from Over
In 2006 captioning advocates attained a milestone when America became the first country in the world to require all new television programs, with few exceptions, to be closed captioned. But some are concerned that this hard-won civil right may be in danger. Governmental decisions about the suitability of captions for certain shows impinge upon this right and raise issues of censorship directed only to viewers who cannot hear. In addition, over the past few years, deaf and hard of hearing consumers have increasingly complained of poor captioning quality, including excessive misspellings and omissions. These and other captioning deficiencies, likely caused by the proliferation of captioning agencies that are not held to consistent standards, have seriously impeded full access to television. When, back in 1998, the FCC first declined to issue standards on caption quality, it promised to reconsider this ruling if future needs so warranted.80 In July 2004, Claude Stout, executive director of TDI, orchestrated the filing of an FCC petition by several deaf and hard of hearing consumer groups to make good on this promise and to convince the FCC to step up its enforcement of existing captioning rules.81 On July 21, 2005, the Commission released this petition for public comment, and at the time this book goes to print, is carefully considering ways to significantly improve captioning access.82
Notes
1. "Closed Captioned Programming Currently Available," fact sheet, The Caption Center, June 1993.
2. S. Res. 13, requiring closed captions on televised Senate floor proceedings, had been introduced by Senator Bob Dole (R-Kans.) in the 101st Congress and passed on June 21, 1989. The Senate approved the $1 million appropriation to fund these captions on September 7, 1989.
3. P.L. 102-393, Title V §534(a) (1992), codified at 26 U.S.C. 9003(e).
4. P.L. 102-384, codified at 47 U.S.C. §§534(b)(3), 535(g)(1); 47 C.F.R. §§ 76.62(e) and (f); §76.606.
5. H.R. 1504, the Communications Competitiveness and Infrastructure Modernization Act of 1993, was one of the earliest of these bills.
6. Video description was the brainchild of Margaret and Cody Pfanstiehl. Statutory provisions giving the FCC authority to issue rules on video description were watered down during the final stages of the telecommunications reform legislation. Although the FCC tried to use authority contained elsewhere in the Communications Act to release these rules in July of 2000, Video Description of Video Programming, Report and Order, MM Dkt. 99-339, FCC 00-258, 15 FCC Rcd 15230, amended in part at Memorandum Opinion and Order on Reconsideration, FCC 01-7, 16 FCC Rcd 1251 (2001), on November 8, 2002, these were struck down by the U.S. Court of Appeals for the D.C. Circuit in response to a challenge by the television industry. To this day, there are no federal requirements for video description; however a few television providers who began adding descriptions to shows when the rules first went into in effect have voluntarily continued to provide this form of programming access.
7. See chapter 15 on Section 255 for a more thorough overview of the relationship between the disability groups and the regional bell telephone companies regarding this and other legislative proposals.
8. The first of these attempts was made at a December 9, 1993, meeting attended by Harvey Goodstein, Mark Goldfarb, Sy DuBow, the author, and representatives of the blind community. Ron Stowe of Pacific Telesis served as the principal representative for the regional telephone companies on this matter, and the negotiations were facilitated by Pam Ransom.
9. Paul Schroeder of the ACB was also present to press for the video description mandate.
10. Statement of Paul Schroeder, ACB, Hearings on H.R. 3636 and H.R. 3626 before the Subcommittee on Telecommunications and Finance of the House Committee on Energy and Commerce, 103rd Cong., 2d Sess. (February 8, 1994).
11. This appeal was orchestrated by NAD Executive Director Nancy Bloch and the author. See State Association Presidents of the Deaf, letter to Congressmen Markey and Fields, February 18, 1994.
12. See, for example, Kimberly Olsen Dorgan, NCI separate memoranda to Gerry Waldron, Kristan Van Hook, Cathy Reid, legislative aides, all sent February 21, 1994.
13. Karen Peltz Strauss, NCLD, memorandum to Gerry Waldron and Colin Crowell, House legislative aides, February 21, 1994.
14. Karen Peltz Strauss, NCLD, memoranda to Michael Regan, Gerry Waldron, Colin Crowell, Kristan Van Hook, and Karen Colannino, legislative aides, February 22, 1994.
15. Patrick D. Maines, president, the Media Institute, letter to Congressman Carlos J. Moorhead, March 11, 1994.
16. Congressman Bill Richardson, letter to the author, March 10, 1994.
17. Karen Peltz Strauss, NCLD, letter to Congressman Moorhead, March 15, 1994.
18. Robert S. Peck, legislative counsel, ACLU, letter to Congressman Richardson, March 15, 1994. Peck charged that mandates for video description directly violated the First Amendment's right for speakers to choose their own method of speaking. He remained somewhat undecided about the constitutionality of the captioning mandates.
19. See Jeff Hutchins, VITAC, memorandum on "Response to Industry Draft for H.R. 3636 Language on Requirement for Closed Captioning" to Sy DuBow, NCLD, March 15, 1994.
20. See Sy DuBow and Karen Peltz Strauss (both of NCLD), memorandum on suggested report language to Kristan Van Hook and Gerry Waldron, House legislative aides, March 25, 1994. The memo was prepared with input from Cheryl Heppner, Brenda Battat, Al Sonnenstrahl, Harvey Goodstein, Toby Silver, Mark Goldfarb, Judy Harkins, Larry Goldberg, and Jeff Hutchins. Although two years later, the House did direct the FCC to conduct an inquiry on captioning that included an examination of relative audience shares and television viewing markets served by captions, as noted below, consumers were able to successfully defeated a captioning exemption based on audience share. See 47 U.S.C. §713(a); Conf. Rep. No. 458, 104th Cong., 2nd Sess. 182 (January 31, 1996).
21. See generally H. Rep. No. 560, 103rd Cong., 2nd Sess. 92–94 (June 24, 1994).
22. S. 1822, 103rd Cong., 2d Sess. (introduced by Senator Ernest Hollings [D-S.D.] on February 3, 1994).
23. Senator John Kerry (D-Mass.), letter from to Heidi Reed, executive director, DEAF, Allston, Massachusetts, April 12, 1994.
24. See Karen Peltz Strauss, NCLD, memorandum to Frank Bowe, May 11, 1994.
25. Statement of Mark Goldfarb, Gallaudet University, Hearings on S. 1822 before the Senate Committee on Commerce, Science and Transportation, 103rd Cong., 2d Sess. (May 24, 1994). Hereinafter S. 1822 Hearings.
26. See, for example, separate Statements of Paul Schroeder, CCD Task Force on Telecommunication/Communication Accessibility and Margaret Pfanstiehl, founder and president, Metropolitan Washington Ear, S. 1822 Hearings.
27. See, for example, separate Statements of Tony Pharr of the United Church of Christ Office of Communication and Susan Hadden of the Alliance for Public Technology, S. 1822 Hearings.
28. Angela Campbell, associate professor, Georgetown University Law Center and Steven Shiffrin, professor, Cornell University, letter to Senator Ernest Hollings (D-S.C.), June 8, 1994.
29. 42 U.S.C. §§ 12182(b)(2)(A)(iv); 42 U.S.C. 12181(9).
30. Karen Peltz Strauss, NCLD, facsimili to Alex Vachon, Office of Senator Dole, March 28, 1995.
31. Karen Peltz Strauss, NCLD, separate facsimili to Mike Regan and Colin Crowell, House legislative aides, May 2, 1995.
32. See Paul Siegel, memorandum containing "Binding Resolution on Closed Captioning of Broadcast and Cable Television Programming" to Biennial Delegates, ACLU, June 5, 1995.
33. See H. Rep. No. 204, Part 1, 104th Cong., 1st Sess. 113–15 (July 24, 1995), reporting on H.R. 1555. The vote was 305 to 117 in favor of the legislation.
34. Telecommunications Act of 1996, P.L. 104-104, 110 Stat. 56 (1996). The captioning provisions were codified at 47 U.S.C. §713.
35. Closed Captioning and Video Description of Video Programming, Notice of Inquiry, MM Dkt. 95-176, FCC 95-484, 11 FCC Rcd 4912 (1996) (December 4, 1995).
36. World Institute on Disability, "Info Superhighway Must be Open to All, Start in Classrooms, Says FCC Chief Hundt," Open Line (January/February 1996): 1–2; Chris McConnell, "FCC Launches Closed-Captioning Rulemaking," Broadcasting and Cable, December 11, 1995: 22.
37. See, for example, Comments of the NAD in MM Dkt. 95-176 (March 15, 1996); Tara Mack, "Activists Make Noise Over Captioning," Washington Post, August 23, 1996, D1.
38. Closed Captioning and Video Description of Video Programming, Implementation of Section 305 of the Telecommunications Act of 1996, Report, MM Dkt. 95-176, FCC 96-118, 11 FCC Rcd 19214 (July 29, 1996). Just before the report was released, we got the good news that Larry Irving, administrator of NTIA and one of the president's principal advisors on telecommunications issues, had sent a letter to Hundt urging him to do whatever he could to make television programming more accessible. Irving asked the FCC to carefully scrutinize any requests for exemptions and create stiff penalties for noncompliance with the captioning mandates.
39. Closed Captioning and Video Description of Video Programming, Implementation of Section 305 of the Telecommunications Act of 1996, Notice of Proposed Rulemaking, MM Dkt. 95-176, FCC 97-4, 12 FCC Rcd 1044 (January 17, 1997). Hereinafter cited as Captioning NPRM 1997.
40. Cable and broadcast networks alike continued to complain of the expenditures needed to caption their huge inventories of old movies and reruns. See Ted Hearn, "Cable's Fears Growing Over Closed—Captioning," Multichannel News, May 26, 1997, 3; see also Ted Hearn, "NCTA Fears Captioning Costs," Multichannel News, March 25, 1996; Chris McConnell, "FCC Asked to go Easy on Captioning," Broadcasting and Cable, March 25, 1996: 22.
41. Comments of RIAA in MM Dkt. 95-176 (February 28, 1997), 3.
42. Comments of Ameritech in MM Dkt. 95-176 (February 28, 1997), 19.
43. Comments of the NAD in MM Dkt. 95-176 (February 28, 1997), 22–27.
44. This and other matters were discussed in visits to FCC Commissioners Chong, Quello, Ness, and Hundt by Bloch, Bravin, Silver, and the author on July 21, 1997.
45. Closed Captioning and Video Description of Video Programming, Implementation of Section 305 of the Telecommunications Act of 1996, Report and Order, MM Dkt. 95-176, FCC 97-279, 13 FCC Rcd 3272 (August 22, 1997). Hereinafter cited as Captioning R&O 1997.
46. For example, one law requires cable operators to carry advertisements along with the rest of a broadcaster's program schedule. 47 U.S.C. §614(b)(3)(B).
47. Captioning NPRM 1997, ¶80.
48. Ibid., ¶121.
49. NAD and CAN, "Request for Reconsideration of the Captioning Mandates" (October 15, 1997). I prepared this petition with the assistance of Nancy Bloch, Harvey Goodstein, Toby Silver, Al Sonnenstrahl, Ben Soukup, Phil Bravin, and IPR attorneys. Brenda Battat filed a similar petition for SHHH. The petition noted that the FCC already had rules requiring broadcasters to file reports on the quantity of their children's programming and that advocates wanted the same for captioning. See Policies and Rules Concerning Children's Television Programming, Revision of Programming Policies for Television Broadcast Stations, 47 C.F.R. §73.3526(e)(11)(iii).
50. Industry petitions were filed by the Association of America's Public Television Stations (APTS), the Association of Local Television Stations, Encore, Outdoor Life, and the Game Show Network, among others.
51. Closed Captioning and Video Description of Video Programming, Implementation of Section 305 of the Telecommunications Act of 1996, Order on Reconsideration, MM Dkt. 95-176, FCC 98-236, 13 FCC Rcd 19973 (October 2, 1998), codified at 47 C.F.R. §79.1 et. seq. Hereinafter cited as Captioning Order on Reconsideration 1998. Meryl Icove, Pam Gregory, Susan Fox, and Marcia Glauberman joined various other individuals at the FCC in taking on the Herculean task of resolving the captioning issues.
52. Advisory Committee on Public Interest Obligations of Digital Television Broadcasters, Charting the Digital Broadcasting Future: Final Report of the Advisory Committee on Public Interest Obligations of Digital Television Broadcasters (December 18, 1998), 1. Hereinafter cited as Gore Report.
53. 47 U.S.C. §336(d).
54. Executive Order 13038 (March 11, 1997).
55. Disability issues received particularly strong backing from Newton Minow, former FCC chairman, Peggy Charren, founder of Action for Children's Television, Gigi Sohn, executive director of the Media Access Project, Cass Sunstein, University of Chicago constitutional law expert, and Charles Benton, chairman and CEO of the Benton Foundation and Public Media, Inc. In addition, broadcasters Leslie Moonves, president and CEO of CBS Television, James Goodmon, president and CEO of Capitol Broadcasting Company, and Paul La Camera, president and general manager of Boston television station WCVB, were broadcasters who helped push along the disability agenda.
56. Gore Report; See also NAD, "Gore Commission Releases Report on the Public Interest Obligations of Digital Television Broadcasters: Disability Access Recommended," press release, December 23, 1998.
57. Gore Report, 61. The report also contained recommendations for expanding access to video description.
58. The Honorable Al Gore, letter to FCC Chairman William E. Kennard, October 20, 1999. The FCC did initiate a general inquiry into these recommendations, Public Interest Obligations of TV Broadcast Licensees, Notice of Inquiry, MM Dkt. 99-360, FCC 99-390, 14 FCC Rcd 21633 (December 20, 1999) and on October 16, 2000, held an en banc hearing on this issue. Although the FCC has never formally completed rules on all of the Gore Commission's proposals, in 2004, it did issue rules for digital children's programming and as discussed in the text, created standards for digital captioning. In addition, the FCC has been working on new digital broadcast reporting obligations.
59. Electronics Industries Alliance, EIA-708-A, "Digital Television Closed Captioning" (November 23, 1998).
60. In July 1998, the NAD along with PBS, APTS and the CPB, had also weighed in on an FCC proceeding concerning the carriage of captions along with digital broadcast signals by cable operators. Carriage of the Transmissions of Digital Television Broadcast Stations, Amendments to Part 76 of the Commission's Rules, Notice of Proposed Rulemaking, CS Dkt. 98-120, FCC 98-153, 13 FCC Rcd 15092 (July 10, 1998). Comments of the NAD in CS Dkt. 98-120 (October 13, 1998); Joint Comments of APTS, PBS, and CPB in CS Dkt. 98-120 (October 13, 1998).
61. Closed Captioning Requirements for Digital Television Receivers, Notice of Proposed Rulemaking, ET Dkt 99-254, FCC 99-180, 14 FCC Rcd 16697 (July 15, 1999). Hereinafter cited as Digital Captioning NPRM 1999.
62. Digital Captioning NPRM 1999, ¶6.
63. See, for example, separately filed Comments of the NAB, NCTA, and the Consumer Electronics Manufacturers Association in ET Dkt. 99-254 (all filed on October 18, 1999).
64. Comments of the NAB in ET Dkt. 99-254 (October 18, 1999).
65. Closed Captioning Requirements for Digital Television Receivers, Report and Order, ET Dkt. 99-254, MM Dkt. 95-176, FCC 00-259, 15 FCC Rcd 16788 (July 31, 2000,), incorporating by reference, EIA-708-B, "Digital Television Closed Captioning" (December 1999), codified at 47 C.F.R. §15.122. Hereinafter cited as DTV Captioning Order 2000. The rules went into effect on July 1, 2002. FCC employees Dale Hatfield, Meryl Icove, and Neil McNeal were instrumental in producing the final, revised product. In 2004, the FCC updated these standards to ensure their consistent and effective delivery. Second Periodic Review of the Commission's Rules and Policies Affecting the Conversion to Digital Television, Report and Order, MB Dkt. 03-15, FCC 04-192, 19 FCC Red 18279 (September 7, 2004).
66. See DTV Captioning Order 2000, ¶14, citing WGBH's assertions that the new mandates would not significantly impact costs for DTV devices and Toshiba's estimates that the per unit mass production cost would be under a few dollars per DTV.
67. Ibid., ¶10, citing Reply Comments from Pam Holmes. For example, children would be able to benefit from a second caption stream dedicated to simplified captions that were easier for them to understand.
68. Ibid., ¶47.
69. Zenith Electronics Corporation, "Zenith Launches HDTVs with Digital Closed Captioning Capability, Demonstrates New Technology with WGBH at Deaf Way II," news release, July 9, 2002.
70. This restriction was added in Section 687(c)(2) of the IDEA Amendments of 1987, P.L. 105-17 (1977).
71. Steven Drummond, "Captions Open Window on Culture, Learning" Education Week on the Web, February 25, 1998, http://www.edweek.com/ew/vol-17/24captn.h17.
72. Senators Joseph Lieberman and Dan Coats, letter to Secretary Richard Riley, March 3, 1998.
73. Ibid.; see also See also John Carmody, " 'Jerry Springer in Closed Captions?' That's Not What These Senators Want to Pay For," Washington Post, March 4, 1998, D5; Dan Trigoboff, "Senators Fight 'Springer' Captions," Broadcasting and Cable, March 9, 1998: 14.
74. Kelby Brick, electronic action alert, "IT IS NOT TOO LATE! . . TELL CONGRESS HOW IMPORTANT CAPTIONING IS TO YOU, March 1998. In response to the letters triggered by this action alert, Lieberman reaffirmed his general commitment to the captioning program, but continued to insist that the federal government pull its captioning funding. The program, he said, "shamelessly promotes violence, revels in the degradation of its guests, and violates many of our most basic common values," and was therefore not deserving of the limited funding available under the Department of Education's captioning program. Senator Joseph Lieberman, letter to Nancy Bloch, executive director, NAD, March 17, 1998.
75. Secretary Richard Riley, letter to Senator Lieberman, March 30, 1998.
76. "FCC and U.S. Dept. of Education Reassures the Public on Closed Captioning Plans Effective October 1, 2001," e-note mailing to TDI-L listserv, February 20, 2001.
77. Cheryl Heppner, executive director, Northern Virginia Resource Center for Deaf and Hard of Hearing Persons (NVRC), "Action Alert: Your Family's Favorite Shows May Lose Captioning," NVRC News—e-mail alert (October 1, 2003). See also NAD, "Television Captioning Censorship Hurts Family Values," news release, October 2, 2003; Charlie Crawford, ACB, letter to Dr. Louis C. Danielson, Office of Special Education Programs, Department of Education, September 26, 2003 (protesting the Department's failure to request input from the community prior to adopting the new policies). Other signatories to the ACB letter were the Association for Education and Rehabilitation of the Blind and Visually Impaired, the American Foundation for the Blind (AFB), TDI and the Washington Ear. Blind groups would be even more severely affected by the agency's new restrictive funding policy because it limited programs eligible for video description funding. Although the 1996 Telecommunications Act's mandates would ultimately require captioning on nearly all programming (regardless of available federal funding for those shows), there were no parallel mandates requiring video description of the now prohibited programs.
78. P.L. 85-905 §2 (1958) (second objective listed).
79. NCD Chairman Lex Frieden, letter to Roderick R. Paige, December 15, 2003, urging him not to prevent the nation's "28 million deaf and hard of hearing people from accessing programming that is available to the general public." Representatives Jan Schakowsky (D. Ill.), Jim Mc-Dermott (D. Wash.), Maurice Hinchey (D. N.Y.), Sherrod Brown (D. Ohio), Lynn Woolsey (D. Calif.), Juanita Millender-McDonald (D.-Calif.), Jerry F. Costello (D. Ill.), Maxine Waters (D. Calif.), Sephanie Tubbs Jones (D. Ohio), letter to Roderick Paige (May 11, 2004).
80. Captioning R&O 1997, ¶222; Captioning Order on Reconsideration 1998, ¶40.
81. TDI et al., Petition for Rulemaking, RM-11065 (July 23, 2004). CAN, NAD, SHHH, and ALDA joined TDI in the petition.
82. Closed Captioning of Video Programming, Telecommunications for the Deaf, Inc.—Petition for Rulemaking, Notice of Proposed Rulemaking, CG Dkt. 05-231, FCC 05-142, 20 FCC Rcd 13211 (July 21, 2005).
Epigraph. Malcolm J. Norwood, "Captioning for Deaf People: An Historic Overview" in Speech to Text: Today and Tomorrow, ed. Judy Harkins and Bobby Virvan (Washington, D.C: Gallaudet University, September 1988), 137.
* Larry R. Goldberg of the Caption Center and I initiated these drafting efforts, and worked closely with consumer leaders from the Television for All Coalition (TVFA), NAD, CAN, and CCD, including Harvey Goodstein, Mark Goldfarb, Toby Silver, Nancy Bloch, Brenda Battat, and Cheryl Heppner. Philip Bravin and Kim Dorgan of NCI, Jeff Hutchins of CaptionAmerica, and Sy DuBow of NCLD were also very involved in this effort.
† The TV enhancements about which consumers were concerned included video compression, digitization, and fiber optics.
* Attendees at this March 11 meeting included representatives of Paramount, Independent Television, the Motion Picture Association of America, and NCTA.
* The final document contained yet another exemption that would relieve a video programming provider from providing captions where such action would be inconsistent with existing contracts. This section, which eventually found its way into the final law, covered the narrow situation where a studio or other copyright owner had already entered into a contract to provide syndicated reruns to a television station, and did not want the station to insert captions on its own. The contracts, usually of three- to five-year duration, required that the shows be returned to the copyright owner for alterations, including the addition of captions. Once these temporary agreements expired, this provision would become moot. Matt Gerson, memorandum to Dave Zesiger, Kristan Van Hook, and Gerry Waldron, March 14, 1994.
* The final draft gave the FCC discretion both to issue rules that automatically exempted whole classes of programs or services based on economic burden and to grant individual petitions for exemptions based on undue burden, though neither Congress nor the FCC ever delineated differences between these two exemption standards. Yet another consumer defeat was the failure of the House to include report language clarifying that programs would be deemed "fully accessible" only if they met standards for captioning quality with respect to accuracy, spelling, grammar, timing, and placement, and used real-time captioning for all local news programming. To this day, the deaf community continues to fight for improved standards of captioning quality.
* For example, one court had disapproved a requirement for all drivers to have their state's motto "Live Free or Die" on their license plates.
* Sonnenstrahl's testimony was presented on behalf of NCLD, NAD, TDI, and CAN. Statement of Alfred Sonnenstrahl, Hearings on H.R. 1555 before the Subcommittee on Telecommunications and Finance of the House Committee on Energy and Commerce, 104th Cong., 1st Sess. (May 11, 1995).
* To evaluate the claim that background conversation was of only marginal relevance on home shopping channels, I decided to watch one of these channels. Shortly into the program, I realized that without captions, deaf viewers would not have enough information to make an informed judgment about any of the advertised products. For example, graphics provided in an ad for a household cleanser failed to provide information about the cleanser's composition and application, safety issues, discounts, and money-back guarantees mentioned in the show's audio commentary. Unfortunately, while conducting my analysis, I lost sight of my original purpose for turning on the show and, carried away by the persuasive advertising of this miraculous all-in-one product, found myself picking up the phone to order over a year's supply of cleaning fluid. Luckily, as I reached for my credit card, I was brought to my senses and quickly terminated the call. For my pocketbook's sake, I switched the channel.
* The restriction was in fact later added to the IDEA Amendments of 1997.
† New programming was defined as programming first shown or exhibited after the effective date of the FCC's rules, January 1, 1998. Older or pre-rule programming was defined as programming first shown before that date.
‡ The very last episode of Seinfeld, shown in May 1998, reportedly brought in $2 million per thirty-second ad. www.winning-newsmedia.com/ratings.htm (retrieved January 3, 2004). A few months before, the Superbowl brought in $1.3 million per commercial.
* By contrast, in a separate statement accompanying the new order, Commissioner Rachelle B. Chong said that the rules appeared "over-regulatory in an era of deregulation," and complained that the requirement for 75 percent of older programming to contain captioning might be "too onerous."
† For example, in the Washington, D.C. metropolitan area, TVFA, acting under the leadership of Toby Silver and Mark Goldfarb, had succeeded in convincing all four major network affiliates to broadcast their news with real-time captioning.
* Kennard's Chief of Staff Kathy Brown and I worked with Scott Marshall and several other FCC employees to help put together the FCC's first consumer-oriented advisory body, which we named the Disability/Consumer Telecommunications Advisory Committee (CDTAC). Although the Bush Administration later changed its name to the "Consumer Advisory Committee," the group continues to have various subcommittees dedicated to disability issues.
† In the early 1990s, the Silent Network was sold and became Kaleidoscope until 2000, when it went out of business. Its founder, Sheldon Altfeld, is now developing programs for the deaf community that can be aired on other networks.
* The FCC has a rule disallowing contact with Commission officials during the seven days prior to a commission vote on a rule or order. This period is called the "Sunshine Period." September 10 was the last day on which we could try to influence the commissioners with respect to the captioning reconsideration order.
† In a separate statement attached to the order, Kennard revealed his disappointment with the majority's ruling on national advertising: "I do not believe that captioning nationally distributed advertisements can be seen as an economic burden given the amount of money generally spent to develop these national advertisements. … Advertisements disseminate information to the public, and may have an even greater relevance for persons who are otherwise cut off from the rest of society."
* EIA, a trade organization representing American companies providing advanced technology, was the successor to the group that first developed decoder circuitry standards for analog television.
* In early 2006, Congress extended this deadline to mid-February 2009.
* The Department of Education generally decides which shows are eligible for captioning with the assistance of grantee peer review and advisory boards that include deaf and hard of hearing individuals at the various captioning agencies. The work of these panels is reviewed by a Department of Education panel that also includes people with hearing loss.