Entering the Mainstream of Telephone Communications
Henry Kisor, an editor at the Chicago Sun Times who happened to be hard of hearing, often relied on an assistant to make his calls to hearing colleagues who did not own TTYs. On one particular occasion, Kisor had a dispute with a publisher about a book review. He wanted to convey his anger but was concerned that if his assistant made the call for him, she would be far too nice. Taking matters into his own hands, Kisor wrote a letter to the publisher himself, telling him "to go to hell." Kisor's boss was not pleased; it was okay to tell someone "to go to hell," his boss informed him, but one should do so on the phone "so there's no written proof!"
BY THE mid-1980s, the proliferation of TTYs and the availability of TTY-accessible operator services promised to open a whole new world for deaf and hard of hearing people. But the taste of that access made its limitations all the more bitter. Although TTYs represented a milestone in the quest for telecommunications access, these devices, in and of themselves, had limited value if they could only be used to call other individuals who owned similar equipment. Deaf and hard of hearing people still needed a way to call businesses, employers, and family members who did not own these devices. Having to rely on others to make calls not only reduced productivity; it chipped away at one's privacy and sense of dignity.
The Birth of Relay Services
The need for TTY users to be able to call voice telephone users directly had not escaped the attention of the original creators of the TTY. As early as 1965, when only a few individuals had TTYs, Andrew Saks presented the idea of a system that conveyed—or "relayed"—messages back and forth between a TTY and conventional voice telephone to Jim Marsters.1 Saks and Marsters then each made arrangements with local companies to provide relay services for a handful of deaf subscribers, Saks with the Tel-Page Company in Redwood City, California, and Marsters with the Alert Answering Company in Pasadena, California. Most of the time, the messages were sent on a delayed basis, received and then forwarded at a later time; only occasionally and where time permitted was the communication between the two parties relayed simultaneously.2 Unfortunately, complaints from staff about the noise of the antiquated TTYs and concerns about the high costs to consumers for these services—as much as $65 to $100 per month—ultimately limited the success of these services, and they closed not long after beginning operations.3
One of the next efforts to bridge the communication gap between TTY and conventional telephone users occurred in 1969, when Paul Taylor arranged for twenty deaf families in St. Louis to pay $2 a month to a family-run service for the ability to make calls, in real time, to and from voice telephone users. The TTY users would call a third-party operator, who would then call the hearing recipient of the call, read the TTY user's message to the call recipient, and then type back the voiced responses.* While this service lasted only six months (demand far exceeded its fiscal solvency), it was a portent of things to come. During the 1970s, there was a gradual but steady proliferation of privately operated relay services across the nation.
The earliest funding sources for these telephone services knew no bounds. They included charitable donations, church bazaars, bake sales, local governmental appropriations, and, in one case, a dance marathon! But limited financial support meant that most of these systems were staffed with untrained and often unskilled volunteers or minimum-wage workers. Two examples illustrate the homegrown aspect of these services—a housewife in Rochester, New York, provided private relay services for small fees; a blind man in New York City made relay calls from his home at no cost (to its users).
As demand steadily increased over time, these private operations grew, became more sophisticated, and evolved into sizeable programs designed to meet the needs of whole communities. Throughout the 70s and 80s, privately run relay centers, staffed by thousands of volunteers, opened across the country. Approximately fifty of these independently operated and funded centers were coordinated through headquarters located in Harrisburg, Pennsylvania, under the name CONTACT USA.4 Lee Brody supplied the TTYs for several of these centers, while Cliff Rowley, president of TDI during part of the 1970s, worked with other telecommunications access pioneers to regularly perform equipment repairs for locations in the northeast. Three years after Paul Taylor's family-operated service shut its doors, a DEAF CONTACT relay operation took over in St. Louis on a much grander scale than its predecessor. In the mid-Atlantic region, Esther Schaeffer founded a different relay center, TEDI or Telecommunications Exchange for the Deaf, Inc., for calls originating in the Washington, D.C., metropolitan area, including its Maryland and Virginia suburbs. In other parts of Maryland, Willis Mann effectively expanded a hotline for potential suicide victims into local relay services. He later moved to northern California, where, as the executive director of the NorCal Center on Deafness in 1980, he used a $15,000 grant to open a relay service for twenty-three counties. Many other centers like these opened in other jurisdictions.

Telecommunications relay service. Today the communications assistant would be seated at a computer screen. (Left) voice telephone user, (middle) communications assistant, (right) TTY user
Although some of these nonprofit relay operations were better endowed than others, virtually all faced severe funding limitations that strained their ability to meet the growing need for telecommunications in the deaf community. Thousands of calls went unanswered on any given day because of the limited hours and meager staffing of most centers.* In addition, many of these nonprofit relay centers used third-party, credit-card, and collect-call billing mechanisms for toll calls because they feared being burdened with unpaid long-distance costs incurred by their clients. The higher costs associated with the use of these operator services discouraged many individuals from making any long-distance relay calls. The inordinately high demand for relay access, coupled with an interest in having full, not partial, telecommunications access, fueled a growing consumer movement to obtain comprehensive statewide relay services across the country.
Statewide Relay Services Take Over
On February 11, 1974, Bill and Grace Yoreo and their son, Dave Yoreo, established Converse Communications in Connecticut, the first statewide, twenty-four-hour relay service in the nation. Although the nonprofit operation was initially run from the Yoreos' home and privately funded (in part with contributions from telephone and insurance companies), the Connecticut legislature began helping to finance the service with a portion of funds earmarked for the Connecticut Commission for the Deaf and Hearing Impaired in 1983. Converse Communications eventually shut down its relay service in 1993, but for many years it remained the longest running statewide relay service in the United States, serving as a model for others interested in beginning relay operations.5
South Dakota holds the distinction of becoming the first state to offer a statewide relay program with state-appropriated funds. The story of how these services began goes back to the day when a young deaf boy named Ben Soukup watched a bank turn his father down for a loan to save the family farm, simply because his father was deaf. After seeing his father's health and business decline, Soukup made it his mission—as well as his passion—to develop ways to ensure that South Dakota's deaf residents had the communications access that they needed to be successful. Once grown, in 1975, he started Communication Service for the Deaf (CSD)—at first a branch of the South Dakota Association of the Deaf—to fulfill his dream. Less than a year later, with appropriations from the state's vocational rehabilitation services, CSD began operating a "TTY Interpreting" relay program between the hours of 8 a.m. and 5 p.m. Calls that came in after those hours were handled by answering services and volunteers who worked from their homes. Many years later, CSD developed a relationship with Sprint that enabled the two companies to become national leaders in the provision of relay services across the United States.
Unfortunately, during its early years, the South Dakota relay program was plagued with funding limitations that kept it from offering round-the-clock services. It was not until several years later that California's state government became the first to operate a twenty-four-hour, seven-day-a-week relay service for all of its residents.* The idea for the California program began in the early 1980s when it was discovered that the state's equipment distribution program, which gave out free TTYs and other specialized equipment, had a $12 million surplus. After considerable debate, deaf telecommunications pioneers Marcella Meyer, Bill White, Jack Levesque, Gerald "Bummy" Burstein, Dick Babb, and Judy Viera agreed to ask the California state legislature to apply the extra funds to the creation of a statewide, mandated relay services program. They were successful in getting an amendment to the distribution law that provided funding through a three-cent surcharge (with a cap of ten cents) on all telephone subscriber bills for relay services that were to be administered by the California Public Utilities Commission (PUC).6 At midnight on January 1, 1987, AT&T began the new service in Woodland Hills with 123 "communications assistants" and an annual budget of approximately $14 million. Although the planners expected a monthly volume of 50,000 calls, the very first month brought in 87,511 calls. By the close of 1987, monthly volume had risen to more than 179,000 calls.
The extraordinary consumer response to California's full-time statewide relay program became an inspiration for consumers in other states. Across the country, advocates approached their legislators and state regulatory commissions to secure similar state-mandated relay programs. Relay hearings in New York attracted more than 100 sympathetic witnesses. So persuasive was their testimony that the seven New York public service commissioners voted unanimously in 1987 to approve the requested service. This was a true victory for Paul Taylor, who had since moved to New York from St. Louis, and had actively lobbied for a relay service in New York since 1984. Deaf consumer advocates in several other states were equally effective in convincing their lawmakers to begin statewide relay programs.7 But while many of the new programs were a significant improvement over their nonprofit predecessors, nearly all remained unable to fully meet the demands of the deaf community. States frequently funded their relay programs with governmental appropriations that grossly underestimated the demand for telephone access within the deaf community. Even those states that funded their systems with subscriber surcharges frequently imposed caps on those surcharges, which impeded the adequate delivery of these services. California was a case in point. Only one year after implementing its relay system, its budget doubled to more than $30 million. When it became clear that the $.10 surcharge cap would not provide enough revenue to cover both the relay service and the equipment distribution program, deaf community advocates returned to their legislators to request an increase in the surcharge cap just to keep the system running. In states where legislators were unwilling to increase similar funding limits, inadequate relay budgets failed to provide sufficient services.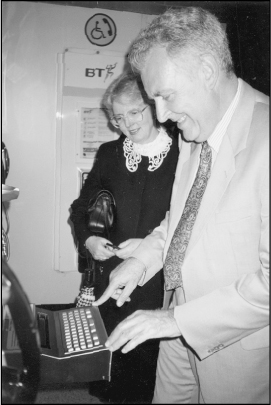 Christopher Jones, vice president of Teltec International, makes a call from the public text telephone in London while Judy Viera looks on.
To conserve funds, many of the early state relay programs imposed severe restrictions on the time and length of TTY calls.8 Some states, like Kansas, only provided relay services from 8:00 a.m. to 5:00 p.m., Monday through Friday, and offered no service at all on holidays or weekends. Virginia's service was a bit better, but still only accepted calls between 7:30 a.m. and 7:30 p.m. Other states placed limits on the length of calls themselves. Massachusetts and Vermont, for example, restricted personal calls to ten minutes and business calls to twenty minutes. Arkansas similarly limited business calls to fifteen minutes and prohibited personal or "chatty" calls. Wisconsin's policy was even more restrictive, permitting operators to indiscriminately cut off all conversations that appeared to be "long social calls."
Placing restrictions on the length of calls created considerable hardships for deaf people who needed to call governmental offices and other institutions that typically placed callers "on hold." For example, a deaf consumer might have to make multiple calls to resolve a simple matter on a utility bill, if the company being called placed the call on hold beyond the time limit imposed by the relay service. In one case handled by NCLD, a deaf woman accused her law firm with discriminating against her because the firm billed each of her calls at the hourly rate, even though the relay service cut off each call after fifteen minutes. The woman had to make numerous calls to complete her conversation, which resulted in legal fees that far exceeded those paid by hearing clients.
Some state relay programs, including those in Nebraska, Minnesota, and Arkansas, restricted the number of relay calls permitted by relay callers each time they dialed into a center. In addition, New Hampshire imposed a five-call-per-day limit for calls up to fifteen minutes. The vast majority of the states also refused to handle interstate relay calls because their public utility commissions had concerns about the appropriateness of using surcharges assessed on their own ratepayers for calls benefiting persons outside their states. Because these commissions lacked jurisdiction over interstate telephone rates, they also believed they lacked authority over out-of-state relay calls. California relay consumers challenged this policy, arguing that it was unfair for them to be assessed a federal monthly charge for interstate access to the telephone network if they did not have full access to that network. The state's PUC found that because the FCC regulated interstate telephone service, the FCC—not California—should address this issue.
Few states during the 1980s imposed any standards for relay service quality. As a consequence, many relay operators had weak typing and grammar skills and were unfamiliar with the communication needs of relay users. Deaf consumers complained that so many hearing people were repelled by the ineptitude of relay operators that many even refused to use relay services.9 The general failure to appreciate the need for relay confidentiality also resulted in frequent violations of user privacy. Some relay services even required their relay operators to store copies of conversations in file cabinets for up to six months!10
By far, however, the biggest problem confronting these early relay programs was their inability to adequately handle large volumes of relay calls. Insufficient funding meant that callers typically had to endure endless busy signals and long queues before even reaching a relay operator. Unfortunately, attempts to alleviate this overcrowding were not very successful. Massachusetts, for example, provided two toll-free relay access numbers—one for the eastern half of the state, including Boston, and the other for the western half. When the eastern relay number began receiving many more calls than the western number, some residents in the eastern part of the state started using the western access number, overwhelming both of the relay centers. Oklahoma proposed alleviating extensive call blockages by limiting its system to certain categories of TTY users. It reversed this decision only after lawyers at NCLD informed Oklahoma officials that they could not collect surcharges from all telephone subscribers without offering equal access to all subscribers.
Federal Involvement
Up until the mid-1980s, the FCC had done little, beyond its work on hearing aid compatibility and, to a more limited extent, specialized customer premises equipment, to address the needs of individuals with hearing disabilities. Deaf community advocates seized the opportunity to explain the inadequacies of the existing state relay systems when the Commission scheduled its first public meeting on telecommunications access on December 5, 1986.11 At this forum, NCLD attorney Sheila Conlon Mentkowski urged the FCC to treat relay users on an equal footing with other telephone users. She explained that many states still treated relay services as charities by appropriating relay funds to social service and vocational rehabilitation departments, rather than public regulatory commissions. Mentkowski stressed that relay services were not solely for deaf and hard of hearing individuals, but rather provided a means of facilitating communication between two populations—hearing and deaf. Others at the forum echoed her concerns.
The FCC listened, and on April 24, 1987, adopted a notice of inquiry that both acknowledged the severe limitations then being imposed on relay users and solicited public comment on proposed solutions.12 At the time, the FCC focused far more on what it could do to mandate comprehensive interstate, rather than intrastate, services. Additionally, the Commission gave considerable attention to lack of relay privacy and the need for technologies to replace human relay operators with "unmanned relay stations." The Commission noted recent efforts by IBM to convert keystrokes into synthesized speech, along with the work of other companies that had been exploring the use of touchtone strokes to convey telephone messages.
In response to the FCC's inquiry, numerous consumer groups, state regulatory bodies, local exchange carriers, and interexchange carriers expressed their strong support for interstate relay services. Many also endorsed the creation of an advisory committee to oversee the creation and implementation of an interstate system. Some argued that the need for FCC action had already been demonstrated by two independent surveys on state relay services—one by NCLD and the other by the Maryland Ad Hoc Committee (a committee formed to develop Maryland legislation on equipment distribution and relay services). The surveys revealed the considerable discrepancies among the state programs and affirmed the need for an FCC resolution of the jurisdictional disputes that kept the states from offering interstate relay services.13 Along these lines, the Gallaudet Research Institute recommended that the Commission look at the government-supported relay service in Sweden, which by then had been handling all types of calls, including international calls and calls from ships at sea, for five years.
Lack of FCC action over the next few months prompted the National Association of Regulatory Utility Commissioners (NARUC) to file a petition requesting the FCC to conduct a further notice of inquiry on interstate relay services.14 The petition described the frustration and confusion experienced by relay consumers, who were able to make relay calls within, but not between, states. It urged the FCC to establish a review committee comprised of industry and consumer representatives to explore interstate relay systems and technologies. Advocates appreciated NARUC's support for an FCC-mandated interstate system, especially because the state regulatory commissions represented by NARUC would likely be responsible for implementing at least a part of this system.
In a strongly worded endorsement of the NARUC petition to the FCC, NCLD reported the growing number of concerns that consumers were now having with variations between and among state relay programs: "As each state enacts its own relay system 're-invention of the wheel' occurs. Efforts are duplicated, procedures already established in other states are redesigned, and implementation of the system is inevitably delayed. A nationwide relay system would eliminate the need for these duplicative efforts."15
During the fall of 1987, efforts to build a nationwide advocacy movement for relay services also gained impetus with the creation of two new national consumer committees: the TDI Relay Service Committee, chaired by Paul Taylor, and the NAD Task Force on Relay Services, coordinated by Paul Singleton. The new groups had a challenging agenda: obtain a comprehensive and uniform nationwide relay system, develop standards of relay quality, educate consumers about relay services, and work with the telephone industry on achieving these goals.16 Gary Olsen, executive director of the NAD, gave these efforts his full support: "We should not be continually forced to 'making do' with what little relay services are available in the U.S. today. The NAD is committed to seeing that [the] FCC implements activity to ensure the provision of this nationwide relay service."17 As one of its first assignments, the NAD Task Force organized a consumer mailing campaign to pressure the FCC into responding to NARUC's petition.
Approaching Congress
Dissatisfaction with the FCC's progress on relay service issues eventually prompted disability advocates to turn to Congress. On November 20, 1987, on behalf of TDI, the NAD and other advocacy groups, NCLD sent a letter to Bobby Silverstein, staff director and chief counsel of the Subcommittee on the Handicapped of the Senate Committee on Labor and Human Resources.18 The committee chair was Senator Tom Harkin (D-Iowa), a longtime advocate for people with disabilities, who was no stranger to the need for adequate communication services; just recently, Harkin had secured the services of a sign language interpreter so that his deaf brother, Frank, could witness his own congressional swearing-in ceremony. He had also helped the NAD and NCLD secure an agreement from the U.S. Postal Service for a recruitment policy that facilitated the hiring of people who were severely disabled.
NCLD's letter to Silverstein described the existing relay situation to be a matter "of crucial and timely interest to the deaf and hearing-impaired community." The letter reported that the severe limitations imposed by the existing patchwork of state relay systems had made many of these systems ineffective. In particular, it complained that the inability to make out-of-state calls unfairly treated deaf telephone users differently from their hearing neighbors. The advocacy groups urged Senator Harkin and Senator Daniel Inouye (D-Hawaii; chairman of the Senate's Subcommittee on Communications of the Senate Committee on Commerce, Science, and Transportation) to convince the FCC to move ahead in establishing a committee to review relay service issues. Advocates expressed the fear that, without pressure from Congress, the FCC would forever remain idle on this issue.
Two weeks later, I called AT&T and spoke to Ron Hatley, manager of consumer affairs for disability issues. In addition to AT&T's having been the very first telephone company to provide statewide relay services in California, rumors now circulated that the company wanted to establish a nationwide interstate relay system. My call to Hatley was to find out where AT&T stood in these plans. His response made clear, however, that his company wanted to wait until the FCC first established relay standards (e.g., hours of operation) and decided the extent to which relay systems should handle both intra- and interstate calls, before it took any action on its own. AT&T's greatest concern was with the way that interstate relay services would be financed, specifically, whether the states would be expected to collect revenues for a national system. In a policy statement released after NCLD's call, AT&T announced it did not wish to bear full financial responsibility for these services.19
With both AT&T and NARUC ready to move ahead with a nationwide relay system, but both awaiting approval from the FCC, advocates had two options. We could ask Congress to push the FCC into granting NARUC's request for a second notice of inquiry on a national relay system, or we could seek federal legislation to require the FCC to issue guidelines for such a system. Frustrated with the FCC's inaction, Mentkowski, DuBow, and I agreed upon the latter route and set about drafting the very first federal relay bill.
On January 5, 1988, NCLD sent a second letter to Silverstein with draft legislation for an interstate "dual party relay system."20 At the time, advocates generally assumed that neither Congress nor the FCC would want to meddle in state affairs by requiring intrastate relay service programs. Accordingly, rather than request mandated relay services within the states, the draft merely sought a way for Congress to provide financial assistance—through matching grants of up to 50 percent—for existing state programs. The bill also proposed the creation of a federal-state joint board, composed of commissioners from both the states and the FCC, to develop uniform relay service standards and determine eligibility for the matching grants.
Deaf community advocates were delighted with the proposal. Paul Taylor told NCLD, "That bill is really something! Not even in my wildest dreams did I imagine that progress on the telephone relay service would escalate to the federal level so quickly."21 Taylor, then a professor at the National Technical Institute for the Deaf (NTID) in Rochester, New York, wanted to devote more of his time to the national effort to secure relay services. Believing that telephone communications directly affected job opportunities for NTID graduates, he convinced Bill Castle, president of NTID, to incorporate efforts to expand telecommunications access into "Project Outreach," an NTID project to develop the college's ten-year curriculum plan. Castle provided Taylor with both funding for his travel between Rochester and Washington, D.C., and generous leave so that Taylor could spend time pursuing relay advocacy in the nation's capital. Those of us who worked in Washington regularly relied on Taylor for information, assistance, and even congressional testimony in the months and years ahead. His direct experience with creating one of the very first private relay systems and one of the very first statewide systems, proved invaluable to our national efforts.
AT&T's response to NCLD's letter, though more reserved than Taylor's, also appeared supportive. AT&T now said that it viewed relay services as "a market opportunity to meet the communications needs of the speech/hearing impaired."22 This approach fit in nicely with the deaf and hard of hearing community's overall objectives to define relay services as just one of the many telecommunications services that the telephone company would offer to the public, and to move away from classifying these services as charitable or social service ventures.
On January 22, 1988, Silverstein hosted a meeting on Capitol Hill to discuss strategies for advancing the relay legislation with NARUC and several deaf community leaders.* The participants unanimously agreed that the FCC's foot-dragging on disability issues in general, and on NARUC's petition in particular, had become intolerable. TDI's GA-SK Newsletter captured our sentiments: "During an extraordinary session, it was revealed that nobody was minding the store at the Federal Communications Commission."23 Nevertheless, because it was an election year, the participants agreed that politically, it would be best to focus on convincing the FCC to complete its relay proceeding before pushing Congress on this issue. And for the time being, we would leave issues concerning intrastate systems to their respective state jurisdictions.
Early in 1988, NCLD formed a task force of deaf and hard of hearing leaders, Capitol Hill staff members, and others interested in lobbying for federal legislation on interstate relay services.† The first meeting, on February 9, 1988, produced two very clearly defined goals: (1) that relay services had to be treated as a utility subject to the same protections and regulations as other utilities, and (2) that states with smaller deaf populations had to be able to sustain and support relay services for their communities. The latter goal could be achieved by either pooling the resources of the smaller states to create a regional relay service or pursuing federal-state matching grants. The task force soon received support from NARUC, whose Communications Committee produced a resolution on March 3, 1988, supporting federal legislation to encourage the creation of a nationwide "message relay system," so long as state participation was voluntary and the states had flexibility with respect to both the characteristics of their individual programs and funding mechanisms. The resolution presumed that federal funds would be available to the states for this purpose, but expanded upon NARUC's earlier support by seeking a legislative, rather than regulatory solution for the provision of relay services.
Although helpful, NARUC's support paled in comparison with the radical changes that resulted from the Deaf President Now (DPN) movement at Gallaudet University in March 1988. Gallaudet had not had a deaf president in its 124-year history. When its board of trustees narrowed its selection to three individuals, two deaf and one hearing, many in the Gallaudet community became hopeful that this situation would finally change. On March 6, 1988, however, the board announced the selection of Dr. Elisabeth Ann Zinser, another hearing president. Stunned and angry Gallaudet students, faculty, and staff responded by shutting down the university in a week-long series of protests. Organizers demanded that the board appoint a deaf president, that the current chair of the board of trustees resign, and that a majority of the board members be deaf.
The events that erupted during DPN week attracted attention worldwide, and in a way that no one could have imagined, furthered a disability rights movement that already had begun to gather momentum in the United States. Reporters flocked to Gallaudet's Washington, D.C., campus. The Washington Post described DPN as an "explosion" that galvanized the deaf community after "years of pent-up feelings of oppression and second-class citizenship."24 The New York Times referred to "the growing activism of the deaf" and characterized the week's events as "a new civil rights movement, deliberately patterned on the black civil rights actions of the 1960s."25 In striking similarity to those earlier events, people from all over the country boarded buses and planes to join the DPN demonstrations while schools for the deaf held their own rallies in support of events occurring in the nation's capital. The protesters also received a steady stream of financial and political support from national leaders that included Jesse Jackson, Abbe Hoffman, and members of Congress.
On March 10, the demonstrators prevailed. Late in the evening, Zinser resigned from the presidency, in response to what she herself described as "this extraordinary social movement of deaf people."26 Three days later, Dr. Irving King Jordan was selected as the first deaf president in Gallaudet's history, and shortly thereafter, Phillip W. Bravin, a deaf Gallaudet alumnus, became chairman of the Gallaudet board of trustees. Over time, Gallaudet's board also acquired a deaf majority. But the DPN protest succeeded in doing far more than changing the composition of the university's presidency and board of trustees. The historic week made Gallaudet a household name, and in doing so, laid the groundwork for deaf individuals everywhere to take a firmer stand in their quest for equal rights. Through media reports of the demonstrations, the public became acquainted with sign language interpreters, TTYs, television captioning, and other forms of communication access. Dr. I. King Jordan noted that "people who before March 1988 knew little or nothing about deafness are now advocates for our rights. … there is a growing interest in learning more about our beautiful language, our unique culture, and our cherished history."27
The new sense of deaf empowerment that DPN brought changed everything for deaf rights advocates. One Gallaudet senior accurately predicted that the movement would inspire "deaf people everywhere to continue to fight against discrimination of any kind. … [All people] will realize that with courage and solidarity our governments can be made to respond to the challenges facing us. We are continuing not only the proud tradition of the struggles of deaf people, but putting into action principles deeply rooted in democracies everywhere."28 Gregory Hlibok, president of the Gallaudet student body government and one of the four DPN student leaders, declared that "this past week we [deaf people] became visible, and we will continue to be visible for the rest of our lives as will deaf people all over the nation and around the world."29 Overnight, it seemed like the new awareness about the needs and abilities of deaf people produced remarkable results on Capitol Hill. Bills that had been sitting idle in congressional committees suddenly found their way to the floors of the House and Senate, where they were swiftly passed into law. Over the course of only a few months, a bill introduced by Senator Harkin to enhance the use of technology to assist people with disabilities, legislation to establish a National Institute on Deafness and Other Communication Disorders, and legislation to require wireline telephones to be hearing aid-compatible became statutory mandates.30 Congress also increased its annual appropriations for Gallaudet from $62 million to nearly $66 million for 1989, an increase that more than doubled the rate of prior years.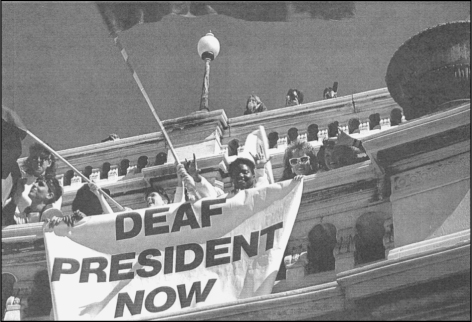 Deaf President Now attracted worldwide attention in the media and helped to galvanize support for pending federal legislation designed to expand disability rights.
Efforts for nationwide relay services similarly took on a new vitality. On March 15, 1988, Senator Albert Gore (D-Tenn.) sent a letter to the FCC urging full consideration of the NARUC petition for interstate relay services. Only two weeks later, the Commission released a new notice seeking specific proposals for the implementation of these services.31 This time, the Commission said it was looking for specific details on how to fund and operate a system, as well as proposed rules for its use and administration. FCC Chairman Dennis R. Patrick also wrote back to Senator Gore in April, promising to take appropriate action on the basis of the comments received in response to the agency's new relay inquiry.32
Relay advocates grabbed this opportunity to flood the FCC with comments demonstrating the enormous need for interstate relay services. With the summer only months away, the largest deaf and hard of hearing consumer organizations—NAD, SHHH, and AG Bell—were now planning their national conventions. The NAD had already set aside time for a TDI-sponsored workshop on telephone relay service advocacy.33 Now both the NAD and SHHH allocated convention space for a TDI booth dedicated to a letter-writing campaign to the FCC and federal legislators. Fred Weiner suggested that TDI set up computers with laser printers to speed up this process, and Al Sonnenstrahl and Paul Taylor took charge of the operations. The goal was to bombard the FCC with thousands of letters.34
By the time that comments were due to the FCC, NCLD's relay task force had put together a laundry list of features that consumers wanted in high-quality relay services:
1.Interstate relay services needed to be of a professional quality, with no restrictions on the frequency, length, hours, or content of calls, and with far more acceptable answer speeds.*
2.A quality relay service needed a highly competent staff, one that would have not only basic knowledge of grammar, syntax, and spelling, but that would be able to type at least sixty words per minute and be fully trained in the use of TTYs and the cultural and linguistic differences of relay users.
3.Strict codes of conduct, ethics, and confidentiality had to be enforced; relay operators were to be prohibited from altering or recording relayed messages.
4.The relay system needed to be able to exploit future technologies, such as voice synthesizers, video telephones, and packet switching in order to improve relay efficiencies and reduce costs.
5.A "Telecommunications Relay System Board" needed to be established to develop and oversee a national system. The board would consist of interstate carriers, telephone users, the FCC, state regulatory bodies, and intrastate relay service providers, and adhere to recommendations made by a consumer-run advisory committee that would directly receive and respond to complaints and recommendations for relay service improvements.
The relay task force knew that its various demands had to be carefully woven into a comprehensive set of comments that demonstrated strong support from constituencies all over the country. For this purpose, it turned to the Institute for Public Representation (IPR) of Georgetown University's Law Center.* Robert Richardson, an IPR graduate fellow, and Angela Campbell, IPR's chief telecommunications counsel, took on the task of writing the consumer comments, while the task force assumed responsibility for gathering organizational support. By the time the comments were completed, approximately fifty national and local consumer groups and local governmental consumer agencies from across the United States had agreed to sign on.35 Collecting signatures was fairly easy because most groups were excited about joining the effort to improve services to their constituents.
In addition to laying out the specific demands for relay operations, advocates knew that they needed to first convince the FCC that it had the authority, absent a specific federal relay law, to order the creation of an interstate system. As before, consumers turned to the Commission's general universal service obligation to provide telephone service for all Americans, as well as the more specific requirements of the Telecommunications for the Disabled Act to provide people with disabilities with "the best telephone service which is technologically and economically feasible."36 While most industry commenters did not dispute the FCC's jurisdiction to require nationwide interstate relay services, a few telephone companies did express reservations about having the FCC actually exercise that jurisdiction. For example, the United States Telephone Association (USTA), a group representing over 140 telephone companies, said the Commission should merely encourage companies to voluntarily enter the relay service business.37 Similarly, NYNEX suggested that the Commission wait until automated relay services were available, rather than require "manned" interstate relay services.38 NYNEX also reminded the Commission that future packet-switching technologies would facilitate communication between personal computers and TTYs without the use of a relay service.
Fortunately, all deaf and hard of hearing consumer organizations, state relay systems, state public service commissions, and even most telephone companies supported the concept of a nationwide relay program.39 Many also supported the development of an advisory body, composed of local and long-distance telephone companies, consumers, and existing state systems to help oversee the national system.40 By now, the number of states that either had a relay system or were in the process of establishing one within their borders had grown to twenty.41 Throughout the country, reaction to these services had been extraordinarily positive. In California alone, relay usage exceeded 200,000 calls per month, four times the anticipated call volume. In addition, California's residents proved once and for all what consumers had predicted all along—that the ability to make calls to individuals who did not have TTYs would prompt more individuals who needed TTYs to get that equipment for themselves. California's TTY distribution program had grown an average of twelve percent during each of the first seven months that relay services were available; this roughly doubled its earlier growth rate.42
The principal source of disagreement among the parties commenting on the FCC's notice, without question, concerned the funding of relay services. For the most part, this stemmed from a philosophical difference about the basic purpose and nature of a relay system. Members of the telephone industry still classified relay services as a social welfare program for which the government bore responsibility, rather than a common carrier service that they were obligated to provide. These companies resisted any funding mechanism that required them to finance relay services, even if they could pass on the associated costs to their ratepayers. Instead, they recommended that the funds come from general tax revenues and direct governmental appropriations. AT&T argued that "society as a whole bears responsibility for caring for those of its members who are burdened with physical impairments. Government, as society's surrogate, should provide the financial resources to provide that care" through general taxation.43 Similarly, claiming relay services to be a societal problem, USTA alleged that funding a relay system through the customers of private telephone companies would be tantamount to imposing a tax that was beyond the Commission's jurisdiction.44 Southwestern Bell also characterized relay services as a "social program aimed at assisting disabled citizens," and urged the Commission to explore the use of federal financing.45
BellSouth described relay services as "a public welfare program for the disabled" because these services were directed to a "relatively small group with unique needs," and were not intended to help the average subscriber.46 Ignoring entirely that every relay call involved both a deaf and a hearing individual, BellSouth concluded that were the Commission to raise relay funds through the interstate rate regulation process, such action would be deemed a violation of the taxing clause of the U.S. Constitution. As if this were not sufficiently demeaning, NYNEX asked the FCC to consider tapping Social Security disability funds for relay support and charging customers for the use of relay on the basis of their ability to pay.47
Consumer advocates vehemently disagreed with the positions taken by these companies. The relay system was designed to form a communication bridge between individuals who used TTYs and those who did not; it was not designed to benefit only one-half of that equation. Because this service was available for all telephone subscribers through the public switched telephone network, it was not at all akin to the social welfare programs typically supported through charities and federal appropriations. Just as local lines and switching facilities were needed for the effective operation of the telephone network, relay services were needed to ensure that the network provided universal service for all Americans. Expenses associated with these services were to be rightfully borne by the telephone companies responsible for maintaining that network.
Consumers also pointed out that reliance on general tax revenues subjected relay services to the perils and instability of governmental budgets. Dependence on so fragile a process would prevent long-range planning for comprehensive relay services, discourage investment in new relay technologies, and put relay services in danger during periods of budgetary austerity. Although several states were still using governmental appropriations to support their nascent relay programs, the true trailblazers of high-quality relay services—California, New York, and Illinois—were now treating these services as an integral part of their telephone networks, financing their costs through general rates or subscriber surcharges. To achieve the same result on the interstate level, consumers recommended the creation of a Telecommunications Relay System Fund, to which all long-distance carriers would contribute, based on the number of their presubscribed lines. They patterned this funding mechanism after existing Commission programs associated with universal service, including the Link-up and Lifeline Assistance programs, which were designed to partially relieve low-income subscribers of the costs associated with acquiring and maintaining telephone service.
Consumers also insisted that relay users be billed for calls from the point of origination to the point of termination, without incurring additional fees for routing those calls through the relay center. Because the relay was a substitute for conventional voice telephone service, it would be unfair to charge relay users more for their calls. Finally, consumers called for a mandated, across-the-board reduction in long-distance charges for relay users to compensate for the extra time needed to complete these calls.
Coming Closer to Federal Legislation
While those of us working within the deaf and hard of hearing communities were busy refining our responses to the Commission's relay proposals, events occurring outside of our immediate circle were bringing federal relay legislation closer to becoming a reality. At the end of April 1988, Senator Lowell Weicker (R-Conn.) and Congressman Tony Coelho (D-Calif.) introduced the very first drafts of the Americans with Disabilities Act (ADA) in the 100th Congress. The bills, S. 2345 and H.R. 4498, were the collective product of two reports, Toward Independence, released in 1986, and On the Threshold of Independence, released in 1988. Both reports had been prepared by the National Council on the Handicapped (renamed the National Council on Disability [NCD] in 1988), an independent federal agency charged with overseeing the federal government's obligations to ensure access for people with disabilities. The first report had conveyed the need for an omnibus civil rights statute to prohibit disability discrimination by the federal government, federally assisted programs and contractors, employers, public accommodations, local and state governments, transportation providers, and housing providers; the second offered proposed legislation to achieve this objective.
The ADA was intended to address the extraordinary injustices that had been perpetrated against Americans with disabilities for decades. The isolation and unfair treatment afforded these individuals, people who simply wanted to become equal and full participants of American society, were largely exposed by Justin Dart, then co-chair of the Congressional Task Force on the Rights and Empowerment of People with Disabilities. Throughout the 1980s, Dart had traveled throughout the United States, holding forums where thousands of people with disabilities came forward to report tales of attitudinal and categorical discrimination. Dart's relentless crusade for passage of the ADA would later earn him the title of "Father of the ADA."48 The new disability law proposed to go beyond prior laws like Section 504 of the Rehabilitation Act, which already prohibited federally assisted and conducted programs from discriminating on the basis of disability. By now extending prohibitions against discrimination to private employers, public places, and local governments, it was said that the ADA would foster independence, economic productivity, self-reliance, and full integration as never before.49
However, many disability advocates, including NCLD's lawyers, remained cautious about the ADA's very first drafts. NCD's Toward Independence report had been prepared in response to a 1984 congressional request to determine the extent to which federal disability programs were fostering dependence by people with disabilities.50 Some members of the disability community were concerned that the proposed bill, which in part sought to reexamine existing federal regulations implementing Section 504, might afford an opportunity to weaken, rather than strengthen the safeguards afforded by this and other federal disability laws.51 However, this bill was so far-reaching—with its proposals to require stores, restaurants, hotels, and other private entities to provide accessibility at their own expense—that many thought it had little chance of passage anyway.
At this time, the relay task force that had been formed by NCLD gave little thought to using the ADA as a vehicle for imposing a federal relay mandate. While the bill contained some requirements for general access to communications—for example, provisions for auxiliary aids that could include sign language interpreters—it did not contain any provisions related to telecommunications. As a consequence, we filed away our copies of the bill and, for the time being, went back to our own legislative drawing board.
During the spring of 1988, as the relay task force proceeded with its efforts to craft an interstate relay bill that was separate and apart from the ADA legislation, we began to explore the merits of having a federally chartered relay commission. Too many complicated questions about relay services still remained, none of which the FCC or Congress seemed poised to answer. Several members of the task force believed a formal relay commission would be better equipped to tackle these issues, and to define the roles that state regulatory commissions, the FCC and the telephone companies would play with respect to one another. Though a few members worried that a commission might delay progress, in May 1988, the task force reached a consensus to pursue the creation of a Commission on Full Telephone Accessibility for Deaf Consumers (whose majority of members would be deaf or hard of hearing), with the hope that recommendations from this formal commission would give our quest for a nationwide program the jumpstart that it needed. Shortly thereafter, Senator Harkin agreed to append our proposal to an existing appropriations bill, though the measure never passed.
Without a national relay service or a structure for implementing such a service, consumers lacked the information they needed to convince local regulators to initiate relay programs in states that still did not have them. A first step toward creating this documentation took place at Gallaudet University in September 1988. The Speech to Text: Today and Tomorrow conference drew more than 300 individuals and fifteen technology exhibitors from thirty-seven states and five foreign countries. The participants convened to share information on privately and state-run relay programs, relay funding models, pending relay legislation, preferred relay standards, and other relevant topics. The amazing list of attendees included state relay administrators, government representatives, consumer advocates, and service providers as well as two of the very earliest telecommunications advocates—H. Latham Breunig and Lee Brody.52 The conference itself was a model of accessibility; it marked one of the first times that deaf and hard of hearing people had full inclusion through the use of sign language and oral interpreters, computer-assisted real-time captioning, and assistive listening systems.
The impetus for the Speech to Text conference came from an impromptu meeting between Dr. Judith Harkins, director of Gallaudet University's Technology Assessment Program, and Edgar Bloom, a deaf gentleman from New Jersey. Bloom approached Harkins for information to start up a relay services program in his home state, when Harkins realized that the written materials Bloom was searching for simply did not exist. At the time, Harkins was coordinating a research project to study the benefits to deaf and hard of hearing communities of converting spoken words to text through telephone relay services, captioned television, and automatic speech recognition. She applied for and received additional grant money to hold the international symposium on these speech-to-text issues.
The conference began with an inspiring keynote address by Congressman Major Owens (D-N.Y.), chairman of the House Subcommittee on Select Education.* Owens referred to Gallaudet as "the home of the brave," and said that the introduction of the ADA and the DPN "uprising" had created a movement within the disabilities community that was destined to change the lives of all Americans with disabilities. Calling the ADA a revolutionary bill that would carry the rights of Americans with disabilities "the last mile over the mountaintop," he warned the crowd not to go to sleep after its DPN success. Although access had now become technologically feasible, he proclaimed, it would not become politically possible unless the disability movement pushed forward and secured passage of the ADA.53
With eloquent and poignant examples that illustrated the very real need for relay services, Paul Taylor's passion for telecommunications access also set the mood for the conference. Taylor spoke of the need for freedom—to order a prescription refill at the drugstore or reserve tickets for an interpreted performance, privacy—to clarify a tax question with the IRS or call a doctor's office for blood test results, and independence—to call a girl for a date without mom's help or make office calls without adding to a secretary's workload.54
The conference also provided an opportunity for David Baquis of the Tele-Consumer Hotline to present the findings of a newly completed survey of relay services across the United States.55 Through considerable effort, Baquis had compiled eight regional relay service comparison charts that provided detailed information on more than 300 relay services. His data provided much-needed insight into the operations of local relay programs and allowed relay consumers to comparison-shop for the first time.
Readying for a New Congressional Session
The Speech to Text conference provided a first opportunity for advocates to compare the nation's relay service programs with one another and to consider what had and had not worked. A month after the conference, the House and Senate held joint hearings on the proposed ADA legislation.56 Although these inquiries did not specifically address telecommunications access, by the time the legislative session ended, it was clear that the federal legislators intended to go forward with comprehensive disability legislation when they returned to Washington, D.C., in January 1989. With the principles that the relay task force had so painstakingly crafted and the new information acquired through the Speech to Text conference, relay advocates eagerly awaited their return.
Notes
1. Lang, Phone of Our Own, 53.
2. Jim Marsters, e-mail to the author, April 30, 2003.
3. Lang, Phone of Our Own, 61.
4. Interview with Joanne Ebersbach, January 9, 2006. Ebersbach was a relay operator for sixteen years in the New York DEAF CONTACT office, from the time that the office opened its doors in 1977, until its closure in 1992. Alfred Sonnenstrahl, Sr., installed the first TTY in that New York office. See also comment of Eleanor Letcher in Speech to Text: Today and Tomorrow: Proceedings of a Conference at Gallaudet University, ed. Judith E. Harkins and Barbara M. Virvan, Monograph Series B, no. 2 (Washington, D.C.: Gallaudet Research Institute, 1988), 109.
5. Interview with Dave Yoreo, January 5, 2006; Arthur Moore, e-mails to Al Sonnenstrahl, December 9, 2002; to the author, January 6, 2006. Between the hours of midnight and 6:00 a.m., the service was reserved for emergency calls. Converse Communications still operates in Connecticut as a specialized equipment distribution vendor.
6. Telecommunications Devices for the Deaf Relay System Act, SB 244, enacted as Chapter 741, Statutes of 1983; incorporated in Pub. Util. Code, Section 2881(b).
7. NCLD, "Summary of State Dual Party Relay Services," (ed. July 1990, 1991).
8. NCLD, "Summary of State Dual Party Relay Services" (ed. July 1989, 1990).
9. See, for example, Bill White, "Dual Party Relays … How Far Will They Fly?" Silent News, May 1990, 13.
10. Comment of Joe Heil in Harkins and Virvan, Speech to Text, 31.
11. "Common Carrier Bureau Calls Meeting on Telecommunications Needs of the Hearing Impaired and Disabled," Public Notice (November 13, 1986). See chapter 2 for a discussion of the flawed manner in which this meeting was arranged and presented.
12. Access to Telecommunications Equipment and Services by the Hearing Impaired and Other Disabled Persons, Notice of Inquiry, CC Dkt. 87-124, FCC 87-150 (May 15, 1987).
13. See Comments of the Hearing and Speech Agency of Metropolitan Baltimore, Inc., Maryland Department of Health and Mental Hygiene, Maryland Governor's Commission on Hearing Impairments, Maryland Governor's Office for Handicapped Individuals, NCLD, OUT, and TEDI in CC Dkt. 87-124 (June 29, 1987).
14. National Association of Regulatory Utility Commissioners, Petition for Further Inquiry (October 1, 1987).
15. Sheila Conlon Mentkowski and Karen Peltz Strauss, NCLD, letter to FCC, January 14, 1988, 1.
16. Paul J. Singleton, "Nationwide TDD Relay Standards: Partners in Progress," in Harkins and Virvan, Speech to Text, 107.
17. Robert Daniels, "Nationwide Relay Service Proposed—NAD Task Force Established," NAD Broadcaster, November 1987, 1, 3.
18. Sheila Conlon Mentkowski and Karen Peltz Strauss, NCLD, letter to Bobby Silverstein, November 20, 1987.
19. AT&T Position on Full-Time Dual Relay Service for the Hearing and/or Speech Impaired (undated).
20. Copies of the letter went to NARUC, AT&T, and consumer advocates Paul Taylor, Al Sonnenstrahl, Paul Singleton, Donna Dickman, and Barbara Chertok.
21. Paul Taylor, letter to Sheila Conlon Mentkowski and the author, January 12, 1988.
22. A. J. Mochan, district manager, AT&T New Product Development, letter to Sheila Conlon Mentkowski and the author, January 20, 1988.
23. "TDI Moves to Forefront in Advocacy of a Nationwide Telephone Relay Service—Senator Harkin's Office Sponsors Initial Bill Drafting Session," GA-SK. 19 (Winter 1988): 1.
24. Molly Sinclair, "The Silent World's Rebellion for Civil Rights," Washington Post, March 13, 1988, A1, 21.
25. Tamar Lewin, "Deaf Demand to be Heard on Rights," New York Times,. March 13, 1988, A22.
26. Elizabeth Kastor, "Elizabeth Zinser, in Conclusion," Washington Post, March 12, 1998, C1.
27. Dr. I. King Jordan, "Epilogue," in The Week the World Heard Gallaudet, by Jack R. Gannon, (Washington, D.C.: Gallaudet University Press, 1989), 173.
28. R. G. Gentry, "Why We Won at Gallaudet," Washington Post, March 13, 1988, sec. A.
29. "Leaders Speak at Press Conference," On the Green, 18 (March 21, 1988): 2; see also "A Week of Upheaval Ends in Victory for Deaf Community," On the Green, 18 (March 21, 1988): 1.
30. Respectively, these statutes were the Technology Related Assistance for Individuals with Disabilities Act of 1988, P.L. 100-407 (1988), amended in P.L. 103-218 (1994); the National Deafness and Other Communication Disorders Act of 1988, P.L. 100-553 (1988) (authorizing research and training, and the dissemination of health information on programs related to hearing, speech, and other communication disabilities); and the Hearing Aid Compatibility Act of 1988, P.L. 100-394 (1988).
31. Access to Telecommunications Equipment and Services by the Hearing Impaired and Other Disabled Persons, Notice of Proposed Rulemaking and Further Notice of Inquiry, CC Dkt. 87-124, FCC 88-123, 3 FCC Rcd 1982 (March 29, 1988).
32. Dennis R. Patrick, letter to Senator Albert Gore, April 15, 1982.
33. This evolved into a three-hour workshop that brought together the country's relay pioneers, including Claudia Foy of Arizona, Jack Levesque and Phyllis Shapiro of California, and Patty Hughes of Washington state. Al Sonnenstrahl, Paul Singleton, Sheila Conlon Mentkowski, Judy Harkins, and Paul Taylor conducted the exhaustive workshop which covered, among other things, relay management and financing, federal legislative efforts, 911 access, and future technologies. Senator John McCain also attended portions of the NAD conference in order to share information about his separate federal effort to mandate telecommunications access for TTY users within the federal government (see chapter 4).
34. Minutes of the sixth meeting of the Dual Party Telephone Relay Services Task Force (NCLD, Gallaudet University, Washington, D.C., May 3, 1988).
35. IPR filed the comments on July 26, 1988 and reply comments on September 9, 1988. Lead organizations included NCLD, the Council of Organizational Representatives (COR), the New York League for the Hard of Hearing (LHH), OUT, and the Maryland's Office of People's Council. COR was a coalition of national organizations serving deaf and hard of hearing interests.
36. P.L. 97-410 §2; see also ibid., §3; H. Rep. No. 888, 97th Cong., 2d Sess. 8 (1982).
37. Comments of USTA in Dkt. 87-124 (July 26, 1988), 9.
38. Comments of NYNEX Telephone Companies in Dkt. 87-124 (July 26, 1988), 12–13.
39. Among those companies that supported the establishment of a national system were Pacific Bell, Bell Atlantic, and Southwestern Bell. However, because these companies were not permitted to provide interLATA, or long-distance services under Judge Greene's Modified Final Judgment, they assumed that their role in the provision of these services would be limited.
40. See, for example, Comments of Southwestern Bell; Pacific Bell; Gallaudet Research Institute; NCLD-OUT in CC Dkt. 87-124 (all filed July 26, 1988).
41. These included Arizona, California, Connecticut, Florida, Hawaii, Illinois, Kansas, Maine, Maryland, Massachusetts, Minnesota, Nevada, New Hampshire, New York, Oklahoma, Rhode Island, South Dakota, Texas, Utah, and Vermont. NCLD, "Summary of State TDD Distribution Programs and/or Dual Party Relay Programs" (January 1988).
42. California PUC, Evaluation and Compliance Division, Report on Funding Problems Involving Deaf and Disabled Telecommunications Services (November 13, 1987), 22.
43. Comments of AT&T in CC Dkt. 87-124 (July 26, 1988), 7, 8, 12.
44. Comments of USTA in CC Dkt. 87-124 (July 26, 1988), 13.
45. Comments of Southwestern Bell in CC Dkt. 87-124 (July 26, 1988), 10. Ameritech similarly referred to relay expenses as "social welfare costs which should be borne by the general public." Comments of Ameritech Operating Companies in CC Dkt. 87-124 (July 26, 1988), 8.
46. IPR Comments, 27, citing Comments of BellSouth in CC Dkt. 87-124.
47. Comments of NYNEX in CC Dkt. 87-124 (July 26, 1988), 15.
48. Arlene Mayerson, "History of the ADA—A Movement Perspective," in Implementing the Americans with Disabilities Act, Rights and Responsibilities of All Americans, ed. Lawrence Gostin and Henry A. Beyer, (Baltimore: Paul H. Brookes, 1993), 17, 21. From 1988 to 1990, Justin Dart held sixty-three forums attended by more than 7,000 people. National Council on Disability Equality of Opportunity: The Making of the Americans with Disabilities Act (Washington, D.C.: NCD, 1997), 78.
49. In this regard, the ADA was intended to capture entities already covered by the Civil Rights Act of 1964. 42 U.S.C. §2000a et. seq. (1964). See also NCD, Equality of Opportunity, 1.
50. Section 401 of Rehabilitation Act of 1983, as amended, P.L. 98-221, 98th Cong, 2d. Sess. (1984). Specifically, NCD was to ascertain how to shift the focus of those programs so that they encouraged independence and the full integration of people with disabilities into society.
51. This skepticism was the result of NCD's ties to the Reagan administration. Early in his presidential tenure, Reagan had established the Task Force on Regulatory Relief, a group that had targeted disability regulations promulgated under Section 504 of the Rehabilitation Act, the Education for all Handicapped Children Act and similar regulations, for potential cuts and revisions. See generally NCD, Equality of Opportunity, 64.
52. Stuart Brackney (Ariz.), Kathy Woods (N.Y.), Esther Schaeffer (D.C.), Phyllis Shapiro and Jack Levesque (Calif.), Francine Lauer (Mo.), Patty Hughes (Wash.), Ben Soukup (S.D.), Mark Seeger (Tex.), William Peace (N.C.), Madelaine Perkins (Utah), and Charles Estes (Okla.) were among the state relay pioneers who made invaluable contributions to the conference. Service and industry providers included Rob Engelke and Judy Viera of Ultratec; Joe Heil, Ron Hatley, and Sue Decker of AT&T; Jim Tobias of Bellcore; and Lincoln Hoewing of Bell Atlantic.
53. The Honorable Major Owens, "Keynote Address" in Harkins and Virvan, Speech to Text, 5, 6, 8.
54. Paul Taylor, "Telephone Relay Services: Rationale and Overview" in Harkins and Virvan, Speech to Text, 11, 12.
55. David Baquis, "TDD Relay Services across the United States," in Harkins and Virvan, Speech to Text, 25. The hotline was founded by the Consumer Federation of America and the Telecommunications Research and Action Center (TRAC) shortly after the divestiture of AT&T to educate consumers about telephone equipment and service choices in a competitive environment. TRAC had created a Special Needs Program, which Baquis operated, to specifically gather and distribute information about accessible equipment and relay services. Baquis's survey did not include information about agencies, including libraries, churches, and crisis lines, which did not advertise themselves as relay services but provided relay assistance as a secondary service.
56. Ninety-five witnesses, most of whom were consumers with disabilities, testified at these hearings, held before the U.S. Senate Subcommittee on the Handicapped of the Committee on Labor and Human Resources and U.S. House of Representatives Subcommittee on Select Education of the Committee on Education and Labor, on September 27, 1988. One additional ADA hearing, by the House Subcommittee on Select Education, was held in Boston, Massachusetts, on October 24, 1988.
Epigraph. Henry Kisor, "Instruments of Freedom, Telephone Accessibility for All! SHHH Journal (July/August 1991): 14–15.
* Relay services still work this way. These calls can also be initiated in reverse, with the hearing person calling the TTY user through the third party operator.
* For example, the Hi-Line Relay Service of Rochester, N.Y., was unable to handle up to 30 percent of all incoming calls. Paul Taylor, "Telephone Relay Service: Rationale and Overview," Speech to Text Proceedings, 11, 13. Similarly, TEDI received tens of thousands of calls each month, but at peak times individuals could wait hours to make a single call. In addition, TEDI was only available for emergency use after 6:00 p.m. "An Interagency Report to the Office of the Governor Concerning the Establishment and Funding of a Comprehensive Dual Relay System in Maryland" (November 1990).
* A fine point: Although the Connecticut relay service began in 1974, it did not receive state funding until many years later. Accordingly, South Dakota was the first state to actually use state-appropriated money to fund relay services for all its residents. CSD's TTY interpreting program gave individuals the option of calling into its center or coming in to have an interpreter connect and interpret the call. CSD, Seeing a Need (Sioux Falls, S.D.: Pine Hill Press, 2005). California then became the first state to mandate relay services for its entire state, around the clock.
* Taylor, Singleton, Mentkowski, Sonnenstrahl, and the author were present, along with Lisa Zaina and Caroline Chambers of NARUC, Kelly Brand of Bellcore, and David Hack of the Congressional Research Service.
† In addition to individuals who had attended the Capitol Hill meeting, this new group included Donna Dickman and Barbara Chertok of AG Bell, Carolyn Rossick of SHHH, Fred Weiner of the NAD, Cary Hinton of Bell Atlantic, Mark Buse from Senator John McCain's office, and Ron Hatley, Carmen Lopez, and Robert Morgan of AT&T. Though not officially part of the task force, many other deaf leaders, including Charles Estes of the NAD and Larry Evans of the Texas Commission for the Deaf, provided invaluable input into the group's work.
* Answer speeds are the length of time that it takes to respond to a relay call. Inadequate staffing causes longer answer speeds.
* I had worked at IPR from 1981 to 1983 as a graduate fellow, a position reserved for recent law school graduates who were interested in pursuing public interest careers. My work largely concerned the physical accessibility of federal polling places, and it was through a legislative coalition similar to our new relay group that I first met attorneys from NCLD and the NAD. The Institute regularly welcomed the opportunity to assist local nonprofit organizations on legal matters related to disability issues, and during the late 1980s, had already been helping to expand federal requirements for hearing aid-compatible telephones.
* Owens had established the Congressional Task Force on the Rights and Empowerment of Americans with Disabilities, chaired by Justin Dart.