The Restoration of Hearing Aid Compatible Telephones
Several years ago we began to move toward equal telephone access for the hearing impaired with passage of Public Law 97-410, the Telecommunications for the Disabled Act. … Many people think that this step was adequate. … Unfortunately, the actual result of these rules [was the] creation of a second class of citizens—namely those persons who are able to use only essential telephones. … I, for one, cannot think of a single reason why one segment of our society—through no fault or choice of its own—should be able to use only specific telephones.
—Senator Larry Pressler (R-S.D.)
FOUR YEARS after passage of the Telecommunications for the Disabled Act (TDA or 1982 Act), hearing aid users remained frustrated with that statute's limited ability to address their telephone needs. Although the TDA had moved access one step forward, it only guaranteed hearing aid users the ability to use HAC telephones at their individually assigned workstations and other select locations defined by the federal government as "essential." As a consequence, a great number of hearing aid users—many of whom were senior citizens—were never quite sure whether they would be able to use a particular phone at any given location.
At an FCC public forum on telecommunications access issues held on December 5, 1986, consumers complained that the restricted scope of the existing HAC regulations hindered their ability to lead independent lives and summon help in the event of an emergency. Advocates urged the FCC to either expand its existing definitions of essential telephones or to support legislation to require all telephones to be compatible. The telephone industry, however, continued to oppose an across-the-board compatibility mandate. At the time, President Reagan had acquired a relatively new type of "in-the-ear" hearing aid that was becoming very popular among consumers with mild-to-moderate hearing loss. Because it was believed that these devices could not be equipped with telecoils, companies pointed to their increased sales as an indication that the need for inductive coupling was on the decline. Consumers insisted, however, that telecoil coupling still offered people with more severe hearing loss the only real means of achieving telephone access because efforts to find effective alternatives had not been successful.
Since the 1970s, David Saks and his advocacy group OUT had been tenaciously lobbying Congress for a federal law that would require all telephones in the United States to be HAC. Whenever GTE or another company would claim that all of the payphones in a given state were already compatible, Saks would take a trip to the state, find payphones that he could not use, and then complain to the company's executives that their claims were untrue. Whenever a bill proposing to require universal HAC access was defeated, Saks would find a new sponsor to re-introduce the very same bill. The latest in this line-up of HAC bills was S. 314, introduced by Senator Larry Pressler (R.-S.D.) on January 14, 1987, and H.R. 2213, introduced by Congressman James Mavroules (D-Mass.) on April 29, 1987.1
Only two weeks after Mavroules's bill was introduced, the FCC followed up on a promise made at its December 5th forum to formally request public comment on various HAC-related issues (through a notice of inquiry).2 Consumers responded by strongly urging the FCC to support the universal compatibility measures of S. 314 and H.R. 2213, and by asking the Commission to expand its current definition of "essential phones." Hearing aid users wanted to be able to use telephones throughout an employer's premises, not only at their individual workstations. They also wanted the FCC to require hearing aid access to all credit card–operated telephones and new or refurbished hotel phones. The current rule, requiring hotels to only equip 10 percent of their rooms with HAC phones, left consumers never knowing whether they would be able to find an accessible phone while traveling.3 In addition, consumers asked for all coin- and credit card-operated phones to be equipped with volume control. While inductive coupling capability could assist individuals who used hearing aids equipped with telecoils, volume control would enable any person to amplify sound emanating from the handset receiver. This would assist senior citizens, people with minimal hearing loss, and telephone users in high noise environments.*
Industry responses to the Commission's inquiry were varied—and somewhat surprising. Although many companies continued to urge strict reliance on the marketplace as a means of fulfilling the needs of consumers with disabilities,† for the first time, other industry segments, many of whom had already begun designing their phones with compatibility, revealed far less resistance to a universal HAC mandate.‡ Consumers wondered whether the tide was finally turning in their favor.
A Leap toward Access: Congress Moves Ahead
On February 24, 1988, the House Subcommittee on Telecommunications and Finance held hearings on H.R. 2213, more than a year after the bill's introduction.4 By then, the bill had widespread bipartisan support, including the cosponsorship of 117 representatives, fifteen of whom were on the House committee overseeing the bill. The strong support of the subcommittee's chairman, Congressman Edward Markey (D-Mass.), also bode well for the latest HAC proposal. Markey promised to make access to "the wonders of modern telecommunications" one of his "highest priorities;" six years after assessing the impact of the earlier HAC law, he and many of his colleagues agreed that it was time to guarantee universal telephone access.5
But what truly made these hearings stand apart from earlier ones on universal HAC bills was AT&T's decision to withdraw its resistance to, and GTE's active support in favor of, the new HAC proposals. Delighting consumers, GTE's witness Freeman E. Robinson presented testimony that eradicated any remaining doubts about the practical and economic feasibility of requiring all phones to be HAC.6 Robinson explained that although the cost of incorporating inductive coupling would initially range from twenty to fifty cents per handset, once compatibility became the norm, economies of scale would likely drive non-HAC phones into the higher-priced slot. He also noted that new efforts to miniaturize telecoils for insertion in "in-the-ear" hearing aids, would mean an increase, not a decline in the number of telecoil users. After announcing GTE's decision to produce or purchase only HAC phones, Robinson asked the legislators to imagine for a moment that they were limited to certain phones: which phones did they think they would not need?
The 180-degree reversal in GTE's position was in part prompted by the forward-thinking views of Sam Shawhan, Jr., a new GTE vice president responsible for regulatory affairs. At the time of the hearings, GTE was in the process of closing its last manufacturing plants in the United States. Shawhan predicted that making its offshore products accessible to people with disabilities would succeed in attracting new customers. In addition to giving his company's support to the HAC bill, Shawhan requested GTE's Dan Bart to help grow the company's business in new disability markets. This in turn enabled Bart to internally promote accessibility features as the company developed new products and services in the years to come.7
With AT&T silent and GTE in support of the bill, EIA—representing more than eighty American companies producing approximately 85 percent of domestically manufactured telecommunications equipment—remained the bill's sole opponent.* As a consequence, Peter Bennett, EIA's spokesperson, was placed in the unenviable position of being the lone dissenter at the hearings on H.R. 2213. Although Bennett acknowledged the need to provide HAC phones throughout the workplace, his association firmly opposed a universal mandate that would force HAC phones into all private homes. Bennett testified that the increased availability of HAC phones was attributable to business decisions made in an open and free market. He insisted that "the draconian solution of substituting governmental fiat for free individual choice and free market forces has no place in America, absent a clear and present emergency."8 According to Bennett, just as automobile drivers had to carry their own tools as an emergency precaution, so too, should hearing aid users have to carry around telecoil adapters for their own telephones.*
As the fall guy for the industry, Bennett was the recipient of heavy cross-examination by many of the subcommittee members. For example, Congressman Bill Richardson (D-N.M.) challenged Bennett's assumption that improving telephone access for people with hearing loss could be considered governmental "interference."9 And Congressman Markey, admitting that it was a secret dream of his to live to be old enough to need a hearing aid, proclaimed, "in the year 2020, after Mr. Bennett and I put ourselves into a vigorous program of clean living and pure thoughts, there will be, and we will be included, Mr. Bennett, there will be 44.3 million Americans who will be between the ages of 65 and 84."10 Markey insisted that it would be "a fundamental public policy mistake" not to have phones that enabled all Americans to "fully enjoy all of the benefits of old age."
The FCC Budges … But Not Enough for Consumers
In March 1988, a month to the day after the House completed its subcommittee hearings, the FCC partially granted the consumer requests for expanded access by proposing to extend its HAC rules to all credit card-operated telephones and all telephones in the common areas of workplaces, the latter to include libraries, reception areas, and other common locations where phones might be needed by employees in the ordinary course of their employment.11 The FCC explained that the benefits of mandating access to these phones far outweighed their costs,† especially because inaccessible phones could "impair the productivity of persons using a hearing aid in their place of work."12 The Commission also accompanied its proposals with yet a new notice of inquiry that, among other things, requested feedback on telephone interactions with hearing aids and improved ways to disseminate information on the FCC's HAC rules.‡ But in the same breath that the FCC proposed these advances, it cited the alleged decrease in the use of telecoil-equipped hearing aids, the availability of inexpensive external adapters, and concerns about impairing the development of new technologies, as justification for not supporting a federal law requiring all handsets to be HAC. Congress, it insisted, had struck the appropriate balance in determining what was best for the public in the TDA of 1982.
Consumers expressed extreme disappointment with the FCC's decision not to propose an even greater expansion of the mandates and with the agency's continued refusal to support universal HAC legislation.13 They complained that even if interpreted broadly, the FCC's proposed "common area" rule would continue to deny hearing aid users an equal opportunity to move freely around their places of employment. Moreover, by letting each employer define what constituted a "common area," the proposed rule would conflict with congressional intent to avoid ambiguous policies that could result in uneven enforcement of the HAC mandates.14
Back to the Senate
On March 31, 1988, only a week after the FCC's proposals were released, congressional hearings on the HAC legislation were again held, this time by the Senate Communications Subcommittee. By then S. 314 already had twenty-four cosponsors, including Senators John Kerry (D-Mass.), Daniel Inouye (D-Hawaii), and John McCain (R-Ariz.), the latter of whom, only the day before, had introduced a bill requiring relay services for communication with federal agencies.15 But consumers feared that the FCC's recent, though negligible, proposals to expand the HAC mandates might tempt Congress to conclude that statutory revisions were no longer needed.16 Testimony delivered by Gerald Brock, chief of the FCC's Common Carrier Bureau, confirmed the Commission's desire not to expand the agency's HAC authority.
According to Brock, universal compatibility would impose additional costs and "impair the development of new network technologies," with few attendant benefits for consumers.17 Even worse, the FCC's witness suggested that if pushed forward, mandates for universal HAC would have to compete with the agency's consideration of and the substantial expenditures needed for telecommunications relay services: "If the FCC impose[s] costs on other telephone users for the hearing aid compatibility [sic], it might detract from efforts to establish an interstate relay system which appears to us to be a more useful use of those funds to promote telephone allocation by the hearing impaired."18 Consumers found this statement to be irresponsible. It ignored the fact that HAC phones and relay services addressed very different accessibility needs, and suggested that the FCC was willing to trade off communication access needed by one disability group for that of another.
Advocates worked hard to defend the new legislative proposals. Fewer than three weeks earlier, Gallaudet had witnessed the installation of its first deaf president after a week-long, internationally televised protest. On the heels of this victory, Gallaudet had become a household name, capturing the attention of the world in its civil rights struggle. HAC advocates tried to make Congress understand that the quest for equal telecommunications access was a central part of this struggle.19
Unfortunately, by the time that the Senate held its HAC hearings, various amendments tacked onto the original bill's provisions threatened to weaken its impact. One of these would have allowed the FCC to waive the compatibility requirement for new technologies whenever compliance with the HAC mandate was either technologically infeasible or the costs of compliance would prevent the successful marketing of a new technology; the FCC would have been permitted to grant this waiver on a temporary basis even before making a determination of the waiver's impact on the public interest. Consumers feared that a grant of such unbridled authority would open the floodgates to inaccessible technologies that could defeat the goals of universal service.20
After several attempts, consumers were finally successful in convincing Congress to restrict the "new technology" waiver to situations where compliance would make it "impossible to produce or sell the product competitively … [not where it] would simply be impractical or would add only a nominal additional cost to a new technology or service."21 Additionally, Congress added a requirement for the Commission to first conduct a full public interest inquiry that included consideration of the waiver's social and economic effects on consumers before granting an exemption from its rules.22
Other amendments that ultimately received congressional approval included a limited, two-year exemption for cordless phones,* and a permanent exemption for secure telephones (phones used for national security purposes to transmit confidential information). Congress also added temporary exemptions for phones used with private radio services (for dispatching trains, planes, and taxis), and telephones used with public mobile services, now more commonly known as wireless or cellular telephones. In 1988, wireless phones were still new to most Americans, and were considered more of a compliment to, rather than a replacement for, landline phones. For this reason, Congress said that it did not expect the lack of wireless access to pose a serious hardship to hearing aid users.23 However, acknowledging that these phones might one day become a necessity, the legislature directed the FCC to periodically consider the benefits to consumers, costs to industry, and technical feasibility of providing wireless HAC access, in determining whether to continue this exemption.†
During the months following the Senate hearings, OUT successfully inundated Congress with letters of support from more than thirty national and regional organizations and countless individuals from all over the country, and arranged a plethora of visits from consumers in the Washington, D.C., area to Capitol Hill legislators.24 The effort to push the bill forward paid off. On May 18, 1988, the House committee took a voice vote to approve H.R. 2213, and on May 24, 1988, an executive session of the Senate Commerce Committee accepted the House's amended text as a substitute for S. 314.25
The whirlwind of activity continued when H.R. 2213 overwhelmingly passed the House by a vote of 391 to 15 on June 8, 1988, and a month later passed the Senate by a unanimous voice vote.26 On August 16, 1988, fifteen years after David Saks first began his extraordinary journey for telephone access, the Hearing Aid Compatibility Act of 1988 (1988 Act) was signed into law, creating a HAC requirement for all wireline telephones manufactured or imported for use in the United States after August 16, 1989.27
The new legislation not only expanded the HAC mandates, it reflected an overall change in congressional attitudes regarding the right of people with disabilities to have access to telecommunications services. Unlike the TDA of 1982, which had required only "reasonable" access, Congress now spoke of requiring "equal access to the national telecommunications network."28 Legislators especially relied on the FCC's universal service mandate requiring communication service to be available "to all the people to the United States" to conclude that "advances in technology have made communication possible and it is time that hearing impaired persons are included in 'all the people.' "29
According to Congress, a "steady erosion" in the number of HAC phones available in the United States and the resulting social and economic harm to those who needed phone access, had necessitated the new law:30
No matter how broadly the FCC defines "essential," it is impossible to specify in advance all the telephones that a hearing aid user might need. Traveling salespeople, repairmen and women, doctors, and others who make house calls or work outside of an office, for instance, often use telephones that would not be classified as "essential." … Similarly, it is impossible to predict beforehand when an emergency situation may arise. … In short, the situations in which a hearing aid user would need access to a telephone are innumerable.31
The legislators acknowledged that America was behind other countries in the world, including Canada and the Netherlands, that had been producing only HAC phones since the early- to mid-1980s.32
As in the TDA, lawmakers made very clear that compliance with the new HAC law could only be achieved by providing an internal means of hearing aid compatibility. They rejected external adapters because of their added cost for senior citizens with low incomes, the stigmas associated with their use, and the difficulties that people with limited manual dexterity had when using these devices.33 At the same time, in order to alleviate any industry concerns that the new law might stifle technological development, Congress clarified that inductive coupling offered just one means of achieving HAC compliance, and that the FCC needed to issue rules that did "not discourage or impair the development of improved technology."34 The House report explained:
Freedom to develop new products and technologies is essential. The hearing aid bill will not freeze today's technology and inhibit future development. The bill only requires that telephones be compatible; it does not mandate any particular type of technology. Induction coupling and electromagnetic fields are not even mentioned.35
A Huge Accessibility Gap
Although consumers judged passage of the 1988 HAC Act to be a huge success, the statute's prohibition against non-HAC telephones had been so long in the making that there were now literally millions of inaccessible handsets installed in "nonessential" locations across the country. Prior to the law's passage, national advocacy groups commonly received letters from consumers revealing the harmful impact that not having telephone access was having on their lives. An engineer from Pennsylvania wrote that his inability to receive calls from clients and salespeople continually blocked his advancement at his company. A student teacher reported problems with her employment performance because she was unable to communicate with her supervisor or her colleagues as she traveled between her various school placements. And a brand new user of hearing aids, just twenty years old, wrote of the inconvenience and embarrassment of being stranded at Kennedy Airport without the ability to call her sister: "I just stood there crying, dazed by all the confusion of people milling about, dazed by my helplessness, and my forced deafness." She lamented:
I am an educated, hard working professional woman who is continually being reduced to imbecility because so many phones do not work with hearing aids. The stress which results from not being able to rely on telephones … eats away my confidence, at my energy levels like an insidious cancer. I feel the inner erosion as the stress levels rise and must, with the best of my senses and wits about me, temporarily withdraw, however inconvenient or untimely that withdrawal might be.36
A consistent thread wove together these personal chronicles. They proved that obstacles to telephone accessibility had worsened rather than improved in the intervening years since the passage of the TDA, because of the increased circulation of incompatible phones. If something more was not done, it might take a full decade, or more, for the HAC phones required under the 1988 Act to replace their incompatible counterparts across the United States. The only way of closing the gap left between the TDA's "essential telephone" mandate and the HAC Act's requirement for future compatibility, advocates concluded, would be to convince the FCC to expand the number and type of "essential" locations where HAC phones were required. Consumers knew that getting the FCC to broaden its mandates in this fashion would pose considerable challenges, given the agency's track record. But before consumers even had the chance to approach the Commission with its ideas, the agency had an unwelcome surprise of its own.
In February of 1989, the FCC finally addressed its March 1988 proposals to include jobsite common area and credit card-operated phones within its definition of "essential" HAC phones.37 But rather than put those proposals into law, the Commission now shocked consumers by proposing to withdraw these recommendations, claiming that the 1988 Act's mandate for the prospective sale of HAC-only phones made an expanded definition of essential phone locations unnecessary. Pouring salt on consumers' wounds, the agency also asserted that its original proposal would have resulted in ambiguity and enforcement challenges because the definition of common areas could not adequately be defined—an argument previously used by consumers to oppose extending the rules to only common areas.*
Consumers could not conceal their disappointment or their anger.38 They perceived the FCC's sudden and unexpected reversal as unjustly bowing to telephone manufacturers who were very concerned with discarding the non-HAC phones that remained in their inventories.39 But while advocates made every attempt to persuade the FCC that its action would fly in the face of Congress's efforts to improve opportunities for employment and job productivity, on May 11, 1989, the Commission issued a final order that went ahead with this plan to withdraw its earlier HAC proposals.40
The FCC's new ruling was a headlong leap into the past. Consumer organizations wasted little time in challenging the FCC's unexpected shift, with a petition for reconsideration filed on June 16, 1989.41 They charged that the Commission was ignoring the expressed will of Congress to adopt a dual approach to increasing the availability of HAC phones: to ensure, under the 1982 Act, the compatibility of essential telephones already placed in circulation, and to require, under the 1988 Act, the compatibility of all newly produced phones. Consumers also charged that the FCC had misinterpreted the TDA's mandate for all emergency phones to be compatible: a proper reading would require the provision of telephone access throughout hotels, motels, and hospitals. Predictably, the telecommunications industry opposed the petition; they insisted that granting the consumer request would violate the TDA's prohibition against retrofitting any phones except those that were coin-operated or used for emergencies.42
A year went by without FCC action on the petition, but this time, the delay aided the cause of the disability advocates. Over the many months that the petition sat untouched, new staff arrived at the FCC, bringing with them an increased sensitivity to disability issues. Some of the heightened awareness may have been due to the considerable momentum building for the ADA, which through its provision for relay services, was bringing to light the pressing need for telecommunications equality. The result was that on April 12, 1990, the FCC again reversed itself, and finalized its original proposals to require hearing aid compatibility on all phones used with credit cards and in workplace common areas, setting May 1, 1991, as the compliance deadline.43 Noting that it would cost only $1.50 to make each phone compatible, this time the FCC acknowledged that the public interest would best be served by providing access to existing phones while consumers waited for the 1988 HAC Act to be fully implemented. Once again the FCC concluded that the benefits of expanding its HAC rules would outweigh the associated costs, considering the small number of telephones involved, and the need for both types of telephones during an emergency.44
The Commission's next action again amazed consumers, but this time pleasantly so. Rather than stop at the above HAC expansions, in an accompanying notice, the FCC recommended replacing its "complex web" of HAC requirements with an entirely new set of rules that would reclassify all workplace, hospital, nursing home, hotel, motel, and prison telephones as "emergency" telephones subject to the HAC mandates by May 1, 1992. The Commission proclaimed that not being able to find a phone in an emergency was "intolerable," and that, upon reflection, it had determined that its current rules unfairly restricted the movement of people with hearing loss.*
Before the FCC could even direct its attention to its more expansive proposals, however, consumers were stunned to learn that GTE had challenged the FCC's brand new rules on common area and credit card payphones.45 The company complained that by only focusing on the cost of manufacturing HAC phones, the FCC had ignored the huge costs of replacing phones that were already installed. According to GTE, making sure that these phones were compatible would first require determining the extent to which each handset, telephone, or entire business system needed to be replaced, dispatching installers, and then making the necessary adjustments. Rather than the $1.50 per unit estimated by the Commission, costs could run as high as $2.60 to 4.50 per phone, adding up to hundreds of dollars where entire phone systems needed to be replaced. GTE also warned that significant FCC resources would be required to notify businesses covered by the new rules, because not all employers were knowledgeable about FCC policies. In the years to come, this last prediction would come to haunt the FCC.
In the ensuing months, other companies came forward with similar cost estimates that would purportedly overwhelm their businesses. Moreover, the alleged costs of complying with the new rules seemed to grow with the passage of time. Before long, companies were claiming that, in addition to the $4.50 to $5.00 it would cost to replace each handset, $25 per phone would be needed in labor, transportation, and administrative costs.46 Soon these estimates swelled to $43.75 per phone, and then to $200 per phone, after taking into account equipment that needed extensive modification or replacement.47 By the close of the docket, some companies claimed that the total budget needed to replace all of the designated non-HAC phones (throughout the nation) would run into hundreds of millions of dollars! They argued that it was senseless to impose such a huge burden when the 1988 Act ultimately would require all new phones to be HAC.
Consumers believed the figures to be inflated, but nevertheless feared that the companies' arguments would carry considerable weight at the FCC. GTE, in particular, had previously come forward as a strong advocate for accessibility, not only by supporting legislation to expand HAC phones, but also—on the same day as the ADA signing—by becoming one of the first companies to announce the availability of TTY-accessible payphones. Given GTE's credibility on the issues, the FCC might take seriously GTE's claims that the costs of the new HAC mandates exceeded their benefits. Over the next several months, consumer advocates, assisted by the Institute for Public Representation, submitted extensive pleadings to the FCC challenging industry's assertions.48 But this time, consumers need not have feared. On July 26, 1991, the FCC rejected GTE's petition, focusing on the small number of non-HAC phones needing modification or replacement, as compared to the enormous benefits of enabling hearing aid users to respond to emergencies, to travel more easily, and to participate in the marketplace.49
The FCC Moves Ahead with Bold HAC Changes
Nearly another full year passed before the FCC resolved the rest of its HAC proceeding, but when the agency issued its final ruling, on May 14, 1992, it thrilled consumers by following through with its proposals to require HAC phones throughout all workplaces, senior citizen residential health care facilities, hospitals, prisons, hotels and motels, not just their common areas.50 The new rules set a new compliance date of May 1, 1993, for establishments with twenty or more employees, and May 1, 1994, for all other establishments. The FCC explained that the HAC Act of 1988 was already causing a decline in the number of non-HAC phones in the United States, and that the cost-benefit balance tipped in favor of the new mandates if the Commission added this additional time for these to take effect.*
With the new decision in place, HAC advocates could call their movement for full accessibility a success. Finally, rules were in place to ensure that the millions of phones that had been produced and installed before the 1988 Act would have to be made compatible. But before consumers could fully bask in their newly won victory, yet another major turn of events took place that set them back several steps.
On February 9, 1993, with the first compliance deadline only three months away, Goodwill of Seattle requested a waiver of the new HAC mandates.51 As a nonprofit agency that relied on the sales of donated materials for its operating budget, Goodwill said it could not afford the $2,675 needed to retrofit all eighty-eight of its telephones without taking money away from vocational training, GED preparation, and its other public programs. HAC advocates were not very concerned; even if the FCC granted this request, its limited scope would not have much impact on telephone access.
But when the Commission released the Goodwill petition for feedback from the public, a torrent of comments protesting the upcoming HAC deadlines poured in from organizations representing more than one million businesses, government agencies, and colleges. GTE had been correct—most businesses were not in the habit of monitoring FCC regulations. And because the FCC had not followed through with its commitment to educate businesses about the reach of its new HAC rules, most companies still had inaccurate information about their obligations on the eve of the FCC's implementation deadlines. Many employers had not realized until the very last minute that they were even subject to these mandates. When they figured out that they would have to convert all of their own telephones within a matter of months, they panicked.
The result was near-bedlam. Besieged with hundreds of calls from businesses pleading for leniency in the weeks leading up to May 1, 1993, the FCC did not know which way to turn. Some employers reported receiving jarring notices from telephone retrofitters who, due to order-backlogs, were unable to meet demands for HAC phones, but nonetheless warned of stiff FCC fines for noncompliance. Other businesses, including nursing home facilities, threatened the FCC that if it did not lift the mandates at once, they would remove their phones entirely, just to avoid government penalties.
On April 2, 1993, the Tele-Communications Association (TCA), a group of telecommunications managers representing more than one thousand users of telecommunications services, including government agencies, colleges and universities, health care facilities, and public and private corporations, filed an emergency request for a stay, asking the FCC to suspend the HAC rules immediately.52 TCA charged that the new mandates would cost upward of 900 million dollars, and impose "massive hardships" and "irreparable harm" on covered entities. The association insisted that the FCC's new order exceeded the agency's authority because it effectively ordered all workplace phones to be retrofitted. TCA also claimed that the FCC had underestimated the number of non-HAC phones remaining in the workplace. While the FCC had estimated this to be around 40 percent, older phones made up as much as 85 to 90 percent of all phones in some companies, including huge corporations like IBM. And although the FCC's original calculations assumed that attrition would cause non-HAC phones to be replaced rather quickly, an economic recession had caused many companies to retain their old phones much longer than expected. Moreover, TCA claimed that determining which phones were HAC had proven "surprisingly difficult," and that the job of replacing those phones in remote sites, especially if they were part of hardwired systems, would be very expensive.53
What came next was a jolt to consumers. Fearing legal action against it, by order of April 13, 1993, the FCC responded to the flood of complaints by indefinitely suspending its new, expanded HAC requirements.54 The Commission explained that the unexpected recession had once again tipped the cost-benefit analysis, this time against the new HAC mandates: "Given the seriousness of the issues discussed … the quantity of comments we have received and the difficulties involved in fairly assessing their accuracy and worth in the time constraints imposed by the impending implementation date, we find the public interest would best be served by suspending enforcement."55
Incensed with having to again defend the need for telephone access, consumers immediately sought the assistance of government officials who might be able to help overturn the FCC's eleventh hour reversal. In letters to the White House, the DOJ, and the offices of Senators Tom Harkin and John McCain, advocates argued that the impulsive decision to discard the rules negated years of concerted efforts to provide telecommunications access to millions of Americans with hearing loss.56
High-level FCC officials responded that the suspension was not intended to undo the rules entirely, but rather only to serve as a short-term response to complaints about the high costs of imminent compliance.57 They said that the Commission's drastic action had been motivated primarily by three concerns: price gouging by the phone retrofitting industry, the consequences of having phones removed from nursing homes, and the need for significant financial outlays during a slow economy. The suspension simply was intended to buy time, to allow the FCC to rethink the issues, and to work out a compromise between industry and consumers.
Though perhaps relieved to learn that the suspension was temporary, consumers felt that the FCC had been given ample opportunity to strike a balance among the competing interests through full-blown rulemaking proceedings that had lasted over ten years. And so, on May 11, 1993, six national associations—AG Bell, NAD, NCLD, SHHH, TDI, and WID—responded to the stay by filing their own emergency request to reinstate the HAC rules.58 The groups argued that the FCC's unilateral action violated the Administrative Procedure Act (APA), which requires federal agencies to provide notice of and receive comment from the public on proposed rule changes before they are made.59 Although the FCC had requested public comment on Goodwill's waiver request, this was for a mere eighty-eight telephones; the FCC had not alerted the public that it was contemplating a nationwide suspension of its rules. Consumers also charged that the FCC's suspension violated Congress's commitment to universal telephone access for people with disabilities, as expressed in the 1982 and 1988 statutes, the Telecommunications Accessibility Enhancement Act, and the ADA. Harvey Goodstein successfully triggered letters of support for the consumer petition from TFA members with an online action alert:
Only 15 days before the rules' first deadline, the FCC pulled the rug out from under our feet. Without issuing a preliminary notice and getting the consumer viewpoint on this issue, the FCC responded to business interests that had requested the FCC to delay the rule's enforcement. The FCC did this even though businesses had as much as 3 years notice to comply with the rules' requirements.*
Unfortunately, when, at the end of May 1993, the FCC asked the public to comment on the consumer's request to restore the new mandates, industry used the opportunity to unleash a second round of protests.60 Associations representing industries worth billions of dollars now complained that the cost of fixing phones throughout their workplaces would cause substantial harm to the American economy in the midst of a recession.61 Many in the industry maintained that the FCC had had no choice but to pull the rules at the last minute, even if that meant foregoing public notice and comment. They argued that the APA eliminated the need for public input in this case, where there was good cause to find that "notice and public procedure [was] impracticable, unnecessary, or contrary to the public interest."62 They implied that if the FCC had not acted as it did, thousands of employers would have been thrown into instant violation of the FCC's regulations because the limited availability of HAC equipment would have made compliance impossible.63 And again they blamed the FCC for failing to alert businesses about the impending requirements.
Consumers shot back with charges that the industry had "demonstrate[d] a callousness toward the challenges faced by people with hearing loss."64 According to advocates, the FCC was irresponsibly telling consumers "your needs can wait" based on unreliable cost estimates that now varied by as much as one-half billion dollars across industry commentators. Moreover, the agency was ignoring its own advice. Previously, the FCC had pointed to the ADA as evidence that neither Congress nor the president would want to "roll back the requirements of the [HAC rules] and deprive people with hearing impairments of equal access to the public communications facilities."65
Despite the Commission's verbal promises that the suspension would be shortlived, nearly a year passed without any movement toward the rules' reinstatement. In the interest of achieving some kind of resolution, consumers asked the FCC to initiate a "negotiated rulemaking"—a dispute resolution process that would bring all of the interested parties together in a nonadversarial setting to achieve a consensus on new HAC deadlines. The goal would be to involve all or most of the parties with a stake in the issues, and thereby minimize the likelihood of a legal challenge to the final rules once they were adopted by the Commission. Indeed, several companies opposing the original HAC deadlines had indicated a willingness to negotiate new timetables.*
Although the Commission expressed considerable interest in using this consensusbased approach, its failure to make the HAC issue an agency priority caused the "temporary" suspension to remain in place for several more months. Finally, on November 7, 1994, more than a year and a half after imposing the suspension, the FCC agreed to the negotiated rulemaking.66 Five months later, the FCC chose representatives from eighteen consumer groups, businesses, health care facilities, hotel associations, equipment manufacturers, and federal agencies to sit on the new advisory committee.67 The group would be given ten weeks between April and June 1994 to reach a consensus—hardly any time, given the preceding twenty years of HAC conflict.†
By the time the negotiated rulemaking began, two years had passed since the suspension had taken effect. Consumers were excited about the prospect of expressing their concerns directly to industry representatives, without the impersonal and adversarial nature of traditional rulemaking procedures. Company lobbyists may have found it easy to reject HAC access in written pleadings, but it might be harder for them to do so in person, when they were face-to-face with consumers who would be denied that access.
The earliest meetings provided an opportunity for consumers to educate businesses about their laborious quest for universal access, and for industry to provide consumers with a greater understanding of the events leading up to the FCC's suspension. Two of the committee members, the American Health Care Association, representing more than 11,000 nursing facilities, and the American Hotel and Motel Association, representing more than 45,000 lodging properties, told of being suddenly overwhelmed with the costs of hiring outside firms to conduct site surveys for non-HAC phones, refurbishing existing phones, and replacing entire hardwired systems, while confronting unscrupulous telephone vendors and a severe recession.
Nevertheless, nearly all of the committee members seemed open to the prospect of conciliation and corroboration: they agreed that their task was to decide not whether there would be HAC requirements for telephones in workplaces, hotels, and health care facilities, but when these requirements would take effect. The one exception to this was the Equal Employment Advisory Council (EEAC), an organization representing employers in approximately 300 major American corporations and several associations. EEAC insisted that the FCC lacked authority to require extensive phone retrofitting, and that the ADA was sufficient to protect the interests of individual employees who needed compatible phones as a reasonable accommodation for their specific job duties. A second committee member that initially resisted compromise was the General Services Administration (GSA), the federal agency that would be charged with discarding and replacing thousands of incompatible government telephones still in inventory. Although later compromises secured GSA's support, EEAC ultimately left the negotiations.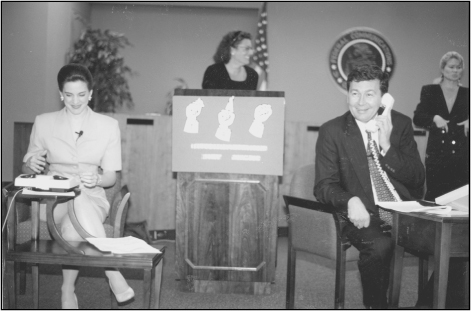 FCC Chairman Reed Hundt conducts a relay call with former Miss America 1995, Heather Whitestone McCallum, who visited the FCC during her reign to discuss telecommunications access issues, while FCC Disabilities Issues Task Force Chair Linda Dubroof looks on. Whitestone McCallum was the first Miss America with a profound hearing loss.
Generally, all industry representatives to the HAC committee were concerned about costs associated with locating and refurbishing non-HAC telephones, verifying compatibility, and installing new compatible handsets. In order to minimize these costs, companies pushed for compliance deadlines that would allow for the gradual replacement of existing phones during the normal course of their business operations. The problem was that the period over which this was expected to occur (seven to ten years) would thrust HAC deadlines so far into the future that this approach would effectively make permanent the FCC's "short-term" suspension.
Consumers decided that the only way they could agree to deadlines so radically different from the FCC's original order was if they could receive something substantial in return. To this end, Joe Gordon of the New York League for the Hard of Hearing and Brenda Battat of SHHH proposed a mandate for volume control on all newly acquired or replaced telephones. While the FCC's prior HAC proceedings had never before contemplated an amplification requirement, without question, Congress's decision not to restrict telephone access to inductive coupling in the 1982 and 1988 Acts gave the FCC ample authority to require this type of technology, especially because it would allow greater numbers of people with hearing loss to achieve telephone access.
In the weeks ahead, as the committee went about devising an intricate maze of new HAC deadlines, consumers successfully used their proposal for volume control as a bargaining chip, agreeing to compliance dates far into the future in exchange for amplification. Dan Bart, representative for TIA, was able to confirm the economic and technical viability of this proposal; indeed, some manufacturers already had begun to routinely incorporate volume control in their telephones at little or no extra cost.
HAC advocates also decided to push for improved telephone labeling. They found it ironic that more than fifteen years after the industry had so adamantly rejected proposals to affix HAC labels directly on telephone equipment, they were now complaining of the expense associated with ascertaining which of their phones needed modification. If this consumer recommendation had been adopted, HAC phones would now be easy to identify, and at least some of the costs of locating incompatible phones might have been eliminated. To rectify this for the future, industry now finally agreed that all telephones manufactured after a certain date should contain a HAC stamp right on the phones themselves.68
As the day of the committee's final meeting approached, consensus had been reached on new HAC deadlines for employers and health care facilities, but not for hotels and motels. Understanding that travelers were generally unfamiliar with their surroundings and at the mercy of phones available at temporary lodgings, consumers wanted HAC mandates on these facilities imposed as soon as possible. But the hotel industry, still fearing the impact that expensive HAC mandates would have on smaller facilities (which were more likely to retain older equipment in the middle of the recession) steadfastly resisted a short HAC timeline. Weeks had been spent debating these points, with little resolution.
With this the only issue keeping the committee from completing its mission, committee members decided to sequester two of its members—the hotel spokesperson and me—in a private room, with instructions not to leave until we had ironed out our differences. After sorting the issues, dissecting our disagreements, and dividing our gains and losses, we produced a labyrinth of complicated deadlines that turned on the number of rooms contained in a given hotel, the year in which phones had been installed, and the extent to which hotel rooms were renovated or phones were altered.*
The final agreement reached by the HAC negotiated rulemaking committee represented the balanced and collaborative work of its members who in good faith had diligently and fairly worked to resolve their differences.69 By the end of its tenure, the group was able to agree on a compliance schedule that would ultimately expand telephone access for all Americans with very little, if any, burden upon the covered facilities. Generous compliance deadlines built upon typical telephone replacement cycles, a grace period for phones purchased just before the 1988 HAC Act,† and a presumption of compatibility after the compliance deadlines, meant that the rules would require only a gradual conversion to HAC phones over a period that extended as much as eleven to fifteen years past the 1989 deadline for producing HAC phones, with virtually no phone testing, and scarcely any retrofitting. The final recommendations placed slightly tighter HAC deadlines on health care facilities because of the amount of time that people remained captive in these settings.*
The ADA had helped to guide the rationale for many of the committee's decisions. For example, Title I of the ADA exempted employers with fewer than fifteen employees from rules prohibiting discrimination on the basis of disability. Similarly, although the committee recommended HAC mandates for all workplace phones by the year 2000, it proposed exempting employers with less than fifteen employees.† In addition, just as the ADA had drawn a distinction between mandates to eliminate architectural barriers in existing facilities and requirements for newly constructed or altered properties, the committee's final proposals required all newly installed telephones and telephones placed in new or renovated locations to be compatible. If an entity already had expenses associated with acquiring or repairing new phones or facilities, it was assumed that the incremental cost of adding access would be negligible.
On June 22, 1995, the FCC announced that this was its fourth negotiated rulemaking, but only the second that had been fully successful. FCC Chairman Reed Hundt proudly commended the group's achievements:
This is a real success story. The Commission brought these parties together, in one room, around one table, and we avoided a protracted paper process. They worked around that table and through these issues until they reached an agreement, and they did it in record time. This is truly a new way of doing the people's business in the public interest.70
Curses, Foiled Again
It was the success of the committee's efforts that made what happened next all the more devastating. As accolades praising the committee's accomplishments continued to stream in, Congressmen Pete Hoekstra (R-Mich.) and Mike Oxley (R-Ohio) introduced H.R. 1892, cosponsored by Congressmen Robert Ehrlich (R-Md.) and Paul Gillmor (R-Ohio), to prohibit the FCC from adopting any of the recommendations that went beyond its original mandates for common area and coin-operated phones.71 This deliberate attempt to nullify the committee's consensus had been prompted by complaints to Congress from the Food Marketing Institute, an association whose membership of 1,500 food retailers and wholesalers included approximately 19,000 retail food stores, or more than half the grocery stores in America. The powerful group had concerns about the proposals' impact on the food distribution industry, which provided jobs to four million employees in warehouses, supermarkets, offices, and distribution centers.72
On June 21, 1995—only days after the negotiated rulemaking committee's final meeting—Hoekstra and Oxley circulated a "Dear Colleague" letter to their House colleagues entitled "Another Agency Run Amok: FCC Ignores Congressional Intent." The letter angrily attacked the FCC for attempting to require retrofitting, and scared recipients into believing that violations of the FCC's upcoming rules would result in fines up to $75,000. Around the same time, the National Association of Manufacturers began organizing its own coalition of business interests to fight the proposals.73
The counterattack from consumers was swift and effective. Under the leadership of Pam Ransom, the seven consumer representatives that had served on the HAC committee orchestrated a series of steps both to remind legislators of their past commitments to telephone access and to rebut the outlandish charges.* Immediately, the group dispatched letters to Congress clarifying that businesses had been given an equal opportunity during the negotiations to provide input into the final HAC proposals; the letters charged that H.R. 1892 was an attempt to destroy the carefully crafted product that had been produced through this very democratic process. Next, a letter went to Chairman Hundt, then attending the TDI convention in Cambridge, Massachusetts, a first for any FCC chairman.74 Hundt incorporated the letter (thanking him for holding the successful negotiations) into his speech, after which both the letter and the presentation were picked up by Communications Daily, a widely disseminated telecommunications trade journal.75 Finally, to counter heavy industry lobbying, advocates issued an alert on the TFA network, calling on consumers everywhere to quickly contest the proposed bill with their elected representatives.76
In July 1995, disability advocates also decided to go into the lions' den. In meetings with the staff of Congressmen Hoekstra and Oxley, they learned that misconceptions about the extent to which the HAC recommendations required testing and retrofitting still existed both within the industry and on Capitol Hill. The consumers explained that it was very likely employers would naturally replace their phones long before the recommended deadlines. Advances in telephone technology, lower equipment costs, and improved telephone features all contributed to the probability that employers would acquire new phones within the next seven years.
The HAC committee presented its final report to the Commission on August 3, 1995.77 Sadly, only little more than a month later, we learned that David Saks, father of the HAC movement, had died of heart failure at the age of eighty-one.78 A Baltimore Sun article revealed that after working as a furniture salesman, Saks had been the owner of a furniture store for twenty years. He had retired in 1973, only to spend all of his retirement years crusading for telephone access. Although most of us had lost contact with Saks by the time he fell ill, notice of his death served as a bittersweet reminder of all that he had accomplished during his golden years.
On November 28, 1995, the FCC released the HAC committee's proposals for public comment.79 Apparently not swayed by the advocates that had come to see them, Hoekstra and Oxley issued yet another Dear Colleague letter: "There They Go Again." This time they compared the HAC proposals to printing all books in Braille, or substituting ramps and elevators for all sets of stairs.80 But while the Food Marketing Institute, the EEAC, and some anxious and confused state hotel associations also opposed the recommended rules,* the vast majority of parties who sent in comments strongly endorsed the consensus proposals.† Even the Information Technology and Telecommunications Association (formerly TCA, the organization that had filed the original Stay petition) agreed that the proposals offered "an equitable balance by protecting employees with hearing disabilities while not saddling employers with overwhelming burdens."81
When Congressmen Hoekstra and Oxley introduced H.R. 1892 in an attempt to defeat the consensus agreement of the HAC negotiated rulemaking committee, consumers appealed to Chairman Hundt, who was then participating in TDI's Eleventh International Convention in Boston, Massachusetts. Hundt was the first FCC chairman ever to attend a TDI conference. FCC Chairman Kennard and Commissioner Copps spoke at subsequent conventions.
On June 27, 1996, the FCC unanimously adopted nearly all of the HAC committee's recommendations, calling them "the culmination of an innovative approach to rulemaking."82 Through a streamlined process, the FCC boasted, the advisory body had "reached full consensus on all issues in record time, the number of comments in the record was greatly reduced and the public interest [had] been served."83 The FCC confirmed that the proposed HAC mandates would not duplicate the ADA: although the latter required accommodations for individual employees, that nondiscrimination statute could not, by itself, meet the needs of people who worked in sprawling, multi-leveled office buildings, or professionals who needed phones for emergencies while on travel.84 The FCC also explained that the recently enacted Section 255 of the Communications Act had not eliminated the need for the new HAC mandates.* Section 255 required all telephones to be built with accessible features, but exempted manufacturers from incorporating accessible design features where doing so was not "readily achievable."85 In marked contrast, the HAC mandates were absolute and could only be waived if technically infeasible.
To ensure that businesses were sufficiently alerted about their HAC obligations this time around, the Commission also promised to follow up on committee recommendations to widely disseminate information about the new rules.86 After the rules were released, SHHH did its part to alert consumers by securing funding from the National Institutes of Health for a "National Telecoil Awareness Project" in conjunction with the Johns Hopkins Center for Hearing and Balance. The project, designed to increase consumer awareness about the benefits of using telecoils, produced a video and other materials that contained information about the new HAC mandates. These were widely distributed to vocational rehabilitation offices, regional, state and national conventions, publication catalogs, and audiologists.
Volume Control
In addition to adopting the HAC committee's proposal for volume control on all newly acquired and replacement phones in workplaces, hotels, and health care facilities, the FCC went a step further, to require volume control on all wireline and cordless telephones manufactured in or imported into the United States. The FCC easily found the authority to address the issue of telephone amplification, both under its general authority to ensure access to telephone service by people with hearing loss, and under the 1988 HAC Act's very explicit mandate to encourage the use of new technologies.87 In adopting this novel requirement, the FCC rejected industry arguments that internal hearing aid compatibility could only be achieved through inductive coupling; throughout the legislative histories of both HAC statutes, Congress had explicitly alluded to multiple ways of achieving compatibility, including amplification.88 The FCC also rejected industry arguments that competitive market forces would be enough to supply the necessary number of amplified telephones.89 However, in response to an appeal filed by the Consumer Electronics Manufacturers Association, the FCC ultimately agreed to move the original implementation deadline for the volume control mandate from November 1, 1998, to January 1, 2000, to give manufacturers ample time to make necessary changes to their production lines.90
Chart 13.1
1996 Final FCC Hearing Aid Compatibility Rules
47 C.F.R. §68.112
(Product of HAC Negotiated Rulemaking)
Workplaces
Throughout workplaces —HAC phones by January 1, 2000, except for the following, to be HAC by January 1, 2005:
•Telephones in workplaces with under 15 employees
•Telephones purchased between January 1, 1985 and December 31, 1989
Safe Harbor — Employers with more than 15 employees required to either provide one coin-operated telephone, a common area telephone, or another designated HAC phone within a reasonable distance for a person needing a phone at any point in the workplace or a wireless HAC telephone until above mandates kick in.
Rebuttable presumption — A presumption exists that telephones located in the workplace are in compliance with the above mandates. A person legitimately on the employer's premises may rebut the presumption, after which the employer must provide a HAC phone within 15 days.
(All common areas and individual workstations — HAC phones required, regardless of number of employees in the workplace, since May 1991)
Confined Settings (hospitals, nursing homes, etc.) — to provide HAC phones in patient rooms by November 1, 1998.
Hotels and Motels
•With 80 or more beds — to provide HAC phones by November 1, 1998
•With fewer than 80 beds — to provide HAC phones by November 1, 1999
Except that:
•Guest rooms that are renovated, newly constructed, or substantially and internally repaired before the above dates must be HAC, and
•Phones purchased between January 1, 1985 and December 31, 1989 had a different schedule that stretched between April 1997 to January 2004, incrementally increasing the number of required HAC phones depending on the size of the facility.
Volume Control — All telephones manufactured after January 1, 2000 or purchased for the above locations after this date, to have volume control.
Chart 13.2
Evolution of Federal Hearing Aid Compatibility Requirements Wireline Telephones
| | |
| --- | --- |
| January 1983 | Telecommunications for the Disabled Act of 1982 (TDA) enacted: requires all "essential telephones" to be HAC, defined as telephones operated with coins, provided for emergency use, and frequently needed by hearing aid users |
| December 1983 | FCC issues rules further delineating the categories of "essential telephones" under the TDA |
| March 1988 | FCC proposes expanding definition of "essential phones" to include common areas of workplaces and credit card-operated telephones |
| August 1988 | Hearing Aid Compatibility Act of 1988 enacted: requires all new telephones to be HAC after August 1989 |
| May 1989 | In reversal, FCC withdraws March 1988 proposals to expand categories of essential telephones |
| April 1990 | In second reversal, FCC issues rules requiring common areas in workplaces and credit card phones to have HAC phones by 1991; proposes HAC mandates for phones throughout workplaces, hospitals, nursing homes, hotels, motels and prisons by May 1992. |
| May 1992 | FCC adopts April 1990 proposals to expand HAC phones, but delays implementation until May 1993 for establishments with 20 or more employees and until May 1994 for establishments with under 20 employees. |
| February 1993 | Goodwill Industries requests waiver of expanded HAC rules |
| April 1993 | Tele-Communications Association files Emergency Request for stay of expanded HAC rules |
| April 1993 | FCC indefinitely stays expanded (May 1992) HAC rules |
| May 1993 | Advocates file emergency request to reinstate expanded rules |
| April–June 1994 | HAC negotiated rulemaking committee reaches consensus on new HAC coverage and deadlines |
| June 1994 | Hoekstra-Oxley bill introduced (H.R. 1892) to nullify HAC committee's work |
| June 1996 | FCC adopts final HAC rules for wireline phones |
Implementation of the Final Wireline HAC Rules
Unlike its controversial history, implementation of the final HAC wireline rules progressed relatively smoothly. Over time, Hoekstra and Oxley's legislative challenges receded, and with the exception of an occasional waiver request for specialized phones, not a single legal challenge was brought to uproot the new mandates.91
By the time the FCC began implementing the final HAC regulations, more than two decades had passed since David Saks and OUT had first started their crusade for universal telephone access. Senator Mathias (D-Md.) had been right: the solution reached midway through this period—requiring only essential telephones to be compatible—had created "years of unnecessary confusion, delay, frustration and expense."92 There is little question that the protracted FCC proceedings, which had consumed such enormous industry and consumer resources, could have been avoided had universal compatibility been required some twenty years earlier. But even the FCC's final wireline HAC rules did not end the HAC controversies. Battles for equal telecommunications access by hearing aid users were about to commence all over again, with America's growing dependence on wireless telephone services.
Notes
1. S. 314, 100th Cong., 1st Sess. (1987); H.R. 2213, 100th Cong., 1st Sess. (1987). Senators Matsunaga, Inouye, Heinz, Dodd, Stafford, Cochran, Simon, and D'Amato cosponsored S. 314 at the time of its introduction. See 133 Cong. Rec. 1324 (January 14, 1987). Congressman Mavroules was joined by thirty-nine co-sponsors in introducing the House bill.
2. Access to Telecommunications Equipment and Services by the Hearing Impaired and other Disabled Persons, Notice of Inquiry, CC Dkt. 87-124, FCC 87-150, 2 FCC Rcd 2836 (May 15, 1987).
3. Comments of Maryland People's Counsel, Hearing, and Speech Agency of Metropolitan Baltimore, Inc., Maryland Department of Health and Mental Hygiene, Maryland Governor's Office for Handicapped Individuals, NCLD, OUT, and TEDI in CC Dkt. 87-124 (June 29, 1987).
4. On behalf of NCLD, I had the privilege of testifying at the House and later the Senate hearings, along with Saks and other OUT members.
5. Statement of Chairman Markey, Hearings on H.R. 2213 before the Subcommittee on Telecommunications and Finance of the House Committee on Energy and Commerce, 100th Cong., 2d. Sess. 2 (February 24, 1988). Hereinafter cited as H.R. 2213 Hearings.
6. Statement of Freeman E. Robinson, president, GTE Consumer Communications Product Corporation, H.R. 2213 Hearings, 39–45.
7. Interview with Dan Bart, formerly of GTE, May 2, 2003.
8. Statement of Peter Bennett, H.R. 2213 Hearings, 30; see also H.R. 2213 Hearings, 93.
9. H.R. 2213 Hearings, 96.
10. H.R. 2213 Hearings, 94, 98 (emphasis added).
11. Access to Telecommunications Equipment and Services by the Hearing Impaired and Other Disabled Persons, Notice of Proposed Rulemaking and Further Notice of Inquiry, CC Dkt. 87-124, FCC 88-123, 3 FCC Rcd 1982 (March 29, 1988).
12. Ibid., ¶23, citing H. Rep. No. 888, 97th Cong., 2d Sess. 10 (1982).
13. Comments of NCLD, OUT, TDI, TEDI, LHH, Minnesota Telecommunications Access for Communicatively Impaired Persons, and five Maryland government agencies in CC Dkt. 87-124 (July 26, 1988).
14. See H. Rep. No. 888, 97th Cong. 2d Sess. 10 (1982): "Regulations must be sufficiently specific to enable employers to comply without undue risk of an unexpectedly adverse interpretation in a subsequent proceeding for compliance."
15. This became the Telecommunications Accessibility Enhancement Act, discussed in detail in chapter 4.
16. Statement of Karen Peltz Strauss on behalf of Gallaudet University and NCLD, Hearings on S. 314 before the Subcommittee on Communications of the Senate Committee on Commerce, Science, and Transportation, 100th Cong., 2d. Sess. 41 (March 31, 1988). Hereinafter cited as S. 314 Hearings.
17. Statement of Gerald Brock, chief, Common Carrier Bureau, FCC, S. 314 Hearings, 20, 28.
18. Ibid., 25.
19. Statement of Karen Peltz Strauss, S. 314 Hearings, 41. In his opening statement, Congressman Nicholas Mavroules similarly noted that, having witnessed the struggle for equal rights at Gallaudet University, federal legislators now had the "perfect opportunity to responsibly assist in that struggle by working to give all people the chance for equal telephone access." Statement of Congressman Mavroules, S. 314 Hearings, 60.
20. See, for example, Statement of David Saks, director, OUT, S. 314 Hearings, 35.
21. H. Rep. No. 674, 100th Cong. 2d Sess. 14 (1988) (emphasis added). Hereinafter cited as H. Rep. No. 674. See also S. Rep. No. 391, 100th Cong. 2d Sess. 7 (1988). Hereinafter cited as S. Rep. No. 391.
22. 47 U.S.C. §610(b)(3); H. Rep. No. 674, 14. Congress also implemented consumer suggestions to require the FCC to periodically review any waivers granted.
23. H. Rep. No. 674, 9. The wireless phone and other exemptions were codified at 47 U.S.C. §610(b)(2).
24. David Saks, "OUT Members and Friends Ensured Enactment," The OUT-line, 14 (August 1988): 2.
25. The House Subcommittee had approved H.R. 2213 on April 28, 1988. See also, David Saks, letter to the author, May 8, 1988, wherein Saks commented, "It is not the perfect bill that we started with but the best that we could do. … We fought the exemptions until the day before the mark up session and got them softened in many respects but not eliminated."
26. 134 Cong. Rec. 13802 (June 8, 1988); 134 Cong. Rec. S9288–9290 (daily ed. July 11, 1988).
27. P.L. 100-394, 102 Stat. 976 (1988), codified at 47 U.S.C. §610.
28. P. L. 100-394, Sec. 2(1) (emphasis added); H. Rep. No. 674, 3,7; See Karen Peltz Strauss and Robert E. Richardson, "Breaking Down the Telephone Barrier—Relay Services on the Line," Temple Law Review 64 no. 2 (Summer 1991): 583–607, 592.
29. H. Rep. No. 674, 6, referring to 47 U.S.C. §151.
30. S. Rep. No. 391, 4 (1988); H. Rep. No. 674, 7.
31. S. Rep. No. 391, 3.
32. H. Rep. No. 674, 5.
33. S. Rep. No. 391, 6; H. Rep. No. 674, 8–9.
34. 47 U.S.C. §610(e).
35. H. Rep. No. 674, 8. See also H. Rep. No. 674, 12–13; S. Rep. No. 391, 2.
36. The names of this individual and the other correspondents who sent letters (received by OUT and LHH between September 1986 and June 1988) have been withheld.
37. Access to Telecommunications Equipment and Services by the Hearing Impaired and Other Disabled Persons, Further Notice of Proposed Rulemaking, CC Dkt. 87-124, FCC 89-55, 4 FCC Rcd 2250 (February 16, 1989).
38. In all, ten organizations sent in comments to the FCC expressing their outrage: Joint Comments of NCLD, OUT, TDI, Maryland Office of People's Counsel, LHH, TEDI, the Hearing and Speech Agency of Metropolitan Baltimore, Inc., the Maryland Governor's Commission on Hearing Impairments, the Maryland Governor's Office for Handicapped Individuals, and Minnesota Telecommunications Access for Communicatively Impaired Persons in CC Dkt. 87-124 (March 14, 1989).
39. USTA and GTE had shared concerns about these unsold phones with the Commission. Although AT&T had come out in support of the original proposals, USTA and GTE claimed that AT&T only did so because it had an interest in selling new phones.
40. Access to Telecommunications Equipment and Services by the Hearing Impaired and Other Disabled Persons, First Report and Order, CC Dkt. 87-124, FCC 89-137, 4 FCC Rcd 4596 (May 11, 1989). Among other things, the FCC now claimed that it had no evidence on the extent to which the absence of credit card compatibility would cause consumers inconvenience—despite the agency's earlier assertions to the contrary: "The perceived unavailability of HAC credit card telephones does not appear to be as acute as NCLD-OUT implies" (¶11). The Commission's final order also adopted a suggestion by AT&T to require labeling only on the packaging of non-HAC phones now that all new phones were required to be HAC.
41. Petition for Partial Reconsideration in CC Dkt. 87-124, submitted by OUT, NCLD, TDI, LHH, TEDI, the Maryland Office of People's Counsel, the Hearing and Speech Agency of Metropolitan Baltimore, the Maryland Governor's Office for Handicapped Individuals, and Minnesota Telecommunications Access for Communicatively Impaired Persons (June 16, 1989).
42. See, for example, GTE Opposition to Petition for Partial Reconsideration in CC Dkt. 87-124 (August 7, 1989). Opposing comments were also filed by TIA and Bell Atlantic.
43. Access to Telecommunications Equipment and Services by the Hearing Impaired and Other Disabled Persons, Memorandum Opinion and Order and Further Notice of Proposed Rulemaking, CC Dkt. 87-124, FCC 90-133, 5 FCC Rcd 3434 (adopted April 12, 1990, released June 7, 1990).
44. Ibid., ¶¶15, 26.
45. GTE Service Corporation, Petition for Reconsideration in CC Dkt. 87-124 (August 15, 1990).
46. Comments of Southern New England Telephone Company in CC Dkt. 87-124 (August 27, 1990).
47. Reply Comments of North American Telecommunications Association in CC Dkt. 87-124 (October 24, 1990).
48. Most of the national and Maryland consumer groups that submitted comments earlier did so again on August 27, 1990, September 24, 1990, and October 19, 1990. New commenters included ASHA, NAD, SHHH, the Arizona Council for the Hearing Impaired, and the California Center for Law and the Deaf. Among other things, advocates urged expansion of the rules to closed circuit phones, citing to legislative history that stated that "in the absence of extraordinary costs of implementation, persons with impaired hearing should be confident that they can effectively use any telephone made generally available to invitees in a place of business or in a public building, including phones restricted to local calling areas or to internal extensions." Joint Consumer Comments (August 27, 1990), 6, citing H. Rep. No. 888, 10.
49. Access by Persons with Hearing Impairments or Other Disabilities to Telecommunications Equipment and Services, Memorandum Opinion and Order, CC Dkt. 87-124, FCC 91-236, 6 FCC Rcd 4799 (adopted July 26, 1991, released August 7, 1991). Hereinafter cited as MO&O 1991.
50. Access to Telecommunications Equipment and Services by the Hearing Impaired and Other Disabled Persons, Report and Order, CC Dkt. 87-124, FCC 92-217, 7 FCC Rcd. 3472 (June 4, 1992).
51. Amelia M. Walker, Seattle Goodwill Industries, letter to James Keegan, chief, Domestic Facilities Division, FCC Common Carrier Bureau, February 9, 1993.
52. TCA Emergency Request for Stay (April 2, 1993).
53. Ibid., 11.
54. The fear of litigation may have been justified. A New York Times article referenced a threatened suit by the Credit Union National Association just prior to the suspension. The article explained that the FCC was "bowing to a wave of protest from businesses and trade associations." Barbara Presley Noble, "Hearing-Aid Phone Rules Are Delayed," New York Times, April 16, 1993, D1, 16.
55. Access to Telecommunications Equipment and Services by the Hearing Impaired and Other Disabled Persons, Order, CC Dkt. 87-124, FCC 93-191, 8 FCC Rcd 4958 (April 15, 1993), ¶8.
56. Karen Peltz Strauss, NCLD, letter to Paul Miller, White House liaison on disability issues, April 19, 1993. Other correspondence was sent to Liz Savage of DOJ, Bobby Silverstein of Senator Harkin's office, and Mark Buse of Senator McCain's office.
57. FCC officials took this position at a meeting held on June 23, 1993. In attendance were consumers Donna Dickman of AG Bell, Brenda Battat of SHHH, Al Sonnenstrahl of TDI, Angela Campbell of IPR, and the author of NCLD; the FCC's general counsel's office; Kathleen Abernathy and Brian Fontes of the office of Acting FCC Commissioner Quello; and employees from the offices of Commissioners Ervin Duggen and Andrew Barrett.
58. AG Bell, NAD, NCLD, SHHH, TDI, and WID, "Emergency Request to Reinstate Enforcement of the Hearing Aid Compatibility Rules" (May 11, 1993).
59. 5 U.S.C. §§553(b)(3); (c).
60. Emergency Request to Reinstate Enforcement of the Hearing Aid Compatibility Rules, FCC Public Notice, DA 93-590 (May 25, 1993).
61. Comments of the Utilities Telecommunications Council, a national association that performed communications work for thousands of the nation's electric, gas, water, and steam utilities. See also Comments of the International Communications Association, claiming to be the largest association of telecommunications users in America, with more than 720 members and annual acquisitions of telecommunications equipment and services approximating twenty-two billion dollars. Others continued to question the Commission's authority to require retrofitting beyond that which was specifically authorized in the 1982 Act. See Ad Hoc Telecommunications Users Committee Opposition to Emergency Request to Reinstate Enforcement of Hearing Aid Compatibility Rules and Petition for Rulemaking; Joint Comments of Dow, Lohnes, and Albertson. All of these comments were filed in CC Dkt. 87-124 on June 10, 1993.
62. TCA Opposition to Emergency Request to Reinstate Enforcement of the Hearing Aid Compatibility Rules in CC Dkt. 87-124 (June 10, 1993), 9, citing 5 U.S.C. 553(b)(B).
63. Ibid., 10.
64. Reply Comments of AG Bell, the California Center for Law and the Deaf, the NAD, NCLD, SHHH, TDI, and WID (June 30, 1993), 10.
65. Ibid., 19, citing MO&O 1991, quoting the Commission, 6 FCC at 4799 n. 4.
66. FCC Asks for Comments and Nominations for Membership Regarding the Establishment of an Advisory Committee to Negotiate Regulations, FCC Public Notice, CC Dkt. 87-124, FCC 94-280 (November 7, 1994). The negotiated rulemaking committee would be developed under the Federal Advisory Committee Act, 5 U.S.C. App. 2 and the Negotiated Rulemaking Act of 1990, P.L. 101-648 (1990).
67. FCC Establishes Hearing Aid Compatibility Negotiated Rulemaking Committee, and Sets Meeting Dates, FCC Public Notice, CC Dkt. 87-124, FCC 95-791 (April 12, 1995). Consumers were to be represented by AG Bell, ASHA, CWA, LHH, NAD, NCLD, SHHH, and TDI. The Aeronautical Radio, Inc., American Health Care Association, American Hotel and Motel Association, Equal Employment Advisory Council, IBM, TCA, TIA, and USTA would represent industry interests. The FCC and GSA were to represent federal agencies, and the Hearing Industries Association was designated to represent hearing aid manufacturers. I had the privilege of representing NCLD on the committee.
68. See 47 C.F.R. §68.300.
69. TIA abstained from most of the final recommendations because as a standards-setting body, it considered itself a neutral committee member. Unlike telephone equipment owners, TIA would not bear expenses associated with the final proposals. Similarly, IBM submitted a separate statement—but not a dissent—complaining that the proposals would still result in the FCC's exceeding its statutory authority. IBM wrote that it "would have preferred that each company be given a chance to look at its employee population and evaluate how HAC telephones could best be placed and used." HAC Negotiated Rulemaking Committee, Final Report, CC Dkt. 87-124 (August 1995), 64. Hereinafter cited as HAC NegReg Final Report.
70. Negotiated Rulemaking Committee Reaches Full Consensus on Proposed FCC Rules for Wireline Telephone Hearing Aid Compatibility and Volume Control, FCC Report No. DC 95-90 (June 22, 1995).
71. H.R. 1892, 104th Cong., 1st Sess. (1995).
72. See, for example, Comments of Food Marketing Institute in CC Dkt. 87-124 (January 11, 1996).
73. Larry Fineran, National Association of Manufacturers (NAM), letter to Former Electronic Monitoring Coalition, June 28, 1995. NAM condemned the committee's recommendations as unacceptable.
74. AG Bell, TDI, SHHH, NCLD, CWA, LHH, and NAD, letter to Chairman Reed Hundt, June 28, 1995.
75. Committee that Negotiated Rules," Communications Daily, June 29, 1995.
76. TFA, e-mail alert, "Opposition to H.R. 1892 Needed!" (undated).
77. HAC NegReg Final Report.
78. DeWitt Bliss, "David Saks, Led Efforts to Make Phones Work with Hearing Aids," Baltimore Sun, September 22, 1995. Saks died on September 20, 1995.
79. Access to Telecommunications Equipment and Services by Persons with Disabilities, Notice of Proposed Rulemaking, CC Dkt. 87-124, FCC 95-474, 11 FCC Rcd 4338 (November 28, 1995).
80. Congressmen Pete Hoekstra and Mike Oxley, "There They Go Again," Dear Colleague letter, April 8, 1996.
81. Comments of the Information Technology and Telecommunications Association in CC Dkt. 87-124 (January 16, 1995), 4.
82. Access to Telecommunications Equipment and Services by Persons with Disabilities, Report and Order, CC Dkt. 87-124, FCC 96-285, 11 FCC Rcd 8249 (July 3, 1996), ¶20. Hereinafter cited as Final HAC Report and Order. The order amended 47 C.F.R. §68.112.
83. "Commission Adopts New Rules to Ensure Telephone Access by Persons with Hearing Disabilities," FCC News Release, June 27, 1996; Final HAC Report and Order, ¶106: The rules represent the culmination of "an extraordinary effort among organizations representing government, business, industry and individuals with hearing disabilities on the Committee."
84. Conversely the ADA was not intended to invalidate other federal laws, such as the HAC rules, if those other provisions offered greater or equal disability protections than the ADA. 42 U.S.C. §12201 (b); ADA Handbook, EEOC and DOJ Interpretive Guidelines (October 19, 1991), I-22.
85. 47 U.S.C. §255 (enacted February 8, 1996). Nor could the more general Section 255 be construed to supercede the more specific HAC law. Section 601(c) of the Telecommunications Act of 1996, P.L. 104-104, stated that the provisions of the 1996 Act should "not be construed to modify, impair or supersede Federal, State or local law unless expressly so provided in such Act or amendments."
86. Final HAC Report and Order. ¶105. The Commission did, in fact, prepare consumer fact sheets for this purpose.
87. 47 U.S.C. §610(a); Final HAC Report and Order, ¶65. The FCC's technical standards for providing volume control can be found at 47 C.F.R. §68.317.
88. The findings of the 1988 Act itself refer to inductive coupling as "present technology," and "anticipated improvements in both telephone and hearing aid technologies." P.L. 100-394§§2, 3. In addition, the House report unequivocally stated that this statute did "not require induction as the sole method of telephone/hearing aid coupling. It is flexible and allows for other methods of compatibility." H. Rep. No. 674, 12. Similarly, the Senate report explained that the Act was "intended to avoid impeding the development of new technology which can provide benefits similar to those currently achieved through inductive means." S. Rep. No. 391, 10.
89. Final HAC Report and Order, ¶69.
90. Consumer Electronics Manufacturers Association (CEMA), Petition for Reconsideration (September 13, 1996). Access to Telecommunications Equipment and Services by Persons with Disabilities, Order on Reconsideration, CC Dkt. 87-124, FCC 97-242, 12 FCC Rcd 10077 (July 11, 1997). The FCC rejected CEMA's recommendation that the rule be revised to apply to only new, and not existing, telephone models. The Commission was concerned that CEMA had not offered any assurances that manufacturers would ever phase out production of existing telephone models; it wanted consumers to have the comfort of knowing that after a date certain, any phone they purchased would have the volume control feature. The Commission later waived a requirement for telephones with amplification greater than 18 dB to have to automatically reset to a volume control level no greater than this every time the phone was hung up. The FCC decided that it would be far easier for senior citizens and other consumers not to have to reset the volume control every time they made a call. Tandy Corporation, Walker Equipment Company, Ameriphone, Inc., and Ultratec, Inc., Request for Waiver of Volume Control Reset, 47 C.F.R. §68.317(f), Memorandum Opinion and Order, NSD-L-00-17, NSD-00-L-22, NSD-L-00-63, NSD-L-00-193, DA 01-578 (March 5, 2001). See also Clarity, A Division of Plantronics, Inc., Request for Waiver of Volume Control Reset, Order, DA 04-622 (March 8, 2004).
91. For example, in 1999, Lucent Technologies applied for and was granted, a HAC exemption for telephones designed to be used in explosive atmospheres. Lucent Technologies, Inc., Petition for Waiver of the Volume Control Requirement Contained in 47 C.F.R. §68.6, Order, File No. NSD-L-99-49, DA 99-2982 (December 23, 1999). Incorporating volume control into these phones permitted gases to enter through the volume control button, making the handsets unsafe for use where there were explosive or combustible vapors. In addition, when, in 2000, the FCC eliminated rules requiring its involvement in processes for approving telephone equipment under Part 68 of its rules, the HAC and volume control rules were among the very few that the agency maintained because these were deemed to be a "critical component" in continuing to ensure telecommunications access by people with disabilities. 2000 Biennial Regulatory Review of Part 68 of the Commission's Rules and Regulations, Report and Order, CC Dkt. 99-216, FCC 00-400, 15 FCC Rcd 24944 (December 21, 2000), ¶66. The Part 68 certification process had begun twenty-five years earlier to encourage competition, but the Commission decided that its involvement was no longer needed to either establish technical criteria for terminal equipment or to approve that equipment.
92. Statement of Senator Mathias, 128 Cong. Rec. S10725 (daily ed. August 18, 1982).
Epigraph. Senator Larry Pressler (R-S.D.), "Introduction of Senate Amendment to Require Universal HAC Compatibility," 132 Cong. Rec. 28396 (October 3, 1986).
* Connecticut had already passed a statute requiring 25 percent of its coin- and credit card-operated telephones to be equipped with amplifiers.
† For example, USTA and BellSouth still resisted HAC mandates.
‡ GTE, Ameritech, and the United Telephone System Companies were among the companies that now seemed more amenable to HAC regulation.
* Though less vocal about it, SHHH, then a relatively new national organization representing individuals who were hard of hearing, also did not actively support the legislation. Harold "Rocky" Stone, the organization's founding director, initially believed that the HAC bill inappropriately addressed only half the problem by targeting the telephone industry, and not trying to get the hearing aid industry to expand consumer use of telecoil-equipped hearing aids. SHHH also believed that broader dissemination of information by the FCC about the HAC rules, and greater involvement by consumers and states in the execution of the rules, would help achieve greater access for hearing aid users. But many years later, Stone acknowledged that Saks had been right to get "a foot in the legislative door," and that, in retrospect, he understood that acquiring access was a "cumulative process." Rocky Stone, e-mail to Brenda Battat, SHHH, and the author, March 8, 2003.
* Though fiercely opposed to unnecessary governmental regulation, Bennett eventually befriended Saks, even standing in to present the advocate's position during a Capitol Hill session that Saks unexpectedly was unable to attend. When Saks became old and frail, Bennett would help him get around at consumer-industry forums, and even after Saks was too sick to continue attending these meetings and his wife, Reba passed away, Bennett remained in touch with his dear adversary.
† By then, ten of the twelve models of credit card-operated telephones registered with the Commission were already designated to be compatible. The FCC said that this, together with Congress's interest in ensuring the compatibility of public telephones—as demonstrated by its mandate to retrofit coin phones—warranted the rule change.
‡ The FCC explained that this was to follow up on a study conducted by the Gallaudet Research Institute, which had indicated that many individuals who were not using HAC phones had no knowledge of the HAC mandates.
* Although all GTE cordless telephones were already HAC in 1988, it was rumored that AT&T still had inaccessible cordless phones that it needed to phase out.
† It would take another fifteen years for the FCC to only partially lift this exemption. Chapter 14 discusses the consumer battles to achieve this result.
* In an equally unexpected move, the Commission also proposed adding an additional year to the two-year statutory exemption for cordless phones. Thankfully, the Commission eventually dropped this proposal, though its authority to have adopted this change was, in any case, questionable.
* The Commission declined, however, to accommodate a consumer request to raise the minimum acceptable field strength of HAC telephones. Consumer groups were concerned that the original FCC standards produced signals that were six decibels too weak for individuals with profound hearing loss. Although advocates insisted that the standards had been adopted on industry recommendations with scant field testing, industry suggested that it might be the consumers who were having problems with marginally designed hearing aid telecoils that did not adequately couple to properly designed HAC phones. Industry had based the amount of electromagnetic coupling used in these phones on postwar U-type receivers. In the end, the FCC agreed with industry that there was not enough technical data to prove that the existing HAC standards were inadequate. The Commission also declined to expand its requirements to closed circuit phones in lobbies, stores, and public transportation terminals.
* Back in April, 1990, the FCC had proposed setting a deadline of May 1, 1992 for all of these newly covered establishments. The extension of one to two years now granted did not apply to common areas and credit card phones, which already were required to be compatible since May 1, 1991.
* TFA e-mail alert, May 10, 1993. In response, one irate consumer wrote, "I consider this to be a direct 'hang-up' on the millions of Americans who are in need of such equipment in order to access our telephone communication system." Jay Crouse, executive director, Deaf and Hard of Hearing Services, Volusia/Flagler Counties, Florida, letter to FCC, June 21, 1993.
* For example, rather than oppose the rules outright, NATA had asked the Commission to withhold enforcement of the rules for thirty-six months. Southwestern Bell Telephone had requested a mere four-month extension.
† The group's charge was limited to wireline phones. Upon learning that the committee would not evaluate HAC access to wireless phones, HIA withdrew from the negotiations. Although the FCC promised to address wireless HAC issues in a separate proceeding within a few months, it would be eleven more years before the FCC would finally release rules addressing wireless compatibility, in June 2003.
* A logistical problem also needed to be resolved before the committee could submit its final report: at the beginning of the negotiations, the group had agreed that a full consensus would be defined only as an agreement by all the committee's members. Although EEAC had ceased attending meetings, it was still technically considered a participant and its lone dissent could topple the committee's entire consensus. Fortunately, EEAC agreed to abstain from the final agreement, clearing the way for the recommendations to go to the FCC.
† Telephones in inventory that had been purchased between 1985 and 1989 were given an extended deadline of 2005, to protect employers who had purchased non-HAC devices during the years immediately preceding the effective date of the 1988 Act.
* The success of the HAC negotiated rulemaking was in part attributable to the leadership of the FCC officials assigned to facilitate its deliberations. With patience, finesse, and determination, William Luther, Greg Lipscomb, and Linda Dubroof helped the committee navigate through a complex set of mandates to maximize access for consumers and minimize burdens for industry. The trio even arranged for one of the meetings to occur at a Greenbelt, Maryland, school populated by a high proportion of students with hearing loss; we conducted our affairs as students watched governmental processes in action.
† These employers would still be subject to other federal requirements to make individual workstations hearing aid compatible for individual employees.
* Al Sonnenstrahl of TDI, Tilak Ratnanather of AG Bell, Brenda Battat of SHHH, John Morgan of CWA, Joe Gordon of LHH, Pam Ransom of the NAD, and the author, on behalf of NCLD, were participants in this effort.
* Because of miscommunication with their national trade association (AHMA), these local hotel associations mistakenly thought that they would have to incur huge expenses to retrofit virtually all of their phones.
† For example, comments submitted by the American Health Care Association on January 10, 1996, concluded that the committee's recommendations represented "a fair and equitable compromise among businesses, manufacturers and … consumers." Similarly, on January 16, 1996, the Association of College and University Telecommunications Administrators commented that the committee's proposals for employers had "struck a reasonable balance."
* Section 255 is discussed in detail in chapters 15 and 16.