Relay Reality
Today, the doors of equal opportunity to all Americans with disabilities are open. Today we say no to fear, no to ignorance, and no to prejudice.
—Senator Tom Harkin
AN ADVERTISEMENT that commonly appeared in magazines of deaf and hard of hearing advocacy groups after passage of the ADA pictured an individual sitting at a TTY getting ready to order a pizza.1 Although getting pizza delivery by phone had long become routine for most of the American public, it represented a whole new world of access by people who were deaf, especially for those who lived in states that were only beginning to offer relay services.
After the ADA's relay mandates went into effect, many deaf and hard of hearing consumers were overwhelmed by their newfound telephone freedoms. In "Confessions of a Relay Junkie," David Coco explained how he sometimes spent an entire day on the phone, taking only a lunch break, in an effort to make up for twenty years without telephone access.2 Coco was not alone in discovering the freedoms and independence that relay services could bring. After the ADA passed, relay call volumes grew at an astounding rate. Unfortunately, much of this growth came before the FCC had an opportunity to issue its final relay guidelines. Congress had given the FCC one year to prepare relay standards, and had given telephone companies an additional two years after that to comply with those standards. As a result, many states were not yet prepared to meet either expanded call volumes or rising expectations for improved relay service quality.*
The ADA was explicit in directing the FCC to develop rules that would ensure telephone communication services for people with hearing loss and speech disabilities that were "functionally equivalent" to services offered to people who did not have these disabilities. Few consumer advocates, however, wanted to leave such a monumental task to a governmental agency that, until this point, had had little or no contact with the deaf and hard of hearing communities, and only minimal experience with disability access issues. To ensure that the FCC had the consumer input it needed, TDI decided to host two national forums. The organization's goal was to help the FCC draft its regulations by drawing upon the collective expertise of relay pioneers around the country who had been successful in initiating nearly forty state relay programs.
The first of TDI's conferences, sponsored by AT&T, U.S. West, USTA, and Sprint, was held in April 1990 in Tempe, Arizona; the second was held in November 1990 on Capitol Hill in Washington, D.C. Each of the conferences offered rare opportunities for the telephone industry, public service commissions, the FCC, consumers, and relay administrators from around the United States to debate openly the merits of a variety of relay issues.3 The timing of the second conference was particularly fortunate, as the FCC had released its proposed relay mandates just days earlier.4
During the second conference, attendees considered and adopted a number of principles that would forever change the role of relay service from that of a charitable or social service to a utility service that would be fully integrated into the public switched telephone network.5 First and foremost, participants agreed that a nationwide relay system needed to be seamless. Whether there were fifty separate state systems or only a few regional relay programs, relay consumers needed to be able to make phone calls with the same ease enjoyed by conventional voice telephone users, regardless of where their calls originated.6 Moreover, as the human equivalents of the dial tone, relay operators needed to transmit the spoken side of the conversation at a speed as close as possible to speech, be trained to handle a variety of communication needs and call contexts, and apply appropriate tones and diction. Comprehensive training to ensure that operators had sufficient knowledge of ASL, deaf culture, relay procedure, and the ethics and willingness to handle virtually any type of call would also be critical to the program's success.
The conference participants also recognized that comprehensive education and outreach would be critical to ensure the widespread use and acceptance of relay services throughout America. They agreed that brochures, videotapes, magazine and newspaper articles, television and radio talk shows, open houses, conference workshops, and the distribution of "relay service business cards" would go a long way toward educating the general public about the availability and use of relay. And consumers and industry alike acknowledged the importance of involving deaf and hard of hearing consumers in the establishment, administration, and operation of relay services, for example, through a federal advisory committee. Consumers hoped that now that the ADA had become law, the FCC would reconsider its refusals to establish a permanent advisory body.
But while attendees to the TDI conference readily achieved consensus on these guiding principles, tackling issues concerning the day-to-day operations of relay services proved far more difficult. The quantity and breadth of issues that needed to be addressed seemed endless: How were operators to identify themselves to called parties? "Hello" was fastest, but was this enough for the uninitiated recipient of a relay call who might be confused by the long delays between speakers? Should relay operators inform callers of their gender? How fast should typing speeds be? If the TTY caller used ASL, to what extent should the operator change the text to standard English? Did operators need to convey the tone of a caller's voice or background noises? To what extent should operators be permitted to switch calls in the middle of a conversation? What basic qualifications did operators need to be hired and what type of training did they need after accepting employment? How quickly should a relay center be required to answer a relay call? How were calls that reached answering machines to be handled? Often it seemed as if as soon as the group reached consensus on one issue, a new one would sprout.
Collaborative efforts between consumers and many industry members produced agreement on several of these issues, including relay operator qualifications and training, appropriate response times and blockage rates, matters of confidentiality, privacy and call content, emergency calls, relay gender choice, relay funding, outreach, and recorded messages. During the weeks following the Capitol Hill forum, I turned these recommendations into comments for submission to the FCC.7 Pam Ransom of the Chicago Hearing Society then painstakingly gathered the support of over seventy local and national organizations, and on January 15, 1991, our colossal group filed the joint document. During the weeks that followed, an additional ten organizations joined in a second round of comments to the FCC.8 In the midst of these advocacy efforts, USTA sponsored yet another conference for telephone companies to provide feedback on the consumer proposals.9 FCC officials who attended were startled by the extent to which consumers and industry already agreed on nearly all the issues. Shortly thereafter, the FCC hired Paul Taylor to help draft its relay rules.*
As many of us plodded through the policy issues, others worked on the technologies needed to bring about functionally equivalent relay services. One trial of several hundred people, conducted over the course of many months in 1990 by Jim Tobias, resulted in several new ways to automate relay functions. For a number of years, Tobias's role at Bellcore, the research arm of the regional bell telephone companies, had been to evaluate the accessibility implications of new telecommunications services and products designed for the general consumer market. This new Bellcore effort, called Telecommunications Network for the Deaf (TND), introduced the first system to truly integrate relay services into the telephone network in a manner that promised to reserve both resources and operator time. Among other things, TND introduced automated ways to route calls to the most appropriate relay operator, allowed for alternative billing methods, and served as the forerunner for caller profiles—a means by which relay users could pre-specify their preferred long-distance carrier, operator gender, billing method and other calling features.† Around the same time, telecommunications pioneers Lee Brody and Jim Steel of Phone TTY were also creating a new software application, Computer Assisted Relay System or CARS, that would enable state relay programs to process out-of-state calls, handle credit card and other toll calls, connect to ASCII terminals, and perform various other functions to achieve compliance with the ADA's new provisions.10
As required by the ADA, the FCC released its final rules on July 26, 1991, exactly one year after the act's passage.11 Reaction in the consumer community was mixed. The rules did offer some improvement over the FCC's original relay proposals released back in November. The FCC was now expanding its requirements for relay operator training, improving safeguards for confidentiality and consumer complaints, and mandating voice carryover (VCO) and hearing carryover (HCO)—new forms of relay services that enabled callers with residual hearing or voices to use those abilities during a relay call. With VCO, a person with hearing loss uses his own voice to talk directly to the called party and only uses the relay operator to type back messages; with HCO, a hearing individual with a speech disability uses the relay operator to speak what she types, but listens directly to the other party.
However, the FCC rejected other suggestions that relay advocates had proposed. For example, consumers had urged the FCC to mandate a specified typing speed for relay operators, believing the transmission speed of conversations to be key to effective communication. But the FCC feared that entry-level qualifications that were too restrictive could inhibit the availability of relay services given wide variations in labor pools across the nation. Rather than mandate "a low threshold of expectations," the agency did not assign a typing speed, noting that it expected relay providers to "deliver the excellent level of service all telephone consumers demand."12 The Commission only agreed to monitor relay quality and impose additional typing standards if needed in the future.
Consumer requests for a relay call discount were similarly rejected. Since the late 1970s, TTY users had been fairly successful in convincing telephone companies and state governments to offer toll discounts to make up for the extra time needed to complete TTY calls. Advocates feared that the toll charges associated with relay calls, which took even longer than point-to-point TTY calls, would make employers reluctant to allow their deaf employees to use these services. Although various parties had offered the FCC ways to calculate a discount, the Commission now claimed that it was unable to come up with an appropriate way to determine reduced relay charges.* Instead, the FCC merely encouraged providers to voluntarily offer these discounts as a competitive feature. Also denied were consumer proposals for mandated access to audiotext or interactive voice services (including access to 900 numbers), designation of a single 800 number for access to relay services nationwide, and once again, a federal advisory committee. And, yet again, the FCC again only encouraged, but did not require, relay providers to secure ongoing consumer input through consumer advisory boards.13
Relay Confidentiality
The FCC's relay order did focus considerable attention on the need to keep relay calls confidential. At the time that the FCC drafted these rules, state programs varied widely in their confidentiality policies. Some states, including Tennessee and Texas, were so strict about maintaining relay call privacy that they made any disclosure of a relayed conversation subject to a criminal penalty. In sharp contrast, other states had affirmative disclosure laws that required all residents with knowledge about child, spousal, or elder abuse to alert the police, even when such information was acquired during a relay call. Other states continued to grapple with the extent to which relay providers should handle obscene, harassing or illegal calls.14
A few years prior to the FCC's relay proceeding, attendees at Gallaudet's Speech to Text Conference had explored the matter of relay confidentiality. Then, Phyllis Shapiro of the California Relay Service pointed out that a common phrase used for curing marijuana was to "cut the grass." She asked what would happen if each relay operator was forced to figure out the true meaning of this phrase while relaying calls. Although advocates agreed that it was not easy for a relay operator to ignore certain call content—especially when it contained profanity, obscenity, or violence—empowering relay operators to make judgments about the conversations they facilitated entered dangerous territory. What one operator considered light hearted humor, another might find extremely offensive. Never knowing whether their calls would pass muster, consumers would become hesitant to use the relay system, frustrating Congress's goal of achieving equal telephone access. Only a policy of absolute confidentiality would suffice: If hearing individuals could enjoy their private conversations without fear of being reported to law enforcement, relay users similarly had a right not to have their conversations subject to ongoing scrutiny.
The FCC agreed with this approach, and in its final rules concluded that relay operators were intended to act as "transparent conduits relaying conversations without censorship or monitoring functions."15 Affirmative disclosure statutes took a backseat to the ADA's confidentiality protections. In order to achieve functional equivalency, relay providers could not divulge the content of any conversation, regardless of state statutes to the contrary.16
The FCC did, however, carve out one exception. Prior to enactment of the ADA, Section 705(a) of the Communications Act already permitted telephone personnel who assisted in interstate or foreign telephone communications to disclose these communications in response to a court-issued subpoena or upon demand of a lawful authority. Because Congress never indicated an intent to repeal Section 705 when it enacted the ADA, the FCC concluded that this section might still be used to require the disclosure of illicit interstate and foreign relay conversations. However, the FCC made clear that this law—unlike the general state affirmative disclosure statutes—would apply only to authorized requests by government officials in connection with "specific incidents of possible law violations."17 The Commission concluded that these events were likely to be extremely rare.
What's in a Name?
As the FCC went about its implementation of the relay mandates, the nomenclature associated with relay services took on a significance all its own. The goal was to establish wording that was consistent across the states to minimize confusion among relay users. Prior references to "dual party" or "message" relay services were discarded and replaced with "telecommunications relay services" or "TRS," a term that more aptly captured the real-time and mainstreamed nature of these services. And so as not to confuse telephone operators who handled traditional telephone matters with those who handled relay calls, "communications assistant" was adopted to refer to the latter.
But while changes in these terms were made without much fanfare, the attempt to modify the terminology used to describe teletypewriters was full of twists and turns. Although these machines were called "TTYs" when they were first redesigned for the deaf community's use back in the 1960s, the more portable, electronic devices that had proliferated in the 1980s had become known as "TDDs," or "telecommunications devices for the deaf." But even this term came under scrutiny in the 1990s when consumers decided that the word "deaf" in the "TDD" label failed to take into account hard of hearing, speech disabled, and hearing persons who routinely used these devices.
In an effort to be more inclusive, both the FCC and the Department of Justice began using the term "text telephone" to replace TDD. While this term was neutral enough, it too, carried some inconvenient baggage. When abbreviated and signed, the double "t" wiggled back and forth looked strikingly similar to the ASL sign for "toilet." During the winter and spring of 1992, it became increasingly clear that a more appropriate acronym was needed. TDI responded with a national poll that offered participants various choices: TTY, TDD, TT, or TTP, the latter for Text TelePhone.18 Along the way, the public volunteered other terms, including text telephone yoke, and even TPT for "that phone thingy."19 In the end, "TTY" was selected by overwhelming margins, in large part because of the historic contribution that that original TTYs had come to play in expanding telecommunications access and its long term acceptance as a household phrase in the deaf community.20
Annoyance Grows as Interstate Calls Are Put on Hold
Although the ADA had left decisions about the funding of intrastate relay services to the states themselves, decisions about how relay calls between the states would be funded were given to the FCC. The legislation provided little direction in this area, other than to generally require the costs of these services to be recovered from all interstate subscribers.21 In its haste to release rules on the technical and operational aspects of relay services in July 1991, the FCC had not had time to decide whether long-distance companies should provide these services on their own and then recover their costs through customer charges, or whether they should contribute proportionally to a shared fund that could then be used to compensate relay providers for their services.
After witnessing inadequate relay funding at the state level for so many years, consumers preferred the shared funding alternative. They wanted a funding method that could both handle fluctuations in relay volume and motivate providers to offer high quality relay services. Many advocates feared that if providers were forced to individually fund their own relay services, they might try to keep costs down by providing poor service that drove away customers. A shared fund, on the other hand, would create strong incentives for carriers to offer innovative and high quality relay services that could attract relay users. It would also level the playing field for smaller relay providers and spread the financial liability for relay services across all subscribers of every interstate service. Shared funding mechanisms were not new; they had been successfully used to fund Lifeline and Link-up assistance programs designed to provide telephone service for individuals with low incomes. In fact, the very same program administrator being proposed for relay services—the National Exchange Carriers Administration (NECA)—was already collecting and disbursing funds under those programs.
Although many telephone companies supported shared relay funding, AT&T, the company that still had the greatest number of individual long-distance subscribers, initially opposed this method, fearful that it would force AT&T to make the largest contribution to the fund. But AT&T was not completely sure about what it did want, and as a consequence, spent the next year and a half flip-flopping on this issue during a string of FCC and consumer presentations. Not sure itself which way to turn, the FCC engaged in its own endless series of deliberations and analyses, causing this matter to seemingly drag on indefinitely.22
Although the ADA's relay mandates were not set to take full effect until July 1993, the passionate demand for relay services had caused most states to move ahead long before this deadline. But while many of the states were willing to provide relay services for their own residents during these early years, they remained reluctant to finance services on the interstate level until the FCC gave its final word on interstate funding. As a consequence, by 1991, only half of the forty states that had implemented relay systems were willing to offer interstate service for both incoming and outgoing calls.
When the FCC still had not resolved the funding issue by spring 1992, consumers began to grow impatient.23 Full compliance with the ADA's functional equivalence mandate could not be achieved until consumers had access to interstate calls. In an effort to bring the issue to closure, two consumer-industry forums were held, one on May 7, 1992, with long-distance companies, and one on May 14 with the regional bells. When another half a year went by without an interstate funding ruling, impatience turned to anger. An article in Communications Daily, reported that "millions of deaf or hearing-impaired people in some 26 states can't make interstate telephone calls using Telecommunications Relay Service (TRS) because state regulators are waiting for the FCC to set pricing rules for interstate calls."24
It was not until February 25, 1993, that the FCC finally decided on a shared funding plan for interstate relay services, and not until July of that year that the Commission finalized the details of that plan.25 The FCC's rules would require all carriers of interstate services, including cellular, paging, personal communications service, packet-switched, 800, 900, private line, telex, satellite, international and resale services, to contribute to the interstate fund.26 Relay users were glad to see the FCC include cellular carriers within this group, in spite of Southwestern Bell's arguments that people with hearing disabilities were unlikely to use mobile telephone services.27
Consumers were also pleased with the FCC's decision to prohibit interstate telephone companies from identifying relay surcharges on consumer bills, a ruling that was somewhat startling given the aggravating legislative fights over this issue in Congress. The FCC's rules now directed companies to recover their relay contributions as part of their general interstate service costs. Even though individual states could go on using surcharges for local relay services, consumers had finally prevailed in their federal battles to prevent relay services from being treated as "special" services on long-distance telephone bills.
As the fund administrator, NECA was directed to collect contributions from interstate telephone companies and to distribute payments to interstate relay providers for the services they provided. Relay providers eligible to receive reimbursement were those that either operated under a contract with a certified state relay program or an interstate common carrier, or those that were themselves interstate common carriers offering TRS.28 Under the FCC's direction, NECA established an advisory committee composed of relay users, providers, interstate telephone companies, and state representatives to assist in monitoring interstate cost recovery issues.29
Relay Calls and Payphones: A Match Not Meant to Be
The FCC's 1991 relay rules required relay providers to be capable of handling any type of call typically provided by common carriers, unless doing so was not technically feasible.30 Well prior to the July 1993 deadline for the rules' implementation, NYNEX and approximately eighteen other telephone companies challenged this requirement as it pertained to relay calls made with coins from payphones.31 The companies argued that the system used to process and rate these "coin sent-paid calls," the Automated Coin Telephone System (ACTS), was simply not compatible with relay services.
Calls made from coin telephones must be routed through a network, called the Traffic Operator Position System (TOPS), which is only equipped to determine the rate for the first leg of any call. After this rate is determined and coins are deposited, the connection to TOPS terminates. Because there are two legs to a relay call, the first from the caller to the relay center and the second from the relay center to the called party, TOPS is unable to rate a relay payphone call all the way from the payphone where it originates, to the party being called. In addition, even if TOPS were able to rate both legs of the call, relay operators do not have the capability to collect or return coins to payphone users. These shortcomings brought the TOPS system into conflict with the ADA, which specifically prohibited relay users from being charged any more for their calls than they would have been charged if they had made those calls directly.
When the industry pointed out these technical limitations in requests to have coin sent-paid calls exempt from the new TRS rules, the FCC expressed concern about discriminating against people with disabilities who did not have available to them other means of using payphones. In February 1993, the FCC rejected the requested exemption, noting that telephone companies had not met their burden of proving that this relay service feature was not feasible: "Merely stating an incompatibility between TRS and ACTS without any analysis of alternative solutions does not meet the heavy burden carriers have to prove infeasibility of providing a service readily available to voice telephone users."32 In particular, the FCC was concerned that granting a waiver "without persuasive evidence of infeasibility would certainly impair and discourage the development of improved technology."
As the July 1993 deadline for full implementation of the ADA's relay service mandate approached, telephone companies again notified the FCC of their inability to provide coin sent-paid service. Around this same time, states too, began to raise concerns about the infeasibility of handling these calls. With little alternative, the FCC finally agreed to suspend enforcement of the rule for two years with an instruction to industry to make concerted efforts to find a technological solution to the coin sent-paid dilemma.33
In response to the FCC's directive, the telephone industry put together a technical team, the Industry TRS Coin Sent-Paid Project, which spent several months testing new protocols to alleviate the coin sent-paid problem.34 But when this team convened with consumers in September of 1994 to present its results, the news was not good. Although researchers had succeeded in designing a proposed "Coin Signaling Interface" for relay centers and payphones to interact with one another, the costs of developing and deploying this system were estimated to be in the hundreds of millions of dollars.35 Added to this was the $100–200 cost to process each call, and a twenty- to thirty-second delay each time someone used the system. To make matters worse, the proposed system could not accommodate relay calls made in the ASCII format and would require all relay calls made through payphones to be accessed via a separate relay number.*
Industry and consumers alike agreed that the disadvantages of the proposed technical solution far outweighed its benefits. The TRS Industry Team went back to the drawing board, and after considerable collaboration with consumers, emerged with an alternative plan.36 Under this plan, telephone companies promised to allow relay users to make local calls from payphones free of charge, and long-distance calls from payphones with either calling or prepaid (debit) cards at rates that were equivalent to or less than coin rates.† Telephone companies would also educate relay users about these alternative payment methods and obtain ongoing consumer feedback about the effectiveness of the plan's various provisions. At the same time, carriers made a commitment to continue exploring new technical developments to find a coin sent-paid solution.
This plan went into immediate effect and lasted the full two-year period of the suspension. But when the two years were up in 1995, industry maintained, and the FCC agreed, that coin sent-paid relay calls were still not technically feasible. So the suspension, along with the alternative plan, remained in place for another two years.37 During this period, carriers agreed to step up efforts to educate consumers and to report back to the FCC on the plan's effectiveness.
Over the next two years, although industry developed billing inserts, press releases, informational letters, and articles for consumer publications, consumers remained dissatisfied with what they viewed as superficial efforts to fulfill the consumer education mandate. Specifically, consumers felt that the companies' educational efforts had been more akin to advertisements for their services, than attempts to truly educate users on payphone use.38 Consumers also were not ready to let industry give up on finding a technical solution and continued to oppose permanent adoption of this plan.
On August 21, 1997, after endless meetings with consumers and industry on the subject, the FCC's Common Carrier Bureau again suspended the coin sent-paid requirement for another year.39 In response to the consumers' concerns about the failure of telephone companies to engage in adequate outreach, the FCC specifically directed telephone companies to prepare a consumer education letter for all relay centers, to better educate consumers at regional and national conferences through presentations and demonstrations, and to work with disability organizations on an instructional laminated card and other informational materials.
Over the next several years, the FCC granted three additional suspensions.40 When the industry team filed an activity report with the FCC on December 1, 1998, it reported having attended hundreds of regional and local consumer meetings, having produced a video tape with step-by-step procedures for making relay calls from pay-phones, and having distributed letters, laminated pictorial cards, and various other materials.41 But throughout the winter and spring, the Consumer Action Network (CAN), a coalition of deaf and hard of hearing consumer organizations, continued to point to consumer surveys that demonstrated low consumer awareness of payphone rates and billing arrangements.* CAN joined other national advocacy groups in trying to convince the FCC that the telephone companies simply were not doing their job to educate deaf and hard of hearing consumers. They insisted that an educational letter jointly prepared by consumers and industry had not been printed in organizational newsletters, that exhibits at conferences on payphone relay calling did not include prominent displays, that wallet-sized cards were not conspicuously displayed as promised by industry, and that conference program books did not list information about coin sent-paid workshops.
As consumers and industry warred over the sincerity of the industry's outreach efforts, major changes were taking place in America. Although Americans had used coins to make a full 17 percent of their payphone calls in 1996, this figure now hovered around a mere 4 percent. The dramatic increase in prepaid and credit card billing, as well as expanded reliance on wireless phones, were all but replacing the use of coins for toll calls at public payphones. As a result, many in the telephone industry began questioning whether the FCC needed to even bother continuing to address the coin sent-paid relay issue.
Five more years passed without a resolution, during which time the FCC issued several additional temporary suspensions of the coin sent-paid requirement. During this period, the steep decline in payphone use began causing some telephone companies to abandon the payphone business entirely.42 Although payphones still served a purpose where wireless phones were either unavailable or not permitted, revenues from these public telephones had been falling as much as 10 to 14 percent each year since late 1998. It was against this backdrop that on September 27, 2002, the FCC finally eliminated entirely the requirement for relay providers to handle coin sent-paid relay calls.43 Citing the general decline in payphone use and in particular, the scarcity with which coins were ever used to make long-distance payphone calls, the FCC concluded that after twelve years of trying, the industry had been unable to find a technically feasible solution that warranted keeping this mandate in place.
Although consumers understood the FCC's decision, they were very displeased with much of the FCC's order. While the FCC permanently adopted the Alternative Plan's directive to make local calls at payphones free for relay users, it abandoned prior directives to make long-distance charges incurred through prepaid and calling card billing equal to or less than coin rates. The FCC concluded that it could not require telephone companies to charge the lower of these billing methods because the FCC regulated neither the rates charged through calling or prepaid cards, nor the contractual relationship between telephone companies and payphone owners. In any event, the Commission reasoned, the calling card and prepaid card industry was so competitive that consumers would likely save money if they used these methods over coin rates.* To make matters worse, even though the FCC readily acknowledged the inadequacies of industry's prior outreach programs to increase consumer awareness about making relay calls from payphones, it declined to mandate any of the specific outreach methods to which both industry and consumers had previously agreed.44
Believing that these very conservative decisions violated the ADA's mandates for functional equivalency, the NAD, TDI, CAN, and SHHH formally requested the FCC to reconsider these portions of its final rule. However, in June 2004, the Commission rejected this challenge, putting the final nail on the coffin of the coin sent-paid issue.45
FCC Certification of State Relay Programs
Under the ADA, states may receive certification from the FCC to operate relay programs on behalf of the telephone companies in their jurisdiction so long as they meet the FCC's minimum relay standards and have in place procedures and remedies to enforce these requirements. When the ADA first became law, states sought out relay certification because it empowered them to continue operating their own programs in the manner they saw fit. Certified states were also given the opportunity to resolve in-state relay complaints before the FCC could get their hands on them.
But while national deaf leaders supported a grant of considerable discretion to the states, they also saw the need to monitor carefully state relay decisions that would shape their telecommunications future.46 And so, when all fifty states plus the District of Columbia and Puerto Rico applied for FCC certification between the fall of 1992 and the spring of 1993, many consumers were leery about having the FCC summarily approve these requests without first having consumers conduct their own, presumably more thorough, review. In response to this concern, Pam Ransom, Heidi Norton (an NCLD attorney), and I took on the daunting task of wading through the reams of submissions.47 With self-designed checklists, we scrutinized each application and made our own assessments of how well each state proposed to comply with the FCC's technical, operational and functional guidelines.
Shortly into our investigation, we discovered that far too many of the states were noncompliant in one or more areas. Some lacked adequate means for filing or resolving complaints, while others disallowed the opportunity for consumers to choose their own long-distance telephone companies. Still others used billing surcharge labels that inappropriately targeted only the deaf community.48 Violations of the FCC's strict prohibitions against the disclosure of relayed information for law enforcement purposes were also common, as was the failure to provide adequate training for communications assistants. We meticulously recorded these and other deficiencies, and passed along our findings to the FCC.49
Chart 6.1
First Telecommunications Relay Services Order
July 26, 1991
47 C.F.R. §64.601 et. seq.
•Relay services to operate 24 hours a day, 7 days a week without limits on call length, type, or content
•Relay operators to have competent skills in typing, grammar, spelling, interpretation of typewritten ASL, familiarity with hearing and speech disability cultures, languages and etiquette
•Relay providers to accept single or sequential calls
•Relay operators to not disclose call content, nor keep copies of any relayed conversation
•Relay operators to relay all conversations verbatim
•Relay services to accept either ASCII or Baudot formats
•85% of all relay calls to be answered within 10 seconds
•Relay users to be given choice of long distance telephone company
•Relay users to pay rates no greater than rates for functionally equivalent voice communication with respect to duration of call, time of day and distance from point of origination to termination
The FCC took our concerns very seriously, and required nearly all states to supplement their initial applications before granting them certification. By July of 1993, all but one of the states—Oklahoma—had received FCC certification to operate their own relay programs for a period of five years.50 A feud between the Oklahoma state government and its telephone companies over who was ultimately responsible for providing the state's relay services, coupled with the lack of state legislation determining how these services would be funded, had caused the state to withdraw its initial application for certification.51 During the summer of 1993, the FCC sent out a formal letter of investigation to Oklahoma's telephone companies, threatening to penalize them with substantial fines if they did not initiate statewide relay services. In response, Oklahoma's telephone companies, acting through the Oklahoma Telephone Association, quickly chose a relay provider on their own without the intervention of their state's regulatory commission, making Oklahoma the only state not to receive certification during that first year.*
State Certification Put to the Test: The Arkansas Challenge
Under the FCC's rules, a state could become decertified if at any point it ceased meeting the FCC's minimum relay standards. It did not take long for the state of Arkansas to put this rule to the test.
On January 25, 1992, the Arkansas PSC temporarily approved the use of optional calling plans for all of its state's telephone subscribers.52 Under these plans, an Arkansas resident could pay a set monthly fee for unlimited calling to a designated calling area within the state, so long as those calls were dialed directly. On June 26, 1992, MCI, Arkansas's chosen relay provider, submitted to the Arkansas PSC its proposed plan for implementing relay services in Arkansas. The PSC's staff noticed immediately that the plan had two flaws: First, it proposed to deny relay users the benefits of optional calling plans, and second, it proposed to charge relay users for all local directory assistance, even though residents who did not use relay services received at least two free directory assistance calls per month from their local telephone companies. The staff recommended rejecting both of these restrictions, believing them to violate the ADA's mandates not to charge relay users fees above those charged to general telephone subscribers.53
Ignoring the staff's recommendations, the full Arkansas commission approved the MCI relay plan during the summer of 1992.54 The PSC explained that because optional calling plans were still experimental and could be modified or even eliminated, it would not be appropriate to order this service to be provided through the state's relay program. As for the directory assistance restriction, the PSC noted that AT&T already offered this as a free service to TTY users, and so there was no reason to order MCI to offer the same for relay users.
On October 1, 1992, Arkansas submitted its application for relay certification to the FCC.55 The request did not mention the state's failure to offer optional service plans or free directory assistance calling to the state's relay users. On December 30, 1992, the Arkansas commission approved its optional calling plans as a permanent service for the state's telephone subscribers.56 On July 8, 1993, the FCC, unaware of the billing restrictions imposed on Arkansas's relay users, granted relay certification to the state of Arkansas.
While the above proceedings were taking place, Beverly Esau, a hearing woman living in Arkansas who had purchased an optional service plan, began to notice that her local telephone company, GTE Southwest, was billing her twice every time she used the Arkansas Relay Service to call deaf colleagues in the calling areas covered by her plan. Although Esau paid a flat monthly fee of $16.20 for unlimited calling to those Arkansas regions, she was billed a second time for each call placed through the Arkansas relay program.
On July 19, 1993, Esau filed a complaint with the Arkansas PSC against GTE Southwest and MCI for its double billing practices.57 Around this same time, she also contacted the NCLD. During the next six months, I counseled Esau as her case made its way through the Arkansas commission. Both Esau and I thought the case was resolved when she, GTE, MCI, and the Arkansas Telephone Association reached an agreement that would have eliminated long-distance charges for all relay calls to locations covered by the state's calling plans. Although the agreement (reached at the end of January 1994) would require customers who wanted their charges dropped to first contact an MCI representative, ultimately it would put relay consumers on an equal playing field with their hearing friends and neighbors.58
Having achieved the consensus of virtually every party involved, Esau and I were shocked when, only two weeks after the proposed settlement was tentatively approved by the Arkansas PSC staff, the Arkansas PSC administrative law judge presiding over Esau's case rejected the agreement: "There is no evidence that there will be any benefit to the general body of ratepayers from subsidizing the toll charges of Ms. Esau and a few others," he opined.59 If toll charges could be applied when calls were not dialed directly—such as in the case of operator-assisted or credit card calls—he surmised, similar charges could apply when calls passed through the relay system. He added that because optional calling plans had not been included in the original relay contract terms accepted by MCI, adding this service now would unfairly impose upon the company huge expenses associated with tracking the participation of local customers who used these plans.
Relay advocates knew that in equating relay services with operator-assisted calls instead of directly-dialed voice telephone services, the Arkansas judge had misread the ADA. It was true that Arkansas's optional calling plans only applied to station-to-station calls completed without the assistance of an operator. But relay users did not have the luxury of dialing any telephone calls directly. Assessing extra costs on relay users for services not charged for direct dial calls violated the very essence of the ADA.
By now, virtually every opportunity had been afforded the Arkansas PSC to reverse its original decision. As there was no where else to turn, we decided to put the FCC's de-certification process to its very first test. On April 29, 1994, NCLD formally petitioned the FCC to either direct the Arkansas commission to cease and desist from engaging in its unlawful relay practices or to decertify the Arkansas relay program. No sooner had we filed the petition than it began to stir up nationwide controversy. Relay service providers, telephone companies, and consumers alike understood that the outcome of our case would have far-ranging consequences for both the reach of the ADA's functionally equivalent mandate and the scope of the FCC's authority to enforce its relay standards within the states.
Opposition to our petition was swift and vigorous. Virtually every telecommunications sector in Arkansas—MCI, the twenty-five companies of the Arkansas Telephone Association, the Arkansas's relay service provider, the Arkansas PSC, and GTE—attacked our claims. When MCI argued that the FCC had no place even meddling in Arkansas's state affairs, we countered that Congress could not have expected decertification to take place only upon a state's own initiative; this would have virtually stripped the FCC of all oversight of state relay programs, except where states acknowledged their own infractions of the ADA! Certainly this could not have been the intended result when Congress gave the FCC jurisdiction over both intra- and interstate relay services.
Other opponents attempted to convince the FCC that granting the petitioner's request to rate relay calls under the state's many optional calling plans would be overly burdensome. We were able to dispute these allegations by pointing to the many other states that already offered relay parity for these types of plans. AT&T, for example, provided equal relay access to optional calling plans in all fifteen of the states where it offered relay services, in addition to Puerto Rico, the Virgin Islands, and the District of Columbia. "The Commission therefore should not uncritically accept the representation that it would be unduly expensive to implement OCP [optional calling plan] billing of TRS calls," wrote Elaine Hatcher of AT&T.60 Hatcher also debunked the myth that all of AT&T's directory assistance calls were free. These calls, she pointed out, were actually subject to the same charges that applied to other AT&T tariffed services.
On June 5, 1995, nearly two years after Esau had first filed her complaint with the Arkansas PSC, she finally prevailed. In a scathing decision, the FCC found that Arkansas's relay program had clearly violated the ADA's prohibition against charging relay service customers more than they would be charged for equivalent voice services.61 The Commission went on to point out that Arkansas' failure to mention its optional calling plan and directory assistance practices in its October 1992 TRS certification application meant that the FCC had never truly approved these policies.
Providing equal relay access to optional plans, the FCC concluded, would not create the burden alleged by Arkansas' telephone companies. Not only did AT&T already provide this feature throughout its states, in fact no other relay provider had come forward to complain about making these plans available when the FCC asked the public for comment on the Arkansas de-certification petition. The FCC also ruled that Arkansas companies should provide relay users with the same access to two free directory assistance calls that they provided to other Arkansas residents.
The FCC gave Arkansas ninety days to come into full compliance with its rules or else risk revocation of its relay certification. On September 6, 1995, Arkansas' relay administrator responded with a report on revisions in the state's practices to conform with the FCC's mandates. The victory was far reaching. Not only did it help state relay programs to better understand what was meant by functional equivalency, it firmly established the FCC's authority to regulate and enforce intrastate relay programs, laying the groundwork for future nationwide compliance with the FCC's minimum standards.
Relay Services Get a Turn-of-the-Century Face-Lift
The ADA's definition of relay services was intentionally designed to be flexible, so that it could embrace new technological innovations as these developed over time.* The act's 1990 description of TRS focused on text-based relay that facilitated communication by a person who used "a TDD and other non-voice terminal device," because this was the only relay technology available at that time, not because these devices needed to be used in making a relay call. Rather, aware that new relay technologies might one day become a reality, Congress directed the FCC to issue regulations that encouraged "the use of existing technology and [did] not discourage or impair the development of improved technology."62 The Senate committee clarified this congressional goal in its ADA report:
Current technology allows for communications between a TDD user and a voice telephone user by employing a type of relay system. … Although the Committee notes that relay systems represent the current state-of-the-art, this legislation is not intended to discourage innovation regarding telecommunications services to individuals with hearing and speech impairments. The hearing- and speech-impaired communities should be allowed to benefit from advancing technology. As such, the provisions of this section do not seek to entrench current technology but rather to allow for new, more advanced, and more efficient technology.63
These legislative passages were the product of long and well thought-out discussions among consumers, industry and federal legislators, all of whom wanted to make sure that the FCC would take advantage of new technologies that could prove far superior to text-based services.
By 1997, consumers were spending as many as 193 million minutes annually on relay calls. Four years had passed since the FCC's rules had gone into full effect, but as many as ten years had passed since relay systems had first been established in many of the states. Although access to basic telephone service had been brand new for people with severe hearing loss when the ADA was enacted, by now many of these individuals had made the telephone an integral part of their lives. The initial thrill of using these services had long worn off, and was now being replaced with new demands for telephone features that exploited innovative and exciting technological advances.
Shortly after the ADA was enacted, Ed Bosson, a deaf telecommunications pioneer and the administrator of Texas Relay, began thinking about ways that relay services could allow individuals who used ASL to communicate in their preferred language over the telephone. A few years after that, Bosson approached Mark Seeger of Sprint, Texas's relay provider, to see whether his idea was technically feasible. After circulating the idea within his company, Seeger came back with good news. Not only could this be achieved, but Sprint would be willing to provide this service so long as the Texas PUC would pick up the bill. Bosson eagerly brought his idea to the Texas PUC, but was promptly rejected by officials who questioned whether video-based services belonged in their relay program.
Not one to give up easily, Bosson pursued efforts to convince his supervisor that the ability to use sign language over the phone for deaf people was the equivalent of using one's voice for hearing people. Finally, his boss agreed that if Bosson could get a lawyer to confirm that the provision of a "Texas Video Interpreting Service" was within the ADA's definition of relay services, she would reconsider her initial decision not to approve the service. Bosson rose to the challenge, and after weeks of searching, found a lawyer to convince the PUC to let him go ahead with trials to assess the feasibility of providing Texas relay services using sign language. Instead of using communications assistants to read what a relay user typed, the trials would use interpreters, who would speak what an ASL user signed over remote video connections, and sign back all responses from the hearing party.
The very first video relay trials were held in Austin and were completed with the combined cooperation of Sprint, Southwestern Bell, and a company called Hanwave. Although the first trial conducted in January of 1995 only lasted a month, the second trial took place from September 3, 1996 through November 27, 1996, in ten locations, and allowed consumers to access remote interpreters through video conferencing equipment installed in schools for the deaf and other community locations. In the spring of 1997, Gil Becker, Maryland's relay administrator, worked with Sprint and Hanwave to launch yet a third trial, this time to serve Maryland's deaf and hard of hearing relay users. Other states began to follow suit, with North Carolina becoming the first state to officially approve video relay service (VRS) at a number of public stations in 1997, and Texas becoming the first state to purchase statewide services from Sprint and Communication Service for the Deaf (CSD) a year later.64 Shortly thereafter, CSD also began experimental VRS programs in Washington, California, and Michigan.
Video relay services offered a vast improvement over text-based relay services for people who used sign language as their primary or preferred language. Although the cornerstone of the ADA's mandate for relay services was to provide services that were functionally equivalent to voice telephone services, text-to-speech relay services had always met with limited success for ASL users. Typing out an entire conversation in English was not natural when it was not the user's primary language. In addition, TTYs still required calling parties to wait through long pauses to receive each other's messages, resulting in delays that not only frustrated frequent relay users, but discouraged the use of relay altogether by many businesses and employers.
By vivid contrast, video relay services allowed deaf and hard of hearing people who used ASL to converse comfortably, using emotional context, voice inflection, and other non-verbal information that could not be conveyed through text. With these services, ASL and hearing individuals could have natural, real-time conversations with one another that mirrored the speed and style of voice-to-voice conversations. The ease of using VRS enabled deaf and hard of hearing people to use the telephone more effectively to conduct job searches, make appointments for interviews, arrange for references, and—once on the job—perform a number of job duties involving phone communications. In a country where the percentages of deaf individuals who are unemployed and underemployed far exceeds the norm for the general population, this alone was cause for consumers to want these services.
Yet the benefits of VRS did not stop at the workplace. For the first time in our nation's history, deaf children who were unable to type could call their friends and loved ones to share the events that defined their lives. For the first time, senior citizens whose hands were too arthritic to put words to text or whose cognitive abilities hindered their ability to type were able to break their chains of loneliness by calling their children or grandchildren for support and assistance. For the first time, many people with hearing loss could effectively access the menus of interactive telephone phone systems that increasingly dominated American businesses and government offices.
Around the same time that Texas was exploring video relay, Bob Segalman, a hearing man with cerebral palsy living in California, was also engaging in efforts to promote a new type of relay service. Segalman knew that there were thousands of Americans who, like him, had difficulty making their speech understood over the telephone, but whose limited manual dexterity prevented them from typing over traditional text-to-speech relay. Insisting that this population of consumers had an equal right to telephone communication, Segalman took it upon himself to lobby the state's legislators and public utility commission for a service that would use operators specially trained in understanding a wide variety of speech disabilities to relay telephone messages to and from other individuals. In the mid-1990s, Segalman was successful in convincing the California PUC to add this "speech-to-speech" (STS) service to its relay service line up, and for an eighteen-month period that began in June 1996, the PUC used Sprint to operate a trial of the new service.* Throughout this period, the PUC's repeated attempts to shut down STS kept Segalman busy in a letter-writing campaign to keep it going.
When the FCC caught wind of the exciting new benefits that could be realized through the provision of video relay and speech-to-speech relay services, it decided to explore ways to take TRS beyond its traditional characterization as a text-to-speech service. To this end, in January of 1997, the FCC released a new inquiry to gather general information on the feasibility, benefits, costs, and legal authority of offering these and other innovative features.65
In response to the Commission's action, CAN decided to host a National Open TRS Forum on February 18–19, 1997. Reminiscent of the earlier relay forums hosted by TDI, the event facilitated the exchange of information among consumers, relay providers, administrators, and equipment vendors. So great was both consumer and industry interest in the issues raised in the Commission's inquiry, that in May of 1998, the agency decided to follow up with a more specific notice of proposed rulemaking.66 With the feedback received on its two notices, the FCC released comprehensive revisions to its relay standards on March 6, 2000.67
The FCC's new guidelines were truly designed to bring the nation's relay services into the twenty-first century. "Functional equivalence is, by nature, a continuing goal that requires periodic reassessment," the Commission explained, and the fact was that relay services around the nation needed substantial improvement and expansion to be in compliance with that goal.68 After clarifying that references in the ADA to text-based relay services were "merely illustrative, and not exhaustive," the FCC went on to require both speech-to-speech relay services and interstate Spanish relay services, and to authorize the provision of video relay services.69 Because there was no precise way to determine whether calls made through the Internet were interstate or intrastate calls, and because the FCC wanted to encourage the use of this improved technology, the FCC also agreed to allow all compensation for video relay calls to come from the Interstate TRS Fund.
In just a few short years, video relay services witnessed spectacular growth—exceeding 3 million monthly call minutes by the winter of 2006. But the earliest years of these services were fraught with turmoil. Early into the twenty-first century, very high NECA compensation rates of $14 to $17 per VRS minute attracted the FCC's careful scrutiny and resulted in a sudden and unprecedented decision by the FCC to slash this rate in half overnight, imperiling the future of this innovation.70 In addition, long waiting times, erratic hours, questionable service quality, and restrictions on provider choice by some companies triggered a string of consumer complaints and visits to the FCC in 2004 and 2005. Exasperated with the FCC's slow response to these consumer concerns, deaf advocate Sheri Farinha (director of the NorCal Center on Deafness) arranged for the California Coalition of Agencies Serving the Deaf and Hard of Hearing (California Coalition) to petition the FCC for minimum VRS standards that would guarantee functionally equivalent service. She and other deaf leaders that included Claude Stout (now executive director of TDI), Kelby Brick (NAD), and Cheryl Heppner (DHHCAN) also established the National Video Relay Services Coalition (NVRSC). Through the group's efforts, more than 5,500 individuals joined an Internet petition in support of improved VRS standards.* Extraordinary pressure from these advocates eventually succeeded in getting the FCC to issue mandates requiring twenty-four hour VRS service and improved answer times in June 2005.71 The new mandates directed that 80 percent of all VRS calls be answered within three minutes by January 2006, within two-and-a-half minutes by July 2007, and within two minutes by January 2007—an improvement over some past practices that had kept some VRS callers waiting up to twenty minutes, but still nowhere near the speed of accessing a dial tone. In addition, the FCC ruled that VRS providers could begin receiving compensation for providing video mail (the video equivalent of voice mail) and handling video communications between ASL users and people who speak Spanish.†
The FCC's relay overhaul back in March 2000 also added more stringent complaint procedures, new standards for relay calls to be answered more rapidly, and mandates for improved emergency access. In addition, it was in this order that the FCC re-opened the matter of access to interactive telephone systems, notwithstanding unfortunate language that had been added at the eleventh hour to the ADA's House report exempting these systems from the TRS mandates. Citing the House colloquy prepared ten years earlier, the FCC concluded that the legislative language that originally limited interactive access "was only intended to preclude relay of audiotext services to the extent not then technologically possible."72 More than a decade after the ADA's passage, the FCC finally adopted a number of measures to facilitate access to voice menu systems through TRS, including a new requirement for relay operators to use hot keys alerting callers they had reached an interactive system, a directive for providers to record interactive messages for the duration of a relay call, and a mandate not to charge callers for successive calls needed to capture an entire interactive message.
Since the inception of relay services, a sizeable percentage of the public remained unaware about the use or function of relay services. As a consequence, individuals and businesses still routinely hung up on relay calls, believing these calls to be commercial solicitations. In addition, relay consumers commonly complained that banks, doctors, and even government agencies refused to accept relay calls, out of mistaken concerns for the need to maintain privacy.*
For many years, consumers had informed the FCC that the lack of federal mandates for comprehensive relay outreach was preventing relay services from achieving their full integration into American society. They wanted the FCC to develop a high quality, nationwide advertising campaign that could finally educate businesses, employers, and others about TRS programs. In its March 2000 order, the FCC acknowledged the general failure of its existing rules to expand public awareness of these services, but because it had not provided adequate public notice of its intent to require greater outreach when it first released its proposals in this proceeding, the Commission explained that it was powerless to make any final outreach changes at this time. Instead, the FCC released a formal request for public input on how to go about establishing a coordinated outreach campaign. Unfortunately, several years later, the FCC backed away from instituting any type of national program, even going to so far as to question its jurisdiction to institute this type of mandate.73
Some individual states have picked up where the FCC left off, through the implementation of their own educational programs. For example, Maryland brought both call volumes and inquiries to an all time high through prime time TV commercials, a Who Wants to Be a Relay Millionaire game show, and Relay Partners, a business program specifically targeted to help businesses and their employees welcome new relay patrons.†
Internet Relay Services and Captioned Telephone Appear on the Scene
Over a half year after the FCC's first major order improving relay services, MCI WorldCom asked the FCC to authorize the provision and reimbursement of yet another type of service that would dramatically change the TRS landscape.74 The new service would allow callers to initiate relay calls from the Internet, through any computer or wireless device—such as personal digital assistants—that had Internet capabilities. In addition to providing TRS users with new mobility, unlike TTY conversations, Internet-based would relay allow both parties to send text at the same time, offering an experience more like conventional voice calls. Relay consumers could also make several calls over the Internet simultaneously, could conduct conference calls, and could browse websites during calls.
It took a little more than a year for the FCC to fully explore the ramifications of this new service, but on April 22, 2002, the Commission approved MCI's petition.75 The Commission explained that Congress's general references to "telephone transmission services" in Title IV of the ADA were intended to encompass "all transmission using telephonic equipment or devices, whether over the public network, cable, satellite, or any other means, so long as the requisite functionality is provided." Because Internet relay was a new technology that facilitated two-way communication for deaf, hard of hearing, and speech disabled consumers, and because the Commission was charged with utilizing advanced technologies to improve telephone access by these populations, the FCC concluded that Internet relay fell within the scope of the relay services intended by the ADA. After the petition was granted, Internet relay services became wildly popular, so much so that many deaf and hard of hearing people, having grown accustomed to using the Internet for other purposes, began abandoning their TTYs altogether and relying solely on the Internet for their relay needs.*
In June of 2003, the FCC implemented yet additional changes to its relay mandates, this time paving the way for relay providers to offer caller ID and call blocking services and adding relay calls made between and among HCO, VCO, and TTY users to its already extensive line up of approved services.76 In doing so, the FCC made clear that although until now Title IV of the ADA had been used to facilitate communication between people with hearing loss and hearing individuals, the provision of telephone communication between and among individuals with disabilities—even when a hearing person was not a party to the conversation—could also be considered relay services so long as a communications assistant was used to facilitate that exchange.
Another service approved in the 2003 order was two-line VCO, which enabled a hard of hearing person to use his voice to speak directly to another party over one line, and read responses typed back by the communications assistant over a second line. VCO had been the brainchild of Ultratec (a leading manufacturer of TTYs), whose president, an engineer named Rob Engelke, had sought a way to facilitate telephone communication for people who could speak, but could not hear, in the 1980s. Back then, Engelke's preference had been to use voice recognition technology to achieve this goal, but the lack of modern digital technology made transmitting voice and text on the same line an enormously difficult task. Though single-line VCO was approved in the FCC's very first relay order in 1991, two-line VCO now offered a vast improvement. By eliminating the need for the caller to alternate between picking up and putting down the handset, this new service offered the opportunity to have a more naturally flowing call.
Relay advances in the 1990s began when Ed Bosson (pictured left with former TDI board member Ken Rothschild) came up with the idea of using sign language interpreters to relay telephone conversations, creating video relay services. Ben Soukup (right), executive director of CSD, used his organization to develop these services across the United States.
Still, senior citizens and others who lost their hearing later in life remained reluctant to use even these relay services. Having enjoyed a lifetime of making their own calls, these individuals were unaccustomed to having the intrusion of a third person, let alone the delays characteristic of text-based TRS. Fortunately, when voice recognition and digital technologies started to mature in the 1990s, Engelke had returned to his drawing board. Within a few years, he and his colleagues developed a "captioned telephone relay service" that allowed people with some residual hearing to simultaneously listen to and read captions of telephone conversations over a text-equipped telephone.77 Unlike typical relay calls, which required callers to access a third party through a communications assistant, an individual with a captioned telephone could simply dial another person's telephone number directly. The call would automatically connect to both the person dialed and the communications assistant. After the caller spoke for himself, the communications assistant would re-voice all responses from the called party, while a voice recognition program automatically transcribed everything this operator said into text that would appear on the caller's captioned telephone text display. This would allow the caller with hearing loss to both hear what the called party was saying and read that party's responses. In this way, the caller would be able to enjoy a more private, interactive call that approximated real-time telephone communications.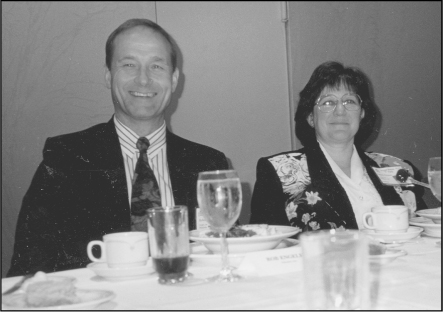 Ultratec President Rob Engelke developed captioned telephone relay services and worked with Pam Holmes and others at Ultratec to spread these throughout America.
From 2000 to 2002, private and state Captel trials took place, with Wisconsin becoming the first state to formally offer the program to its residents. On August 1, 2003, the FCC agreed to authorize the new service, concluding that this was "just the type of advancement that the Commission contemplated when it called for innovation in TRS."78 Since then, captioned telephone service has become tremendously successful, reaching senior citizens and other segments of the American population who have difficulty hearing, but who were previously reluctant or unable to fully benefit from traditional relay services. In July 2005, the FCC approved two-line captioned telephone service as well, which allows an individual to make an outbound call on the primary telephone line directly to the called party and simultaneously connect to the captioned telephone relay service on the second telephone line.79 The service then sends captions from the called party's conversation back to the captioned telephone relay user over that second line. This method enables direct dialing to 911 services (permitting the automatic pass-through of number and location information), allows callers to use conventional telephone features, such as call waiting and call forwarding, and permits direct inbound dialing from hearing persons without their having to first dial a relay number.
By late 2005, an estimated thirty-three states had approved the provision of captioned telephone service for their residents. However, lack of participation by other states and funding limitations that severely limited participation in states that did have programs, caused consumers who were being denied this service for basic telephone and emergency communications to become disgruntled.* To rectify this situation, SHHH led a coalition of approximately thirty national organizations in a petition requesting the FCC to mandate captioned telephone and to approve an Internet version of this service.80 In response, hundreds of consumers wrote to the FCC, submitting testimonials that urgently implored the Commission to make the service nationwide. The petition remains pending as this book goes to print.
Back in 1990, advocates urged the FCC to consider its first relay mandates a start, rather than an end, to implementation of the ADA's relay mandates. They believed that the ADA's intent to integrate people who were deaf, hard of hearing, and speech disabled into the mainstream of the telecommunications network could only be achieved if the FCC recognized the need to continually review ways to modernize the relay network. A decade and a half of relay implementation has proven this to be true. Since 1997, the FCC has had open proceedings in a never-ending journey to explore new and innovative ways to improve our nation's relay services, and the rapid pace of technological development suggests that the Commission is likely to continue to be barraged with a plethora of new relay issues for the foreseeable future. As relay services join mainstream telephone service in making the transition to the Internet, questions about who will fund and oversee these services will also have to be answered.* Similarly, regulators are already concerned with ensuring effective access to emergency services in an Internet-driven world that thrusts geographical distinctions into the back seat.81 One thing remains clear. The quest for ways to achieve the ADA's goals of functional equivalency is far from over. As our nation moves deeper into the twenty-first century, it is just beginning.
Notes
1. See, for example, Wisconsin TRS Advertisement: "Tonight, Robert Giuntoli Ordered a Pizza," GA-SK 24 (Summer 1993): 25.
2. David Coco, "Confessions of a Relay Junkie," ALDA News 6 (August/September 1992): 1.
3. Chaired by Claudia Foy, the Arizona conference hosted fifty-five individuals from twenty-three states, including, Paul Taylor (New York), Dan Pouliot (Montana), Madelaine Perkins (Utah), Tami Richardson-Nelson and Gene Hand (Nebraska), Francine Lauer and Roger D'Hondt (Michigan), Albert Burke (Alaska), Robert Yaeger and Herb Pickell (Minnesota), Bruce Sofinski and Joe Kolash (Virginia), Shelly Bergum, Dick Babb, Gerald "Bummy" Burstein, and Steve Schultz (California), Jack Cassell and Jennifer Kurt (Oregon), Patty Hughes and Ed Pothurst (Washington), Marsha Reynolds and Ralph Gurtin (Massachusetts), Stu Brackney and Mary Beth Meenan (Arizona), Lee Brody (New Jersey), Ed Bosson, Larry Evans and Elaine Powell (Texas), Don Bradford and Luke Walker (New Mexico), Bari Sanger (Colorado), David Rosenthal (Kansas), Wayne Bennett (Louisiana), Kathy Nash (Connecticut), and Willis Mann and Eleanor McClullum (Maryland). In addition, organizational and industry representatives included Al Sonnenstrahl (TDI), Bob Richardson (IPR), Alan Mock (USTA), Jay Ferrill (AT&T), and Peggy Fields (Sprint). Representatives from all of the major consumer organizations—the NAD, TDI, AG Bell, the Association of Late Deafened Adults (ALDA), the American Society for Deaf Children (ASDC), Black Deaf Advocates and AARP, as well as all seven of the regional bells, participated in the November Capitol Hill event, joined by interstate telephone companies, NARUC, the Access Board, DOJ, and Abe Lieb, Phil Chilick, and Jim Keegan from the FCC.
4. Telecommunications Services for Hearing-Impaired and Speech Impaired Individuals, and the Americans with Disabilities Act of 1990, Notice of Proposed Rulemaking, CC Dkt. 90-571, FCC 90-376, 5 FCC Rcd 7187, (November 16, 1990). The Capitol Hill conference was organized by a national committee that consisted of Pam Ransom of the Chicago Hearing Society, Dick Babb of the Inland Service Center in Riverside, California, Jack Cassell of the Oregon Public Utilities Commission, Patty Hughes of the Department of Social and Health Services in Washington state, Judy Viera of Ultratec, and the author. See generally, "TDI Assists FCC [to] Develop Relay Regulations," GA-SK 21 (Fall 1990): 9.
5. See generally, Ann Edwards, "Relay Standards Meeting: An Information Forum," GA-SK 22 (Winter 1991): 10.
6. See, for example, Judy Viera, memorandum to the author, January 2, 1991.
7. A number of individuals provided invaluable feedback and assistance on these comments, including Al Sonnenstrahl, Judy Viera, Madelaine Perkins, Ken Kresse, Brenda Battat, Kathi Wolfe, Charles Estes, Bill Graham, Jack Cassell, Marian Petkovsek, Susan Coffman, and John Morgan.
8. The FCC also heard from as many as sixty other interested parties before the comment period was closed.
9. The USTA Conference was held on December 12, 1990, thanks in large part to Alan Mauk, a USTA official who took a deep interest in these issues. More information about the conference can be found at "Sonny's TDIbytes," GA-SK 22 (Winter 1991): 5.
10. The CARS software was quickly adopted by many states, including Texas, Kansas, Colorado, Mississippi, Massachusetts, North Carolina, and Missouri. See "Three Million Phone Calls a Month with Phone-TTY Modems," GA-SK 24 (Summer 1993): 36.
11. Telecommunications Services for Individuals with Hearing and Speech Disabilities, and the Americans with Disabilities Act of 1990, Report and Order and Request for Comments, CC Dkt. 90-571, FCC 91-213, 6 FCC Rcd 4657 (July 26, 1991), 56 Fed. Reg. 36729 (August 1, 1991). Hereinafter cited as First TRS Report and Order 1991.
12. Ibid., ¶9.
13. Ibid., ¶41. In 1994, state relay administrators formed the National Association for State Relay Administrators (NASRA). Though not a consumer advisory body, NASRA has provided a national forum for comprehensive discussion of state relay issues on standards and policies.
14. See Comments of the Oregon Independent Telephone Association; Connecticut Department of Human Resources; and Arizona Council of the Hearing Impaired in CC Dkt. 90-571 (October 1991).
15. First TRS Report and Order 1991, ¶13; 47 U.S.C. §225 (d)(1)(F).
16. The FCC's final rules on this point firmly state that relay operators are prohibited from disclosing the content of any relayed conversation, "even if to do so would be inconsistent with state or local law." 47 C.F.R. §64.604(a)(2)(i). See also Telecommunications Services for Individuals with Hearing and Speech Disabilities, and the Americans with Disabilities Act of 1990, Order on Reconsideration, Second TRS Report and Order and Further Notice of Proposed Rulemaking, CC Dkt. 90-571, 93-104, 8 FCC Rcd 1802 (February 25, 1993). Hereinafter cited as Second TRS Report and Order 1993.
17. First TRS Report and Order 1991, ¶14.
18. Al Sonnenstrahl, "TTY? TDD? TT? TTP? What's In a Name?" GA-SK 23 (Spring 1992): 1, 6. "TDI Great TTY Debate Survey Form," GA-SK 23 (Spring 1992): 7.
19. Al Sonnenstrahl, "It's TTY By a Landslide!!!" GA-SK 23 (Summer 1992): 14 ("text telephone yoke" term proposed by Jim Fernandes); Kathryn Woodcock, "TPT—That Phone Thingy," GA-SK 23 (Fall/Winter 1992): 22; See also Kevin McLeod, "The Great TTY Debate," GA-SK 23 (Spring 1992): 6–7.
20. Al Sonnenstrahl, "TTY!" GA-SK 23 (Fall/Winter 1992): 15.
21. 47 U.S.C. §225(d)(3)(B).
22. These deliberations included various FCC meetings with consumers and the telephone industry, held on January 28, 1992, April 2, 1992, April 10, 1992, April 30, 1992, and November 23, 1992.
23. For example, on April 8, 1992, Elizabeth Noel, the D.C. people's counsel, joined Hubert Anderson of the D.C. Association of Deaf Citizens, in a letter to the FCC urging the Commission to swiftly decide the interstate funding issue.
24. "Deaf Users Wait on States to Provide Interstate Phone Service," Communications Daily, September 8, 1992.
25. Second TRS Report and Order 1993, ¶¶21–27; Telecommunications Services, and the Americans with Disabilities Act of 1990, Third Report and Order, CC Dkt. 90-571, 93-357, 8 FCC Rcd 5300 (July 20, 1993).
26. 47 C.F.R. §64.604(c)(5)(iii)(A).
27. Reply Comments of NCLD, TDI, and NAD in CC Dkt. 90-571(April 19, 1993).
28. 47 C.F.R. §604(c)(5)(iii)(F). In 2005, the FCC amended this rule to allow common carriers of Internet and video relay services (discussed later in this chapter) that do not offer other forms of relay to also become eligible for compensation from the Interstate TRS fund. Telecommunications Relay Services and Speech-to Speech for Individuals with Hearing and Speech Disabilities, Report and Order and Order on Reconsideration, CG 03-123, FCC 05-203 (December 12, 2005).
29. The author served on this advisory body, called the Interstate TRS Advisory Council, from 1994 to 1997.
30. 47 C.F.R. §64.604(a)(3).
31. Ameritech, Bell Atlantic, BellSouth, and AT&T were among the companies that objected to this requirement.
32. Second TRS Report and Order 1993, ¶9.
33. Telecommunications Services, and the Americans with Disabilities Act of 1990, Order, CC Dkt. 90-571, 93-1317, 8 FCC Rcd 8385 (November 29, 1993).
34. The group held its first meeting in May 1994 in San Ramon, California, and its second meeting in July 1994 in Richardson, Texas. These were followed by various conference calls and other in person meetings.
35. See generally, Robert D. "Mac" McCrossen, "The TRS Project," Perspectives (January 1995): 13–15.
36. There were a large number of individuals involved in the effort to find a coin sent-paid solution. Only a few of these included Kathy Woods and Alan Mock of USTA, Elaine Hatcher, Mike Delcasino, Kathy Blackstone, and Fred Weiner of AT&T, Jim Tobias of Bellcore, Mark Seeger and Pat Myers of Sprint, Ginger Fish and Greg Hodges of Bell Atlantic, and various representatives from BellSouth, U.S. West, Southwestern Bell, Michigan Bell, and Hamilton Telephone. FCC representatives to these meetings typically included Linda Dubroof, Greg Lipscomb, and Pamela Geer, while consumers were represented by Al Sonnenstrahl and Paula Holbrook of TDI, as well as Louis Schwarz, Pam Holmes, Claudia Gordon, Ben Soukup, Nancy Bloch, and the author.
37. Telecommunications Services, and the Americans with Disabilities Act of 1990, Memorandum Opinion and Order, CC Dkt. 90-571, DA 95-1874, 10 FCC Rcd 10927 (August 25, 1995). This was in response to seven petitions filed from March 6 through May 3, 1995, by Sprint, AT&T, USTA, MCI, GTE, and various regional Bell telephone companies on the failure to identify an appropriate payphone technical solution.
38. Karen Peltz Strauss, NAD, letter to Kathleen Woods, USTA, August 21, 1996.
39. Telecommunications Services, and the Americans with Disabilities Act of 1990, Memorandum Opinion and Order, CC Dkt. 90-571, DA 97-1800, 12 FCC Rcd 12196 (August 21, 1997).
40. Telecommunications Services, and the Americans with Disabilities Act of 1990, Memorandum Opinion and Order, CC Dkt. 90-571, DA 98-1595, 13 FCC Rcd 15453 (August 10, 1998) (extending the suspension until August 26, 1999); Telecommunications Services, and the Americans with Disabilities Act of 1990, Memorandum Opinion and Order, CC Dkt. 90-571, DA 99-1682, 15 FCC Rcd 6675 (August 20, 1999) (extending the suspension until August 26, 2000); Telecommunications Services, and the Americans with Disabilities Act of 1990, Memorandum Opinion and Order, CC Dkt. 90-571, DA 00-1911, 15 FCC Rcd 15823 (August 23, 2000) (extending suspension for nine months or until a final rule was issued).
41. TRS Coin Sent-Paid Industry Team Activity Report (December 1, 1998) (primarily authored by Mike Delcasino, AT&T).
42. See, for example, Comments Invited on AT&T's Application to Discontinue Interstate Sent-Paid Coin Service, FCC Public Notice DA 01-1613 (July 6, 2001). Through this petition, AT&T sought permission to accept only prepaid calling cards or substitutes, but not coins for payphone calls; Shawn Young, "BellSouth Says It Is Getting Out of Dwindling Pay-Phone Business," Wall Street Journal, February 5, 2001, B6 . This article noted that Bellsouth intended to shut down its 143,000 payphones by the close of 2002. It also referenced other companies, including Verizon and SBC, that were losing interest in the payphone field.
43. Telecommunications Relay Services and the Americans with Disabilities Act of 1990, Fifth Report and Order, CC Dkt. 90-571, FCC 02-269. 17 FCC Rcd 21233 (October 25, 2002). Hereinafter cited as Fifth TRS Report and Order 2002.
44. Ibid., ¶28.
45. Telecommunications Relay Services and Speech to Speech Services for Individuals with Hearing and Speech Disabilities, Report and Order, Order on Reconsideration, and Further Notice of Proposed Rulemaking, CC Dkts. 90-571, 98-67; CG Dkt. 03-123, FCC 04-137, 19 FCC Rcd 12475 (June 30, 2004 ), ¶¶ 207–8. Hereinafter cited as TRS Report and Order 2004.
46. See Pamela Ransom, "Together We Will Make it Happen," GA-SK 22 (Fall 1991): 5. Ransom, then president of TDI, wrote how the decisions made in each of the states would "have a far reaching effect on the future quality of telecommunication relay and emergency services." See also Al Sonnenstrahl, "To Relay Service Users: Beware!" GA-SK 23 (Summer 1992): 3, in which Sonnenstrahl complained about the decision of the FCC to let the states define standards on typing, knowledge of deaf culture and language, and processes for self-evaluation.
47. See Common Carrier Bureau Domestic Facilities Applications, FCC Public Notice, Report No. D-664 (October 7, 1992), seeking comments on twenty-four state applications; FCC Public Notice No. D-555 (October 14, 1992) seeking comment on twenty-one additional applications; FCC Public Notice No. D-668 (November 4, 1992), seeking comment on one state's application.
48. For example, Louisiana wanted to label its relay surcharge "Telecommunications for the Deaf Fund" on telephone bills.
49. NCLD submitted comments on behalf of itself and TDI on November 9, 1992, November 16, 1992, November 23, 1992, November 25, 1992, December 1, 1992 and February 12, 1993. AT&T (on November 9, 1992) and MCI (on November 23, 1992) each responded to our comments. Fortunately, by the time AT&T's response was submitted, AT&T, Sprint, MCI, and other interexchange companies had worked out methods to enable users to have equal access to their preferred longdistance telephone company.
50. See 58 Fed. Reg. 41277–78 (August 3, 1993).
51. Prior to the ADA, Oklahoma had treated relay service as a social service, provided through its Vocational Rehabilitation Services. "Sonny's TDIbytes," GA-SK 24 (Fall 1993): 4.
52. Arkansas PSC Dkt. 90-105-U.
53. See 47 U.S.C. 225(d)(1)(D); 47 C.F.R. 64.604(c)(3).
54. Tentative approval was granted on June 30, 1992, pending a public hearing that took place on August 26, 1992 on these two issues. Final approval was granted on September 25, 1992. Arkansas PSC Dkt. 91-051-U, Order No. 34.
55. Application for Certification TRS 26-92.
56. Arkansas PSC Dkt. 90-105-U, Order No. 40.
57. Beverly Esau v. MCI Telecommunications and General Telephone, Dkt. 93-187-C (July 19, 1993).
58. "Staff's Response to Motion to Approve Settlement Agreement," Esau v. MCI and GTE, Dkt. 93-187-C (February 4, 1994).
59. Esau v. MCI and GTE, Order No. 8, Dkt. 93-187-C (February 14, 1994), 14.
60. Elaine Hatcher, AT&T, letter to William Caton, FCC acting secretary, July 18, 1994 2.
61. Request to Decertify the State of Arkansas Telecommunications Relay Services Program, Memorandum Opinion and Order, File TRS-26-94, DA 95-1251 (June 9, 1995).
62. 47 U.S.C. §225(d)(2).
63. S. Rep. No. 116, 101st Cong., 1st Sess. 78 (1989). Later in the report, the Senate committee emphasized that the minimum federal standards used to govern the provision of TRS "should not have the effect of freezing technology or thwarting the introduction of a superior or more efficient technology." S. Rep. No. 116, 80.
64. With the assistance of Linda Nelson, North Carolina and MCI set up nine public sites around the state on August 19, 1997.
65. Telecommunications Services, the Americans with Disabilities Act of 1990, and the Telecommunications Act of 1996, Notice of Inquiry, CC Dkt. 90-571, FCC 97-7, 12 FCC Rcd 1152 (January 14, 1997).
66. Telecommunications Services and Speech-to-Speech Services for Individuals with Disabilities, Notice of Proposed Rulemaking, CC Dkt. 90-571, FCC 99-90, 13 FCC Rcd 14187 (May 20, 1998). In addition, on February 19, 1998, the FCC held a public demonstration of STS relay with Segalman's assistance.
67. Telecommunications Relay Services and Speech-to-Speech Services for Individuals with Hearing and Speech Disabilities, Report and Order and Further Notice of Proposed Rulemaking, CC Dkt. 98-67, FCC 00-56, 15 FCC Rcd 5140 (March 6, 2000). Hereinafter cited as Improved TRS Order 2000. FCC employees who spearheaded the drafting and release of this order included Pam Gregory, Meryl Icove, and Elen Blackler.
68. Ibid., ¶4.
69. Ibid., ¶13.
70. Telecommunications Relay Services and Speech-to-Speech Services for Individuals with Hearing and Speech Disabilities, Order, CC Dkt. 98-67, DA 03-2111, 18 FCC Rcd 12823 (June 30, 2003). Specifically, from July 2002 through June 2003, the NECA rate for VRS was $17.044 per minute. When NECA recommended reducing the rate to $14.023 in May of 2003, the FCC rejected that suggestion, and instead adopted a VRS rate of $7.751 on June 30, 2003. This rate went into effect the next day, on July 1.
71. Telecommunications Relay Services and Speech-to-Speech Services for Individuals with Hearing and Speech Disabilities, Report and Order, CC Dkt. 98-67, CG Dkt. 03-123, FCC 05-140 (July 19, 2005); Telecommunications Relay Services and Speech-to-Speech Services for Individuals with Hearing and Speech Disabilities, Order on Reconsideration, CC Dkt. 98-67, CG Dkt. 03-123, FCC 05-139 (July 19, 2005).
72. Improved TRS Order 2000, ¶90.
73. TRS Report and Order 2004, ¶¶ 97–98.
74. WorldCom, Petition for Clarification, CC Dkt. 90-571 (December 22, 2000).
75. Provision of Improved Telecommunications Relay Services and Speech-to-Speech Services for Individuals with Hearing and Speech Disabilities, Declaratory Ruling and Second Further Notice of Proposed Rulemaking, CC Dkt. 98-67, FCC 02-121, 17 FCC Rcd 7779 (April 22, 2002); Order on Reconsideration, FCC 03-46 (March 14, 2003). As was true for VRS, the FCC again decided to allow compensation for all Internet relay calls from the Interstate TRS fund. In June of 2004, the FCC sought public feedback on a proposal to make Internet-based relay services a permanently mandated relay service. TRS Report and Order 2004, ¶¶ 231–32.
76. Telecommunications Services and Speech-to-Speech Services for Individuals with Disabilities, Report and Order and Further Notice of Proposed Rulemaking, CC Dkt. 98-67, CG Dkt. 03-123, FCC 03-112, 18 FCC Rcd 12379 (June 17, 2003).
77. Engelke shares the success of CapTel (Ultratec's brand of captioned telephone service) with Kevin Colwell, Pam Holmes, Jeff Hilliard, Ron Schultz, Troy Vitak, Judy Viera, Christopher Jones and approximately twenty additional Ultratec engineers.
78. Telecommunications Services and Speech-to-Speech Services for Individuals with Disabilities, Declaratory Ruling, CC Dkt. 98-67, FCC 03-190, 18 FCC Rcd 16121 (August 1, 2003), ¶15.
79. Telecommunications Services and Speech-to-Speech Services for Individuals with Disabilities, Order, CC Dkt. 98-67, CG Dkt. 03-123, FCC 05-141 (July 19, 2005).
80. Petition for Rulemaking to Mandate Captioned Telephone Relay Service (October 31, 2005). Brenda Battat of SHHH worked with the various organizations to spearhead the petition.
81. See Telecommunications Relay Services and Speech-to-Speech for Individuals with Hearing and Speech Disabilities, Notice of Proposed Rulemaking, CG Dkt. 03-123 (November 30, 2005), in which the FCC requested public comment on the best means of handling emergency relay calls carried over the Internet.
Epigraph. Senator Tom Harkin, letter to the author, NCLD, July 26, 1990.
* As an example, by May 1990, Washington state's relay volume reached 30,000, up from an estimated 14,000 monthly calls in November 1989, when the service first began. The extraordinary demand resulted in a blockage rate (the percentage of times relay users confronted busy signals) to soar to 74 percent. Patty Hughes presentation, typescript of TDI Relay Subcommittee Conference Proceedings, Tempe, Ariz., April 4, 1990, 93.
* Over the coming year, Taylor would work side by side with FCC employees Linda Dubroof and Abe Lieb to secure rules that could fully meet the needs of deaf and hard of hearing consumers.
† In the future, caller profiles would be used to specify many other user preferences, including appropriate emergency numbers, frequently dialed numbers, and language preferences, including the extent to which ASL should be translated to English or whether text messages should be read at slower speeds. The TND trial was conducted in conjunction with the Chesapeake and Potomac Telephone Company of Virginia, Bell Atlantic, and TEDI.
* Methods proposed had included comparing the speed of the transcription with the prevailing speed of voice communications, applying AT&T's discount criteria, and using relay samples to determine a discount factor.
* This occurred at a time when advocates were pushing the FCC to adopt a single nationwide access number for relay services. See chapter 7 for an in-depth discussion of the efforts to secure 711 relay access.
† Each carrier could decide whether to offer the coin sent-paid rates for either calling or pre-paid cards or for both types of cards.
* At the time, Al Sonnenstrahl was CAN's director. Many years later, CAN changed its name to the Deaf and Hard of Hearing Consumer Advisory Network (DHHCAN).
* Not all commissioners agreed with this portion of the FCC's ruling. Commissioner Copps raised concerns about whether this satisfied the Commission's obligation under the ADA to ensure that relay users "pay rates no greater than the rates paid for functionally equivalent voice communication services" (referring to 47 U.S.C. §225(d)(1)(D)). In particular, operator and other surcharges imposed through these alternative billing methods might cause the rates for these alternative billing methods to exceed coin rates.
* Sometime later, Oklahoma eventually acquired certification to operate its own relay program on behalf of its telephone companies.
* The definition reads: "telephone transmission services that provide the ability for an individual who has a hearing impairment or speech impairment to engage in communication by wire or radio with a hearing individual in a manner that is functionally equivalent to the ability of an individual who does not have a hearing impairment or speech impairment." 47 U.S.C. §225(a)(3).
* There had also been a limited STS trial throughout November 1995, in which STS calls were processed on weekdays from 1:00 to 5:00 p.m. In late 1998, MCI took over California's STS, having won the state's bid to provide these services on a permanent basis.
* Some of the other individuals who participated in the NVRSC, such as Paul Singleton, Ed Bosson, and Patty Hughes, were the very same people who had been active in the early battles to secure nationwide relay services back in the late 1980s and early 1990s. Others, such as Lawrence Brick who had been active at the state level, now entered the national battles for telecommunications equality with a new vitality. Al Sonnenstrahl and I, now both affiliated with CSD, also joined these various efforts. As the deaf-run nonprofit organization that had started VRS, CSD believed it vital to meet these consumer needs, and wanted other VRS providers to do the same.
† One matter that relay advocates had raised that was not addressed by the FCC's June 2005 rulings was the interoperability of video relay services, i.e., the ability of VRS callers to use all VRS equipment to access any VRS provider. One VRS provider that gave out video equipment had been preventing recipients from using that equipment to make calls through other VRS providers, but despite overwhelming consumer support and near universal support by VRS providers to ban this practice, a year later, the FCC still had not released a decision on this issue.
* For example, in the 1990s, many people complained about the Social Security Administration's refusal to accept these calls. Even at the turn of the century, it was common to learn of doctors and other professional medical personnel hanging up on patients, out of misplaced concerns that they would disclose patient information to unknown sources. In 2004, the FCC released a public notice to make clear that medical personnel would not be in violation of new patient confidentiality rules when they discussed health-related matters over relay services. Clarification of the Use of Telecommunications Relay Services (TRS) and the Health Insurance Portability and Accountability Act (HIPAA), Public Notice, DA 04-1716, 19 FCC Rcd 10677 (June 16, 2004). In 2005, the continued refusal of an investment house to accept orders through a relay service prompted Marc Charmatz and Rosaline Crawford, NAD legal counsel, to bring the company to court. Brunner v. Morgan Stanley (filed in the U.S. District Court for the District of Connecticut).
† Maryland's outreach efforts were largely the product of innovative leadership by Gil Becker, Brenda Kelly-Frey, and Pamela Stewart. Virginia Relay has instituted similar programs under the directorship of Clayton Bowen.
* Unfortunately, a few years into its operation, Internet relay services would fall prey to use by fraudulent entities. In addition to teenage pranksters, the perpetrators were often hearing individuals from overseas who utilized these anonymous services to con unsuspecting businesses into sending them large quantities of products without payment. The resultant refusal by many sales establishments to accept even legitimate relay calls prompted great concern within the deaf community. Some companies went so far as to request that relay providers block all calls to their numbers, a practice which the FCC quickly prohibited. Telecommunications Relay Service (TRS) Providers Must Make All Outbound Calls Requested by TRS Users and May Not "Block" Calls to Certain Numbers at the Request of Consumers, FCC Public Notice DA 05-2477 (September 21, 2005). As this book goes to print, the FCC is exploring ways, including user registration, to curb these inappropriate calls.
* For example, only five individuals were added each month to the captioned telephone programs in Wisconsin, Vermont and South Carolina; Connecticut, Indiana and Nevada were three of the states that limited monthly entry to captioned telephone services to ten people.
* Currently, only common carriers (telephone companies providing service over the public switched network) must fund relay services. As this book goes to print, Congress is already working on legislation that will expand this obligation to voice over Internet Protocol (VoIP) providers.