Relay Goes National
Legislation … cannot alone break down the walls of isolation or solve all [the] problems. Action at all levels of society, by each of us, is critical. If given the opportunity, the only thing that limits these individuals are their own dreams—but we must all work especially hard to make sure they are given the opportunity. … Our Nation stands on the world stage as the torch bearer of freedom and opportunity … We are sending forth a resounding message that we will not accept discrimination and that Americans should be viewed on the basis of merit, nothing else.
—Senator John McCain
PASSAGE OF the Telecommunications Accessibility Enhancement Act (TAEA) of 1988 gave advocates reason to believe that pushing for a legislative solution to a nationwide interstate relay system could be successful. If Congress was willing to direct the federal government to provide these services, it might also be willing to impose this obligation on the nation's long-distance telephone companies. In the TAEA, Congress directed the FCC to wrap up its own relay proceeding, begun in March 1988, within nine months—by July 1989. Unfortunately for consumers, this proved a mixed blessing. While the TAEA succeeded in forcing the FCC into action, we learned in the late fall of 1988 that Senators Harkin (D-Iowa) and Inouye (D-Hawaii) both wanted to wait until the FCC's relay proceeding was finished before they took any legislative action of their own.
Fortunately, other events swiftly put us back on our legislative track. Although proposals for the ADA had barely scratched the congressional surface when first introduced in the fall of 1988, by January of 1989, the Consortium of Citizens with Disabilities (CCD), a powerful coalition of organizations representing a cross-section of Americans with disabilities, had come together to revive the proposed law. But CCD knew that injecting the ADA with the substance it needed to become viable in the 101st Congress would require a thorough makeover of its original contents. Accordingly, in January 1989, the coalition asked different disability constituencies what they wanted out of the ADA's next version. The nation's deaf and hard of hearing leaders responded with a laundry list of demands that included nationwide relay services, TTYs, captioning, visual alarms, interpreters, and assistive listening systems in hotels, hospitals, schools, and state and local governmental programs.1
There had never been anything like the ADA. And because there might never be anything like it again, consumers wanted their bite at the apple to be as rewarding as possible. But many advocates feared that asking Congress for too much all at once might backfire; we needed to prioritize our demands. To begin this process, attorneys at NCLD worked with Paul Singleton to pull together the nation's foremost deaf leaders for a face-to-face gathering, to be held on March 8, 1989, at Gallaudet University.
On the day of the meeting, advocates arrived both enthusiastic and cautiously optimistic about the new legislation's promises. We would spend the next two hours intensely debating the merits of moving ahead with each of the recommended proposals, not an easy task given all that was on the table. One demand to which everyone agreed was the need to pursue a mandate for interstate relay services. During the months leading up to the ADA's first introduction, Gallaudet's relay task force had been operating under the assumption that a mandate for interstate relay would be put into a separate relay bill. But as we watched momentum build for a comprehensive disabilities rights law, we concluded that this mandate should reserve a seat on the ADA bandwagon.
As the attendees began packing up to leave the March meeting, Bob Richardson of IPR, stopped a few of us, a look of consternation upon his face. He said he thought the decisions reached at our meeting were fine, but he remained troubled by the fact that we were not asking Congress to mandate relay services within, as well as between the states. Maybe, he said, we needed to grab this opportunity—perhaps the only one we would get in a long time—to demand federally mandated intrastate services along with interstate services.
All along, Gallaudet's relay task force had focused on drafting legislation to enable individuals to make relay calls from one state to another. We had assumed that a federal mandate for relay services within state boundaries was beyond the scope of the FCC's jurisdiction, an assumption that seemed to be confirmed by FCC staff who expressed little interest in meddling in intrastate affairs.2 Moreover, neither the NARUC petition nor any of the FCC proceedings to date had even broached the subject of a federal mandate for relay services within the states.
Richardson now asserted that there was no reason for the FCC not to exercise authority over relay programs within the states. He explained that the FCC already had jurisdiction over numerous state-related telecommunications programs. For example, Congress, the FCC, and the courts had long recognized the need for federal involvement in local phone services to ensure the affordability of telephone rates through the Lifeline and Link-up programs. Congress also had dipped into intrastate matters in the TDA of 1982 by directing state commissions to allow telephone companies to subsidize the costs of TTYs and other specialized telephone equipment with revenues from their telephone services. Richardson argued that because the same network of wires and switches would be used to carry both intra- and interstate relay services, FCC regulation of intrastate relay services would be consistent with these and other FCC intrusions into state affairs.3
By the time Richardson finished speaking, nearly everyone had departed from the meeting. Although the attendees had only agreed to ask for an ADA mandate for interstate services, we doubted that any of the participants would oppose broadening the scope of that mandate to include in-state services. We also thought that expanding our focus in this manner might even improve our chances of success. The fact was that our nation had created an extraordinarily uneven patchwork of state relay programs, each of which bore little resemblance to the other. Because each state made independent and isolated decisions about relay funding, operation, and standards, needless duplication of efforts continued to take place, and critical relay services were often delayed in one state, pending the outcome of decisions that had already been made in neighboring states. The disparity in procedures, technologies, and features and the lack of coordination among state relay programs were creating considerable confusion for relay users, especially travelers. It made sense to tell Congress that deaf and hard of hearing individuals had a right to full and equal access to the nation's public telephone network regardless of the state in which they lived. If the ADA was truly to eradicate discrimination in our nation's telecommunications system, there needed to be a seamless network of relay services across the entire country.
On the Way to Becoming a Civil Right
Having decided on this new approach, advocates now needed to sell the idea of a national relay mandate to Congress. We were concerned that as a nondiscrimination statute, much of the ADA seemed focused on ways to prohibit discriminatory practices in existing programs and activities, rather than ways to create new programs. A requirement for relay services, though clearly remedial in its attempts to rectify society's past failures to provide telephone access, we feared, might stray too far from Congress's general theme of simply banning discrimination.
Then again, it was very clear that if Congress was intent on enhancing the ability of people with disabilities to fully participate in society, a program that expanded access to the telecommunications system would be critical. Without access to telecommunications, other rights guaranteed by the ADA would never fully be realized. Title I of the ADA offered all types of new job protections, but deaf people needed telephone access to arrange for job interviews, as well as to carry out essential job functions. Being able to catch a government-owned bus otherwise covered by Title II's prohibitions against discrimination in state and local governments would be difficult without first being able to call for the bus schedule. And hospitals that widened their offices to accommodate wheelchair users under Title III's public accommodation provisions could not provide effective medical services to people with hearing loss if there was no way for these individuals to call for test results and medical advice. Telecommunications access was as much a civil right as any of the other rights being pursued by the ADA's drafters. And the refusal of society to acknowledge this right had already resulted in dependence and isolation for deaf and hard of hearing people for nearly a century.
In the end, getting Congress to accept mandates for both intra- and interstate relay services as part of its disability rights agenda proved far easier than we had expected. Indeed, over time, both the ADA statute and its implementing regulations came to contain a variety of detailed and affirmative remedial programs, including requirements for accessible bus and rail transportation, structural changes to buildings, and reasonable accommodations and auxiliary aids, all of which went far beyond mere prohibitions against discrimination.
We next needed to convince the legislators that mandates for nationwide relay services were both technically feasible and economically sound. Fortunately, experience had shown that relay services obviated the need for more expensive measures, such as the purchase of individual TTYs by all businesses and governmental offices. A coordinated nationwide relay system would also ease the financial strain caused by the present collage of state relay programs. Among other things, states with smaller deaf and hard of hearing populations would be able to join regionally based relay centers at a substantial cost savings. Disability advocates were also able to argue persuasively that without relay services, society would incur lost productivity, unemployment, diminished markets for goods and services, and other heavy expenses associated with excluding an entire segment of the population from the telephone network. Spiraling increases in relay volumes across the nation confirmed the immediate and urgent desire of these individuals to lead independent and self-directed lives.
All of these arguments had their intended effect. Within only days after submitting a revised, all-inclusive draft to Senator Harkin's chief legislative aide, Bobby Silverstein, Congress agreed to include mandates for both intrastate and interstate relay services in the new version of the ADA.
On May 9, 1989, Senators Harkin and Kennedy (D-Mass.) introduced the revised ADA, S. 933, with thirty-three cosponsors in the Senate.4 Congressmen Coelho (D-Calif.) and Fish (R-N.Y.) introduced parallel legislation, H.R. 2273, with eighty-four cosponsors in the House. The landmark legislation had attracted the endorsement of more than eighty-five national disabilities and civil rights organizations, as well as the Leadership Conference on Civil Rights, an umbrella organization representing an additional 185 advocacy organizations.5 Powerful remarks by Senator Harkin accompanied the bill's introduction:
The ADA sends a clear and unequivocal message to people with disabilities that they are entitled to be treated with dignity and respect and to be judged as individuals on the basis of their abilities and not on the basis of presumptions, generalizations, misperceptions, ignorance, irrational fears, patronizing attitudes, or pernicious mythologies. … No longer will our Nation tolerate the continued building of architectural, transportation, and communication barriers that prevent or restrict individuals with disabilities from living independent and productive lives in the mainstream of American society. The ADA, plain and simple, is a broad and remedial bill of rights for individuals with disabilities. It is their emancipation proclamation.6
From the start, Harkin took a particularly strong interest in the section of the ADA dealing with relay services. Having grown up with a deaf brother, Harkin was able to speak about the ways that telephone access could empower people to have control over their lives and how the denial of that access perpetuates "second-class citizenship." The ADA's very first draft clung to the approach that telephone access was a civil right, declaring the failure of any telephone company to provide relay services an act of discrimination punishable by hefty fines.*
The deaf and hard of hearing community heralded the news of the ADA's introduction with cheer and high hopes. While the TDA of 1982 and the TAEA of 1988 had made a dent in our nation's telecommunications barriers, the ADA promised a far more comprehensive vehicle for deaf and hard of hearing consumers to achieve full and complete assimilation into American society. Most importantly, because it treated telephone access as a civil right to be guarded and protected along with other civil rights, the ADA offered hope that relay services were to finally lose their status as a social service; under the new law, telephone companies, not governmental bodies, would be charged with making sure these services were provided.
When hearings on the ADA were held by the Senate, Gallaudet's new deaf president, I. King Jordan, was one of the first up to the plate. Jordan immediately drew the crowd's attention to the Deaf President Now movement, which, he said, had "captured the hearts of people throughout the nation and generated more support than we had anticipated in our wildest dreams."7 Jordan went on to share the poignant story of a five-year-old boy whom he had met months earlier while visiting a class at the Rhode Island School for the Deaf. The boy had sauntered over while Jordan was speaking, put his arm on Jordan's shoulder, and gazed up at him with a smile. Instantly, Jordan knew that his appointment to the Gallaudet presidency had imparted a powerful message to this boy and other deaf children: despite their hearing loss, they could achieve anything to which they aspired. But this message could be realized only if federal laws enabled them to be judged on their individual abilities, without the discrimination characteristic of earlier decades. Having telephone access would be a start to breaking down these barriers.
Testimony by Paul Taylor next drew the senators' attention to the acute need for telephone access as a tool of independence, employability, and career mobility. Taylor explained that the lack of telephone access had caused thousands of deaf employees to be passed over for promotions and other job opportunities, keeping members of the deaf community underemployed despite their high school diplomas and college degrees. Lest the legislators believe that states were already adequately addressing telecommunications access matters, Taylor went on to detail the intolerable funding and staffing problems that had plagued state programs. For example, in many states, for every telephone relay call that was answered, as many as twenty went unanswered.
By the time that the Senate held its ADA hearings, AT&T was already providing relay services in California, New York, and Alabama. Although deaf and hard of hearing advocates had spent decades fighting AT&T's unwillingness to adequately address telecommunications access issues, when Gerald Hines, AT&T's witness, presented his remarks, he was warmly received by all. Hines boasted of the "indispensable link" that relay services provided for the deaf community and the overwhelming feedback that his company received on these services.8 The California Relay Service, for example, was now handling 250,000 calls each month. Similar growth was occurring in New York. Although its statewide service had just begun in January of 1989, monthly call volumes had already jumped from 45,000 to 65,000, with short-term predictions that these would increase to 100,000 calls.9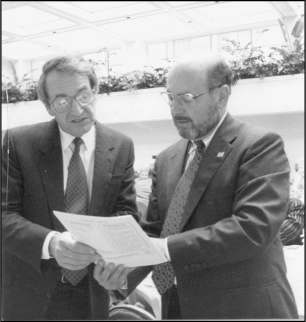 Senator Tom Harkin, chief sponsor of the ADA, reviews a fine point with Al Sonnenstrahl, former executive director of TDI.
When Hines got through touting the benefits of relay services, he did the unthinkable. Although AT&T had historically shunned federal regulation, Hines went on to request the federal government's assistance to expand these programs. Noting that consumer relay needs had "greatly outstrip[ped]" the resources of the local relay programs," he asserted that "we do not think that state action alone is enough," and in a move that only years earlier scarcely seemed possible, called upon Congress to help bring about twenty-four-hour-a-day nationwide relay services that would be staffed with sufficient personnel and supplied with enough equipment to meet the very standards put together by the Gallaudet relay task force.*
Meeting Eye-to-Eye with Industry
Unfortunately, AT&T's vision of a relay future did not entirely mesh with the one envisioned by relay advocates. Not wanting to bear the costs of providing relay services on its own, AT&T still believed that these services needed to be funded by the general treasury. Relay advocates continued to vigorously oppose the use of tax revenues for this purpose, even more so now that telephone access was finally to be granted its rightful place among the nation's civil rights. Advocates feared that if access depended on the "goodness" of governmental appropriators, it would not truly be defined as a right, but merely a privilege that could be rescinded at any time. They believed that telecommunications access should not be subject to the whim of the budgetary process, where it could come and go with the political and fiscal winds. Instead, advocates wanted Congress to force telephone companies to treat people who were deaf and hard of hearing no differently than they treated hearing people. Just as the higher costs of providing telephone access to rural customers were spread equally among all telephone subscribers, so too consumers argued, should the costs of providing relay services.*
In addition to disputes over funding, an even greater source of conflict soon surfaced, this time with other segments of the telephone industry. Just weeks after the ADA was introduced, advocates learned that U.S. West, one of the seven regional Bell companies, had begun circulating its own proposal for a nonprofit, quasi-public, federally funded "relay corporation." Under the U.S. West proposal, existing state relay programs could continue their operations, but primary responsibility for establishing and overseeing relay services on a national level would rest with this corporation, rather than with the telephone companies. Because U.S. West's proposal removed all financial burden from the local telephone companies, it swiftly secured the endorsement of those companies, and consequently attracted the support of a good number of senators.
Consumers, on the other hand, were immediately skeptical of the recommendation. The proposal effectively treated relay services like a charity, geared to addressing the social welfare needs of people with communications disabilities, rather than a utility service that facilitated communications between deaf and hard of hearing people and the general public. By removing all responsibility from the telephone companies, consumers feared that the proposal would simply perpetuate discrimination against deaf and hard of hearing communities.
During the third week of June 1989, as the plan for a relay corporation continued to gather steam, relay advocates were presented with a dilemma. Only a few weeks remained before July 12, 1989, the date set for the Senate Committee on Labor and Human Resources to mark up the ADA. With its strong industry and Senate support, we were uncertain whether we had enough votes to kill the proposal entirely. In an attempt to instead soften the plan's blow in case it was ultimately adopted by the majority, we decided to call together a series of meetings with U.S. West, members of Congress, NARUC, and other telephone companies. The goal was to try to better the proposal—for example by ensuring that a majority of the proposed board consisted of consumers, or by giving greater oversight of its operations to the FCC. But while we tried to work with the companies' approach during these negotiations, we remained convinced that a federally created and funded corporation would go against the grain of treating relay services as a fully integrated civil right.
As the Senate markup drew nearer, we were still short of the support we needed to beat down the U.S. West approach. Perhaps readying ourselves for a fate that we had not anticipated, we began to second-guess our initial decision to dismiss the proposal as a viable alternative. Perhaps our "inside-the-beltway" reaction would not be shared by those out in the relay field. After all, there were some advantages to having a single corporation govern all relay services. A single entity could promote uniformity and consistency across the states, could facilitate the establishment of regional centers for areas with small populations of deaf consumers, and could reduce overall costs by eliminating the involvement of state public regulatory commissions.
On June 23, 1989, Al Sonnenstrahl and I decided to conduct an informal survey of the greater relay community. We wrote to relay advocates from around the country about Congress's new push for a relay corporation, and asked whether others believed that compromising on this point might serve the best interests of the deaf and hard of hearing communities.10 It did not take long before responses came back that confirmed our initial impressions.
The nation's deaf and hard of hearing leaders wrote that so long as voice telephone services and networks are regulated by the FCC and local public utility commissions, it would be inappropriate to "single out" relay services by putting these under the control of a separately chartered, social service organization. They feared that U.S. West's model could even usurp the authority of the FCC and state commissions in their efforts to establish standards for relay quality. That the proposed corporation would be dependent on federal funds made matters even worse. Deaf consumers were tired of fighting state appropriation battles, and the last thing they wanted to do was to shift those battles to the federal arena.*
Armed with new ammunition about the ways that the U.S. West proposal would impede our quest for equal telecommunications access, relay advocates returned to Congress with renewed determination to defeat it. Unfortunately many senators, having been heavily lobbied over the course of several weeks by the regional telephone companies, had become even more locked in to its support. Even worse, some of the very same staff members who had long backed our efforts to expand telephone access now began expressing frustration with our insistence that this access be achieved in a specific manner. Heated conversations took place in which staffers believed to be our friends used every effort at persuasion to get us to accept U.S. West's proposal.
But the more that staffers pressured us to yield, the more we dug in our heels. As the days brought us closer to the Senate markup, the nature of our discussions with congressional aides intensified. Several long, angry, and sometimes exasperating arguments took place, forcing us to stretch our own powers of persuasion as far as they could reach. Eventually, we convinced key staff members that they would lose the support of the deaf community for the entire ADA if the relay mandates did not put deaf and hard of hearing people on an equal footing with other telephone consumers. The threat worked. Shortly before the markup, staffers finally relented and agreed to return to the original plan to hold telephone companies responsible for relay services. We breathed our first collective sigh of relief.
While we were fighting our battles to preserve the core of the relay mandates, Gallaudet University was readying itself to host its first Deaf Way conference. Held in July 1989, the event attracted approximately 5,000 people from around the world, providing an extraordinary display of deaf talent through poetry, dance, art, and performance. Sonnenstrahl convinced the Deaf Way organizers to let him hold TDI's biennial convention in conjunction with the international event. This provided an unprecedented opportunity for representatives from foreign nations around the globe to exchange information about their advances in technology and telecommunications through workshops, presentations, and hands-on exhibits. At one of these events, an international audience of relay experts gathered together under the leadership of Judy Viera, one of America's leading relay advocates, to explore procedural, technical, and legal issues associated with starting a full-scale relay service.11 Their contributions offered new and invaluable insights for the ongoing battles for relay services in Congress and at the FCC.
Back to the Commission
July of 1989 presented advocates with an unexpected surprise. This was the month by which Congress had instructed the FCC to complete its own interstate relay proceeding. A few months earlier, a new and highly dedicated FCC staff had begun working on these issues, and to the delight of the relay task force, the Commission now released a ruling that finally mandated the creation of a nationwide interstate relay service.12
It was clear that the pending passage of the ADA was having its influence on the FCC. In stark contrast to many of the Commission's earlier rulings expressing reluctance to address the telecommunications needs of people with disabilities, the FCC's new order readily acknowledged the critical role that relay services could play in enabling people to become full participants in society. The Commission now wrote that these services would remove barriers to employment and productivity, provide access to government services, expand opportunities to travel, and increase independence among TTY users. Most importantly, the Commission finally recognized that a mandated interstate system would benefit not only TTY users, but everyone else who had been unable to communicate with these individuals.13
Because the ADA had not yet been enacted, however, the Commission was forced to look elsewhere for its authority to require relay services. For this, it turned to its general obligation under the Communications Act to ensure universal telephone service for all Americans, its overall authority to issue rules in the public interest, and its responsibility under the TDA to ensure "reasonable access to telephone service" by persons with hearing disabilities.14 The FCC rejected attempts by some industry members to postpone a ruling until technological advances could bring about their automation. While the Commission acknowledged that automatic speech recognition, voice synthesis, and similar technologies might one day enhance relay services, it ruled that the immediate communication needs of people who were deaf and hard of hearing warranted more instant results. This decision responded to hundreds of deaf people who had written in urging swift FCC action.
Advocates were pleased to see that, like all telephone services, the FCC expected relay services to be funded by the broad base of interstate service subscribers. But the Commission stopped short of adopting federally mandated TTY discounts. The cost-benefit balance, it said, was best struck by having TTY users pay the same end-to-end charges as all other telephone users.
The FCC now sought information on how best to set up an interstate relay program. Over the next few months, advocates kept watch over the FCC's proceeding, offering detailed recommendations to accomplish this goal. Among other things, consumers emphasized three principles: to consult consumers in establishing minimum relay standards, to ensure that relay services kept abreast of technological advances, and to reserve a portion of relay funds for research and development intended for the improvement of these services.15 But while advocates devoted time and resources to the FCC docket, the extraordinary speed with which the ADA was now making its way through Congress made it increasingly likely that Congress would issue a relay mandate before the FCC finalized its own relay guidelines. Moreover, the FCC's proposals were still limited to interstate services. Consumers feared that if the FCC completed its proceeding prior to passage of the ADA, Congress might abandon its pursuit of a federal relay law—and with it the intrastate relay component. And so, with the tacit agreement of deaf and hard of hearing advocates, the FCC decided to postpone its ruling on interstate relay services pending the ADA's passage.
Meanwhile, in the Courts …
Although we had successfully beaten back the U.S. West proposal for a charitable relay corporation, muted opposition by local telephone companies to the federal relay mandates continued to loom over us. A few years earlier, when U.S. District Court Judge Harold Greene issued his decree breaking up AT&T's telephone monopoly, he imposed prohibitions on local telephone companies that prevented them from providing long-distance and information services, the latter defined as services that involved "generating, acquiring, storing, transforming, processing, retrieving, utilizing or making available information which may be conveyed via telecommunications."16 Local telephone companies interpreted this decree as preventing them from operating their own relay services. They resisted the proposed ADA mandates because if they were unable to integrate relay services into their other telephone offerings—and receive compensation for doing so—they would be forced to purchase these services from a third party, possibly at very high costs.
As relay programs in the states proliferated and passage of the ADA seemed likely, the regional telephone companies decided to go back to Judge Greene to seek clarification and a waiver of his restrictions so they could compete in the relay service market. On July 21, 1989, Bell Atlantic filed the first of these petitions. The company argued that a relay service was not an information service because it involved the mere translation of TTY messages into speech and vice versa, and did not affect the content or the "processing" or "transformation" of information.17 And although the relay system did store messages briefly, the company argued that this type of storing was the sort of "short-term" or "transient" storage permitted under the court's decree. Moreover, Bell Atlantic argued that even if relay services were information services, they should be permitted because they were a type of protocol conversion—also permitted under the court's order—that enabled users with different kinds of phones to communicate with one other.
In order to offer relay services, Bell Atlantic and other local telephone companies also needed Judge Greene's permission to provide long-distance telephone services. This was because even local relay calls often needed to travel across wide distances (across LATAs) to get from their point of origination to their point of destination. For example, a relay call made from one street to another in Brooklyn, New York, needed to travel up north through the state's relay center in Albany before it traveled back down to its destination. Along the way, it would cross various LATAs.
On September 11, 1989, Judge Greene ruled on Bell Atlantic's petition. At first, things looked bleak. Judge Greene not only refused to exclude relay services from the definition of information services, he concluded that "the transformation of information is the very crux and purpose of the TDD relay services" because the service transforms messages from spoken words to TDDs (telecommunications devices for the deaf) and vice versa.18 He also rejected Bell Atlantic's argument that these services constituted protocol conversion, which he said was only permitted as part of a gateway service, not applicable to the present situation.
But fortunately, the court did not stop there. Judge Greene found that the "exceptional purpose and … limited nature" of Bell Atlantic's request merited a waiver of the information service restriction for the purpose of offering relay services, and that such a waiver "would not impede competition in the information services market." In a subsequent decree, the court also clarified that local telephone companies could provide relay services for calls traveling across LATAs, so long as callers were given the right to select their own long-distance companies and the local companies did not discriminate against any long-distance companies in their provision of relay services.19
The district court's order had a dramatic effect. With the way cleared to provide relay services on their own, any remaining resistance to a federal relay mandate by the regional Bell telephone companies seemed to completely disappear.
And Back Again to Congress …
During the summer of 1989, I and other advocates spent countless hours working with staff members Jill Ross Meltzer and Mark Buse of Senator McCain's office to refine the substance of the relay service section of the Senate's ADA draft.* By the end of that time, the ADA's relay mandates looked quite different from the passages that had been introduced in early May. We had since abandoned the original approach of imposing stringent financial penalties when telephone companies failed to provide relay services. The new draft focused instead on imposing affirmative obligations on the FCC to establish standards for relay services that would be "functionally equivalent" to conventional voice telephone services. This grew out of a concerted attempt to ensure that relay services approximated as closely as possible the telephone services that were available to hearing Americans. To this end, the newer draft now specified twenty-four-hour service, full confidentiality, and the elimination of any limits on the number, length, and types of relayed calls.
Two matters, however, remained unresolved. First, fearing that FCC personnel might not understand the uniqueness of deaf communication needs, advocates wanted Congress to direct the FCC to set up a relay advisory committee with a majority of deaf, hard of hearing, and speech disabled relay consumers as members. Various states had already created similar bodies with considerable success.20 Second, consumers wanted an effective complaint process built into the act's provisions. Huge demands, insufficient funding, and lack of attention to operator training for relay services were continuing to produce substandard services in most of the states, and consumers wanted to be sure that after the ADA was passed, there would be ways to enforce high-quality services at the federal level. Wrote one advocate: "Many hearing people in our state are so repelled by relay operator crudities and ineptitude that they will not use the system. Many deaf relay users religiously save, by the truckload, TDD printer tapes showing instances of inappropriate/unprofessional operator behavior. We currently have no effective complaint procedure, but we continue to fill our shopping bags with this printed evidence, assuming our day will come."21
Unfortunately, that day was not yet within reach. As then drafted, the ADA would have required consumers to submit relay complaints initially to state regulatory bodies, which would then be given up to 360 days to respond before the complaints could be forwarded to the FCC. Remarkably, this meant that nearly a whole year could go by before the FCC could even look at state relay complaints. By any standard, a delay of this length was unacceptable.
We sought Senator McCain's assistance in both revising the enforcement procedure and adding a requirement for an advisory board. His staff readily agreed to make our changes, but nearly as soon as they did, the Bush (Sr.) administration rejected the revisions in their entirety. McCain's staff reluctantly came back and urged us to give up at least one of these mandates, lest we lose both.
Disability advocates were presented with a tough choice. With the support of several telephone companies, we had spent nearly a decade trying to convince the FCC to create a disability advisory committee; virtually all of these efforts had been in vain.22 Although seemingly interested in the creation of an advisory body when it issued its first notice of inquiry on relay services back in 1987, the FCC later concluded that a formal, Commission-sponsored committee was unnecessary to address the needs of people with disabilities.23 The Commission explained that it preferred to continue receiving input from consumers through public forums and encouraged informal outside groups to reach consensus amongst themselves on relay matters. We were now convinced that legislation mandating a committee might be the only way that its creation would ever come about.
On the other hand, relay mandates devoid of enforcement provisions would be meaningless. If consumers did not have a way to have their complaints effectively resolved, the substandard services that then existed could forever go unchecked. After considerable debate, advocates opted to continue pushing for the enforcement provisions, and reluctantly agreed to stop pursuing the creation of a relay advisory committee in the body of the legislation. Instead, Senator McCain preserved this issue by later including a passage in the Senate's legislative report on the ADA:
Given the unique and specialized needs of the population that will be utilizing telecommunications relay services, the FCC should pay particular attention to input from representatives of the hearing and speech impaired community. It is recommended that this input be obtained in a formal manner such as through an advisory committee that would represent not only telecommunications relay service consumers but also carriers and other interested parties.24
While this would not be as strong as language in the statute itself, it would at least demonstrate Congress's interest in having the FCC receive the input of the deaf and hard of hearing community as it set about implementing the ADA's relay mandates. As for the enforcement section, a compromise was eventually struck, dropping the allotted time for a state's review to 180 days—still far too long for consumers, but far better than what had initially been proposed.
Another issue that emerged during this summer was the extent to which relay services should be funded through separate surcharges on telephone bills. Although we had won the battle against financing relay services through federal appropriations, many consumers felt just as strongly that separate billing charges tended to single out relay costs and brand them with an undesirable status.25 They wanted relay costs to be treated like the costs of providing other telephone services, recouped through ordinary rate setting proceedings and incorporated into general telephone charges.
Part of the problem was that telephone bills in some states unwittingly carried labels for relay charges that stigmatized the deaf community. For example, California sometimes used the label "Deaf Trust Fund" to identify surcharges while Montana used "Telecommunications for the Handicapped." These references focused only on the TTY user, failing to recognize that two parties—one with a hearing loss and one without—shared each relayed conversation. Also, labels such as these tended to engender the wrath of some hearing people who, claiming not to have a need for these "disability" services, wanted these charges to be removed from their bills.*
Many states also coupled surcharges with fixed funding caps that did not allow for state relay systems to meet growing relay demands. In California, initial caps almost caused the state's relay program to shut its doors in 1987 when relay volume far exceeded original funding predictions. In such states, relay administrators and consumers found themselves having to plead repeatedly with legislators and regulatory bodies for funding adjustments. This contrasted sharply with voice telephone services, which were never dependent on predetermined amounts of funding.
Surcharges were also not typically usage dependent. Instead, these were often set amounts that applied to all consumer bills and, like regressive taxes, imposed a disproportionate burden on people who had lower earnings, or in this case, lower telephone charges. National mainstream consumer groups spent years waging battles against other types of telephone surcharges that had been skyrocketing since the breakup of AT&T and were displeased that our relay section might contribute yet another flat rate line item to phone bills.† The last thing we needed was for these organizations to oppose the relay mandates simply because of the way these mandates were to be funded.
In an effort to convince Congress to ban these charges, we directed its attention to the example set by the N.Y. Public Service Commission (PSC). Two years earlier, New York had chosen to treat relay costs as an operating expense and had allocated the costs of providing these services to each of its forty-one telephone companies based on the number of each company's access lines. The N.Y. PSC believed that integrating relay costs into the rate base provided a flexible funding source that could fluctuate with the costs of its relay operations. A mere twelve cents a month was automatically added to every phone bill, an amount comparable to the relay surcharges collected by many other states. The difference was that New York subscribers did not see this charge as a line item; hence, they were not consistently and erroneously reminded that they were making a contribution to a "special" service. New York's model was said to be truly "in the spirit of full telephone accessibility."26
McCain agreed with New York's approach and approved our request to add language to the ADA that prohibited surcharges on monthly bills for interstate relay services. Although he and other senators did not want to interfere with the ability of individual states to determine their own cost recovery mechanisms for intrastate relay services, he also later agreed to add language to the ADA's legislative history expressing the Senate's preference for state relay costs to "be considered a legitimate cost of doing business and therefore a recoverable expense through the regulatory ratemaking process."27
By August 1989, the draft that McCain's staff and relay advocates had produced was so different from the one originally incorporated into the ADA that McCain decided to introduce a substitute amendment to the pending bill, to ensure that all of the new changes would find their way into the final legislation. At the same time, McCain introduced the entire relay section as a separate bill, S.1452, so that nationwide relay services would become a reality even if the ADA as a whole ran into trouble. Representative Steve Gunderson (R-Wisc.) provided the same legislative insurance on the House side, with the introduction of H.R. 3171. Later on, it would be this version that would find its way into H.R. 2273, the House version of the ADA.
On August 2, 1989, the Senate Labor and Human Resources Committee marked up and approved the proposed ADA legislation, complete with our substitute relay language, by a unanimous vote of 16 to 0. Only two days later, Senate members departed for their summer recess. While the wording of the ADA's provisions was critically important, we knew that a legislative history that would accurately support the community's objectives for a full and equal telecommunications system was nearly as critical. We used the recess to work with McCain's staff on the Senate committee report, so that it would be ready by the time the Senate returned on September 6. A vote on the ADA was to be taken soon thereafter.
By late August, everything seemed to be in order. Confident that our relay task force had put together the strongest relay language possible, I left town for a three-day trip to my parents' home in Brooklyn. When I left Washington, the ADA draft sitting on Senate desks mandated telephone companies to provide relay services within two years, allowing a third year for companies that were able to prove they would otherwise suffer an undue burden. In the brief time that I was gone, however, the two-year timeline evolved into three, still with an additional year for companies that qualified for an undue burden exemption. In under three days, the telephone industry had aggressively pushed for and successfully secured an extra year for compliance, even though states had been successfully setting up relay programs in a fraction of that time. Although advocates spent the days leading up to the Senate's ADA vote making every attempt to recover the extra year, it was too late to reverse this eleventh-hour turn of events.
By the time the ADA reached the floor of the Senate for a final vote on September 7, it had garnered the bipartisan support of sixty cosponsors, paving the way for a landslide victory of 76 to 8. Although relay advocates were disappointed with inclusion of the fourth year, overall, we knew we had cause for celebration. Despite its extraordinary breadth, the ADA had sailed through Congress in only four months, with scarcely any real opposition.
The ADA Goes to the House
Having successfully worked through the various ADA issues in the Senate, relay advocates felt confident that the bill would glide through the House. There was reason for this optimism. By the time the Senate approved the ADA, nearly one-half of the representatives in the House had already signed on as cosponsors of the bill.
But those who predicted an easy ride in the House were soon proven wrong. The speed with which the ADA had dashed through the Senate had enabled the bill to escape the close scrutiny of most businesses before the bill left that chamber. Titles I, II, and III of the ADA created extensive requirements for private employers, state and local governments, and private businesses to provide access to people with disabilities, access that would often require new expenditures. Over the summer, these groups had taken the time to scrutinize the ADA, and many had begun to worry that compliance would not only be prohibitively expensive, but would result in extensive and unbridled litigation. As a result, an onslaught of industry lobbyists greeted the ADA when it arrived in the House. House legislators now began to shift their focus from the rights that the ADA would create to the impact that the bill would have on businesses.28
In addition, while in the Senate advocates had had the relatively easy task of securing ADA approval from only one committee, the House would require the ADA to jump through the hoops of four committees—Education and Labor, Energy and Commerce, Public Works and Transportation, and Judiciary—each of which would have partial jurisdiction over the ADA's various areas. This quadrupled the chances that the ADA would be delayed or even killed in a committee.
As it turned out, however, the challenges that Titles I through III would eventually face in three of these committees were not to be duplicated in the House Energy and Commerce Committee, which took on review of the relay provisions. We quickly developed strong relationships with House Committee Chairman John Dingell (D-Mich.) and his chief staffer, David Leach, and Subcommittee on Telecommunications and Finance Chairman Edward Markey (D-Mass.) and his chief staffer, Gerry Salemme. These individuals, together with other legislative aides, worked with us to push the relay section swiftly through their committee, and on September 27, less than three weeks after the Senate's passage of the proposed ADA legislation, succeeded in getting their House subcommittee to hold relay hearings.29 Disability advocates working on other sections of the ADA were astonished at our progress as they confronted roadblock after roadblock in the House committees addressing their issues.*
The truth was that by any standard, our position in the House was a strong one. By the time the ADA came under House consideration, as many as seventeen states were operating formal relay programs.30 Ten additional states were scheduled to begin operations within the next one to two years, and three other states had proposed legislative or regulatory changes to establish statewide systems.31 Even more states had initiated efforts to study or take other action toward relay implementation.32 Although most of the existing state programs were still plagued with restrictions and slow answer speeds, their very existence continued to demonstrate the viability of a nationwide relay mandate. In addition, unlike the other ADA provisions, there was no real industry opposition to the relay mandates. To the contrary, many telephone companies perceived these to offer opportunities to tap new consumer markets.33
On October 12, 1989, the Subcommittee on Telecommunications and Finance unanimously approved the relay mandates. We were particularly pleased that an amendment introduced by Congressman Markey succeeded in removing the undue burden waiver that would have given telephone companies up to a fourth year for compliance.34
However, House deliberations on Title IV did not proceed entirely without any glitches. Although AT&T had backed down somewhat from its position that relay services be funded through governmental appropriations, the company was now vehement about enabling long-distance carriers to use line item surcharges to recover their interstate relay costs. As the dominant long-distance telephone company, AT&T did not want to be the only company that had to pay for relay services. It feared that if other companies were unable to recover their relay expenses directly through subscriber charges, those companies would intentionally discourage consumer use of their relay services and shift all relay costs to AT&T. A surcharge, AT&T believed, would provide broad-based funding across all subscribers and give these other companies the financial support they needed to share the relay burden.
AT&T was so concerned about this matter that it initiated an aggressive lobbying campaign to convince the House to lift the Senate's prohibition against interstate surcharges. Not only were we upset with AT&T's insistence on reintroducing this debate; the consequences of changing a key ADA provision this late in the game were potentially devastating. National mainstream consumer groups remained fairly vocal about their opposition to any type of interstate surcharges; at times they had vowed to fight any new legislation that contained these charges. If the Senate's ban was removed by the House, opposition by these groups might again surface and create a serious conflict between the Senate and House versions of the ADA. A significant disagreement between the two chambers could force the ADA to be sent to a conference committee where a breakdown in negotiations between the Senate and House versions could kill the entire bill.
To prevent this from occurring, CCD began to put pressure on the deaf community not to accede to any major changes in the House. Unless the Senate agreed to take out its prohibition on interstate surcharges, we were told, the ADA could be in jeopardy. Pushed from both directions, we were caught in the untenable position of needing to please everyone, but not knowing how.
In an effort to avoid hurting the ADA's chance of passage, we arranged a meeting with AT&T on October 19, where we were informed that Senate staff members had now agreed to delete the surcharge prohibition. While we remained opposed to surcharges, giving in on this issue began to seem like a small price to pay for nationwide telecommunications access. In any event, the ADA only addressed interstate surcharges; consumers could continue to contest the use of intrastate surcharges at the state level.* We decided that if the Senate was willing to accede, we too would give up this battle and bring the bill a step closer to passage.
Upon returning from that meeting, however, I called my Senate contacts to confirm their change in position. To my surprise, I learned that a number of influential senators had not agreed to relinquish their hold on the surcharge prohibition. We had no choice but to call back AT&T and inform the company that unless it could change the minds of these senators, we too, would have to continue opposing these charges.35 We were back to square one.
With only a few weeks remaining before the House was planning to release a newly revised draft of the ADA, we needed to take a firm stance on the surcharge issue while it was still before the House Energy and Commerce Committee. To this end, we arranged for I. King Jordan to send a letter to Chairman Dingell, unequivocally opposing interstate surcharges. Gary Olsen, executive director of the NAD, sent a second letter, urging the chairman to consider the universal benefits that relay services could offer for hearing as well as deaf people: "With this in mind, we strongly discourage surcharges. … People who cannot use telecommunications equipment to the maximum extent possible because of technological and societal limitations should not be singled out for special treatment."36
At around this time, we became aware of other industry proposals designed to chip away at the basic telecommunications protections we thought we had already won. Nor were we alone. Members of other industries were parading around congressional offices attempting to weaken various ADA provisions. The bill's sections on transportation access were especially vulnerable, with industry representatives attempting to slash the required number of accessible new rail cars. We realized that nothing was yet set in stone, and we needed to be extremely vigilant lest we lose any of the safeguards that we had secured to date.
One of the changes to the relay mandates now being proposed concerned the carriage of illegal calls by relay operators. The Senate version of the ADA contained a strict requirement for all relay calls to be kept confidential and directed the handling of all types of calls, without regard to their content. But concerns about the completion of illegal relay calls, including those that dealt with drug transactions, were now being raised with increasing frequency by House members.
Advocates knew that the answer was not to give relay operators authority to monitor call content. Law enforcement agencies did not routinely screen conventional telephone calls. If they suspected illegal activity, these authorities needed a court-ordered wiretap to listen in on conversations. The same needed to be true for relay calls. If a wife jokingly typed to her husband, "I am going to kill you for what you did this morning," she should not have to worry that she might be arrested for threatening spousal homicide.
To ensure that telephone companies offered an equal level of privacy for relay calls, but were still able to capture truly illegal relay communications, new language was added to the ADA that would "prohibit relay operators from failing to fulfill the obligations of common carriers by refusing calls … that use telecommunications relay services."37 The new language tied the responsibility of telephone companies handling relay services to existing prohibitions against the use of network facilities for unlawful purposes contained in the Communications Act of 1934. The FCC would later interpret this clause to only hold relay providers liable for the carriage of unlawful relay conversations if they had "knowing involvement in unlawful transactions."38 The Commission explained that this was unlikely; relay operators were generally not expected to have a high level of involvement in illegal activity taking place during a relay call.
The second threat to the relay service mandate came when AT&T requested that telephone companies be relieved of their individual relay obligations once an independent relay service provider was chosen to provide services in a given area.39 The ADA afforded considerable flexibility in the way that telephone companies could provide relay services. Each company could do so on its own, jointly contract with others within a state, or even team up with others in regionally based centers designed to share the costs of facilities, labor, administration, publicity, and research. States could also take on relay responsibilities on behalf of the telephone companies operating within their jurisdictions—and receive FCC certification to do so—so long as their programs met the FCC's minimum technical and quality relay standards. But regardless of who actually administered the relay services, consumers believed it was critical for the telephone companies to remain accountable if the services ever fell out of compliance with the FCC's rules. Only then would relay services become an integral part of these companies' general telephone offerings. House staffers agreed with this approach, rejected AT&T's request, and added a new provision clarifying that although telephone companies could choose relay vendors through competitive bidding, the companies would ultimately be held accountable for those vendors' actions.40
On January 10, 1990, the House released a revised draft of the ADA. It was in this version that, despite our best efforts, the House removed the Senate's ban against interstate surcharges once and for all. On January 16, in a letter to the Energy and Commerce Committee, we renewed our opposition to the surcharge, offering yet another reason for our objection. Because under the ADA, states would be permitted to use surcharges as their relay funding mechanism, we said, permitting interstate telephone companies to do the same could result in confusion and consumer dissatisfaction with what would appear to be a double surcharge for the same service.
Within a few weeks, when it became clear that even these last efforts to kill the interstate surcharge were destined to fail, we considered alternatives. It was Sonnenstrahl's suggestion that we seek two legislative assurances in place of the surcharge ban: first a directive to telephone companies not to "red flag" relay surcharges on phone bills in ways that singled out deaf and hard of hearing people, and second, a mandate for telephone users of all communications services to contribute to the costs of providing relay services.41
On both of these points, advocates were successful. First, the House report was revised to include language that "recognize[d] that relay services are of benefit to all society" as well as an admonition not to use any funding mechanism that would "be labeled so as to prejudice or offend the public, especially the hearing-impaired and speech-impaired community."42 The report even called upon states to avoid California's poor choice of words ("Deaf Trust Fund"), going so far as to describe those words as "offensive." Second, the House bill was revised to include language requiring relay costs to be recovered from all intrastate and interstate telephone subscribers, further defined in the House report to include both private and public telecommunications systems.43 Although we had lost the surcharge battle, inclusion of this language proved to be a major victory. After years of financial struggles, the requirement heralded a new and welcome level of financial security for relay service operations.
On March 13, 1990, the House Energy and Commerce Committee marked up and favorably passed the relay section. In addition to the above changes, the House version added two new requirements, readily approved by the Senate: The FCC could certify only state relay programs that had adequate enforcement procedures and remedies, and public service announcements produced with federal funds had to be closed captioned.44 No one could dispute that the ADA's relay section had weathered the House storms exceedingly well. Not only were consumers still guaranteed functionally equivalent telephone services, but the House had added assurances for secure financing, strengthened the enforcement provisions, shortened the deadline for compliance, and made a small, but important inroad on captioning. Congratulating ourselves, we did not realize that one outstanding issue remained that posed a threat to equal telephone access.
Although we had been able to confer daily with Senate staff in the preparation of their legislative report to ensure that it accurately reflected Congress's intent to achieve telecommunications equality, House staff members proved to be far more evasive while preparing their legislative history. In the Senate, our recommendations had been eagerly sought, and nearly always accepted; in the House, our repeated requests to review the report before it was finalized were routinely denied. Fearing that something critical might be left out, or worse, that something detrimental might be included, we sent a stream of unsolicited recommendations to the House committee members.*
After weeks of steady refusals to see drafts of the House report language, we had all but given up hope that consumers would be able to provide input into this portion of the ADA's legislative history, when, on the afternoon of May 10, 1990, I received a call from David Leach of Chairman Dingell's office. Leach informed me that if I came over to his committee offices immediately, I could read the report in his office and let him know what I thought of it. I grabbed my coat, a pad, and pen and ran to my car.
Speeding along the streets of D.C., I wondered how I would ever be able to provide input on such short notice. Preparation of the Senate report had been slow and methodical. The exchange of numerous drafts and discussions with consumers on how best to formulate the issues had taken place on nearly every issue. By contrast, I would now be given mere minutes to race through the House document and provide instantaneous feedback. I was concerned that the committee's refusals to share the House drafts with us meant that they had all but ignored our recommendations. It was hard to be optimistic, but perhaps I was overreacting. We did have a good working relationship with the House members and their staffs; perhaps the report would be fine.
When I arrived at the offices of the House Energy and Commerce Committee, I was taken to a private room, handed the draft, and given strict instructions not to copy it, remove it, or show it to anyone. Although I typically provided feedback to Congress in typewritten memos, it was clear that this was not an option. My handwritten scribbles would have to suffice.
An initial reading of the document brought both comfort and concern. While the document did in fact contain many of our suggestions, other critical items were missing. Many of the omitted items—such as the need for fast answer speeds, the need for relay operators to be sufficiently trained in typing, grammar, and the communication needs of deaf people, and the need for FCC input from the deaf community in the preparation of its relay rules—had already been addressed in the Senate report. While added support for these items in the House report would have been useful, their appendage to this document was not critical.
But as I kept reading the draft, I realized that it seemed to exclude a whole category of telephone services from the ADA's coverage. Specifically, one of its passages stated that it was not the function of the ADA to facilitate access to audiotext services, which included 900 and other pay-per-call telephone numbers, as well as interactive voice response (IVR) systems. IVR telephone systems use menus that direct a caller through various options at the start of a telephone call. The Report suggested that because these were recorded, and not voice telephone services, they fell outside the ADA's protections.45
This interpretation of the ADA's mandate was both confusing and disturbing—while IVR systems used recordings, weren't there voices on these recordings that guided callers through the call? We all knew, even back in 1989, that IVR systems were becoming ubiquitous. Businesses, schools, and governmental agencies had begun to realize the cost savings of using automated menus to direct callers to their desired destinations. These systems, however, rarely had TTY counterparts that made them accessible to deaf people. Without a requirement for these interactive systems to be accessible via relay services, deaf and hard of hearing individuals would continue to be denied telephone access to millions of locations that now used these systems with increasing frequency.* This thwarted the very intent of the relay provisions to expand access to the telecommunications network.
Over the next several days, advocates expressed strenuous opposition to the audio-text exemption. Most disturbing was that House members had never raised this issue with consumers before putting it into the report. Leach explained that the language had been added to respond to telephone industry concerns about the infeasibility of providing IVR services via relay. Our guess was that companies believed relay operators would not have enough time to read prompts to a caller, ascertain the caller's preference, and respond to those prompts before the IVR system timed out and the call ended. We understood these technical problems, but countered that even if it were not feasible to provide these services at the present time, speech synthesis and other voice recognition technologies could make handling interactive calls through relay services possible in the future. We argued that if a blanket exemption for these services were kept in the ADA, people with hearing loss would forever be prevented from accessing these services. We urged House committee members to either delete the passage entirely or to provide a clear statement that even if these calls were not required now, they would be required in the future once they became technologically viable.
Despite some House staff members who appeared sympathetic to our concerns, the language was not changed. Frustrated with having been excluded from the dialogue that produced this restriction, we did the next best thing—we sought formal clarification of the audiotext issue, as well as a few other issues that had been left unresolved, through a colloquy to be delivered on the floor of the House.† The conversation was conducted between Representatives Steny Hoyer (D-Md.) and Thomas Luken (D-Ohio) in May 1990:
Mr. Hoyer: Mr. Chairman, I am concerned about a provision contained in the report filed by the Committee on Energy and Commerce which states: "It is not the function of this legislation to facilitate access to audiotext services." Is it the gentleman's understanding that this bill precludes such access?
Mr. Thomas A. Luken: The gentleman raises a good question. While the legislation does not require access to audiotext services at this time, if future technology can make these services available utilizing a relay service, it is our intent to ensure such access.
*    *    *
Mr. Hoyer: Mr. Chairman, if the gentleman will continue to yield, the bill calls for relay services to be functionally equivalent to ordinary voice telephone services, How, exactly, is functionally equivalent service to be achieved?
Mr. Thomas A. Luken: Title IV requires the FCC to establish certain minimum standards and criteria, which will define functional equivalence for all relay providers.
Mr. Hoyer: If the gentleman will continue to yield, where can the FCC turn for guidance in developing these standards?
Mr. Thomas A. Luken: … Individuals have urged the FCC to create a Federal advisory committee to assist the Commission in setting up such a system. It is our intent that the FCC turn to such a committee, which could be made up of relay consumers, telephone companies, and other interested parties, to develop standards for functionally equivalents [sic] for both an intrastate and interstate relay system.
Mr. Hoyer: If the gentleman will continue to yield, the success or failure of relay services will depend to a great extent on the competence of the operators who will act as translators for those using the system. Does the gentleman anticipate that the FCC's regulations will require that the operators … be trained to respond effectively to the special communication needs of hearing and speech-impaired users?
Mr. Thomas A. Luken: The gentleman is correct. The committee expects the regulation will require the appropriate training for relay operators, including typing, grammar, spelling, and other training necessary to ensure that operators contribute to the success of the service.46
On May 14 and 15, 1990, all four House committees submitted legislative reports on their respective ADA sections to the House Rules Committee, which was tasked with synthesizing the ADA's various components. There was no question that the months during which the act had traveled through the House had often been harrowing. Congressman Hoyer described the process as "a procedural and jurisdictional labyrinth" that could have killed any piece of legislation.47 But compared with the other ADA issues addressed by the House's legislators, our relay journey had been the easiest. While other sections of the ADA were forced to survive an onslaught of amendments that frequently went to their core, most of our battles had been incidental to our principal goal of achieving telecommunications equality. And even our defeat on the audiotext issue would later be remedied. More than a decade later, the FCC would use the Hoyer-Luken colloquy as the basis for a rule that would finally mandate the handling of IVR calls by relay systems.48
On May 22, the House passed the ADA by an overwhelming margin of 403 to 20.49 Though the Senate eventually ceded its position on the interstate surcharge ban without much protest, conflicts that remained among other sections of the House and Senate versions of the ADA—unrelated to relay services—were significant enough to send the bill to a conference committee. Among the most contentious issues were the extent to which Congress would be covered by the ADA and the degree to which food establishments could remove people with contagious diseases from food handling positions. Arguments over the latter issue, one that disability advocates feared would unfairly discriminate against individuals with AIDS, were so heated that it took nearly two more months before opposing parties could reach their final compromise. Once consensus was achieved, the conference version of the ADA was re-sent to the House floor, where, on July 12, 1990, it was approved by a vote of 377 to 28.50 A day later, the Senate approved the new version by a similarly overwhelming vote of 91 to 6.51
On July 26, 1990, President Bush (Sr.) signed the ADA into law.52 Surrounded by dignitaries and thousands of disability advocates on the White House's South Lawn, the ceremony signaled the start of a new journey of telecommunications equality. More than two decades had passed since Weitbrecht, Saks, and Marsters created the very first tools of telephone communication for people who could not hear. The dream that these men shared, a dream for deaf and hard of hearing people to become equal partners in our nation's telecommunications system, was now finally becoming a reality.
Other ADA Provisions on Telecommunications Access
The ADA's relay service provisions are not the only ones that were designed to expand telecommunications access. Title I of the ADA requires private employers with fifteen or more employees to provide reasonable accommodations, including TTYs and other accessible phone features.53 State and local governments covered under Title II,* as well as places of public accommodation covered under Title III,† must also provide auxiliary aids and services needed to ensure effective communication.54 In addition to TTYs, this includes telephone amplifiers, assistive listening devices, hearing aid compatible telephones, and captioning services and equipment. For example, hospitals, hotels, and other places of public accommodation that typically provide the opportunity to make telephone calls on "more than an incidental convenience basis" from their facilities must provide TTYs upon request.55 TTY access must also be provided where needed to enter public accommodations that are accessible only through security phones. In addition, Title II has a separate mandate requiring direct TTY access to 911 emergency services.56
Titles I, II, and III do not require the above aids and accommodations to be provided where covered entities could prove that doing so would cause an undue burden.57 This is generally determined by a balancing of the cost and nature of the aid or accommodation with the financial resources available to the facility, the effect of the accommodation on its operations, and the difficulty of providing the accommodation.
The ADA also requires state and local governments and places of public accommodation to make certain structural changes to existing physical facilities. While local governments are obligated to make such changes unless they would cause an undue financial or administrative burden, places of accommodation only have to make structural adjustments if doing so is "readily achievable," defined as "easily accomplishable and able to be carried out without much difficulty or expense."58 Places of public accommodation and commercial facilities that are newly constructed or altered are held to a greater standard of structural accessibility than those already built:* these facilities must be "readily accessible and usable by individuals with disabilities," regardless of whether the structural changes are easy to accomplish.59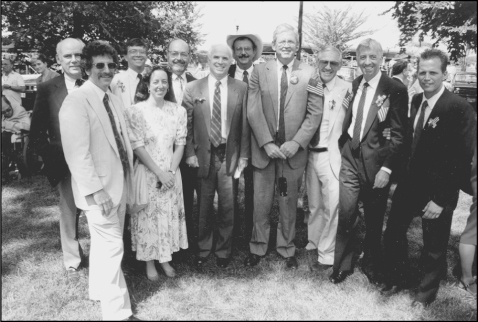 Celebrating the passage of the ADA on the White House lawn. Left to right: Kevin Nolan, Sy DuBow, Gerald Buckley, the author, Al Sonnenstrahl, Senator John McCain, Larry Evans, Paul Taylor, Jack Gannon, I. King Jordan, and Tim Rarus.
In 1991, the Access Board issued technical requirements, called the ADA Accessibility Guidelines, or ADAAG, to provide detailed guidance for making these physical structures accessible.60 The guidelines contain a number of provisions specific to telecommunications accessibility, including requirements to make public phones TTY-accessible in places such as convention centers, covered malls, stadiums, hospitals, and transit facilities. ADAAG also requires a certain percentage of newly constructed or renovated hotel rooms to be TTY-accessible and has standards for phones to be both hearing aid-compatible and equipped with volume control features.61
The Access Board's ADA guidelines are notable for being the first set of federal standards to take a "universal design" approach, a philosophy for designing structures that are usable by people with the widest possible range of functional capabilities. Many years later, this approach would be borrowed and successfully applied in the Telecommunications Act of 1996, in mandates requiring telecommunications manufacturers and service providers to incorporate accessible features in the design of their products and services.62
Notes
1. In order to gather this information, NCLD sent a letter out to the nation's deaf and hard of hearing leaders. Among the many who responded were Bob Davila and Roz Rosen of Gallaudet University, Donna Dickman of AG Bell, and Charles Estes of the NAD.
2. Minutes of the sixth meeting of Dual Party Telephone Relay Services Task Force (May 3, 1988), describing a meeting between Paul Singleton and Gerald Brock of the FCC.
3. See Bob Richardson, Angela Campbell, Sy DuBow, Karen Peltz Strauss, memorandum to Bobby Silverstein on "Historical Precedents for FCC Involvement in Intrastate Communications Issues," March 17, 1989. This memo also laid out other legal justifications for taking legislative action, including Congress's authority under the Commerce Clause of the U.S. Constitution to regulate intrastate telecommunications operations.
4. Senator Weicker, the original Senate champion of the ADA, had lost his bid for reelection in Connecticut.
5. 135 Cong Rec. 8506 (May 9, 1989).
6. Ibid.
7. Statement of Dr. I. King Jordan, Gallaudet University, Hearings on S. 933 before the Subcommittee on the Handicapped, Senate Committee on Labor and Human Resources, 101st Cong. 1st Sess. (May 9, 1989). Hereinafter cited as S. 933 Hearings. Access to the telephone was so important to Jordan that he had become one of the only people in America to have a TTY installed in his car.
8. Statement of Gerald A. Hines, director of special long-distance services, AT&T, S. 933 Hearings, 1.
9. As predicted, by March 1990, New York would handle 104,000 calls each month. See Jay Ferrill, Transcript of statement, TDI Relay Subcommittee Conference Proceedings, Tempe, Arizona, April 4–5, 1990, 91.
10. Individuals contacted included Claudia Foy (Ariz.), Jack Levesque (Calif.), Peggy Schmidt (Fla.), BJ Wood (Mass.), Pam Ransom (Ill.), Barbara Brasel (Conn.), Charles Estes (Okla.), Patty Hughes (Wash.), Paul Taylor (N.Y.), Frank Bowe (N.J.), Francine Lauer (Mich.), and Mark Seeger (Tex.).
11. "Answer Now! Questions for Relay Planning," included panel discussions by Charles Estes and Phyllis Shapiro (Calif.), Robert Yaeger (Minn.), Cheryl Graham (N.Y.), Patty Hughes (Wash.), Ruby Griffin (Ala.), and Claudia Foy (Ariz.), as well as representatives from Canada and Great Britain, and the author. Previously, Viera had pioneered the relay guidelines used to develop the nation's first statewide fully operational relay system in California.
12. Access to Telecommunications Equipment and Services by the Hearing Impaired and Other Disabled Persons, Order Completing Inquiry and Providing Further Notice of Proposed Rulemaking, CC Dkt. 87-124, FCC 89-242, 4 FCC Rcd. 6214 (1989) (July 27, 1989).
13. Ibid., ¶43.
14. Ibid.,¶13 (universal service obligation under 47 USC §151); ¶15 (FCC's general public interest authority under 47 USC §154(i)); and ¶14 (authority under the 1982 Disabled Act under 47 U.S.C. §610(a)).
15. Advocates provided feedback to the FCC through in person meetings and comments submitted on September 29, 1989, by NCLD, NAD, TDI, OUT, TEDI, the New York League for the Hard of Hearing, the Maryland Office of People's Counsel, the Hearing and Speech Agency of Metropolitan Baltimore, Inc., the Maryland Department of Health and Mental Hygiene, Maryland Governor's Commission on Hearing Impairments, Maryland Governor's Office for Handicapped Individuals, the NorCal Center for Law and the Deaf, the Bay Area Center for Law and the Deaf, and the Chicago Hearing Society.
16. U.S. v. AT&T, 552 F. Supp. 131, 229 (D.D.C. 1982)
17. Bell Atlantic's Motion for a Declaratory Ruling Concerning Relay Services for Disabled Customers, U.S. v. Western Electric Co. (D.D.C. July 21, 1989).
18. U.S. v. Western Electric Co., Memorandum, Civil Action 82-0192 (September 11, 1989).
19. U.S. v. Western Electric Co., Order, Civil Action 82-0192 (November 6, 1989). The court later granted a similar waiver to NYNEX on November 28, 1989, and a few months later, to Ameritech (Ameritech request filed on August 1, 1990).
20. For example, New York's board, which consisted of representatives of telephone companies and consumers, offered valuable guidance on operator training, problem solving, and relay enhancements. Statement of Gail Garfield Schwartz, deputy chairman, N.Y. PSC, on behalf of NARUC, Hearings on S. 2221 before the Senate Committee on Commerce, Science and Transportation, 100th Cong. 2d Sess. (June 23, 1988). Other states with advisory committees included Alabama, California, Minnesota and Arizona.
21. Bill White, "Dual Party Relays: How Far Will They Fly?" Silent News, (May 1990), 13, 15.
22. NYNEX, Southwestern Bell, U.S. West, and other telephone companies had each expressed an interest in having the FCC establish an advisory committee. AT&T was one of the few companies that opposed such a committee, which it feared would impede the initiation of interstate relay service.
23. See Access to Telecommunications Equipment and Services by the Hearing Impaired and Other Disabled Persons, Notice of Inquiry, CC Dkt. 87-124, FCC 87-150, 2 FCC Rcd 2836 (May 15, 1987), ¶7; Access to Telecommunications Equipment and Services by the Hearing Impaired and Other Disabled Persons, Notice of Proposed Rulemaking and Further Notice of Inquiry, CC Dkt. 87-124, FCC 88-123 (March 29, 1988), ¶70.
24. S. Rep. No. 116, 101st Cong., 1st Sess. 81 (1989). Hereinafter cited as Senate Report 1989.
25. See generally "MD Relay Service to Begin in 1991 … Finally!" GA-SK 22 (Spring 1991): 23.
26. Paul Taylor, TTY communication with the author, May 5, 1989. The Delaware PSC also funded its relay system through its rate base, believing the use of a surcharge to violate fundamental principles of traditional ratemaking.
27. Senate Report 1989, 82.
28. National Council on Disability Equality of Opportunity: The Making of the Americans with Disabilities Act (Washington, D.C.: NCD, 1997), 127.
29. Witnesses at the hearing included I. King Jordan (Gallaudet), Gail Garfield Schwartz (N.Y. PSC), Merrill Tutton (AT&T), Linda Hirshman (USTA), and the author. Hearings on H.R. 2273 before the Subcommittee on Telecommunications and Finance, House Committee on Energy and Commerce, 101st Cong. 1st Sess. (September 27, 1989). Hereinafter cited as H.R. 2273 Hearings.
30. These states were Alabama, Arizona, Arkansas, California, Connecticut, Kansas, Massachusetts, Minnesota, New Hampshire, New York, Oklahoma, Oregon, South Dakota, Utah, Vermont, Virginia, and Wisconsin. NCLD Summary of State Dual Party Relay Services (September 1990).
31. The ten states that had begun operations were Colorado, Delaware, Hawaii, Illinois, Louisiana, Maryland, North Dakota, Tennessee, Texas, and Washington. The three states about to acquire relay services were Florida, Michigan, and Rhode Island.
32. For example, studies were underway in Georgia and funded in Maine, Nevada, New Jersey, New Mexico, Ohio, and Pennsylvania were also considering state action.
33. See, for example, Statement of Merill R. Tutton, AT&T, H.R. 2273 Hearings, 1, touting the economic benefits of using relay to sell a greater array of consumer products and services.
34. Only a little more than a week before, I. King Jordan had sent a letter to Markey complaining of the Senate's last minute decision to delay the start up of relay services. I. King Jordan, letter to Congressman Markey, October 3, 1989.
35. I conveyed this in a telephone conversation to Bob Morgan of AT&T on October 19, 1989.
36. Gary Olsen, letter to Congressman Dingell, November 8, 1989.
37. 47 U.S.C. §225(d)(1)(E) (emphasis added).
38. Telecommunications Services for Individuals with Hearing and Speech Disabilities, and the Americans with Disabilities Act of 1990, Report and Order and Request for Comments, CC Dkt. 90-571, FCC 91-213, 6 FCC Rcd 4657, ¶15 (July 26, 1991).
39. Merrill R. Tuton, AT&T, letter to Congressman Markey, October 4, 1989.
40. 47 U.S.C. §225 (c)
41. See Karen Peltz Strauss, NCLD, memorandum to David Leach and Gerry Salemme, House legislative aides, April 23, 1990, requesting language in the House report that prohibited the placement of offensive surcharges on monthly telephone bills.
42. H. Rep. No. 485, Part 4, 101st Cong., 2d Sess. 68 (1990). Hereinafter cited as House Report 485.
43. Ibid., 67. See also Statement of Congressman Dingell on the need to ensure that the "the burden of paying will be equitably shared." 136 Cong. Rec. H2432 (daily ed., May 17, 1990).
44. See 47 C.F.R. ¶¶64.605(a); (b)(2); 47 U.S.C. §611.
45. See House Report 485, 66.
46. Colloquy between Congressman Hoyer and Congressman Luken 136 Cong. Rec. H2434 (daily ed. May 17, 1990).
47. Nancy Jones, "Essential Requirements of the Act: A Short History and Overview," in The Americans with Disabilities Act, From Policy to Practice, ed. Jane West (New York: Milbank Memorial Fund, 1991), 28, citing J. Rovner, "Congress Clears Sweeping Bill to Guard Rights of Disabled," Congressional Quarterly (July 14, 1990): 2227.
48. Telecommunications Relay Services and Speech-to-Speech Services for Individuals with Hearing and Speech Disabilities, Report and Order and Further Notice of Proposed Rulemaking, CC Dkt. 98-67, FCC 00-56, 15 FCC Rcd 5140, ¶¶88–98, n.184 (March 6, 2000).
49. For an interesting article on the House's passage, see Tom Kenworthy, "House Votes New Rights for Disabled," Washington Post, May 23, 1990, A1, A10.
50. 136 Cong. Rec. 17296 (July 12, 1990).
51. 136 Cong. Rec. 17376 (July 13, 1990).
52. P.L. 101-336, 104 Stat. 327, codified at 42 U.S.C. §12101, et. seq.
53. 42 U.S.C. §12112 et. seq.
54. 42 U.S.C. §12131 et. seq. and 42 U.S.C. §12181 et. seq., respectively. ADA guidelines on telecommunications access, issued by DOJ, can be found at 28 C.F.R. §35.160–62 (Title II); 28 C.F.R. §36.303(c)–(e)(Title III).
55. 28 C.F.R. §36.303(d)(1).
56. 28 C.F.R. §35.162. See chapter 8 for an in-depth discussion on 911 access requirements.
57. Title I refers to "undue hardship," but the factors to be considered in making an undue burden and undue hardship determination are nearly identical. See 47 U.S.C. § 12111(10); 28 C.F.R. §36.104; 56 F.R. 35555 (July 26, 1991).
58. 28 C.F.R.§35.150(a)(3).
59. 28 C.F.R.§36.401(a).
60. Americans with Disabilities Act Accessibility Guidelines for Buildings and Facilities (ADAAG), 36 C.F.R. Part 1191, appendix A.
61. Ibid, §§4.1.3(17)(c); 10.3.1(12); 4.31.9.
62. 47 U.S.C. §255 (1996). See chapters 15 and 16 for a discussion of these telecommunications access requirements which have their basis in universal design principles.
Epigraph. Senator John McCain, May 22, 1990, 136 Cong. Rec. S6715 (daily ed., May 22, 1990).
* Specifically, this early draft of the ADA provided that if a state designated entity failed to provide relay services, the state could be slapped with penalties of up to $10,000 for each offense of discrimination.
* For example, Hines's testimony said that relay operators should be able to translate ASL syntax into spoken English, have excellent typing, spelling and vocabulary skills, be "sensitive to the cultural and linguistic differences between the deaf and hearing communities," and "adhere to the highest professional standards of ethics and confidentiality." AT&T also agreed with consumers that relay operators should be required to "relay whatever messages they receive accurately, without passing judgment with respect to their content, conveying communications and not in any way editing or censoring the messages."
* The costs for providing telephone service to rural communities are higher than they are for urban or suburban communities because the rural areas are located further away from central telephone office switching facilities.
* Arkansas, Kansas, Massachusetts, New Hampshire, Vermont, Virginia, and Wisconsin were states that still used governmental appropriations to fund their relay services. "Dual Party Relay Services," NCLD: Washington, D.C. (July 1989).
* Senator Harkin's staff was occupied by the employment, local governments and public accommodations sections of the ADA, while members of Senator McCain's staff devoted themselves to the relay section.
* This sometimes occurred even where surcharges were innocuously labeled. For example, a few years later, although Maryland listed its 45-cent relay surcharge as the "Universal Service Trust Fund" on subscriber bills, advertising about the purpose of this charge in billing inserts caused some residents to bitterly complain that they wished no part in a charitable service for deaf people. Many claimed they had no prior contact, nor predicted any future contact, with deaf people in their lifetimes. E-mail conversations between Brenda Kelly-Frey, director, Maryland Relay Service and the author, September 2, 2004.
† These groups included the Consumer Federation of America and the Consumers Union.
* By the time it reached the House, Congressman Steny Hoyer had replaced Tony Coelho as the bill's leading champion in the House chamber. He and his chief legislative aide, Melissa Schulman, worked with CCD to passionately defend the ADA against industry's many objections as it made its way through each of these other committees.
* By then, most states that already had relay systems had chosen to use surcharges because of their low administrative costs and their ability to reimburse companies dollar for dollar. Some examples were: Alabama: 20 cents; Arizona: 3 cents; Illinois: 3 cents; Louisiana: 5 cents; Minnesota: 10 cents. Another reason that states preferred this funding method was that although cost recovery through the base rate treated all telephone services equally, it required companies providing relay services to go through the rate-making process to obtain reimbursement. Each time an increase or decrease in relay funding was needed, public regulatory bodies would have to review all aspects of the company's business—a process that could take months.
* For example, we pushed for language to direct the creation of a consumer-based advisory committee, to require relay transmissions in both Baudot and ASCII formats, and to ensure that relay callers would have the ability to access 911 centers. Many 911 centers screen out calls originating from outside their service areas. This can present a problem for relay callers, whose calls are often channeled through calling areas located outside of those specified 911 jurisdictions. For example, a call from a person in Dallas, Texas, might be directed through the state's Austin relay center to reach its final destination. We did not want emergency service 911 centers located in Dallas to refuse local 911 relay calls that originated in Dallas, but appeared as though they were coming from Austin.
* In addition to barriers for TTY users, to this day IVR systems create hardships for people with other types of disabilities. Audio quality is often not sufficient to enable access by people with milder forms of hearing loss and the response times needed are often too fast for people with mobility and cognitive disabilities.
† Colloquies, like House and Senate committee reports, can offer guidance to agencies that are charged with implementing federal statutes.
* Examples of entities covered under Title II are libraries, local and state courts and legislatures, state operated transportation agencies, public hospitals and schools.
† Places of public accommodation include nearly all private businesses, such as hotels, restaurants, stores, parks, recreational facilities, and professional offices, but do not include religious entities or private clubs.
* Commercial facilities include all facilities used by private entities with operations that affect commerce. This category is broader than public accommodations, as it includes office buildings, factories, and privately operated airports.