A Light at the End of the Tunnel …
and into the Future
WHEN I WAS a child growing up in New York, often my mother and I would drive from our home in Brooklyn to pick up my father at his office in lower Manhattan. The trip entailed driving through the long and dimly lit Brooklyn Battery Tunnel; wending our way through those twisting and dingy corridors always seemed to take forever. Although I disliked the ride, I always knew that at the end of the tunnel there would be a light—my father—that would make the trip worthwhile.
The journey for telecommunications access undertaken by Americans who are deaf and hard of hearing has also been long and arduous. Decades have passed as advocates have poured sweat and tears into seemingly endless and often frustrating efforts to open up the doors to equality. Often tensions have run high, especially when consumers felt that their needs were being ignored. A look back at this history reveals a somewhat troubling pattern, in which telecommunications companies—driven by the market pressures endemic to a highly competitive industry—would all too often roll out innovative but inaccessible technologies, while lawmakers—reluctant to regulate in ways that might impede competition and innovation—stood on the sidelines. If the new technologies proved popular among the general public, consumers with disabilities would protest at having been left behind, intensifying their efforts until governmental mandates were issued to correct the original market deficiencies. Unfortunately, by the time advocates were successful in securing these protections, retrofitting the original technologies for accessibility would require substantial burden and expense. More often than not, companies would resist making the needed changes, compelling consumers to double their efforts just to be on an equal footing with their hearing peers. Sometimes this progression of events took so long that by the time the desired accessibility was finally achieved, it was no longer needed, having been replaced by newer innovations.*
There is no telling how often these various stumbling blocks on the road to telecommunications equality produced disappointment, resentment, and even anger. But while efforts to achieve telecommunications access over the past several decades have been fraught with setbacks, the light at the end of this tunnel always has been reward enough to continue its pursuit. Through the perseverance of dedicated advocates, our nation now has a string of federal telecommunications access laws that have created new opportunities in and access to employment, education, entertainment, government, and commerce. Federal legislative mandates for hearing aid compatibility, nationwide relay services, closed captioning, emergency services, and accessible telecommunications products and services now proclaim that equal access to communication is a civil right owed to all Americans.
Very often, Congress has seen fit to impose these disability safeguards where it otherwise has taken a deregulatory approach. For example, the Telecommunications for the Disabled Act of 1982 permitted the continued cross subsidization of specialized equipment, such as TTYs, with fees collected for telephone services, even though this was disallowed for mainstream products. Similarly, Section 255 of the Telecommunications Act of 1996 imposed telecommunications access mandates amidst the general deregulation of the telecommunications industry. Moreover, nearly all of these telecommunications access laws have enjoyed bipartisan support, often crossing party lines when it was least expected. One reason is that countless lawmakers themselves have a disability or have family members with disabilities. And even those that do not need accessibility at the time that a piece of disability legislation crosses their desks, often recognize that requiring access offers an insurance policy for their senior years, when their own hearing, eyesight, or mobility might diminish.
Accompanying these legal mandates have been remarkable technological innovations that have had a liberating effect on the lives of people who are deaf and hard of hearing. Although the ability of the TTY to handle real-time, simultaneous communication still makes this analog equipment the single most effective means of summoning assistance in an emergency, increasingly, over the past decade, this device has been replaced by advanced mainstream technologies that include paging, short messaging services, instant messaging, web-based chat, and other electronic communications.* If the family's TTY used to enjoy a prominent place on bedroom dressers and kitchen counters, it is now relegated to darkened basements and the recesses of hallway closets. Although the ease and reliability of the TTY made it the communication method of choice for the deaf community throughout the second half of the twentieth century—and will likely cause this device to remain around for a bit longer, especially in the homes of older and rural Americans—most agree that it is only a matter of time before the inability of the TTY to keep up with the versatility of advanced, digital-based technologies will cause its total demise.†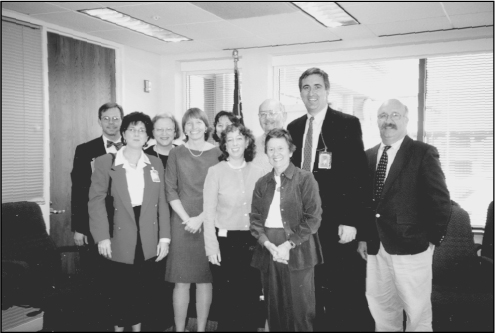 While often challenging, collaborative consumer–industry forums have at times succeeded in breaking down attitudinal barriers by giving industry insight into the needs of people with disabilities and consumers a better understanding of product design processes. Shown here are consumer, industry and governmental representatives who at various times have experienced the benefits of working together to produce mutually agreeable accessibility solutions. Left to right, Ron Barnes (CTIA) Nancy Bloch (NAD), Mary Brooner (Motorola), Elizabeth Lyle (FCC), Jenifer Simpson (FCC), the author, Al Sonnenstrahl (CSD), Brenda Battat (Hearing Loss Association of America, formerly SHHH), Richard Ellis (Verizon) Claude Stout, TDI.
The past decades have also witnessed significant shifts in societal attitudes toward individuals with disabilities. Well into the 1980s, telecommunications companies equated the provision of access with a charitable privilege that could be granted, rather than a civil right that had to be guaranteed. Over time, these condescending attitudes have given way to a greater understanding of the needs of people with disabilities, in part a byproduct of the laws that have forced companies to find access solutions, but also the result of non-confrontational and collaborative consumer-industry forums that have convened over these many years.* By providing industry with greater insight and sensitivity into the needs of people with disabilities and giving consumers a better comprehension of manufacturing and design processes, these forums have softened animosities and proven the ability of consumers and industry to work together and reach mutually agreeable solutions. As our society prepares for the convergence of telephone, television, and computer applications and untold advancements in the field of communications, this ongoing and open dialogue between industry and consumers will take on an even greater importance.1
A New Wave of Legislation: Calling all Vigilantes
In the early 1990s, as new wireless and cable services were gaining a foothold in American society, lawmakers took it upon themselves to reevaluate the extent to which they wanted to hold these new industries accountable to the same legal mandates that applied to the wireline and broadcast services that preceded them. Several legislators were concerned about the inequities of requiring some, but not all, companies across competing industries to meet certain social and economic obligations.2
Only a little more than a decade later, history is repeating itself, only this time the new entrants are manufacturers and providers of Internet-based technologies, including voice-over Internet protocol, or VoIP. The Internet-based broadband communication technologies now sweeping the nation offer extraordinary benefits to people who are deaf and hard of hearing in terms of mobility and versatility. Not only can these high-speed technologies allow the carriage of voice, text, and video through a single piece of equipment, and over a single network, but also the ability to select multiple interactive functions from among various communication modes can enable users to choose the format best suited to their needs or even to switch among multiple modes during a single conversation.3 Similarly, sending cable television transmissions over the Internet can enhance the television experience by allowing viewers to easily scroll through channels, order products from Internet sites while watching TV, and even choose their preferred camera angle while watching live programs.4 Viewers are also becoming enticed with using Web-based TV services to access older television shows, Web clips, flash animations, and television programs from their cell phones.5
But just as easily as Internet-based innovations can bring about greater opportunities, so too can these technologies result in dependence and isolation if they are not designed in a manner that provides full accessibility to their users. For example, firewalls already are known to block the passage of text or video over the Internet where voice communications can otherwise pass. And both point-to-point and relay-based video communications currently have no uniform numbering scheme equivalent to the North American Numbering Plan, making it difficult for people who use sign language to readily identify and call one another regardless of their service providers.* Similarly, manufacturers of future technologies need to be concerned with how consumers with disabilities will be able to operate the features and functions of their new products. An article in Microsoft's Executive Circle magazine in June of 2003 noted the extraordinary accuracy with which voice recognition technologies can enable computers to understand and respond to human speech.6 This technology is said to be able to cut costs, increase consumer satisfaction, and enhance worker productivity. But if this became the only method of interacting with computing devices, it would create a new barrier for people who are deaf or hard of hearing.
In 2000, Gallaudet University honored former FCC Chairman William Kennard at its commencement ceremonies for his role in expanding telecommunications access. As Kennard gave his address, the graduating seniors chatted away, exuberant at having reached this special day, but seemingly unaware of the significance of their speaker's presentation. Some might say that the excitement of the day simply distracted these graduates from the chairman's heartfelt words. But it seemed more likely that these students were already taking for granted the access that had now become a routine part of their lives.
My, what a difference a few decades make.
The truth is that these students had grown up with many of the technologies that were the subject of the Chairman's speech. Closed captioning, relay services, hearing aid compatible telephones … these were now routine for the young attendees. And unlike their deaf parents—who frequently had to travel across town simply to deliver a message—these students had a plethora of advanced telecommunications options now open to them. But as we enter a new era that will bring technological innovations that we cannot yet begin to imagine, it is critical that they and other future deaf leaders remember the struggles fought for equal telecommunications access, as well as the passion and determination of the pioneers behind those struggles.
As Congress grapples with many of the same questions that it was forced to address more than a decade earlier, advocates need to be proactive, to ensure that the newest breeds of Internet-based communication products and services are required to be accessible by people with hearing loss, so that these persons are neither relegated to obsolete technologies nor forced to rely on adaptive or difficult-to-find "specialized" equipment.7 Text and video communication must be available with the same reliability, ease, interoperability, and instantaneous access as voice communications.
*    *    *
This book was as much an effort to chronicle the extraordinary quest for the legal right to telecommunications access, as it was to provide guidance for the future advocates who will be continuing this journey. Significant inroads toward achieving telecommunications parity have been made, but now is not the time to become complacent. Prospective advocates and policymakers can and should adhere to the intent behind the laws and policies that have shaped our nation's safeguards for telecommunications equality and learn from the successes and mistakes of their predecessors. Tomorrow's technologies hold tremendous promise for the increased productivity, self-sufficiency, and empowerment of people who are deaf and hard of hearing, but as the pace of technological innovation continues to accelerate, we must be vigilant in order to ensure that the successes so painstakingly won in the past are carried into the future.
1. Increased communication between telecommunications companies and the deaf community can also enhance the profitability of these companies' ventures. For example, T-Mobile's decision to offer a data-only plan for SideKick, its all-in-one mobile device (which provides cell-phone access, e-mail, instant messaging, and Web access), occurred after the deaf community communicated its resistance to paying for voice minutes, and has proven highly successful. Jon Fortt, "Signs of the Times," Mercury News, May 8, 2003, 1E. See also Ian Fried, "T-Mobile's Sidekick Springs into Color," CNET News, June 5, 2003.
2. Congressman Edward Markey (D-Mass.), letter to Acting FCC Chairman James Quello, February 12, 1993.
3. Gregg Vanderheiden, "Expanded Opening Remarks," (presentation, FCC Voice-Over Internet Protocol Services Forum, December 1, 2003); Comments of the RERC-TA in IP Enabled Services, WC Dkt. 04-36 (May 28, 2004).
4. Statement of Lea Ann Champion, SBC Communications Inc., Hearings before the Subcommittee on Telecommunications and the Internet of the House Committee on Energy and Commerce on "How Internet Protocol-Enabled Services are Changing the Face of Communications: A Look at Video and Data Services," 109th Cong., 1st Sess. (April 20, 2005).
5. Lee Gomes, "Web TV Is Changing the Way Programming Is Watched and Sold," Wall Street Journal (May 10, 2004), B1.
6. Elisabeth Horwitt, "Speech Recognition—Talking Points," Microsoft Executive Circle 3 (Fall 2003): 31.
7. See Statement of Karen Peltz Strauss before the Subcommittee on Telecommunications and the Internet of the House Committee on Energy and Commerce on "How Internet Protocol-Enabled Services Are Changing the Face of Communications: A View from Government Officials," 109th Cong., 1st Sess. (April 27, 2005). The testimony was presented on behalf of the Alliance for Public Technology (APT), American Association of People with Disabilities (AAPD), AFB, ALDA, DHHCAN, NAD, SHHH, and TDI; Statement of Dr. Frank G. Bowe before the Subcommittee on Telecommunications and the Internet of the House Committee on Energy and Commerce on staff discussion draft of legislation to create a statutory framework for Internet protocol and broadband services, 109th Cong., 1st Sess. (November 9, 2005). Bowe's testimony was on behalf of AAPD, ACB, AFB, ALDA, APT, California Coalition of Agencies Serving the Deaf, Hard of Hearing, Inc., CSD, DHHCAN, Deaf and Hard of Hearing Service Center, Inc., Inclusive Technologies, NAD, NCAM, NVRC, SHHH, TDI, and WID.
* For example, it took so long to make TTYs compatible with digital wireless services that by the time this was accomplished, the deaf community had all but migrated to pagers and other advanced technologies. Similarly, although the nine-year endeavor to secure 711 access to relay services was ultimately successful, only a few years later, new text and video Internet-based relay services (accessed via websites), began to replace TTY-based services that use 711 dialing for many relay users.
* On occasion, individuals with hearing loss were amongst the earliest adopters of these technologies. For example, as far back as the 1970s, members of the deaf community experimented with computerized communications networks, such as Deafnet, long before most members of the general public had even heard of e-mail or other online messaging services. However, it was not until these electronic innovations gained widespread popularity within the mainstream population that they truly started benefiting deaf and hard of hearing communities on a more global scale.
† In addition to the TTY's general lack of compatibility with many digital devices, the protocol used in American TTYs has never been compatible with most protocols used by text devices in European and other countries. In the mid-1990s, Dick Brandt, working with Gallaudet's Technology Assessment Program, was successful in attempting to bridge this gap with the creation of V.18, a worldwide standard that could be incorporated into conventional computer modems to allow communication across various TTY protocols. Although a United Nations standards group (the International Telecommunication Union/Telecommunication Standards Bureau) eventually approved this specification, computer manufacturers never adopted the voluntary standard. Fortunately, the ability to conduct communications over the Internet has finally helped to eliminate some of the barriers that previously existed between deaf people located in different countries.
* These forums included the Telecommunications Access Advisory Committee, which developed guidelines for Section 255; the Electronic and Information Technology Advisory Committee, which drafted consensus guidelines for Section 508's mandates for electronic and information access by federal agencies; and the hearing aid compatible negotiated rulemaking committee, which revised the FCC's rules for making wireline phones compatible with hearing aids. Similarly, the Web Accessibility Initiative of the World Wide Web Consortium, under the direction of leading disability advocate Judy Brewer, continues to foster dialogue among disability organizations, industry, researchers, and government to make the Web accessible by people with disabilities.
* Although video-based users have Internet addresses, these are dynamic—they are constantly changing, and therefore unreliable for receiving calls. Although each VRS provider has created a more dependable, short-cut method of identifying its end users for incoming calls, because these vary across provider, the resultant haphazard arrangement discourages calls from hearing persons, who need to know multiple ways of calling their full universe of deaf contacts. As a consequence, while VRS usage for calls initiated by deaf and hard of hearing individuals has soared over the past two years, calls from hearing people have accounted for scarcely 1–2 percent of all VRS minutes. The lack of a nationwide VRS numbering system also creates considerable problems for point-to-point video users, who are without a consistent and uniform means of calling one another. In November 2005, CSD put in a request to the North American Numbering Council (NANC) to develop a uniform scheme that will allow video communication users to access other users with the same ease that PSTN and VoIP users are able to identify and call one another. NANC has referred the matter to the Industry Numbering Council of ATIS, the very same group that considered the need for 711 relay access back in the 1990s.