The Stage Is Set: Captioning Goes through a Transition
Since my husband's death … there is nothing that has improved the quality of my life as [much as] closed captioning has. No longer is there someone to nudge and ask "What did he say?" … It fascinates me to know that dogs are barking, music playing … and lines spoken.
—Anonymous letter to Phil Bravin
IN 1987, Amanda Montgomery, a deaf six-and-a-half-year-old, wrote a letter to Fred Rogers, asking him to caption his children's series, Mister Rogers' Neighborhood. According to Amanda's mother, since acquiring a TeleCaption decoder, a "whole new world" had opened up for her daughter. The network initially rejected Amanda's request because of insufficient funding. But sixteen months later, the Department of Education added the program to the list of shows slated to receive its captioning grants.1
If the 1970s and 1980s were the decades of captioning exploration, the 1990s became the decade of captioning mandates. By 1989, virtually all prime-time programs on the major networks were produced with captions and the total number of hours captioned on all stations hovered around 390 per week.2 But despite the ten-fold increase since 1980, program options during the day and on basic cable TV remained severely limited. In addition, it was estimated that of America's 1,400 local broadcast stations, only 90 captioned their local newscasts.3 With the exception of ABC's Nightline, late-night programming also rarely contained captions. The deaf community, having tasted the wonders of television, grew increasingly frustrated by their lack of choices. At the Deaf Way conference held at Gallaudet University in July of 1989, Stuart Gopen, the father of a deaf child, initiated a nationwide petition for full television accessibility, to channel the deaf community's growing dissatisfaction into action. Less than eight months later, the petition had attracted the support of nearly 17,000 Americans.4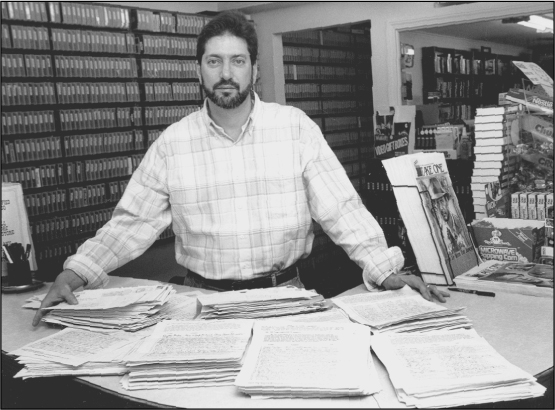 At Gallaudet's Deaf Way conference, Stuart Gopin, the father of a deaf child, initiated a nationwide petition for closed captioning that collected 16,885 signatures.
Closed Captioning at a Crossroads
During the spring of 1989, the considerable discrepancy between the available market for decoders—estimated to be approximately one hundred million people—and their sluggish sales, prompted the Department of Education to assess the benefits of its continued investments into captioning technology and services.* A survey conducted by the agency confirmed what was already well-known—that deaf viewers and parents of deaf children strongly supported captioning as a critical means of acquiring information that was essential to full participation in American society.5 But it revealed as well the many reasons that Americans were reluctant to purchase decoders. Although a decade had passed since the first decoders had gone on sale, many deaf and hard of hearing consumers still knew little about these devices, including how and where to buy them. Even consumers who were so informed did not want to purchase an expensive device that provided them with only limited programming choices. Moreover, hard of hearing television viewers had little interest in buying decoders when they could use audio loops, infrared systems, and FM devices to help them hear the audio track. This latter group, not part of the culturally deaf community, sometimes distanced themselves from "people with disabilities" who needed an accommodation like captioning.
Added to the stigma of purchasing decoders were the difficulties of hooking up these devices. According to Howard "Rocky" Stone, executive director of SHHH, the cost and difficulty of installing a separate decoder to a television set, VCR, and cable box was quite daunting for SHHH's members, a large percentage of whom were senior citizens. Stone told the story of one seventy-year-old who paid $98 to two separate servicemen, neither of whom were able to figure out the complicated wiring arrangement needed to connect these various devices.6
Something had to change in order for closed captioning to become a permanent and self-sustaining television service. Lowering the cost of decoders had once been tried through the Department of Education's subsidy program, but that program had since expired. In any event, many questioned whether the renewal of those subsidies would merely foster continued dependence on the federal government.
Another option was to incorporate mandates for captioning into the ADA, then in its initial stages of development. But when deaf leaders gathered at Gallaudet University in March of 1989 to discuss their agenda for the civil rights bill, they learned that powerful television and movie lobbyists already had begun waging war against such mandates.† Indeed, congressional aides warned that including captioning mandates in the ADA could kill the entire legislation. Given all else that was at stake in the ADA—including long-awaited mandates for nationwide relay services, sign language interpreters and assistive listening systems—deaf advocates agreed to drop captioning from their ADA wish list.
There was one alternative left: to push for separate legislation that would implement COED's recommendation to require internal captioning circuitry in new television sets. Approximately 20,000,000 television sets were sold in America every year. If all of these sets could display closed captions, in five years the number of homes with access to captioning could reach the targeted goal of 100 million. The explosion in audience size would help justify the costs associated with captioning (estimated to be anywhere from $1,000 to $2,000 per program hour) to the television industry, and might even provide enough of a market incentive to eliminate forever the need for federal captioning mandates.7
Unfortunately, the FCC, which would be charged with implementing a mandate for decoder-equipped TVs, had already questioned the value of a decoder-circuitry requirement. Soon after the COED report was released, FCC Chairman Dennis Patrick had informed Senator Tom Harkin (D-Iowa) that he believed "traditional marketplace efforts," rather than federal mandates, were sufficient to encourage additional captioning.8 In support of this hands-off approach, the chairman cited the successes achieved by the FCC's 1970 public notice encouraging voluntary visual access to television programming and its approval of line 21 technology: not only had there been a 400 percent increase in captioning over a five-year period, but private entities were financing 60 percent of the captioning services now transmitted to decoders in hundreds of thousands of homes.9
Patrick also expressed concerns about the effect that built-in decoders might have on the retail prices of television sets. He opposed a mandate forcing all consumers to bear the costs of a feature that he said benefited relatively few. Insisting that there was no evidence of incompatibility among decoders to date, the chairman similarly opposed decoder performance standards because of the negative effect they might have on the industry's ability to develop advanced technologies. Patrick was against captioning mandates as well, insisting it would be "very difficult for the Commission to determine what level of closed captioned programming would best serve the overall public interest."
This was hardly the first time that deaf consumers would not have the support of the FCC in their quest to expand telecommunications access. Fortunately, this time, the FCC's absence as a partner was offset by backing from a number of other important sources. Television programmers, eager for larger audiences, believed that a decoder bill would force television manufacturers to participate in the captioning effort. It was perhaps for this reason that several affiliates of NBC, CBS, and ABC joined the National Association of Public Television Stations and the Corporation for Public Broadcasting in enthusiastic support of the proposed legislation.10
In 1989, Japanese and Korean manufacturers produced 90 percent of all television sets sold in the United States; in fact, Zenith was the only wholly American-owned TV manufacturer. As the chief proponent of the new decoder legislation, Senator Harkin understood the need to secure the support of these East Asian manufacturers. After announcing his intention to introduce the decoder legislation during a May 5, 1989, appropriations hearing, Harkin approached Frank Bowe, COED's chairman, about meeting with the foreign companies. Bowe in turn secured a grant from the World Rehabilitation Fund and, with the support of the Department of Education and the two American companies that had begun working on a decoder chip (EEG Enterprises and the ITT Corporation), set out for East Asia in September 1989.
Bowe's visits with top officials from Matsushita, Sony, Hitachi, Sanyo, Samsung, and NEC were resoundingly successful.11 For the most part, the manufacturers agreed that installing captioning chips in TVs was both technically and economically feasible, and some even expressed an interest in capturing new television audiences of Korean and Japanese viewers who could learn English by watching captions. But the companies uniformly agreed that their production schedules demanded at least two years to install the chip. A few were also hesitant to integrate the chip into all television sets. Because smaller television sets were priced barely above cost, they preferred to limit a chip mandate to higher-end sets or sets with screens that measured over a certain size.
While Bowe was visiting East Asia, advocates and captioning agencies back in the states began drafting the decoder circuitry legislation.* Early on, it was agreed that rather than apply the decoder mandate only to "televisions," the new law would cover any "apparatus designed to receive television pictures broadcast simultaneously with sound."12 This broader approach would take into account television receivers attached to computer monitors and closed circuit surveillance equipment, and could accommodate other forms of receivers not yet conceived. The bill also specified how the captions should be displayed in order to guarantee their intelligibility across television brands and to prevent the scrambling of and interference with captioning transmissions from anti-duplication technologies.13
Probably the most difficult issue to be decided was the size of the television sets to which the new mandate would apply. Initial discussions with the networks produced recommendations to exempt only the smallest television sets—those that measured five inches or less diagonally. Consumers supported this approach, believing it would give them access to the greatest number of television sets. This size was too small for the East Asian manufacturers, however, who seemed more amenable to a thirteen-inch cut off. In contrast, NCI recommended applying the mandate only to projection TVs and televisions that were at least twenty inches diagonally, and to phase in this requirement, so that manufacturers could gradually modify their production lines.14 NCI felt that the incremental retail cost to consumers of building in the decoder chip—around $10–15 per TV—would be negligible on larger sets, but substantial on smaller TVs.15
While deaf and hard of hearing advocates resisted too broad an exemption from the decoder mandate, lest they be denied access to innovative television technologies, the need for a compromise was compelling: without a resolution of this issue, there would be no mandate, and it was very unlikely that market forces would be enough to spur manufacturers into voluntarily incorporating the circuitry into new TV sets. After several weeks of debating the issue, consumers agreed to push for a statute that required decoder circuitry in all television sets with screens measuring thirteen inches and over. If enacted, the new law would reach 96 percent of all new TVs.
Introduction of the Decoder Circuitry Bill
On November 21, 1989, Senator Harkin, accompanied by lead co-sponsors Senators John McCain (R-Ariz.), Daniel Inouye (D-Hawaii), and Paul Simon (D-Ill.), announced the introduction of S. 1974, nicknamed "the decoder chip bill."16 After signing a few of his opening remarks, Senator Harkin spoke of television as a pervasive means of sharing information in our society, and therefore a vital link to our world. A few weeks prior to the bill's introduction, Sy DuBow of NCLD had provided Harkin with several literacy studies that revealed the benefits of captioning as an educational and motivational tool for people learning to read.17 Harkin now referenced these as well, noting the ability of captioning to increase reading comprehension, language retention, and word recognition.
In fact, by 1989, the ancillary benefits of captioning were well established. In a 1987 study sponsored by CBS and Boston University, Milton Goldman, a Los Angeles high school teacher, had found that the reading comprehension and vocabulary skills of his hearing students improved considerably when they were forced to read captions rather than hear a program's audio track.18 Other captioning studies commissioned by NCI revealed similar improvements in reading comprehension and retention by students with learning disabilities, remedial readers, and illiterate adults.19 A study conducted by Harvard University also found captioning to be helpful for students learning English as a second language. Perhaps for this reason purchases by Asian and Latino Americans accounted for nearly 40 percent of all decoder sales in the late 1980s.20
The Decoder Circuitry Act was introduced amid a splash of federal legislation to further disability access. In addition to the ADA, legislative proposals to expand hearing aid compatibility, federal relay services, deaf education, and assistive technology had either just been passed or were working their way through Congress.21 The Deaf President Now movement of 1988 was scarcely a year and a half old, and the vigor and enthusiasm of the deaf students who had used the movement to assert their independence had not yet faded from the minds of federal legislators or the American public. When ABC's Nightline covered the Deaf President Now story with open captions, people all over America got their first opportunity to experience captioned programming.
DuBow took advantage of this environment to garner support for the decoder chip bill through a blitz of letters, calls, faxes, and e-mails to national organizations. His advocacy succeeded in attracting the support of thirty-seven national disability and civil rights organizations and twelve educational and literacy organizations, the latter of which saw the bill as an opportunity to enlist the television industry in the national fight against illiteracy.22 Various local schools and state commissions for the deaf also promised to back the new bill.23 And the Consortium of Citizens with Disabilities, the national group that had coalesced to achieve passage of the ADA, contributed its full support, identifying the new legislation as going "hand in hand" with the ADA's goals to "break down barriers and provide full accessibility to American society for all our citizens."24
Armed with these significant endorsements, DuBow and others next engaged in extensive grassroots networking of deaf advocates around the country to help secure support for the decoder bill from members of the Senate Committee on Commerce, Science, and Transportation, now assigned review of the bill.25 If advocates won the committee's endorsement, the bill would stand a far better chance of successfully moving through the Senate. Fortunately, Senator Ernest Hollings (D-S.C.), chairman of that committee, had been a sponsor from the start.
As part of his excursion to East Asia, Bowe had successfully secured a tacit commitment from foreign television manufacturers not to oppose the circuitry legislation. But a few months after his trip, Sanyo Fisher—the manufacturer of decoders for NCI and decoder-equipped television sets for Sears—surprised everyone when Ronald N. May, one of its national product managers, wrote a letter to Senator Harkin in full support of the proposed legislation.26 Bowe forwarded the letter, which described the bill's many advantages for deaf children, children learning to read, and Americans learning English, to his other Japanese and Korean contacts to convince them to similarly pledge their affirmative support for the bill. While he did this, Larry R. Goldberg of The Caption Center pursued the backing of American television manufacturers through their trade group, the Electronics Industries Association (EIA).27
In March 1990, EEG Enterprises released new and even more encouraging cost data on the decoder chip. While production of the chip in moderate quantities was likely to range around $5 per set, EEG predicted this cost would drop to $3 when production quantities approached ten to twenty million.28 The company predicted that the price tag might drop even lower if manufacturers used smaller chip dimensions. And if all manufacturers began incorporating the chips, increased production efficiencies and reduced labor costs might eliminate altogether the need to pass on any costs to consumers. Just as consumers had never had to bear the costs of other individual television design features, such as stereo sound and remote controls, so too, it was unlikely that consumers would ever see the cost of the internal captioning chip.
Arrival of this news came at the perfect time. On March 1, 1990, Congressman Major Owens (D-N.Y.) announced his intent to introduce the House version of the decoder legislation, joined by Representatives David Bonior (D-Mich.), Edward Markey (D-Mass.), and former Gallaudet Board of Trustees member Steve Gunderson (R-Wisc.).29 A "Dear Colleague" letter, sent by Congressman Gunderson a few weeks before, succeeded in attracting nearly twenty additional cosponsors by the end of the month.30
While off to a strong start, the movement to secure passage of the decoder bill was not without its detractors. EIA decided that it unequivocally opposed the legislation as a "regressive excise" tax on the American public. Like the FCC, EIA claimed that it was inherently unfair to force everyone to pay for decoder chips when these devices would benefit only a small minority. In response to claims that the proposed legislation would help children learn to read or adults to learn English as a second language, EIA responded that schools, not the electronics industry, should shoulder this responsibility.31
The Celebrity Hearings
Although the Senate had been the first to introduce the decoder bill, the House Energy and Commerce Committee's Telecommunications and Finance Subcommittee was the first to hold hearings, on May 2, 1990. Prior to the hearings, Congressman Markey, chair of the subcommittee, asked DuBow to secure the testimony of Sanyo Fisher, still the only television manufacturer to actively come out in support of the proposed mandates. To the delight of the bill's advocates, Ronald May readily agreed to testify.32 Having even one television manufacturer affirm the feasibility and affordability of the decoder chip would be enormously helpful in fighting what was shaping up to be EIA's strong objections.
Unfortunately, after learning of May's plans, EIA's management contacted Sanyo's president in Japan. Only weeks after making his commitment, May wrote a second letter to DuBow expressing his "deepest regrets" that he would be unable to testify: "This is due to my position at Sanyo Fisher (USA) Corporation and our relationship within the Electronics Industry Association."33 EIA's hold over the television manufacturing industry was stronger than consumers had realized.
Hearings on Capitol Hill can attract considerable media attention when television or Hollywood movie stars are scheduled to testify and so, after Sanyo's disappointing retraction, DuBow arranged for a star-studded line up of House witnesses. On the morning of the decoder hearings, Linda Bove, the deaf librarian on PBS's Sesame Street, Richard Dysart, a hard of hearing actor who played Leland McKenzie on NBC's L.A. Law, and Geoffrey Owens, real-life son of Congressman Owens and TV son of Bill Cosby on NBC's The Cosby Show, paraded into the room to a crowd of enthusiastic and star-struck observers.34 They were joined by John Ball and Larry R. Goldberg, there to emphasize the need for federal mandates in a competitive television market, and I. King Jordan, the recently elected deaf president of Gallaudet University.
Bove contributed to the day's testimony by emphasizing the ways that captioning helped deaf children. She noted that her own career had been enhanced by the ability to watch television and interact with young deaf admirers of Sesame Street.* Dysart spoke of the high costs and stigma of decoders, which deterred senior citizens from buying these devices. Owens lent his support by informing legislators that The Cosby Show had received a flood of enthusiastic letters after it began airing with captions.35
EIA's Thomas Friel was the sole witness to oppose the proposed decoder bill.36 Forcing all televisions to have captioning chips, Friel claimed, would unduly interfere with an individual's right to choose a television set that fit his or her needs. Rather than "significantly raise" the price of television sets, which would make television sets less affordable for those with limited incomes, Friel asked Congress to increase captioning and improve decoder technology as a way of augmenting decoder sales. If Congress absolutely insisted on mandating internal decoder circuitry, EIA argued that all TVs with screens smaller than twenty inches be exempt and that the mandate apply to only one television model for each screen size twenty-one inches and above.
Consumers and captioning providers vehemently opposed EIA's proposal as one that would not only be difficult to enforce, but would limit access to only 40 percent of all televisions, all at the higher end of the price scale. A Lou Harris survey had found that two-thirds of Americans with disabilities between the ages of sixteen and sixty-four were unemployed and many others were underpaid. In addition, the majority of senior citizens had annual incomes under $25,000.37 If adopted, EIA's proposal would never succeed in extending the benefits of captioning to these Americans.
Moreover, by restricting the reach of the decoder mandate, EIA's proposed solution would ensure that the bill's purposes would not be achieved. The product efficiencies necessary to keep circuitry production costs down would be unattainable if the universe of covered television sets was severely limited. And if only high-end TVs were covered, captioned shows would not reach enough Americans to provide networks, advertisers, and producers with the incentives they needed to increase their captioning investments.38 Finally, requiring decoder installations in only a limited number of sets would restrict the ability of viewers to have television access outside their homes.
The Senate hearings, held before the Commerce Committee's Subcommittee on Communications, came only a few weeks later. In opening statements, Senators McCain and Harkin readily voiced their support for the decoder proposal, rejecting claims that the circuitry would impose an unacceptable expense on industry.39 Senator McCain made a special point of informing his colleagues that with 150 million television sets in use, more Americans had TVs than telephones or indoor bathroom facilities!
Marlee Matlin, the first deaf actress to have ever won an Oscar, and actress Emma Samms of TV's long-running series Dynasty, were next on the first panel of witnesses. Matlin began by sharing the frustrations she had as a child, having to rely on hearing relatives to interpret television shows. At ten years of age, Matlin had written to President Ford, expressing her desire to understand television on her own.40 Captions, she said, had since changed her world, connecting words to the dreams that she once had. Samms's testimony was just as poignant. Comparing the refusal to caption a program with the decision of a library to turn away people in wheelchairs, she implored the senators to wave their magic wands and make the decoder legislation a reality.41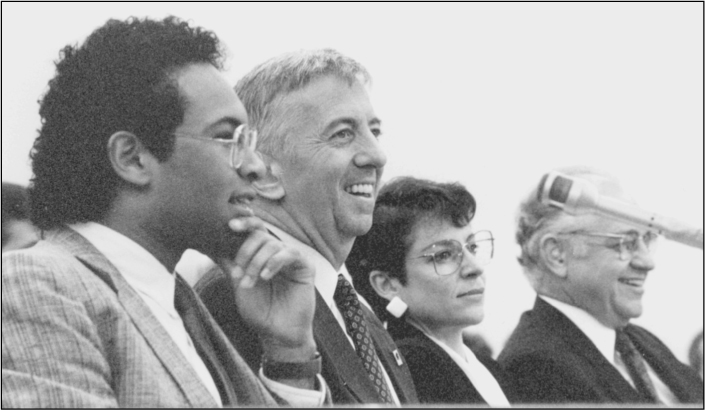 An all-star line up turned heads at hearings before the House Subcommittee on Telecommunications and Finance on the decoder circuitry bill. Pictured from left to right are Geoffrey Owens of the Cosby Show, I. King Jordan of Gallaudet University, Linda Bove of Sesame Street, and Richard Dysart of L.A. Law. All testified on the importance of making captioning universally available.
What happened next was unprecedented. In the usual order of congressional affairs, federal legislators wait until all witnesses at a hearing finish giving their testimony, and then in the weeks, and sometimes months ahead, deliberate the merits of the pending legislation. Only after this process is complete do they typically vote to approve or reject the bill under their consideration. However, after these first witnesses completed their testimony, McCain moved that the subcommittee go ahead and "wave its wand" to immediately approve the decoder circuitry legislation—despite the fact that there were an additional seven witnesses waiting to testify.
Senator Inouye, chair of the subcommittee, having already described the morning's testimony as "inspiring," enthusiastically complied. After pointing out that "never before in the history of this Committee has a measure been reported out after hearing only three witnesses," Inouye waited for any objection from his colleagues, and after hearing none, reported the decoder bill out of his subcommittee for consideration by the full Senate committee.42
Nearly all of the remaining witnesses—Sy DuBow (NCLD), Rocky Stone (SHHH), Mark Richer (PBS), John Ball (NCI), Annette Posell (The Caption Center), and Bruce A. Huber (Zenith Corporation)—heartedly endorsed the passage of the decoder bill. Richer underscored the need for public broadcasters to comply with the Public Broadcasting Act of 1967, which had as one of its purposes the development of programming for unserved and underserved audiences.43 Posell, who spoke from the perspective of a deaf parent with hearing children, explained that captions now allowed her to determine appropriate shows for her children. She also testified about her experiences with young students who, first written off as inattentive or hyperactive underachievers, became excellent readers after being exposed to captions.
Zenith topped off the day's successes by breaking ranks with the rest of the electronics industry and becoming the sole American television manufacturer to testify in support of the bill's objectives. At the time, Zenith had begun investing several millions of dollars into decoder technology to get a competitive jump on the market for decoder-equipped televisions.44 After Sanyo's departure, the company's endorsement was most welcome.
Once again, the only witness to oppose the bill was EIA. But this time, Thomas Friel's attempts to reject the decoder chip in all but the largest of TV sets was met with angry resistance by Senator Inouye. When Friel suggested that a drop in the price of stand-alone decoders (which still cost nearly $200) had made these devices affordable, Inouye challenged: "You know very well that very few can afford that. Why don't you come out and say that the important thing to you is the bottom line, the profit to your manufacturers?"45 When Friel attempted to argue that competitive forces would lead his industry to sufficiently respond to consumer markets, Inouye questioned how the industry could ever respond to a market whose members could not afford to purchase separate decoders. When Friel complained about unfairly taxing all consumers to help only a small deaf minority, Inouye's patience wore thin. The senator countered that the public was constantly having to pay for television features they did not need; he himself had just been forced to purchase a TV set with all types of gadgets that he did not want.*
On June 27, 1990, the consumers' streak of good luck continued when the full Senate Committee on Commerce, Science and Transportation marked up and reported out the decoder circuitry bill. A few weeks later, even EIA relented, finally agreeing to withdraw all opposition to the bill in exchange for a longer amount of time for compliance and report language giving manufacturers flexibility in choosing technology for line 21 captions.46 With the final obstacles removed, on July 27, 1990, the Senate committee released its report on the legislation, and sent the decoder circuitry bill to the Senate floor for a vote.47 When Congress passed the ADA a day later, advocates were certain that the decoder bill was soon to follow. The legislation offered the perfect companion to the ADA's attempts to sweep discrimination from the lives of people with disabilities.
On August 2, 1990, consumers were proven correct when the Decoder Circuitry Act passed the Senate by unanimous consent.48 What followed was a bipartisan parade of senators, including Hollings, Harkin, Kennedy, Simon, McCain, and Kasten, each of whom took turns singing the bill's praises. All spoke of the power of television both as an educator and entertainer, and of the enormous role that captioning played in making this medium available to people who could not hear.
But the excitement of the events occurring in the Senate was tempered by events that were not occurring in the House. Although the House Subcommittee on Telecommunications and Finance had favorably voted on the legislation on July 12, 1990, the bill still needed to be approved by the full House Committee on Energy and Commerce before it could go to the House floor for a vote. With the adjournment of both houses of Congress looming in the fall, and the House committee intending to meet only once more before it ended its session, advocates feared that time was running out. If the decoder bill did not succeed in getting the attention of the committee's members over numerous other proposals vying for their attention, advocates would have to start the bill's legislative journey all over again in January—with new drafts, new sponsors, and new hearings.
The bill's supporters saw a need for fast action. TDI immediately sent out an alert urging its members to put pressure on Congressman John Dingell (D-Mich.), chair of the House committee, to push the bill to the House floor.49 Other advocates and captioning agencies hiked to Capitol Hill to personally plead with the legislators not to let the bill die before the legislative recess. But days turned into weeks, and it increasingly began to appear like advocates would have to start afresh after the winter break.
Worry turned to extraordinary relief when Chairman Dingell finally brought the bill to a successful vote in his committee on September 25, 1990. Six days later, the House unanimously passed the legislation, clearing its way for the president's signature. But before the bill could be signed, a scathing attack against its provisions surfaced unexpectedly, posing a new threat. On October 8, 1990, the Washington Times ran an editorial that condemned Congress for requiring consumers to "burn" $20 of their money every time they bought a TV.50 Describing the decoder chip as "government-mandated waste on a truly sickening scale," the editorial denounced the pending legislation as "a strong contender for the title of worst legislation in the history of democracy," and urged a presidential veto. Fortunately, the last-minute assault was ignored, and on October 15, 1990, the Decoder Circuitry Act of 1990 was signed into law, requiring all televisions manufactured or imported into America with screens thirteen inches or larger to be capable of displaying closed captions as of July 1, 1993.51 The new mandate promised to forever change the landscape of television captioning.
Decoder Circuitry Goes Into Effect
The first chore given to the FCC following passage of the Decoder Circuitry Act was the development of performance and display standards to define the color, placement, size, font, and intelligibility of line 21 captions that would be received and displayed by the new decoder chips. A task force of captioning agencies, television set manufacturers, and decoder circuitry manufacturers, working under the auspices of EIA, spent the next two months debating these features. Despite considerable bickering, the committee succeeded in delivering the group's recommendations to the FCC on December 7, 1990.52
A number of issues had caused conflict within the task force. Consumer organizations, CaptionAmerica (now one of the three largest captioning agencies in the United States), and The Caption Center had wanted to require specific captioning features—such as lowercase letters for whispered speech and sound effects, and a choice of colors and captioning placement to distinguish speakers—that they believed would be critical to understanding a program's content. Television manufacturers and NCI, however, had been reluctant to mandate too many enhanced features at the outset because they claimed that the quality of these features in low- and mid-priced TVs would be unsatisfactory, and the cost high.53 Similarly, although consumers had wanted decoder-equipped televisions to be capable of displaying italics to emphasize titles, voice-overs, and foreign language phrases, set manufacturers had been concerned that they would not be able to generate legible italicized characters. Even the captioning background had come under dispute. Consumers had wanted the easy-to-read black background that had been part of the original PBS/NCI specifications, but television manufacturers wanted the flexibility to utilize other methods, such as spacing or highlighting, to make captions stand out.
After considering the input of the task force along with more than a hundred other comments, on April 15, 1991, the FCC released the final specifications, striking a balance between the costs of mandating new captioning features and providing viewers with captions in "a predictable, consistent and acceptable manner."54 By November of 1991, scarcely a year after the Decoder Act had passed, and well before its deadline, Zenith used the new standards to make good on its promise to release five decoder-equipped TV models with screens ranging from thirteen to twenty-seven inches.55
The official deadline for implementation of the Decoder Act was celebrated two years later, on July 1, 1993, with a spectacular press conference at Gallaudet's Chapel Hall. The event was attended by Senators Harkin and McCain, and Representative Gunderson, who introduced his deaf cousin, Kelly, as his motivation for working on deaf issues.56 Televisions of all sizes blared music videos of Michael Jackson and Paula Abdul, accompanied by captions that beat to the timing of their music. Former and present Gallaudet board members Philip Bravin, Richard Dysart, John Yeh, and Dr. Frank Sullivan were on hand to witness the historic occasion, described by Gallaudet's President I. King Jordan, as a "milestone" for the deaf community. Even Justin Dart, father of the ADA, joined the festivities to initiate the new technology.
The day's events proved the benefits of closed captioning for far more than the communities it was originally intended to serve. Although EIA had vehemently opposed the Decoder Circuitry Act in Congress, since its passage, the association's members had begun to discover the benefits of tapping huge new markets of television viewers who wanted to be able to "read" television. By the time the act's deadline rolled around, EIA had mounted an aggressive, nationwide campaign dubbed "CaptionVision," to publicize its decoder-equipped devices at electronics trade shows, in stores, and in mainstream newspapers and trade publications. In fact, the association's eye-catching billboards at the July 1 inaugural event seemed to advertise all of the virtues of built-in captioning circuitry except the ability to expand access for the very audience for whom the bill had been created: people who were unable to hear. In one poster, a magician pointing to "magic words," announced "Your Kid's New Reading Tutor Just Arrived!" Another targeted people who wanted to learn English quickly and in the "privacy and comfort of their homes." Yet another informed armchair athletes that they would be able to catch every play-by-play description, even when noisy relatives, "including loud Uncle Leo, show up for dinner during the big game."* Nor was EIA alone in touting the benefits of captions for hearing audiences. Just weeks before, The Caption Center had released a public notice, "Introducing the Revolutionary Television Volume Control for Those Who Aren't Listening," alerting families of new ways to "read" television together, and of the public's new ability to watch television in airports, bars, and other noisy public places.57
Chart 10.1
FCC Captioning Display Specifications (for Analog TV)
47 C.F.R. §15.119
•Upper and lower case letters (lower case not required until January 1996 for less expensive TV sets)
•Up to 4 lines of captions anywhere on the screen, to enable better speaker identification and prevent captions from covering critical portions of the picture (previous PBS/NCI specifications had captions appearing on the first top 4 and bottom 4 lines of the screen)
•Italicized characters or slanted standard characters
•Viewers given ability to choose black background; manufacturers encouraged to develop methods to offer more appealing options
•Smooth scrolling of captions
•Two captioning channels, to permit captioning in different languages and reading levels
•Prominent labeling of optional captioning features included with each television receiver
•Optional color capability; manufacturers strongly encouraged to develop cost-effective ways to include this feature in future set designs
After Gallaudet's festivities were over, Senator Harkin returned to the Senate chamber, continuing to revel in the day's successes. Harkin announced to his colleagues how, in an example of true bipartisanship, the new law was providing as many rewards to industry as it was to consumers.58 The decoder mandate, he boasted, will allow people who are deaf and hard of hearing to "listen to Dan Rather, laugh with Jay Leno, learn from Ted Koppel, cook with Julia Child, and nod off to the Senate on C-SPAN, just like the rest of America." Before concluding, Harkin stopped and tenderly directed the remainder of his remarks to his deaf brother: "Frank, I always promised you that someday, it would be just as easy for you to watch television as it is for me. And today, that day has finally arrived. So we will have to get you one of these new television sets sometime soon. And then, just maybe, we can get to work figuring out how to program that VCR."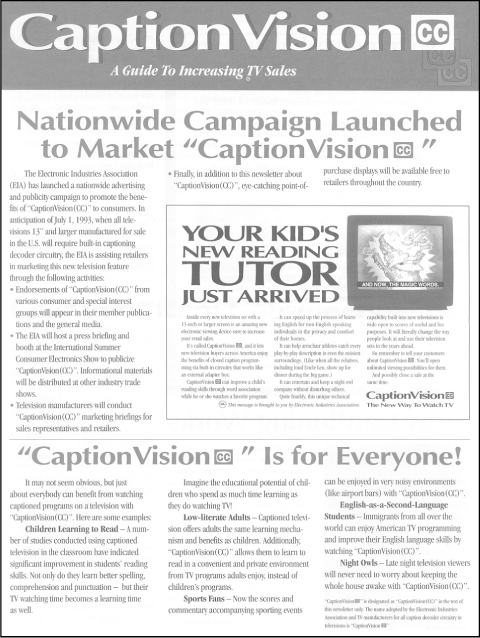 Although EIA opposed the Decoder Circuitry Act while it was making its way through Congress, once the statute became effective in 1993, the association launched a nationwide advertising campaign called "CaptionVision (CC)" to publicize the many benefits of having a decoder-equipped television set.
Television Decoder Circuitry Revisited: PCTVs
Shortly after passage of the Decoder Circuitry Act, electronics manufacturers began producing a new technology that allowed individuals to use their personal computers to receive and display television signals. This was achieved in one of two ways—through built-in TV receivers that were integrated into personal computers (PCs) or through external plug-in TV circuit cards that attached to PCs. In January of 1995, Covington & Burling, a high-powered D.C. law firm, alerted deaf advocates that although its client, Cirrus Technologies, was producing these "PCTV" tuners with built-in captioning decoders, many other manufacturers were not.59 Cirrus wanted the help of consumers to convince the FCC to force its competitors to come into compliance.
When Congress passed the Decoder Act, it was well aware that in addition to digitization, the convergence of television capabilities, telephone services, and computer applications foretold a very different telecommunications future than the one to which Americans were then accustomed. Unless accessibility needs were considered and addressed as each of these technological changes took place, Congress understood that the full integration of people with disabilities into American society would never be achieved. Precisely for this reason, just before approving the decoder bill, the Senate committee added a specific provision requiring the FCC to ensure the availability of closed captioning services as new video technologies were developed.60
But compliance with this Congressional directive was complicated by two essential differences between traditional television sets and PCs. First, unlike television sets, computers are sold in separate components. Consumers often purchase the monitor, a central processing unit (CPU), and a TV plug-in card separately, and connect the units together only after making their purchases. The ability to receive both television signals and captions resides in the TV-equipped CPU or the TV plug-in card, not in the monitor. It was unclear whether the Decoder Act would apply if a consumer purchased only the CPU or the TV plug-in card without a monitor that measured at least thirteen inches.
The second difference is that the screen sizes of televisions and PCs are measured differently. In 1995, the majority of computer monitors were being advertised as having fourteen-inch screens, but the portion of those screens that were actually viewable was just under the minimum thirteen inches required by the Decoder Act. Accordingly, it was not clear that a TV-equipped computer would be covered by the Decoder Act, even if it was purchased together with a fourteen-inch monitor.
On March 22, 1995, the FCC's Office of Engineering and Technology (OET), without prior notice or an opportunity to receive comment from the public, ruled that when TV-equipped computer systems and monitors with viewable pictures measuring at least thirteen inches were sold together as part of the same sales transaction, the computers had to be capable of receiving and displaying captions.61 But OET also made clear that decoder circuitry would not be required in either TV-equipped CPUs or plug-in TV circuit boards if these devices were purchased without monitors.
Advocates were troubled by the FCC's decision, both procedurally and substantively.62 As to procedure, consumers were upset that the FCC had acted without any input whatsoever from the public. On substance, advocates maintained that the ruling violated Congress's intent in the Decoder Circuitry Act to extend the availability of closed captioning technology to "the widest possible audience."63 Under the new ruling, computer and TV circuit board manufacturers would have to guess whether their devices would ultimately be purchased and assembled with thirteen-inch monitors when deciding whether to add decoder circuitry to those devices. This was a virtually impossible task given that retailers and consumers, not manufacturers, typically put together computer systems only after those products reached the retailers' shelves. The only alternative, to force consumers to purchase whole computer systems guaranteed to contain the decoder chip, would violate one of the fundamental goals of the Decoder Act: to make television access equally affordable to all Americans.
In December 1995, the NAD, NCLD, WGBH's National Center for Accessible Media (NCAM), TDI, and VITAC* challenged the FCC's new PCTV ruling.64 The petition urged the Commission to require captioning decoder capability to be built into all TV computer components, whether or not these were sold separately or with monitors larger than thirteen inches. Eleven years later, the FCC has still not ruled on this appeal, though now more advanced technologies have complicated the picture even further. Exciting innovations now offer the general public options to view television programming through all types of new devices, including new digital real-time video recording devices, iPods, and even cell phones. In addition, interactive television services, sent over high-speed computer networks to television set-top boxes or home computers are beginning to enable viewers to use screens of varying sizes and shapes to receive—and even respond to—TV channels that provide games, shopping, and other novel programming. Disability advocates are now questioning whether the Decoder Act, absent amendment, will be enough to ensure that people with hearing loss can receive and display captions using these and other advanced technologies in the years to come.
Notes
1. Marie C. Franklin, "Persistence Pays for Amanda," Boston Sunday Globe, September 25, 1988, B27.
2. See generally S. Rep. No. 393, 101st Cong. 2d Sess. 2 (1990), for the types of programs captioned around that time.
3. H. Rep. No. 767, 101st Cong., 2d Sess. 5 (1990).
4. Stuart Gopen, letter to Senator Harkin, March 10, 1990.
5. Renee Z. Sherman and Joel D. Sherman, Analysis of Demand for Decoders of Television Captioning for Deaf and Hearing-Impaired Children and Adults (Washington, D.C.: Pelavin Associates, June 1989).
6. Statement of Rocky Stone, SHHH, Hearings on S. 1974 before the Subcommittee on Communications of the Senate Committee on Commerce, Science and Transportation, 101st Cong., 1st Sess. 2 (June 20, 1990). Hereinafter cited as S. 1974 Hearings. A study conducted by NCI similarly found that the high costs, stigmas, and complicated wiring arrangements associated with decoders were deterring their purchase. Robert M. Silber, NCI, letter to Sy DuBow, legal director, NCLD, April 12, 1990.
7. See generally, NCI, memo on Television Decoder Circuitry Act of 1989, Update on National Captioning Institute's Activities, March 1990.
8. FCC Chairman Dennis Patrick, letter to Senator Tom Harkin, March 21, 1988, 3.
9. Patrick's letter was referring to "The Use of Telecasts to Inform and Alert Viewers with Impaired Hearing," Public Notice, FCC 70-1328, 26 FCC 2d 917 (December 17, 1970). The failure of this notice to spur either visual access to televised emergencies or regularly scheduled television programming for many years after it was released is discussed in chapters 8 and 9.
10. These included KATU in Portland, Oregon, KCNC in Denver, Colorado, WSBT in South Bend, Indiana, WRGB in Schenectady, New York, and KAET, Arizona State University in Tempe, Arizona.
11. Frank Bowe, Prospects for Built-In Television Captioning by Japanese and Korean Manufacturers (September 1989).
12. See Bob Richardson, IPR, letter to Sy DuBow and the author (both of NCLD), April 11, 1989.
13. See, for example, Jeff Hutchins, CaptionAmerica, letter to Katy Beh, legislative assistant to the Senate Committee on Labor and Human Resources, November 8, 1989. Hutchins feared that without standards, manufacturers would build decoders that were incompatible with each other. As an example, Hutchins pointed to the fact that the first decoders were unable to backspace for realtime captioning, while the second generation decoders had this capability. NCI later took issue with some of Hutchins's concerns in a letter to Beh, dated November 22, 1989, claiming that standards for the transmission and display of line 21 captioning had already been published and used in the design of over 250,000 decoders purchased since 1980. Networks, cable companies, producers, and captioning service providers, it maintained, relied on these universal standards. On November 28, 1989, Hutchins responded, insisting that although there were specifications for line 21 captioning, there were no published standards for their transmission and display, which would be needed for all manufacturers to design compatible decoder circuitry.
14. John Ball, NCI, letter to Bobby Silverstein, October 12, 1989.
15. EEG Enterprises had come up with the predicted $10–15 increase, based on a single chip cost of $5 per television set. See Edward A. Murphy, president, EEG Enterprises, Inc., letter to Sy DuBow, NCLD, October 5, 1989, discussing the increase in television retail prices. Initially, research into integrated captioning circuitry had produced designs that relied on two or more integrated circuits or "chips." Incorporating several chips into television sets was costly, and might have raised the price of a television set by $50 or more per set. But newer designs were now contemplating the use of only one application-specific integrated captioning circuit per TV set.
16. S. 1974, 135 Cong. Rec. 31541 (November 21, 1989). In all, there were fourteen cosponsors of the bipartisan bill when it was introduced. The other cosponsors were: Senators Dole, Hollings, Pressler, Gore, Lieberman, Kennedy, Burns, Burdick, Heinz, Bensten, and Kerry.
17. DuBow sent the following literacy studies to Bobby Silverstein on October 10, 1989: Rita M. Bean and Robert M. Wilson, "Using Closed Captioned Television to Teach Reading to Adults," Reading Research and Instruction 28, no. 4 (1989): 27–37 (adult students who watched captioned television improved their word recognition significantly and found the learning experience to be both enjoyable and motivational); Patricia S. Koskinen, Robert M. Wilson, Linda B. Gambrell and Carl J. Jensema, Using the Technology of Closed-Captioned Television to Teach Reading to Handicapped Students (Washington, D.C.: U.S. Department of Education, February 1987) (use of closed captioning enhanced reading skills of students with learning disabilities and hearing disabilities); Paul Markham, "The Effects of Captioned Television Videotapes on the Listening Comprehension of Beginning, Intermediate, and Advanced ESL Students," Journal of Educational Technology 29 no. 10 (1989): 38–41. (ESL students substantially increased comprehension after watching captions).
18. Dennis Kelly, "TV Closed-Captions Fight Illiteracy," USA Today, July 11, 1990, 6D. Goldman would turn off the sound each time the programs that his students were watching became interesting. For his work in this area, Goldman received the 1987 "CBS Television Worth Teaching" award.
19. NCI, "NCI Reports Captioned Television is Fun, Effective Motivator for Students Learning Reading, Language Skills," nci news, December 21, 1988.
20. Sy DuBow, "The Television Decoder Circuitry Act—TV For All," Temple Law Review 64 No. 2 (1991): 609, 614, citing "TV Closed Captions Fight Illiteracy," USA Today, July 11, 1990, 6D.
21. One of the pending bills that was closely related to the decoder bill was H. R. 2968, The Public Access to Captioned Television Act of 1989, introduced by Congressman Jim Florio (D-N.J.). This would have (1) required television decoders to be installed in nursing homes, hospitals, universities, and other institutions receiving federal funds, (2) prohibited the federal government from sponsoring conferences or training seminars in facilities that did not provide decoders, and (3) required captioning of federally assisted public service announcements (PSAs). Although the bill never made it out of the five House committees to which it was referred—and a parallel effort in the Senate to add a mandate for decoders in hospitals and nursing homes in the Senate Budget Reconciliation Bill was also defeated—Title IV of the ADA did eventually incorporate a captioning mandate for federally funded or produced PSAs. And it was because of this bill that later on, the House legislative report on the decoder bill added a congressional promise to monitor the provision of decoder-equipped television sets in federally assisted facilities, including hospitals, airports, prisons, and schools. H. Rep. No. 767, 101st Cong., 2d Sess. 13 (1990).
22. Supportive deaf and disability organizations included the NAD, SHHH, AG Bell, ASHA, ASDC, WID, AARP, the National Council of Senior Citizens, the American Civil Liberties Union, the Disability Rights Education and Defense Fund, the National Easter Seals Society, Paralyzed Veterans of America, and the United Cerebral Palsy Association. Educational and literacy groups included the National PTA, the American Federation of Teachers, the National Education Association, the National Shorthand Reporters Association, the U.S. Program of Laubach Literacy International, the Literacy Volunteers of America, and the International Reading Association, which alone represented 90,000 members consisting of classroom teachers, reading specialists, school administrators, psychologists, librarians, and parents.
23. For example, support came from the South Carolina School for the Deaf and Blind, the Massachusetts Commission for the Deaf and Hard of Hearing, the Texas Rehabilitation Commission, the Michigan School for the Deaf, and the Kentucky School for the Deaf.
24. CCD, letter to Senator Harkin, February 13, 1990.
25. For this purpose, DuBow reached out to a number of deaf leaders and educators of deaf children whose U.S. senators were on the Senate Commerce Committee, including Albert Berke (Alaska); John Hudson (Kentucky); Joseph P. Finnegan (South Carolina); Robert Kellogg (Nebraska); Robert Deming (Montana); Patty Hughes (Washington); G. I Wilson (Oregon); Bill Nye (Maine); and Larry Evans (Texas).
26. Ronald N. May, Sanyo Fisher, letter to Senator Harkin, February 5, 1990. In a subsequent letter, May concluded "I have tried to consider negative aspects of this legislation, but I can not think of any." Ronald N. May, letter to Sy DuBow, NCLD, March 1, 1990.
27. See, for example, Larry R. Goldberg, the Caption Center, letter to George Hanover, Consumer Electronics Group, EIA, January 2, 1990.
28. Edward A. Murphy, EEG Enterprises, letter to Sy DuBow, NCLD, March 1, 1990.
29. 136 Cong. Rec. 3101 (March 1, 1990). Statements of Representatives Owens, Gunderson, 136 Cong. Rec. 3257–58 (March 1, 1990). Other sponsors included Representatives Berman, Lloyd, Slattery, Synar, Wyden, Bilirakis, Chandler, Madigan, and Oxley. See Statement of David Bonior, 136 Cong. Rec. 3255 (March 1, 1990); Statement of Edward Markey, 136 Cong. Rec. 4407 (March 14, 1990). Although when originally introduced the House bill was numbered H.R. 4163, its text contained the wrong date for compliance. On March 14, 1990, the bill was resubmitted with a new number: H.R. 4267. 136 Cong. Rec. 4376 (March 14, 1990).
30. Congressman Gunderson, letter to colleagues, February 16, 2004.
31. Shawn Pogatchnik, "The Battle Over Closed-Captioning," LA Times, May 26, 1990, F1; Written notes on teleconference among Dave Pontias of EIA, John Ball, Kim Dorgan of NCI, and Sy DuBow, April 4, 1990.
32. Ronald May, letter to Sy DuBow, April 9, 1990.
33. Ronald May, letter to Sy DuBow, April 26, 1990.
34. Sy DuBow, "Stars Come to Congress to Support TV Captioning Chip Bill," Silent News (1990), 1, 32
35. Others submitted statements in support of the decoder bill for the record. For example, Bruce Christensen, president of PBS wrote: "PBS is delighted to see such a significant step being taken in an area in which we have long been committed." Bruce Christensen, separate letters to Congressmen Major R. Owens, Ed Markey, and Senator Tom Harkin, May 4, 1990. Having won an Emmy for its leadership in engineering the development of line 21 technology in 1980, PBS now "enthusiastically" offered its support and assistance on the decoder bill. Neil H. Pilson, president of CBS Sports, similarly acknowledged the need to expand the audience of captioned viewers. Neil Pilson, letter to Senator Harkin, June 11, 1990.
36. Statement of Thomas P. Friel, group vice president, Consumer Electronics Group, EIA, Hearings on H.R. 4267 before the Subcommittee on Telecommunications and Finance of the House Committee on Energy and Commerce, 101st Cong., 2d Sess. (May 2, 1990).
37. Statement of Sy DuBow, NCLD, S. 1974 Hearings, 2.
38. Larry R. Goldberg, letter to Edward Markey, May 16, 1990.
39. Separate Statements of Senators McCain and Harkin, S. 1974 Hearings.
40. Statement of Marlee Matlin, S.1974 Hearings, 2.
41. Statement of Emma Samms, S. 1974 Hearings, 3.
42. S. 1974 Hearings, 17. In addition to Samms and Matlin, Senator Harkin was considered the third witness because he was not a member of that committee. By then, various members of the Communications Subcommittee had already become cosponsors. These included Senators Hollings, McCain, Gore, Bensten, Pressler, and Kerry. At the hearing itself, Senators Burns also contributed his support.
43. 47 U.S.C. 396(a)(5) and (6).
44. "Captioning Capability for TV Sets Becomes Law," Broadcasting, October 22, 1990: 44.
45. S. 1974 Hearings, 49–50.
46. Gary Shapiro of the Consumer Electronics Group of EIA, letter to Inouye and Harkin, July 20, 1990. Zenith agreed with EIA on this point. Statement of Bruce A. Huber, Zenith Electronics Corporation, S. 1974 Hearings. Bill McCrone, a staff member in the Senate, helped strike a compromise that called for mandated display specifications, but allowed manufacturers sufficient flexibility to design their own specific line 21 decoding circuitry.
47. S. Rep. No. 393, 101st Cong., 2d Sess. 6 (1990).
48. 136 Cong. Rec. S12015–12021 (daily ed. August 2, 1990).
49. Al Sonnenstrahl, "Sonny's TDIbytes," GA-SK 21 (Summer 1990): 5.
50. Ted Smith, "Cheaper to Pass Out TV Decoders?" Washington Times, October 8, 1990, G3.
51. P. L. No. 101-431, 104 Stat. 960 (1990) codified at 47 U.S.C. §§303(u); 330(b). Many Hill staff members, including Larry Irving, Katy Beh, Bill McCrone, Lisa Gersky, Melissa Schulman, Michael Tecklenburg, Pat Laird, Bobby Silverstein, Jill Ross, and Mark Buse, were to be congratulated for their efforts in helping to shepherd the legislation through Congress.
52. Television Receiver Performance Specification for Basic Closed Captioned Services, Draft Revision 6.0, EIA Standards Proposal, EIA/CEG Television Receiver Committee (R-4) (December 7, 1990). NCI dissented and refused to be a signatory to this proposal. The group had used the signal and display specifications originally developed by PBS and NCI for external decoders as their guide, and improved upon these. Television Captioning for the Deaf: Signal and Display Specifications, Engineering Report No. E-7709-C, Public Broadcasting Service (May 1980), as amended by TeleCaption II Decoder Module Performance Specification, National Captioning Institute, Inc. (November 1985).
53. Lily Page Bess, vice-president, external affairs, NCI, letter to Gallaudet President I. King Jordan, February 4, 1991.
54. Amendment of Part 15 of the Commission's Rules to Implement the Provisions of the Television Decoder Circuitry Act of 1990, Report and Order, GEN Dkt. 91-1, FCC 91-119, 6 FCC Rcd 2419 (April 15, 1991), recon. granted in part, Memorandum Opinion and Order, 7 FCC Rcd 2279 (1992), codified at 47 C.F.R. §15.119. The Notice of Proposed Rulemaking that pre-dated this can be found at Amendment of Part 15 of the Commission's Rules to Implement the Provisions of the Television Decoder Circuitry Act of 1990, Notice of Proposed Rulemaking, GEN Dkt. 91-1, FCC 91-5 (January 4, 1991). After the FCC issued these standards, the EIA task force continued its work, and eventually took on permanence as the Television Data Systems Committee. See also Permissible Uses of the Vertical Blanking Interval of Broadcast Television Signals, Report and Order, Dkt. 92-305, FCC 93-235, 8 FCC Rcd 3613 (May 10, 1993).
55. Stephen Sigman, "The Impact of the Television Circuitry Law," Written Proceedings of the National Conference for Closed Captioning of Local News, sponsored by the U.S. Department of Education (November 21–23, 1991), 217. NCI continued to produce several generations of standalone caption decoders for people who wanted to add external captioning capability to television sets that they already owned.
56. "Legislators Join Gallaudet Community to Observe First Day of Decoder Act," On the Green 23, no. 34 (July 12, 1993): 1.
57. The Caption Center, "Introducing the Revolutionary Television Volume Control for Those Who Aren't Listening," news release, June 16, 1993.
58. 139 Cong. Rec. S8531–32 (daily ed. July 1, 1993).
59. Paul J. Berman and Ronald J. Krotoszynski, Covington & Burling, separate letters to Nancy Bloch and Andy Firth (both of the NAD), January 24, 1995; to Sy DuBow and the author (both of NCLD), January 24, 1995; to FCC Chairman Reed Hundt, January 25, 1995.
60. This amendment was added by Senators Inouye, Danforth, andKasten. S. Rep. No. 393, 101st Cong., 2d Sess. 6 (1990).
61. Closed Captioning Requirements for Computer Systems Used as Television Receivers, FCC Public Notice, DA 95-581 (March 22, 1995), 60 Fed. Reg. 16055 (March 29, 1995).
62. See, for example, Frank Bowe, facsimile to Al Sonnenstrahl and the author (February 27, 1995); Al Sonnenstrahl, e-mail to Nancy Bloch, Andy Firth, and the author (April 6, 1995).
63. See H. Rep. No. 767, 101st Cong., 2d Sess. 10 (1990).
64. NAD, et. al, Closed Captioning Requirements for Computer Systems Used as Television Receivers, Petition for Rulemaking (December 22, 1995).
Epigraph. Anonymous, letter to Phil Bravin of NCI, quoted by FCC Chairman Reed Hundt ("Access to the New Frontier," keynote speech, Captioning the New Frontier Conference sponsored by CPB/WGBH National Center for Accessible Media, New York, December 4, 1995, 1, available at http://www.fcc.gov/Speeches/Hundt/spreh546.txt).
* According to NCI, the 100 million Americans who could benefit from captions included twenty-four million deaf and hard of hearing people, twenty-seven million illiterate adults, thirty million people for whom English was a second language, twelve million children learning how to read and approximately four million remedial readers.
† For example, ABC and CBS had informed both COED and federal legislators that they would wage a vigorous fight against captioning requirements.
* Sy DuBow, NCLD's legal director, took the lead in this effort, with Bob Richardson of Georgetown University's IPR, Larry R. Goldberg of The Caption Center, Jeff Hutchins of Caption America, John Ball of the National Captioning Institute (NCI), and the author.
* The day before, Bove had presented testimony to the House Appropriations Subcommittee on Labor, Health and Human Services, Education and Related Services, urging continued federal support for televised captioning and subsidies for the distribution of decoders to low-income families.
* Similarly, during the House hearings, Linda Bove had observed that for years, although deaf, she had been paying for a mute button that she did not need.
* In addition to the ads displayed at the inaugural event, another that appeared in electronic magazines titled, "Even Things That Go Bump into the Night Won't Wake the One Sleeping," focused on the benefits of using captions while others are asleep in the same room.
* In 1993, WGBH created NCAM to conduct research and development to expand access to media and technologies by people with disabilities. Caption America was now operating under the name VITAC.