A Federal Relay Interlude: The Telecommunications Accessibility Enhancement Act of 1988
We've parlayed our lifelong telephone frustrations, large quantities of blood and tears, some luck, imagination, and a sizeable pile of public money into something big. With the dual party relay, we've got ourselves a telecommunication system that could, with common-sense nurturing, win us footing in the whirl of the uptown traffic. Nobody did this for us; generally the world dug in its heels and was dragged kicking and screaming. It's hard not to feel good about ourselves.
—Bill White, "Dual Party Relays …
How Far Will They Fly?"
EFFORTS TO expand relay services adopted a slightly different focus during the latter months of 1988. Although since 1968, the Architectural Barriers Act had required federal buildings to have TTYs, most governmental offices still did not have these devices as of the mid-1980s.1 Even those agencies that did have TTYs typically failed to publicize their availability. Consequently, individuals who wanted to communicate with federal agencies usually had no choice but to go through private relay services. In the Washington, D.C., area, this put a strain on the local volunteer-run relay service, which handled as many as 2,000 calls to and from governmental agencies every month.2
In the early 1980s, officials at the Architectural and Transportation Barriers Compliance Board (Access Board) began to grow concerned that TTY users who paid taxes toward the construction and maintenance of federal buildings did not have equal access to their programs.3 To remedy this, at a November 1984 meeting, the Access Board approved a federally run pilot program to handle all relay calls to, from, and within the federal government, as well as a TTY directory for federal agencies. Over a year later, on June 26, 1986, the Access Board, the U.S. Department of the Treasury, and the Interagency Coordinating Council (ICC) announced that the pilot federal relay service would be administered by a sophisticated and worldwide telecommunications center located deep in the bowels of the Department of the Treasury.4 The Access Board's director of research, Frank Bowe, his assistant researcher Denise Gagnon, and Access Board member David Myers, would take responsibility for overseeing the demonstration project.
Two months later, the federal relay program began with two telephone answering machines, a TTY, one printer, and a single relay operator, Veronica Hinnant, who was assigned to handle calls Monday through Friday, from 9:00 a.m. to 5:00 p.m. Hinnant had no substitute should she become ill or take a vacation. Nor could the system handle calls that came in after business hours. Calls received after 5:00 p.m. were recorded and returned at a later time, when their original usefulness had likely expired. During the first month of operation, the program received a mere nineteen calls.
But as the word about the new federal service expanded, so did its incoming calls. In fact, it did not take long before demand for the federal relay exceeded its capacity. After only four months of operation, the number of calls jumped to 430 per month, and by February 1988, approximately fifty-six agencies had become regular users of the service.5 Unfortunately, the vast majority of individuals using the service were from the Washington, D.C., metropolitan area. Most TTY users outside of "the beltway" remained unaware of the program's existence.
It quickly became clear that the new federal relay program was insufficient to meet the needs of the TTY user community. Not only could the system handle only a limited number of calls at any one time, access to the federal relay program was not tollfree. Callers routinely incurred huge charges while waiting in queue to get their calls handled. Even worse, there were few customer service standards in place; for example, the Federal Times published an article quoting the federal relay operator as not having "seen any really juicy gossip come across her screen." Without safeguards to maintain the confidentiality of all calls, the benefits of this otherwise valuable service were severely compromised.
In early 1988, Mark Buse, a legislative correspondent working in the office of Senator John McCain (R-Ariz.), began to grow increasingly frustrated with the relay service offerings in the Washington, D.C., area. Buse, who was hearing, had a deaf friend at Gallaudet with whom he wished to communicate by telephone; in the past, his efforts to do so had largely been thwarted by clogged lines and busy signals. Buse took it upon himself to approach McCain about the inequities of a telephone system that precluded full communication by the deaf community. He knew that McCain had already been helping the hard of hearing community in its efforts to expand requirements for hearing aid compatible telephones. McCain readily agreed to Buse's proposals to install a TTY in his Senate office and encouraged his congressional colleagues to do the same.
Over the next few months, with McCain's blessing, Buse worked with deaf telecommunications advocates Al Sonnenstrahl, Paul Taylor, Paul Singleton, and Fred Weiner to explore the introduction of legislation that would install TTYs throughout the federal government and expand both the visibility and size of the federal relay system. Officials at the General Services Administration (GSA), the Access Board, and the Department of Justice, realizing the pilot program's limitations, quickly came out in full support of the idea. Gallaudet's newly elected president, I. King Jordan, also demonstrated his support in a letter to McCain praising the senator for having the "sensitivity, foresight, and ability to move forcefully ahead" on this issue.6
Getting the Ball Rolling
On March 29, 1988, Senator McCain, joined by Senators Hollings (D-S.C.), Danforth (R-Mo.), Inouye (D-Hawaii), and Packwood (R-Ore.), introduced S. 2221, a bill that directed the FCC and the Access Board to implement a telecommunications system throughout the federal government for people with hearing loss.7 In his opening statement, Senator McCain declared that Americans with hearing disabilities were still being denied telephone access enjoyed by the rest of the nation. Although initially this had resulted from limited technology, he said that it was now the federal government's responsibility to lead the way in ensuring that new technological advances such as TTYs were "utilized to the fullest extent possible." Referencing the Communications Act's mandate for universal service, he insisted that we could no longer ignore the needs of the deaf population. McCain went on to recount how when his staff tried to use the federal relay system, their calls went unanswered or were answered by a recording device, and return calls were never made.
On June 23, 1988, under the direction of its chairman, Senator Inouye, the Senate Subcommittee on Communications of the Senate Committee on Commerce, Science, and Transportation held Senate hearings on S. 2221. Al Sonnenstrahl testified that the invention of the telephone had only succeeded in creating a "Deaf ghetto" that produced few job opportunities and estrangement from families and friends for deaf individuals.8 Sonnenstrahl reported that in past years, TDI's offices had been inundated with daily calls from TTY users seeking assistance in contacting federal agencies. He called upon the legislators to extend the federal system's relay hours to coincide with the hours that federal agencies were open to the public, eliminate user charges, reduce blockage rates, and establish guidelines for the ethical handling and confidentiality of calls.
Sonnenstrahl then told the senators that the very invitation he had received requesting his congressional testimony provided two telephone numbers for his response, neither of which was TTY-accessible. Although he was the executive director of TDI, the nation's leading organization addressing telecommunications issues for people who were deaf, even he had to rely on someone else to accept the congressional invitation! Sonnenstrahl went on to describe how TDI had learned of con artists posing as IRS agents who had been fraudulently notifying individuals of spurious back taxes owed to the federal government. Deaf individuals who had been unable to use their TTYs to verify the false charges with governmental agencies ended up losing large sums of money when they agreed to submit the requested amounts. This was just one instance pointing to the vital need for telephone access to federal agencies.
President Jordan, also a witness at the hearings, focused on the frustrations experienced by many of Gallaudet's students who needed to communicate with governmental agencies on a regular basis.9 He gave as an example problems that NCLD's clients had encountered in their attempts to access Social Security offices. Although Section 504 of the Rehabilitation Act required those offices to have a means of communicating with applicants, beneficiaries, and members of the public, according to NCLD, Gallaudet students who received Social Security benefits had been unable to get information about their eligibility and benefits by telephone. Things got so bad that in August of 1987, NCLD brought a complaint against the Social Security Administration (SSA) for its failure to provide telephone access. The complaint was later moved to a federal court, where NCLD charged SSA's parent agency, the U.S. Department of Health and Human Services (HHS) with having violated Section 504 by failing to promulgate nondiscrimination regulations for its federally conducted programs. The legal action successfully resulted in a settlement that produced these regulations, which once and for all, contained specific provisions for telephone access to Social Security offices and other programs administered by HHS.
The Senate hearings also revealed just how few members of Congress had operational TTYs in their offices. Of 100 senators and approximately 435 representatives, only twenty or so had equipped their suites with TTYs. After Gary Olsen, NAD's executive director, testified that this relegated TTY users to second-class citizenship, Senators McCain and Inouye jointly sent a letter to all their colleagues, urging them to request TTYs from the Sergeant at Arms' Telecommunications Department. On the very same day that McCain and Inouye's letter went out (only five days after the hearings), the Senate committee voted to approve S. 2221 and sent it on to the Senate floor for consideration by the entire chamber.
A little more than one week later, on July 7, 1988, Congressman Steve Gunderson (R-Wisc.) introduced H.R. 4992, the House companion bill to S. 2221. While pleased with the lightening speed with which the proposed federal relay legislation had made its way through the Senate committee, consumers grew apprehensive when they learned that the House bill was to be jointly referred to three separate House committees: the Energy and Commerce Committee, the Committee on Government Operations, and the Committee on House Administration. The huge backlog of bills sitting in each of these committees made the bill's chances for passage over the next few months very slim.
On August 10, 1988, the Senate voted to pass S. 2221. The new bill charged the FCC—the agency "established to facilitate the availability of nationwide wire communications"—with several responsibilities:
•To increase, in consultation with the Access Board, the capacity of the existing temporary federal relay system. At least one additional operator would be added, and arrangements would be made to replace those operators when they were on vacation or sick leave.
•To establish a permanent federal relay system.
•To require all federal agencies to be equipped with TTYs for direct access.
•To publish a comprehensive directory of all federal TTY numbers, including the numbers for the TTYs located in the offices of the Senate and House of Representatives.
•To complete its ongoing inquiry into the establishment of a nationwide interstate relay system.10
The proposed legislation also directed all of the members of Congress, as well as all congressional committees, to equip their own offices with TTYs so that they could communicate with constituents and accommodate employees with hearing and speech disabilities.
While consumers enjoyed their first wave of success, by the end of August 1988, little progress had yet been made to move the legislation along in the House. With the adjournment of Congress imminent, drastic and immediate action was in order if the legislation was to survive all three committees.
Only a few months had passed since the extraordinary success of the DPN movement. Fred Weiner of the NAD believed that if rallies and demonstrations had worked then, they could work now. What occurred next was described by Paul Taylor as nothing short of a "remarkable" series of events.11 Because the vast majority of representatives in the House did not own their own TTYs, a single TTY had been centrally located for House members to receive messages from deaf constituents. Armed with the list of House committee members charged with reviewing the federal relay bill, Weiner called this central TTY number and left messages for each of the representatives, informing them that on September 22, 1988, they would be receiving visits from constituents to discuss the pending legislation. Weiner then left his telephone number, offering the opportunity for each of the congressional representatives to get back to him with any questions. Only one of the committee members returned his call.
Weiner then set about gathering support for a rally to take place on the steps of the Capitol on September 22. His plan was to stage a demonstration, after which the protesters would make personal visits to each of the representatives Weiner had called. As the day of protest approached, Weiner worked feverishly to identify the congressional offices to be visited, dividing the attendees into appropriate groups, and choosing group leaders who would present brief talking points.
Early in the afternoon of September 22, more than 200 demonstrators assembled on the Capitol's west side. Gallaudet students, deaf federal employees, and other members of the Washington, D.C., deaf community were joined by House and Senate legislators under a clear blue sky to illustrate their steadfast support for the federal bill that would serve as a model of telecommunications access. The rally was about to start when three vans, filled with students and faculty from NTID, pulled up to the cheers of those who had already gathered. Having boarded their buses at 5:00 a.m., the newcomers were elated when their very own congressional representative, the Honorable Louise Slaughter of New York (D-N.Y.), cheerfully stepped forward from the crowd to greet them.
The rally was a reunion for those who had participated in the March 1988 DPN demonstrations. Charged with the emotion and deaf pride that had not long before successfully placed the first deaf individual into the Gallaudet presidency, the group demanded immediate passage of the pending relay legislation. After the rally, as planned, the demonstrators visited each of the key legislators assigned to them by Weiner. Upon arrival at each of their designated offices, each delegation announced to the receptionist that they were ready for their appointment. When asked what appointment that was—as few, if any of the legislators had paid much attention to the TTY messages left for them, if in fact they had received them at all—the demonstrators whipped out the TTY printouts that Weiner had saved from each of the messages he left through the central TTY number. The failure of nearly every office to have received prior notice of their lobbyists' pending arrivals made an extraordinarily powerful statement. One could not have hoped for a more brilliant means of illustrating the inadequacies of the existing telecommunications system. In a single afternoon, Weiner and his federal relay troops succeeded in gathering the support of as many as thirty House cosponsors.
On the very next day, the House Subcommittee on Telecommunications of the Committee on Energy and Commerce approved H.R. 4992 by a voice vote. Four days later, the full Committee on Energy and Commerce followed suit, clearing the way for the bill to go to the House floor for a vote. Although the other two House committees had not yet approved its content, the Energy and Commerce Committee concluded that because the bill only mandated changes to the federal telecommunications system, it would not be necessary for the bill to be reviewed or approved by any other committees.
Advocates were thrilled with the resurgence of the legislation. Only days remained until the end of the legislative session, but neither consumers nor legislators had any reason to believe that the relay bill would not easily sail to its victory. Already, ninety-four representatives had agreed to jointly sponsor the legislation; on the heels of DPN, others were likely to be equally supportive. Amazingly, the little bill, introduced only months before, had succeeded in surging ahead of an untold number of bills and resolutions still waiting to be considered during the remaining weeks of the legislative session. Much of this was due to the industrious work of House staffers Pat Laird of the office of Congressman Owens (D-N.Y.) and Mary Hayter of the office of Congressman Gunderson. An exhaustive letter-writing campaign organized by consumer advocates Barbara Chertok, Leslie Hall, Irene Leigh, William Nye, and Sally Taylor also contributed to the bill's success. Through the tireless work of these individuals and members of the NAD, SHHH, and AG Bell, 5,000 signatures on petitions and hundreds of individual letters had been pouring into House offices urging the legislation's passage.
It turned out, however, that it was far too early to pull out the champagne. During the week after the House committees approved the federal relay bill, the legislation lay dormant. The second week was equally uneventful. Despair began to set in as consumers realized that if the bill did not reach the floor of the House for a vote during the remaining days of the legislative session, the legislation would die when Congress adjourned for the year. All of their time and energy spent thus far would have to be repeated when Congress reconvened in January of the following year.
Worry took hold when it was learned that Congressman Brooks (D-Tex.), chairman of the House Government Operations Committee—one of the committees to which the bill had been referred—was intentionally holding the bill back. With Jerry Covell, one of the four student leaders of DPN at his side, Weiner called Brooks's office to learn the cause of the congressman's resistance. They were told that Brooks saw little reason to bring the bill to a House vote because he had not yet seen much support for its provisions.
This was all that Weiner needed to hear. Again, the telecommunications activist set about rallying his troops—this time for a "TTY-a-thon" that would virtually shut down Brooks's offices. Using the Deaftek electronic messaging system and other communication mediums, Weiner reached out to Gallaudet's student body government and the deaf community. His plan was simple: The activists were to make continuous TTY calls to Brooks's office, understanding that Brooks did not have a TTY. This would allow the congressman to witness, first hand, his own inability to communicate by telephone with the deaf public.
Over the next three days, individuals from all over the nation clogged Brooks's phone lines with TTY calls that the congressman was unable to accept.* During one of those days, Paul Singleton, with a TTY in tow, made a visit to Brooks's office. He stood at the door and watched as an exasperated secretary repeatedly picked up her handset, listened for a few seconds, and then returned it to its receiver upon hearing the TTY beeps. After enjoying this sight for a while, Singleton walked over to her and introduced the TTY, politely explaining that she would be able to communicate with her boss's constituents if the federal relay bill was passed.
The calls were simply too much for Brooks's office to handle. After two days of the peaceful—but not so quiet—protest, Weiner received a message from David Nelson, a deaf individual (and fellow telecommunications access advocate) working for Congressman Coelho (D-Calif.), who had been told to get the calls to stop. But Weiner was intractable. The calls would stop, he said, when the federal relay bill was passed.
An extraordinary example of civil disobedience, Weiner's strategy again proved successful. When it appeared that nearly all hope for passage of the federal relay bill was gone, on October 12, 1988, the bill was brought to the House floor. In addressing his fellow representatives, Congressman Edward Markey (D-Mass.) charged that the federal government had been remiss in its failure to provide access to people with hearing and speech disabilities. If the bill did not pass, he cautioned, the pilot federal relay project would expire to the serious detriment of these individuals. He reminded his colleagues of the Communications Act's promise of universal service and concluded that the legislation would help to enfranchise Gallaudet students, members of the NAD, and others as "full players in our modern society."12
Congressman Gunderson, a member of the Gallaudet board of trustees, similarly referred to the legislation as "a blueprint for the future" in the effort to achieve equal telephone access for all Americans.13 After thanking fellow representatives and Senator McCain, he saluted what he referred to as the "real champions of the legislation"—the countless number of people throughout the country who had actively campaigned for the bill's passage and "the tireless efforts" of Gallaudet University, NTID, NAD, AG Bell, and TDI. Similarly, Congressman Matthew Rinaldo (R-N.J.) observed that although the legislation was not a "cure all," it would enable members of the deaf community to "catch up" so that they could finally share in the benefits of the telephone network. His parting words were encouraging to advocates working for a nationwide relay system: "I know it will not be the last [bill], because this is one of those truly bipartisan concerns that are common in the area of telecommunications."14
More speeches followed and once a voice vote was taken, as expected, H.R. 4992 easily passed the House. But yet again, the celebrations had to be put on hold. As it turned out, Brooks's support was not without its costs. In exchange for his approval of the House bill, the congressman had requested considerable bill revisions—so many that by the time that the House vote was taken, many parts of the bill scarcely resembled the version that had been passed by the Senate. Unless one of the chambers was willing to give up its pride of authorship, the bill would need to go to a conference committee for final resolution. With so little time remaining in the congressional session, sending the proposed legislation "to conference" could again spell its doom.
A major difference between the Senate bill and the new House version concerned which agency would be given oversight of the new federal obligations for telecommunications access. Although the Senate bill had given this responsibility to the FCC, Congressman Brooks believed "that agency [had] no more to do with the internal operation of the federal government's telecommunications system than does NASA."15 The congressman insisted on shifting oversight responsibility to the GSA.
The second matter in dispute was the extent to which TTYs would have to be installed in all federal buildings. The Senate had made the purpose of this mandate quite clear—to ensure that all federal employers "take whatever steps possible to fully integrate persons with physical impairments into the workforce."16 The costs of installing TTYs, it believed, were small when compared with the benefits of providing this access.
In contrast, Brooks complained that the TTY mandate was too imprecise. But then he also deemed the mandate to be a failure regardless of its construction. If the directive was interpreted to require equipping thousands of governmental offices with TTYs, Brooks believed it to be "an expensive and potential [sic] ineffective step." If it simply required that a single TTY be installed in the headquarters of each agency, he called it "useless as a means of providing the hearing impaired and speech impaired with access to the resources of those agencies."17 The congressman also expressed concerns about locking the federal government into any TTY technology when future software modifications in personal computers might permit the use of computers as communications devices.
Brooks was successful in ridding the House bill of the TTY mandate, and putting in its place an amendment that required GSA to conduct an analysis of modifications needed to make the federal telecommunications system fully accessible to people with hearing and speech disabilities. The amendment also authorized GSA, in consultation with the FCC, to encourage research by public and private entities on reducing the costs and improving the capabilities of accessible telecommunications devices. While the amendment watered down the Senate's TTY mandate, consumers concluded that they could live with Brooks's changes, so long as the requirement for an expanded federal relay service remained intact.
An attempt to resolve these significantly different views could have easily killed the bill in the final days of the 100th Congress. Fortunately, Senator McCain was far less concerned about getting credit for the legislation than ensuring its speedy passage. McCain's genuine interest in improving telecommunications access was revealed when he brought the amended version of H.R. 4992 to the floor of the Senate, where it was swiftly approved on October 14, 1988. To his colleagues in the Senate chamber, he explained why the new law was so important:
The passage of this legislation is evidence to the hearing and speech impaired communities that we in Congress intend to incorporate all our citizens into the Federal Telecommunications System. For 126 years, since the invention of the telephone, our hearing impaired citizens have not been granted this equal access. The spirit of the Communications Act of 1934 called for such integration, and the necessary technology has been available for years. But the progress was not evident, so I introduced S. 2221. … There is no good reason with today's technology to deny 27 million taxpayers the ability to fully communicate with their Government because of speech or hearing disabilities.18
The significance of McCain's actions during the final days of this session was best captured a few days later in a statement made by Senator Danforth: "Because he wanted this legislation to pass in the waning hours of the 100th Congress, more than he wanted recognition for his efforts, Senator McCain did not insist that we delay this legislation and use the Senate bill number. Senator McCain certainly deserves recognition for his efforts in making sure that this bill will become law."19 McCain, however, was quick to share this credit with the deaf and hard of hearing communities, without whose "support and tireless efforts," he said, this legislation would never have been possible.20
On October 28, 1988, only days before the 100th Congress was set to adjourn, the Telecommunications Accessibility Enhancement Act (TAEA) was signed into law.21 In a mixed, but somewhat colorful, metaphor, Sonnenstrahl described the new law as having "avoided the guillotine of … adjournment by speeding through and bypassing the congressional jungle of obstacles with a big touchdown!"22 The many champions of the federal relay bill, both within the halls of Congress—Mark Buse, Mary Hayter, Pat Laird, David Nelson, Debbie Jans, and Mike O'Donnell—and outside those halls—Fred Weiner, Paul Singleton, Paul Taylor, Al Sonnenstrahl, George Covington, Lisa Gorove, Barbara Chertok, and Gail Steever—were to be hailed as heroes, for their undying efforts to successfully guide the legislation on its miraculous journey through the Senate and House.
The final version of the TAEA directed the immediate transfer of the day-to-day operations of the federal relay service from the Access Board to GSA, with the understanding that additional operators and equipment would be added if needed to meet the demand for relay calls.23 On March 20, 1989, GSA took over the service, and in the first week of its new operation, two operators handled as many as 310 calls, approximately two times the number that were being handled prior to the act's passage.24 On May 3, 1989, the Federal Relay Service (FRS) was officially inaugurated and expanded to three operators. Around that time, GSA also began providing relay training to federal agencies and added a toll-free access number, causing the relay volume to climb to 150 daily calls. By the end of July 1989, GSA had hired another two operators and was making plans for further expansion in the coming year.
While the improvements made to the federal relay service during the late 1980s were appreciable, continued restrictions made consumers aware that GSA still had a lot to learn before it could offer high-quality relay services that truly met the community's needs. An indication of how right they were came when GSA published interim rules for the new federal relay service. The publication listed only a voice number for additional information—neither a TTY number nor the new federal relay number appeared anywhere on the agency's document!25
Consumer leaders were now well prepared to tell GSA what was needed to provide effective relay services. For months, NCLD's relay task force had been meticulously refining the list of features that would be vital to a nationwide interstate relay system; this same list could now be utilized to ensure the success of the Federal Relay Service. Among other things, advocates requested federal relay calls to be answered with the same speed that voice calls could be made; telephone rates equivalent to industry rates for voice calls; an end to the relay's limited hours (which penalized residents in the western part of the country); training for relay operators in ASL, deaf culture, spelling, vocabulary, and grammar; the confidentiality of all calls; and outreach through governmental publications.26 Virtually all of these features would eventually find their way into the federal government's relay program.
By 1998, the FRS would become a twenty-four-hour, seven-day-a-week service. And around the year 2000, the service would boast a staff of more than 100 communications assistants who would respond to a whopping 10,000 to 17,000 inbound calls and 15,000 to 23,000 outbound calls each month. A few years later, the service would expand even further to offer a plethora of relay options to its users, including an option to use sign language interpreters to relay video messages.
The expansion of the federal relay system, while the primary focus of the TAEA, was not its sole component. The new legislation contained other directives to improve the federal government's telecommunications access, including a directive to members of Congress to procure their own TTYs, a requirement for the creation of a federal directory of TTY numbers, and the inclusion of TTY numbers in existing federal phone directories.
The TAEA also required the design of a TTY logo to identify where TTYs are located in federal agencies.27 An international logo design contest was held, and in July 1989, the winner was selected from among 500 entries at Gallaudet University's first Deaf Way, a spectacular festival and conference on the language, culture, and history of deaf people from around the world.28 Sonnenstrahl worked with Tom Willard of Deaf Artists of America in orchestrating the contest, which was overseen by three judges—one from GSA, one from the Access Board, and one from Deaf Artists of America. The winning logo, created by Jennifer Hummel, is used to this day to identify TTYs throughout federal agencies, private facilities, and many locations around the world.
A lesser-known aspect of the TAEA, one that might have truly made a difference in the way that people with hearing loss could interact with the federal government, was never actually enforced by GSA or any other federal agency. Specifically, the TAEA directed GSA, in consultation with the Access Board, the FCC, the Interagency Committee on Computer Support of Handicapped Employees, and affected federal agencies, to issue rules to make the federal telecommunications system fully accessible to individuals with hearing and speech disabilities.* Although GSA did direct federal agencies to consider the needs of people with disabilities when the agencies developed specifications for acquiring telecommunications services and equipment, GSA never did much to enforce compliance with this obligation.29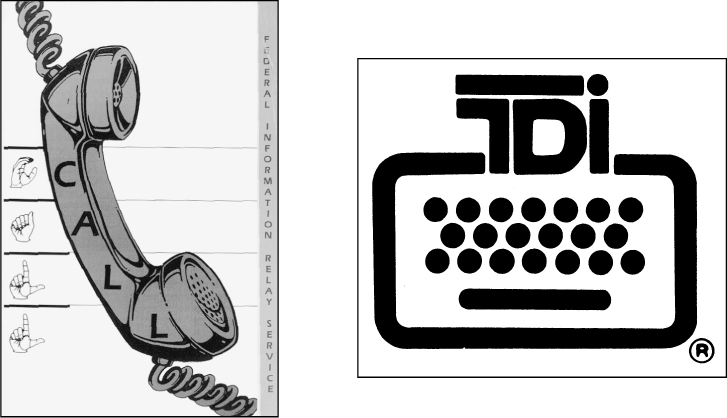 (Left) An early brochure for the newly created Federal Relay Service. (Right) International TTY logo, illustrated by Jennifer Hummel, selected in a TDI contest concluded at the first Deaf Way in July 1989.
It would be another ten years before the Workforce Investment Act of 1998 would finally force the federal government to take telecommunications accessibility by people with disabilities seriously.30 The new legislation amended Section 508 of the Rehabilitation Act to require all federal agencies to develop, procure, maintain, and use accessible electronic and information technologies. It specifically mandated that federal employees with disabilities as well as individuals with disabilities outside the government be given access to federal agency electronic information and data that was comparable to the access provided to individuals who were not disabled, unless the agency could prove that doing so would create an undue burden. In so directing, Section 508 went far beyond telecommunications, to cover computers, software applications, and web-based intranet and internet information and applications.
Section 508 also directed the Access Board to work with consumer organizations, the electronic and information technology industries, and representatives of federal agencies in developing federal accessibility standards that would assist federal agencies in complying with their new obligations. To accomplish this, the Access Board set up a federal advisory committee called the Electronic and Information Technology Access Advisory Committee (EITAAC), a twenty-seven member group which convened from October of 1998 to May of 1999. During this seven-month period, EITAAC crafted recommendations for detailed accessibility guidelines, which became the basis for the Access Board's formal Section 508 standards, released on December 21, 2000.31
Section 508 accessibility standards apply to all governmental purchases made after June 21, 2001. Among other things, the standards require federal agencies to acquire and maintain telecommunications products that provide amplification and hearing aid compatibility, and that support TTY transmissions.32 Under the new law, GSA shares responsibility for providing technical assistance on Section 508 with the Access Board. In addition, the law requires DOJ to regularly report to Congress and the president on the extent to which electronic and information technologies provided by federal agencies are accessible to and usable by people with disabilities.33
The TAEA may not have achieved all that consumers had hoped for with respect to making all of the federal government's telecommunications services fully accessible. Even now, efforts to achieve full compliance with the mandates that Section 508 imposes on federal agencies present considerable challenges. But by beginning to tear down some of the obstacles to telephone access with and within federal programs and activities, the TAEA succeeded in helping to pave the way for other advocacy efforts, including those to secure relay services nationwide.
Notes
1. Architectural Barriers Act of 1968, P.L. 90-480, 42 U.S.C. § 4151 et. seq. (1968).
2. Carol D. Leonnig, "Phone Relay Service Aids Deaf—Pilot Program Provides Help to Federal Callers," Federal Times, February 9, 1987, 24.
3. The Access Board, created by Section 502 of the Rehabilitation Act of 1973, was designed to ensure compliance with the Architectural Barriers Act by all federal agencies. 29 U.S.C. 792.
4. 51 Fed. Reg. 23251 (June 26, 1986). The ICC had been established by Section 507 of the Rehabilitation Act, 29 U.S.C. §794(c), to ensure efficiency among federal agencies in the implementation of that act. This included efforts to coordinate implementation of Section 501 of that act, which required federal agencies to provide reasonable accommodations for their employees with disabilities. 29 U.S.C. 791; 29 C.F.R. §1614 et. seq.
5. Leonig, "Phone Relay Service;" H. Rep. No. 1058, Part 1, 100th Cong., 2d Sess. 3 (October 6, 1988).
6. I. King Jordan, letter to Senator John McCain, March 25, 1988.
7. "Telecommunications Services for the Hearing Impaired," 134 Cong. Rec. S3279 (daily ed., March 29, 1988).
8. Statement of Al Sonnenstrahl, TDI, Hearings on S. 2221 before the Senate Committee on Commerce, Science, and Transportation, 100th Cong. 2d Sess. (June 23, 1988).
9. Statement of Dr. I. King Jordan, S. 2221 Hearings, 7–8.
10. S. Rep. No. 464, 100th Cong., 2d Sess. 2 (1988).
11. Paul Taylor, "Reagan Signs!" GA-SK 18 (Fall 1988): 1.
12. 134 Cong. Rec. H10000, H10002 (daily ed., October 12, 1988).
13. Ibid., H10002.
14. Ibid.,H10001.
15. Ibid.
16. S. Rep. No. 464, 100th Cong., 2d Sess. 2 (1988).
17. 134 Cong. Rec. H10001 (daily ed., October 12, 1988).
18. 134 Cong. Rec. S16779 (daily ed., October 18, 1988).
19. Ibid., S16780.
20. Ibid., S16779.
21. P.L. 100-542, 102 Stat. 2721(1988), codified at 40 U.S.C. §762a-d (1988).
22. Al Sonnenstrahl, "We Won! Thank you!" GA-SK 18 (fall 1988): 1.
23. S. Rep. No. 464, 100th Cong., 2d Sess. 6 (1988).
24. "Nation-wide Federal TDD Relay Service Now Available," Wisconsin Association of the Deaf Newsletter 18 (September/October 1989): 1.
25. 54 Fed. Reg. 42302 (October 16, 1989).
26. Comments of NCLD, TDI, the NAD, Office of the Maryland's People Counsel, OUT, the Northern California Center for Law and the Deaf, and the Bay Area Center for Law and the Deaf (November 15, 1989).
27. This provision was added upon the recommendation of Al Sonnenstrahl.
28. Deaf Way was held in Washington, D.C., from July 9–15, 1989.
29. See former rule 41 C.F.R. §201-38.009.
30. Rehabilitation Act Amendments of 1998, P.L. 105-220 § 408(b), codified at 29 U.S.C. §794d.
31. 65 Fed. Reg. 80499–80528 (December 21, 2000), codified at 36 C.F.R. §1194. On April 25, 2001, GSA, the Department of Defense, and the National Aeronautics and Space Administration published amendments to the Federal Acquisition Regulation to incorporate these new standards. 66 Fed. Reg. 20894 et. seq. (April 25, 2001), amending 48 C.F.R. Parts 2, 7, 10, 11, 12, 39.
32. 36 C.F.R. §1194.23.
33. 29 U.S.C. §§794d(d).
Epigraph. Bill White, "Dual Party Relays … How Far Will They Fly?" Silent News (May 1990): 13.
* At the time, Stephen Weiner, Fred's brother, was the deputy director of the Northern California Center on Deafness. When Stephen learned of his brother's plan, he and five colleagues set up a phone bank, and over the course of several days, made nonstop TTY calls to Congressman Brooks's office. Weiner's boss was less than pleased with the hefty toll charges (hundreds of dollars) that resulted from these calls!
* The GSA had established the Interagency Committee in 1984 to promote information technologies that could enhance federal worker productivity.