Introduction
Kristen C. Harmon
I always had a love of adventure, but made it a rule "never to get into danger until I had planned how to get out of it."
—William B. Swett
EACH SUMMER in the three years immediately following the end of the American Civil War, Deaf New Englander William B. Swett (1824–1884) worked as a carpenter, handyman, and guide for the famed Profile House, a hotel and tourist destination in the Franconia Range of the White Mountains of New Hampshire. The hotel took its name from a craggy collection of rocks on top of Cannon Mountain that resembled the profile of an old man, and this iconic image, known as "the old man of the mountains," adorns the New Hampshire quarter and postage stamps. Swett's many travails and adventures during those three summers working at Profile House formed the basis for Adventures of a Deaf-Mute in the White Mountains, a short memoir published and reprinted in 1869, 1874, and 1875.
Just about to turn forty years old that first summer in 1865, Swett began his adventures in the White Mountains under a dark cloud—two of his five children had died of diphtheria the year before, and, as a carpenter, he said the competition was "so great, I being a mute, I found it hard work to support a family" (75).1 Additionally, in the years prior to the Civil War, he had been much "hindered in all kinds of work by sickness, and the expense more than [he] could get by steady work" (75). And so, reeling from the tragedies and setbacks of the years leading up to and during the Civil War, when Swett saw the advertisement for a "large gang of workmen" for the Profile House, he noted, "I may as well say here, that, while the wages offered were very acceptable, they had not so much to do with my decision as had a desire to see a place of which I had heard so much, and an idea that there would be some chance to gratify my love of adventure" (3).
"Of adventure," Swett went on to say, "I subsequently had a good deal" (3). His short but memorable account narrated in first person reads as a Deaf-centered accounting of adventures "abroad," in the company of hearing and nonsigning people. His travelogue does not begin with the leave-taking of his Deaf spouse, Margaret Harrington Swett (1826–1907), and it does not address or portray his life as a signing Deaf person from a multigenerational Deaf family from New Hampshire; it begins instead on the train platform in Concord, NH. In keeping with the title, Adventures begins with Swett's first step outward into this journey as the self-proclaimed "Deaf-Mute" of the title.*
With a great deal of self-possession and wry humor, Swett records the varied perceptions of deafness that he encounters; initial negative reactions, are, of course, more often converted into acceptance or outright admiration for Swett's abilities and skills. Confident in his identity as a Deaf "mute" (a non-speaking person) in this era, Swett's descriptions of his encounters often contain amusing observations of how the other portion of society perceives differences. While he feels compelled to counter negative stereotypes through demonstrations of his own able-bodiedness and cleverness, he does not feel the need to justify his own existence or explain or apologize for his Deaf signing identity. On that first journey up to the White Mountains, for example, Swett and his fellow travelers are caught in a snowstorm; having perched, by choice, on top of the stagecoach, Swett is especially relieved to see the "fire and hot supper" provided for them at the Profile House. Upon entering the hotel, Swett notes that
my signs and gestures, and my little slate, of which I made free use in talking with my companions, soon attracted the attention of the company, to most of whom a deaf-mute was evidently a new thing. One man in particular, an Irishman, who was seated in a corner smoking a pipe, after eyeing me intently for some time, approached me, laid a hand on my shoulder, looked me in the face, and then, making the sign of the cross, he nodded, went back to his seat, and resumed his pipe, apparently satisfied that it was all right. I could not help smiling at his behavior, and did not know what to think of it; but have since concluded that it was his way of either getting acquainted or of expressing sympathy. (6–7)
This is not the last time Swett will encounter superstitious perceptions or, upon first meeting him, outright rejection. In one memorable instance, a man from New Jersey is told to hire Swett as a guide, but this man, Swett says, upon "learning that I was deaf and dumb … flatly refused to take me, adding some very uncomplimentary remarks, which were reported to me, of which I took no apparent notice, although I made a memorandum of them in my mind" (31). The man sets off alone up the mountain, becomes lost, and then, when Swett decides to search for him, is certainly very happy to see Swett. Swett leads him back down the mountain at a very quick pace (it was becoming dark), and Swett confesses to "having experienced a sort of malicious pleasure in leading him such a race, in consideration of his remarks on me the other day" (32). But true to Swett's good nature and generosity, he soon has the "pleasure" of seeing the man reunited with his anxious wife. For the remainder of his stay, the man from New Jersey hired Swett as his guide and said he'd never had a better guide in all his worldly travels.
Innovative, energetic, and full of fun and daring, Swett is an appealing guide to life in the postbellum era, a time when major cities were finally linked by railroad, the cost of transportation dropped, and tourism soared.2 In short sketches describing his experiences and various events during the tourist season of the years from 1865 to 1867, Swett recounts the many hair-raising escapades he undertakes and survives.
At the end of his first summer at the Profile House, just because he could, Swett decided late one afternoon to hike up to the very top of the head of the "Old Man," plant a pole and flag there, and then build a bonfire that could be seen below. This was an arduous climb that few had made. He succeeds, but nearly slips to his death and almost gets caught out over-night without a lantern and provisions. While up on the mountain, cold and wet through with perspiration, Swett remembers the story of Charles Barrett, a "wealthy deaf-mute of Boston, now dead" (16), who had visited the mountain in 1859 as part of a group attending a convention in Vermont. Barrett was unprepared, became lost, and suffered what was most certainly hypothermia. Swett, however, knows the mountain and rests in a cleft in a rock, away from wind, until it is time to light the fire, which is seen by the three hundred and fifty guests of the hotel. Afterward, he slowly, but surely, makes his way down the mountain at night, without a lantern.
When the hotel guests take up a collection of money for him, Swett thanks them, but then says he could not be paid to undertake the same ordeal again: a "man will sometimes do a thing for his own gratification which he cannot afterward be hired to do at any price" (18). However, the very next day, Swett sees that he planted the flagpole not on the head of the profile but instead on the "Adam's Apple," a collection of rocks nearby. "Not content to leave the job half done" (18), he rows across the lake once again, climbs up the mountain, and moves the pole, this time, to the right place.
Swett outwits Mother Nature and prolongs his "inevitable end" several times in narrow escapes from death or serious injury. He dodges under rock shelves and into small caves in torrential rain, and he dashes down away from the insidious, drifting "frost-clouds" and "frost demons" that could be and were deadly for those unprepared souls caught out in the elements and exposed even at the peak of summer.
He also engages in activities to entertain and assist the hotel guests. He takes it upon himself to build an outsized model of a panther out of painted wood and then carries it up the mountain himself, piece by large piece. The following summer, he builds and then sets an "Indian with a gun" on top of a distinctive outcropping of rocks, posed in the act of shooting the panther. Both summers, the hotel guests rewarded Swett with a "handsome purse." He coordinates what seems to be a lovely midsummer night's dream experience—hotel guests rowed out one night to the middle of Profile Lake to watch fireworks and a bonfire in a dark, starless night. He escorts a photographer—a veteran who had been half-blinded by flying shrapnel in a Civil War battle—to the famed scenic vistas of the Franconia Ridge. Both guide and photographer must haul packs each weighing 100 pounds and must cope with the mishaps that come along with hauling such heavy equipment over rugged terrain. These and other adventures are given to us in short, energetic, episodes.
In all of his adventures, Swett describes and counters negative stereotypes with a great deal of generosity and humor. It is refreshing to read such brisk and confident prose about navigating nonsigning spaces. He takes great pride in his physicality, stamina, and long legs, noting how the length of his legs comes in handy when trying to leap from one side of a deep, treacherous chasm to another.
Yet, a consistent sense of something just under the surface, an awareness of the fragility and limits of human bodies and the precariousness of life, comes up occasionally and then more overtly at the end when Swett is on his way home. In an incident that he says he will never forget, he sees a young girl in a chair peddling white birch baskets filled with blackberries to stagecoach passengers. When the bar controlling the horses' harnesses knocks her over, Swett sees that she has one leg. She loses all of the berries she intends to sell, but the passengers promptly jump out, raise her up, kiss her, and lift her back into her chair. Swett reports "her hands were soon well-filled with money," yet he never learns "how she came to lose her leg" (67). Even so, after this momentary pause, he makes his way home, "gratified with my THREE SUMMERS' ADVENTURES" (67; emphasis in original). After a detailed description of the landscape he sees on his way out of the White Mountains, including the infamous and tragic Willey House,3 the adventures close there, with a final observation of the "various forms in which human nature crops out" (4).
Throughout this memoir, Swett returns, in subtle ways, to the idea that being "king of the mountain" is a fragile thing. When he reaches the peak of Cannon Mountain, he takes in the view and feels "for the time, 'monarch of all I surveyed'; but if my realm was limited by my vision, it was small indeed, and my crown by no means sat lightly on my brow" (17). Cannon Mountain, and its rocky outcropping in the shape of an old man's profile, holds a special fascination for Swett.
To the general observer, who sees the "Old Man" against a clear sky, the expression is one of earnest expectation, mingled with that "heart-sickness produced by hope long deferred." But the expression varies with the weather. Sometimes it appears on the point of giving utterance to speech; sometimes it wears a settled scowl, and at others a look of more than mortal sadness. (8)
In this revealing description of the "Old Man," Swett seems to be alluding to Proverbs 13:12—"Hope deferred makes the heart sick: but when the desire cometh, it is a tree of life." However, the "heart-sickness" alluded to here could also refer to a line from a gothic romance published in 1872, Mrs. Alexander Orr's Flower of the Ticino. A very close variation of this line comes up in the romance when a mother, waiting for months for news of her son, decides to set out to search for him. There is no evidence available that determines whether or not Swett read the Orr book; however, he writes, "look through nature up to nature's God" (21), which is almost identical to a line from "Luther: A Poem" by English poet Robert Montgomery (1807–1855). This poem, musing upon theologian Martin Luther's marriage and relationship to God and Nature, contains observations like the following:
Expressive mountains! from whose massive forms
The dread Almighty speaks Himself to man
. . . . . . . . . . . . . . . . . . . . . . . . . . . . . . . . . . . . .
A mute theology all nature makes;
The very ground no vain religion breathes,
. . . . . . . . . . . . . . . . . . . . . . . . . . . . . . . . . . . . .
Behold a centre where our Yearnings meet,
That oneness where all aspirations blend—
When o'er the ruins of Ourselves we roam;
And not from nature up to nature's God,
But down from nature's God, look nature through.4
While not overtly expressed as a goal of this set of adventures, Swett clearly is observing and taking in the beauty and dangers of the landscape and what it might mean for himself, a grieving father. Swett viewed and interpreted his experiences through a Christian or meditative lens, and the conclusions that he reaches are not clichéd, nor are they platitudes. If anything, his observations are open-ended, a series of linked associations and experiences rather than conclusions.
Written from the vantage point of someone who was no longer a young man but still very much in the prime of his life, Swett's series of adventure tales can be read as an energetic engagement with life and with the landscape; but read another way, these tales could also be seen as Swett's reflections after the deaths of his children. These are the stories of someone testing his physical and emotional limits. At one point, Swett ventures high up, on purpose, into a "frost-cloud" on the mountain because, as he says, "I wanted to feel how cold it was, and to ascertain how far I could endure it" (29). Swett does not have adventures for the sake of adventure; instead, his adventures are, perhaps, a reflection on how to live a mortal, finite, life surrounded by compatriots or surrounded by strangers. Shortly after arriving at Profile House, Swett ponders the landscape.
I spent the rest of the day in looking out of the windows upon the grand scenery with which it is surrounded, and in recalling to mind the mountain adventures and narrow escapes of which I had read, and trying to remember how the persons concerned acted, in order to escape the danger they were in.
I always had a love of adventure, but made it a rule "never to get into danger until I had planned how to get out of it''; and I think it very important and useful for people to study and remember how to act in case of exposure to any kind of danger. … A person with presence of mind has an immense advantage in case of accidents, … Knowledge how to act has saved my own life and limbs several times. (8–9)
Testing the limits, facing and overcoming danger due to knowing how to act: these are Swett's paramount concerns. But his stories are also the tales of someone who finds plenty to do with his hands and tools to "keep off any sense of loneliness" (62).
In the Adventures, time moves in geological cycles; in the smallness of a particular moment, humans share the space with the prey and predators of the landscape. On Eagle Cliff, Swett watches a rabbit pop in and out of his burrow in an attempt to evade an eagle; the eagle fails at first and soars aloft again. Swett has a "momentary wish for a gun," but the next minute he is ashamed of himself, "for it seemed almost a crime to shoot such a bird." Then, the eagle swoops back down and catches the "unlucky rabbit in its claws, sail[s] gracefully away over the forest, and disappear[s] behind the cliff" (22). Before Swett leaves that spot on Eagle Cliff, he notices a huge slab, seemingly perched on the edge of the cliff, ready to slide down. The next spring, the boulder does indeed slide, and he watches it crash and "tear" down the side of the mountain. The next morning, he joins a party to see the aftermath.
The immense mass of rock had cleared a path for itself for many rods below, sweeping the trees before it like chaff, and grinding some of them to powder. Rocks, large and small, were scattered far and wide, as they had been hurled from the path of the slab. … I am inclined to think a number of such slides, at different periods, are what caused the outline of a human face known as "The Old Man," and I also think that, in time, other slides will occur which will entirely obliterate it." (23)
And indeed, in 2003, the distinctive outcropping of rocks forming the profile of "The Old Man" collapsed.
Swett's fascination with the "Old Man" continued throughout his time at the Profile House. He wrote that he would often hit his own fingers while hammering because he had been gazing up at the mountain and the changeable expressions there. The second summer, Swett decided to make a "fac-simile" of the profile in calcined plaster (plaster of Paris). Using large sheets of cotton cloth and a clothesline, Swett "risk[s] my wife's husband's neck" (38) on the rocks to take the measure of the rocks forming the profile. He then uses the measurements to make a copy of the profile true to the proportions and form of the original. So successful was Swett's model that he was written up in the New York Journal of Commerce and on September 30, 1866, the New York Times reprinted a short article entitled, "The 'Old Man of the Mountain,'— A Daring and Ingenious Deaf Mute."
The hazardous adventures recounted here were originally published as individual sketches in Deaf-Mutes' Friend, the monthly journal that Swett published with Deaf writer, journalist, and editor William M. Chamberlain. The Deaf-Mutes' Friend, which ran only for one year, in 1869, was one of the earliest community-oriented Deaf newspapers. It was one of several publications that came out to supplement the American Annals of the Deaf, which focused largely on education and to which both hearing and deaf writers contributed.5 In the salutatory in the first issue of Deaf-Mutes' Friend, Chamberlain wrote,
For over a year we have been receiving letters from mutes and their friends in all parts of the country, saying that a paper was greatly needed which should be devoted to the true interests of the deaf and dumb and an organ of communication between the widely scattered thousands who once shared the same games and studies at the various Institutions for their class which exist in nearly every State in the Union, thereby keeping alive the friendships of former years and giving information of the welfare of each and all.6
Intending to "promise our readers some months of entertainment from the material," Swett published his initial accounts of life in the White Mountains in monthly installments throughout 1869, following a chronological sequence of events.7 Chamberlain, in the editorial notes for the very first issue of Deaf-Mutes' Friend, explained that the sketches had been compiled from both Swett's written notes as well as translations from Swett's signed narratives: "Mr. Swett … gives much of the material in the colloquial 'language of signs,' the expressive and comprehensive language of the deaf-mutes, and we are obliged to translate it into English. How well or ill this is done, is not for us to say."8 The serial publication of the Adventures, along with how the sketches were compiled, likely resulted in the short, episodic, action-oriented, structure of the narratives themselves.
After serialization and the end of Deaf-Mutes' Friend, Swett's adventures were expanded and reprinted as an entire collection in 1874 and again in 1875. Proceeds from the 1874 print run went to benefit the Boston Deaf-Mutes' Mission and the Boston Deaf-Mutes' Library Association; the profits from the sale of some 15,000 copies led to a reprint in 1875, this time benefiting Swett himself. The writer of the introduction of the 1875 edition says that Swett "has been taken ill, and disabled entirely from any work whatever, besides losing the sight of one eye and being uncertain of saving the other." There is no mention of DeafBlindness in the adventures recounted here, and it is unclear whether or not Swett ever self-identified as a DeafBlind person. However, Swett's Deaf grandfather, Nahum Brown, was described as having suffered from "severe headaches" late in life, becoming blind in one eye and then in the second.9
Born into a multigenerational Deaf family in Henniker, New Hampshire, in 1824, William B. Swett is believed to have been hard of hearing early on and then lost the remainder of his hearing due to the measles and mumps at ten years of age. His grandfather Nahum Brown (1772–1859) was the first deaf person in the family. Brown had two deaf children, Persis (1800–1869), who was Swett's mother, and Thomas (1804–1886). Thomas Brown was a founding member and president of the New England Gallaudet Association of Deaf Mutes, a man described as "the first great American Deaf leader."10 Upon graduation from the American Asylum for the Deaf in Hartford, Connecticut, in 1842, Swett married Margaret Harrington, an Irish Deaf woman and a graduate of the New York School for the Deaf.11 The Brown and Swett families were key members of the Henniker, New Hampshire, Deaf community, one of three significant New England Deaf communities that flourished and became the "roots" of the contemporary "Deaf-World" in the United States.12
Alexander Graham Bell included a detailed analysis of the Swett and Brown families in his discussion of possible genetic patterns of inheritance of deafness among Deaf families in "Memoir Upon the Formation of a Deaf Variety of the Human Race" (1884).13 Indeed, a list of the Swett and Brown families and friends at such events as the 1850 "Grand Reunion" of American Asylum alumni reads like a "who's who" of the early New England Deaf communities that grew in and around the American Asylum in the mid-nineteenth century. Swett and his wife, Margaret Harrington Swett, were in attendance at the 1850 event, the "first major public event sponsored by and for Deaf people."14
In the years before and after he headed to the White Mountains, Swett had "a colorful career as an explorer, showman, mechanic, writer, and artist."15 "Imbued with the spirit of adventure," he at one point in his life reportedly "embarked upon a whaling voyage to the frozen wilds of the North, from which he gleaned a vast fund of information that he was always delighted to bestow upon others."16
"Born to be an inventor," Swett "invented several things, such as doctor's pocket scales [sic], a key and lock, an artificial water-fall," and so on (74, 77). While a student at the American Asylum, Swett became fascinated with a diorama of the Battle of Bunker Hill that he had seen on display in Hartford's City Hall.17 Dioramas were painted, moving, three-dimensional miniatures that depicted scenes of important events, usually battles. The more well-known dioramas, such as Lewis and Bartholomew's Battle of Bunker Hill, were not "'a mere painting'; the medium was 'a combination of mechanism and scenery,' having some chemical, color and lighting effects, with simulated war din and musical accompaniments. It contained 'all kinds of properties and representation of human beings,' that 'added verisimilitude' and increased the illusion of reality." Miniature figures were dressed and posed as soldiers, with movable joints. As "mechanical theater," the Lewis and Bartholomew diorama that Swett witnessed at the Hartford City Hall enacted the Battle of Bunker Hill in three acts.18
Swett never forgot the experience of seeing Lewis and Bartholomew's Battle of Bunker Hill. Years later, he told a group of students, "Time never can erase it out of my mind, on seeing the first scene, how I was startled and enraptured, and would not turn away my eyes from the moving figures, and I wondered if they had souls, until the performance was through" (see p. 73, this volume). So taken was he by the diorama that he devoted years to learning how to whittle and design the figures and pieces of a military scene, and he created a diorama of the Battle of Lexington. As he said later, "I learned two words, patience and perseverance. When I lay hold of any thing, I go to work with a will and overcome all difficulties if I meet them" (74). Indeed, after his death, Swett was described by his compatriots as having been "gifted to a remarkable degree with courage and perseverance, no sooner did one trade fail him than he immediately applied himself to another. … He mastered thoroughly whatever he undertook, and invariably won the respect of his associates by his quiet demeanor and upright dealings."19
In 1858, a Manchester (NH) newspaper reported that "Mr. Wm. B. Swett, of this town, a deaf-mute has recently given an exhibition here which will illustrate the skill and ingenuity as well as the indomitable patience and perseverance of the Yankee character." Swett's Battle of Lexington consisted of 300 figures moved by "hidden machinery, re-enacting the battle." The article noted that after six years of construction of the diorama, Swett hoped to raise the funds to perfect and present the work to the larger public.20
On Christmas Day of 1858, Swett exhibited the Battle of Lexington to students at the American Asylum in Hartford and gave a short address. A charming reflection on childhood, creativity, and perseverance in the face of naysayers and the challenges of adult life, "Mr. Swett and His Diorama" provides insight into Swett's life and history before embarking on his journey to the White Mountains (see pp. 69–78, this volume).
After the cheerful, breezy adventure stories and "tales of derring-do" of the Adventures, readers may be struck by the difference in tone and the much more vulnerable and revealing content in his address to the students at the Hartford school. While Swett portrayed confidence and cultivated a somewhat distanced and objective narration towards his hearing compatriots in Adventures, his address at the Hartford school is much more reflective and intimate. For one, his memories of being a student at the school come flooding back for him; he confesses that "I am totally incapable of saying what the expressions of my heart are while I stand before you" (72). He discusses some of the challenges of his life after graduation, including the difficulty in finding steady work in his trade. Swett makes special mention of his wife Margaret, telling the students,
All the success I met with [on the diorama] is owing much to my wife's encouragement and kind advice. She would lessen or drive away any gloomy thoughts that I was always apt to bear, and she would bear all the troubles with me with great patience, and I confess I have been more than once morose and cross to her in the day of trouble, but thank her for her kind look. When I succeeded, after a long time, in finding out a method I could work the figures, how her eyes brightened up! … and she often and alone of all my friends urged me along, showing pictures of future happiness and comfort to us all, put to silence so much malicious stories against us. (76)
Swett and his wife had five children (three hearing, two deaf), but two died in 1864, shortly before the opening of Swett's Adventures. Said to have been "deeply depressed" by the loss of his children, James and Addie, Swett then left to become a handyman and guide in the White Mountains.21 In the years after he returned home, he became involved in Deaf social organizations along with his uncle Thomas Brown. He published with Chamberlain the monthly paper, Deaf-Mutes' Friend, became director of the Deaf-Mute Library Association, served as business manager for the Boston Deaf-Mute Mission, and was the first secretary of the New England Gallaudet Association and, later, its president.22
In addition to Adventures of a Deaf-Mute, Swett published Manual Alphabets and their History, with Sketches, Illustrations, and Varieties, in 1875 (see pp. 79–93, this volume). An overview of the one-handed and two-handed manual alphabets, this booklet also included short biographies of Thomas Hopkins Gallaudet and Laurent Clerc. Proceeds from this publication were intended to "derive sufficient profit to support [Swett's] family, he being now disabled from any work, with poor bodily health, and a disease of the eyes which has destroyed one and threatens the other."23
Despite his ill health, Swett went on to found the New England Industrial School for the Education and Instruction of Deaf-Mutes in Beverly, MA, in 1879. He served as superintendent, his wife served as matron, and their daughters, Ellen ("Nellie") and Lucy, were teachers. Upon Swett's death in 1884, Rev. Thomas Gallaudet wrote that "the kind-hearted, skillful workman has been called to his rest in Paradise, but the work he began will go on."24 In other remarks after Swett's death, his compatriots noted that
To [the object of establishing the New England Industrial School], he devoted his untiring energies for five years, and the results have excited the admiration of the public. He had effected vast improvements upon the building and grounds, doubling their value. The only thing wanting to complete his joy was the recognition of the State Board of Education. Just as the State Board was proceeding to act favorably on the petition of the Trustees of the School, Mr. Swett was cut off in his prime by the remorseless and inexorable hand of death. … but his work may yet live after him, and stand as a useful, beneficent monument to his memory."25
At Swett's memorial service in Beverly, MA, the pupils of the school, "twenty in number, arose to take the last look at the face of their friend and benefactor, there was evidence of the love which they bore for him who was no more. One little fellow, sobbing bitterly, could, with difficulty, be induced to leave his seat and walk past the coffin."26 Swett was said to be "always careful of giving offence, saying very little himself and keeping his temper under perfect control, no man ever lived who was so much respected as he was by the community among whom his lot was cast."27 After her father's death just a few short years after the founding of the school, Ellen Harrington Swett became superintendent, a position she retained for twenty years, until her death in 1904.28 The school was renamed the Beverly School for the Deaf in 1922, and it is still in operation.
READERS OF Adventures of a Deaf-Mute in the White Mountains will be struck by the glimpses of postbellum American life; while the Civil War is barely mentioned, the aftermath of a divided United States at war emerges occasionally. Swett narrates an encounter he had with Admiral David Farragut, and he describes his own "hero-worship" and "Yankee-like response" to the Civil War naval hero. Swett is gratified when Farragut tells him that he was—as was Swett himself—"acquainted with the veteran Laurent Clerc, who came from France, the first instructor of deaf-mutes in America, and others of our notable men" (25). The vocabulary and rhetoric of a war-torn nation comes up in descriptions of a rock formation as a "grim sentinel" (19), and when Swett and his co-workers engage in a joyous and sustained snowball fight in the middle of summer, they use tactics that "would have been useful on a more earnest battle-field" (10–11). Swett never discusses the Civil War at length, probably because his intent with this collection was to provide entertainment and to provide tales of adventure.
After the Civil War, the cost of transportation declined and many more people traveled further afield, particularly to mountain and seaside resorts. The Profile House, built in 1853, drew the "well-to-do" tourists and was a palatial and grand destination. By 1860, approximately 10,000 visitors came to the White Mountains every summer, and the Profile House was a key destination, located as it was in the Franconia Notch.29 Swett describes the visitors as being artists, ramblers, and seekers of scenic views and peace, who sought refuge from "the duties and cares of life in the outside world" (62), and he portrays the Profile House in glowing terms.
It has four hundred windows, and can accommodate several hundred guests. … It is one of the most convenient, commodious, and best-managed hotels in the Mountains; it is within easy distance of some of the most interesting of the natural curiosities: Eagle Cliff, Echo and Profile Lakes, the Cascade and Falls, the "Old Man," the Basin, Pool, and Flume, Walker's Falls, and other minor objects. With its telegraph and stage offices, its hosts of servants and hundreds of guests, it is a town in itself. … The stables are extensive, as the travel demands it, and I have often counted three hundred and fifty horses stabled at once. (20)
Architectural historians note the importance of the Profile House and other regional inns for the burgeoning hotel industry in the years after the railroad expanded.30 Above the hotel, Swett writes, Eagle Cliff "towers far into the air, and seems almost to overhang the hotel, although it is in reality quite a distance off" (21). A "billhead" photograph from 1867 does indeed show a massive wooded cliff with, at its foot, a large white four-story structure with wings and many dormer peaks on its sloping roofs, people milling about outside, and a stagecoach and riders on horseback pulling up to the entrance.31 This popular hotel continued to expand, advertising itself in 1864 as "the largest of the leading Summer Hotels with a patronage of the highest order." After multiple expansions, it burned down in 1923.32
During the tourist season of 1866, Swett was hired as a guide and assistant for an unnamed "seedy-looking" photographer from New York who had come to "take views of the places of interest in the Mountains" (26). Swett says he was "not a very prepossessing individual," but he "wore an army uniform, and had only one eye, black and piercing" (26), having lost sight in the other during the Civil War at the Battle of Malvern Hill. Swett later found out this photographer had been part of Dr. Elisha Kent Kane's expedition to the Arctic Circle and Baffin Bay to search for the missing British explorer Sir John Franklin. This man was very likely Amos Bonsall (1830–1915), a member of the second Grinnell Expedition of 1853–1855. As the photographer of the Kane mission, Bonsall has a place in both photographic and Arctic exploration history. Swett reports that the "intense cold prevented [the photographer] from taking views, and he was otherwise employed" in the Kane expedition (26). Bonsall had brought and used daguerreotype equipment, but "all images were lost on an ice floe."33
These daguerreotypes would have been among the very first photographic images of this frozen region of the world, and there is some mystery about what happened to them. Despite what Bonsall told Swett and the visitors of the Profile House, Dr. Isaac Israel Hayes, the surgeon on the expedition, reported in 1853 that Bonsall had taken "a number of fine pictures," overcoming difficulties in working with the photographic chemicals. Bonsall later wrote that on the voyage home, "[t]he box containing the daguerreotypes was put upon a sledge on the ice, and was carried away, together with the whole collection of Arctic birds, which had been prepared with great care for the Academy of Natural Science. This was an irreparable loss, and one to this day I have never ceased to regret."34 Even so, daguerreotypes said to be from the Kane expedition were put on display in Philadelphia in 1876. Photographic historian Martha Sandweiss says that
these accounts are hard to reconcile with Bonsall's claim that the daguerreotypes sank in the cold Arctic sea. But they begin to suggest something of the vagaries of the daguerrean marketplace and the ways in which the daguerreotypes came to be revalued once the technology that produced them became obsolete. As alternatives to field sketches, daguerreotypes might have seemed inadequate. But as historical artifacts they could be valued, long after the fact."35
Kane and his crew members were later celebrated as among the early non-indigenous explorers of the Arctic Circle, and Bonsall continued to work as a photographer in the years afterward.
Bonsall's arrival at the Profile House in October of 1866 was untimely and beset with challenges related to the rugged terrain, the increasingly wintry weather, and the unwieldiness of the equipment. Both Bonsall and Swett carried 100-pound loads up and over the mountains as Swett guided Bonsall to various scenic views. Swett cleared paths for Bonsall, they had mishaps with the equipment, they were caught out overnight in the "gloom of the forest" and had to make do with moss and blankets and no fire, and they evaded an "almost certain death" from sudden and deadly "frost-clouds" (28, 29). The weather was so uncooperative that Bonsall gave up and bade farewell to the Mountains.
THROUGH HIS many adventures in and out of the White Mountains, Swett witnessed some of the major developments of the antebellum and postbellum era in America: the public commemorations of the Revolutionary War, the expansion of the country and the subsequent removal of indigenous populations, the extension of the railroad and travel into previously unlinked portions of the country, the rise of tourism, and the ongoing development of photographic methods. Swett also was a key participant and contributor to some of the important developments of the Deaf community in the nineteenth century. He was a member of two significant multigenerational Deaf families in New England, an early alumnus of the American Asylum in Hartford, CT, a writer and publisher of Deaf-centered works, a member of various Deaf civic organizations, and the founder of the New England Industrial School for Deaf-Mutes. With his roots in sign language, in early Deaf education, in early civic organizations for the Deaf community, Swett provides a unique insight into early Deaf America in New England. Perhaps his most memorable contribution, however, is in having shared, for a brief time, a life of adventure and the lesson to always have a plan for getting out of danger.
The frontispiece of Adventures of a Deaf-Mute in the White Mountains is a pen and ink portrait of a handsome man in his forties with dark, curly muttonchops. His dark hair is slicked straight back in the style of the time, and he is dressed in a crisp-looking white shirt, a bow tie, and a dark, tailored jacket. William B. Swett, adventurer, was a handsome man. But what is most striking about this portrait are the eyes; they look off into a far landscape. Swett has bags under his eyes, but his gaze is determined and focused, just as he was throughout his life.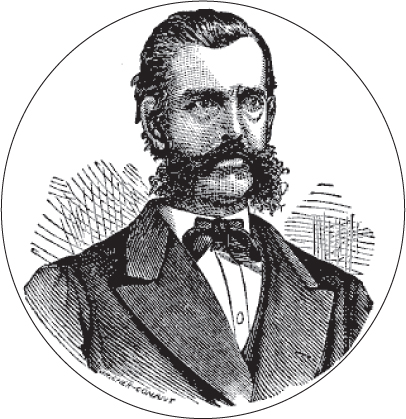 Notes
1.Unless otherwise noted, numbers in parentheses following quotes refer to pages in this volume.
2.Weiss, "Tourism in America."
3.Ibid., 299. In 1826, a landslide killed all seven members of the Willey family along with two hired men, but their house was spared. The Willey House became a popular tourist destination in the years afterward. Swett refers to it as Wiley House.
4.Montgomery, Luther: A Poem, 221, 225–26.
5.Edwards, Words Made Flesh, 110.
6.Chamberlain and Swett, "Salutatory," 17.
7.Chamberlain, "Life and Adventures of William B. Swett," 2.
8.Ibid., 1.
9.H.W.S., introduction to Adventures of a Deaf-Mute, 3; Lane, Pillard, and French, "Origins of the Deaf World," 21.
10.Lane, Pillard, and French, "Origins of the Deaf World," 18, 20.
11."Ingenious Mechanism," 118; Edwards, Words Made Flesh, 233; Lane, Pillard, and French, "Origins of the Deaf World," 29.
12.Lane, Pillard, and French, "Origins of the Deaf World," 17.
13.Bell, Formation of a Deaf Variety of the Human Race, 205.
14.Edwards, Words Made Flesh, 125–26.
15.Lane, Pillard, and French, "Origins of the Deaf World," 29.
16.White, "Late Wm. B. Swett," 14.
17."Lewis, Bartholomew, & Co. Respectfully Announce Their Arrival in this City with their Magnificent Historical Moving Diorama," Connecticut Digital Archive, accessed May 18, 2016, http://collections.ctdigitalarchive.org/islandora/object/40002:20171.
18.Arrington, "Lewis and Bartholomew's Mechanical Panorama," 53, 54.
19.White, "Late Wm. B. Swett," 14.
20."Ingenious Mechanism," 117–18.
21.Lane, Pillard, and French, "Origins of the Deaf World," 29, 33.
22.Edwards, Words Made Flesh, 233; Lane, Pillard, and French, "Origins of the Deaf World," 35.
23.Introduction to Manual Alphabets by Swett, 3.
24."History," Beverly School for the Deaf, accessed August 9, 2016, http://cccbsd.org/about/history/; "New England Industrial School," 230–31.
25.White, "Late Wm. B. Swett," 15.
26.Ibid., 16.
27.Ibid., 14–15.
28.Sanders, "Ellen Harrington Swett," 225.
29.Weiss, "Tourism in America," 300, 306; Tolles, Grand Resort Hotels, 39.
30.Tolles, Grand Resort Hotels, 38.
31."Billhead for the Profile House, Franconia Notch, New Hampshire, dated September 25, 1867," Historic New England, accessed May 20, 2016, http://www.historicnewengland.org/collections-archives-exhibitions/collections-access/collection-object/capobject?gusn=GUSN-255052.
32."Profile House and Cottages," 75; Tolles, Grand Resort Hotels, 39.
33.Hannavy, Nineteenth-Century Photography, 69.
34.Sandweiss, Print the Legend, 117; Bonsall, "After Fifty Years," 43.
35.Sandweiss, Print the Legend, 118.
Bibliography
Arrington, Joseph Earl. "Lewis and Bartholomew's Mechanical Panorama of the Battle of Bunker Hill." Old-Time New England (Fall-Winter 1951–1952): 50–58.
Bell, Alexander Graham. Memoir Upon the Formation of a Deaf Variety of the Human Race. Washington, DC: Government Printing Office, 1884.
Bonsall, Amos. "After Fifty Years." In The White World: Life and Adventures Within the Arctic Circle Portrayed by Famous Living Explorers, edited by Rudolf Kersting, 38–50. New York: Lewis, Scribner, and Co., 1902.
Chamberlain, W. M. "Life and Adventures of William B. Swett: Introductory, by the Editor." Deaf-Mutes' Friend 1, no. 1 (January 1869):1–2.
Chamberlain, W. M., and William B. Swett. "Salutatory." Deaf-Mutes' Friend 1, no. 1 (January 1869): 17.
Edwards, R. A. R. Words Made Flesh: Nineteenth-Century Deaf Education and the Growth of Deaf Culture. New York: New York University Press, 2012.
Hannavy, John, ed. Encyclopedia of Nineteenth-Century Photography. New York: Routledge, 2008.
"Ingenious Mechanism Constructed by a Deaf-Mute." American Annals of the Deaf and Dumb 10, no. 2 (1858): 117–18.
Lane, Harlan, Richard C. Pillard, and Mary French. "Origins of the Deaf World: Assimilating and Differentiating Societies and their Relation to Genetic Patterning." Sign Language Studies 1, no. 1 (2000): 17–44.
Montgomery, Robert. Luther: A Poem. 2nd ed. London: Francis Baisler/Hamilton, Adams, and Co./Tilt and Bogue, 1842. Accessed at Google Books May 19, 2016.
"Mr. Swett and His Diorama, Address by Mr. Swett." American Annals of the Deaf and Dumb 11, no. 1 (1859): 46–53.
"New England Industrial School." American Annals of the Deaf and Dumb 29, no. 3 (1884): 230–31.
New York Times. "The 'Old Man in the Mountain'—A Daring and Ingenious Deaf Mute." September 30, 1866.
"Profile House and Cottages." Outlook: A Family Paper 50 (July 14, 1894): 75.
Sanders, Lucy M. "Ellen Harrington Swett." Association Review 6 (1904): 224–26.
Sandweiss, Martha A. Print the Legend: Photography and the American West. New Haven, CT: Yale University Press, 2002.
Swett, William B. Adventures of a Deaf-Mute. Marblehead, MA: William B. Swett, 1875.
Tolles, Bryant F. The Grand Resort Hotels of the White Mountains: A Vanishing Architectural Legacy. Boston: David R. Godine, 1998.
Weiss, Thomas. "Tourism in America before World War II." Journal of Economic History 64, no. 2 (2004): 289–327.
White, Harry. "Funeral of the Late William B. Swett." Fourth Annual Report of the New England Industrial School for the Education and Instruction of Deaf-Mutes, 14–16. Beverly, MA: New England Industrial School, 1884.
* The term deaf-mute was commonly used by both deaf and hearing people in the time Swett was writing.