INTRODUCTION
Before
Crossing the Divide
Lennard J. Davis
When Morris Davis, my father, died in 1981, at the age of eighty-two, he had been ill with cancer for ten years. My mother, Eva, had died nine years earlier, at the age of sixty-two, in a traffic accident. Both were profoundly deaf. The last time I saw my father alive, he was barely conscious. I shook him, the way I used to do when I was a child, wanting him to wake up on Sunday morning and play with me. He barely opened his eyes. I signed "How are you?" Feebly, he replied, "Fine, thank you." By the next morning he had died.
After the funeral, my brother and I went to clear his possessions from the apartment in which he had lived. Most of his papers had to do with racewalking. He had held the unofficial American record for walking 25 miles, a record of which he was very proud, and about which he told almost any visitor or passerby.
But among his clippings, medals, and trophies, we found a small packet, neatly tied up. It contained a series of letters—mostly from my mother, then Eva Weintrobe—still in their envelopes and arranged in chronological order. I took these home to look at them more carefully.
That night, I settled into my bed and opened the first envelope. The neatly written letter, yellowed with age, was from my mother and was dated August 23, 1936, two years before their marriage. It began, "Dear Morris, It was indeed a surprise for me to receive your card & I shall say a pleasant surprise too." This was the first of many letters between my mother and father. In this first one, the signs of courtship are detectable—the blush of surprise, the pleasure of an interest requited. This beginning was for Eva and Morris, as for billions of other humans, the first instance when affection and even love seem possible. And like so many other moments, it could have gone awry. Indeed, the letters that followed, the letters that I read avidly and voyeuristically for several nights in a row, always teetered at the edge of disaster. Each letter sowed the seeds of their courtship's destruction as well as its creation.
Eva and Morris tried, over the course of two complicated years, to understand each other and forge a relationship through letters. Because these two were separated—initially by being in different cities, then by being in different countries—they had to accomplish in writing what most people work out in person. They had their fights, their reconciliations, their declarations of love and disappointment within the pages of these letters, which flew between the United States and Britain as silent emissaries. My parents were Pyramus and Thisbe, separated by distance but passing notes through a chink in the transatlantic wall.
As an English professor who specialized in eighteenth-century novels, I had read many epistolary romances. I was used to the slow unfolding that these stories in letters, like Richardson's Clarissa or Rousseau's La Nouvelle Héloïse, held in store. But reading my own parents' letters added a different element. Now, the fate of the hero and heroine contained my fate as well. And like the Greeks who experienced catharsis while watching Oedipus, even though they knew how it would conclude, I too winced and shuddered at each twist and turn of fate, although I knew very well the end. When, several times, Eva and Morris decided to break off the relationship, I felt myself begin to evaporate, grow translucent, and fade into nonexistence, only to return to life in the next letter, in which my parents reconciled.
I read the letters late into the nights, following Morris and Eva's understandings and misunderstandings, disagreements and declarations of affection, until I reached the last one, written almost two years after the first, in which my mother wrote: "This I think will be my last letter to you before I leave England. I can hardly believe it is true." And with the end of separation came the end of the writing. But in the meantime, I had become that magical third party—the reader, who wants the star-crossed couple to be reunited and in the course to become my parents and create my life. But my collaboration as reader had no willing co-conspirator in an omniscient author. My parents' reunion became the point of my separation from their intimate thoughts and feelings. I wanted to know more, but the letters had ended. What happened when Eva arrived in America? What was their meeting like? What happened once they were married? All I had was my recollection of their stories recounted later, casual and censored, about this period in their lives. The authentic voices they had created in writing, their literate, thoughtful ways, had fallen silent.
The experience of reading the letters was profoundly moving. I was able to see my parents not as the archetypes of Mother and Father they had become over time, but as relatively young people, substantially younger than I am now, trying to understand how their lives might fit together. Rather than the passive, quiet mother I remember, who toiled long hours at housekeeping while working as a seamstress, I found a strong, energetic woman with a clear sense of her desires. I was impressed by the way my mother could write so directly and forcefully about her wishes and plans. Instead of the sometimes gruff and tense man I had grown up loving and fearing, my father was the suitor urgently pleading for love and affection. I was touched by his need to read words of desire and encouragement. And I was swept up in the drama—Morris writing from America asking Eva in England to leave her family, take an ocean liner, and give up everything for their new life together. In my head were images of Leslie Howard and Greer Garson, Laurence Olivier and Joan Fontaine, black-and-white films of England in the 1930s with beautiful heroines whose eyes twinkle with mischief and handsome men with dimpled chins, pencil-thin moustaches, and elegant ways.
After I read the letters, I gave them to my brother to read. He had a similar experience, which we shared with each other. Then we put the letters away. More than fifteen years passed, and again I began to think about the letters. In those fifteen years, I had gone through a process of finding again my Deaf identity by attending Children of Deaf Adults (CODA) meetings, writing about deafness, and become reinvolved in Deaf and disability-related activities.1 With this new awareness, I began to think that such a collection of letters might be useful to scholars and historians of Deaf culture. My first thought was to donate the letters to Gallaudet University's library. But then I wondered if there might be a broader appeal to Deaf and hearing readers. My brother and I discussed the matter, I talked with Gallaudet University Press, and Shall I Say a Kiss? The Courtship Letters of a Deaf Couple, 1936–1938 is the result.
Why would anyone, other than family members, want to read this correspondence? I had to ask myself this question since I am opening a private affair to public scrutiny. There is no scandal here; no act of perfidy or outrage. My parents were just ordinary, working-class people involved in a courtship. Of course, their deafness adds an element of interest for some readers. Yet, their letters have a scholarly value of which my parents themselves would have been unaware. Their correspondence provides documentary evidence of the life of two working-class, Jewish, British, Deaf people in the 1930s. My father's preservation of this material allowed for a relatively rare phenomenon—the consistent, journal-like account of the "lived" experience of Deaf people over a period of time. The account would have been more complete had my mother saved letters as assiduously as had my father.2 But, because she did not, the record of my father's writing is much more meager.
Since the correspondence is mainly composed of my mother's writing, it also is a record of the life and opinions of a young, working-class, Deaf woman about to embark on marriage. Eva's conflicts are particularly illuminating since she had to work through various practical, ethical, and disability-related issues. She had to decide whether or not to marry a man with whom she had gone out only three or four times, whether to leave her family in Liverpool and venture across the Atlantic to follow this relatively unknown man who insistently begged her to come. Her problem was compounded by her deafness because the U.S. Immigration Act of 1924 had already been implemented, setting national quotas and stringent requirements for entry visas. These requirements included medical and de facto racial barriers that she had to overcome—both for her deafness and her Jewish descent.
In publishing these letters, one also has to take into consideration issues of personal privacy. I am sure that if my parents were alive, they would not be comfortable with my revealing these letters to the eyes of others, particularly nonfamily members. However, at the same time, I am sure they would be honored, although somewhat puzzled, that Gallaudet University Press was their publisher. My parents did not have more than a primary-school education, and the ways of academia were always a bit mysterious to them.
In asking who would want to read these letters, I also have to ask another question. What does "deafness" have to do with this correspondence? On a simple level, the answer would be everything. Both Morris and Eva were deaf as well as Deaf, that is, having a physical inability to hear but also being fully integrated into Deaf culture and language. But what will strike most readers is that these letters do not seem "Deaf" in any way. The correspondence is written in a clear, readable style, and for the most part does not contain the kind of grammatical structures that would suggest sign-language word order or the inability to translate from sign language to English.3
This absence of Deaf issues in the correspondence will strike hearing people oddly. They will perhaps want there to be more about what they think of as a totalizing disability. But one of the lessons of these letters is that to Morris and Eva their deafness was so much a part of their lives it did not require constant discussion and attention. Like fish, they did not have to discover water. Just as outsiders demand that films and literature about gays, African Americans, and so on be "about" the identity issue, so too might hearing readers seek to find their normality confirmed by the fact that "abnormals" can think of nothing else but their putative "lack." There is no such luck here. Morris's and Eva's lives, like anyone else's, include references to friends and family. All the friends mentioned are Deaf people, but their deafness is not highlighted.
Deafness may show up thematically in one area. Over and over again, Eva and Morris both say that they wish to avoid "misunderstanding," as Eva does on June 28, 1938, when she writes: "I hope from now on we will both never have any more uncertainties & misunderstanding." As Deaf people who have lived a life filled with the vexed problem of communication—problems between themselves and hearing relatives, friends, and officials—they are acutely aware of the difficulty in getting things right, passing along the message accurately. So when Morris and Eva are forced into negotiating their entire relationship through writing, they want to get it right. Often when things go wrong, they take special efforts to see that misunderstandings do not occur again.

Some biographical information may be in order here. Eva Weintrobe was born in Liverpool, England, on September 3, 1911. Her father, Elihu Weintrobe, was born in 1876 in Nowogrod, Poland. His lineage can be traced back to one Szmul born in 1738 in Poland.4 Elihu was originally named Eliasz Leib Chmielewski, but he took the family name of his mother, Sule Badana Weintraub, who was born in 1851. He may have taken his mother's name when he emigrated to England, thinking Weintraub (or Weintrobe) sounded less foreign. Elihu's father was Joseph Chmielewski, born in Myszyniec, Poland, near Nowogrod, in 1854. Eva's mother, Leah, was also from this region.
My mother lived her early life in Liverpool on Moon Street, a street near the Anglican cathedral in a then Jewish neighborhood. The street was subsequently demolished during World War II. Her father was a cabinetmaker who later opened a small grocery shop. She had two older brothers, Joseph and Max, and two sisters—an elder, Celia, and a younger, Betty. The family was not poor, but certainly not middle-class. In 1918, just before the family moved to a new house on Chattam Street, with electricity rather than the gaslight they previously had used, Eva, seven years old, contracted spinal meningitis. She was expected to die. Doctors shaved her head and packed her in ice water, and she managed to pull through. She remembered watching the children go to school from the balcony of the hospital, but hiding from them because she was embarrassed by her shorn head. It was when her mother came to visit, chatting with her, that she realized she could no longer hear. The family took her to all kinds of doctors. Each promised cures but never produced any hearing.
My mother quickly adapted to being deaf. She was sent to London to the Residential School for the Jewish Deaf, where she learned to read and to write. Although the school was oralist in orientation, she learned to sign by association with the children there. She continued at this school until she was about sixteen. She told me that she was always afraid that she would not be able to go home on holidays because she was pale. So when the children were lined up for inspection, she would pinch her cheeks to appear rosy and healthy and thus get permission to go home.
As she grew up, her Deaf friends formed the core of her social world. They were an energetic, athletic crew and spent much of their time on trips to the beach. I have many photos of Eva from this period looking tan and trim. One place she enjoyed going was to Hailbi Island, which was only accessible when the tide was low. She and her friends would get up early and return late, although they did have mishaps in which they were stranded on the island when the tide came in too quickly.
Eva worked at Lewis's department store as a seamstress and also helped out in the family grocery store. That was her life until she met my father.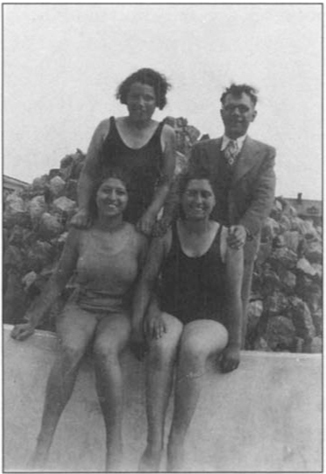 Eva (lower left) with Deaf friends at the beach.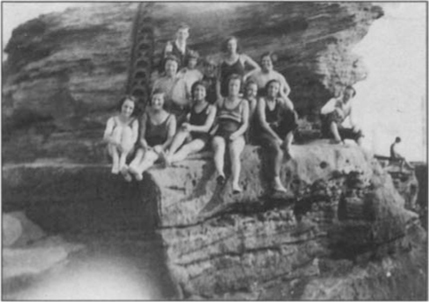 Eva (seated third from left) on an excursion to Hailbi Island.
My father, Morris Joseph Davis, was born in 1898 in the Whitechapel section of London, a poor, Jewish neighborhood. His Yiddish name was Moishe Yussel, but he preferred his anglicized name. His parents were hearing, as were his three siblings, Natalie, Jane, and Abraham. His father, Solomon Davis, was a fishmonger and his mother, Bella Esther Moskowitz, was the daughter of a rabbi. Both of them were born in Poland and had emigrated to England in the nineteenth century. Solomon left Bella for New York in the early 1910s and the couple never reunited, although they never divorced either. The reasons for his departure are uncertain. I have heard three reasons; any and all may have been true. First, he and his wife were incompatible; second, he killed a man in the boxing ring during a prize fight; and third, he was in debt and about to be arrested.
Morris either was born deaf or became deaf through illness prelingually. We have conflicting stories about his becoming deaf. On the one hand, there is the story that his aunt dropped him while carrying him down the stairs. There is also the story of his playing quietly on the floor while his uncle fiddled on the violin; the uncle suddenly realized that Morris was deaf because he did not react to the music. A final story tells of an operation in which both his eardrums were removed to cure an inner-ear infection. How these stories fit together is not clear, and what we have amounts more to a mythology than a reality.5
Morris grew up in an impoverished household. He attended the Residential School for the Jewish Deaf in London as a charity student and helped to support his family first as a carpenter's apprentice and later as a tailor's apprentice. His family lived in a single room above the fishmonger's shop. After Morris's father left the family, his mother earned money by selling fabrics door-to-door. At that point the family was so poor they only had one good meal on the Sabbath. Bella would give each child a small drop of liquor, which she measured from a thimble worn around her neck, so that they would be able to hold the food down. My father tried to better his lot through gambling, but he ended up losing most of his money. In an effort to reform himself, he also began to participate in boxing and walking races. The latter became his passion, and he was eventually accepted into the prestigious London Polytechnic Harriers, in which he was a teammate of Harold Abrahams, whose life is depicted in the film Chariots of Fire.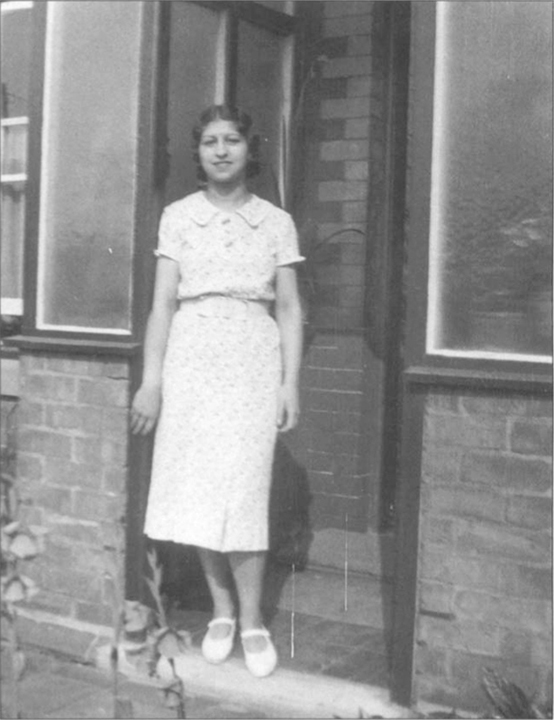 Eva at her home around the time she first met Morris.
Morris followed his father to New York in 1924. In New York, Morris continued his racing feats. He joined the 92nd Street Young Men's Hebrew Association's track and field team, composed of the best Jewish athletes in New York. He was the only deaf athlete to make the team. Although Morris attempted to join the New York Athletic Club, the equivalent of the London Polytechnic Harriers, he was always barred both for being deaf and for being Jewish. Nevertheless, Morris won many events for the "Y" and held the unofficial American record for 25 miles. He did all this while working as a sewing-machine operator in ladies' coats and suits in the garment district.
Morris returned to England in 1935 and stayed with his mother in London. He journeyed up to Liverpool in August 1936, and at a dance at the Warrington Deaf Club, he met my mother. At that time, he was thirty-eight and she was twenty-five. According to his later account, he had seen a photograph of Eva while he was in London and went to Liverpool with the express purpose of meeting her. After they had danced a few times, he decided he wanted to marry her.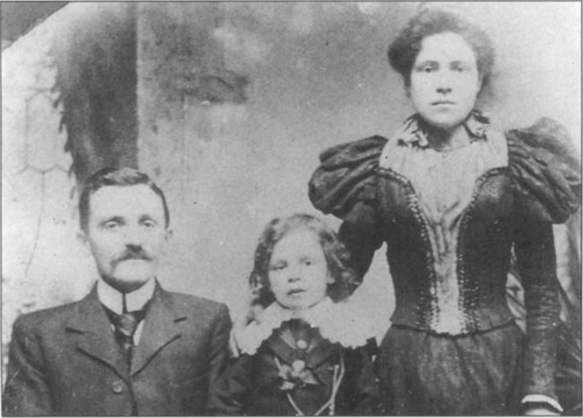 Morris (center) with his father, Solomon, and mother, Bella.
The first letter of the correspondence refers to that meeting, and the following letters indicate that they saw each other only about four times before he asked her to marry him. Obviously, this haste was confusing to Eva, and much of the correspondence initially deals with her reluctance to plunge into a marriage with a man she barely knew. She was concerned about his ability to find employment (since he had left his job as a sewing-machine operator to return to England for this long vacation), although she repeatedly says that she did not care about money.
Early on issues about immigration arose. Eva worried that her entering the United States would not be as easy as Morris said. Morris's visa was about to run out, so he proposed that Eva go to America with him, but she wanted to become engaged first. She asked him either to prolong his stay in England or, if he could not, to go back to the United States as an engaged man. After much debating, Morris left in June 1937, and his urgent pleas that Eva leave with him became demands that she come over to marry him as quickly as possible.
Eva mentions in a letter (August 22, 1937) the case of a deaf man who could not get a visa to America because "he is deaf" and worried that she would have trouble as well. This is the first time in the correspondence that deafness comes up as an issue. As Eva pursued the visa, she realized that the reluctance of the American consulate to grant her a visa was largely owing to her deafness, although the consulate never mentioned this point directly.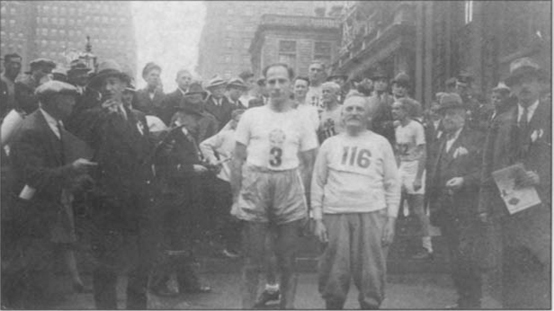 Morris (left) with his father (right) in New York City at the annual city hall to Coney Island walking race in November 1935.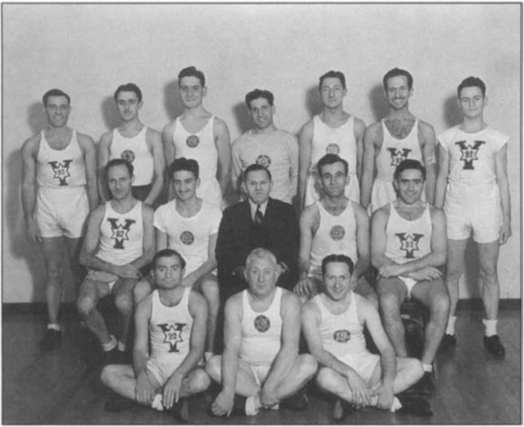 Morris (second row, left) with the 92nd Street YMHA track and field team.

In order to understand Eva's difficulty in obtaining a visa, we have to consider the history of immigration policy in the United States. When my father arrived in America in the early 1920s, there were no quotas on European immigration, although the national debate had heated up over the vexing problem of the tired, poor, huddled masses of foreigners flowing into the United States. But by 1937, when Eva tried to obtain a visa, immigration laws had changed.
In 1907 Congress established an immigration commission that concluded the recent immigration of Eastern European Jews, Poles, Bohemians, Russians, and Italians, adding to the older wave of Scandinavians, Irish, and Germans, had had an unsalutory influence on American society. By 1910 southern and eastern Europeans made up nearly 77 percent of the total immigration to the United States.6 The Commission recommended a literacy test as a screen against undesirables. Presidents Taft and Wilson vetoed the legislation, but Congress overrode Wilson's veto in 1917, riding a crest of prewar tensions to institute a literacy test.
The wording of the 1907 legislation clearly links ethnicity, race, class, and disability by advocating the exclusion of
idiots, imbeciles, feeble-minded persons, epileptics [along with] … paupers, vagrants, persons likely to become public charges,… persons afflicted with tuberculosis or with a loathsome or contagious disease … polygamists, anarchists … prostitutes, persons … who are found to be and are certified by the examining surgeon as being mentally or physically defective, such mental or physical defect being of such a nature as to affect the ability of the alien to earn a living.7
Although this language had not yet been translated into immigration law, people with disabilities were often denied entry into the United States. Luckily, Morris was not affected by the motives behind this language when he came to the U.S.
Nonetheless, documents concerning immigration routinely blurred race, health, class, and morality. Jews, for example, were seen as medically inferior as well as socially undesirable. In a 1937 book by Otmar Freiherr von Verschuer, director of the Frankfurt Institute for Racial Hygiene, Jews are shown to be more prone to diabetes, flatfeet, staggers (torsionsdystonie), hemophilia, xeroderma pigmentosum, deafness, and nervous disorders than non-Jews.8 But these notions linking race and biology were by no means limited to the Nazis. This opinion governed U.S. immigration policy during this period. For example, Dr. J. G. Wilson, a U.S. Public Health Service doctor who examined immigrants coming through Ellis Island, wrote in Popular Science Monthly, "If the science of eugenics deserves any practical application at all, it should insist upon a careful study of the … Jews" because "the Jews are a highly inbred and psychopathically inclined race" whose defects are "almost entirely due to heredity."9 Harry H. Laughlin, who served as an advisor to the Immigration Commission and was an assistant to Charles Davenport's Eugenics Records Office, defined the socially inadequate as "feebleminded, insane, criminalistic, diseased, blind, deaf, deformed, and dependent including orphans, ne'er-do-wells, the homeless, tramps and paupers."10 The notion that immigrants like Jews would bring in inferior genetic material that could lead to deafness, for example, encouraged further restrictions on immigration. Alexander Graham Bell, who had inveighed against deaf intermarriage, which he feared would create a "deaf variety of the human race," also saw immigration in general as a threat to American genetic purity. He warned that the American citizen was "surrounded by prolific immigrant races ready to take its place," and there appeared "a serious danger" that the native race would be "displaced by the immigrants."11
The literacy requirement enacted by Congress did not effectively limit immigration. And in the postwar period, in which heightened Americanism combined with the Red Scare, the Immigration Act of 1924 was passed by Congress and signed by President Harding. The act limited immigration to 3 percent of the foreign-born of each nationality in the United States according to the 1910 census and capped the total number of immigrants at 150,000 after 1927.12
It was with this nationalistic, ableist bias in immigration policy that Eva had to contend. She had three strikes against her since she was working-class, Jewish, and deaf. The "List or Manifest of Alien Passengers for the United States Immigrant Inspector at Port of Arrival"13 for the SS Scythia, on which my mother arrived, is a document that is indicative of the biased U.S. immigration policy. Questions that the U.S. government inspector had to ask "alien passengers" include: "Ever in prison or almshouse, or institution for the care and treatment of the insane, or supported by charity?" "Whether a polygamist?" "Whether an anarchist?" "Whether a person who believes in or advocates the overthrow by force or violence the government of the United States or all forms of law, etc. …?" "Condition of health, mental and physical?" and "Deformed or crippled. Nature, length of time, and cause." In my mother's entry is written "med cert deafness bilateral." Under "Marks of identification" is written "Deaf." In addition to her deafness, under the category of "nationality" is written "Britain," but under "Race or people" she is listed as "Hebrew." The Christian passenger below her on the list is listed also as "Britain" but under "Race" is listed as "English." As far as entry quotas were concerned, my mother was to be considered "Hebrew" even though she and her parents were British citizens.
There was a continuum, obvious in this document, that linked being working-class, insane, deaf, disabled, and so on, as Laughlin had suggested. Since many Eastern European Jews were also seen as political radicals, being an anarchist was seen as a racially defined category.14 And since being Jewish was considered a category of medical disability as well, we can see how difficult it was for Eva to jump the barrier of immigration law and enter the United States. Also interesting is the fact that Eva's deafness was seen as a "mark of identification" even though deafness is not visible. Rather, and to the point, deafness was seen as a mark, a brand, a confirmation of undesirability in aliens. Given this level of discrimination, we can see how difficult it was for Eva to have surmounted the barrier set up by the immigration laws, written and de facto, in order to join Morris.
I do not think that Eva considered her being Jewish decisive in her problems obtaining a visa. Although anti-Semitism must have been quite prevalent, Eva tended to live in a Jewish enclave both in Liverpool and then in residential school. Although her family was Orthodox, as was Morris's, and Jewish life played an important part in their world, the move toward assimilation was strong in her generation. My Uncle Joe, who was an Orthodox rabbi, kept the religion, but his appearance, aside from a discreet, black skull cap, was like any of his British compeers. My mother's letters refer to elaborate preparations for holidays. In our household in New York she kept a kosher home and made time-consuming dishes, including her own gefilte fish, pickled herring, and so on, but she was not overwhelmingly concerned with religion. Neither of my parents went to synagogue, although this probably was because at that time there were no sign language services available for Deaf people.
Eva's encounters with the consulate general indicate that it was her deafness, and not her Jewishness, that proved the stumbling block. She was told to come to London on October 12, 1937, after all her papers were completed, and she did. But her letter of October 14 details how she had "come back from the Consulate very disappointed whereas I had gone with great hopes." She underwent a medical examination, as required by law, but then was told that she would not get a visa. It seems clear in retrospect that until Eva arrived in London, the consul general had no way of knowing she was deaf. Yet, since the medical examination clearly specified her deafness, as the SS Scythia's passenger manifest indicated, it seems equally clear that the findings of this examination probably had the effect of closing the iron door for a time. A letter from the consul dated November 3, 1937, required more proof of support from relatives, the implications being that a deaf woman entering the United States would automatically become a charge to the state if left on her own, and that deafness was equated with inability to work.
In response, Morris immediately wrote to the Immigration and Naturalization Service in the United States and received a reply on October 29, 1937, in which Henry Hazard, assistant to the commissioner, bureaucratically laid out many of the provisions of the Immigration Act of 1924. Hazard noted that both parties were deaf and warned Morris that even if he went back to England and married Eva, there was no guarantee that she could get a permanent visa. He noted that while marriage gave the applicant a nonquota status, so Eva could enter despite quota levels, it did not rule out refusal for medical reasons, for example. The letter is clearly meant to be discouraging, embodying as it does Hazard's ableist attitudes concerning deaf people.
In response to these events, Morris did two drastic things. He went to Eva's uncle, Arthur Winarick, who was then the owner of the barber-supply business that made Jerris hair products, and asked Winarick to pay for his passage back to England to marry my mother.15 He then wrote my mother, telling her to be ready to marry him in three weeks. Eva's response was definitive. She cabled him telling him not to come and followed the cable with a letter in which she conveyed her astonishment at his effrontery in approaching her uncle for money without informing her. Under the circumstances, Eva said, she no longer wished to marry Morris.
However, this misunderstanding was patched up in subsequent letters. Meanwhile, Morris had sent another letter to the consulate general saying he was coming to marry Eva, and the response, detailed by my mother in a letter of December 16, 1937, amounted to another bureaucratic reflex asking again that my mother initiate paperwork. As Eva writes:
I had a letter from the Consulate but it seems that you did not explain that I had previously applied for a visa as he instructed me to send papers to you for affidavits & letters from your bank & place of employment. I am afraid it is useless to write to the Consulate as it is very hard to make them change.
Her resignation seems appropriate considering the discrimination inherent in the immigration laws and the sole decision making power held by the consul general. She later states that she "had been refused [a visa] through my deafness."
Then suddenly, without warning, on February 2, 1938, Eva wrote a letter to Morris breaking off the relationship, saying she realized she did not want to go to America. In a subsequent letter she explains that a deaf man from Leeds, Isadore Alpers, had begun courting her, and her family, not wanting Eva to leave the country, supported Alpers. However, by dating Alpers, Eva came to the realization that the man she really wanted to marry was Morris, and this clear understanding seems to be a turning point in the relationship. She no longer was in doubt. After some misgivings on his part, Morris forgave her.
The immigration plan Morris now proposed was to have Eva apply for a visitor's visa and stay with her relatives. After a short time, Morris and Eva would be married. She would then go to Canada and apply for a permanent visa. Morris, in his ardor, glosses over the warning given to him by the U.S. Immigration and Naturalization Service that being married is no guarantee of being able to receive a permanent visa. Meanwhile, in a letter dated April 22, 1938, the consul general, Douglas Jenkins, informs Eva that although he has received Arthur Winarick's affidavit, "Mr. Winarick has failed to prove his alleged income and savings." That affidavit, dated February 14, 1938, lists Arthur Winarick as born in Russia and having a net worth of "all totalling over $500,000." Clearly, Douglas Jenkins was dubious about this Russian Jew who claimed so much wealth. A further clarification from Morris's sister Janie, who went to speak with the consul general, indicates that Winarick had to ask his banker to send a letter confirming his wealth and had to supply another letter from some "authority" stating the weekly income of his business.
At last, when all the affidavits were received, Eva went to the consulate and finally got her visa. As she describes it:
I went through it all alone but was not a bit nervous. After being examined by a doctor I was taken into the Consulate's Office, at first I thought it was Mr. Jenkins, but he signed his name on my papers as Mr. Colebrook[.] [T]owards the end of my interview with him another man came in[.] I guessed it was Mr. Jenkins although I was not told his name, he smiled to me & jokingly asked if I was not already married. After I had my visa & was on my way out I met him again & I thanked him personally.
This moment, when Eva Weintrobe meets Douglas Jenkins, is worthy of consideration. Eva, the poor, Jewish, deaf twenty-seven-year-old woman, ventures into the American consulate and meets Consul General Douglas Jenkins, aged fifty-eight. Douglas Jenkins was the "other man" in this love story. He in effect controls the fates of both Eva and Morris. Who Was Who tells us a bit about Jenkins's life. He was born on a plantation in South Carolina on February 6, 1880, four years after Eva's father was born in a shtetl in Nowogrod, Poland. Jenkins was educated at the Porter Military Academy in Charleston, South Carolina. He studied law and was admitted to the Bar of South Carolina in 1901 but did not practice. Seven years later he joined the Foreign Service as vice consul in Halifax, Nova Scotia. During the time he was serving in Hong Kong, Berlin, and Riga (Russia), Eva was born in Liverpool and attended the residential school for Jewish deaf children. Jenkins was consul general in London for only three years, from 1937 to 1939. Later he would be foreign minister to Bolivia, retiring in 1942 to live in Augusta, Georgia, where he availed himself of his hobbies, listed as "shooting and fishing." He died in 1961, eleven years before Eva did.
Jenkins had the sole task of deciding if Eva could go to the United States. But what a profound difference in world and life experience that would shape the fate of Eva and Morris (and me!). Jenkins's virtually aristocratic upbringing and his moving through the diplomatic elite as well as the power elite of the United States gave him no insight, one would assume, into the life of a Deaf, working-class, Jewish woman. His initial response to her application for a visa was to deny her the right to come to the United States, assuming that her poor background and deafness would lead her to become a charge of the state. And when she showed that her uncle was wealthy, perhaps wealthier than Jenkins, he thought someone must be lying. Only under the duress of documentation did Jenkins relent. Yet, despite his putting millstones around her neck, in Eva's description, we can almost feel a flirtatious admiration between the young Deaf woman and the world-weary diplomat. Their encounter was a minor moment in the history of the world—yet one in which power, authority, and gender sort themselves out and find their appointed places. Her working-class respect for those in power did not permit her to see Jenkins as an obstacle, an enemy, a man who could affect her future with a stroke of the pen. Instead, he was an object of fear and veneration. To him, she was a pretty, young deaf woman with whom he could joke about her marriage in a way that clearly would have been presumptuous with a woman of his own class. Did her race and her social position, along with her deafness, make her somewhat exotic to him? One can only speculate.

The letters that follow are the only ones that I have been able to locate. In editing them, I took care to change or omit almost nothing since I regard the letters as historical documents. I have added information in brackets where necessary and have refrained from correcting spelling and grammatical errors. Since I have decided to present the letters as they are, "warts and all," readers may be surprised to see a phrase like "I am as black as a niggar." While I surely recognize that most readers will find such a phrase offensive, I did not feel that I had the right to censor a historical document. My apologies for the insensitivity inherent in any such phrase.

I would like to thank John Vickrey Van Cleve and Ivey Pittle Wallace for their help, advice, and encouragement in getting these letters into print. Also thanks to Jenelle Walthour who ably edited the text. I would also like to appreciate Arlene Malinowski and Sam Parker for the brilliant dramatic interpretation of some of these letters that they performed at the 1998 CODA conference in Alexandria, Virginia. Arlene and Sam became Eva and Morris in a way I am unlikely ever to forget. Finally, I would like to thank Morris, whose pack-rat nature made it easy for him to hoard these letters so that we could all appreciate them, and my brother, Gerald, whose help in this project brought us closer together and brought him back into touch with deafness.
1. I recount this rediscovery in my memoir, My Sense of Silence: A Memoir of a Childhood with Deafness (Champaign: University of Illinois Press, 1999).
2. One is tempted to speculate about why Eva did not save Morris's letters. Was it that he valued the letters more than she did? Or was it simply that, because she had to travel to America, she could not bring all her possessions?"
3. The quality of the letter-writing may be the result of combined factors. Both my parents attended the Residential School for the Jewish Deaf in London, an institution that, along with other Jewish deaf schools, was somewhat elite, typically schooling children from families with some financial resources. Also, one can speculate that the culture emphasized letter-writing in a way that differs from the way we do now. In the manner that ordinary soldiers during the Civil War were known to write eloquent and moving letters, so too my parents, with their elementary education, may have felt the necessity of putting their best words forward in letters.
4. I have my cousin Sheila Salo to thank for her extensive genealogical research that allowed me to know a bit about my mother's family history.
5. I provide more details in My Sense of Silence.
6. See Margret Winzer, The History of Special Education: From Isolation to Integration (Washington, D.C.: Gallaudet University Press, 1993), 303.
7. Paul Popeno and Roswell Hill Johnson, Applied Eugenics (New York: Macmillan, 1918).
8. See Robert Proctor, Racial Hygiene: Medicine under the Nazis (Cambridge: Harvard University Press, 1988), 197. While the Nazis are now popularly remembered as the foremost proponents of eugenics, the greatest proponents and developers of eugenic theory were the British and North Americans. The work of Sir Francis Galton in England and Charles Davenport in the United States laid the foundations for the study of eugenics, and the United States and the United Kingdom developed and pursued legislation with eugenic aims far earlier than the Germans. For more information on this subject, see my Enforcing Normalcy: Disability, Deafness, and the Body (New York: Verso, 1996), 23–49; Daniel Kevles, In the Name of Eugenics: Genetics and the Uses of Human Heredity (New York: Alfred Knopf, 1985); and Martin Pernick, The Black Stork: Eugenics and the Death of "Defective" Babies in American Medicine and Motion Pictures since 1915 (New Brunswick, N.J.: Rutgers University Press, 1963).
9. Cited in Pernick, Black Stork, 56.
10. See Haller, Eugenics, 133.
11. Cited in Winzer, History of Special Education, 304.
12. See Haller, Eugenics, 157. Haller also points out that no Asians of any nationality were allowed to immigrate.
13. I have to thank Sheila Salo again for finding this document.
14. Anarchy had been referred to by a writer in a business magazine fifty years earlier as "a blood disease" of "communistic and revolutionary races." Cited in John Higham, Strangers in the Land: Patterns of American Nativism, 1860–1925 (1955; reprint, New Brunswick, N.J.: Rutgers University Press, 1994), 138.
15. Arthur Winarick, married to my grandfather's sister Rivka (anglicized to Regina, then shortened to Jean) Chmielewski, later became the owner of the Concord Hotel in the Catskills. We were told he was among the 100 richest men in America. It was rumored in our family that his initial wealth was derived from bootleg alcohol, which he diverted from the manufacture of his hair tonic.