"DEAR EVA
OF MY OWN"
MAY 3, 1938 TO AUGUST 25, 1938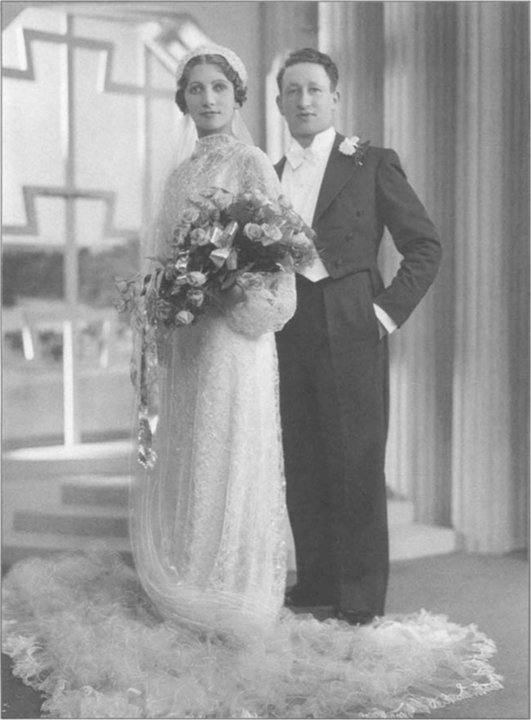 Max (Eva's brother) and Ann at their wedding.
83 Chatham St.
Liverpool 7
3/5/37[38]
Dear Morris,
I was very pleased to receive your welcome letter this morning. It made me very happy now that I know that everything is alright & I agree with you that we should forget the past & misunderstanding & not write anymore about it.
Max's wedding was a lovely affair & we all enjoyed ourselves very much. I kept thinking about you all the time & wished you were with me. Ann's people are very nice & friendly[.] [I]t was the first time the family's had met except the parents. There were about 23 from Liverpool & we had a Saloon compartment reserved. We had to leave at 11.30 pm to catch the train & this morning we had a card from Max to say that it was a pity we had to leave early as they danced until 2 A.M. Joe & his wife stayed on overnight.
Janie['s] place was just the next street so I slipped around at six but there was no one in & a note to say they would be back at 8 o'clock. I went round again at nine. Janie was very pleased to see me & wanted me to stay longer. She said that she had been to the Consulate & he told her that Uncle Arther [Arthur] should send a letter from his banker stating how much money he has and also from someone who has known Uncle a long time, about his business, that he is the boss, & how he is doing. Tell Uncle Arther to send the necessary papers direct to the Consulate. I will also write to Uncle. Janie thinks that everything will be alright if Uncle furnishes the papers & I hope, Morris dear, that it will not now be long before we are to-gether again.
Of course I want to wear a white wedding dress & veil when I get married, my family would not like it otherwise. I don't think we will have to get married on the ship as Uncle & Auntie are claiming me, in this case I would prefer to have my wedding dress made in America as I would want to have the very latest style. If I fail with the permanent visa I will do as you say & apply for a visitors visa, but Morris I am wondering would they suspect something if I had previously applied for a permanent visa & was refused. Anyway I hope it will not be necessary for me to apply for the visitors visa. Yes I received Annie's letter & photo's. I had wanted to write to her before but was waiting for things to clear up between us before writing to her & will do so soon.
Ester Graft & her husband (excuse me for not putting her married name) called at Queen's Hill to take me round to the Deaf Club, but I did not go as I wanted to see Janie & time was getting short. Annie Rubin wrote & told them about the wedding. Ray & her husband Abraham Lazarus & the baby also came round to see me. Ray was my old school friend. They asked me when I was getting married, so I told them about you.
My brother Joe asked me about you[.] [H]e knew there was something the matter & asked me if things were alright now. In the middle of the dinner at the wedding a telegram came from Elkan (Joe's little boy) wishing Max & Ann Mazletov ["good luck" in Yiddish]. They did not want to drag Elkan all the way for a day so left him with friends in Swansea.
Max will live in Tredegar South Wales, we already miss him & it is very quite [quiet] at home without any boys & Max was always the "life of the party."
I have some private work for customers of my own. I had been putting off doing them to make the wedding dresses, so as soon as, I have finished them I will start making my own trousseau. P.G. [Please God].
All bad workers blame their tools[.] Well I am blaming my pen for the terrible writing.
With kindest regards from my family & my very best love & kisses xxxx to you.
Your's Own
Eva
Kindest regard to your father & sister
83 Chatham St.
Liverpool 7
19/5/38
Dear Morris,
Many thanks for your very nice letter. I had been expecting it since last week & only received it yesterday. I noticed the post mark was the 5th. It had taken nearly two weeks to reach me. Anyway I was very glad to receive your letter & read its contents. I must say your letters are very interesting to read. I don't think mine are half as much. Yes, it is nice to receive our letters at the same time & answer each others at the same time.
Yes, I knew that Celia Harrison [Eva's cousin, daughter of her aunt Mollie Harrison née Chmielewski] is stenographer at Uncle Arthurs place as Max told us when he was in America. I believe her father works there in a small way.
I should also be surprised if your letter does not impress the Consul General. I hope he will take a kinder attitude. If not we have Uncles papers. The consul only kept your affidavit of support & returned the other papers to me. In my letter to the consulate last month I told him about your intentions of wanting to come to England last Nov. 17th & of my sending you the cablegram telling you to cancel your passage. So you can see, it is alright that we have both said the same thing. I am waiting for a letter from the Consulate telling me to go to London for the visa & please God, if I get one I will promise you that I will not keep you waiting long before I sail to America. I would like to spend a few days or so in Swansea with Joe & Rosy [Eva's brother and sister-in-law], as I had not seen them for over a year, when I saw them for a few hours at Max's wedding. We had a letter from Auntie Jean & she writes that she is very pleased that everything is alright between us. She said that I should not have mentioned to you about the Leeds boy & so did father, but I told him that it is always best to tell the truth, than you should find out later on from someone else. It sounds nice, apartment rooms, three rooms & and bathroom, just what I would like. I will leave it to you in which part of America as you know best[.] [A]nything that suits you will do for me.
I am very glad & happy Morris & I do love you very much. I am waiting for the day when you will be telling me that there is too much pepper & not enough salt.
I had a letter from Janie. She writes that she was waiting for me the morning after the wedding [Max's wedding]. I was surprised as I had told her I had only come down on an excursion.
She writes that I should write & ask Uncle [Arthur Winarick] to send a letter from his banker & also a letter from some authority stating their weekly or monthly earnings or taking, she also writes that Uncle should send proof of his willingness & ability to keep me until my marriage.
I would like an engagement ring but if you do not want to bother with one, we will not argue about it. The ring once bought is for a lifetime.
The King and Queen are paying Liverpool the honour of a visit to-day. They are I believe already here[.] [W]e have been given an hour & half off from work to see the Royal visitors. I am taking advantage of the time off by writing this letter to you. They are making a four day's tour of Lancashire. We will have to work late to-night, as we are very busy and have been these last few weeks.
A friend of Betty's [Eva's sister] told her that I am having so much bother in getting a visa I should go to Canada & get married there. Then I would get a permanent visa there, if for any reason I fail to get the visa here. We will see about my going to Canada, as it would be much easier.
As I have to be back at 1 o'clock & it is nearly that now I will have to close now.
With all my love to you dear Morris,
Your's own,
Eva
83 Chatham St.
Liverpool 7
May 19th 38
Dear Morris,
You will no doubt be surprised to hear from me but I would just like to wish you and Eva the very best of luck together.
I am very glad that all the misunderstanding between you both have been smoothed out, mother & father are also very pleased that everything is now perfect between you both. I would like you to understand that at first we made it hard for Eva to decide definitely about going to America, as we did not want such a lovely girl (which you already know perfectly well) to leave us, anyhow we hope now that it will not be long before Eva is able to join you, we are all quite excited about it at home, in fact I just feel as though I would love to make the trip myself.
I hope you are keeping well.
Mother, father and all send our fondest wishes.
Your future sister-in-law
Betty
[This letter was enclosed with the previous one.]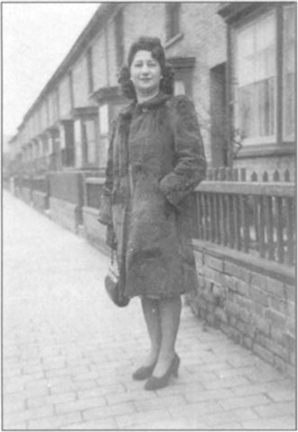 Betty (Eva's sister).
83 Chatham St.
Liverpool 7
26/5/38
Dear Morris,
Many thanks for your very welcome letter. It was nice to come home after a hard day's work & find your letter. I enjoyed reading it over my supper.
I have been waiting patiently for a letter from the Consulate in answer to the letter you sent him but have not yet received one. I suppose they are waiting for Uncle Arthurs papers. I hope you have by the time you get this letter already have sent them on.
It is considered unlucky for a bride to made [make] her own wedding dress. I would not make it myself either here or in America, even Celia did not make her own wedding dress but had it made by another dressmaker. If we do have to get married on the boat don't you think it would look ridiculous for me to change into a white wedding dress and veil only for the ceremony & then change soon after. I have always wanted to be married in white, but never thought it may have to be on a boat, would any of our relations be able to witness the ceremony. Let us hope we will be allowed to wait a little while & have a proper wedding in America.
Max has just sent us the wedding photos. Separate ones for Betty & myself saying we would eventually have our own homes, very thoughtful of him isn't it. They are lovely photos, Max looks very handsome in his tails & Ann too looks lovely. The family keep telling me that they are waiting until I send them our wedding photos. Our sewing machine is too old fashioned to take to America[.] [W]e have had it nearly twenty years. I had been thinking for some time of getting an electric cabinet machine, but it would not be worth while now. I could get one in America. I am keeping well hoping this letter finds you the same. With very best wishes from the family and my very best love and kisses to you.
Yours ever
Eva
32 Meserole St,
Brooklyn, New York
U.S. America
May 27th 1938
Dear Eva,
I was very pleased to receive your most welcome letter this morning. I was very surprised to find a strange handwritten letter inside when I opened your letter, so I looked at the end of the letter for the name. I guess I was not patient enough to read the letter first instead of looking for the name first, but I could not help it. I was very pleased to hear from Betty and it was very nice of her and I thank her very much for her good wishes.
I am sincerely very pleased to know that I am in good graces of your whole family now, because I do really love your family, and it was in your house, dear Eva, I spent my most pleasant times of my life, when I was in England last year. I am sorry you waited rather long for the letter, but I could not help it, because I found at the post-office that there were no fast liners sailing for England at that time. I always look at the list of foreign mailing and names of mail steamships on the walls of all post offices and also in the newspapers with Shipping pages. That is why I always write the names of the fastest liners on the envelopes of the letters I send you so that the letters may catch these boats just in time before they sail, and I also know what ships with mails from England are expected to arrive in New York and in that way I expected your letter this morning. I am answering your letter right away, as there are no fast liners sailing till next Wednesday, and I hope you will receive it on June 6th or 7th.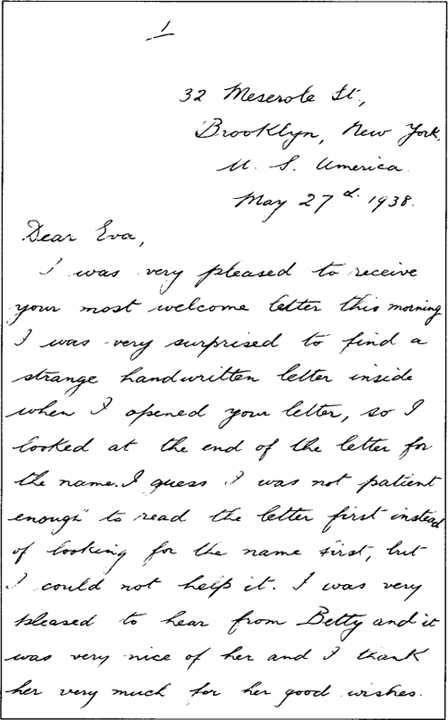 An excerpt of a letter from Morris to Eva, May 27, 1938.
Last Wednesday morning, as there were no work in my shop that morning, I took an opportunity of going to Uncle Arthur's factory to find out the reason of getting any news about the papers from Washington as his secretary, Mr. Patsiner promised to let me know within a short time. Uncle Arthur was not there, but Mr. Patsiner said that Auntie Jean had the letters from their bank and they would not wait for the photostat of income tax receipts from Washington as it would be several months before they get these papers from Washington. Mr. Patsiner promised to mail the letters from the Bank direct to the Consul General next week, when Uncle and Aunt Winarick return from the country, where they are now[,] next Wednesday. He gave me a pleasant surprise package and then I hurried back to work and then when I got home in the evening, I opened the package eagerly and here I found several large bottles of hair tonic, and shampoo, after shaving lotion, hair bristle brush, talcum powder, etc. Father looked interested and looked in the package like Christmas stocking to see if there were any more. I was thinking of you, Eva dear, as I opened the package and packed it up again and put it in the clothes closet (cupboard) till the day you come to America, Please God, and show it to you.
You did absolutely quite right about telling me about the other boy, because if you had not done so while wanting me to take you back, I would not have given you a hundred per cent love if mixed with suspicions, wondering, incredulities, disbelieves, etc. As it is, I love you very much with no trace of bitterness, distrust, and coldness, because I know you had a try with a different boy and you realized that you could not love any other boy and that you love me much more and want me more than ever, and now I know I can safely trust you and you are now more sincere than before you went out with the other boy. Please, dear Eva, let us forget all about what happened as far as the other boy is concerned. You and I want to write about ourselves.
I am enclosing the money order for £ 20 for the engagement ring for you, Darling Eva; and I wish you the very Best of Happiness in wearing your engagement ring and I hope you will enjoy a long and healthy life in wearing the engagement ring. I am also sending one dollar extra for the expenses to pay to the registered and genuine assayer in a different shop to examine the genuineness of the ring before paying for the ring. Please have someone who is experienced in the jewelry to accompany you. I believe Jack Ross [Eva's brother-in-law] knows something about it. Now, dear Eva, are you happy? I hope so.
My kindest regards to your family and my best love and kisses xxxxx to you, dear Eva darling.
I am Yours Very Sincerely,
Morris
P.S. Dear Eva, I am here in a Post Office, and I have just issued the money order form naming Jack Ross as the reciepant [recipient] of the money (£ 20-4-0) to cash the two money orders in Liverpool, 7 Post Office. I gave your address on the form, as I don't know Jack's new address with his father. Please tell your father to let my mother know about our engagement and your engagement ring as soon as you have the ring, as it is usual for the girl's parents to announce her engagement. I hope you will be wearing the ring when you write your next letter to me. Did the Consul send you back my letter from Washington, I sent you last April 4th? If so, please save it, as it will prove useful when you land in America. Love xxxxx Morris
83 Chatham St.
Liverpool 7
3/6/38
My Dearest Morris,
I have only just come home from work & imagine my surprise to find your letter waiting for me. Darling I don't know how to thank you for sending me the 100 dollars for the ring. I hope that when I put it on it will be the beginning of every happiness for us both. I only wish you were near enough to put it on for me and I hope that I will be able to make you very happy as I know you deserve to be. I will buy the ring off a reliable person. He is a friend of the family & Max also bought his ring from this fellow. I will have the ring tested before I purchase it.
I have not yet heard from the Consulate. A friend of our's was here last night, she also has lived in America for a number of years & wants to go back again. I told her about the trouble I am having with the Consulate. She was very good & told me that if I do not hear soon from London, I should go to her sister who lives in Canada, & we could get married there then go back to America. What do you say to this Morris! I think it would be a very good idea if I am refused a visa the second time or if I have to wait too long. It would not be fair to Auntie Jean if I went on a Visitor's Visa as she will have to put up a lot of money then probably lose it all. I am answering this letter right away as it is Friday & if I do not write now I will not be able to write until Tuesday as it is Yomtov. Mother is starting to light the candles, so I will have to close. I thank you once more, Dear Morris & wish you a very pleasant & happy Yomtov.
My family are also very pleased about the ring & send you their very best regards.
With best love & kisses to you Dear xxx
Your Own,
Eva
32 Meserole St.,
Brooklyn, New York,
U.S. America
June 6th, 1938
My dear Eva,
I was very glad to receive your most welcome letter last Friday at the same time as a letter from Mr. Patsiner, Uncle Arthur's secretary telling me that he had already sent two letters from the two banks and another letter from Uncle Arthur's corporation (firm) directly to the Consul General the previous day. I had already told Mr. Patsiner and Aunt Jean that I had rather not sent them to the Consul myself because I did not want to pry into Uncle Winarick's personal affairs. You will be surprised the same as Father, Uncle and Aunt Winarick and I felt, because I received a very long and nice personal letter from the Consul General, Mr. Douglas Jenkins, himself last Saturday, the day after I received your letter. I did not expect him to answer my long letter of May 4th, but I hoped he would write to you. My letter certainly impressed him as I told you that I hoped, because he sent me the letter very long equal to eight pages of my letter to him. He explained everything in details from your appointment with him last October 12th to now. He waited one week in vain for the papers from Uncle Arthur as I promised him and so he sent me that long letter, asking me about the papers from Uncle Arthur. He said that he would have granted you the visa last October 12th if you had answered him that you were willing to marry immediately on arriving in America. Since you said you did not want to get married immediately and that you wanted to wait a few weeks in New York so as to prepare for the religious wedding, he said he had no power to grant you the visa as under the law. I wish you had answered him that you were willing to get married immediately on arrival in America, because you and I would have been spared misunderstandings and so much sufferings. Father said we could have [planned to have] the religious wedding in a few days or weeks again in New York after our marriage on the boat the same as many Jewish people did. Now what had been done could not be helped, so we will have to look forward to our future. The Consul wrote that you will be sure to get your visa as soon as he gets the necessary papers from Uncle Winarick, P.G. [Please God] Today is exactly one year since I returned to America, and it was a very long wait for me. I am glad you said you would not keep me waiting long before you sail, because you will feel it worth suffering so much when you come to America this month. If you receive a letter with an appointment from the Consul, you can spend a few days with Joe and Rosie before or after going to London, and please give my best regards to them. Please… [missing]
P.S. Aunt Jean showed me the letter with postcard photo of wedding from Max, who wrote about your willingness to travel to America & he also hopes to go to America with Ann for a visit in about 2 years.
32 Meserole St.,
Brooklyn, New York,
U.S. America.
June 16th 1938
Dear Eva,
I was very glad to receive your most welcome letter yesterday and I was also very pleased to know that you were very happy to get the engagement ring. Now dear Eva we are actually engaged, isn't it nice? It is also very nice you called me Darling for the first time and I sure like it, and you can see now how easy it is for you to express your feeling in your letters, whenever you feel like doing so. Since we started together again last April, we have been sending each other nice and smoothly written letters with no more uncertainties, and we are more than ever very good friends and I hope for always. Father, Annie [Morris's sister] and Aby, my brother, are also very pleased about the engagement ring, and I am waiting to hear from Mother and Janie whether they learned about the ring from your family. You say you hope you will be able to make me very happy as I deserve to be, yes, you will make me very happy by coming to me very, very soon. I hope by now you have already heard from the Consulate. I don't think we will have to worry about whether you will get the visa or not.
However if anything unforeseen arise [s] and you are refused the visa again, I think it will be best for you to go to Montreal, Canada within two weeks as Uncle Winarick advised and Father agreed that it is best what Uncle Winarick thinks. You will have to agree to marry immediately upon arrival in Canada, but we shall also have a religious wedding in New York after we leave Canada. All these are what Uncle and Auntie Winarick suggested. In that case please remember to ask the consul in London to return all the affidavits and papers of Uncle Arthur's and mine to you if he again refuses to give you the visa, because the papers of Uncle Winarick's will come very handy when you appear before the Canadian Immigration Authorities in Montreal. Don't show them the affidavits of support, but keep them to show to the American Consul in Canada when we go there for your visa. Anyway I hope you will get the visa from the Consul General in London to come to America, but if you are again refused the visa, please don't write to me asking me to tell you what to do, but go to the Cunard White Star Line at once and book a passage to Montreal, Canada and then let Auntie Jean and me know the name of the boat and the date of sailing, so that we may be there to meet you, dearest, when you get off the boat. I hope to have you with me very soon, my own girl. Best regards to your family, and I close with my best love and kisses xxx to you, my own engaged girl friend—sweetheart Eva xxx
Yours always,
Morris
In Reply Refer to
File No. 811.11 - ESM/fh
The Foreign Service
of the
United States of America
American Consulate General
London, England, June 17, 1938
Mr. Morris Davis
32 Meserole Street,
Brooklyn, New York
Sir:
The receipt is acknowledged of your letter of June 6, 1938 referring further to the visa application of your fiancée, Miss Eva Weintrobe.
I have the pleasure in informing you that the Consulate General is now in receipt of evidence which would appear to establish that Miss Weintrobe is not likely to become a public charge if admitted to the United States for permanent residence. She is being given an appointment for July 6 to appear at this office for a reconsideration of her visa application.
Very truly yours,
Douglas Jenkins,
American Consul General
83 Chatham St.
Liverpool 7
15/6/38
My dear Morris,
I was very glad to receive your very welcome letter yesterday. I also received a letter yesterday from the Consulate General for my appointment on July 6th[,] from your letter I now feel sure of getting the visa this time & I hope P.G. to sail about the 23rd or 30th of next month. I am anxiously waiting for the day when we will be together again for always. I was very interested in what you wrote of the Consul, but I was surprised that he was not speaking the truth when he said that I wanted to wait a few weeks after my arrival in America for a religious wedding. Betty too was very surprised as she remembers my telling the Consul that I was prepared to marry you very soon after my arrival in America or on the boat if necessary. [N]othing at all was suggested] about a religious wedding then. [I]t was after when we tried the second time to get the visa that we both suggested] about the religious wedding as the reason of my sending you the cablegram. I had not heard from Janie for some time so I wrote to her yesterday & told her of my appointment.
I have got a lovely engagement ring, it is a single stone in platinum with diamond shoulders. Every time I put it on I feel very proud of it. You were a dear to send me the money. The girls at work & the [Deaf] Club look at it with envy. I always feel nearer to you when I have it on. Father has been down to change the money order, but they say that it has not yet come through & would probably by the end of this week. The fellow we got the ring off was down last night for the money, he said he would try & change it through his bank, so father gave him the money order. The ring was valued at £ 22.10 but afterwards he dropped it to £ 20.1 am making myself a brown costume I will need it for travelling to London, & am starting to get the rest of my cloths together. I am going to ask Celia to make my wedding dress as I think you are right about taking a wedding dress & viel [veil] with me.
I have told the crowd at the Club & workshop that I will be leaving soon. They all keep telling me how much they will miss me & when they will be loosing [losing] me. The missioner at our Club, you remember seeing him at Warrington was very pleased to hear of our engagement & sends you his very best wishes. Annie & Ada Rubin & Leah Purcell also send their very best wishes. It was nice of Auntie Jean to take so much interest. I will write to her when I get my visa & let her know when I am ready to sail.
Mother has gone to Swansea for her annual holiday. She has not been too well lately so I hope the holiday will do her good. Max & Ann may probably come here next week as Max['s] pal is getting married[.] [W]e are all invited Betty & I may go too.
I received a letter this morning from Ray Lazarus. She heard about my engagement & sent good wishes, it is really wonderful how fast news travels. I will try & see her when I am in London.
Harold, bless him asked me if he can be page boy at my wedding. I told him I would love him too, but none of the family were coming to my wedding. He said not even Baba [Grandma] Weintrobe[.] He is making good progress at school & is getting quite a big lad. He keeps telling me that he does not want me to go away, first it was Max & now me. He seems to be very fond of our family.
Please give my kindest regards to your father & sister, did she receive the letter I sent her. With best love & kisses xxxx to you.
Eva
83 Chatham St.
Liverpool 7
28/6/38
Dear Morris,
I was very pleased to receive your ever welcome letter. I received your letter the same time as one from Janie. I wrote to her telling of my appointment at the Consulate on July 6th & had not heard from her so I wrote again. She was very surprised to get my second letter as she had already written & told me that she would be pleased to come with me to the Consulate. I never received the letter[.] [I]t must have got mislaid in the post. Joe wrote that he would be in London this week & asked me if I would like him to pay Janie a visit. I told him to go as I had then not heard from Janie. It does not seem necessary now, still they can both have a chat. I am thinking of going to London the evening before my appointment as you know how I hate travelling overnight. I suppose Janie will be able to put me up for one night.
I am glad you are happy too over our engagement. I am waiting for the day when I will be able to show you the ring. I find it easy now to express my feelings in writing, whereas I was too shy before. I am glad you like it. I hope from now on we will both never have any more uncertainties & misunderstanding.
I had to have my passport renewed as it expired on 5th April. On asking at the Office why I had been given only six months I was told that if a person goes over to get married they are given the passport for a short time. I have got all my other papers together.
I will leave work the Friday after I get my visa as I want to be ready to sail as soon as I can. I shall have a far[e]well party before a [I] leave work & also a small one at home for my close friends. I will write to you after my visit to the Consulate. I am waiting for the day, dear, when I will see you once again for always.
With best Love & kisses xxx to you
Your's own
Eva
83 Chatham St.
Liverpool 7
7/7/38
Dear Morris,
I am now home & very happy & excited as I have got my visa & know you will be happy too when you read this letter & know that everything has turned out as we wanted it to be. I went to London on Tuesday afternoon & as no one was at the Station to meet me I went straight to Janie's place. She made me very welcome during my stay with her. Janie & a friend of hers came with me to the Consulate, but she was not allowed to come inside with me. She had to wait in an outer office. I went through it all alone but was not a bit nervous. After being examined by a doctor I was taken into the Consulate's Office, at first I thought it was Mr. Jenkins, but he signed his name on my papers as Mr. Colebrook[.] [T]owards the end of my interview with him another man came in[.] I guessed it was Mr. Jenkins although I was not told his name, he smiled to me & jokingly asked if I was not already married. After I had my visa & was on my way out I met him again & I thanked him personally. I went back to Janie's & had some tea. Then I went to Ray Lazarus['] place to say good-by. She was out but her husband was in & he took me to her mother's where I found her. She was very pleased to see me & begged me to stay another night at her house. I had intended going back by the 8.45 P.M. train, but I stayed another day. Ray came with me to visit some friends of our family in Stoke Newington. They were also very pleased to see me & were very glad to hear the good news of my getting the visa. I stayed with them the last time I was refused the visa. They asked me at the Consulate who was paying my fare over[.] I did not like to say that I was as they may think it funny so I replied that you had already sent the money over. If they ask you on the other side, don't forget to say that you paid as I do not want things to get mixed up. Of course I do not mind paying the fare but it is best if the others do not know. I had intended going tourists (second class) but I was told it would be better if I go third class as I will not be so lonesome & that they are quite nice people travelling third. Now Morris please be reasonable[.] [I]t is quite impossible for me to sail on the 16th of this month, although I want to do anything to please you & never want to disappoint you. I would never manage to get things together in time. Please do not be vexed with me. I will book my passage for July 30th as it is impossible for me to sail before. You say you will not be very happy if I do not sail on the 16th that you will always have a trace of sadness. Morris are you going to let two weeks of waiting spoil our whole life of happiness[?]
[H]ad I got my visa earlier I would have been able to sail sooner. Please Morris do not be vexed with me[.] [T]he time will soon fly. I told Janie that you wanted me to sail on the 16th, she also said that it would be too much of a rush and it would be better for me to go at the end of this month. I think we will have to married on the boat as the Consulate asked me if I would be prepared to marry you on arrival in America. I replied that I would. I will write to Auntie Jean as soon as I book my passage as I would like her to be at the boat to meet me also. I dread the parting with my family and I know it will be very hard for us all especially mother. I hope P.G. I will never regret the day that I had taken these steps, that we will both never do anything to hurt the other, that we will always be happy in each others company. I received your letter the morning that I went to London. Celia went to Swansea yesterday for a two weeks stay[.] [B]oth she & Harold have not been too well, when she comes back she will make my Wedding Dress. I went round to my workshop this afternoon & told them that I am leaving to-morrow. They are all sorry I am going also the boss. They have asked me what I would like for a Wedding present. I am having a small farewell party there to-morrow night.
I will close now, my family sends you their very best regards. I also send my regards to your father sister & brother. Your mother came round to see me yesterday morning, she looked quite well. With all my love to you & kisses xxx
Your's ever
Eva
32 Meserole St.,
Brooklyn, New York,
U.S.A.
July 19th 1938
My dearest Eva,
I was very glad to receive your nice letter yesterday, and I waited till lunch hour now to answer your letter, as I thought I would get another letter from you this morning, but my father brought a letter from Janie to me in my shop, when I went down for lunch today. My boss kindly let me write this letter in his office. I have only half an hour to spare before starting to work again this afternoon. Perhaps you forgot to tell me the name of boat you are sailing on July 30th. I am rushing this letter so that "Queen Mary" may bring it to you next Tuesday just before you sail, and I hope you will have time to write a few lines to me again before your sail. I was surprised yesterday when I learned that my brother Aby is getting married on August 20th, and I, being older than him, hope you and I will be able to get married after all before my birthday [August 26]. Janie wrote that if we get married on the boat, it will be only a civil ceremony, and then on about August 14th we will have a religious wedding, which I always had wanted to have here. Annie will help me look for our new home before you arrive and then when you arrive, you and I will choose over our own style furnitures, etc. I am going to write to Auntie Jean tomorrow and ask for her to arrange for our wedding with Annie to help me as my mother's representative. I am excited at the prospect of seeing you again very soon after such a long time, dear Eva. I hope you will enjoy yourself very much during your trip on the high seas, and please take good care of yourself and enjoy yourself in the company of your fellow passengers. You can check your valuables in the purser's office for which you will get a receipt. I do hope you and I will be happy all our lives together through thick and thin, dear Eva of my own. My thanks to your parents for giving you to me, and I hope I will make them happy through making you happy and contented all your life. Best Regards to all of your family, and my best love & kisses xxxxx to you dear Eva, I remain Yours own Morris x
Rev. J. Weintrobe B.A. "Rookwood"
Phone 3268
87, Eaton Crescent,
Swansea,
South Wales
18/7/38
My dear Morris,
As you can see from the above address I am here in Swansea. I came down on Friday & will leave here tomorrow or Wed as I am waiting for Max & Ann to come down for a day. Celia & Harold are also here & will go home with me.
Dear Morris, it will not be long now before we are together again & I can hardly believe it. I have booked my passage for Aug. 5th on the "Scythia." I believe it will arrive in New York 8 days later but find out to make sure. I had intended going on the "Samaria" which leaves Liverpool on July 30th, but one of the girls at our shop has a brother working as steward on the Scythia & she also said it is a much better ship than the "Samaria." I told her that I had promised you to sail at the end of the month, she replied that you would not mind waiting for a few days longer if you knew that I would have more comfort. I hope you are not vexed Morris, as I said before the time will soon fly. I can hardly believe that in a month from now I will be with you, and I am very glad & happy about it.
I left work last Friday & received a beautiful canteen of cutlery in Electro Silver plated Nickle Silver from the girls. I had a small farewell party before I left. I have promised to go round before I leave England. I have been given a few small presents from friends, these are the first of our wedding gifts[.] I had written to Auntie Jean & told her of my getting the visa. I am also going to write again to-day to let her know when I am sailing. They have put Uncle Arthurs name on the papers as claiming me until my marr[i]age, so it may be necessary for him to [be] there to meet the boat. I wonder if we will find each other changed. The man at the shipping office said he does not think we will have to get married on the boat if Uncle Arthur is claiming me. I cannot write much as the kids are running round the place. Joe & Rosy also Celia send you their very best regards. I also send my kindest regards to your family.
With all my love to you dear until we meet again, xxxx
Your's ever
Eva
83 Chatham St.
Liverpool 7
26/7/38
My dearest Morris,
I received your very welcome letter this morning & I am answering right away. I had been expecting a letter from you all last week. As I wrote in my previous letter I am leaving Liverpool on the "Scythia" on Aug 5th. I too am very happy at the prospect of seeing you again very soon. I have been counting the weeks & soon it will be the days until we will be together again. Morris dear, I have been so very busy the last few days shopping & other things to attend to. I have to be at the Deaf Club on Friday night to receive a present from the members. I have asked for candlesticks.
I have written to Auntie Jean & am also going to write to Weintraubs and Harrisons to let them know when I will arrive. I had a few friends down for tea on Saturday & it all went off very well. I will also be having a few more down next Sat. I wish you could have been here with me to receive the good wishes. My parents thank you for your good wishes & hope we will both be very happy together. Mother is trying to take things a bit easier for my sake. I enjoyed my few days stay in Swansea[.] [O]n the way back I went to Cardiff. Max & Ann were there & we spent a very enjoyable afternoon together.
This I think will be my last letter to you before I leave England. I can hardly believe it is true.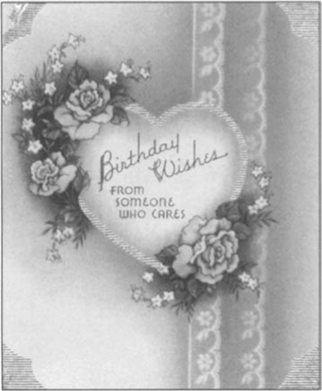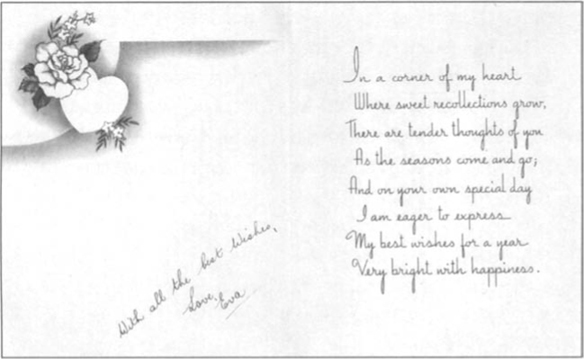 This birthday card is postmarked August 25, 1938 from Miss E. Weintrobe c/o Harrison 813 Maple St, Brooklyn, New York
Best regards to you from my parents &c family. Please give my best regards to your father, sister &c brother.
My best love & kisses xxxx to you dear until we meet again.
Your's own
Eva
Eva and Morris's wedding invitation.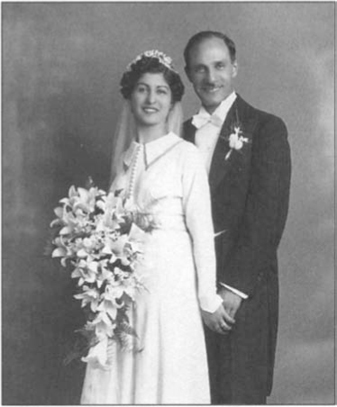 Eva and Morris on their wedding day.