EPILOGUE
The Ever After
Lennard J. Davis
The letters end with Eva, full of excitement and a bit of fear about the wedding, setting sail on the SS Scythia. After all the obstacles and setbacks, she must have felt certain of the course she was charting. She had overcome her doubts about Morris, her uncertainties about leaving her family, the discriminatory barriers presented by the immigration bureaucracies, and the difficulties of travel and relocation. She was set on reuniting with her fiancé and getting married to him.
She arrived in late August and was married on September 9, 1938. Morris and Eva moved into a one-bedroom apartment in the Bronx near Jerome Avenue. Gerald Julius Davis, their first son, was born on October 14, 1939. Morris continued to work as a sewing-machine operator in the garment district. Eva took in alteration work at home. Morris went on racewalking and remained part of the 92nd Street YMHA's track and field team until his death. Both Eva and Morris were active participants in the Hebrew Association of the Deaf and the Union League of the Deaf. They had many friends in the New York City area. In the 1940s they moved to Clinton Avenue in the Bronx, and on September 16, 1949, 1 was born.
In our household, signing was natural and deafness was normal. My parents spoke to us in what has been called "simultaneous communication," speaking and signing at the same time. My brother and I picked up sign language in a natural way. We spoke to our parents using both sign and speech simultaneously, and funnily enough, our voices mimicked theirs, especially our mother's Liverpudlian accent. Since she had become deaf postlingually, she was the one whose verbal patterns we imitated. Morris's speech was more guttural and forced.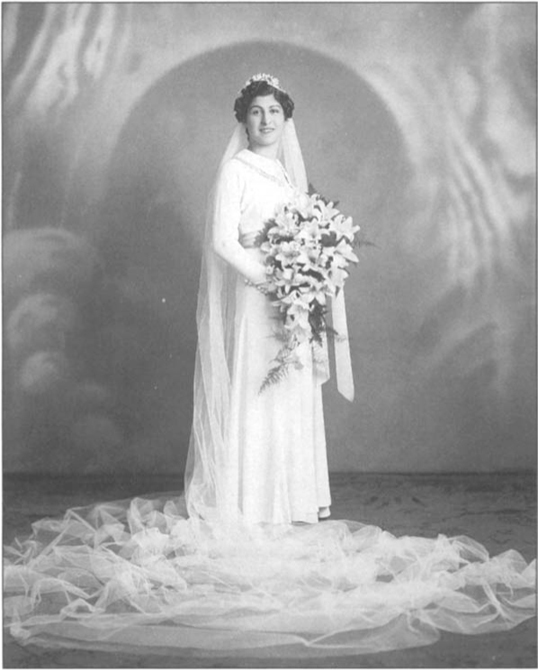 Eva's wedding portrait.
Much of our lives was intertwined with the Deaf club and Deaf friends. We went to the Hebrew Association of the Deaf, then on 85th Street in Manhattan, where we watched captioned films, played with other CODA children, and participated in Hanukkah parties, magic shows, and the like. Unlike many Deaf people, both my parents enjoyed having hearing friends. So we did not feel isolated within the Deaf world but moved freely between the two realms.
For us, our parents' deafness was not remarkable. Deaf culture inside and outside the home was the way life was. On the other hand, I was acutely aware of the way the hearing world then considered the Deaf world. I fought with some of my friends when they made fun of the way my parents spoke. I glared at people on the subway who stared at my parents when they were engaged in sign language conversations. I saw it as my role to defend my parents against the discrimination of the world. At the same time, I wanted very much to enter that world. So I felt both the desire to flee deafness and the guilt for wanting to do so. Now, especially in putting together this collection, I feel I can rejoin my parents and the Deaf world in a way that makes sense to me as I enter a half-century of being alive.
Before continuing, I have to let the reader know that there was one letter from my father to my mother that was never sent. I learned about it when I was about ten or eleven years old. As my mother was ironing in the kitchen, with her back to us, my father decided, in his characteristically abrupt way, to tell me about the past. He said that just when Eva was about to come over on the SS Scythia, he had sudden misgivings. He told me how as a young man he had contracted a case of the mumps, and how when the illness was over, one testicle had atrophied. He was concerned that he was no longer fertile and decided that he had to tell Eva this in a letter before she came to marry him.1 Dutifully, he wrote the letter and dropped it in the mailbox. Immediately, he was seized with grave doubts. He sensed the finality of what he had done, and thought that he had jeopardized his chance of marrying this woman whom he clearly adored and who had finally decided to come to the States.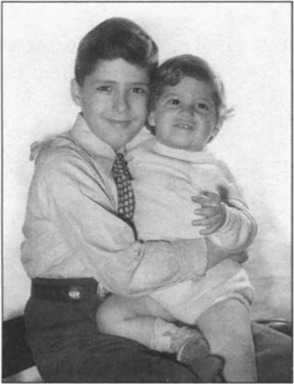 Gerald and Lenny.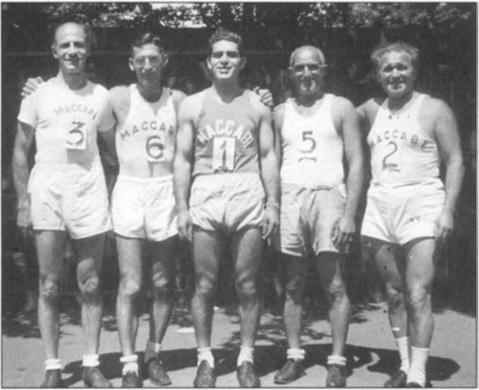 Morris (left) with 92nd St. YMHA teammates in the 1960s.
After thinking for a few hours, he decided to retrieve the letter. So, he went to the post office in Brooklyn and asked to get the letter back. However, the mail had been delivered to a central post office in Manhattan. Morris rushed down to the central post office, which initially refused to consider his request. When he made a big scene demanding the letter back, gesticulating, shouting in his guttural voice, and claiming the situation was a "matter of life or death," he succeeded in retrieving the letter, which he then destroyed.
My father told me this story as I stood listening in astonishment, thinking that if the letter had gone through, perhaps I would have never been born—yet another misunderstanding in the already fraught correspondence.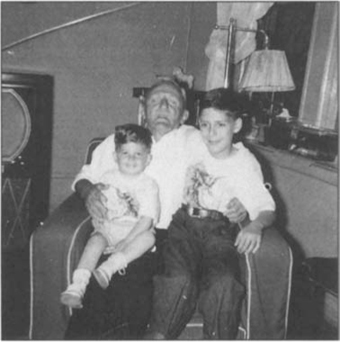 Grandfather Solomon with Lenny and Gerald.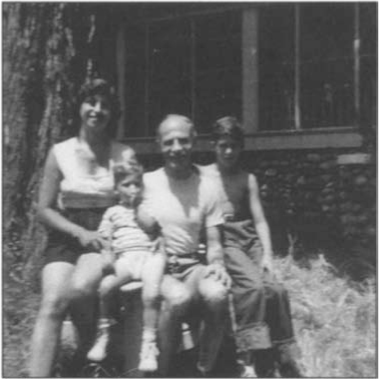 The family in 1952 at Brookstone Lodge, a bungalow colony in Hudson Valley run by Deaf proprietor David Davidowitz.
I don't know if my mother ever knew about this letter, even years later. I do know that there is a ten-year interval between my brother's birth and mine. My parents' had always talked about the difficulty of conceiving. I suppose I attributed that difficulty to the physiological condition my father described, although it could easily have been attributed to my parents' advanced ages, since my mother was thirty-nine and my father fifty-two when I was born.
With the absence of the missing letter, my mother came to the States with hopes, expectations, and fears. The question most readers will have is did the marriage work out? The answer is a qualified "yes." No marriage is perfect, and each one has to be defined on its own terms. From my point of view, I could have imagined a better relationship, but my parents rarely complained about each other in any serious way. For that matter, they generally did not complain about much. They were stoical people.
My mother told me a story about how shortly after my parents were married that my mother and father were getting on a bus. My father directed her gruffly to the back of the bus. When he sat down next to her, she was crying. She didn't understand how he could be so curt with her, and how she had come all the way to America and was not being treated the way she had expected. It was in this conversation that she told me about Isadore Alpers, the Leeds man mentioned in her letters, and how she might have married him. He was well-off financially, while my parents had always lived a penurious existence. I sensed in her discussion with me a feeling of regret for what might have been. I asked her why she married my father, and she said, "He's a good man. He works hard, doesn't drink or beat me." That explanation seemed a long way from the sentiments expressed in the letters, but perhaps not so. Eva was always more reluctant to express her feelings about Morris than he was about her. My father was enamored of my mother until the day she died. And after her sudden death, he was heartbroken and forlorn for the rest of his life.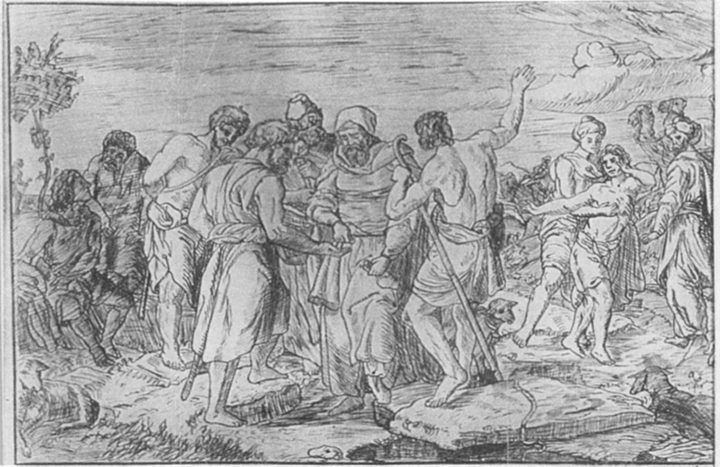 "Joseph Sold," a drawing by Morris Davis.
On the other hand, my father was not an easy man to love. He was capricious, moody, and arbitrary. His life must have been frustrating, especially for a talented man who was deaf. In those days, there was little opportunity for deaf people to have rewarding careers. My father was a talented artist, and he was encouraged to follow that career path when he was younger, but he easily ran into discriminatory roadblocks in London that made him follow the expected apprenticeship in the trades. My brother and I have wonderful pen-and-ink drawings he did from the ages of twelve through sixteen that reveal a meticulous attention to detail and a great skill in drafting. But he ended up working in Dantesque sweatshops in New York City. He put his care and craft into his sewing, and was rewarded with steady work (although always seasonal) and low pay. He was a talented actor, performing in many of the Deaf club entertainments. He wrote and directed many plays, and was a regular columnist for the national Deaf magazine, the Silent Worker, renamed the Deaf American during the post-McCarthy period. He was a gifted parliamentarian, and he was recognized by the Deaf club as such. But in the hearing world, he was just a deaf "dummy" in a menial job, on unemployment payments for half the year. His racing was the area in which he excelled in the hearing world, but as he grew older, he had less opportunity for success. Most of the time he stayed home, read the newspaper cover-to-cover, and grew alternately depressed and agitated, neither of which he would ever admit. He was capable of great affection and humor, but more likely he was sullen, burning a slow flame of anger, easily irritable. He was stingy, and my mother's siblings all have stories to tell about how he grudged giving her money to have her hair done or buy clothing. I have no doubt he doted on her and loved her devotedly, but he would spend money on nothing, not even her.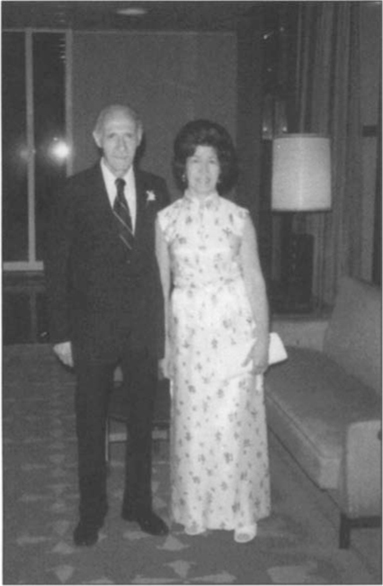 Morris and Eva at Gerald's wedding, June 1972.
I am not so sure about her love for him. I think she loved him the way a woman in an arranged marriage loves her husband. She began with higher expectations, but she settled into living a life parallel with his. Life was, for the most part, a colorless round of repetitions without much frivolity or sense of occasion. If asked, she would say she loved him, but it was a love without enthusiasm. I don't think she was passionate about him, although I know that they made love regularly until she died, when she was in her sixties and he in his seventies. They argued regularly, and when I was young it was my "job" to stop them from fighting. My brother would send me in so that my cute, infant presence would embarrass them into civility. Usually this tactic worked, although they always insisted that they were not fighting but "discussing." However, the emphatic signing, with its audible hand-slapping, and their involuntary verbal expostulations indicated otherwise to trained ears. I am sure that divorce was never an option for either of them, even if they had wanted it. They had Old World values.
My mother was crossing Second Avenue on September 26, 1972, on her way from the Hebrew Association of the Deaf to a luncheonette when a van came careening along and struck her. She died in the hospital two days later. My father was so distraught when he heard the news of her death that he collapsed and had to be taken to the same hospital in which she died. I never thought he would survive on his own, but he managed to live on his own into his eighties. He contracted prostate cancer, which spread to his bones and lungs. He died at age eighty-three in 1981. And so their story ended.
It started out as a romance and it ended as a tragedy. My mother's untimely death was the blow from which my father never really recovered. He had been a bachelor until he was forty and spent thirty-two years married and another eleven alone. I had hoped he would remarry, but he always said he was a "loner." He was Deaf-identified, as was my mother, but he always saw himself as having a life outside of the Deaf world as well. His racing was his link with the hearing world. Unlike many other Deaf people, he did not reject the hearing world and was not, in this regard, rejected by that world. He could have moved to Tanya Towers, a high-rise for deaf people in lower Manhattan, but he refused that option. He said he did not want to spend his whole daily life with Deaf people. He continued racing, and had his last race at eighty, three years before he died.
This story then is a small one of two people in love. It is a story, like the work of African American writer Zora Neale Hurston, that takes place almost entirely within an identity community. Like being black in Hurston's work, being Deaf in this correspondence is not highlighted since Morris and Eva are in what is called in sign language the DEAF WORLD. The letters reflect the intimate news of that world, all the more remarkably so since the correspondence occurred during turbulent historical times. The period 1936 to 1938 was one in which the storm clouds of World War II were gathering. Many people left Europe and England because they sensed the oncoming war. Yet, in these letters, like Jane Austen's novels set during the Napoleonic wars, no public events are written about. The most historical event that finds its way into the letters is the visit of the king and queen of England to Liverpool in a letter dated March 19, 1938. Yet during this period, Hitler marched into Austria, and there were pogroms in Germany beginning with Kristallnacht. Hitler occupied the Sudetenland, and Chamberlain and Hitler met. Particularly as Jews, Morris and Eva would have been noting these events, even thinking it might be better to be in the United States than in England. But the absence of these events in the letters only shows even more how the Deaf world, particularly during the prewar period, was one defined not by electronic communication but the immediate environment.
Just as novels by Jane Austen focus on the small slice of life defined by the romantic meetings of upper-middle-class and lower gentry, the letters of Eva and Morris reveal the strands in the lives of two lovers, strands made rich and complex by their very particularity. It is to that small world writ large that these letters take us, as it took them, from misunderstanding to dialogue, from courtship to marriage.
1. Although his explanation might have been correct, a more probable diagnosis is varicocele—an inherited condition in which a vein in the testicle becomes varicose. The heat generated from this condition can render the testicle infertile and atrophied.