"WONDERING…
IF YOUR LOVE
HAD EVER BEEN DEEP"
NOVEMBER 11, 1937 TO APRIL 22, 1938
83 Chatham St.
Liverpool 7
11/11/37
Dear Morris,
I suppose you have already received my previous letter & the cablegram. I received your letter. There are some things I cannot understand about you. How in the world could you expect me to be prepared to marry you & sail to America in three weeks time. I have been thinking things over & I have come to the conclusion that it is better for us to end things now. I am very very sorry that things have gone so far, but you never ask my opinion on anything that you make your mind up, it seems to me that when you make up your mind on a subject you do not ask anyone's opinion.
I hope that I have not hurt you too much. I myself find it very hard to write this letter, but I think it is for the best. I shall always remember you as a very good friend.
I will close wishing you the best of luck & I hope you will some day find the happiness you crave.
Eva
83 Chatham St.
Liverpool 7
22/11/37
Dear Morris,
I received your welcome letter & thank you for same. I am very sorry that I had hurt you with my letters, but you see I was very vexed with what you had written first about asking my Uncle Arthur for help & then rushing me with the wedding. I answered right away without thinking how much the letter would hurt you & I humbly apologise for all that I had said. I wish you would in future let me know beforehand what you intend doing so that things would run more smoothly.
I wrote to your mother & told her about the cablegram I had sent you, so that she would not be expecting you.
I am glad that you enjoyed yourself at Uncle Arthur's. I suppose you told them everything, as I received the cable from Auntie Jean [Arthur's wife].
I shall be waiting to hear what you have to say.
With kindest regards
Yours Sincerely's
Eva
83 Chatham St.
Liverpool 7
16-12-37
Dear Morris,
I was very pleased to receive your very welcome letter. I am glad that the misunderstanding between us has cleared up & I hope things will now run more smoothly. I know that I had been too hasty in sending that letter to Auntie Jean, but you cannot deny that at your first visit to the Winaricks had been for the sole purpose of asking them to help you. I was afraid that you would have asked before she received my letter & I did not want her to think our family would stoop so low. When I was in London with you I remember your sister telling me that when you said a thing you mean it, & you also wrote that you were not afraid to ask them to help you. You should have told Auntie Jean at the very first why I was vexed with you, as I also feel very embarrassed now that Auntie showed you my letter to her. The reason I sent the other letter ending things between us was because I was frantic with worry first with your intentions of asking Uncle for help & then with your hasty plans of coming to England, so you can see that I am not fully to blame.
I had a letter from the Consulate but it seems that you did not explain that I had previously applied for a visa as he instructed me to send papers to you for affidavits & letters from your bank & place of employment. I am afraid it is useless to write to the Consulate as it is very hard to make them change.
Max is engaged to a very nice girl from Tredgar South Wales. The wedding will take place soon.
The Jewish Club in London are having a Carnival in January & they have asked me if I would like to go. I am not sure yet whether to go as it means travelling home in the night & I had enough of it when I went to London to visit the Consulate. By the way, I forgot to tell you that Beatie Socolove is coming over this Saturday & has asked me to go to the Club as she is dying to see me, wonder if it is true, we have not met since leaving school.
With kindest regards from all
Love Eva
83 Chatham St.
Liverpool 7
8/2/38
Dear Morris,
I received your letter & the parcel of papers for which I thank you. Harold was here when it came & he was very delighted with the comics. He refused to eat his dinner saying he was too busy.
Yes, I received your letter of Dec. 24th. I had been putting of[f] answering it, as I have realised since receiving the letter, that I do not want to go out to America, as I hate to hurt your feelings I have delayed in answering, but I know that I have no right to keep you in suspense. It would be useless you coming over here in March, as I know nothing will make me change. I am very sorry Morris, but I think it is for the best for the both of us. I suppose it would be useless for us to carry on in this way.
I will always remember you as a very good friend & send you my best wishes for the future,
Eva
83 Chatham St.
Liverpool 7
23/3/38
Dear Morris,
I do not know how to start this letter but first of all I will humbly apologise for the way I have treated you. I have made a big mistake[.] [A]t first I was too proud to admit it, but I now realise that it is best to put pride aside to achieve ones happiness. The trouble all started through this, one of the girls from our Club went to Leeds & saw Isadore Alper, he asked her for my address & started writing to me, he knew from the beginning that I was corresponding with you. Molly must have told him and begged me to stop writing to you, the family persuaded me that it was better for me to be married to a boy residing in England, so that was why I sent you the last letter, but as soon as I had done so I realised that I had made a big mistake & that I would not be happy with another boy & that you were the only one[.] [A]s I said before I was too proud to admit it, the family can now see that they too had made a mistake in encouraging me to have the Leeds boy. Morris I am very sorry for all the trouble I have caused you & hope to make up for it when we are together again if you can find it in you to forgive. I have done nothing wrong to be ashamed of[.] [I]t is only that I thought it would be better what the family said & I now fully realise my mistake. Auntie Jean is quite right in saying girls are very chang[e]able.
The sooner we get married the better it will be to save any more misunderstanding which may arise. I have been thinking that it would be better for me to apply for a visitor's visa & then stay in America[.] [I]n this way I would be able to go sooner, where as if I applied for a permanent visa I may again be refused as I had Uncles affidavit with me when I went last Oct. & it did not seem to impress the Consulate. If you still think I should apply for a permanent visa would you please write to your sister Janie & ask her to go to the Consulate & explain things for me, to mention that I had previously applied for one & had been refused through my deafness[.] [I]n this way she will be saving me a lot of trouble. I went through enough of it when I was down last October. Or if you wish you can come to England & I will be prepared to marry you any time.
Max is getting married the 1st of May, his girl [Ann] was down here some time ago & we all took a great liking to her. She comes of a very nice family[,] one of her brothers is a Minister in Margate & the other an author. I am very busy making the dresses for the wedding. I have also made a few frocks for Ann (Max's girl) & she is very pleased with them. She has just asked me to make her wedding dress but I am afraid I will have to refuse as I have not much time.
Well, I think I have written enough of myself. As soon as you receive this letter please answer & let me know if I am forgiven & how you are getting on. We all here are keeping well. I hope this letter finds you the same.
It may interest you to know that Doris Ramm (the girl Max was engaged to when you were here) is now married, they all say here that she lost now [no] time, in a way we are glad & so is Max.
I will now close hoping to hear from you soon, with my best love & kisses to you.
Yours very Sincerely,
Eva
P.S. Please give my regards to your father & sister.
83 Chatham St.
Liverpool 7
30/3/38
Dear Morris,
I was very delighted to receive your very welcome letter to-day. Although I do not yet know if you have forgiven me, the letter shows at least that you are not angry with me. I am patiently waiting for an answer to my last weeks letter that everything is alright between us again & that it will not be long now before we are both together.
I have told my family that I am sorry now that I did not marry you when you were here. They are sorry too for having stood in the way but I know deep down that I would not have been happy had I known that my family were against us. It was only the thought of missing me that made them do it. Mother specially is upset & is hoping that everything will be alright & the sight of your letter this morning brightened her up.
I have suffered too the last few weeks but through my own fault. I realise now that you are the only boy for me & I could never care for anyone else.
I wanted to correct the wrong accusation you made of Beatie Socolove but I felt I had no right to be angry with you after the way I had treated you & you could not help it. I only saw Beatie for a short time[.] [S]he did not mention your name to me. You hurt me very much by saying that you supposed I had become fickled & petted by some one else[.] [Y]ou know that I am not that kind of girl even when I went with Isador Alper, which thank goodness was only a very short time, I never let him make love to me, & you also hurt me by saying that I had been playing with you all the time. The words I gave you when you were here last March that I was not playing with you were sincerely true.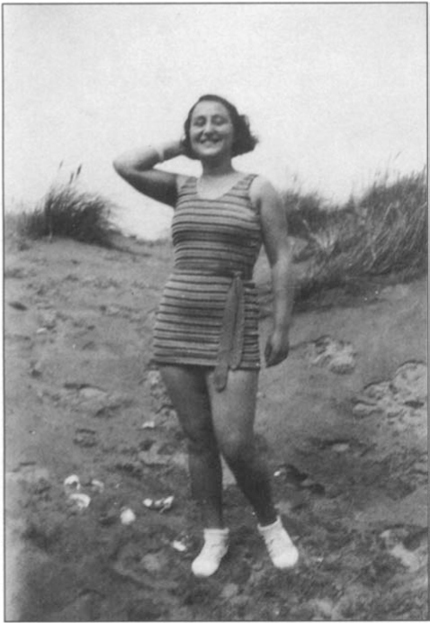 Beattie Sokolov.
You ask me what I bought with the 5 dollars you sent for my birthday, strange as it may seem I have never spent it. I do not know why but I have not wanted to change it to English money, but if all is well between us I will buy something for my trousseau with it.
You should not have refused the invitations from Norman [Jackson], after all you have to go out & enjoy yourself. I hope very soon to be going with you on your visits to Auntie Jean & Norman & to make up for the invitations you turned down.
In the middle of writing this letter Leah called with her sister, the one who broke her arm when you were here. I am making a two piece for her. Leah asked me about you & I told her that I had made a mess of things, she laughingly told me that true love never runs smooth. She sends her kindest regards to you.
We are all very excited over Max's wedding. When I have finished this letter I will have to start cutting out our dresses as time is getting shorter & I have only the evenings in which to do them.
All through this winter I have been going to Keep-fit classes at our deaf club, last week we gave a Health & Grace Demonstration at Bootle & it went off very well.
We all here are keeping well[.] [H]oping this letter finds you the same.
I will now close,
With best love & kisses to you
Your's
Eva
P.S. Kindest regards from my parents & family.
83 Chatham St.
Liverpool 7
13/4/38
Dear Morris,
I was very pleased to receive your welcome letter. I had expected you to be angry with me but I never expected such a bitter letter from you. Many girls have done much worse than I did & have been forgiven. You say that by the way I acted I have crushed the love you had for me. I am wondering now, if your love had ever been deep[.] [I]f it had you would not have been so bitter to-wards me. I did not balance your love with Isadore Alpers, as I have never felt any to-ward him, ours had been only pure friendship nothing more.
You say that I have never said that I love you in any of the letters that I have written to you, have I not told you before that I am no good in expressing my love for you in black & white. But I will say this that I love you very deeply & always have & I have realized the last few weeks that I love you even deeper. Every time after I had written angry letters to you I have always apologised right away, do you think I would do this if I did not love you. [E]ven when I was with Isadore I always thought about you & wished it was you instead of him. I am not blaming you for being angry with me but why such bitterness. Do you remember when you stopped writing to me the summer when you were in London. I heard some gossip that you were going about with the younger girls. Yet when you started again with me after we met at Warrington I did not mention this to you when you said that you had been too busy to write to me all the time.*
You also write that you will be fair to me & will marry me, although you do not love me as much as before. Morris you would be doing me a great wrong if you do, only if you love me will I marry you, if you still find the bitterness for me in your heart instead of the love you once had we could never be happy, in spite of everything I still love you, Morris.
You say that my treatment of you has automatically realised [released] you from your promises about going back to England for good. I don't & never did expect you to give up a good job[.] [I]f ever I am your wife I would stay where ever you wanted me to, in America for good if you say so.
My parents & family think very highly of you & always have, try & understand that it is only the parting that made them do what they did.
I am going to write to Janie now & will explain everything about the Consulate to her.
Kindest regards from my family & best love & kisses to you.
Yours
Eva
* Eva must be referring to letters that precede the ones in this collection. Morris refers in his letter to the fact that they met each for "one hour" at the Warrington Deaf Club. Then he was supposed to follow up this visit, but had to cancel his trip. Apparently Eva and Morris's mutual friend Beattie Sokolov may have had something to do with introducing them. Ed.
32 Meserole St.,
Brooklyn, New York
U.S. America
April 24th, 1938
My dear Eva,
I was very glad to receive your letter last Friday morning, and as it was Yomtov [the holiday], and I do not write letters on Yomtov and Sabbath, I had to wait patiently till today, Sunday, when I have the extreme pleasure of writing to you again. I know you had already got my last two letters last Thursday or Friday, and I hope you were made happy by these two letters which told you of my happiness and love for you better than my first letter which made you feel upset. I did feel upset too, when I read your letter, and I am very sorry about my letter making you feel upset. However, I was being frank and of course you don't want me to pretend and be hypocritic, and you cannot blame me for being embittered. Eva, I assure you I was not bitter toward you, but I was angry with you for keeping secret your affair with Isadore Alper from me since last December, and also when you sent me the letter last February about your not wanting to come to America, you still did not give me any explanation. I was not mad at you for going to Isadore and giving me the air, because it was your own business, even if he tried to steal you by underhand and mean tricks. Only it was quite wrong of you not to let me know right away the change of your heart. I also thought to myself that you should stick to Isadore instead of coming back to me, because I did not like to be second fiddle to any other boy. Please believe me, I have never felt bitter toward you, but only bitterness about our misunderstanding in general. You say that you were wondering if my love had ever been deep. Perhaps you will wonder differently if I tell you how much I suffered for almost ten weeks and how I lost 9 lbs. in weight within a few weeks, although I neglected my training in my [track and field] club. When I sent you my last two letters, I had not an iota of bitterness in my heart at all and I had forgiven you completely and wholeheartedly for the way you treated me. Please dear Eva, let us forget everything about the past misunderstanding and write no more about it. I was surprised you cared when I stopped writing to you the Summer when I was in London after we had seen each other at your club in Liverpool for only one short hour or so. If I had known you cared, I would have continued writing to you in spite of my wounded pride, which Beattie Sockolov caused me for cancelling my visit to Manchester because of having to see my sister, Janie off on her visit to America and Beattie calling me far too slow and suggesting that I try to have you. You remember me telling you all this at Warrington, so you must have been mistaken about my telling you that I was too busy to write to you all the time, because I don't remember telling you about being too busy to write to you. After stopping to write to you and Beattie, because of my foolish pride, I began to go about with other girls because of myself being fancy free, although I thought of you both very often. I would never play you false. Only yesterday at the deaf club affair, I told one of the girl friends about you, when she grew persistent about my taking her out, although she knew I did not care for her and other girl friends. Last month in trying to forget my sorrow and trouble about you, I took her out only once, I gave her a good time, although I failed to forget you and enjoy myself. When she asked me about you last month, I only said that it was very hard for you to come to America. Since then I have been trying to keep away from the girl friends. Now dear Eva, we will look forward to being together again very soon, and write nice letters to each other about our hopes, future, your love, my love; about your dresses, your family and deaf friends etc. Now come to think of it, you can start preparing your trousseau now, because if you are told to marry me on the ship before landing in New York, we want to have a regular wedding ceremony and there are synagogues and Kosher tables for Jewish passengers in the big liners. Auntie Jean said that if we have to be married on the boat, she would take care of everything about getting a rabbi and other necessary things. Of course you, dear Eva, and I want you to wear a wedding dress and veil, so please try to get them and bring them with you, when you come to America, Please God. If you fail to get the permanent visa from the Consulate in London, please apply for the visitor's visa either in Liverpool or London and in this case, it will not be necessary for you to mention about me at all. Just say you are visiting Uncle and Auntie Winarick and other three Aunts for six months. Then after a short time when we get married, we go to Canada for a few weeks' honeymoon, and then we can apply to the Consulate General in Canada and apply for your permanent visa to come back to America with me because of your status as a wife of an American Citizen. All these are lawful and legal and cheaper and more convenient than my going to England to marry you. I hope you will let me know as soon as you hear from the Consulate in London and all about your visit to London for Max' wedding. My love to your family. Annie said she was happy about everything between you and me, and give you a big hug and love. She said she sent you her pictures and would like to know what you think of them and write to her. My Best Love and Kisses xxx to you.
Yours,
Morris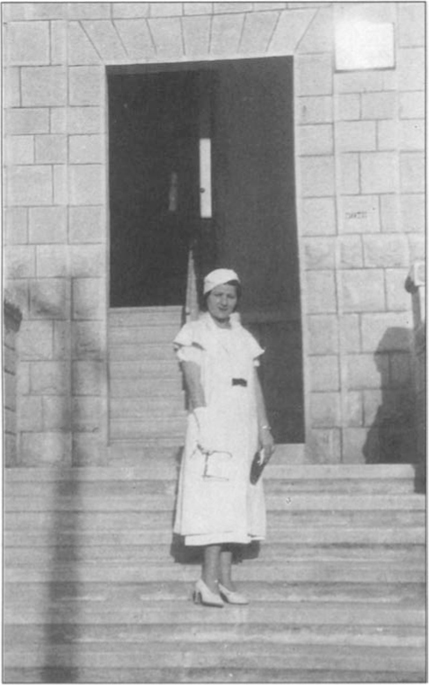 Morris's girlfriend?
83 Chatham St.
Liverpool 7,
24/4/38
Dear Morris,
I received your very welcome letter on Thursday & as it was Yomtov I could not answer your letter right away. I also received your letter of April 13th. I was glad to read in your letters that you do not feel anymore bitterness towards me now. After reading your last letter I can understand that you did not really mean what you wrote in your letter of April 4th that you do not love me anymore. I sincerely hope that everything will be alright between us now & that it will not be long before we are together again for always.
I am enclosing the reply I got from the American Consulate. I am also enclosing the forms I received on November 3rd. I told you last November that I had received the forms from the Consulate but as he only asked for affidavits, I did not think it was much good sending them as I had only a month before showed him the affidavits from my Aunties. I have still got the other affidavits. Please tell me in your next letter if I should send them to the Consulate. I do not understand quite clearly what I have to do. I think it would be better if you send the necessary papers direct to the Consulate as it will save time & trouble. I received a card from Janie saying that she will go to the Consulate General tomorrow. She may be able to impress him that you are sincere in your wish to marry me. She wrote that she was too busy last week to go. Janie thought I was in America & was surprised to get my letter. Whatever made her think so? I would have liked to invite Janie & your mother to Max's wedding but Ann's father asked Max not to invite too many people as he does not want to make a very big wedding, so I left it all to Max. I will try & slip round to see Janie if I have any time. How did you enjoy the Passover holidays. I kept thinking of last year when you were here dear Morris & I hope that next year we will [be] celebrating our first Passover together. You ask me if I still wish to marry you now that your earnings are less than before. I have told you before that your money means nothing to me & I still wish to marry you. I will have to learn to budget expenses as you say. Norman's wife does. Now don't laugh at me. Give my kindest regards to Norman & his wife when you see them next.
How are you keeping & also your father & sister. I am pleased to say that we all here are well.
With best love & kisses to you,
Yours
Eva
P.S. Kindest regards from the family
In Reply Refer to
File No. 811.11-MAC: evh
The Foreign Service
of the
United States of America
American Consulate General
1 Grosvenor Square
London, W.1.
April 22, 1938
Miss Eva Weintrope [sic]
83 Chatham Street,
Liverpool 7
Madam:
In reply to your letter of April 20th, I beg to inform you that it was suggested in a communication from this office dated November 3, 1937, that affidavits of support from your aunts in the United States would be necessary before proceeding with your visa application.
The Consulate General has received an affidavit from your uncle, Mr. Arthur Winarick. However, Mr. Winarick has failed to prove his alleged income and savings and until such evidence is received it is not believed advisable for you to come to London. Should you receive any additional evidence concerning your uncle's earnings and savings or affidavits of support from your aunts together with proof of their incomes and savings and forward it here the Consulate General will be pleased to examine it.
Very truly yours,
Douglas Jenkins
American Consul General
[This letter was enclosed by Eva with the previous letter.]